Brick wall home office ideas float around the internet and so we've scoured some portfolios to find 11 fabulous workspaces that flaunt exposed brick walls, painted or not.
Starting with the fascination a brick wall can bring – you can look at it for hours and still not be able to memorize all the details – and adding sleek modern lines that ease the eye, designers and architects can create some stunning interiors.
Let's explore some of these home offices that feature exposed brick in different ways and maybe find something you can build on to create your perfectly customized home office.
From interior brick walls that mirror the outside of the house to brick detail "ghosts" that get lost in the overall design – we're looking closer at some home offices that will have you measuring your designated space after you're done exploring. Maybe one of these examples will even make you take action on an exact idea.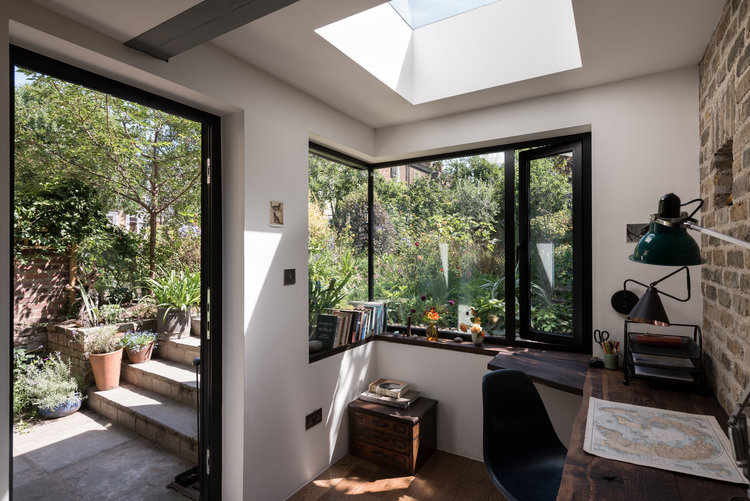 Garden Office Extension at Ground Level
Starting with this stunning garden office extension above, where interior brick walls mirror the outside of the house, bricks can be used to unite or sepparate the design. Sometimes you want an exposed brick accent wall, other times you can add bricks on a wall to visually transition from outdoor to indoor and the other way around. See the whole project here.
White Painted Brick Wall Texture in Modern Home Office
Next we have an example of how the brick wall painted white acts as just a part of the whole, the visual focus being drawn to the wooden part of the wall. Keeping the office desk white and focusing the eye on the bright green Eames Group Executive Chair and the black and wood cabinet, wall and shelf, accentuates the idea of getting lost in work. Outside the floor-to-ceiling window, a bird'e eye view of the greenery below relaxes the eyes when taking a break.
Beautifully Illuminated Home Office for Two
This example above shows how light can be important when illuminating exposed brick walls in a double workspace. The skylight above brings in natural light, while the LED strip illumination ensures light during the evening. Side by side with your partner, things can be done in style aand even bring about a stronger connection. Here are more examples of great home offices built for two.
Bold and Beutiful Mix of Old and New in Nook Workspace
Our next idea of using brick walls to define a home office space comes from the home of a happy couple that has children and grandchildren. They wanted a "modern, bright, even brutal" interior design for the whole townhouse and this is also mirrored in this home office for two.
Within a nook of the sitting room, this home workspace has layers of modern and classic displayed in a way that can only inspire with every detail. Strips of LED lights were molten into partially exposed brick walls and the effect is brutally inspiring. Art lines the walls and more light comes down fro three modern pendant lamps – everything artistically designed.
Attic Kids Room with Brick Wall Study Space
A kids room with a slanted wall featuring exposed bricks can easily become a modern study space that borrows from the classics – a white painted brick wall -and adds from modern design the indirect LED strip light that accentuates the bricks when turned on. There is no need for more than a desk, a chair and a small storageunit under the desk to create a spot to study. The computer monitor is smoothly surrounded by a few posters on the white-painted brick wall – simple and efficient.
Industrial Style Home Office
Exposed brick wall home office ideas can be as simple as this example above, where industrial style decor makes for a simplified version of a masculine home office. Flaunting a wooden desk reinforced with black metal frames, this dark workspace creates an environment focused on deep work, with no distractions in sight.
Mezzanine Home Office With Batman-Inspired Details
A stunning double height attic was transformed into a home office, library, gym room and rec room. The brick wall home office is an extension of the downstairs relaxation room and comes with enough space to think. Plenty of natural light coming from the large windows on one side and the Batman-Inspired triangular window on the other. More details about this project here.
Brick walls are beautiful in any light. An example like the above presents exposed brik walls bathed in natural light coming from a huge glass wall. Designers explain: "A three-sided glass-box addition to a Grade II-listed house replaces a poorly used 1980s annex, easing flow around the house and garden with rear glazing and a glass floor. The glass cuts across the floor of a new glass study on the upper ground, creating sightlines to the enhanced kitchen/diner below."
Another way of enclosing a home office in a part of the house and blending brick walls in is the example above. Keeping everything to a design minimum in the workspace area allows for the bedroom to be designed wearing bricks and not be too much for the eyes.
Exposed brick walls that stand in contrast with contemporary furniture and modern home design are exquisite. Even in small spaces, like the bedroom above, a home office can be beautifully integrated in the overall design and accentuated with a soft grey brick wall. Contrasted with a row of cabinets and a neighboring slated wall, this accent wall was a bold yet effective move that resulted in an inspiring small space.
Brick walls and modern interiors make for an enchanting mixture. The example above is our last in the list and showcases simple modern furniture made from white frames – both sleeping and working – against a brick wall accent wall. Spiderman artwork offers a powerful color contrast.
Here are more ideas if you still haven't found what you're looking for: