Geometric home office design comes in many shapes: from painting a wall with geometric shapes all the way to combining different geometric patterns so that the whole room looks put together.
Giving your home office a facelift can do wonders for your creativity. When you feel uninspired by you surroundings, this takes a toll on your mood and productivity.
A simple change to your home office space can reestablish a baseline that will remind you that you are in charge of your working environment at home.
Geometric Home Office Design
Keep it simple: geometric wall painting in the home office
Using one color for a simple geometric wall painting can be the popping addition a corner of your home needed – and a bold move. Wall paint is easy to style since it gives you the freedom to play with perception of the space.
A simple white corner can become an integrated part of the home by adding abstract geometric paint that matches (or contrasts) the rest of the room.
More Inspiration: 10 Minimalist Workspaces At Home: An Eclectic Bunch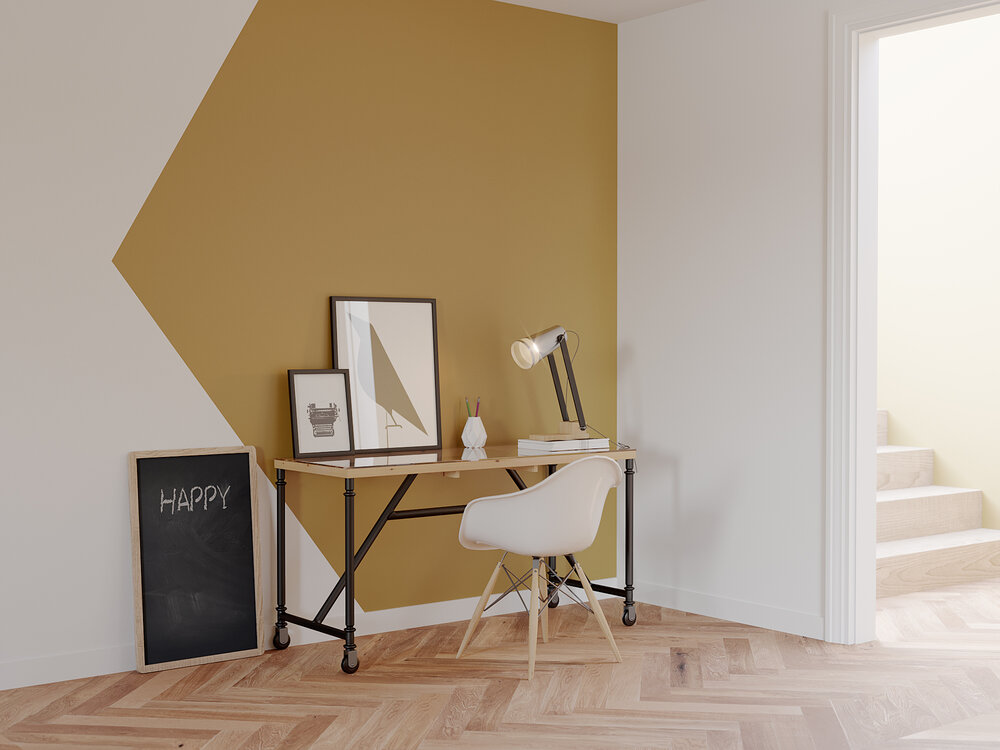 2. Play with the available space: define the home office setup
Use optical illusions to keep a space vibrant, so that the home office setup can shine and add its own character the the living room design.
Keeping the furniture in the same color palette of light wood and grey makes the space become connected through design. Bold colors ensure visual separation and gives this modern apartment designed by PLASTERLINA its name: #Technicolor.
More Inspiration: 10 Modern Bedroom Workspaces In Light Grey and Wood
3. Mix and match patterns in the home office/living space
Paint your own unique geometric accent wall and have fun matching it with the rest of the home. When setting up your home office in a corner of the living room, this is a clever way of adding interest to the overall home environment.
A nook near the window can be painted with strong geometric patterns that keep the same color palette but a different theme, exposing an artistic side that needs to be expressed.
More inspiration: 10 Home Workspaces for Artists Who Love Their Craft
4. Combine geometric shapes to split the space
Building a home office in the bedroom can look like the example below, where a white floating desk looks beautifully integrated in the bedroom design. The color palette blends white and earthy tones, setting up the potentiality of playing with three-dimensional geometric art on the wall.
More inspiration: 10 Floating Work Desks Sprinkled Around Modern Bedrooms 
5. Use patterned wall tiles to create a geometric home office corner
The example below is part of the same home as the one above. Both spaces play with geometry in their special ways. In the bedroom, this patterned wall tile design supports another floating desk and creates a different mood while maintaining the design contemporary and elegant.
More inspiration: 100 Work-From-Home Bedroom Design Solutions
6. Use geometry and contrast it with bold colors
"A balance between space and lighting" – this is the description used by the designers, a description mirrored in this geometric home office design. Using wooden wall tiles to create a warm geometric home office design and then contrasting their natural texture with a bright color means more vibrancy for the whole space.
7. Use only geometric décor: pillows, rugs, art, lamps
In a simple white room, details can make a big difference. When you have a small space, it's best to stick to simple color palettes to avoid overwhelming yourself. Choosing white, black and bold red and adding interest with the help of geometric patterns seen in the décor pieces can be an easy way to decorate a small home office room.
Using décor can help you change between styles easily – choose yellow or purple pillows and see the whole space transform.
More inspiration: 10 Composed Workspaces Defined by Color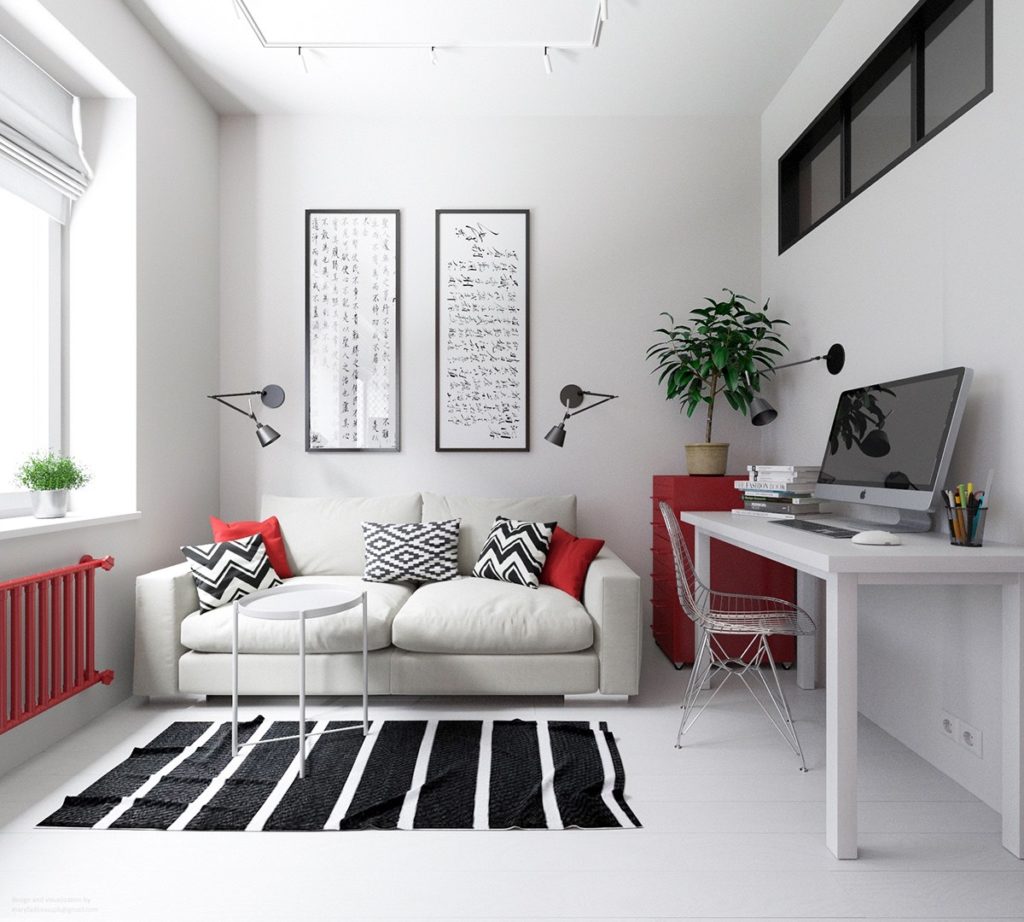 Using geometry to create inspiring home office designs can be a lot of fun. Here are more ideas to help you create the perfect home office setup for you:
WFH Lighting 101: Illuminate Your New Home Office Life