Home office life becomes increasingly important thanks to our newly found perspective. A pandemic can really put a spotlight on what we lack and what we want. People around the world find it easier to work from home the more they adapt, dive into and apply tips and tricks for an easier wfh lifestyle.
Many have reframed their opinion about working from home and even the news showcase a "great resignation" that can drive courage and ambition. According to the news, 41% of the world's working population globally and 95% of Americans are thinking about quitting their current jobs and many already have. The time for reimagining work has begun.
What you will know by the time you've finished reading this home office lighting guide:
how to choose home office lighting to suit you
how to easily decide between all the options out there
how to use light placement to increase productivity
how good lighting entices a pleasureful WFH experience
how to optimize for long term health
how and when to use mood lighting
Armed with skills and thirsty for living rather then imagining their dream, people put time and effort into searching for the right way to set up a home workspace that increases succes by design, not by default. Intentionally creating an environment fitted to their own priorities is a regained freedom for many. And this is where we shine light on one of the most important WFH puzzle piece: home office lighting.
Work From Home Basics: Light is Everything
As long as we have our eyes open, we need light to see. The quality of light while we work drives our productivity, health and pleasure we take from our work.
We've all seen some stunning WFH setups online and saved them as a dream space. Did you ever wondere how did they design something so gorgeous for themselves and yet enough for you to love it too.
That's a hint to what you like in terms of home office design, but you need to know the basics first in order to avoid ending up with a home office space that looks and feels nothing like your dream setup.
Choose home office lighting to suit you
Ask yourself these questions before you set up your home office:
what will I use this home office space for?
how much time will I be spending in my home workspace?
how will I organize and have everything in one place?
how will my schedule look like when working from this space?
The answers you give yourself reflect the needs your home office time requires. These are the basics and lighting is one of them. Only after you have these implemented you should start looking into more advanced lighting techniques and mood changing atmosphere lighting.
How to easily decide between all lighting options out there
Once you answered the questions above and probably some more you came up with while thinking about your future home office setup, you will have a roadmap to your needs. You can start building your home office lighting strategy that will take you from using that overhead light you have to lean to shine on what you're dointo a well lit home office space curated for your particular needs and wishes.
Natural or artificial lighting for your home workspace? Both!
Natural light is the most important source of light and only if there is no other option should you consider not using it. Even for a space with little natural light, mirrors can redirect and extend the reach of natural light available nearby. But we'll get into that shortly, when we talk about additional natural light sources.
Natural light sources like windows and skylights are basically a given in your home office space if you're not building it from scratch or doing heavy home office remodeling.
Natural light helps regulate the body's natural circadian rhythms and a 2017 study published in the Sleep Health Journal by the National Sleep Foundation found that workers who are exposed to high levels of natural light in offices reported experiencing better quality sleep compared to workers who had no natural light exposure.
Taking the results of these studies from office buildings and implementing them in our home office in an inspiring way can become a pillar of your home office productivity and happiness. After all, as Jason Silva said: "What we design, designs us back".
This collection of 10 Illuminated Home Workspaces Under Slanted Ceilings showcase how natural light can be used to create your dream home office: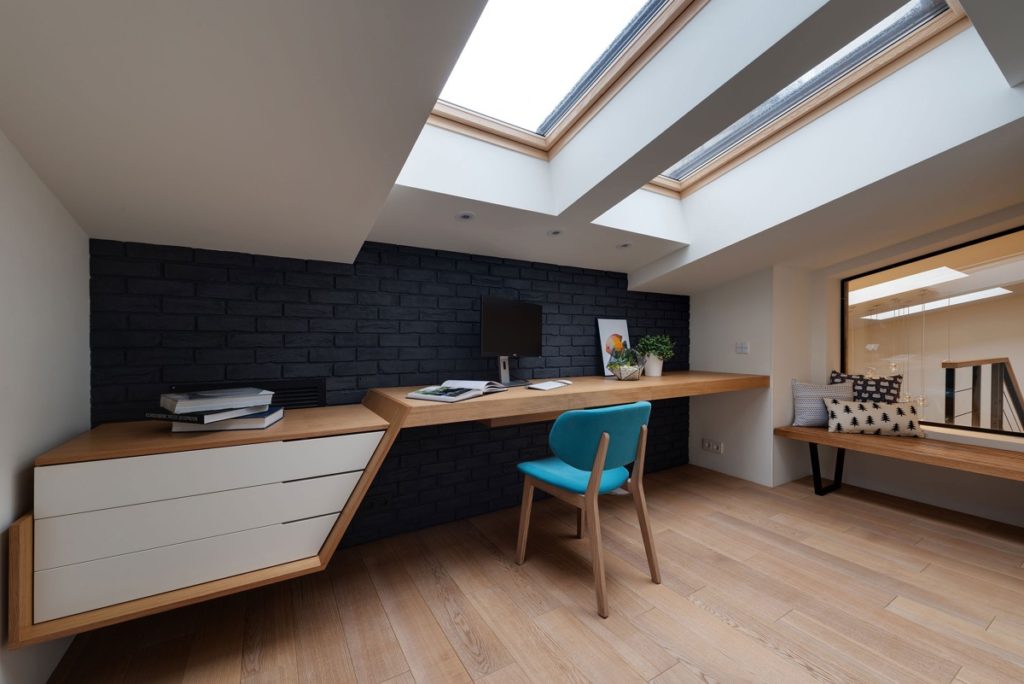 When you don't have the option of burrowing your home office desk under a window, you can sometimes bring the effect of the window where you need it by using mirrors to light your home workspace.
This smart way of lighting your home office brings daylight deep inside – a good example of this is the way these mirrors were placed to maximize natural light in an unusual and otherwise boring space.
Blocking light with blinds and curtains adds a different dimension to natural light, but it sure helps if you have enough daylight to begin with. Once you have your natural light sources assesed and set up, it's time to focus our attention of artificial lighting and the many shapes it can take.
How to light your home office with Artificial Lighting
Depending on how you use your space, choosing the right combination of lighting fixtures has deep impact on everything home and work-related. Imagine working for 8 hours or more in a boring space that could be immensly improved by using a few well-placed lights.
You can improve your home office light by considering these ways of lighting your home workspace:
have diffused light for working on the computer
have corrective light to avoid eye strain and migraines
have a task light for focused
add depth and playfulness with LED strips
finish off with decorative ambient lights
have a backup travel light for remote work
How to use different types of light to increase productivity
Well-distributed Diffused Light
The best lighting for working on a computer is well-distributed diffused light. Since most people work from home on a computer, knowing how to play with light to optimize for health, productivity and mood is a type of knowledge that pays off well into the future.
"While floor-to-ceiling windows and skylights help to distribute light throughout a space evenly, diffused light eliminates glare, hot spots, and sharp shadows that negatively impact visibility and productivity", say AMC Architects, who have extensive experience in designing student housing, healthcare facilities, higher education spaces and more.
Simple Corrective Light for better health
In addition to overhead lights, corrective lights placed behind your computer monitor helps diminish the glare coming from the scree. The contrast of a bright working screen and darkness behind it creates eye strain and even migraines. Adding corrective light behind your monitor helps reduce the effect, whether it's a LED strip or a simple desk lamp.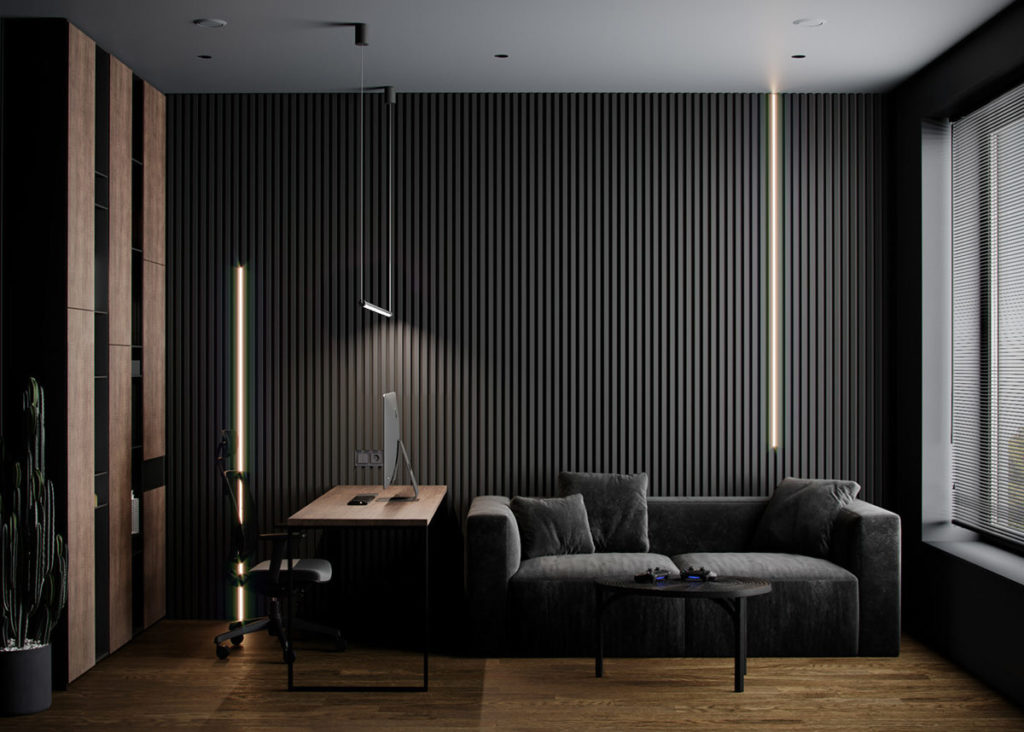 Task Light for focused work
Task lighting is used for illuminating the task a person focuses on, like computer work, reading, writing, cooking. Task lighting focuses light on a particular area and makes the completion of a task easier and it works no matter where your home workspace is, including a corner of the bedroom. Task lighting opposes ambient lighting that illuminates a general area, or mood lighting that illuminates for atmospheric or effect purposes.
Add depth with Ambiental Lights
Good lighting entices a pleasureful WFH experience and you can achieve that by using the power of decorative ambiental lights (also called mood lighting). A well-designed home office has a comfortable and even level of light that can be created by focusing on colour, temperature, and brightness. The main sources of ambient lighting are usually ceiling lights, wall-mounted fixtures (that save space in small home offices), or recessed spotlights.
As a bonus, remember to invest in a good portable light for your remote work days. Sometimes you need to create good lighting on the go and having a portable light will seem a good investment.
What else would you add to this home office lighting guide? Comment below.