When your workspace sits under a window, natural light floods you with inspiration and vitamin D.
There are so many options of enjoying working from home and placing your desk under a window is one of them. Let's explore 30 inspiring workspaces that found their best position under direct natural light: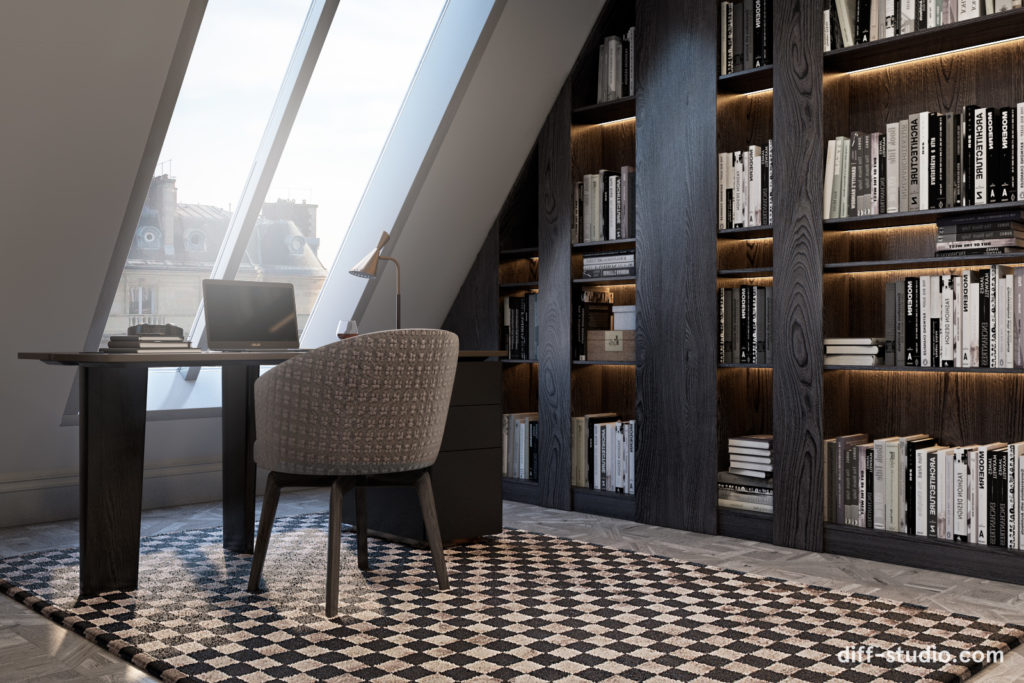 In a two-level apartment, this mezzanine home office sits under a slanted window overlooking city buildings. Resting on a checkered area rug, the black office desk paired with a comfortable chair is all one needs to focus on work. Designers Diff Studio nestled a floor to ceiling library on the wall just to have any research material in reach.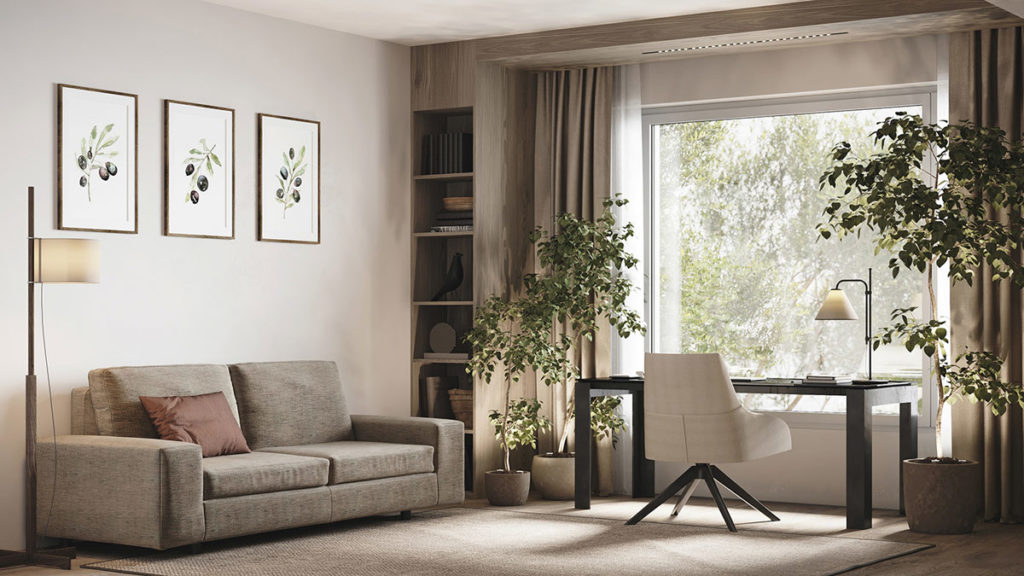 Soft brown and grey were used by VID Bureau to create a workspace that rests under the window, guarded by indoor plants. Heavy drapes close off the view outside to offer privacy, while the elegant desk chair supports work well into the night if necesarry.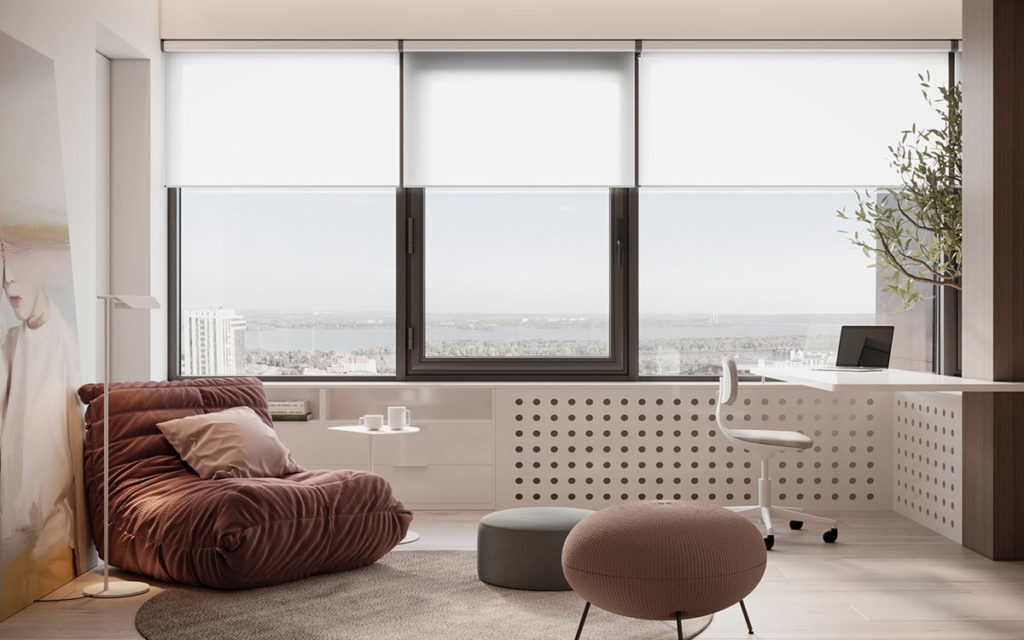 Perched over an Ukrainian city, this pink, white and grey home office above offers not only a space for work, but also a cosy place to take a coffee break. Dezest Design imagined the minimalist home office as a combination of simplicity and art, with punched holes in the desk contrasting the oversized artwork leaning peacefully against the wall.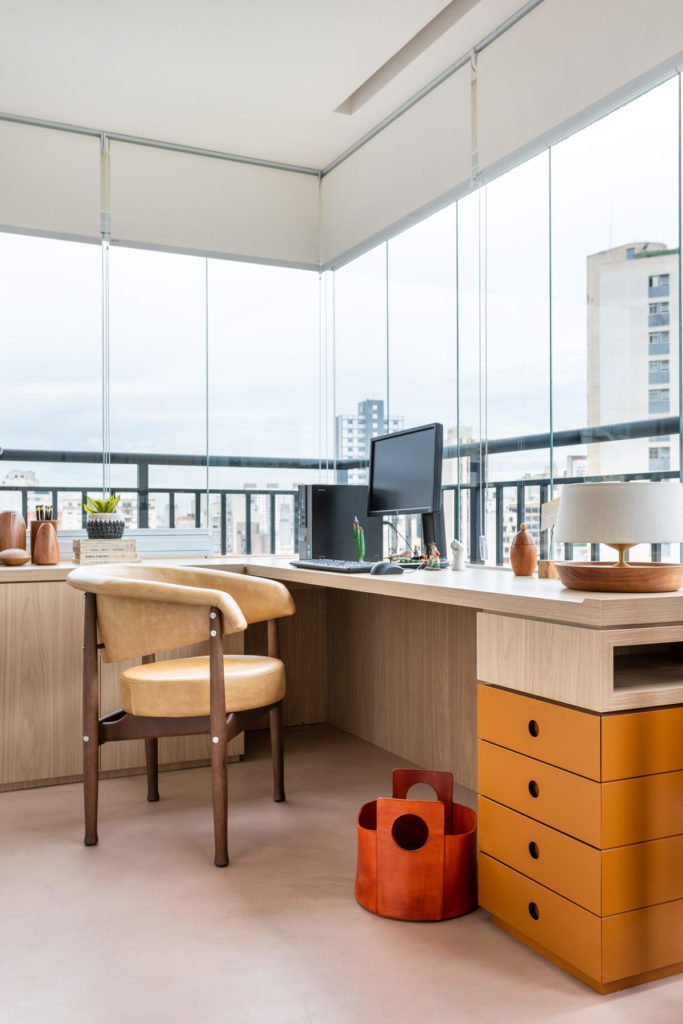 The work desk above was cleverly nestled in a corner of a covered balcony, allowing natural light and cityscapes to flood the whole space. Architect Renato Mendonça Arquitetura imagined this modern working space as a custom-built L-shape desk that can be opened to the outside during warmer days and closed off when it's cold.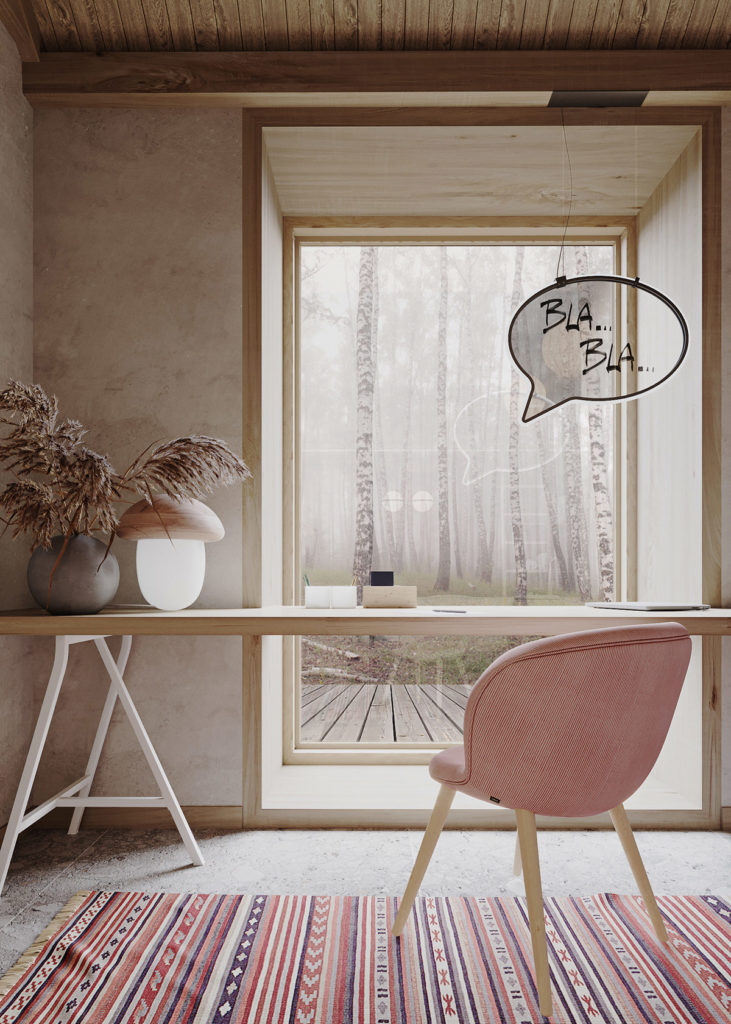 Designed by architect Maria Marinina, this impressive workspace you can see above seems to split the window in half. Reminding its owner that simplicity is key and the rest is "bla bla" captured in a perspex speech bubble, the soft-colored office space looks out to a deck and the forest beyond.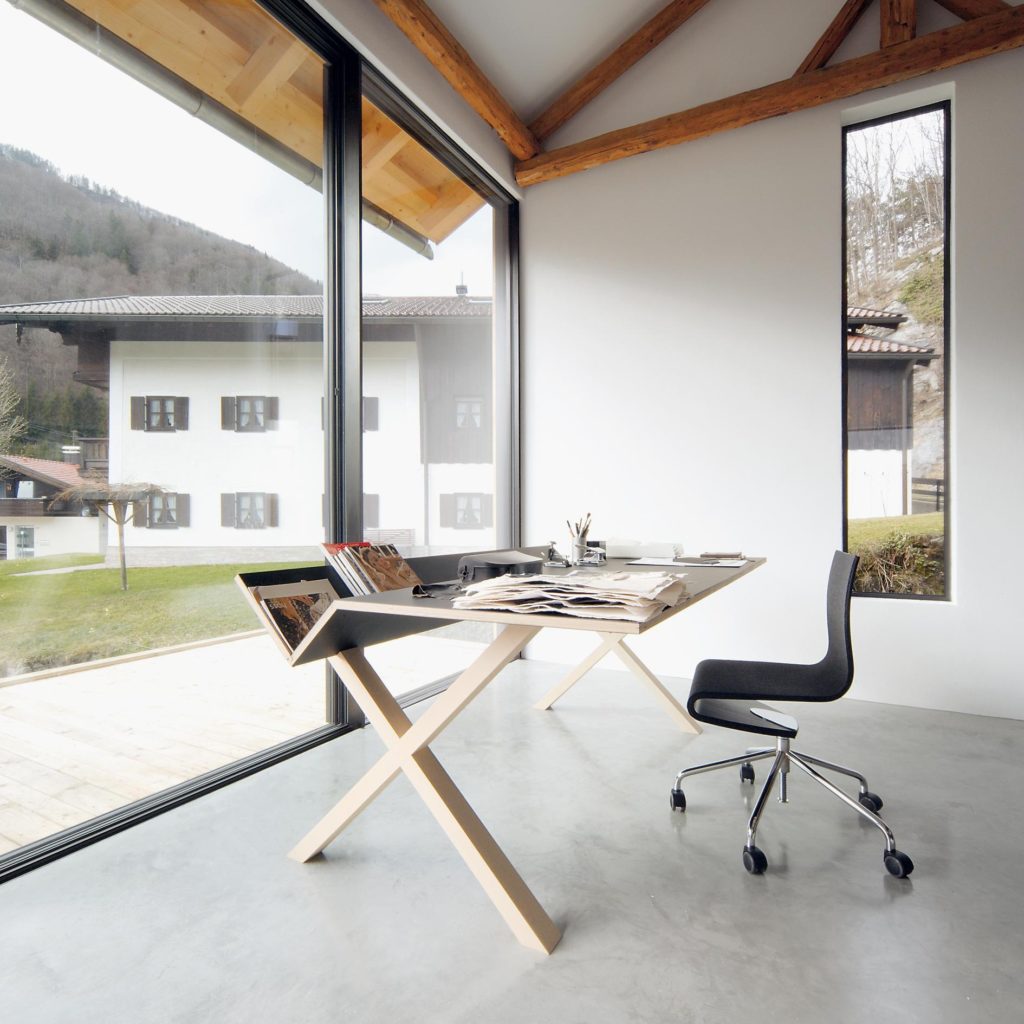 The Moorman Kant desk placed in front of a window and matched with a contemporary desk chair might be all you need for a modern home office setup. The desk's distinctive edge can be used as a magazine rack or can hold your most important items in reach at all times.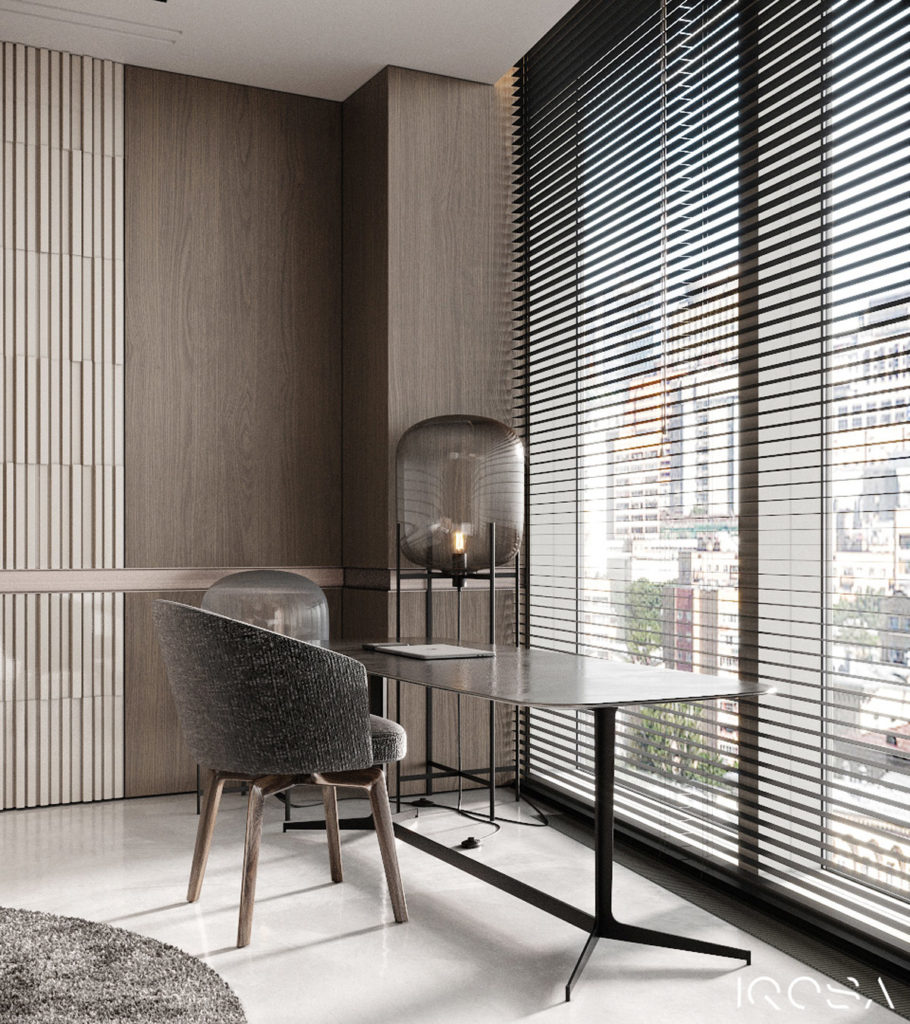 Visualised by IQOSA, this minimalist workspace can be part of a bedroom setup. Sitting in front of a floor-to-ceiling window guarded by horizontal shades, the sleek black desk was paired with a cosy armchair resting on wooden legs to smooth its metallic feel.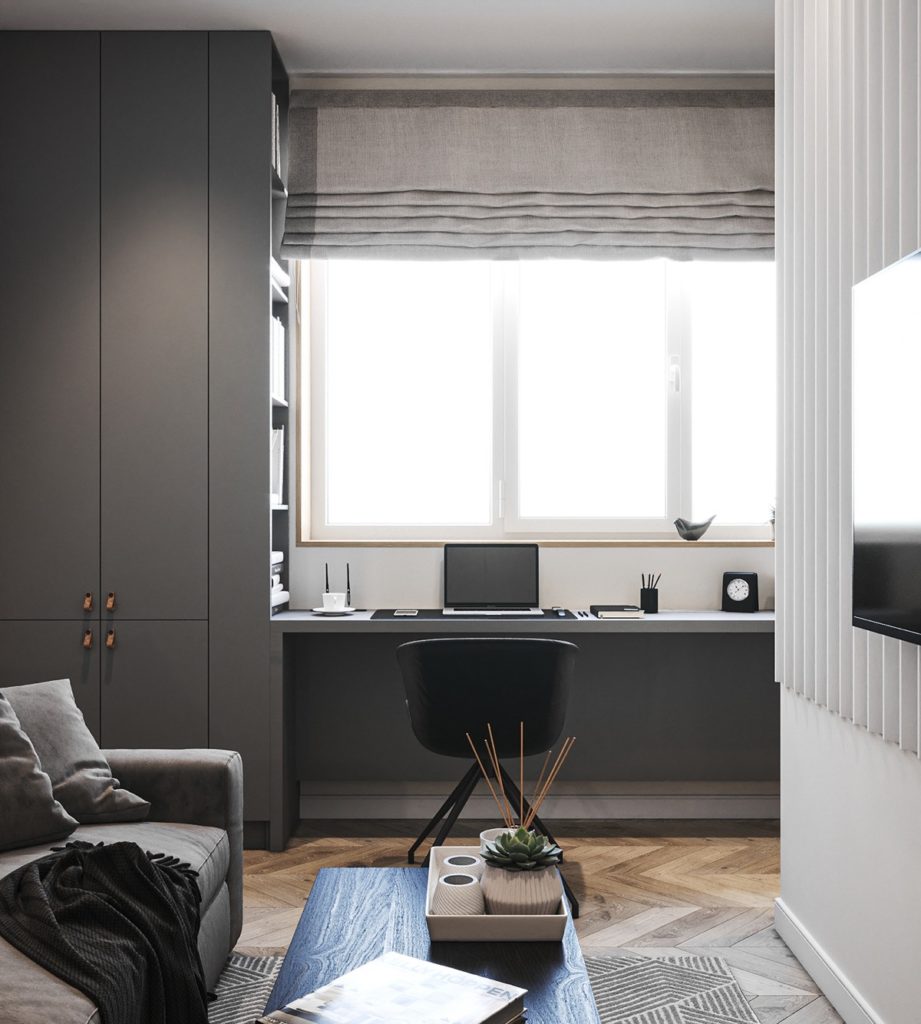 The photo above showcases a grey workspace integrated into the living room furniture. Designers from Studio Open placed the desk under the window and gave the owner the option of immersing the space with natural light or blocking it off whenever the sun shines too brightly.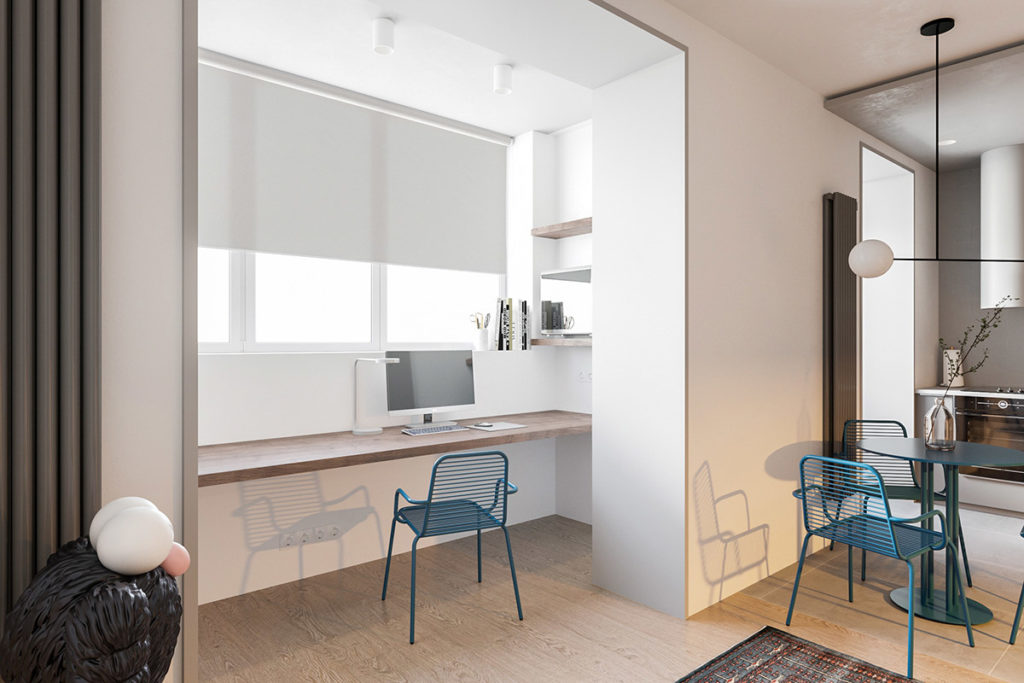 Part of the same apartment as the working space above, this working ledge was imagined by the same Studio Open as a temporary place within the living room that can serve as a home office. One of the chairs from the dining table can be pulled up to the window to do some work whenever necesarry.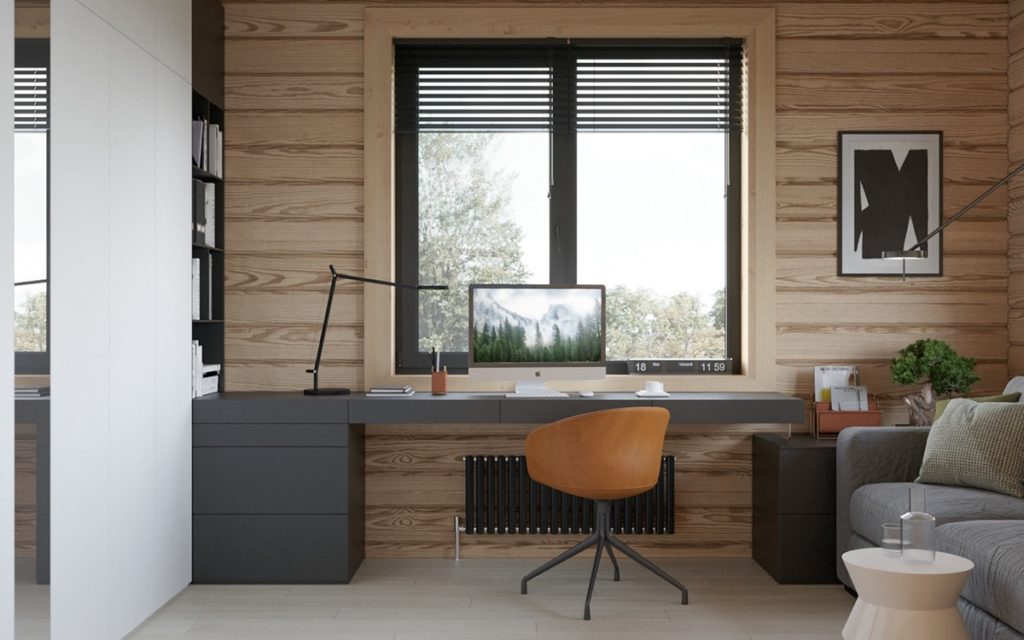 With a modern rustic vibe, the contemporary grey office desk was leaned against a wooden covered wall, just under the black-framed window. Visualised by Olovo, the home exhibiting this workspace is the same one where the family's children play office in their mirroring bedrooms.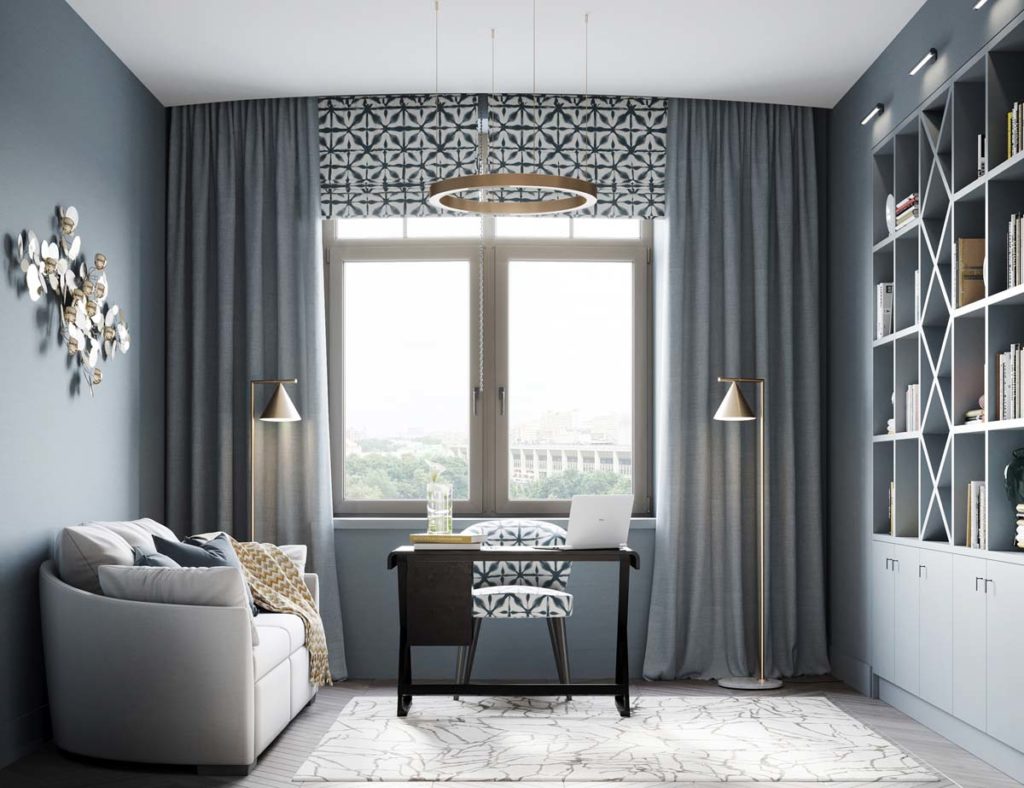 In between a sofa and a library, this simple office desk and chair is seen by VizLine Studio as small enough to get work done and large enough to elegantly fit under the window. This time, the light from the window comes from behind the patterned chair to warm up the whole room.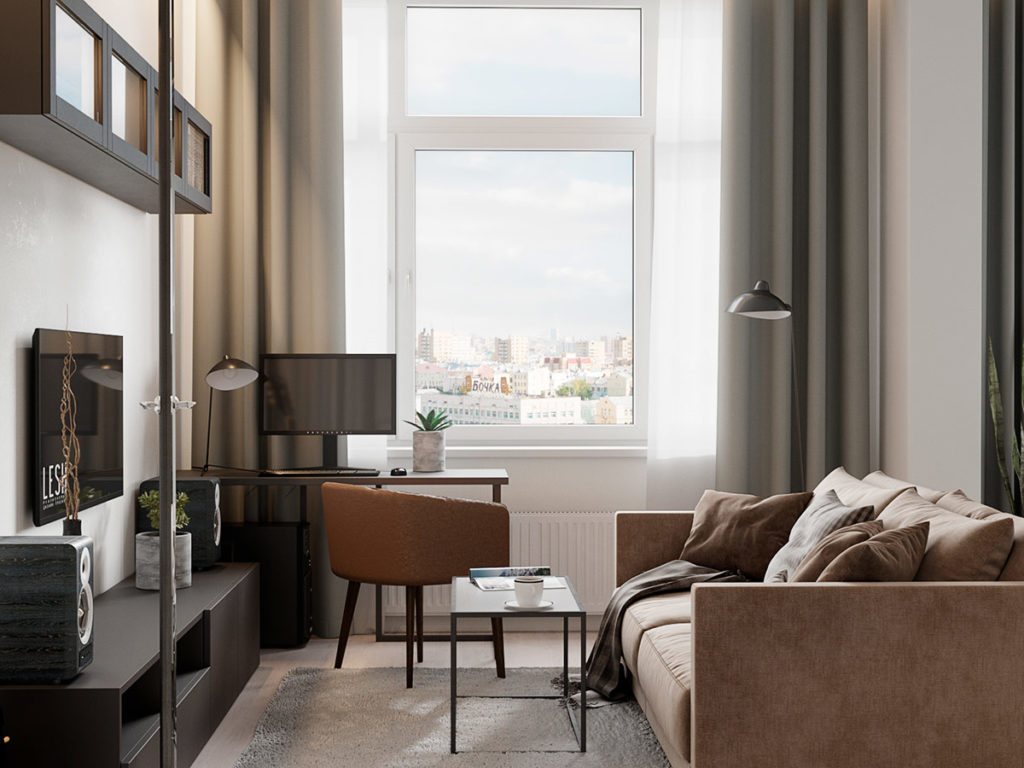 Cosy and inspiring, this space was visualized by Nikolay Limanskiy and is part of a one room apartment in Saint-Petersburg. Sqeezed in a corner, the black desk and tan barrel chair compose a workspace that gathers natural light from outside the window it sits under.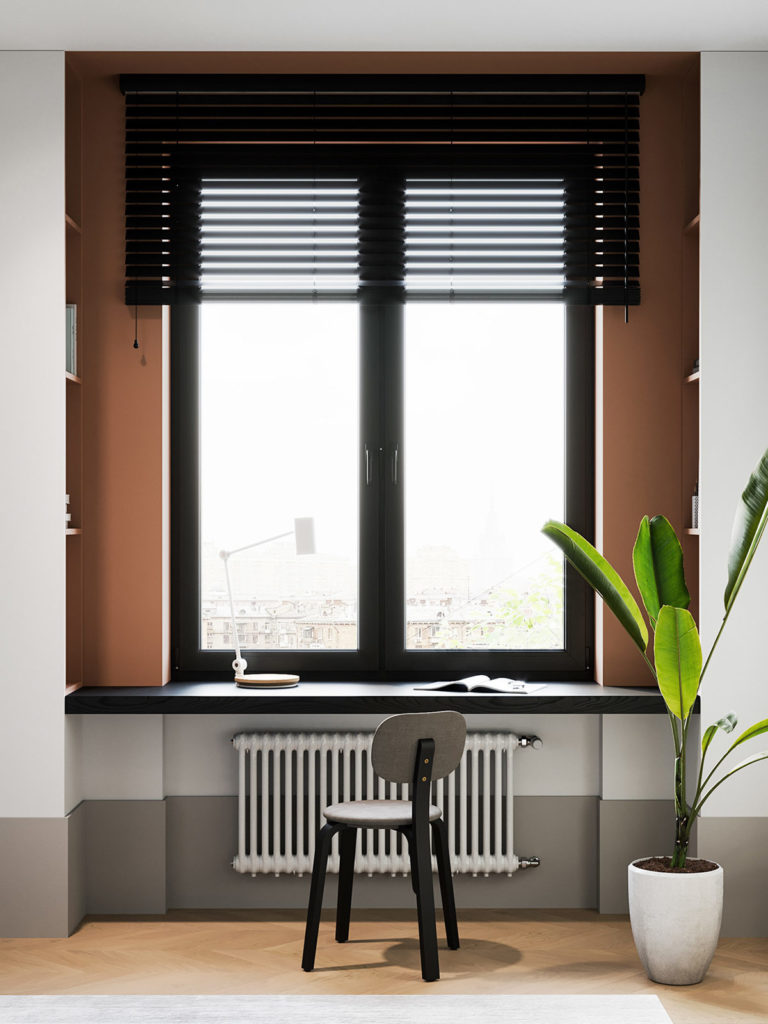 Designed by Bureau Slovo, the space above is partitioned with the help of colours. From the grey belt matching the chair all the way up to the black framed window, this tall space was fitted with a black window reveal that acts as a desk. On both sides of the window, open shelving is used as storage space.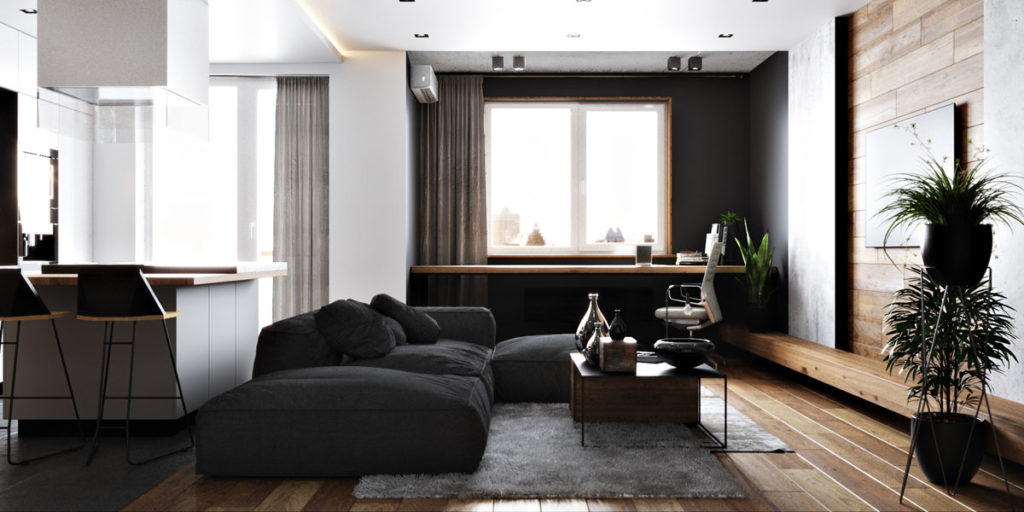 With a beautiful dark to light ration, the ledge workspace in the picture above balances the whole living space. Designed by Dubrovska Studio, the black and white living room was warmed up by wood planks. The office corner under the window was kept simple and defined by black paint.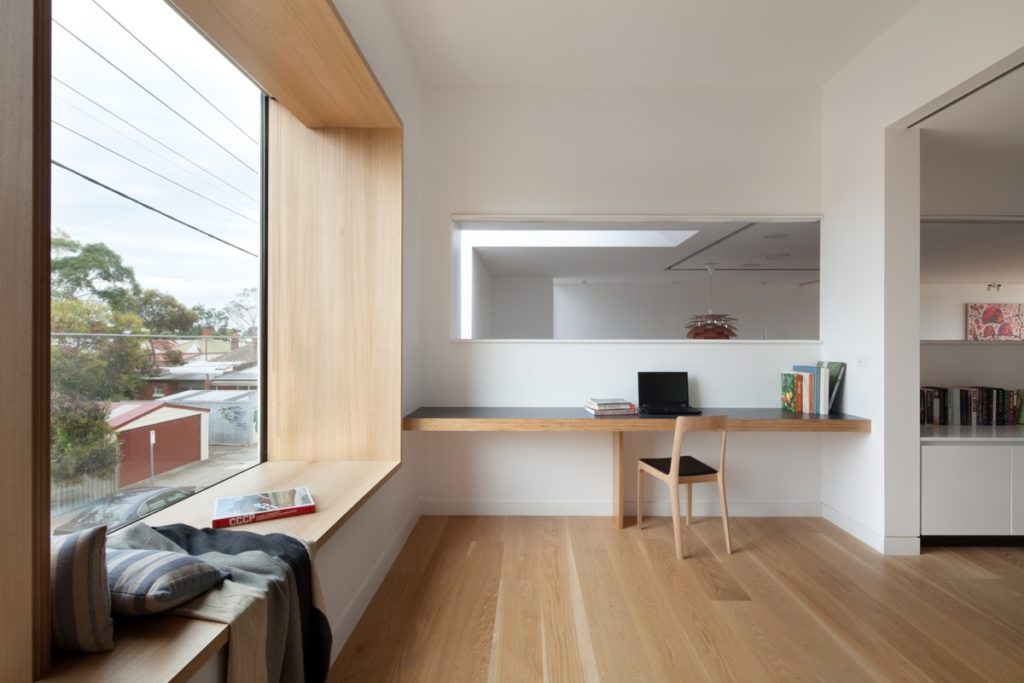 When you have a workspace next to the window seat, every break is reason enough to grab a look outside and be grateful for what you have. Architect Pleysier Perkins placed a simple wooden slab resting on one leg in the space available, matched a wooden chair and easily constructed a minimalist home office space.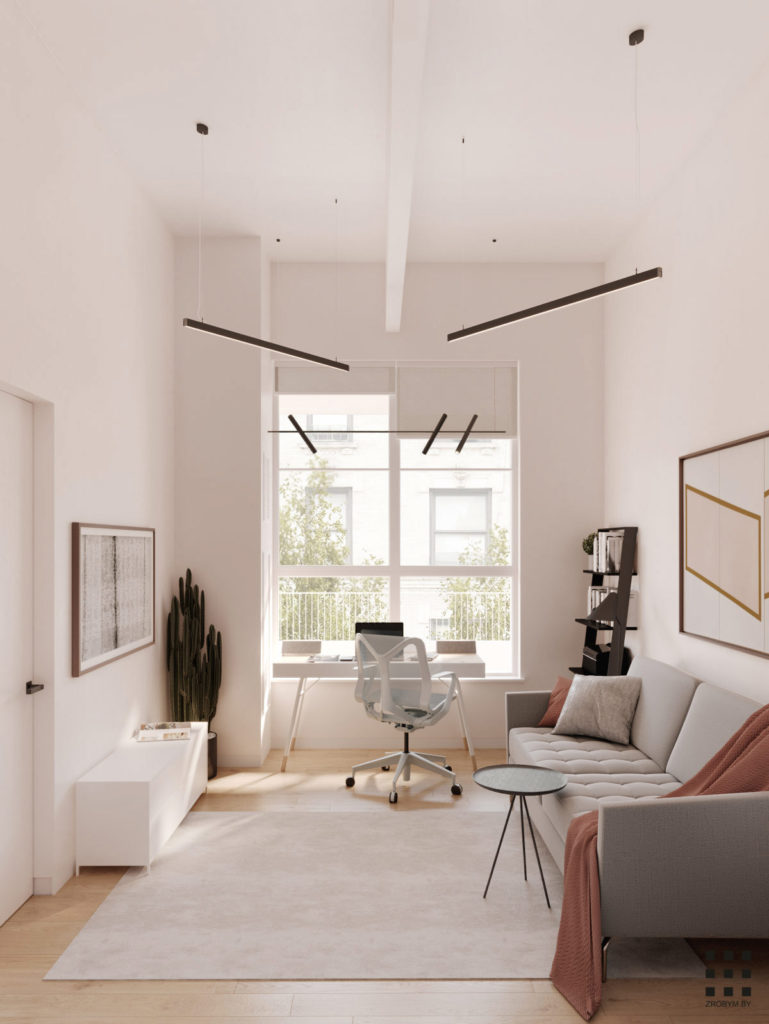 This soft space imagined by designer Zrobym Architects is part of a one-bedroom apartment. That means that this room acts like a home office, a living room and a guest bedroom. So you see how just one window can easily become a comfortable place to work from, no matter how small your home is.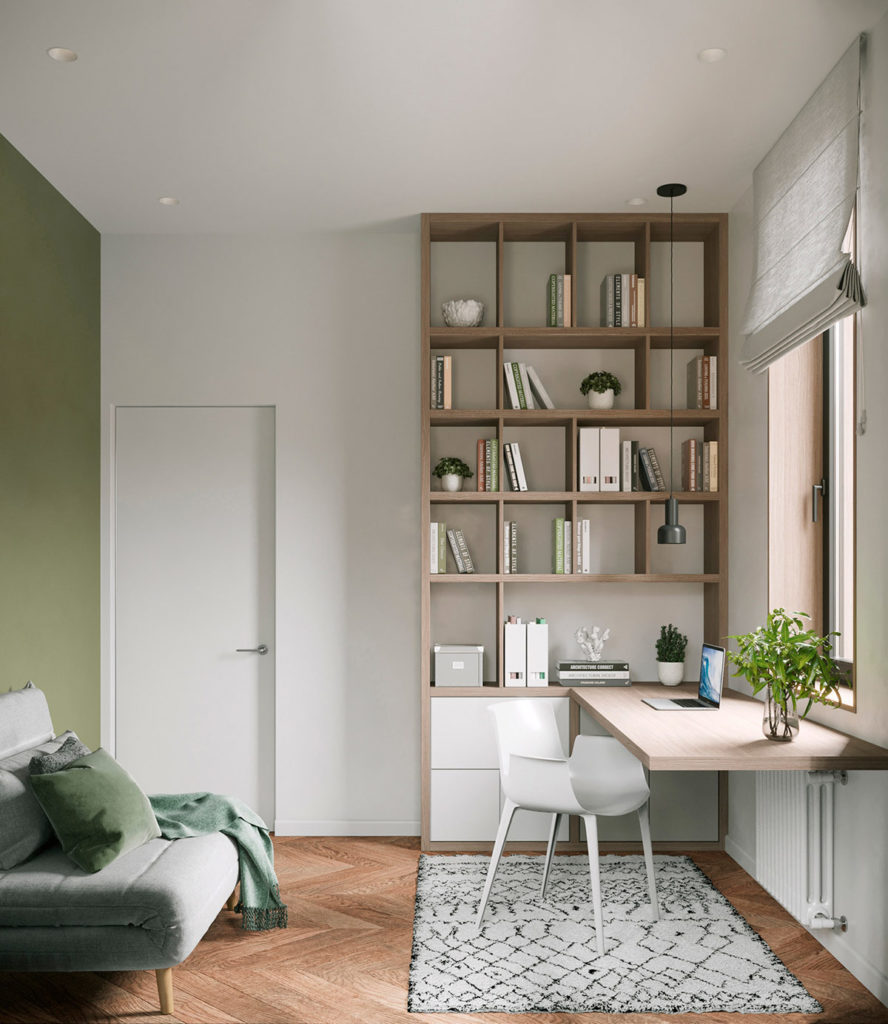 A cantilevered desk under the window is part of the library and that makes this room feel and look bespoke. A grey futon folds on the other side of the workspace, making it easy to take inspiration breaks. Visualized by New Plans Design, this pale green workspace was created with comfort in mind.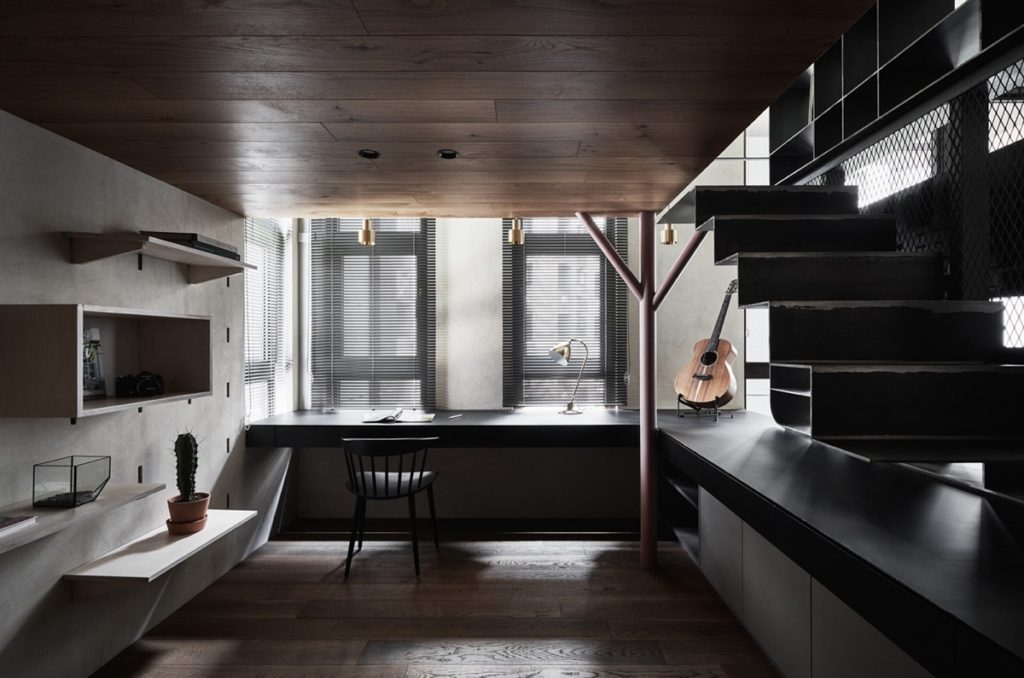 Created by KC Design Studio, this minimalist workspace under the window shows us how simplicity is the ultimate key to productivity. If the space is simple, the energy of creativity flows easier.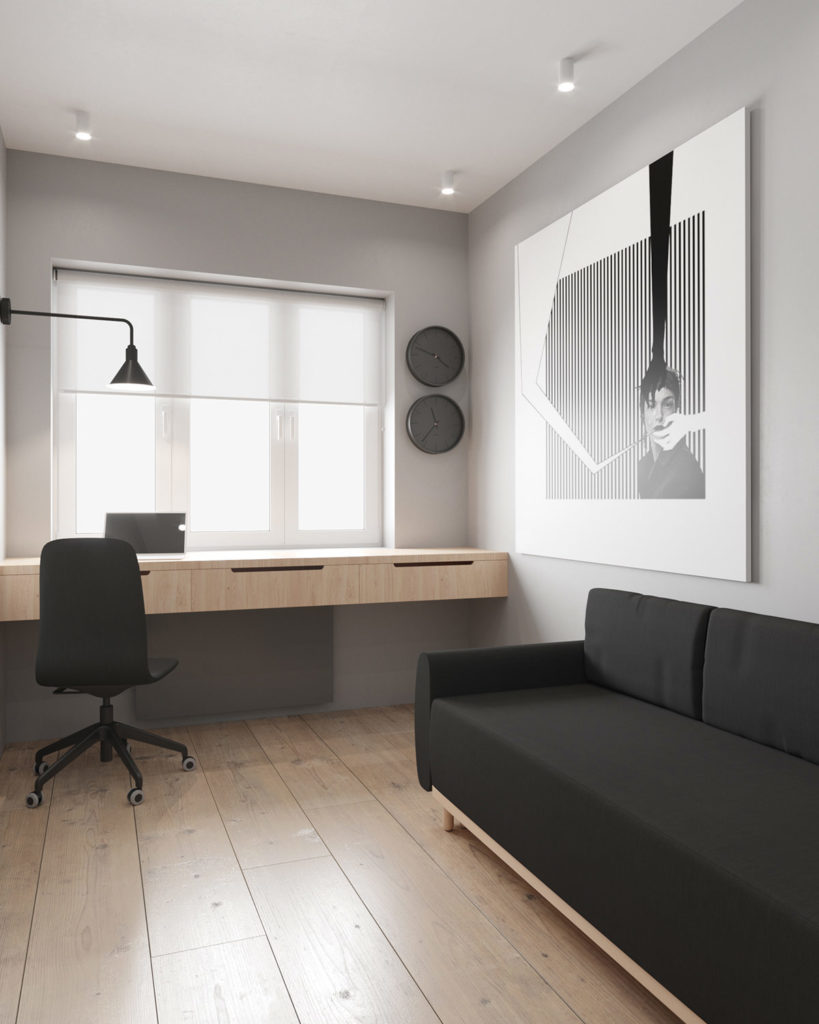 Designed by Ira Lysiuk & Stanislav Pashkalyan, the minimalist workspace above combines the power of black and white and enhances it with wood insertions to create a devastatingly simple home office design. There is enough storage space in the desk under the window to keep your tech safely in reach.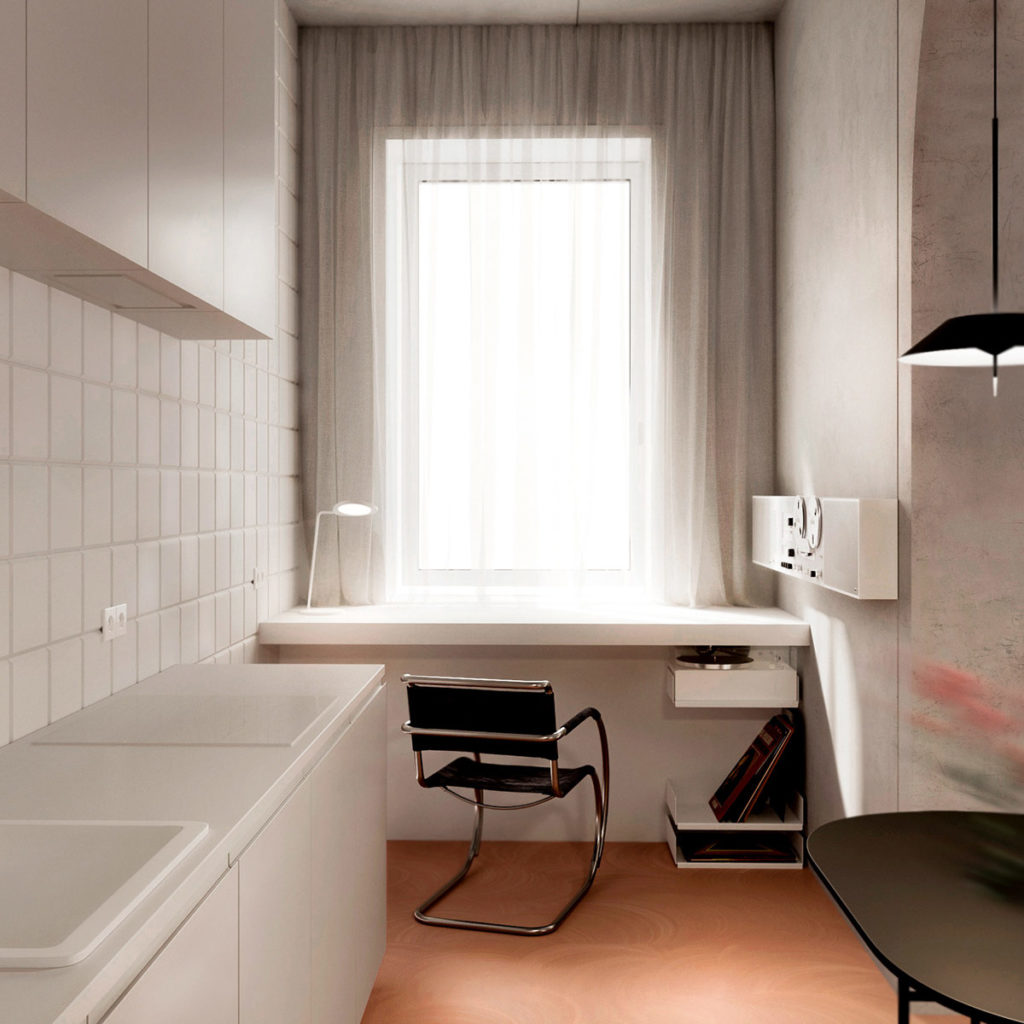 By now, you must be used to seeing small spaces be given the workspace makeover. A window sill can easily be extended to fit your laptop, like in this example imagined by designer Anastasia Bila. And if you slide a sepparate shelving unit underneath, you also have storage for your most important work items.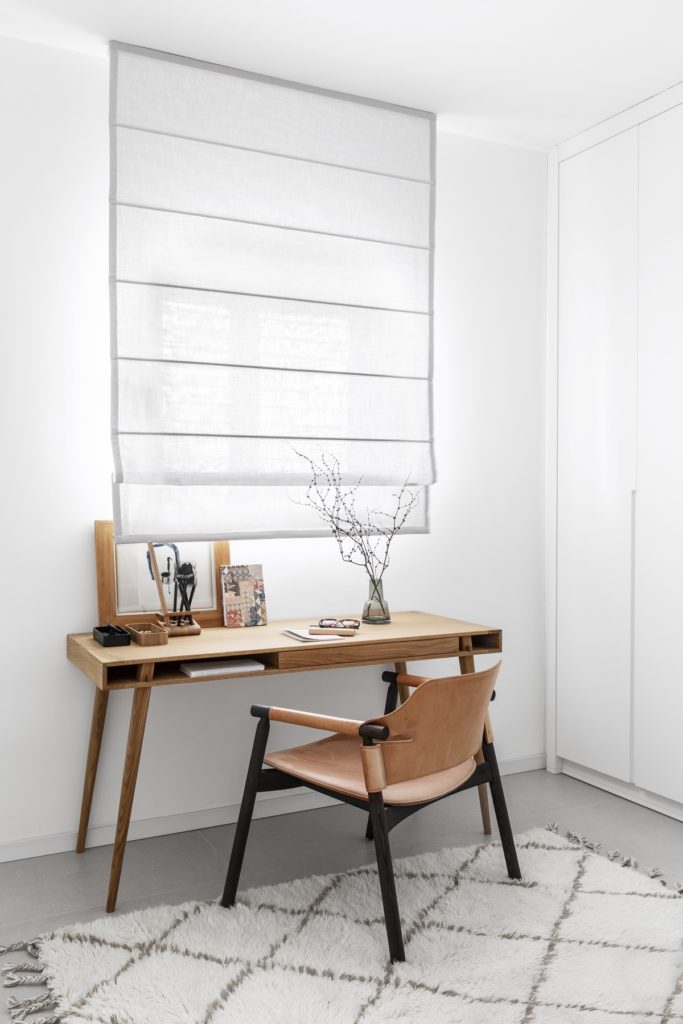 Scandinavian design inspires simple, coherent workspaces, like the one above. The modern desk under the window was paired up by Maya Sheinberger Interior Design with a tan Midj Suite AP L CU Lounge Armchair resting on a Moroccan Berber rug in cream and brown.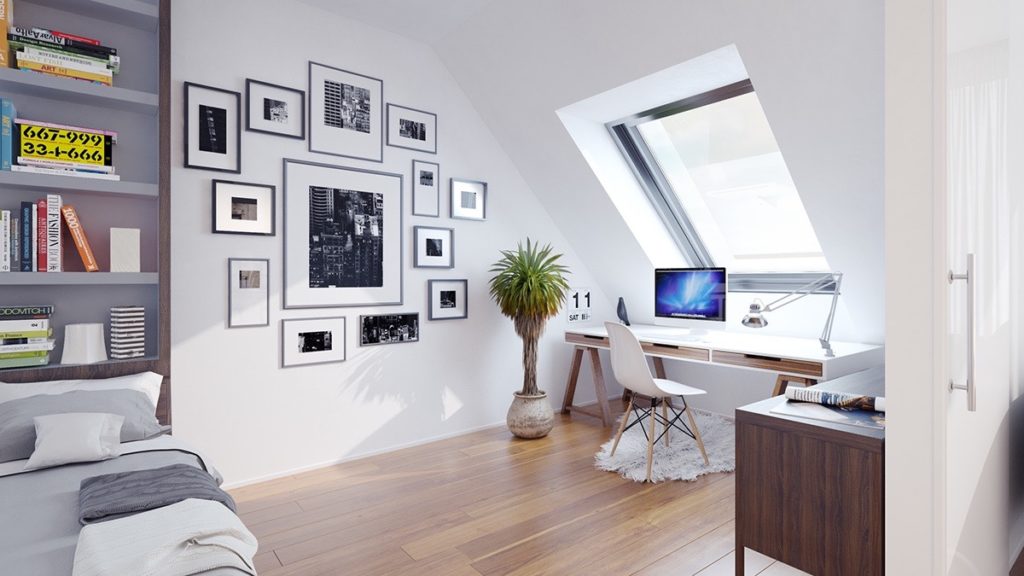 Slanted spaces with a skylight are perfect for tucking a Scandinavian desk under and calling it an inspirational workspace. This space was imagined by Bartosz Domiczek and Szymon Tworz and exemplifies how empty rooms can be transformed into cosy places with the right mindset.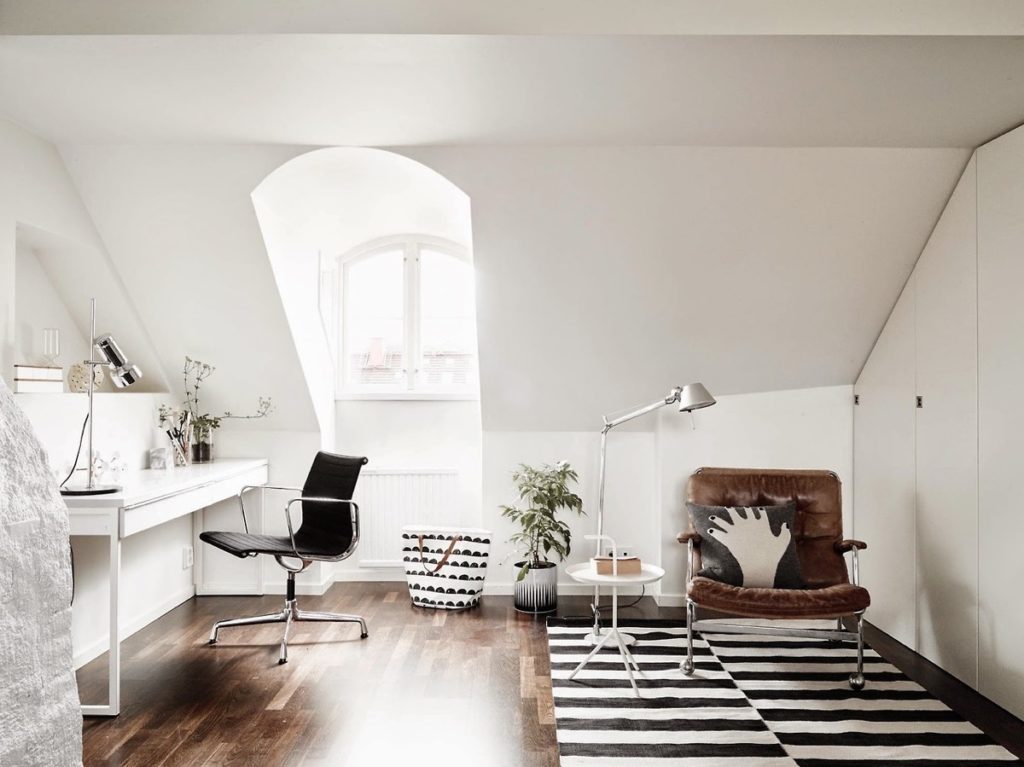 Another version of a workspace nestled under a slanted skylight inspires us to think about how we can place a workspace to suit our own needs.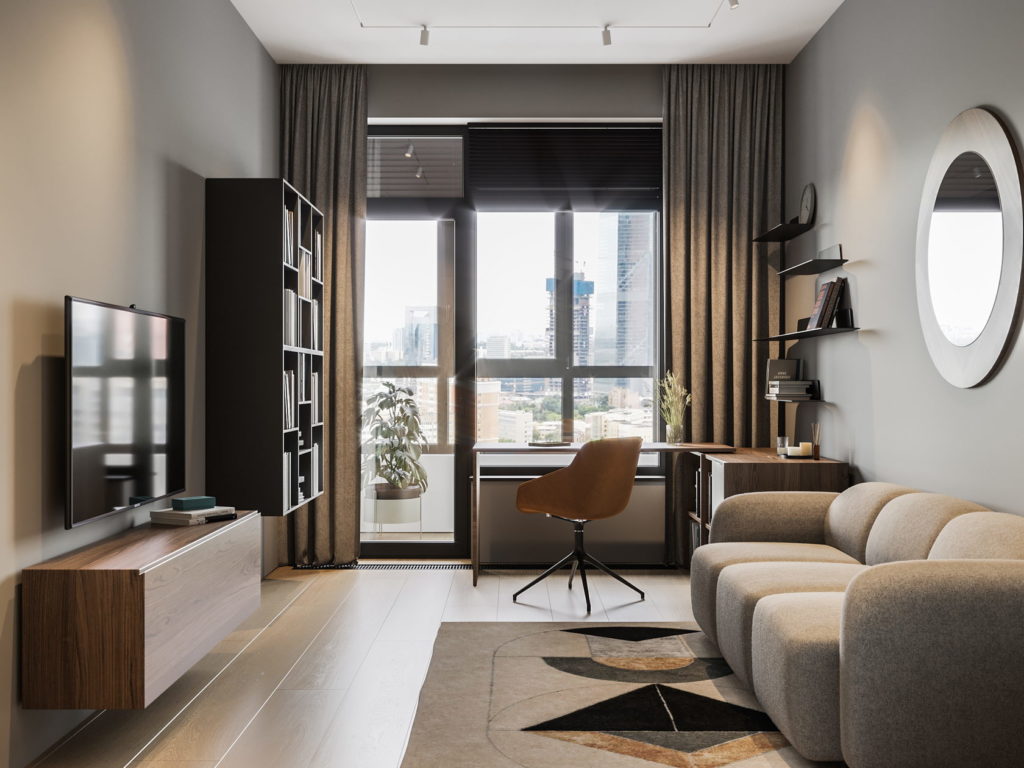 This L-shaped workspace under the window in a living room from a residential complex was designed by Bureau Slovo. Everything the owner needs is close by, whether it's books or fresh air or a break on the sofa.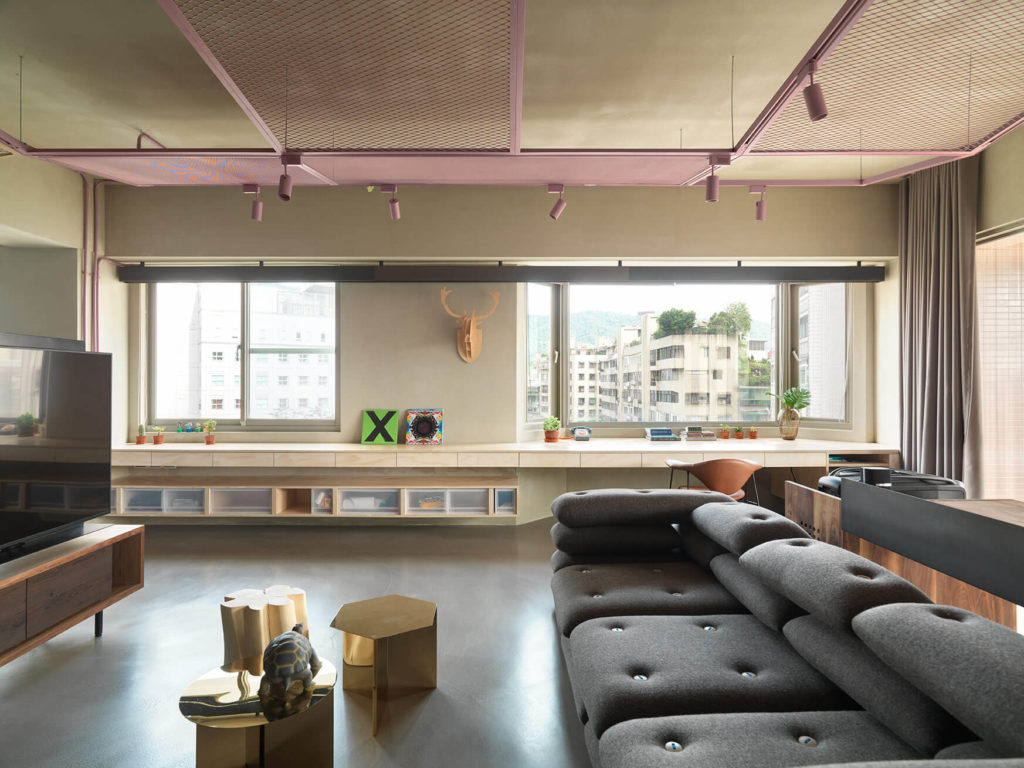 If you like minimalist spaces, then you will love the living room above. Featuring a long and sleek desk under the window that prolongues into the rest of the space, the living space imagined by KC Studio beautifully integrates the clarity of minimalism with the need for visual aesthetics.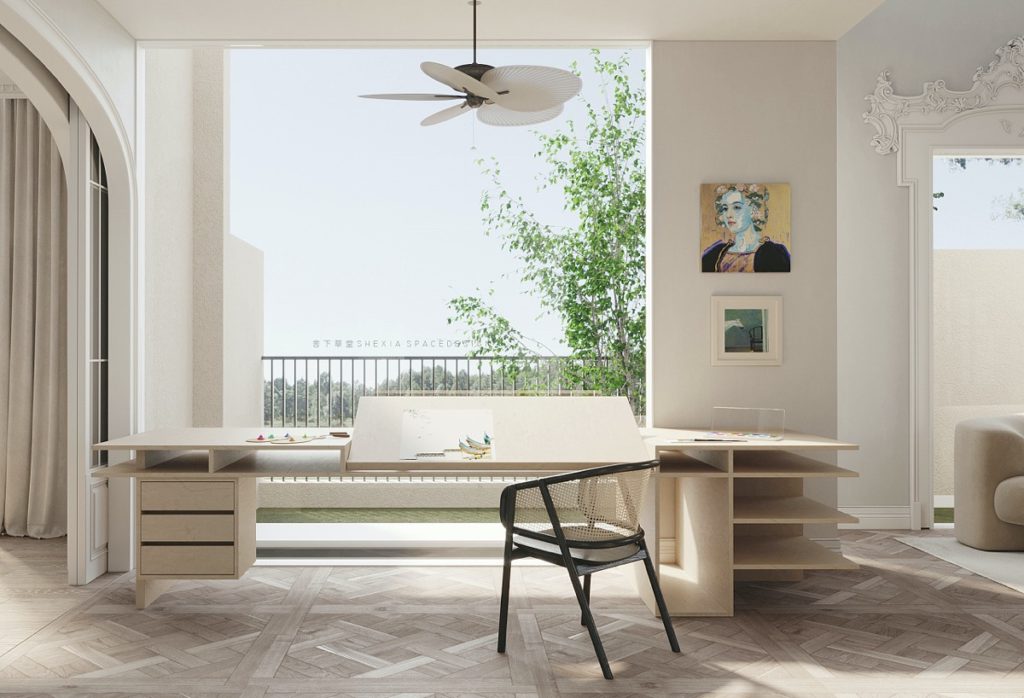 Placed in front of a floor-to-ceiling window, a huge drawing desk gives a great advantage to the artist working in this space. Inspiration flows like the natural light through the window. Visualized by Shexia Space Design, this particular workspace speaks volumes about the need for purity of thought reflected in the surrounding space.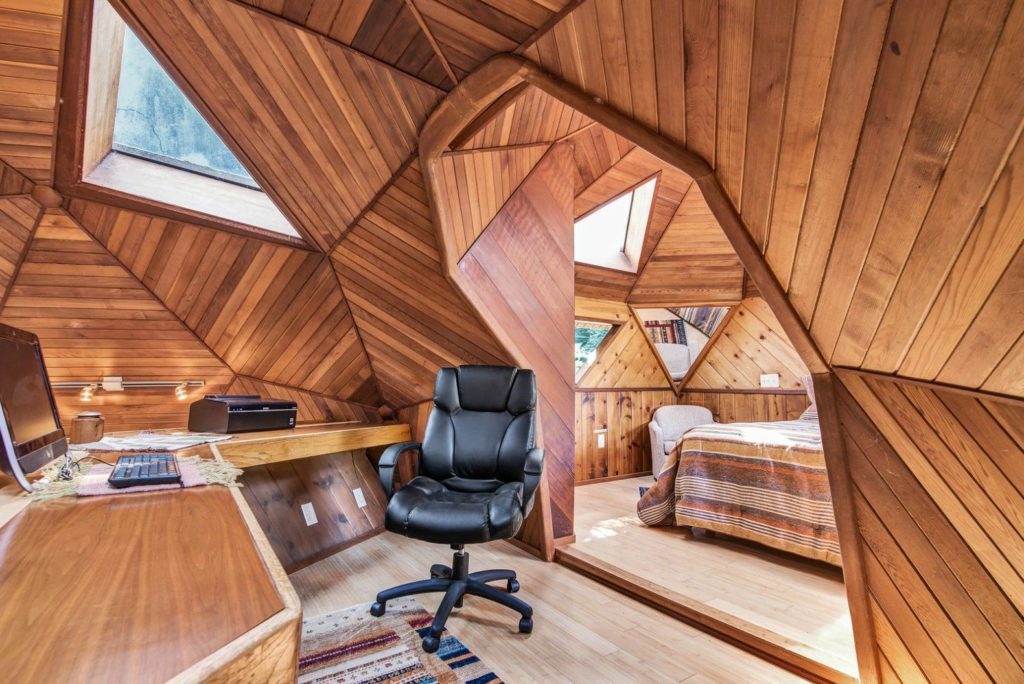 Imagine yourself owning a dome home and working from under a triangle skylight, surrounded by wooden walls. Wouldn't that be something special?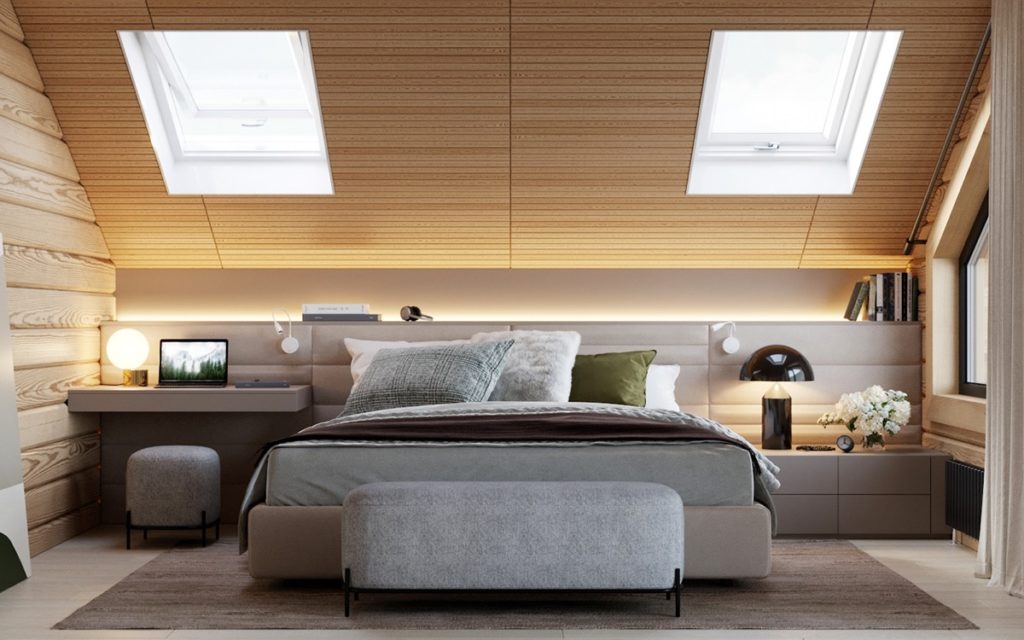 The last three workspaces under the window are part of bedrooms. The one above is nestled under a wooden framed skylight and imagined by Olovo.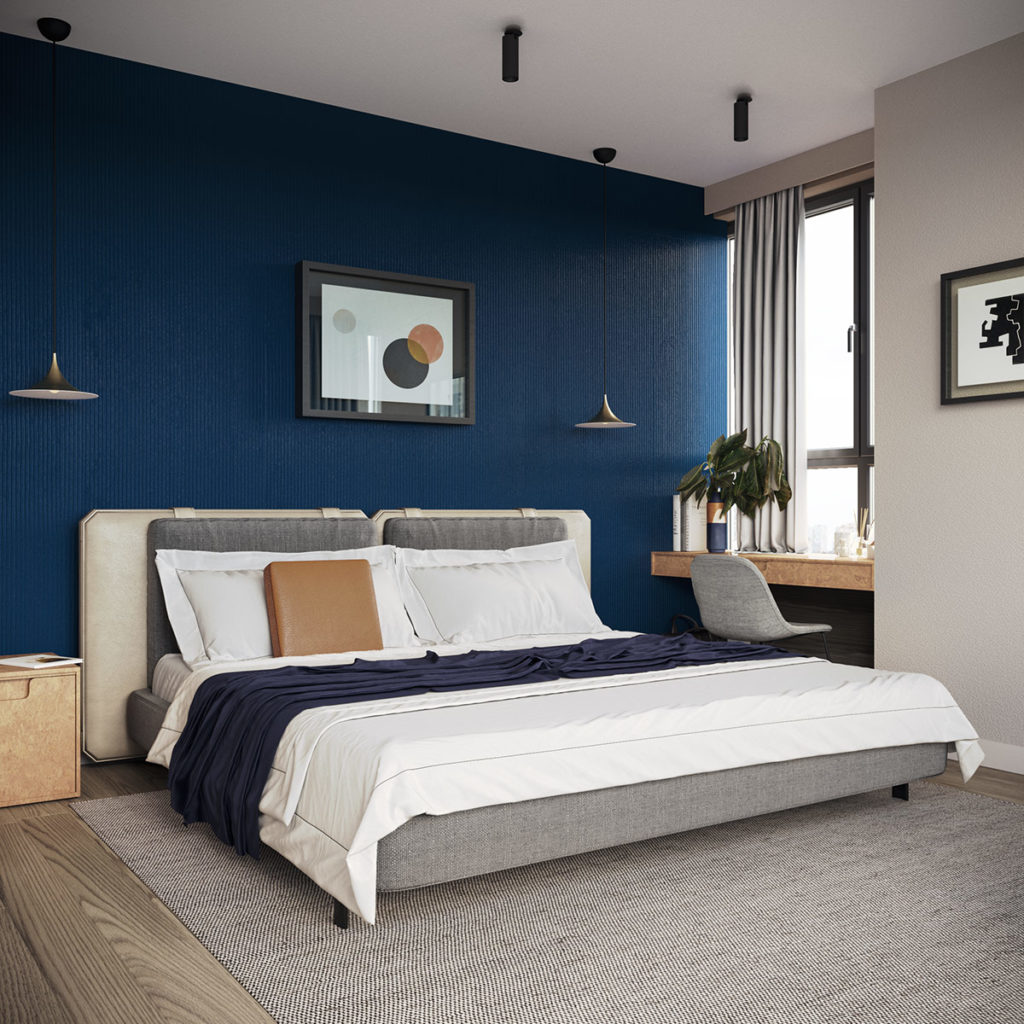 Another bedroom workspace designed by Zrobym features a desk matching the nightstand placed in anook right under the bedroom window.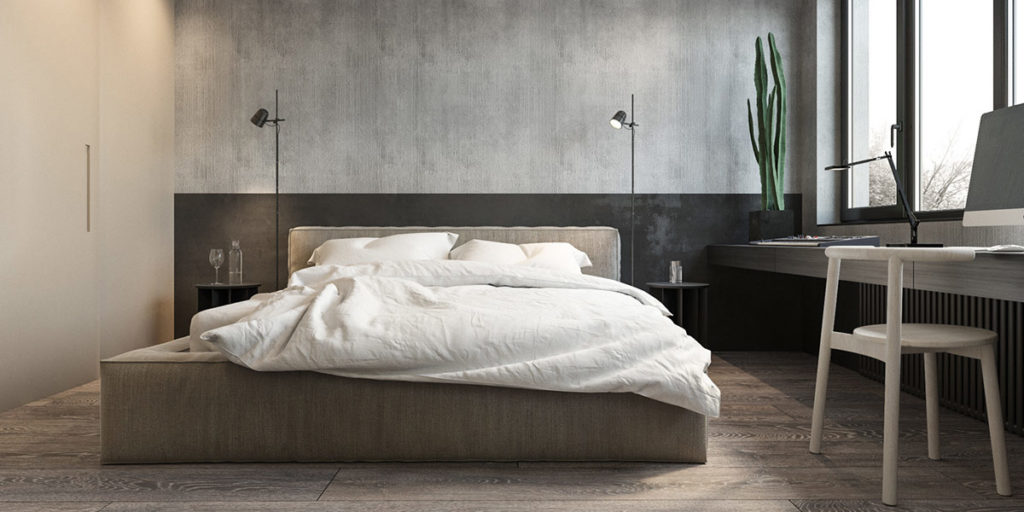 Our last example of a workspace under the window was imagined by Rahul Pawar. Keeping a clean aesthetic, the grey bedroom workspace cantilevers over the radiator. Running the lenght of the bedroom wall right under the window, this workspace can be used by more than one person.
And if you plan on sharing your home office with your partner, here are a few ideas to get you going.