Designed by Diff Studio, this luxurious home office room is not only a space where work is easy thanks to the interior design, but it also has one elements rarely found in a workspace – a contemporary fireplace.
We're used to imagine ourselves in a cosy living room, enjoying a glass of wine in front of the fireplace while flames dance and the sound of crackling firewood dissipates our thoughts. Getting carried away into a meditation-like state is not only useful in the evening, after a long day.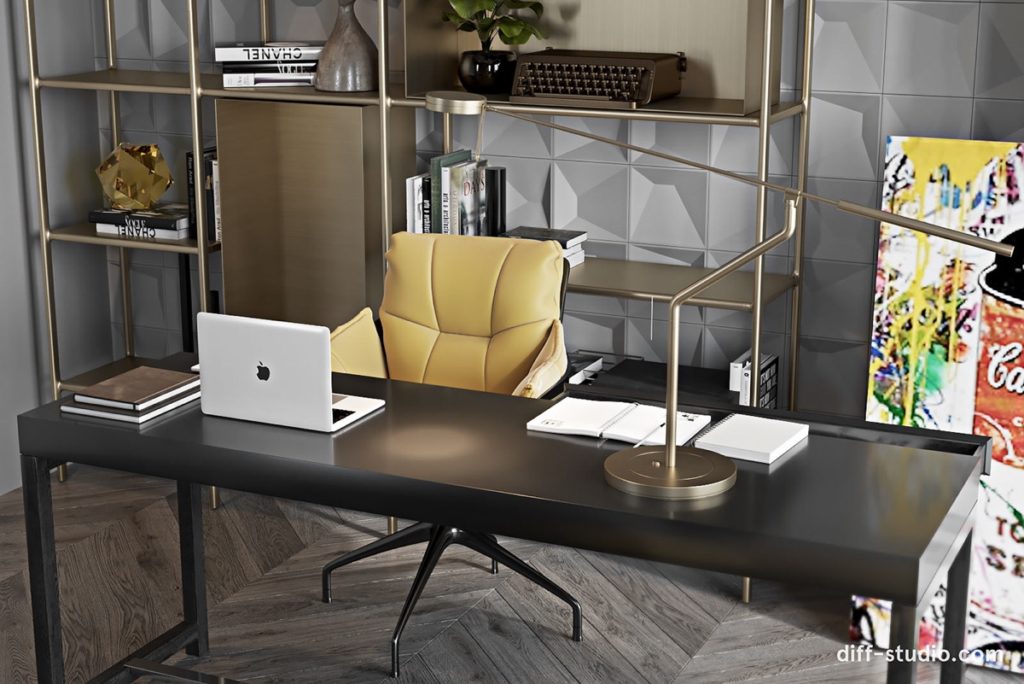 Imagine yourself taking a break from working at the long, dark desk, and streching your body in front of the window, relaxing your eyes while you gaze outside and then slowly sitting down on the muted yellow armchair to enjoy the fire burning besides you.
Calming your mind is one of fire's most amazing features. This must be the main reason why someone chooses to have a fireplace in the office.
Beyond the calming effect, the colorful artwork contrasts the relaxation note that defines this home workspace. This hints to the creative and artistic side of the owner, showcasing a complex mind that can hold both the aura of sophisticated glamour and the Tomato Spray artwork in the same mental space.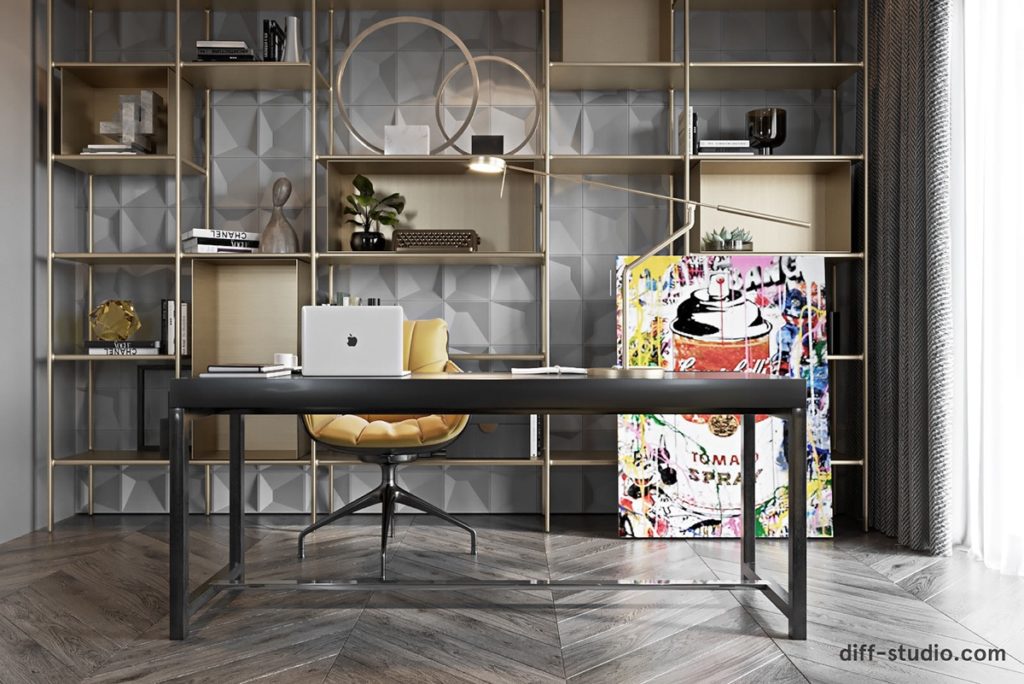 A deluxe gold shelving unit was fitted on a textured wall behind the office desk, giving the space more depth and an edgy feel.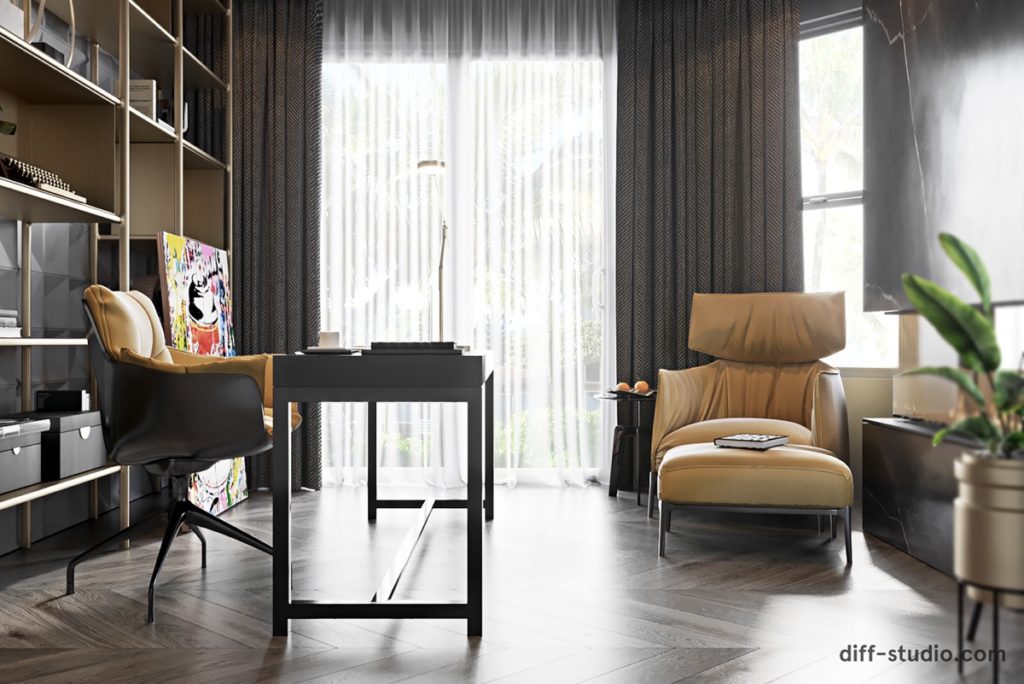 The fireplace encassed in black marble softly mirrors the work desk and chair, creating a mesmerizing effect. Natural light filtered by ethereal curtains can be blocked off to enjoy only the natural fireflames in the evening.
Keeping the colors to a minimum while exploring the effects of artwork and textures makes this workspace a unique one. And what's better than having your own creator space imagined just for you?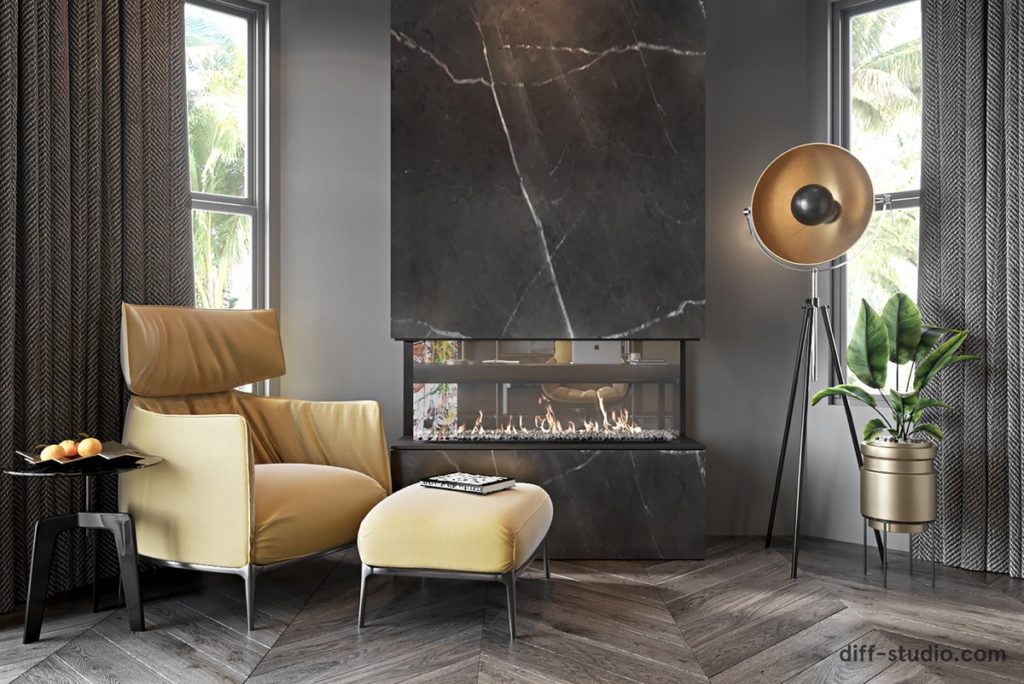 If you want to see more home office spaces that use the power of personalized design, we have these recommandations:
10 Composed workspaces defined by color
10 Dark work offices soaked in dramatic glamour