Dark home offices scream masculinity from every nook, making it a surround sound through resourceful design.
Sophistication comes from an ingenious combination of shapes, sizes, colors, and textures. When you think about dark home office spaces, sophistication is something that becomes glamorous by using principles of interior design.
Dim workspaces allow you to sit in a peaceful space while working and use illumination for highlighting only the necessary spots. Textures can make or break a space and they can also upgrade a monochrome interior without much else. Big spaces can look bland without an experienced eye to give them character just as small spaces can look uninviting if there's nothing to give them depth and make them taller.
This is where interior designers and architects come in to change the feel of a space so that you can focus on what's important, your own work. Let's explore 10 trailblazing workspaces in dark hues: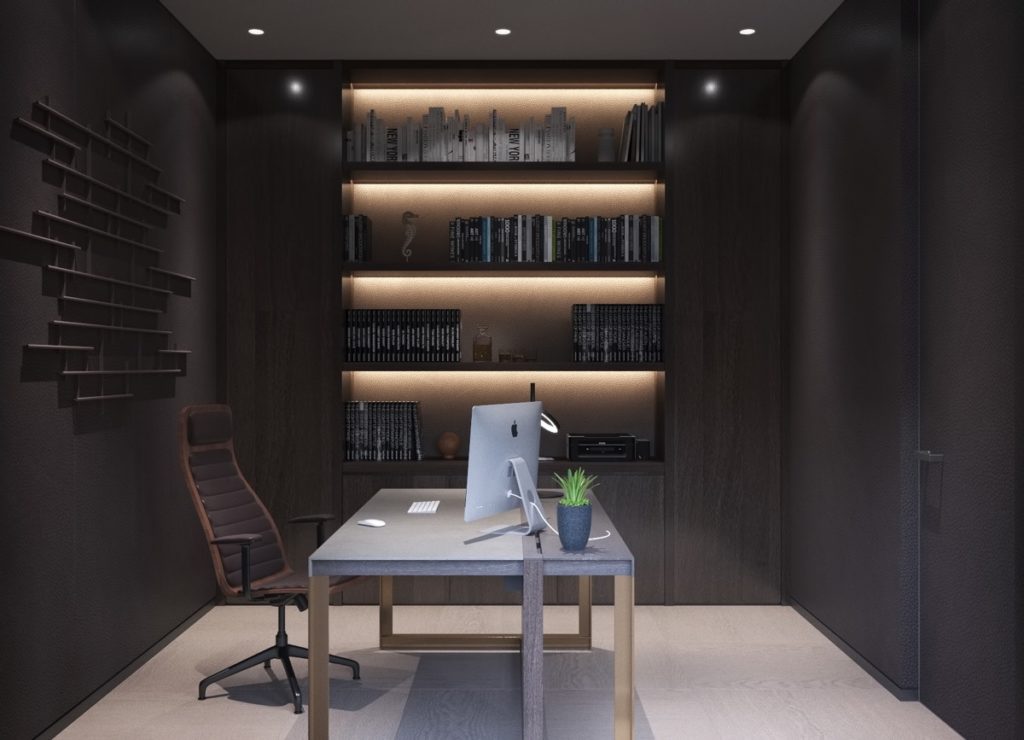 This first black and brown home office space displays a private room where drama fills the room. Exploring masculine energy, this workspace uses artificial illumination to create a spotlight effect on the most important features: the desk and the shelves.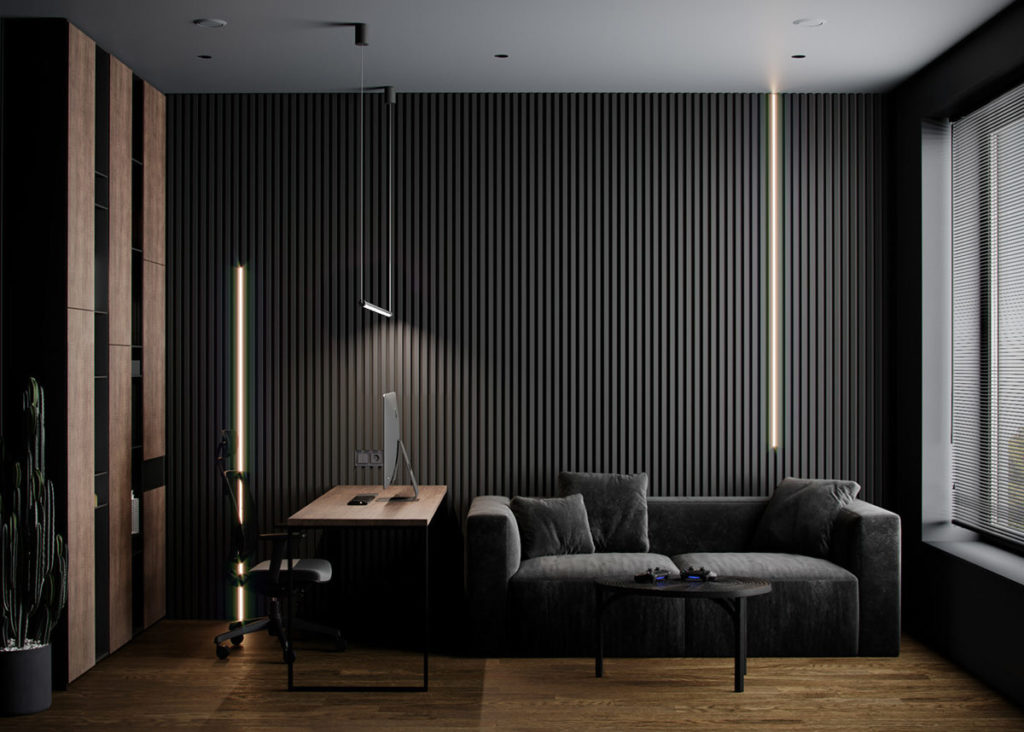 Earthy brown and solid black create a fascinating interior for a home office. Even when you have natural light, the place can always be soaked in less direct light while being enhanced with artificial LED ribbons. Vertical lines create a tall space with lighting following the same ascending theme.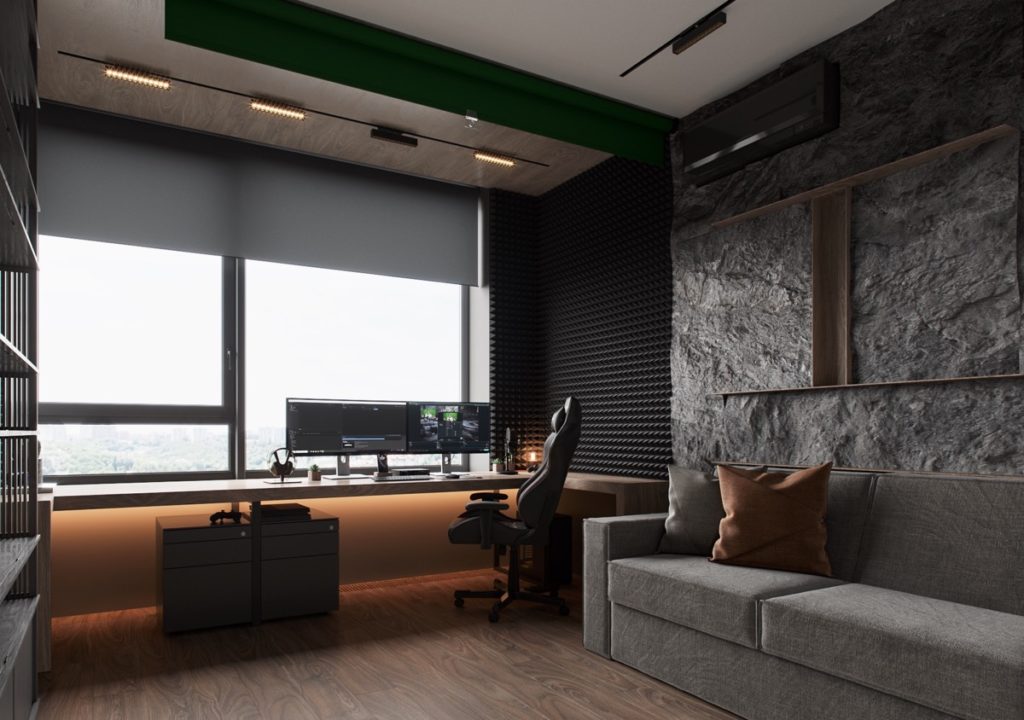 Grey interiors enriched with brown details make for virile spaces. Take as an example the above home office space – a room flooded in natural light that maintains its mysterious composure. Showing off its textures in dark colors, this vlogger home office can be seen in full right here.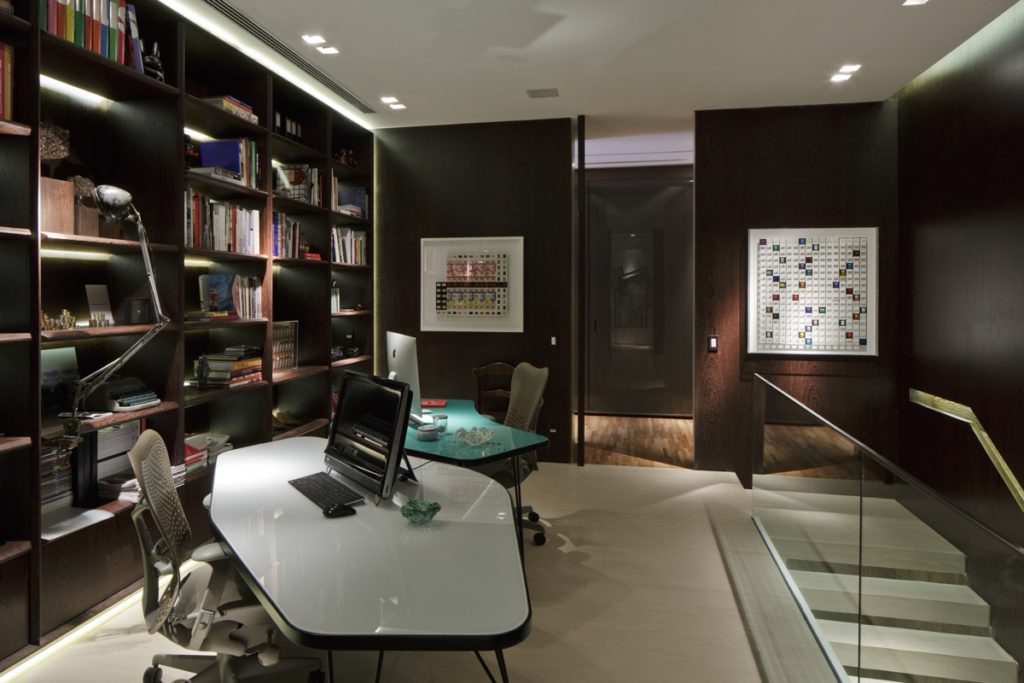 Owning a luxurious duplex in São Paulo, Brazil, also means you can have a fabulous home office space. Imagined by Fernanda Marques Arquitetos Associados, this dark workspace for two is all about business and study.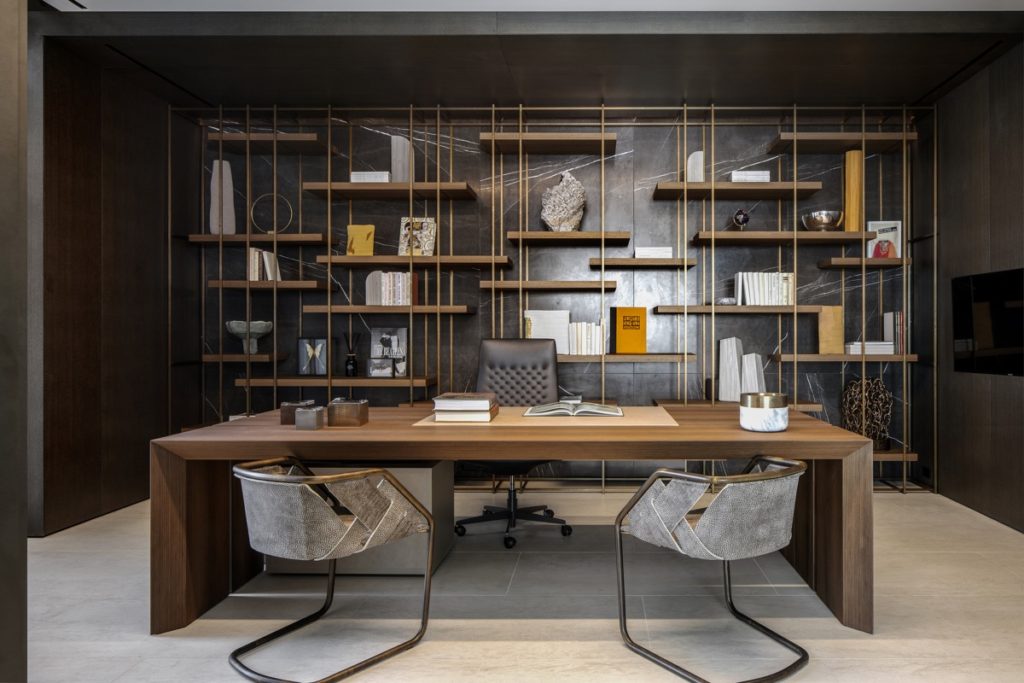 Designer chairs flank the huge work desk in this imposing home office. The back wall is part library, part decorative space on floating shelves crossed by a thin metal supporting structure. Behind the desk, anyone can feel like the master of their fate.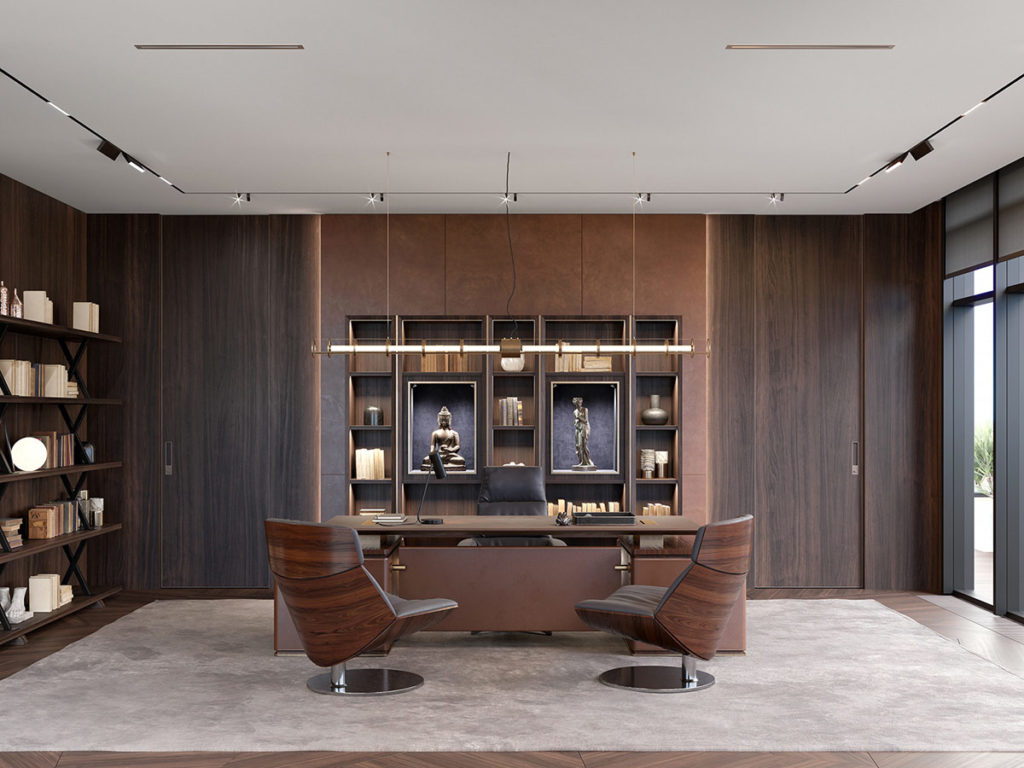 This home workspace acts as fantastic inspiration for someone who imagines their working hours in a paneled wood interior. With a linear suspension light illuminating the desk and natural light flooding the whole office, there is only one reason to stop working – enjoying the carefully thought-out details.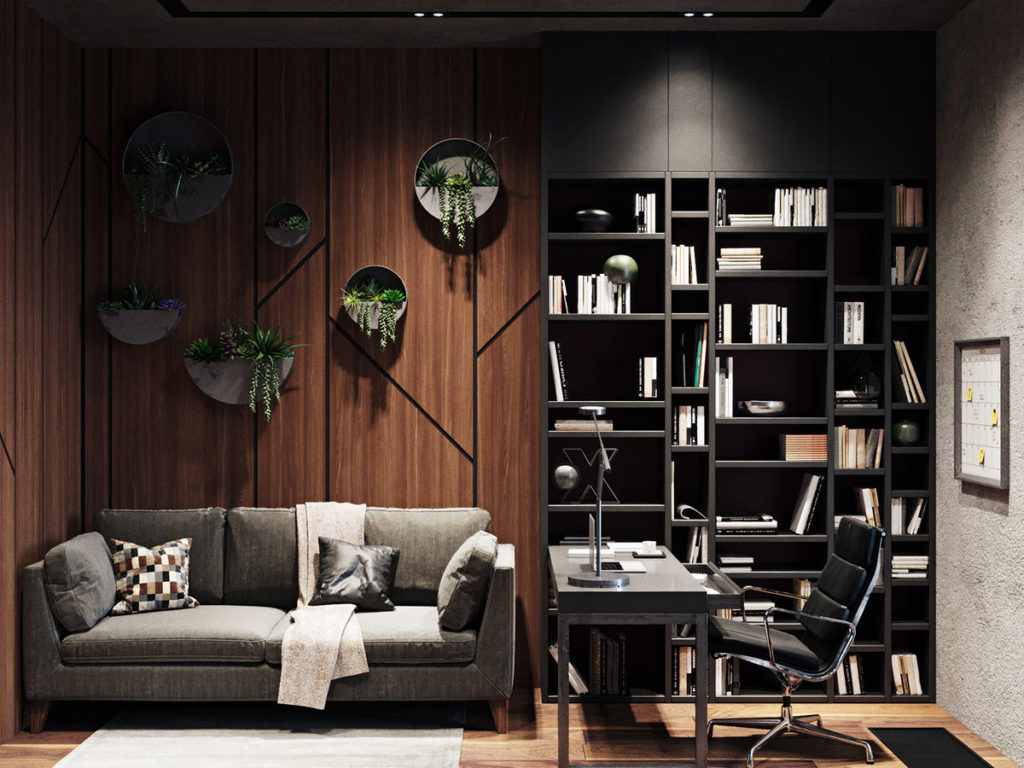 A beautiful concept, in theory, an even more inspiring interior design in reality – this dark grey workspace encapsulated in a rich brown space is reminiscent of nature. Black details on the paneled wall look like tree branches, while round grey planters contrast the density of straight lines shaping the grey bookshelf.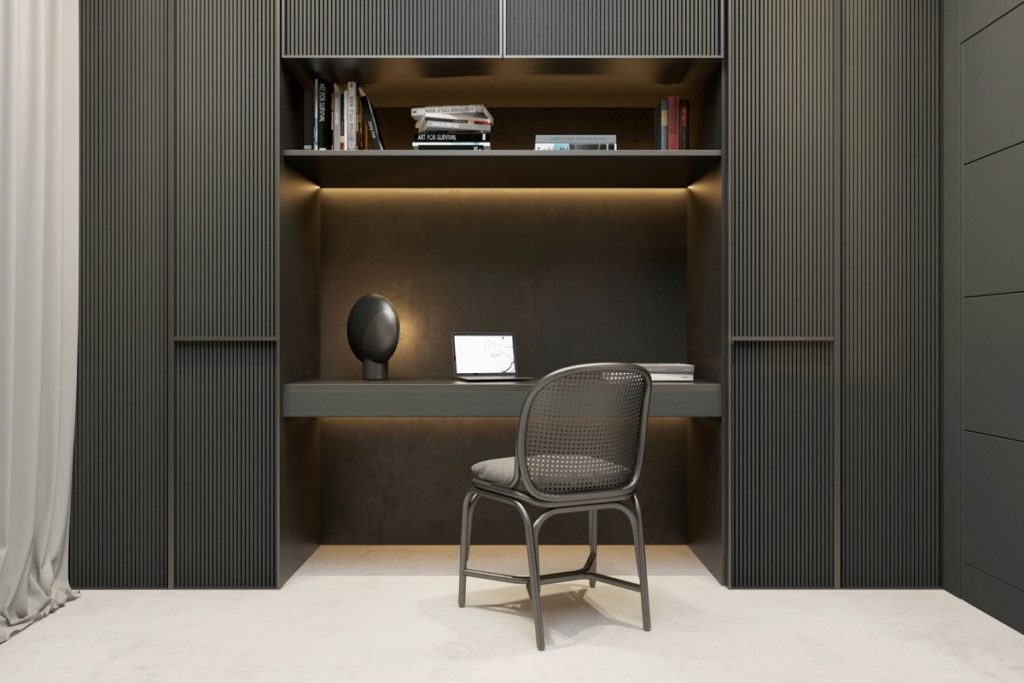 A sleek office desk floating in between storage spaces ensures uninterrupted workflow. Hidden behind textured panels, storage spaces have no influence on the overall look. This is a great example of how to break the monotony of a single color using texture.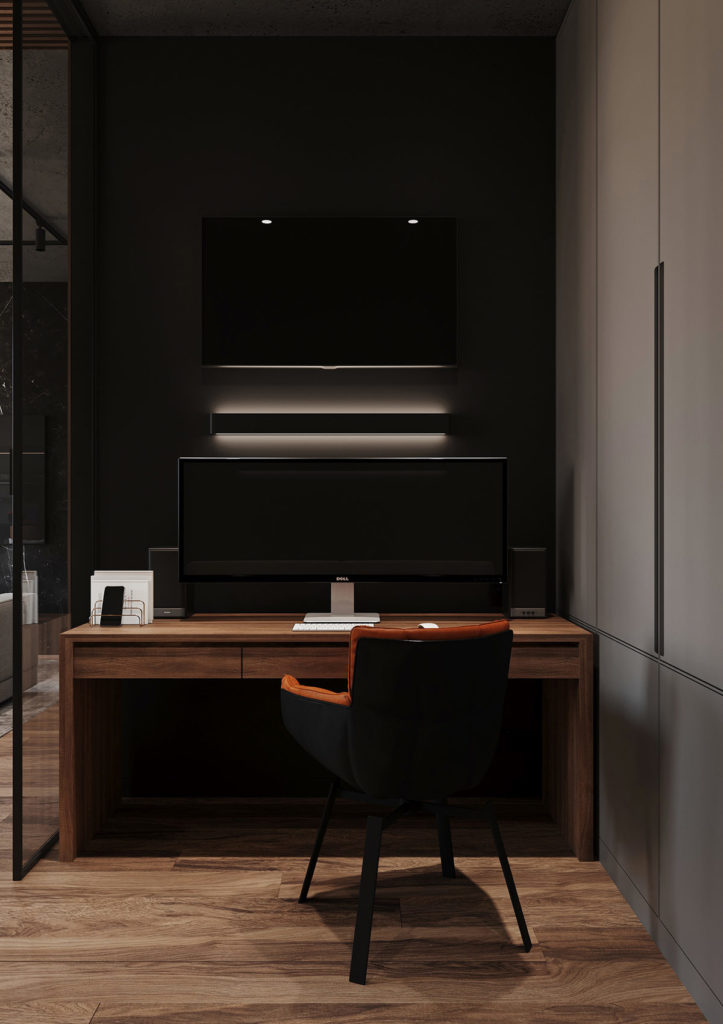 Separated from the rest of the home space by a glass panel, this corner workspace makes use of available space in a masculine way – nothing is left to chance and there are no unnecessary details present. A cognac-colored chair with a black backside and legs ensures comfort, while the modern working desk supports nothing more than essential business tools.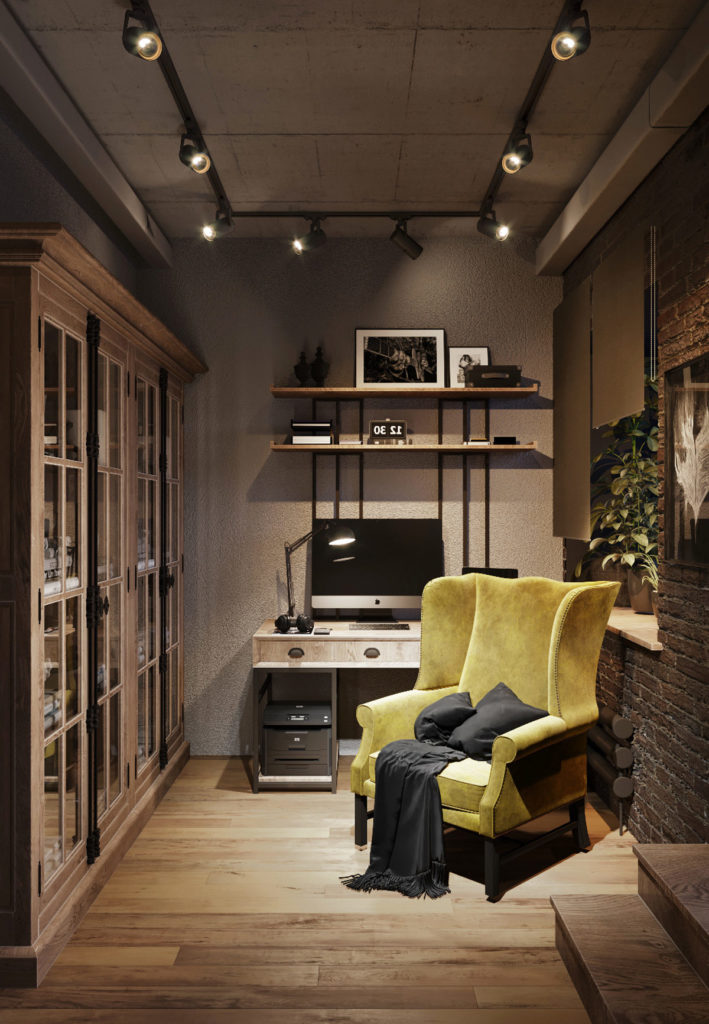 Nestled between an antique wood and glass bookcase and large windows, the final example in our list of dark home offices has a pop of color breaking through in the shape of a chartreuse wingback chair. Great lighting creates a cozy feeling and adds depth to the wood, brick, and concrete layout.
Imagine using the Stoic Standing Mat in any of these places every time you need to stretch, strengthen or exercise your muscles and then getting right back to work without anyone knowing how you keep in such good shape.
More inspiration: 10 Seductively Dark Bedroom Workspaces for Private Work.
Even more: