Dark grey home offices emanate a strong willingness to reach succes. Those who choose to play with light within their home office setup can end up with best of both worlds: a dark grey interior that can be easily flooded with light whenever you please.
Dark Grey Fitted with Minimalist Workspace Design
We're exploring 10 dark grey workspaces seen in modern homes. And our first candidate comes with simplicity and elegance: a minimalist home office that leaves nothing to chance. Every design line was simplified to allow the owner to focus on one thing only: work. With a clever desk system mounted on the ceiling, this dark grey home office is as simple as it gets.
The two office chairs can be placed on either side of the two workspaces forming the desk's design. Everything was kept dark except the floors, inspiring a bit of a natural feel right under your feet. The huge window acts as a balance of light for all the darkness inside and bounces off f the warm wooden floors.
Dark Grey Home Office in Concrete and Velvet
This stunning Concrete and Velvet Grey Home Office Design that you can see below shows a deep connection to modern design. Every detail was imagined to support an attractive assertiveness that would permeate the owner's deep, focused work. A grey velvet chair was matched with a half transparent modern desk, making this corner a comfortable, clean place to work from.
Dark Grey and White Shaping Minimalist Home Office Corner
An office space occupying a corner right next a big black-framed window combines deep dark grey with black and crisp white walls to shape a minimalist home office design. A desk and wall occupy the whole wall, while the only pops of colors are the books themselves.
Home Office Vibe: Dark Grey Balanced With Light Grey
This next example in our list makes a powerful statement in sophistication. Commissioned by a young and ambitious couple, the whole apartment speaks volumes about the owners' attention to details. This all happens thanks to the designer's ideas that were shaped into an inspiring home office design.
Using dark grey in the color palette when it comes to the soft rug and armchair, but also reflective grey surfaces for the furniture, designers managed to create a base that flows into the next room, where there's a darker ambiance. This home office corner's natural light permeates deep into the home.
More: 30 Inspiring Workspaces Burrowed Under a Window
Checkered Dark Grey Insertions For Deep Impact
Under a slanted ceiling window, this home office plays with a checkered design on the rug and grows from that primal focus point up to the dark grey desk illuminated with natural light. A library wall uses both dark grey wood and LED lights to create another focus point for the eye and making sure the books are displayed accordingly.
More: 10 Illuminated Home Workspaces Under Slanted Ceilings
Ombre Effect in Home Office: From Dark Grey to Pure White
Moving on to a bedroom workspace that showcases how dark grey and pure white can be united by a softer grey to create an interesting ombre effect. This visual gradation from the darkness of the glass wall hiding the closet to the white corner where a small home offce was nestled in makes for an impressive bedroom design.
Using this simple non-color combination, designers managed to both include the tiny workspace in the design of a modern bedroom, but also keep it visually sepparated and flooded with wonderful natural light.
More: WFH Lighting 101: Illuminate Your New Home Office Life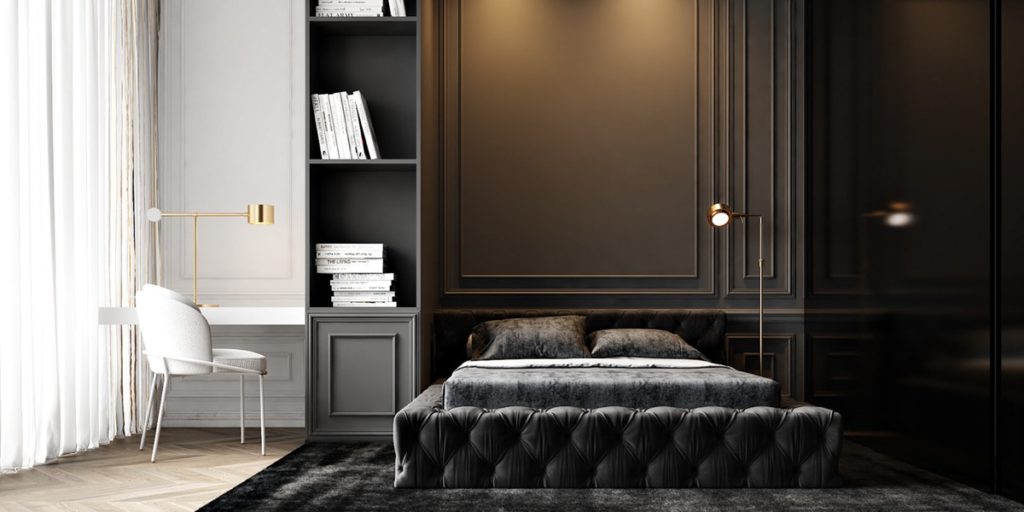 Dark Grey With a Pop of Yellow
Even when you have little space for a home office, the bedroom is usually a place where you can fit in a floating desk, add a tuffted sitting square, add your laptop and a portable lamp and you have a home office setup.
Geometric Chinese lanterns hang above the modern poster bed in our example below, basked in natural light coming from a huge window. Here, nestled under the window, work can be done interrupted just by long gazez into the outdoors, to calm the mind and refocus.
More: 10 Floating Work Desks Sprinkled Around Modern Bedrooms
Double Workspace in Dark Grey Bedroom
Bedroom workspaces can be integrated into the overall design and not only that, but it can be used by two people at the same time. Just fit in a floating desk under the bedroom's window and work away touching elbows with your partner. This idea is good for a wide range of scenarios: from kids rooms to adults who lack space for a full blown home office.
More: 10 Double Workspace Designs: Sharing Your WFH Setup
Dark Grey and Pink – An Elegant Bedroom Workspace Color Palette
A dark grey color palette can look in many ways, also depending on the light, both natural and artificial. The example below shows a small workspace between the big bed and the windowseat and, if it weren't for the computer monitor, we wouldn't have assumed that someone works there. Perfectly integrated into this dark grey and pink bedroom design, the small corner workspace adds elegance to the owner's workday.
More: 10 pink bedroom workspaces showcasing grace
Charcoal Home Office Space Fitted in Masculine Bedroom
Our last example of a dark grey decor scheme comes in the shape of a very simple bachelor pad, where dark grey walls and soft rug meet dark wooden panels and the drop-down bedside lamps create a movie-like effect. The rather small office desk is big enough to fit in the space comfortably while offering the owner enough room to work on a laptop.
More: 10 Seductive Dark Bedroom Workspaces for Private Work
Here are some more ideas to fuel your creative search for the best home office setup for your needs and desires:
Dark Modern Home Office Room Immersed in Minimalism
Achromatic Bedroom Workspace in Neoclassic Style