When setting up your home office workspace in a part of the bedroom, the dynamic between daylight and night time can become very dramatic by design. Shadows becomes seductive as daylight receeds and night falls.
Slowing everything down and focusing on the end of the day routine is also beneficial for next day's productivity. And when you have a space in your bedroom to work from, you visually know that work will always be there tomorrow, mind as well get that much needed sleep.
Lights on/off: fresh and lit or dark and sophisticated?
In a bedroom, light can set the mood from a refreshing vacation morning to a dark, elegant evening mood to relax you to the core. Setting up your home workspace in the bedroom can be a challenge. That's why it's so much easier to work with interior designers – they can show you the hidden potential of your space. Fitted bedroom furniture makes it easy for the design to become a perfectly integrated puzzle and Design Filosofia studio shows us even more of this space right here: Light Creating Multiple Moods: Bedroom and Workspace Combined.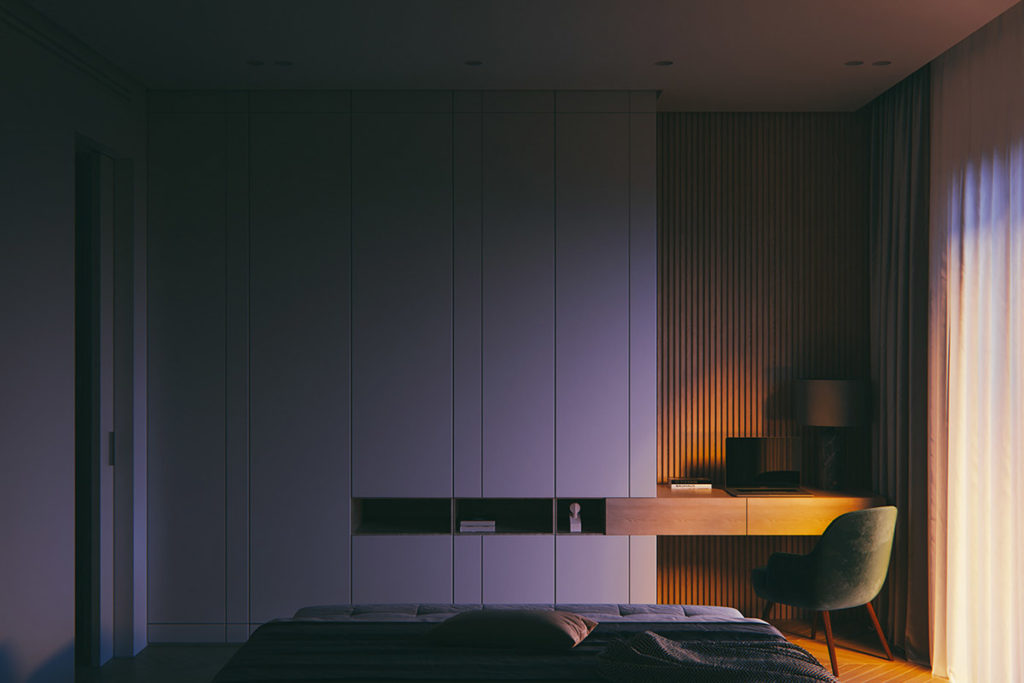 Deep colors and home office nooks
Colors and hues are important when constructing an interior space that shares both of these functions: sleeping and working because they are polar opposites.
Here is another way in which dark deep hues can construct a Dark Modern Home Office Room Immersed in Minimalism, if you prefer a simpler space construction.
Hiding the home office in an elegantly designed nook of the bedroom is a great solution like in this design by Polish design studio Zarysy. There was no other space available in this 53 sqm apartment, so it's amazing how shapes, colors and textures make it all come together.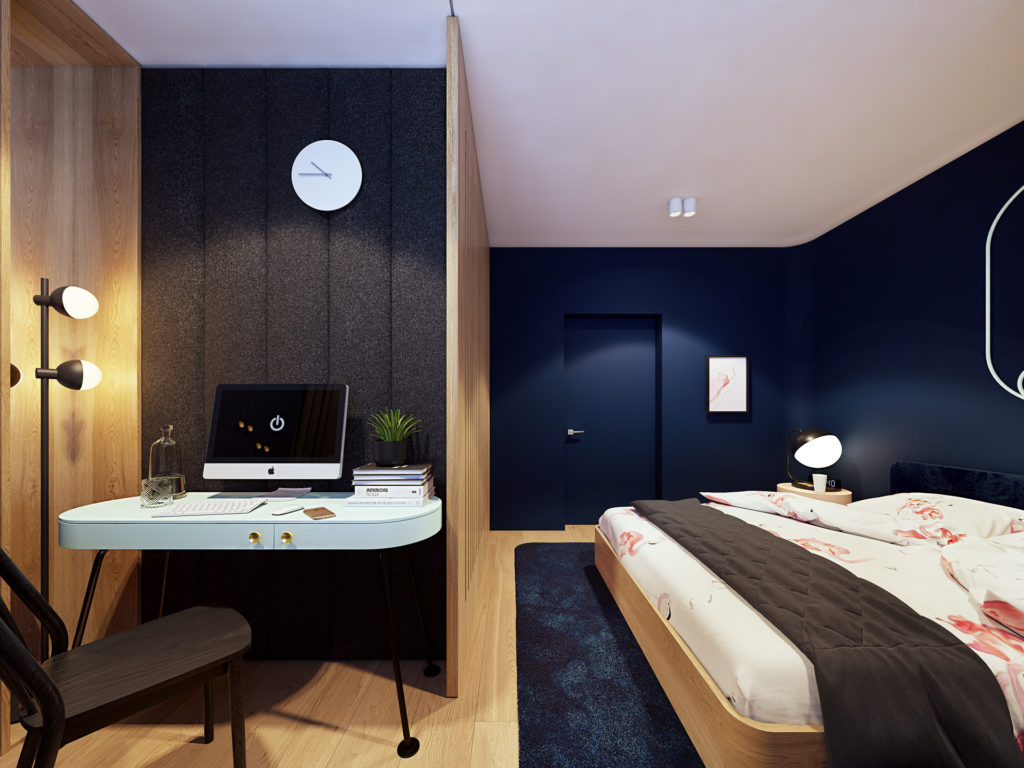 Dark details shape masculine home workspace design
A darker color palette can crete an opportunity of using focused lights to illuminate only a few spots and create depth within the space. This next example from ZOOI Interior studio's portfolio is almost hidden by alining the headrest with the desk and keeping everything in dark colors. One of these Two Enviable Home Offices in Opposing Functional Spaces, this home corner office space is kept minimalist and exhudes power. And it has a stunning decorative twist – glass cactuses.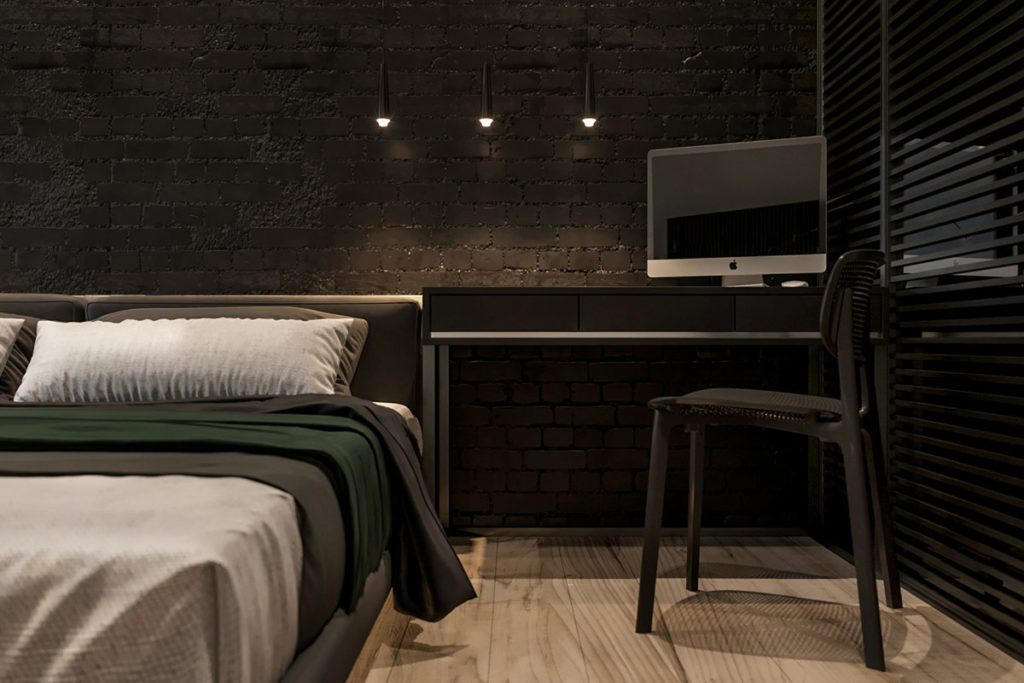 Contemporary home workspace playing with light and dark
Sometimes choosing a dark color palette is sure to keep your bedroom bright all day long thanks to floor-to-ceilig windows flooding the space with natural light. And a long and narrow desk at the end of the bed, looking out to the interior courtyard Developed by Octane Architect & Design, this home is a modern architectural jewel where the workspace shares the same space as the bedroom whenever the owners like to work here – just bring the laptop.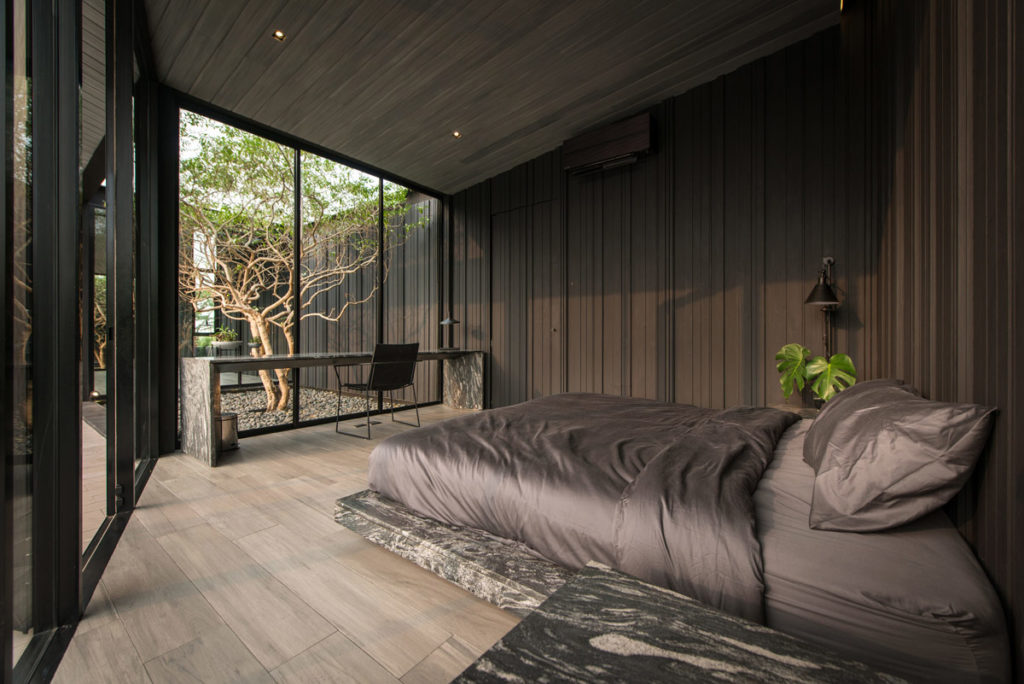 Home workspace hidden in plain sight
Under slanted ceilings and hidden in a corner, a desk serves its purpose without drawing attention to itself. Just a table lamp illuminates this concealed workspace. Meanwhile, a candle chandelier dangles over the brightly lit bed in this render by Casa Della. We're slowly moving onto brighter bedrooms that still use dark colors. Before moving on to that, here is more inspiration: 10 Illuminated Home Workspaces Under Slanted Ceilings.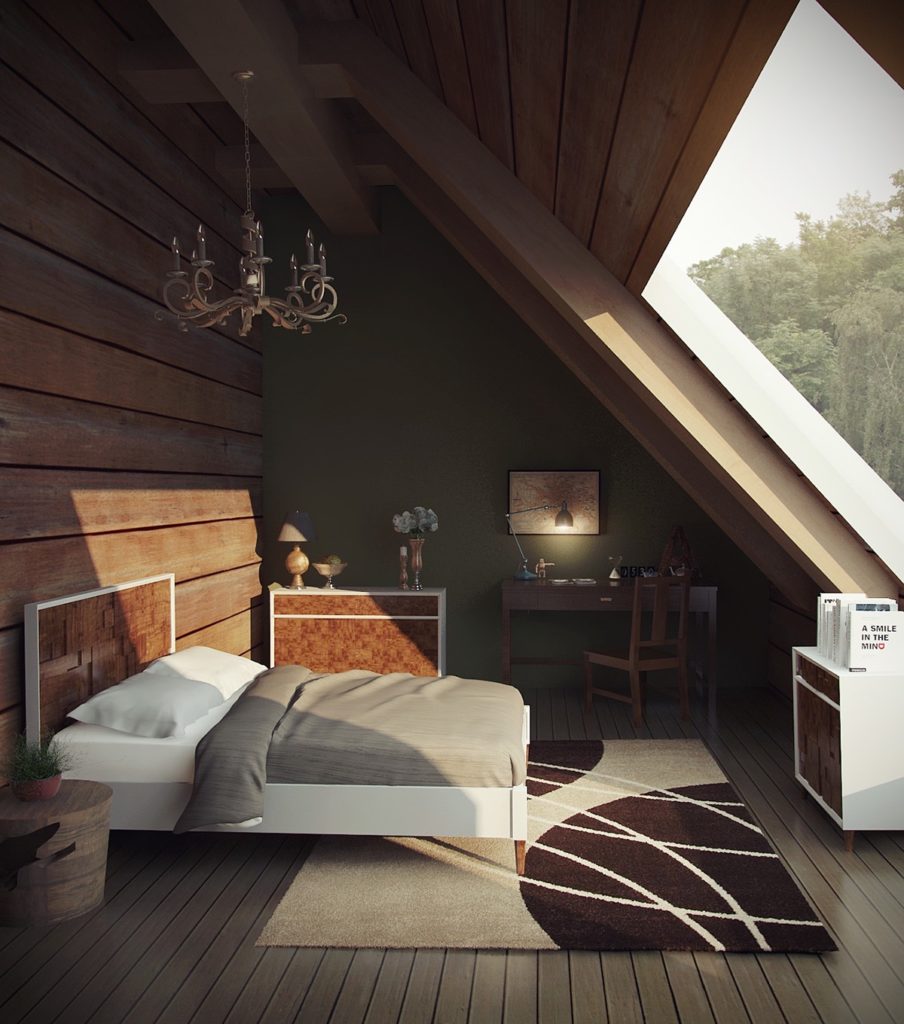 Parisian plentyfulness in grey and pink
Plenty of natural light was allowed to flood this elegant bedroom designed by Diff Studio and overlooking the Louvre in Paris. Wall panelling visually separates the space, making it easy to define a coner for the workdesk right next to tall French windows. DIfferen shades of grey compose a modern space with a romantic, classical inspiration found in the details. And yet the workspace was kept as clean as possible not to override the impact of that mouth-watering modern bed.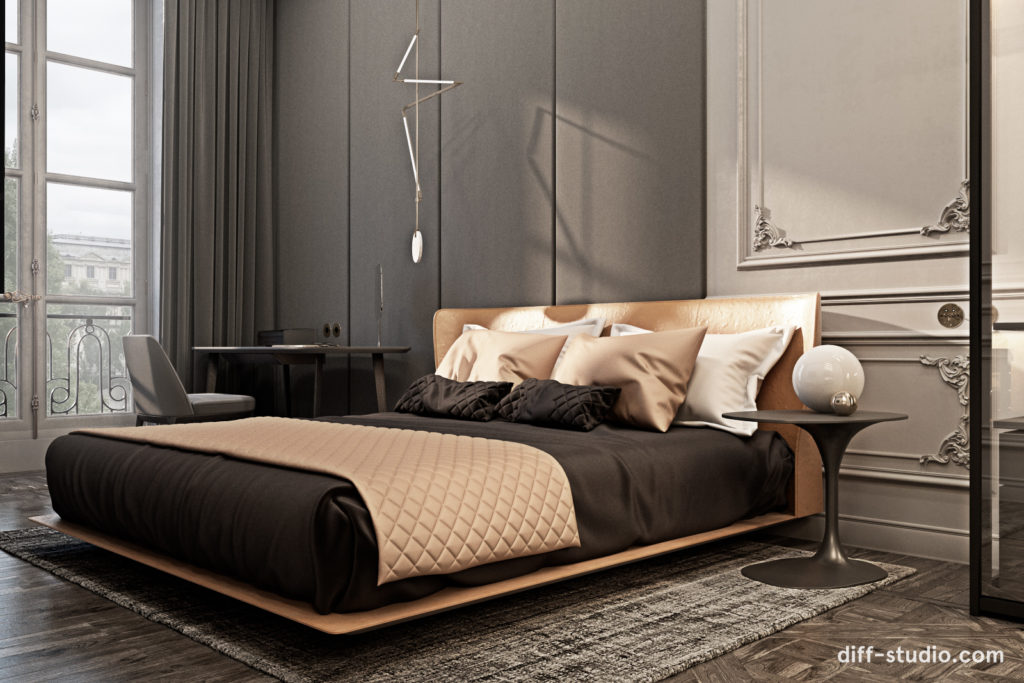 Urban modern bedroom with integrated workspace
Next up, a more defined space for working in the corner of a contemporary bedroom makes us think about structure and organization. Above the black desk, a set of three shelves act as a mini library to keep everything in reach. Imagined by Arina Pinchuk, the corner home office uses the Flos Snoopy Lamp to illuminate the owner's work well into the night before going to bed.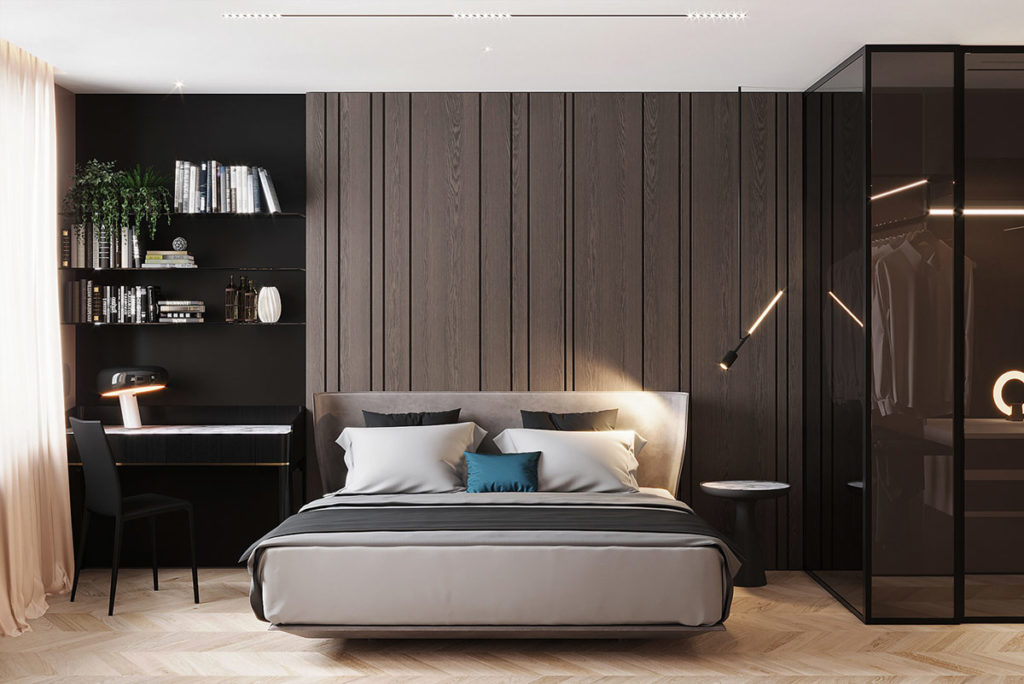 Mixing textures and styles
Here is another bedroom filled with light and still flaunting dark colors. A bed made of pallets painted in grey gives a different texture than expected in a bedroom with a dark 3d accent wall. Placed right under the window, a dark-colored work desk ensures this bedroom is more than a place for sleep and love. We can see the AIM pendant lamp hanging above the unused part of the desk, illuminating both the bed and the work surface in this space designed by KUOO Architects.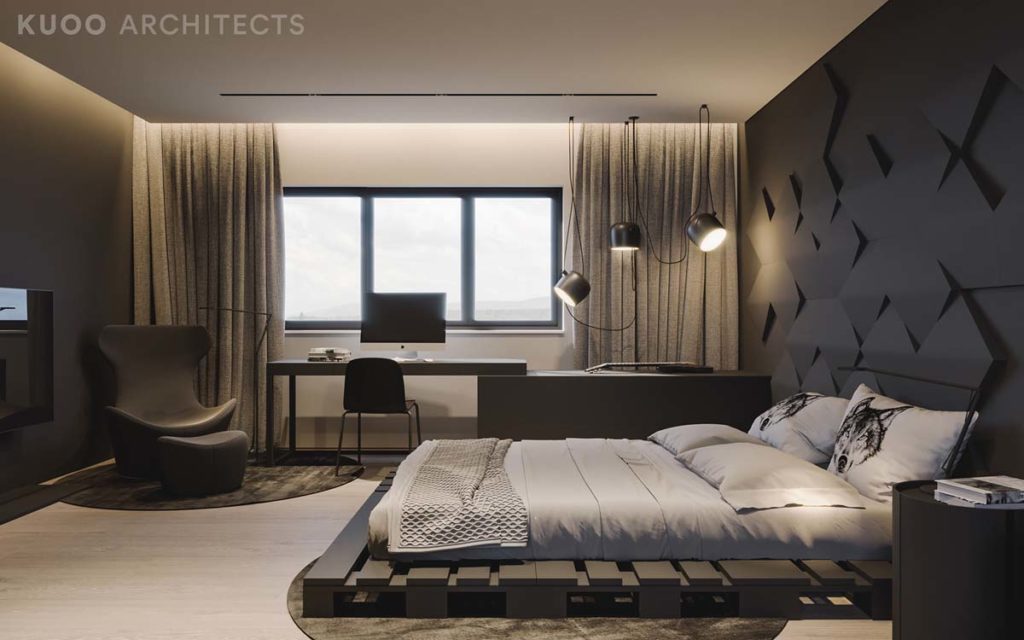 Grey tones and plenty of natural light
The softest colored bedroom workspace in this list, this example visualised by Cartelle Design, is defined by a blend of softness and natural light. This bedroom showcases a work desk burrowed under the window and two ways of blocking off natural light when needed – vertical and horizontal. And you can see there is a glass wall on the desk's left handside – it sepparates the sleeping area from the living room. If you want to see how creative that is, here are more photos taken from different angles: Bedroom Workspace Putting Up Glass Privacy Boundaries.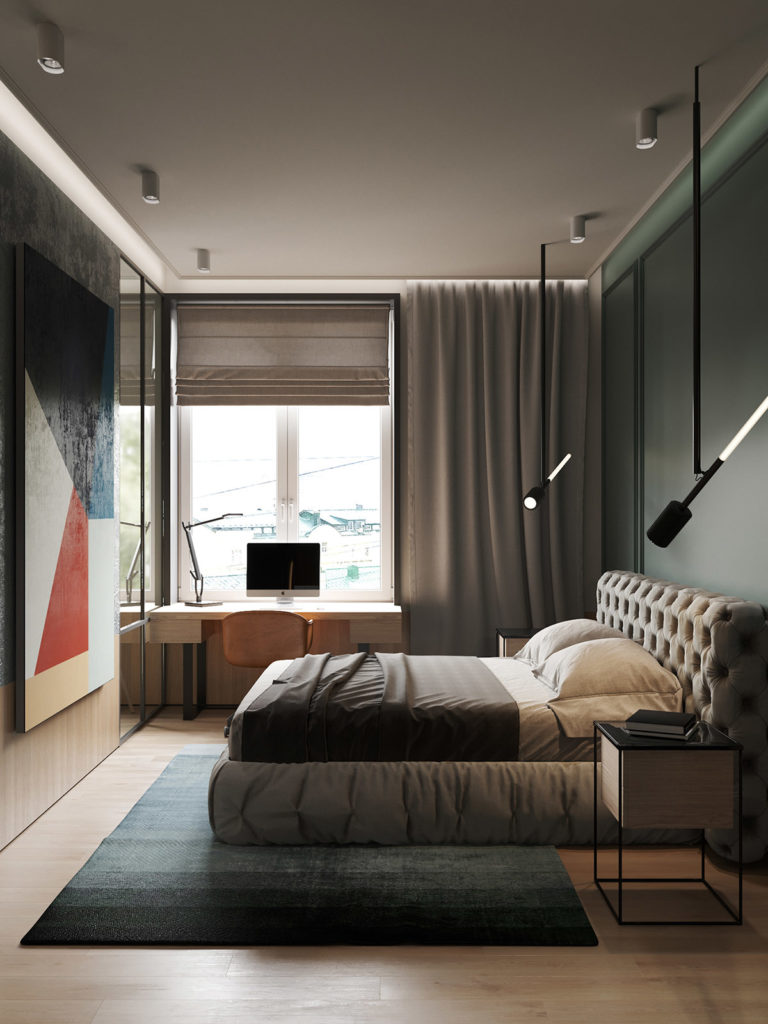 And since we're in this contemporary home office design frenzy, here are more ideas for your own workspace makeover:
10 Multifunctional Bedrooms – Vanity to Workspace