Working from home looks different in every household. If office buildings are mostly standardized, home workspaces are either dedicated spaces or corners where we can place a laptop and drag a chair under a flat surface. Or even garden home offices.
It's not easy to switch from the order of a business office to the chaos, clutter and lack of space in the home, not to mention privacy matters.
This is why today we're expliring 10 vanity areas in modern bedrooms that can be easily switched from a single function to a multipurpose space.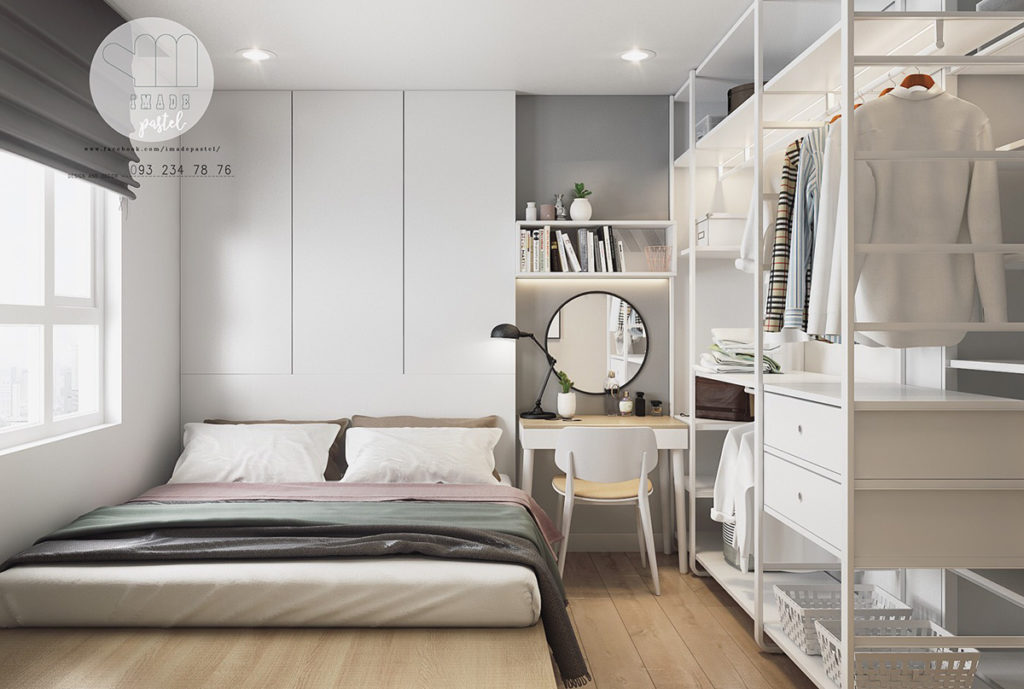 Small space benefits: multifunctionality
Visualized by imade pastel, this crisp white bedroom displays a Scandinavian-style wardrobe with open shelves and drawers, all painted in white. The small space between this wardrobe and the bed is occupied by a table that serves both as a vanity and as a working space, with one lamp for working, makeup and reading in bed.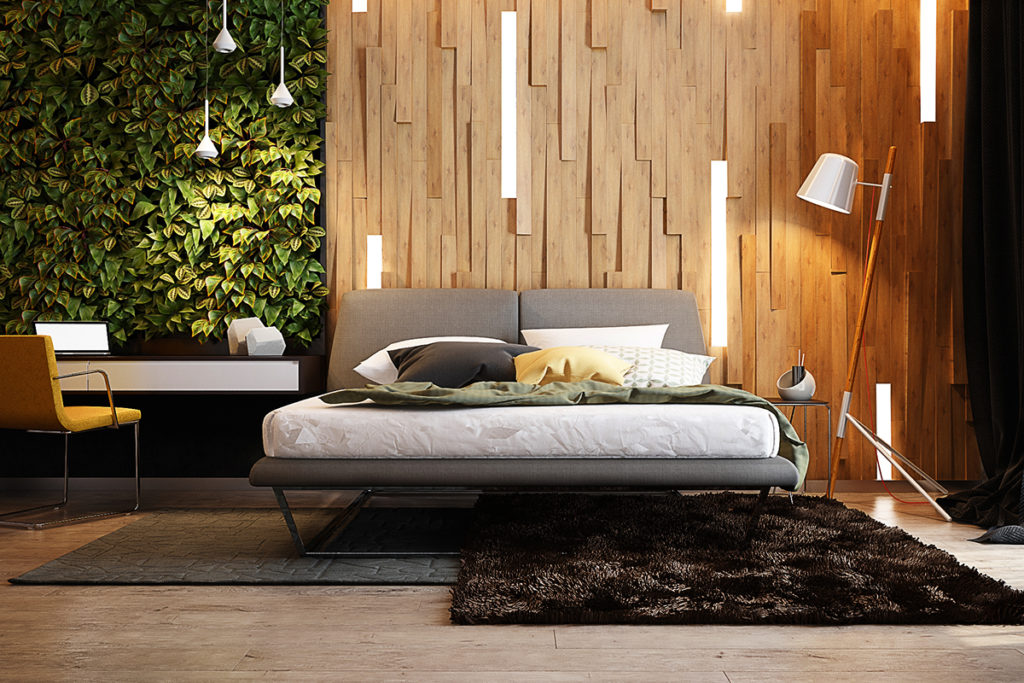 Exotic workspace in the bedroom
A jungle feeling while working? Yes, please! In the exotic bedroom above, designed by Elena Zhulikova, modern design lines were contrasted with a green wall right above the desk. This surface illuminated by hanging lamps can, as you guess, be used for multiple purposes.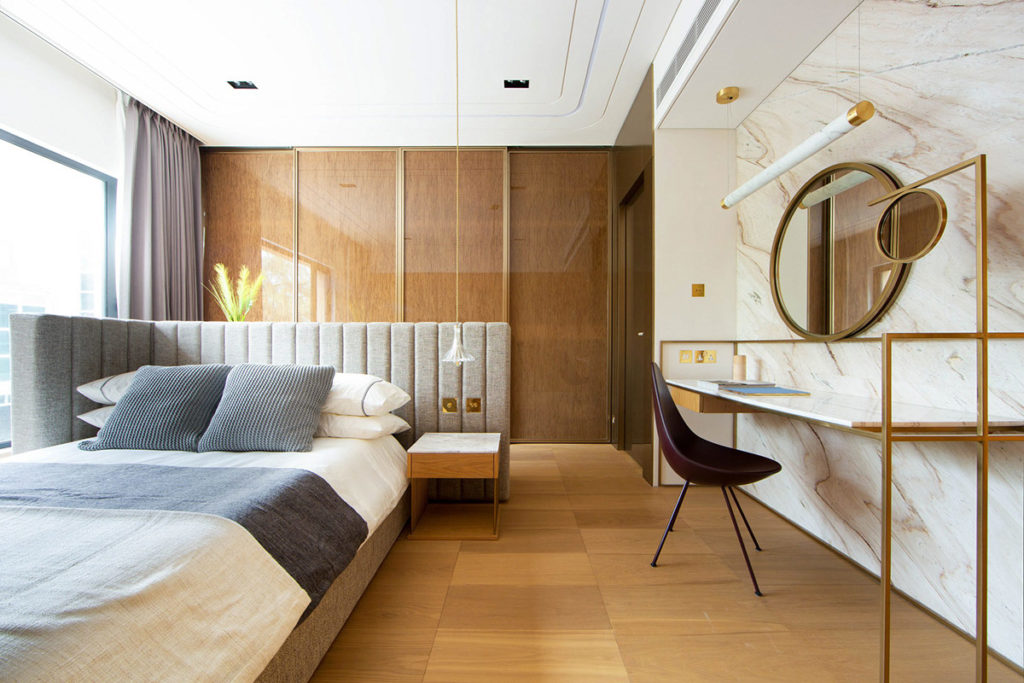 Marbled elegance vanity and workspace
A warm and inviting bedroom with plenty of space can look like the one above, imagined by PplusP Designers. Luxuriously displaying a long and narrow marble topped vanity, the wall opposing windows is also marbled. Golden accents contrast the grey L-shaped headboard that speaks more about function. A black Drop Chair stands out through shape and color.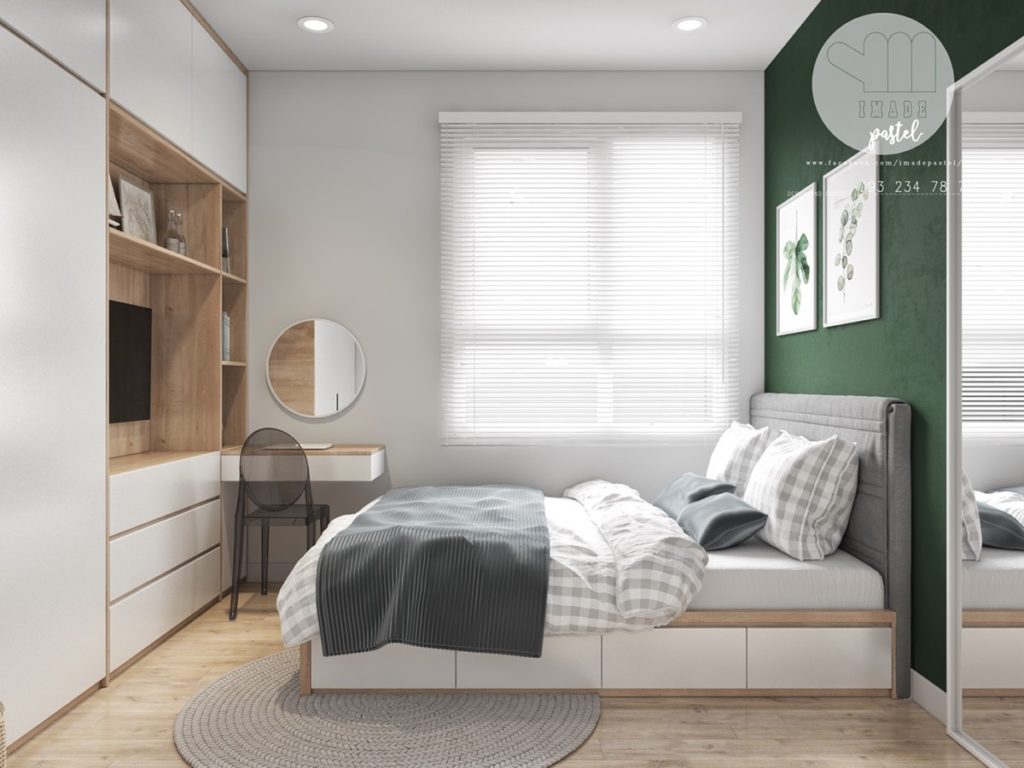 Tight space, creative ideas
A small bedroom, visualized by Trang Le, where there's room for only a bed and a wall stacked with storage space might just have a few more inches for a floating tabletop that can act both as a place to work or a vanity, since the round mirror is placed above the tabletop.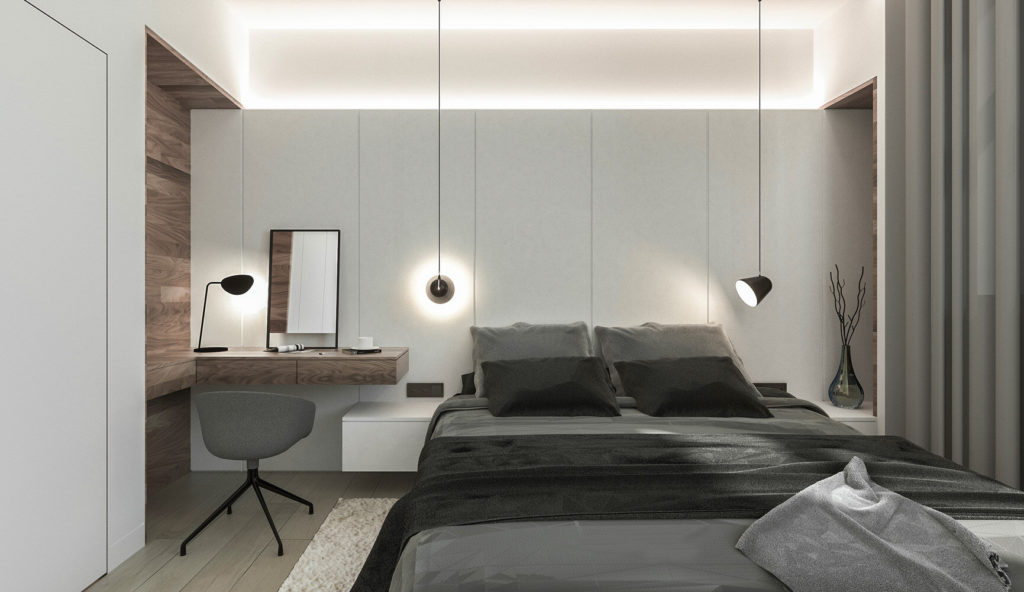 Minimal furniture, maximum comfort
Imagined by Burowhite, the bedroom above is a masculine mix of deep grey and warm brown wood on a soft grey background. Three lamps ensure the bed and vanity are illuminated. That corner floating desk can become what you need it to be and is a nice addition to the overall playfully geometric design.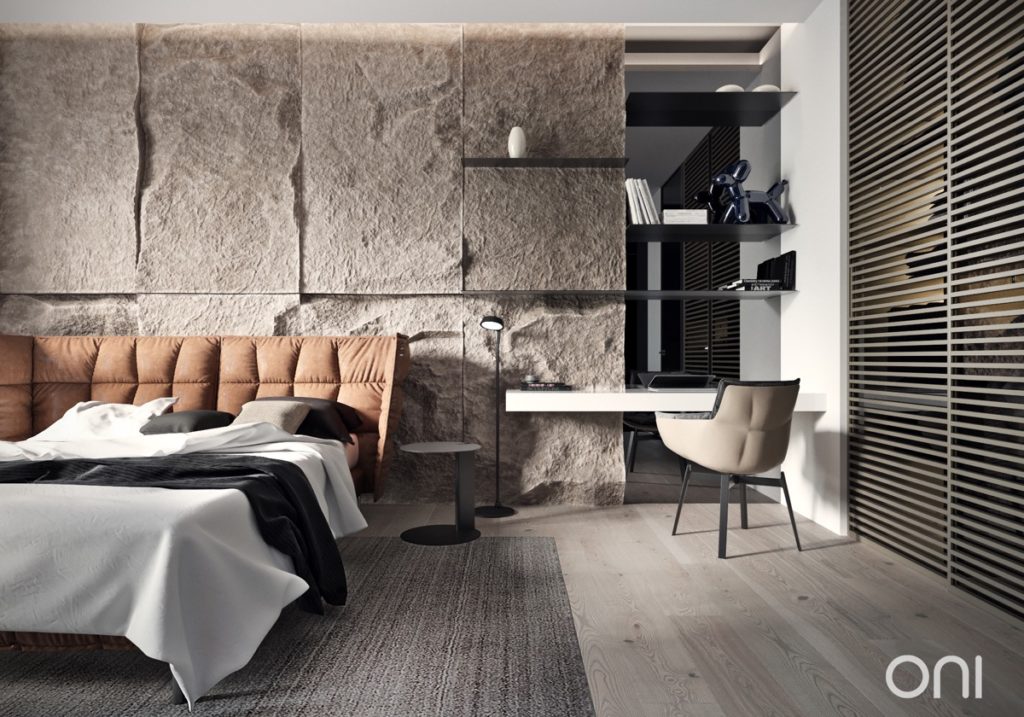 Stone and mirrors accompany your work
Visualized by ONI Architects, this stone accent walled bedroom is stunning in its own, and then your eyes land on the mirrored floating desk. In between rectangular stone blocks, shelves shape a strong visual connection to the dressing table that serves as vanity and workspace.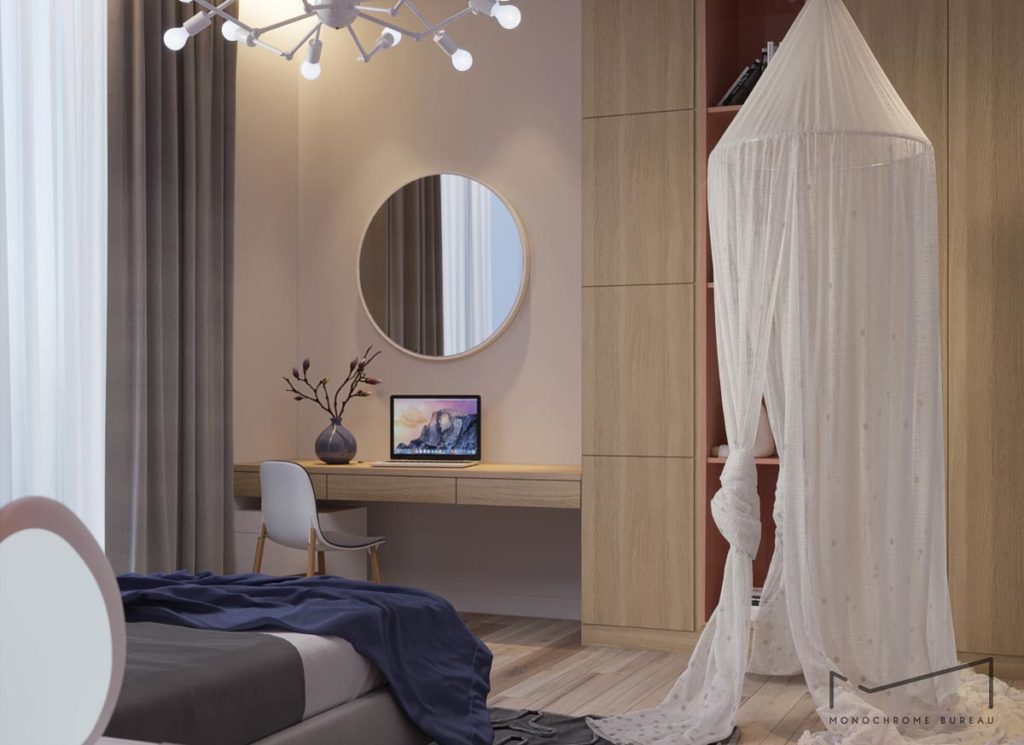 Plenty of functions in small kids bedroom
Even kids bedrooms can be multifunctional spaces, like the one above. A wooden wardrobe was extended into the desk that serves as a study space, online play area, dressing table and vanity.
In the bedroom visualized by Monochrome Bureau, the sleek elegant furniture lines will not outgrow the child like the suspended canopy.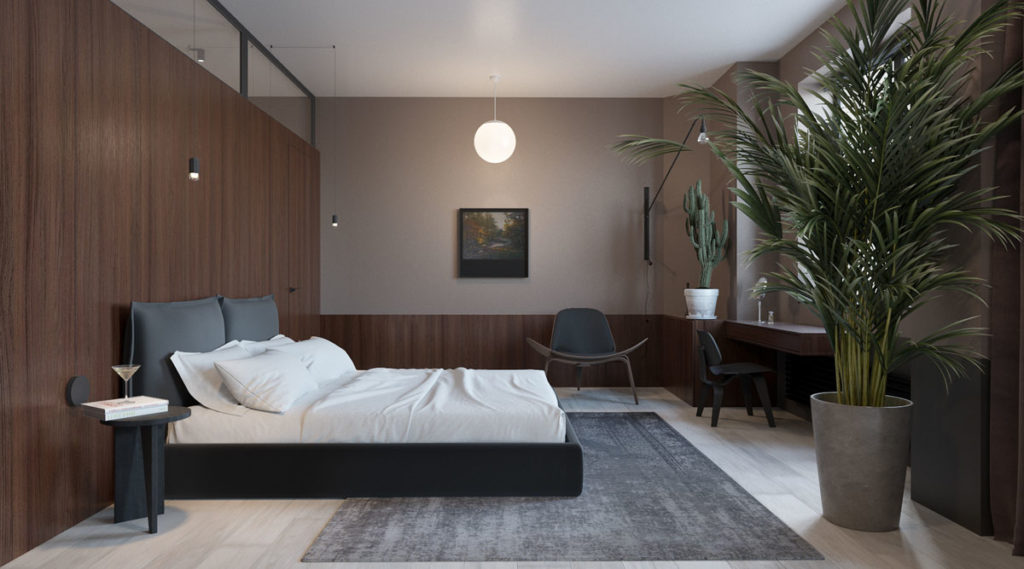 Dark interior, luminous desk under the window
Dark brown and different shades of grey compose the serios, minimalist bedroom above, imagined by Olga Paliychuk. Oversized plants near the window flank this desk that welcomes natural light from under the window.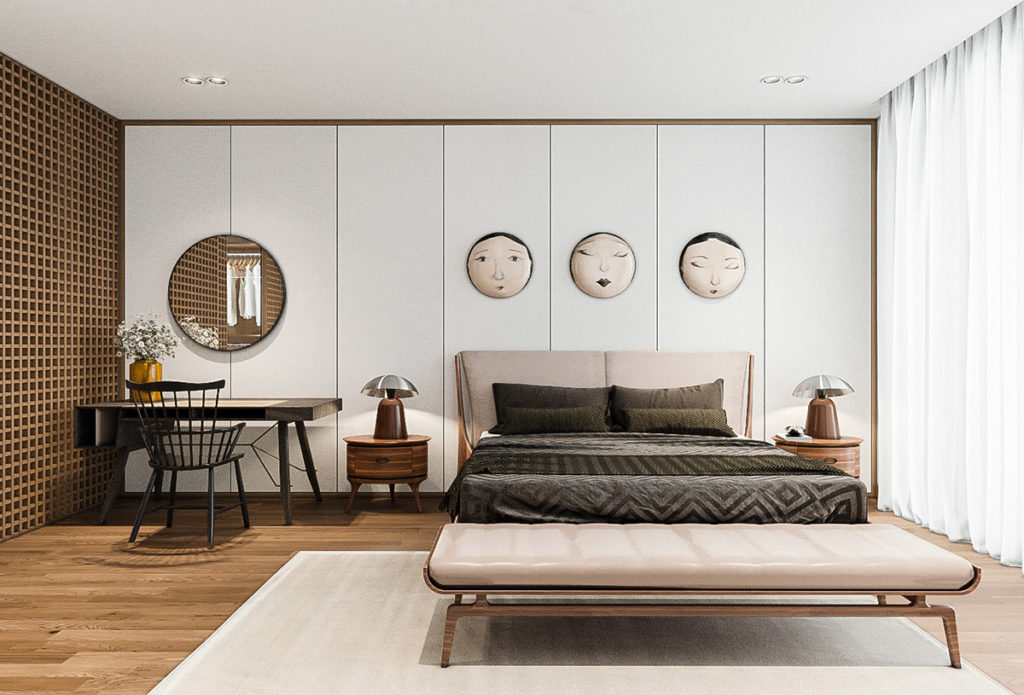 Earthy colors and a romantic vibe
Going into a more eathy color palette, this bedroom above by District Idea has an actual desk placed in a coner. With a round mirror above that matches round art above the bed, contrasting white panelling, this desk invites to more than self-care or work, it invites to writing letters.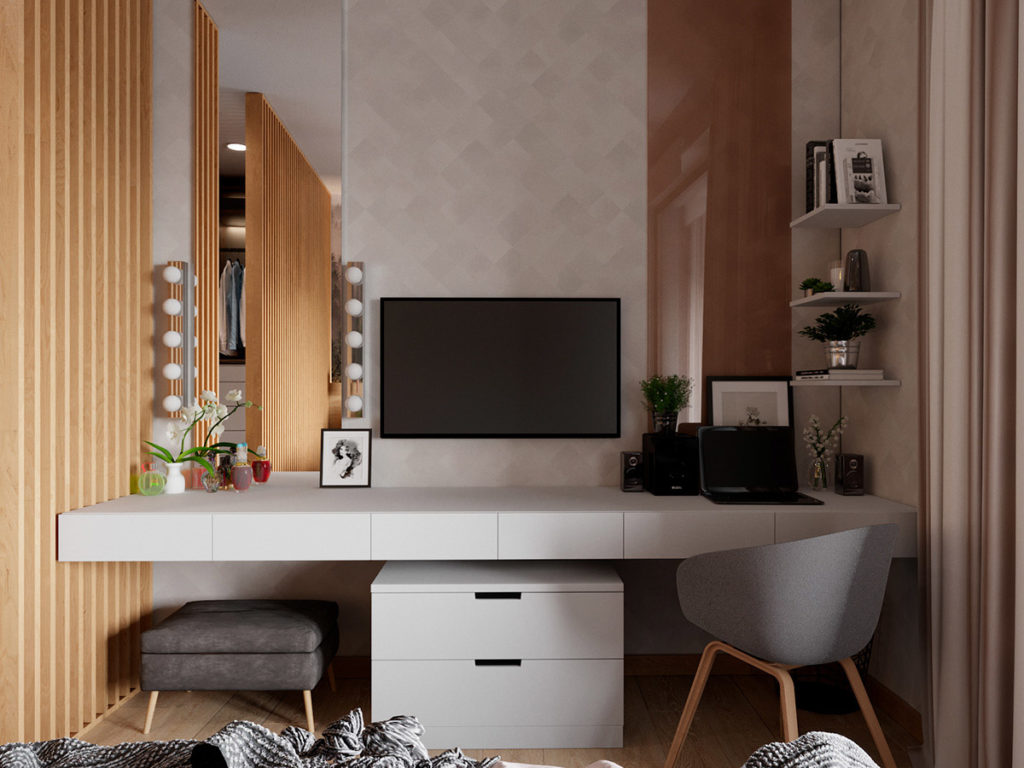 All-in-one bedroom wall
Our last bedroom with a multipurpose table top showcases an even more complet setup. We're always fascinated how designers like Nikolay Limansky manage to cram so many functions in tight spaces and also make them look elegant and inviting for each function separately.
The white floating desk spans the whole wall, albeit a short one, to create room for working on one side and self-care on the other, with the entertainment area and storage space in the middle.
Want to discover more spaces that inspire you to create your perfect home office design? See these amazing examples:
10 balcony home offices: small workspace inspiration
10 Home Workspaces for artists who love their craft