The home office craze might have caught you off guard. Looking for a small space to fit a desk in could be really frustrating when all you want is to get on with your worklife.
You might walk around your house, looking for that sweet spot that could not only nestle a work desk, but also have the potential to create a calming environment where work flows easily.
And then you lay your eyes on your balcony – a rather small space, but one that could easily be transformed into a separate working space. How much integrated do you want your workspace with your living room? How much do you appreciate privacy when it comes to working from home? Let's explore different design posibilities implemented in closed balconies from around the world: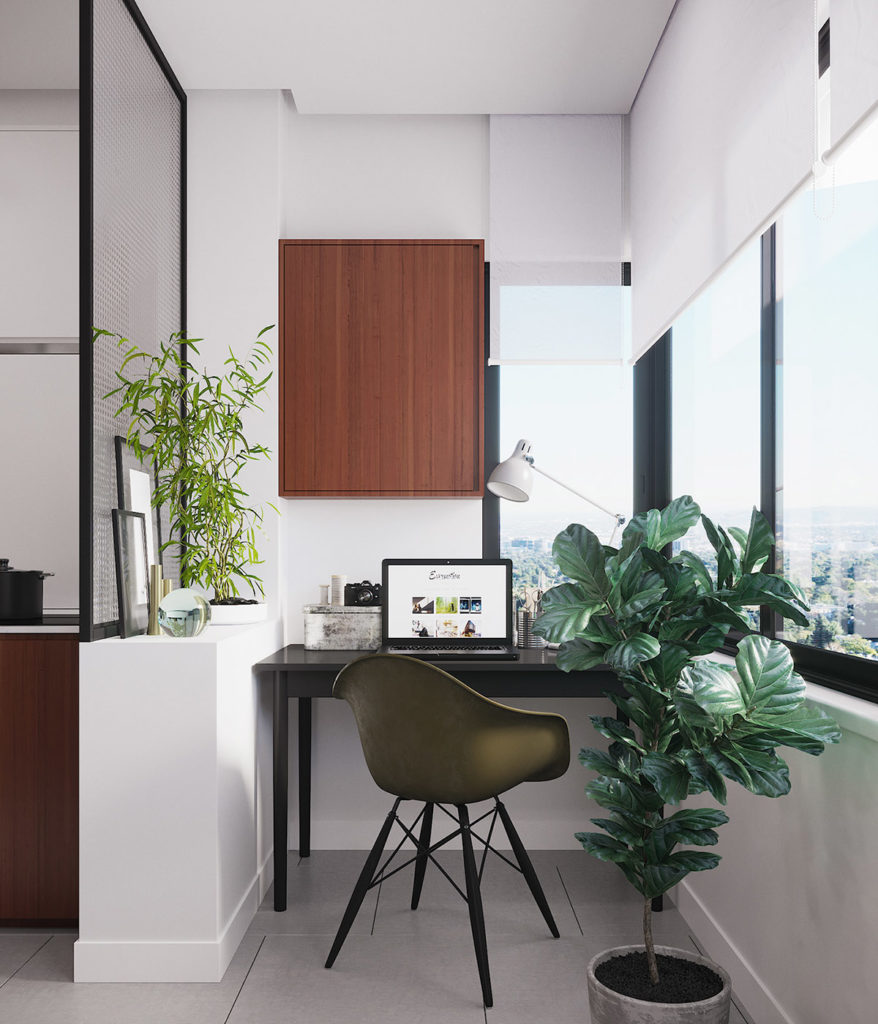 When you have a closed balcony, the available space can be used to at least create the illusion of privacy for getting your work from home done. Because if you're working from home with your partner and kids, there is much more to say about privacy and scheduled work time. Partially enclosed in the balcony, this workspace above was imagined by Korry Chan.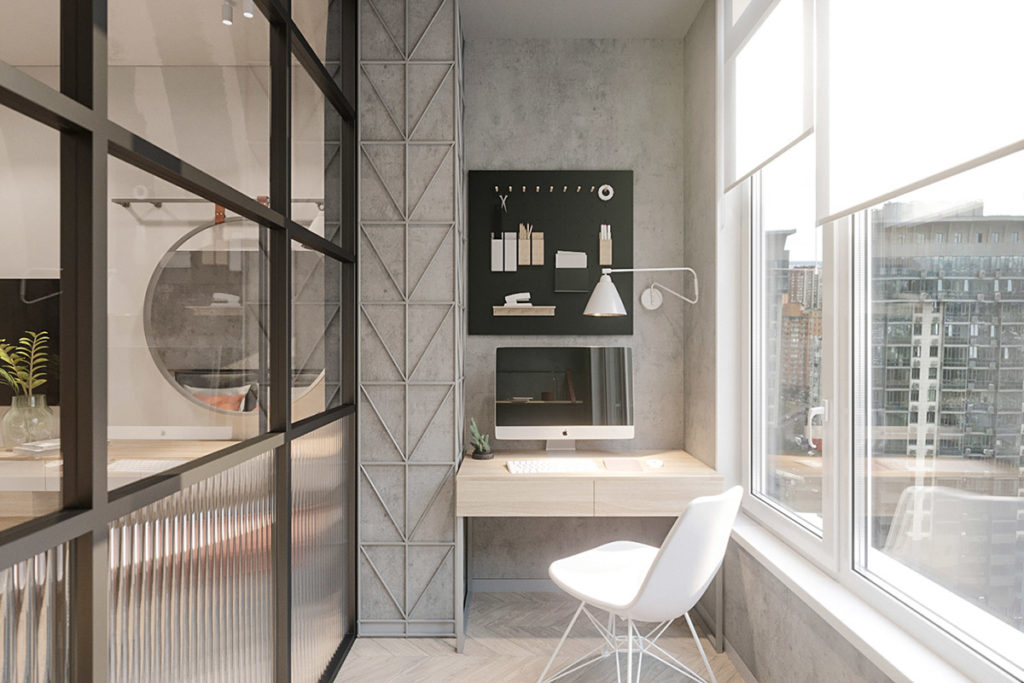 The closed-in balcony imagined by Puzzle Studio portrays a grey industrial look. Overlooking the city, this small home office borrows the city's steel frame inspiration and concrete colors. Dark framed windows let the light pass through over to the living room and separates the space, offering privacy and helping you control your work schedule.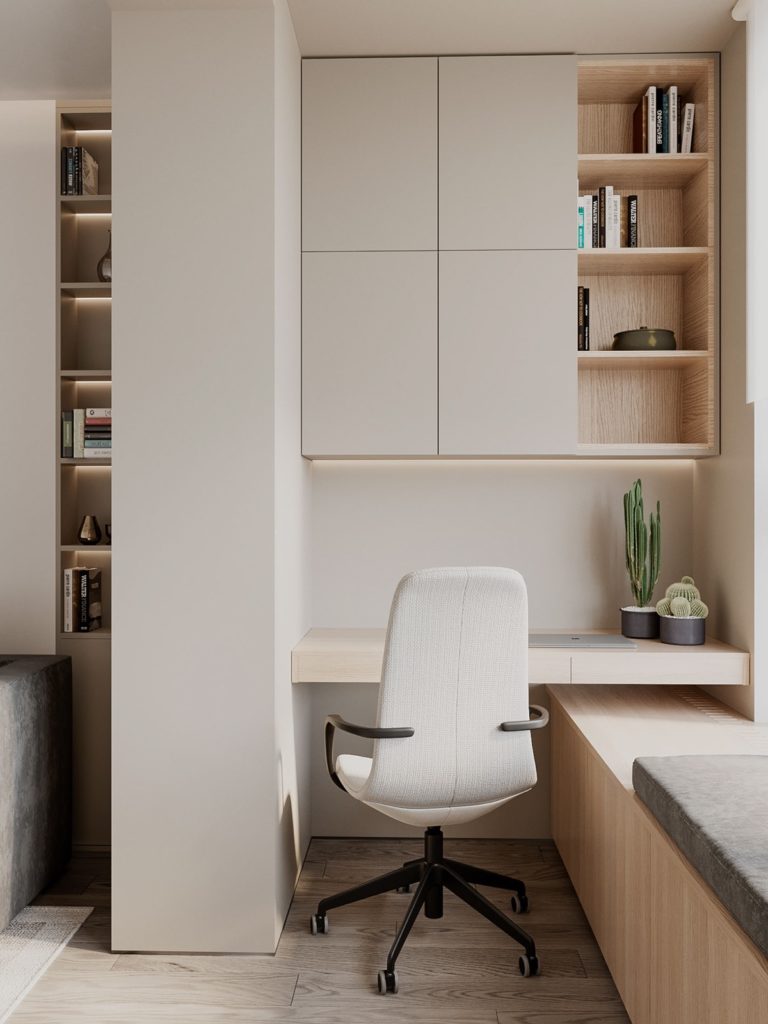 The space above, on the other hand, is open to the interior, making the home office seem integrated in the living room. Soothing grey was mixed with wood to create a neutral, calming color palette. Using the whole available space behind the deep support wall, N Team Studio designers also included a window seat in this workspace design, with just enough room for a swivel chair in the balcony.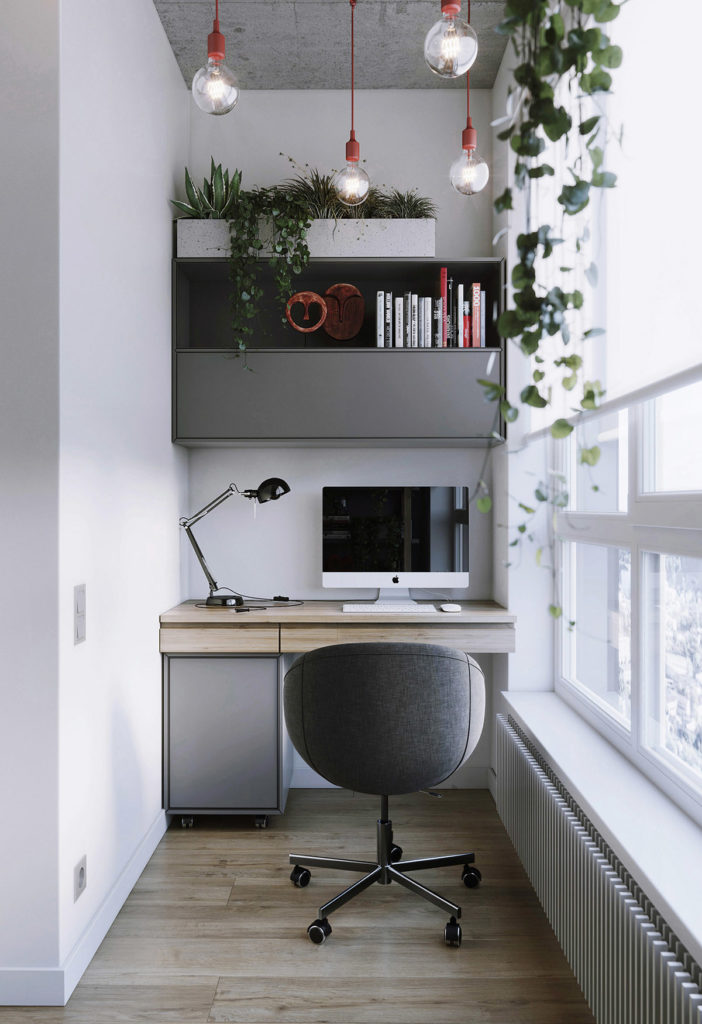 A simpler version of the partially closed off balcony home office comes from designer Anna Fedyukina. She imagined a classic workspace with lush greenery contrasting red pandant lights. Plants and books go together beautifully in this bold space design.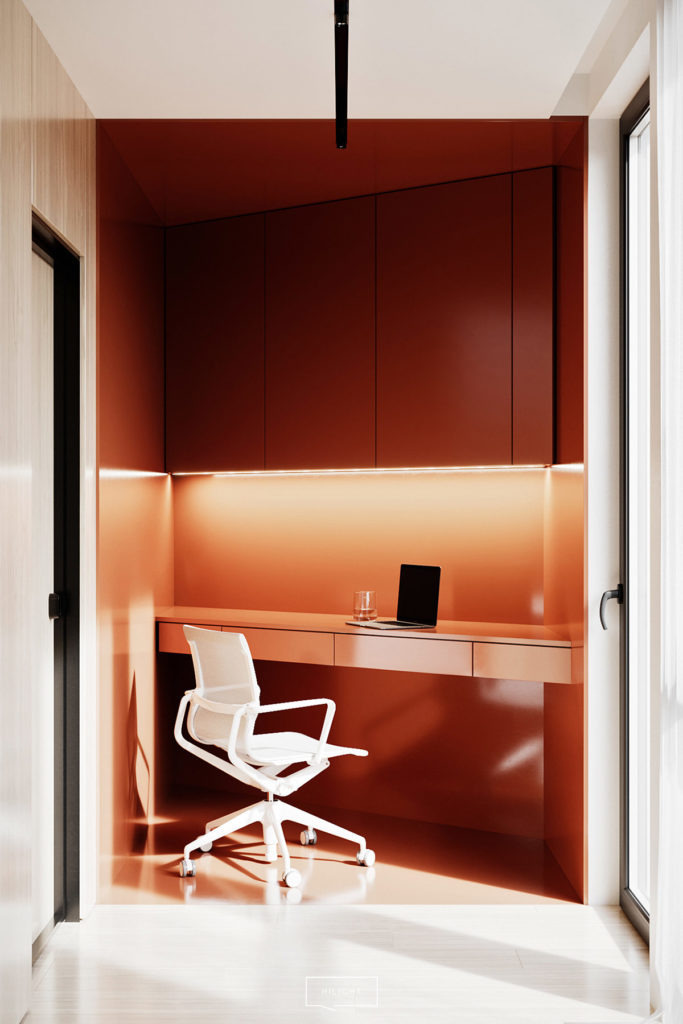 Imagine liking a color so much that you find a way to work only with it when creating a home workspace. A simple white swivel chair helps balance this design imagined by the team at Hilight Design. Working with red everything and keeping the furniture lines minimalistic, the space was intended to be a spalsh of color between other two spaces.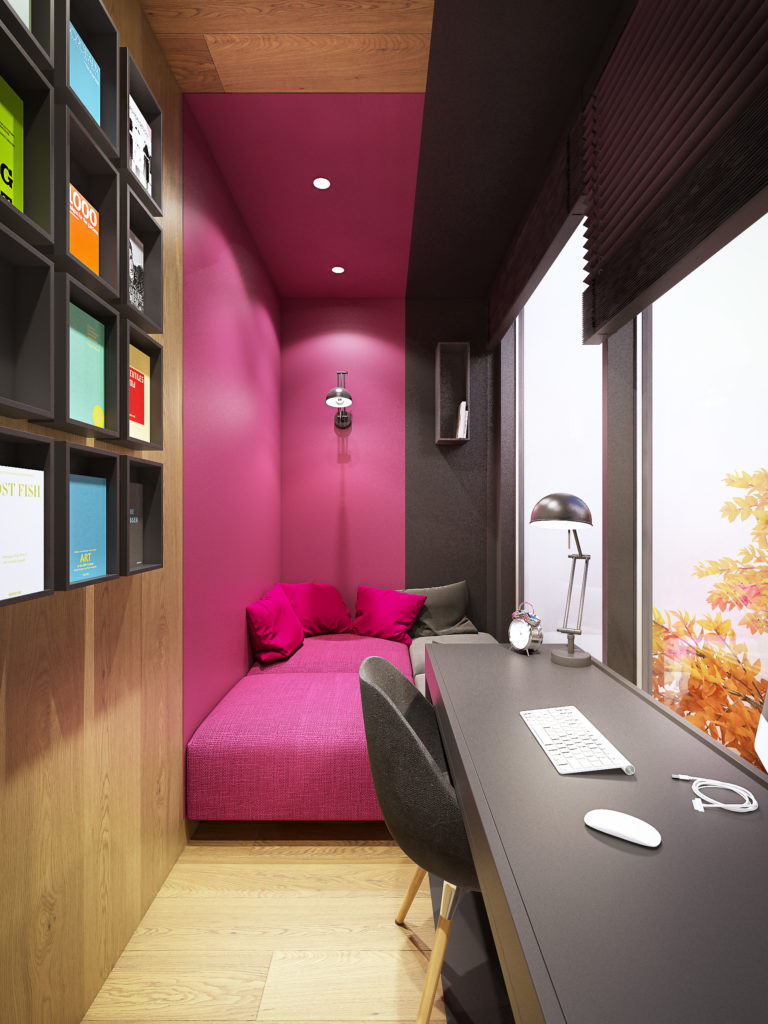 Using fucsia as a main color in your modern balcony workspace makes a bold statement. And what other color could instantly wake you up when you look at it? This incredible balcony home office was designed by Zarysy Architects to include a space composition acquired through color and texture.
Another way to create a balcony workspot is to use the curvaceous lines available and mold a bespoke desk after it, then place a bright yellow chair under the desk, open your laptop and start working.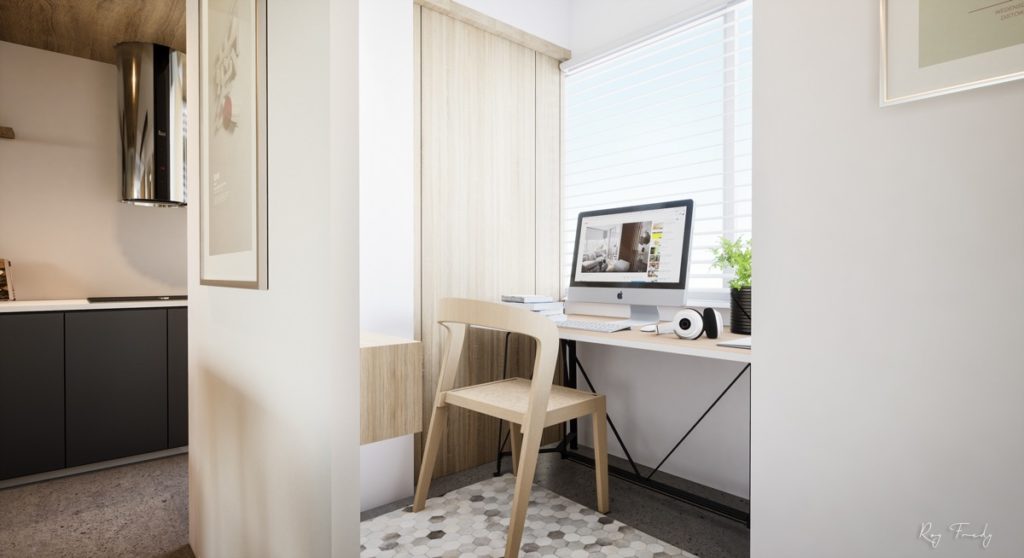 Small spaces have their advantages and one of them is to make you feel cosy and protected. The home office above, imagined by 3D artist Roy Fredy, is nestled in a corner of the apartment, on the enclosed balcony. Not much is needed to make it a cosy space, but colors, textures and shapes are always important.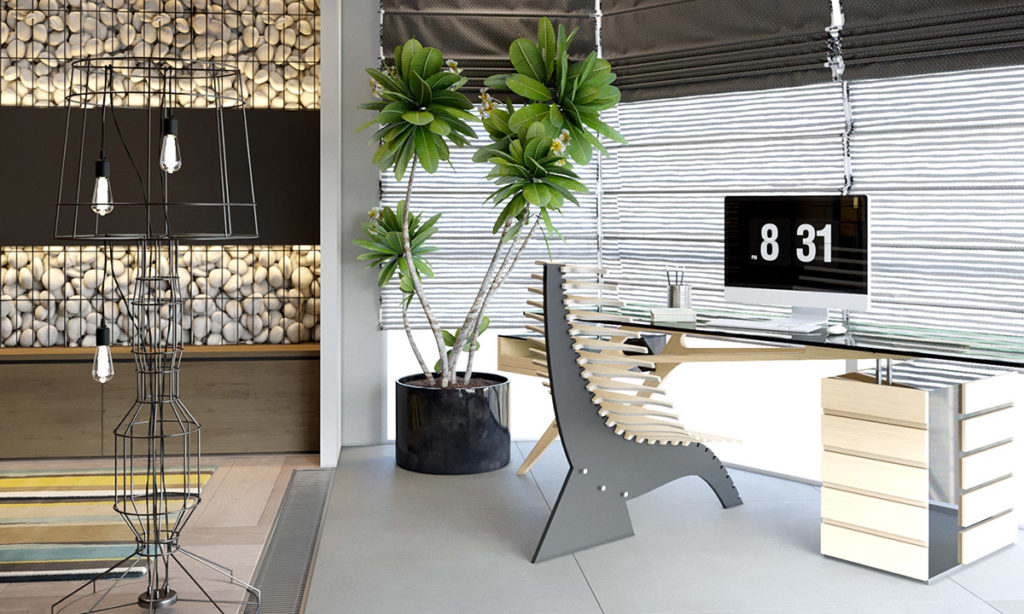 When you have a more futuristic vibe to your home office, you enjoy spaces like the one above, imagined by Room Studio. Such an unusual space needs an unusual design, complete with a wire frame floor lamp and a sculptural work chair. A huge plant relaxes the whole atmosphere, taking the edge off of the wire wall with pebbles and transfering the attention on the space open to outdoor views when the blinds are up.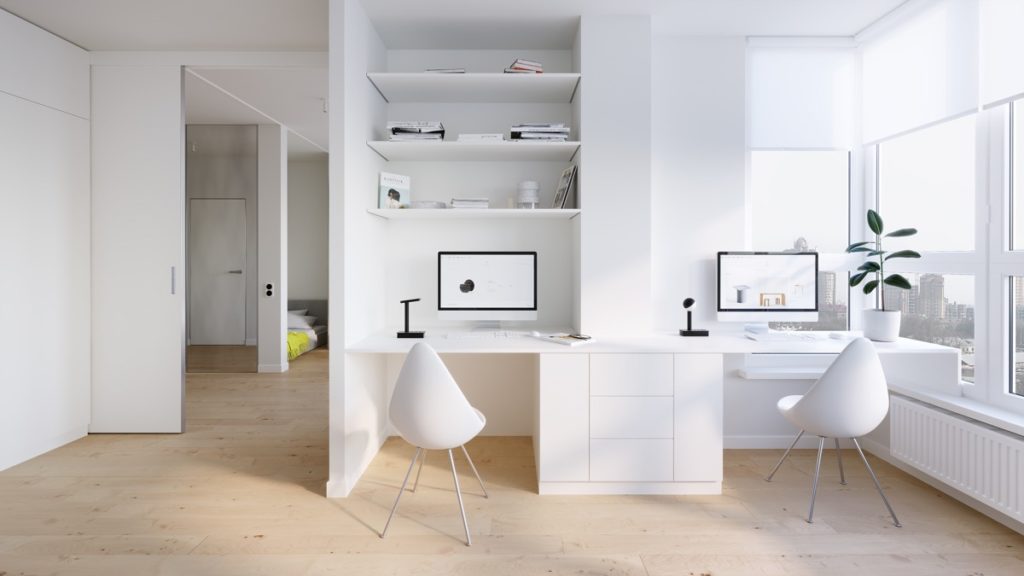 Since you might have to share your home office with your partner if they're also working from home, a double workspace like the one above can be a great solution. Partly inside the apartment, partly on the enclosed balcony, this home office for two is set in white and flooded with natural light.
There are other rooms where you can find space for your workspace:
10 L-shaped workspaces for extra working room