Great home office setups are powered by your desire to feel comfortable while working from home. Beyond that, home office design is the way we express our values and preferences and impress them back into our work by enjoying the surrounding details.
Let's explore 10 great home office setups from small ones to larger spaces. We'll also see home offices suited for hobby-based businesses and some simply stricking rooms you will want to work in.
Home Office Wall
When you don't have a room designated for a home office, a little space on one wall goes a long way. This crisp white home office design visualized by Design Me Too has lightly colored wood insertions that connect the floor to the ceiling. The wood keeps the space bright while adding depth.
Geometric references in black create that needed balance to offset the white overall feeling of simplicity. Finishing touches were added with the help of greenery, setting the mood for an uncomplicated design that helps you focus on work.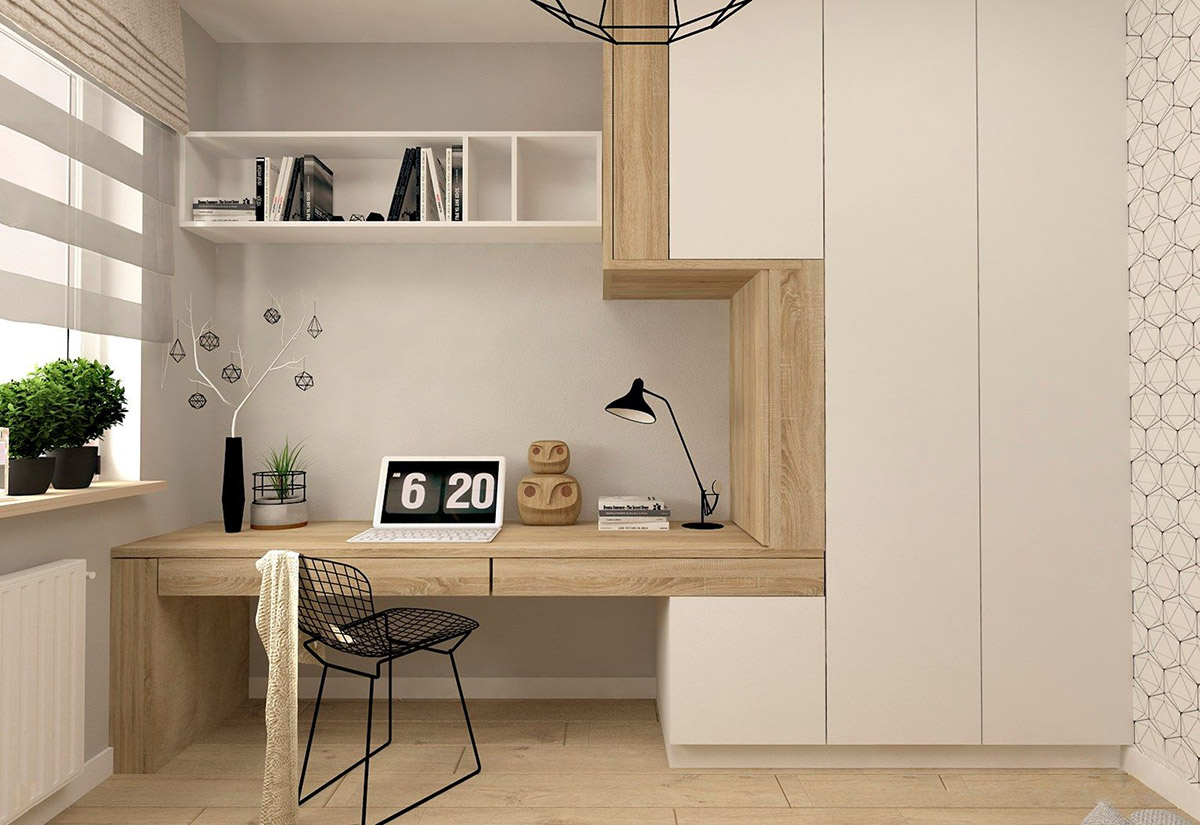 Dark and Light Home Office
Great lighting is essential for comfortable working spaces and natural light is the best kind. When daylight is a big plus, home office design is easier to implement. This modern office design plays with dark and light colors to create a relaxing geometry.
Polish design studio Plasterlina made sure the owners of this apartment had a simple yet luxuriously intricate play of geometric lines that run throughout the apartment. The little home office in the corner follows the same theme as the rest of the living space and was perfectly integrated. And have you seen the single lightbulb sinuously making its way down to the desk?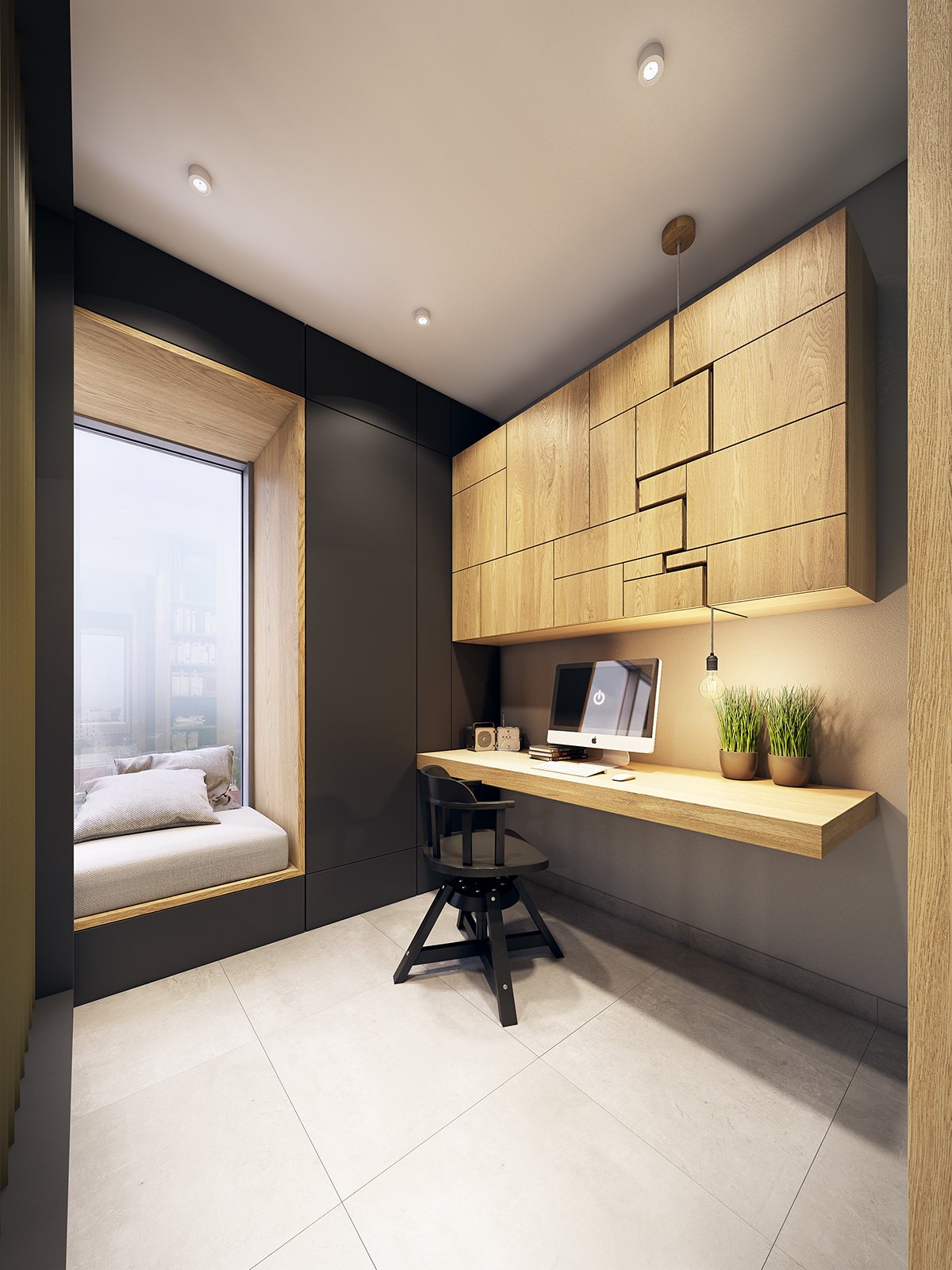 Stylish Bedroom Home Office
Some rooms in your home can be large enough to encompass a home office space. Take a look at this studio apartment to see how a bedroom home office can beautifully feature the workspace in the middle. Ukrainian architecture studio Martin's used the headboard to compose a home office desk.
The interior makes fantastic use of a grey theme with contrasting black paneling that defines and accentuates the space. In this home office setup, the desk purposefully brings the sleeping and living spaces together.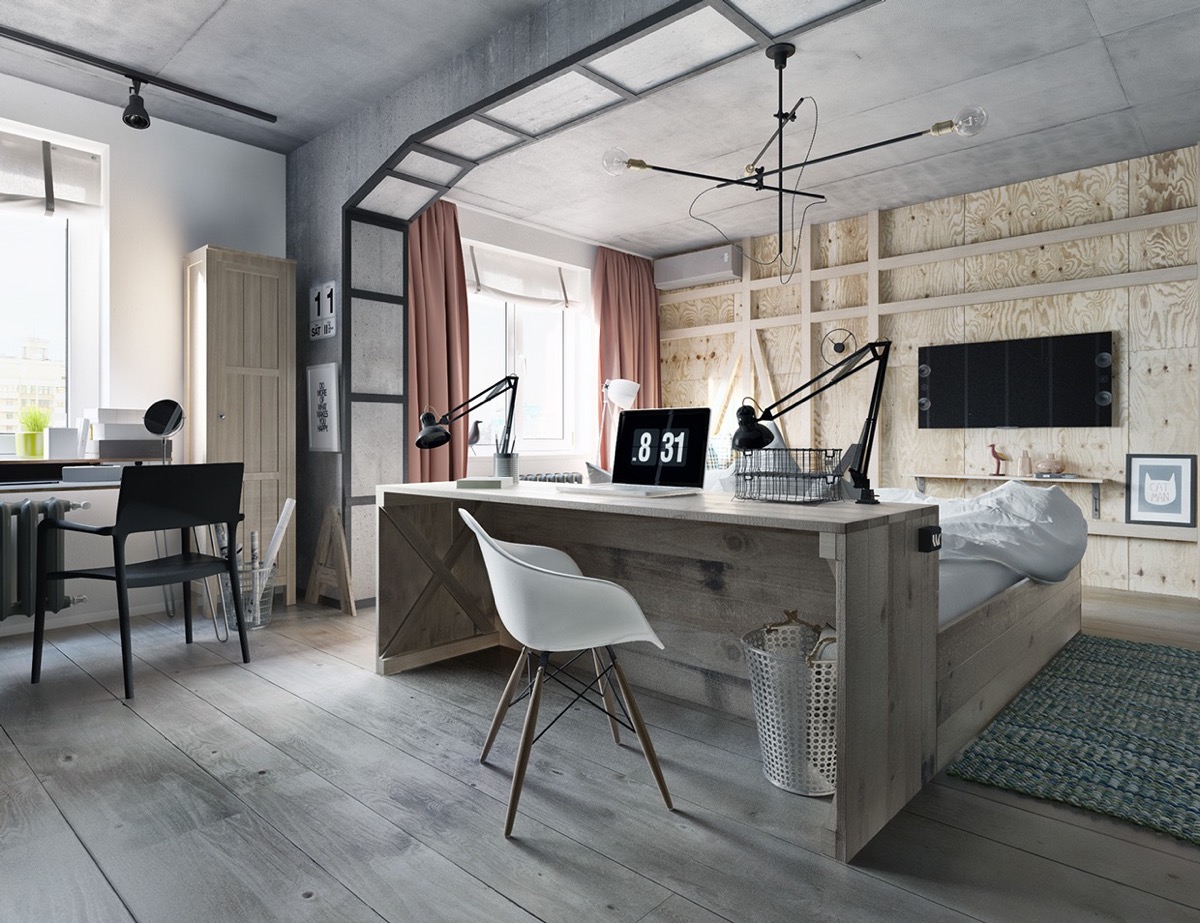 Creative Corner Home Office
A perfect fit for creative people, this home office space provides a bachelor-style corner imagined by Anton Siriak. From electrical wiring becoming part of the design itself right down to the dark desk, Herman Miller Embody Chair and music equipment, this corner screams integration.
The concrete wall is the perfect grey background for a home music studio where office hours follow the tune of your creative flow.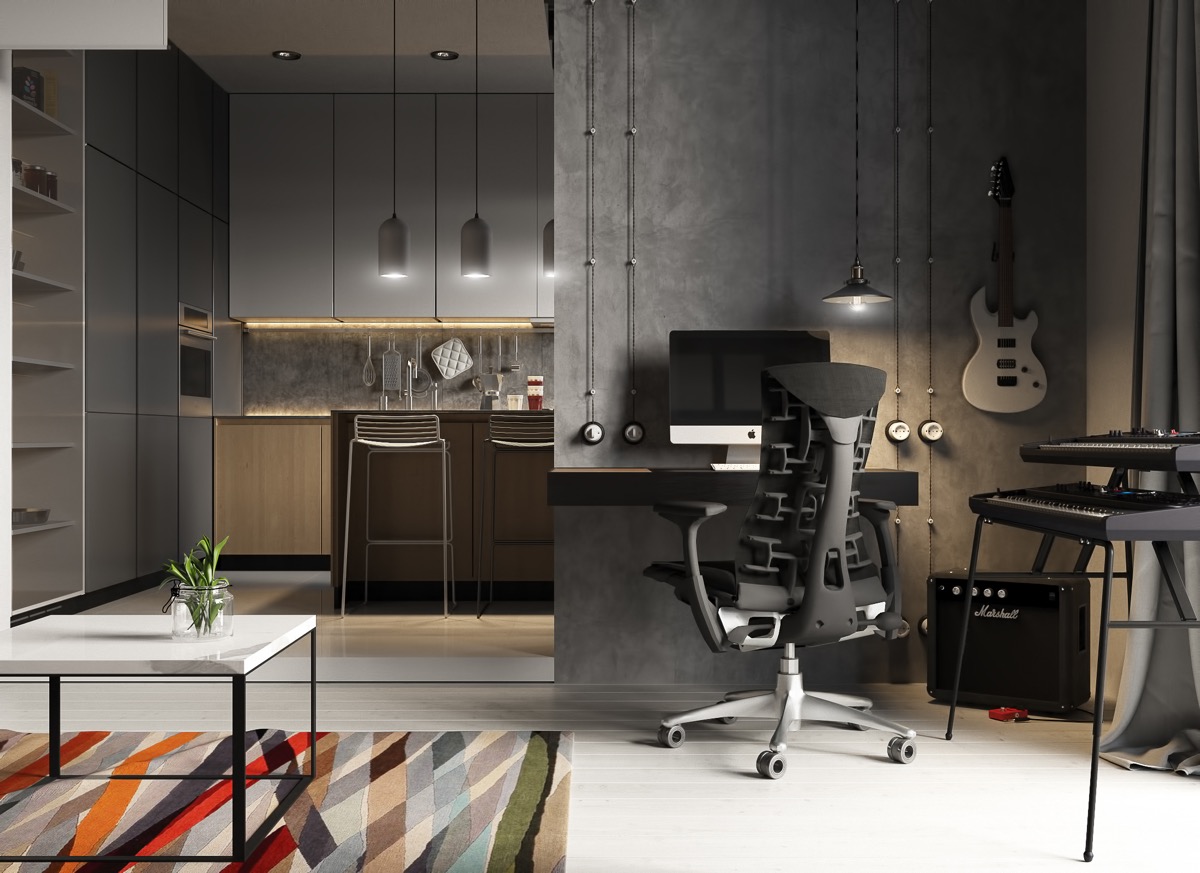 Home Office With a View
Using the space you have might result in an outstanding home office design without much thought. This is especially true if a huge glazed wall pours inspiration into your daily work. A collaboration between 61architects and YYdesign, this corner occupied by a simple desk and chair is sometimes all you need for a simplified workspace.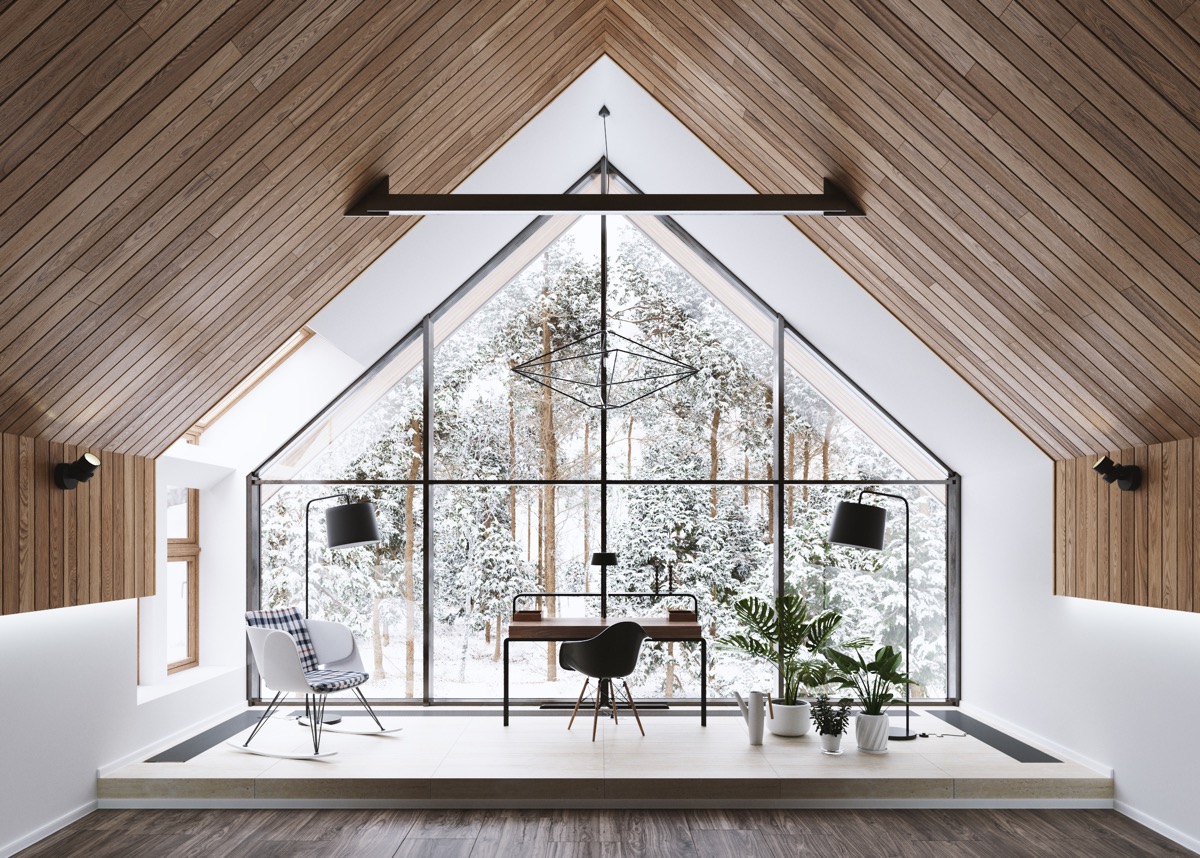 Partially Divided Home Office
When you have enough space to fit a home office setup, there is even more room for creativity as there is for storage. A Nordico Design creation, this home office makes the most of natural light by displaying a partial division between the designated working space and the rest of the home.
This dual working space has plenty of space for comfortable work, storage and decorations.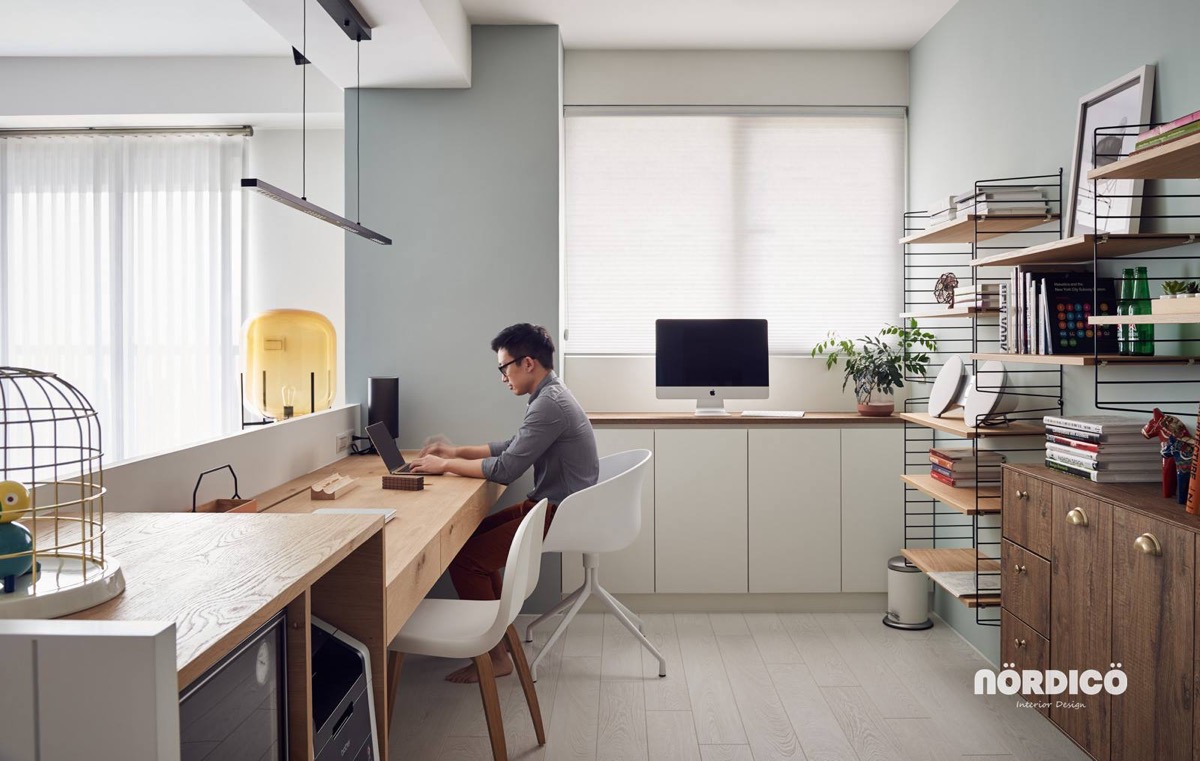 Home Office Behind a Retractable Wall
Designed by Fertility Design, this home office space is walled off from the living space by a retractable wall. Easy to keep noise and distractions away with a simple slide of the wall, your work will be easy to put away at the end of the day.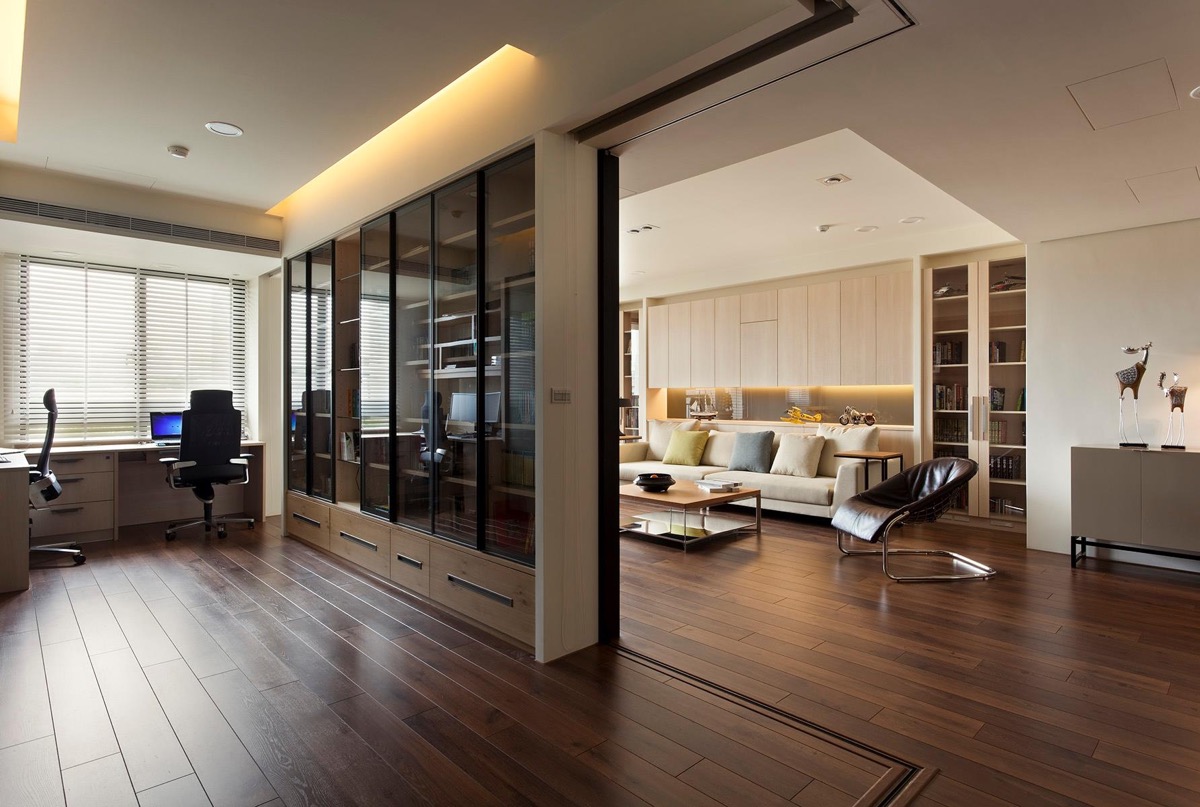 Minimalist Home Office Space
Imagined by Daniel Reuterswärd, this home office completely hides all storage behind massive closet doors. No clutter means more focus and this space not only invites workflow, but also hints to relaxation.
A relaxed body might get you through tough projects and once you see it from this perspective, a lounge chair in the home office becomes neccesary. Muted colors define this minimalist theme even further. Only office essentials are welcomed in this space and this can dictate the importance of tasks in your workload.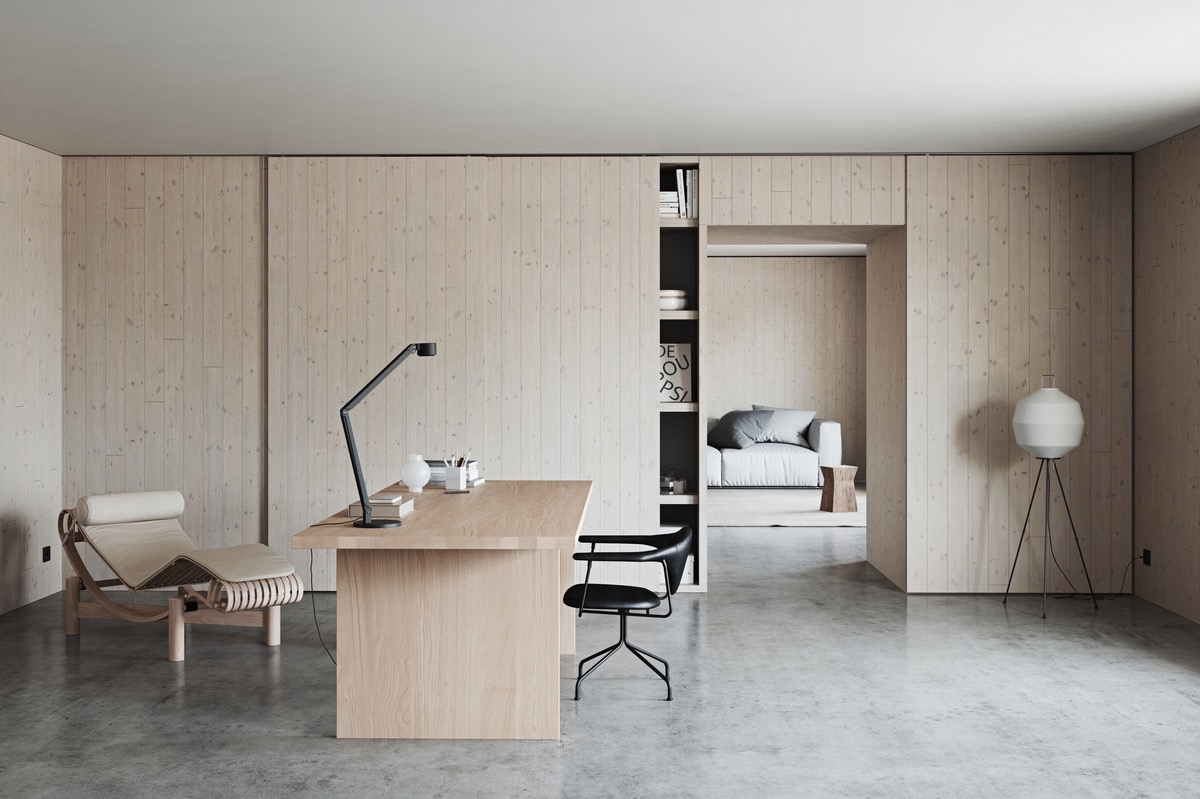 Artsy Home Office Duo Space
Flooded with daylight, this home office space borrows lightly colored elements from the nordic design style. Avenue Design Studio created this space for their own business. Under a skylight and a four meter wide window, the space honors the owner's need for a versatile office, where creative work combines with workshops.
Nothing is easier when the space can be quickly redecorated, soothing the need for color changes that accompany a lot of creative business owners.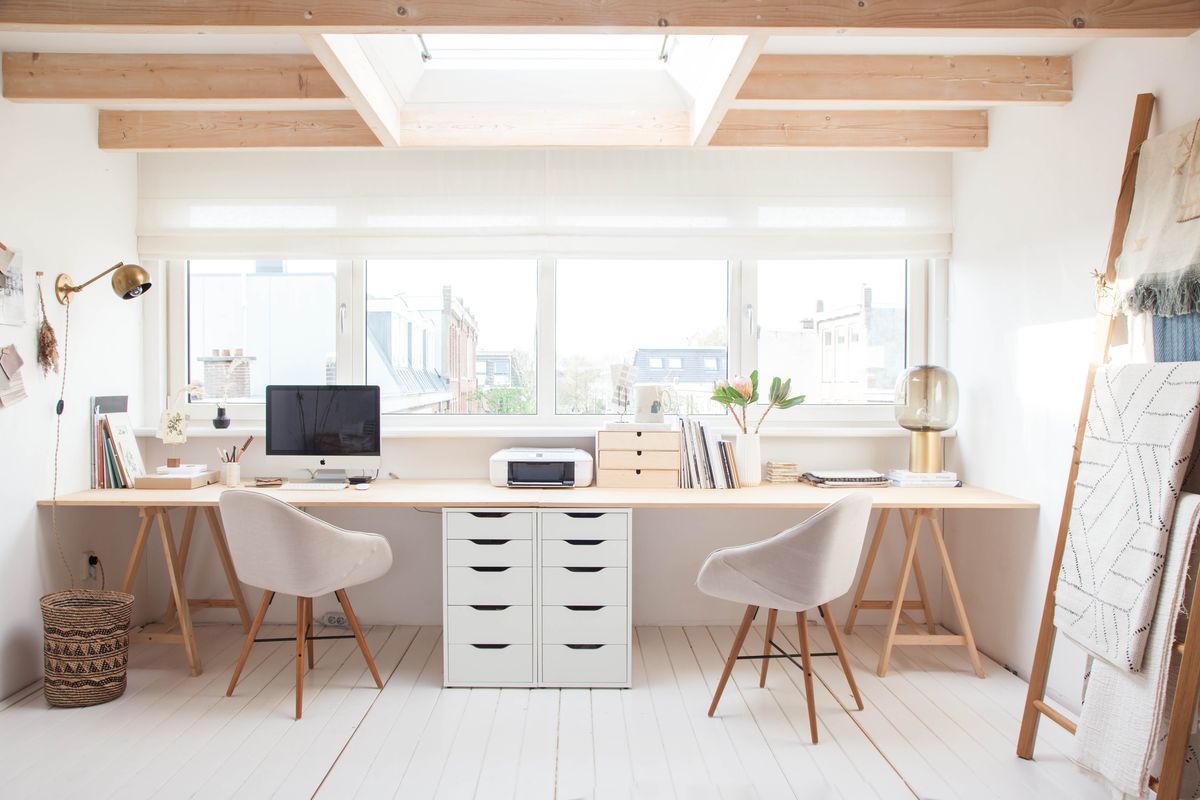 Asymmetrical Skylit Home Office
Designed by Skylab Architecture, this unusual home office suited for two plays with asymmetry to create a stunning design. The asymmetrical desk mirrors the uniquely cut window, allowing everything else to remain subdued in order to keep this asymetrical play of light and dark in the center.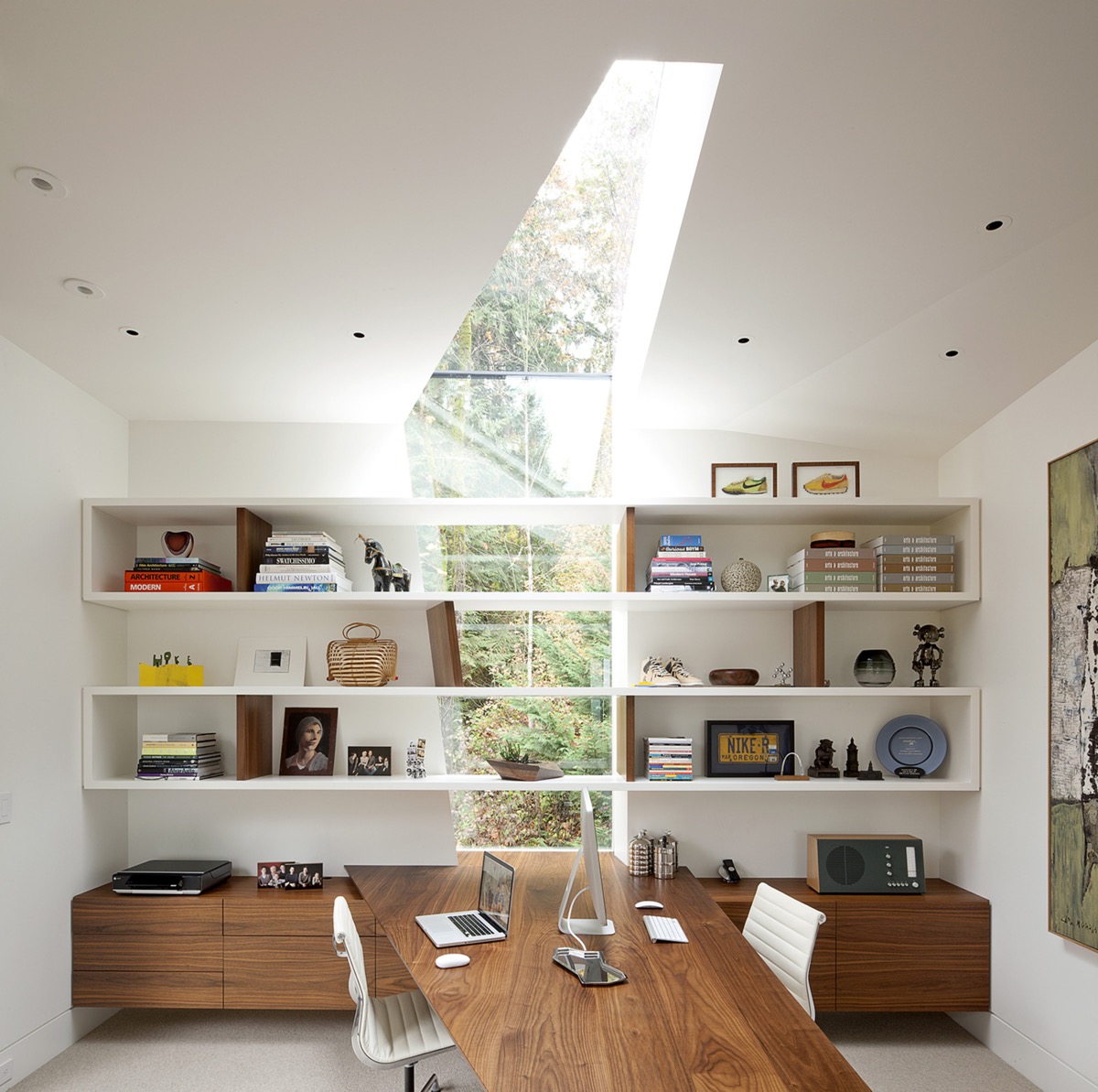 Remember that your own personality and preferences should always dictate the style you choose when it comes to feeling comfortable working from home. Which of these designs is your favorite?