Home workspaces defined by color have a powerful impact on your daily mood. Sunshine yellow can easily bright any Monday, while dark, dramatic colors can compose spaces fit for savy business people.
Colorful does not necesarilly mean filled with different colors. Just one color can make a great impact and define a space suited for uninterrupted work.
Colors can help delimitate areas if the same space is used for more than one activity. For example, in the case of a bedroom with a workspace corner different hues visually compose boundaries between designated areas.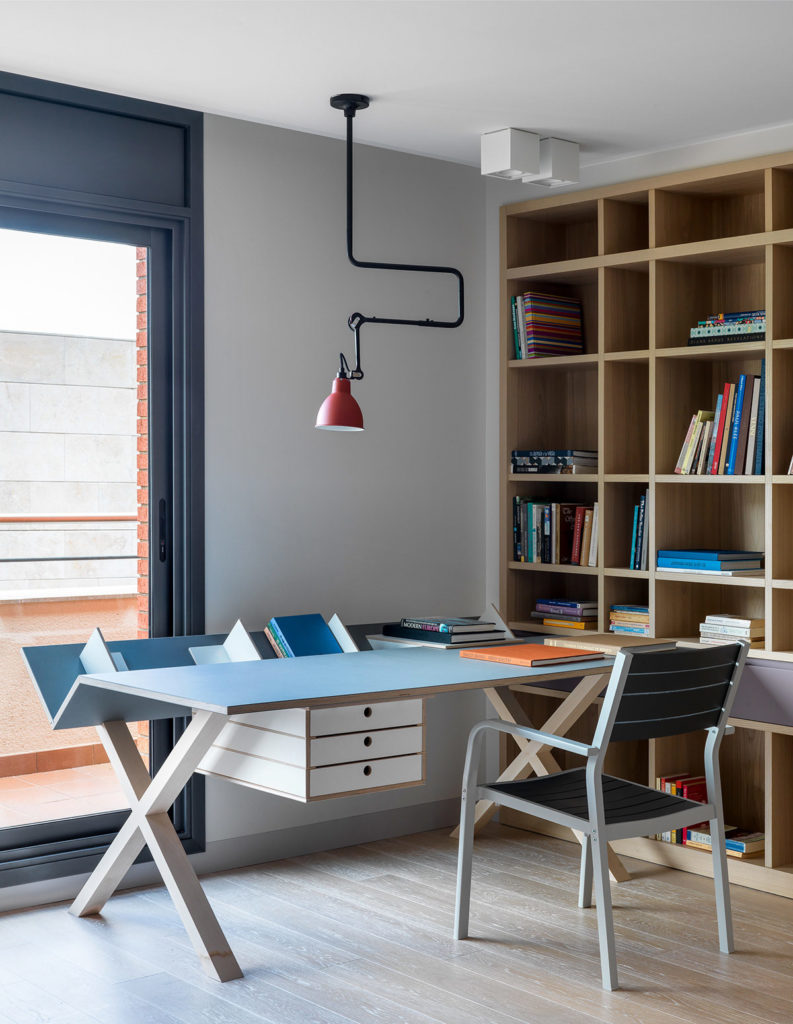 Photographed by Sergey Krasyuk, the workspace above focuses on a calming baby blue and warm wood duo. The shape of the desk is an unusually creative one that plays on geometry. Its reclining book ledge keeps your most important items in reach. Straight lines all around support the designer's work on constructing a congruous work space.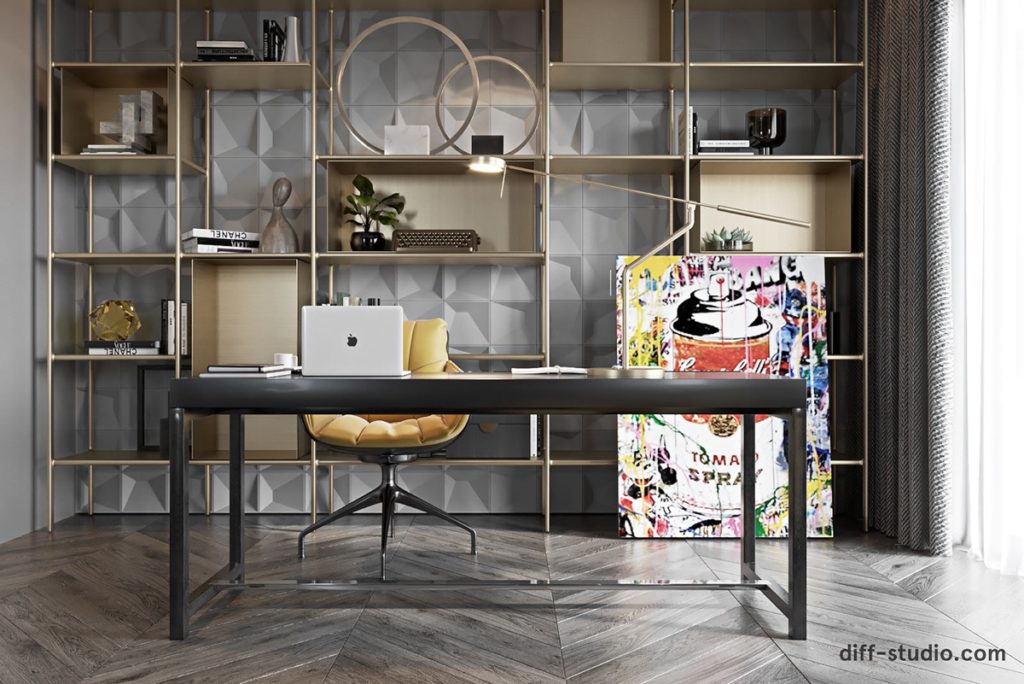 The home office space above is designated for privacy and professionalism. And yet, among muted colors, a pop of brightness reminds us that art is always present in our lives. Colorful interior design does not need to be something that hurts your eyes. Just one carefully chosen piece of art can create a fascination for details chosen to characterize the space. See the whole home office design by Diff Studio in its full beauty right here.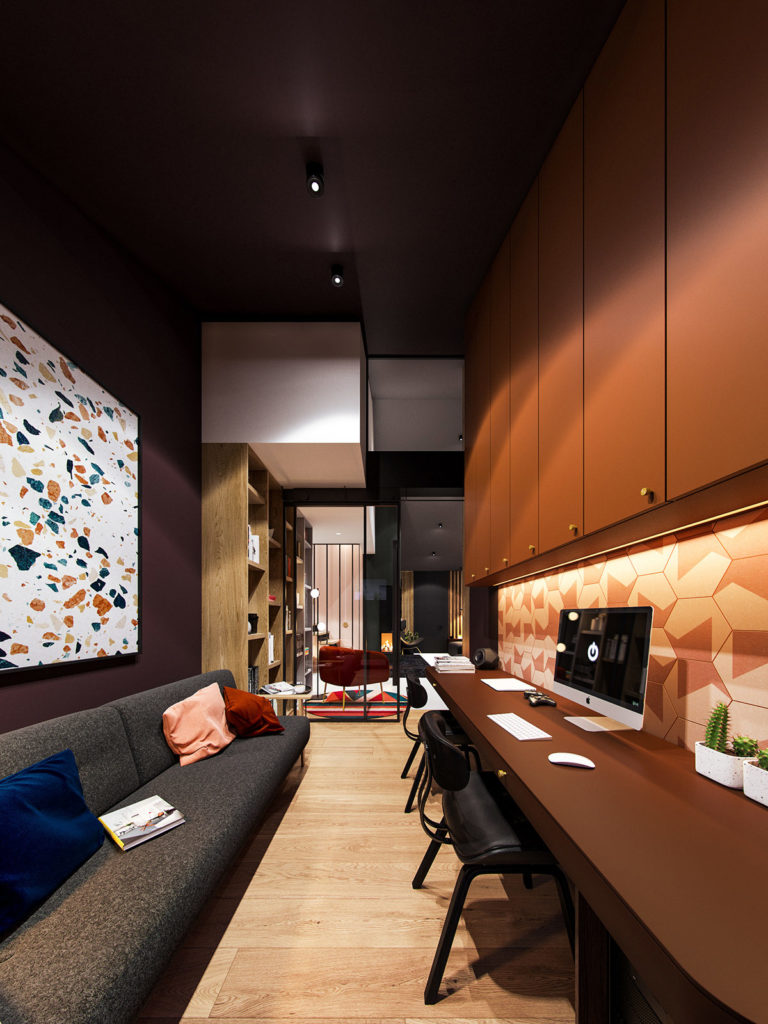 Tall and imposing, this double workspace beautifully executed by Polish studio ZARYSY in a narrow space demands attention through colors. Even if these are dark hues, their depth create a langurous home office design. Elegance is expressed in both nuances and patterns.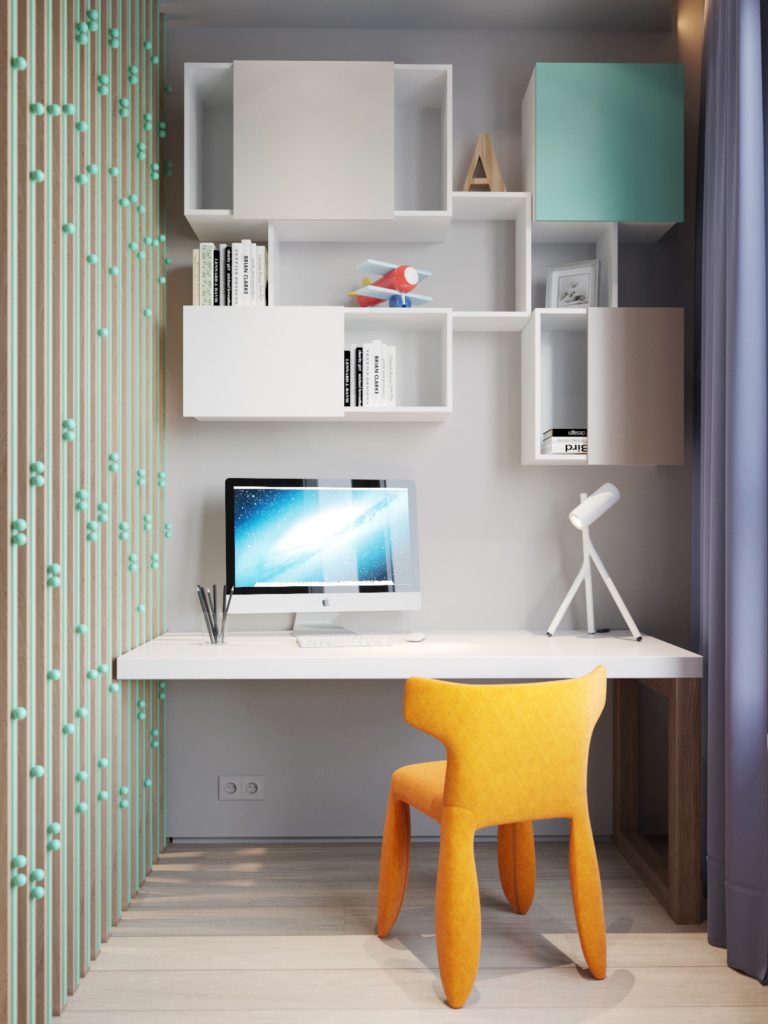 Even if the space you have put aside for a home workspace is tight, colors can really make it energizing. Combining turquoise and yellow is a fun way to exhibit your love for colorful inspiration. Match that combo with white and you can enjoy a playful space like the one designed by Daniyar Gaynullin, a space that's simple enough to be distraction-free.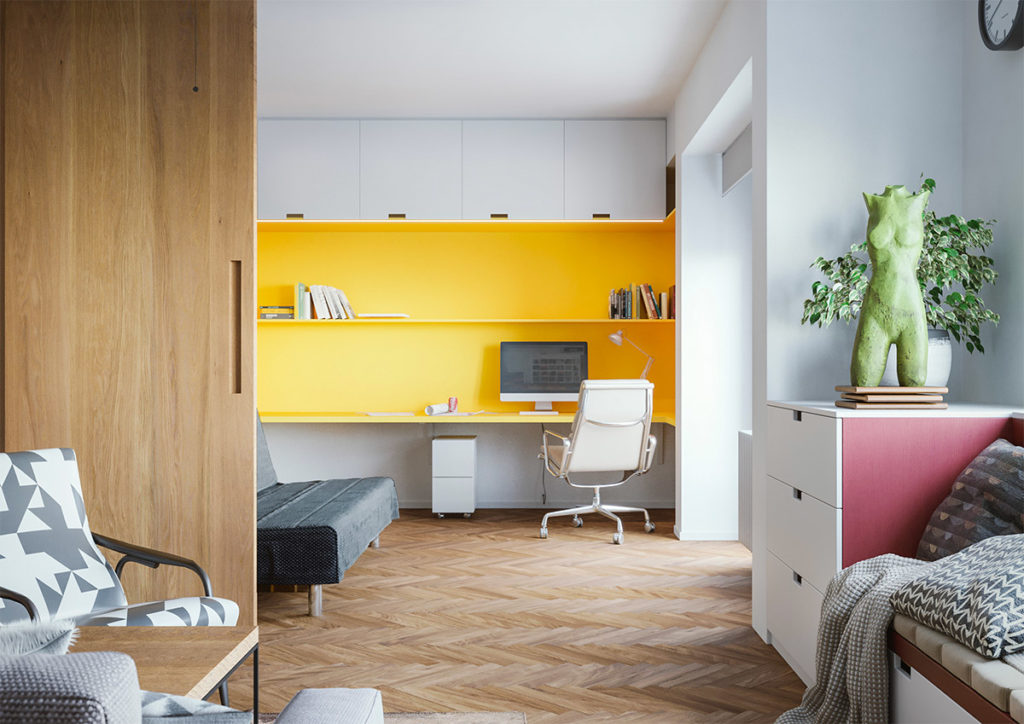 Imagined by ZAN Studio, this invigorating home workspace features a bright yellow wall compacted between the upper storage space and the ledge that acts as the desk. Everything else was left in white to really make that sunshine-colored desk stand out.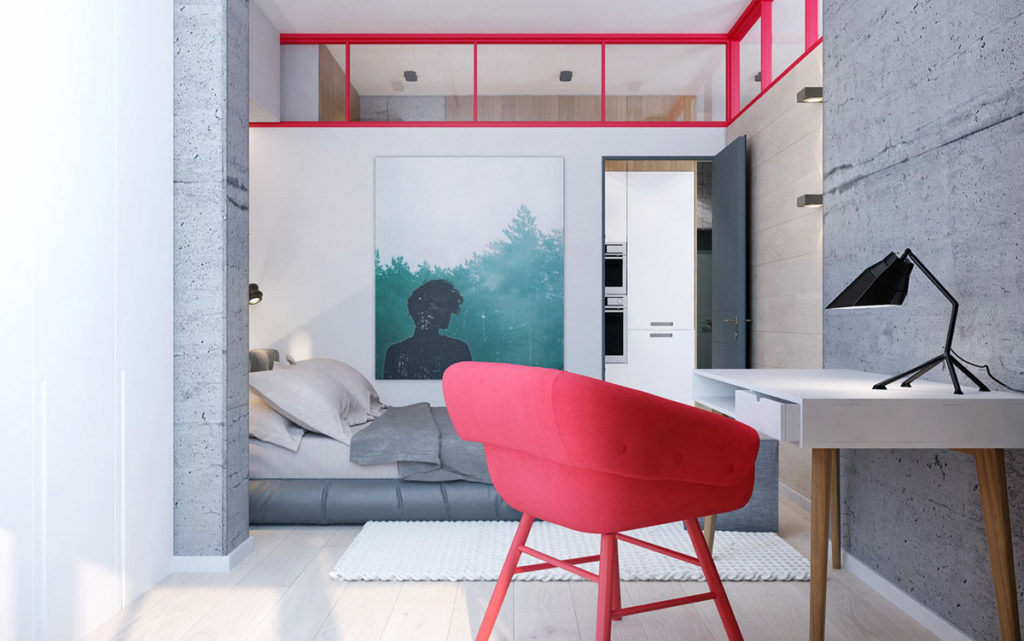 Imagined by Zikzak, the working space above was placed in a bedroom where there was just enough room for a desk and chair. And since everything in this space is kept to a minimum, color was used to create a more playful atmosphere. And of all colors, they chose bright red and it's probably not just because the mezzanine railings are painted in the same color.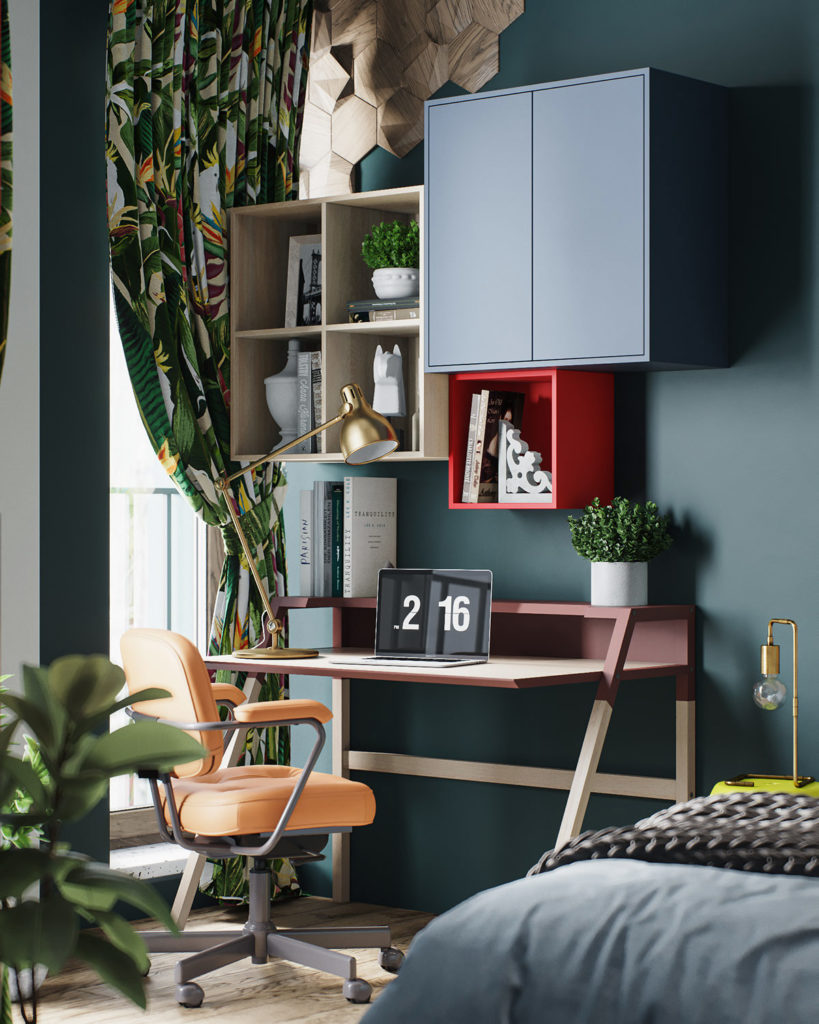 Another bedroom space shared with a workspace – this could easily be the most usual places people can actually find space to work. Designed by ArtPartner Studio, the corner of this bedroom flashed colors – muted and bold – for a versatile space that inspires creative work.
Two bright colors can define a workspace even in a corner of the bedroom. Deep blue and posh pink were chosen to delineate the entrance from the living room to the bedroom and the adjacent wall pierced by a window. Visualized by LIS Design Studio, this corner bedroom workspace carves its own space through color and this can be very inspiring for someone who likes minimalist design.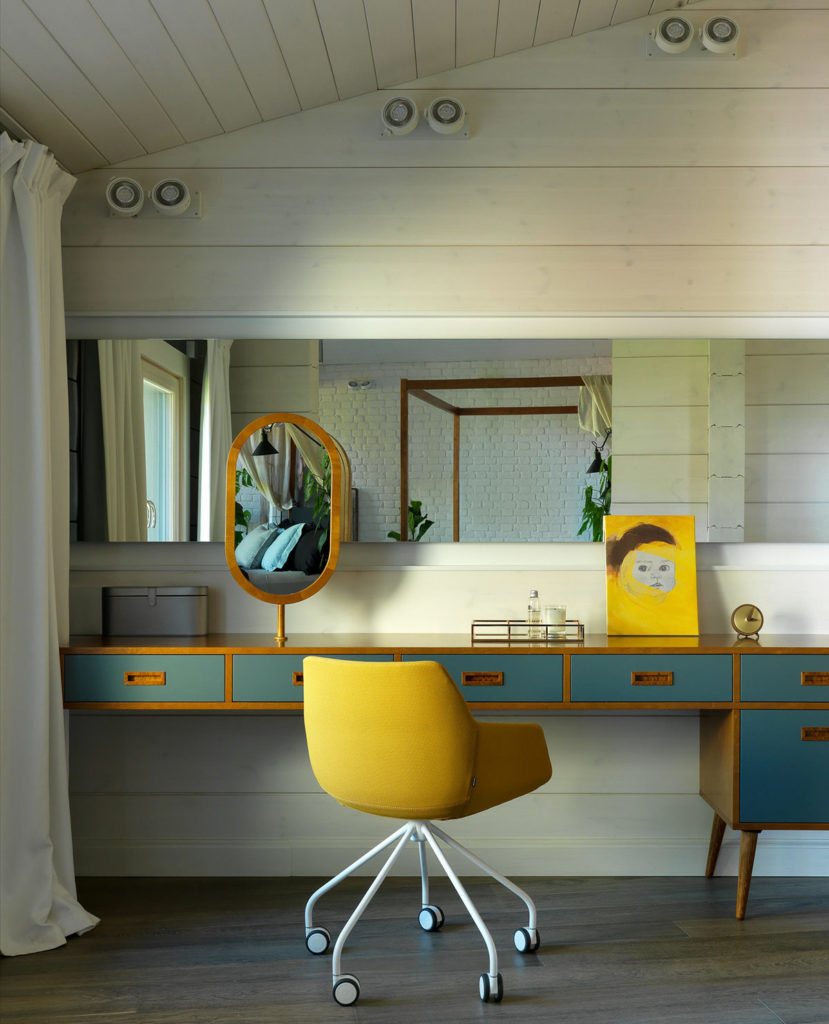 Another space photographed by Sergey Krasyuk showcases a classy combination of yellow, blue and wood tones.  Nestled in a sepparately from the bedroom, this space can easily turn from a vanity to a home office space. There's no need to put boundaries to inspiration, especially since this space is large enough to support both roles.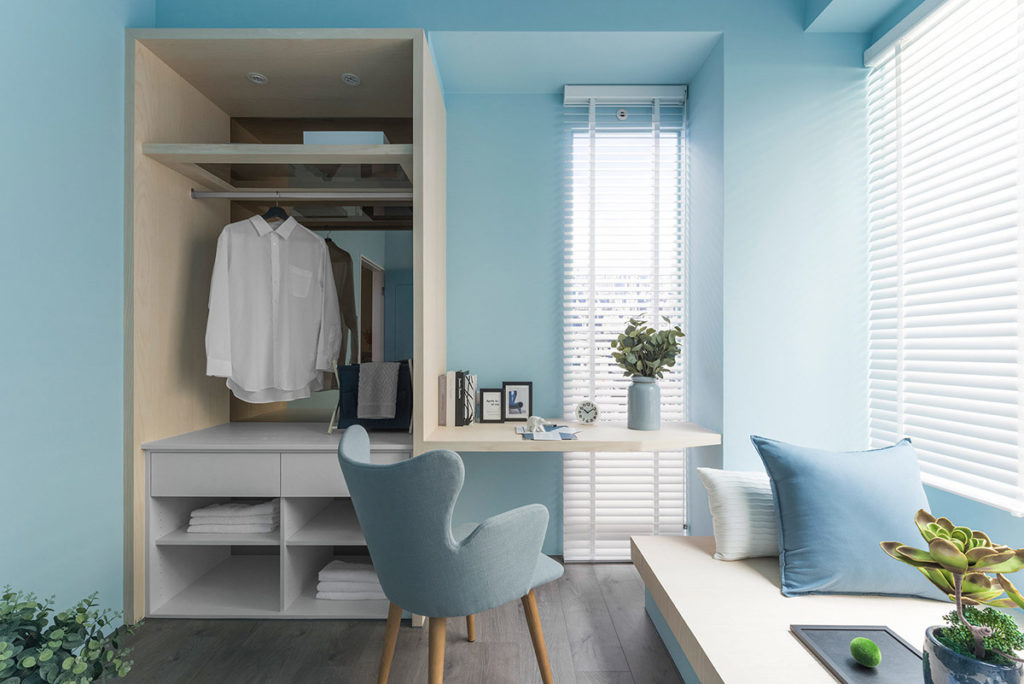 The last work desk we're going to look at is another space initially created as a dressing table. This can easily be transformed into a place to work if you don't have enough space for a desk and a chair anywhere else. There are people who were caught off-guard by the pandemic and so we have to be creative when it comes to finding spaces in our home where we can focus on work. A space like the one above, designed by Aliev Studio, can offer the privacy and relaxing colours you need to focus on your workload until you find a space to dedicate to a home office.
You might feel these spaces were inspiring, but if you like darker rooms to work from, these 10 dark home offices soaked in dramatic glamour will quench your thirst for more inspiration.