Home workspaces for artists tend to be more on the creative side. Some workspaces are quite simple, other boast creativity from every angle.
During the coronavirus pandemic, we've all learned to work from home. Most times, our work requires loads of screen time, working from computer desks. But then there are the artistic expressions of work that require a different work from home setup.
We're exploring different home office designs suited for all kinds of creative industries: photography, architecture, painting, music, sewing and digital creation.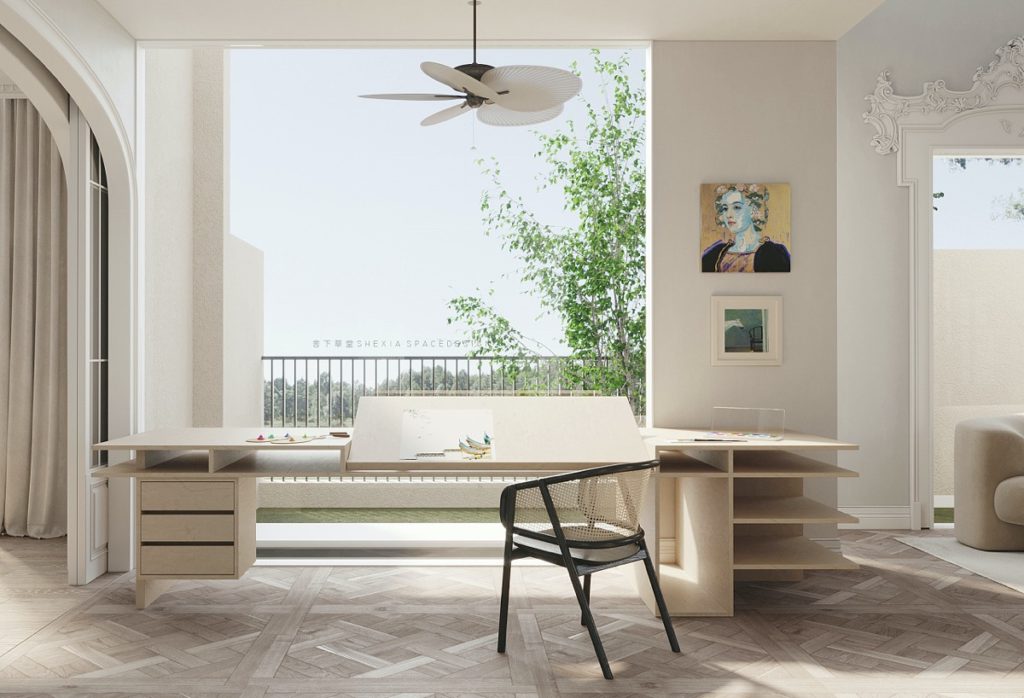 Visualized by Shexia Space Design, the artist's space above is a striking example of how light and space can create the premisses for an outstanding home office. Imagine working at the long and sculptural desk overlooking the city of Guangzhou, creating your vision of the world while bright natural light floods the minimalist space and creates a surreal creative environment.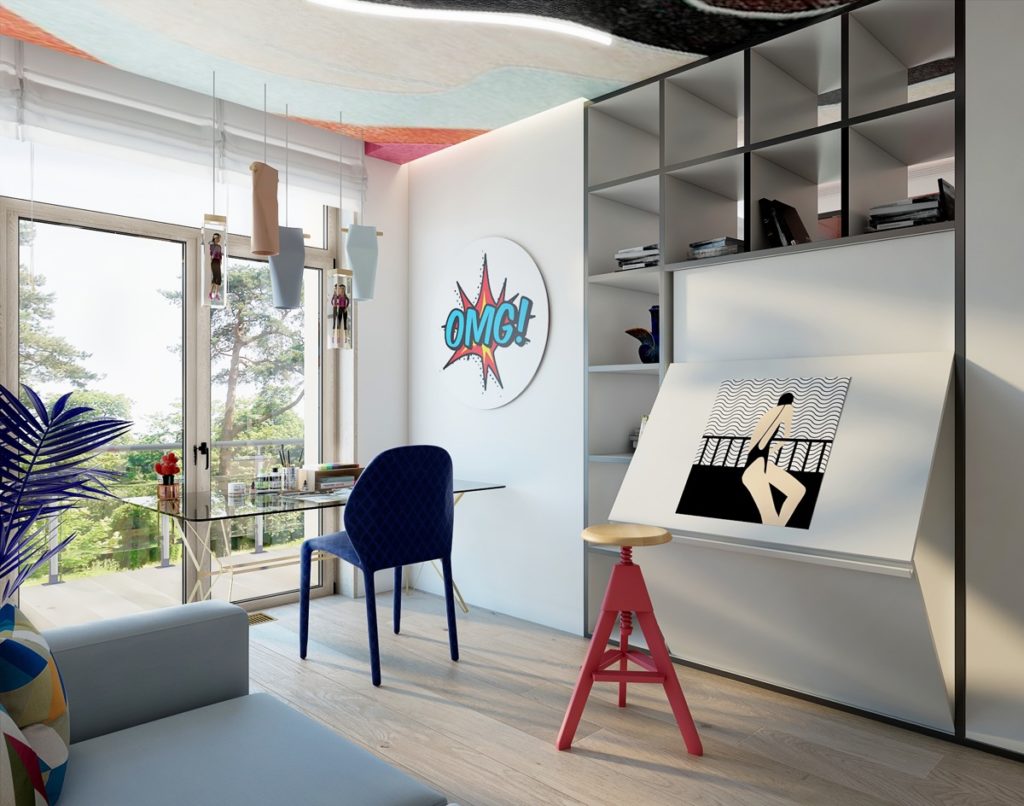 Modern and with an appealing aesthetic, the working space above takes us on a trip through the mind of its owner. Pop art wall decor and daring colors set against a white background balance the space while hinting to the ideas lying dormant in the artist's mind. Imagined by Art Group by Vasilkova Daria, this home office space has a drawing desk unfolding from the storage space, while a sepparate glass workdesk provides the neccesary screen time in this day and age.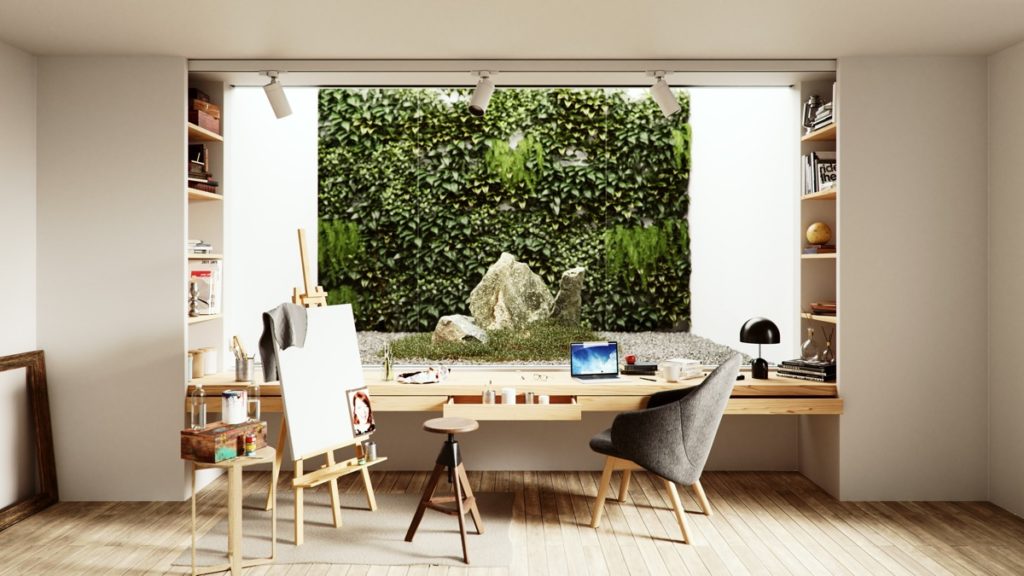 A painter's studio overlooking an interior courtyard with lush greenery is a dream come true for many. This particular painter home office was designed by Pixel Verse MX and shows how a space can be creatively designed to encompass both necesarry storage spaces and a green view. Flanked by shelves and illuminated with track lights, this wooden workspace draws attention to the work itself while providing visual breaks everytime the artist takes their eyes off the canvas.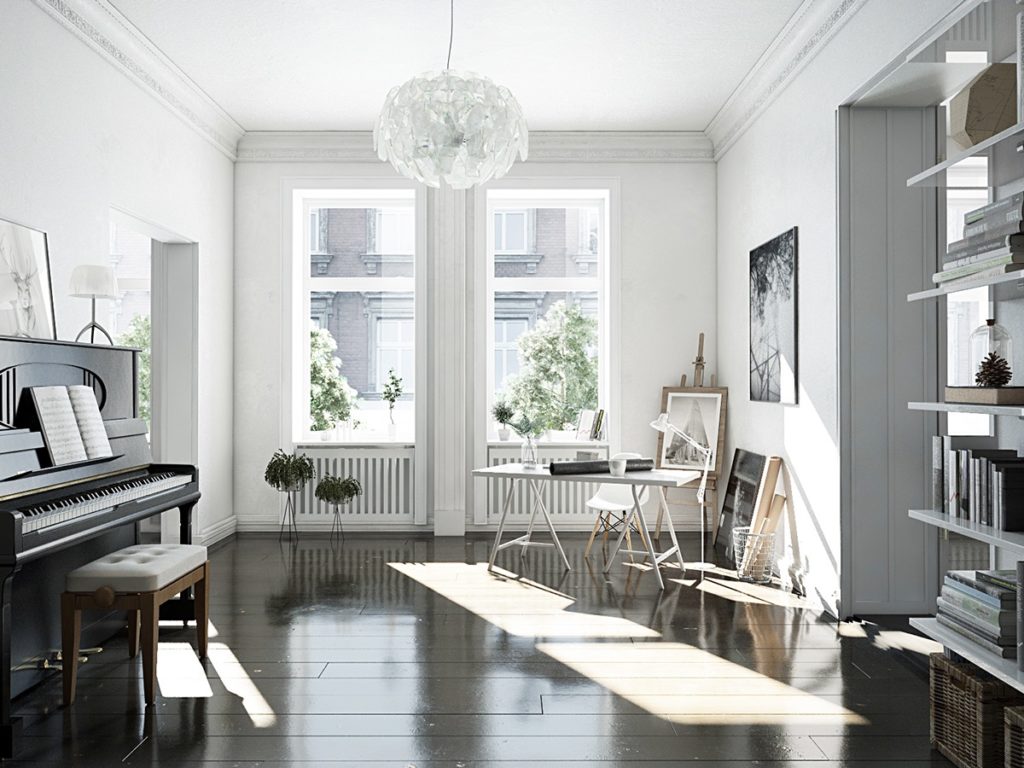 An architect's home office space caressed by sunshine can inspire others to create a similar space that uses black and white as main colors. Visualized by Trinh Nguyen, this home office space speaks volumes about the owner's love for arts, be it music, design or literature. With a desk facing the center of the room and sunlight freely flooding the space, this workspace can easly illuminate a creative mind.
Part of a stained wood and concrete home designed by Caio Persighini Arquitetura, this music studio keeps in tune with the rest of the house. Sculptural wooden slabs break the concrete's monotonous colors, bringing warmth mirrored in the L-shaped desk and quitar.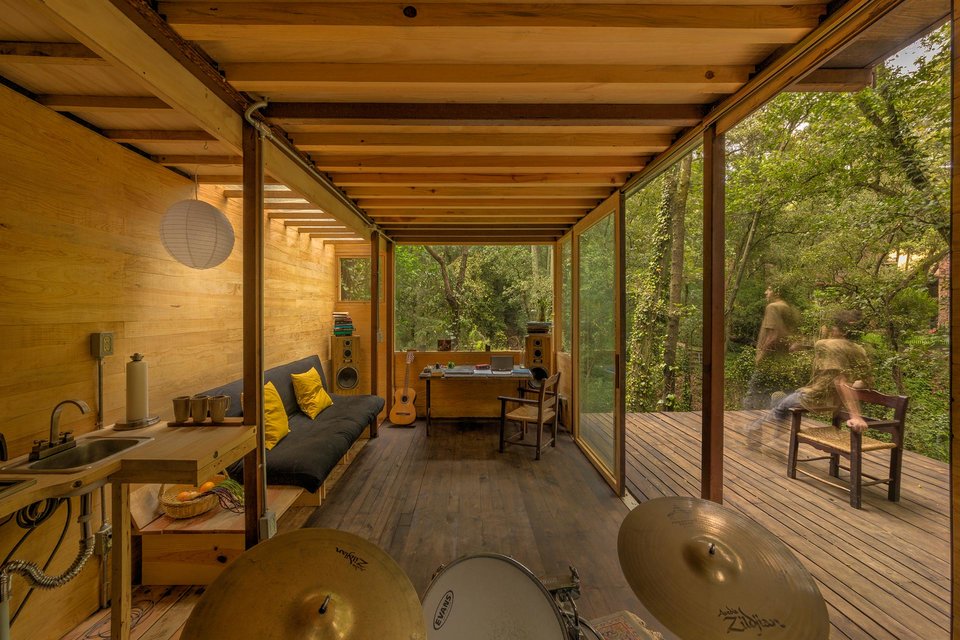 Designed by Talleresque as part of a home that seems to float in the woods, the music studio pictured above is a fascinating workspace for those enamoured with nature. Floor-to-ceiling windows framed in wood and a skylight bring the outdoors inside, supporting the creative work one can accomplish in such an inspiring space.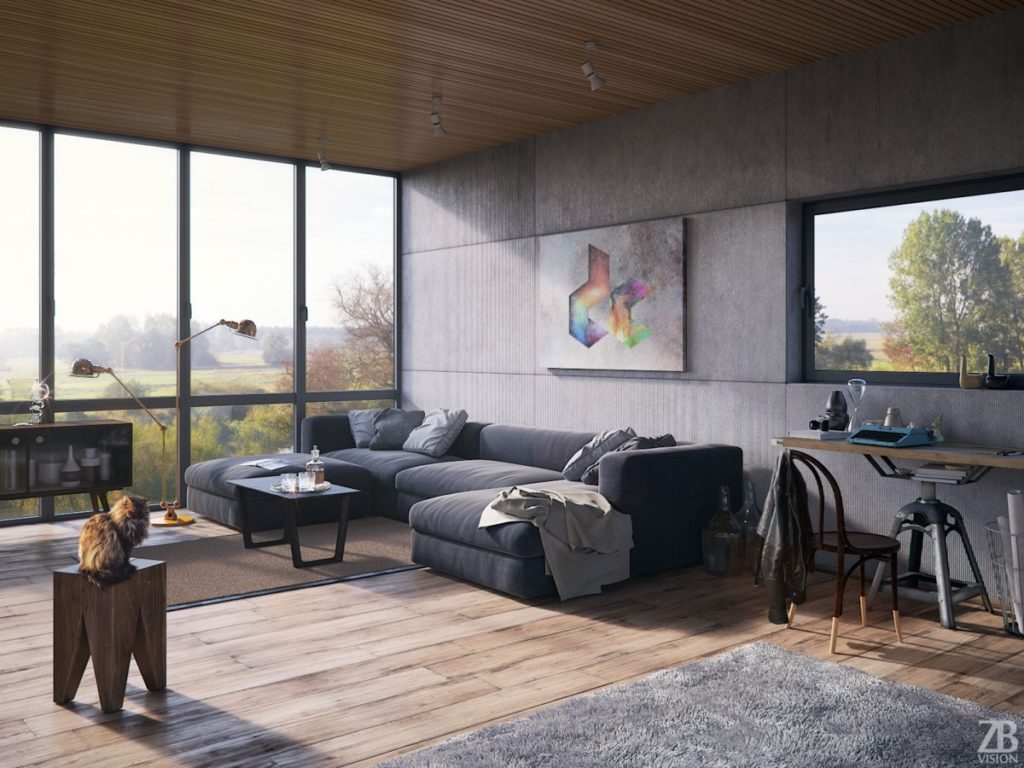 A workspace that seems to be intended for an old-school writer can inspire us all to use simplicity, natural light and a combination of wood and concrete to create an industrial-style home office. Visualized by Sergiu Zboras, the space above includes a dedicated space for writing, perfect to use whenever inspiration strikes.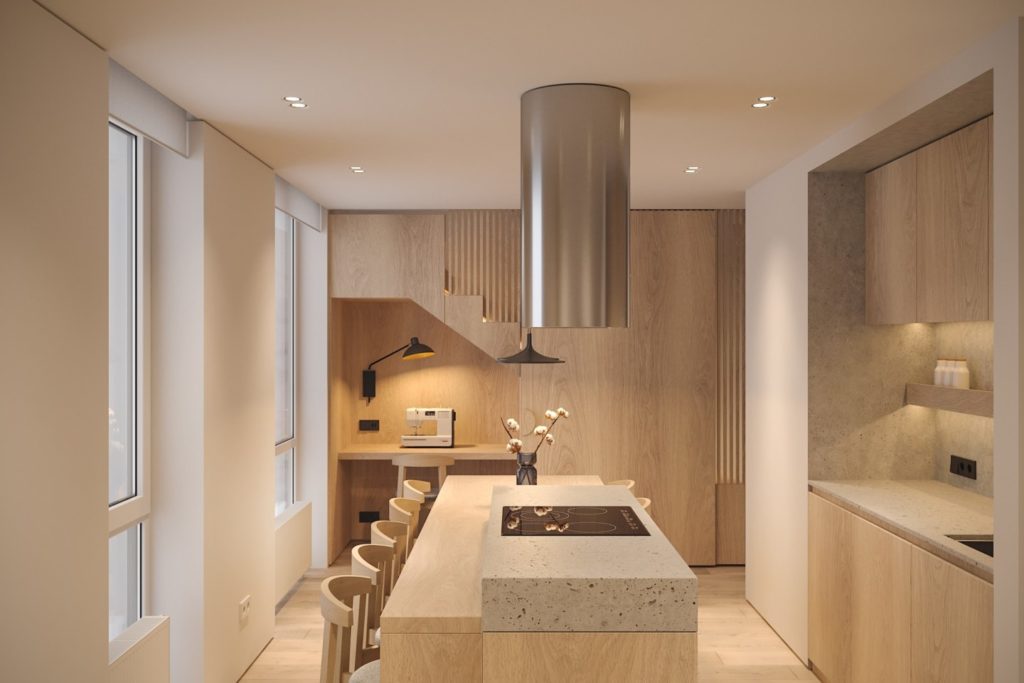 Bezmirno Architects created a hidden workspace right in the kitchen of the so called Serenity Apartment. Smart zoning allows the space used for sewing to be both part of the design and hidden when the workday is done ith the help of a sliding door.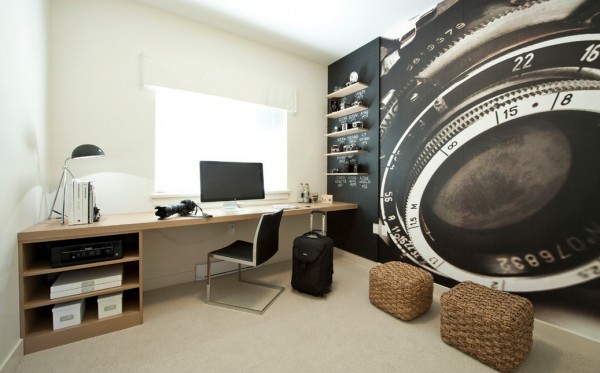 Portico Design imagined a home studio intended for a photographer. A bespoke photography wallpaper thrones over the whole home office. On the same wall, different cameras neatly arranged on wooden shelfs help convey the owner's passion even further. Nothing but white, black and warm earthy tones complete this simple workspace design that can serve as inspiration for your very own photography studio at home.
Our last example of an artist's home office shows the simplest way to keep your working space and hints to your passion in one corner. A simple desk, a cosy chair and a shelf are enough to create a basic home office setup for a photography enthusiast. Credits for this photo go to Michael Soledad via Unsplash.
You might be thirsty for more home office design, so here it is:
10 L-shaped workspaces for extra working room
30 inspiring workspaces burrowed under a window