Working from home is a challenge that brought us many fascinating solutions to a lot of problems we're facing. Working from a space that once was only for family, friends and yourself is uncomfortable. And making room in your home for a workspace comes with its own challenges.
Beyond working from any place, be it the bedroom or the garden or an office building, the ergonomics challenge remains just as important. What kind of desk will you use?
This intelligent sit-to-stand desk has an adjustable height between 65-130 cm and that makes it perfect for both adults and children. Smartly announcing you to sit up and strech with its sedentary reminder, the modern desk adjust to the height you need it to with just one click on the button placed on the side.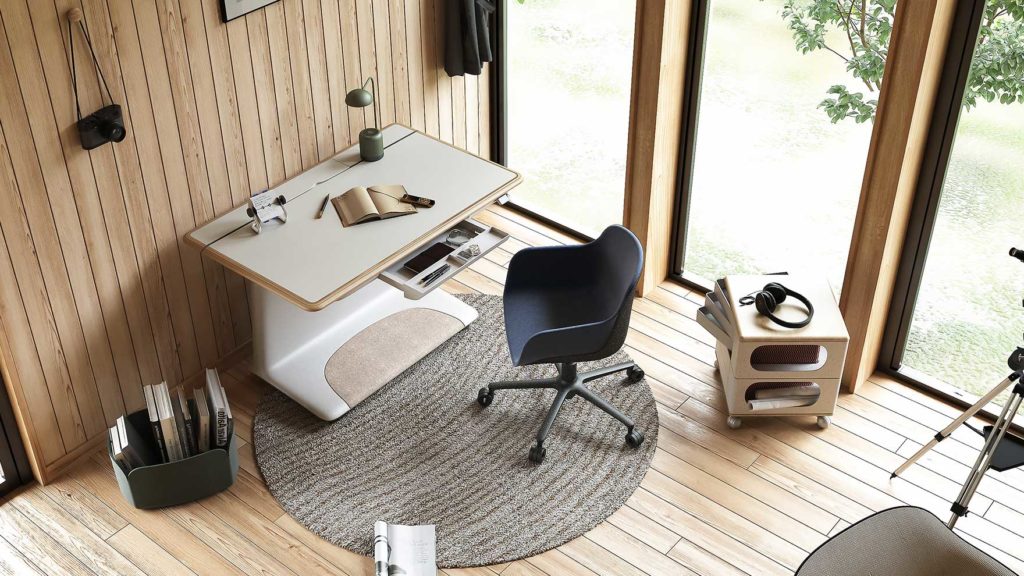 Sit down to work, stand up to review your work, sit with your feet up to slow the pace, relax and pull the desk towards you to start painting, and plenty of other options depending on your creativity – all accesible with the UFOU UPON Intelligent Sit-to-Stand Desk.
Imagine having all these features in one desk: height adjustment, desktop tilt angle adjustment, horizontal depth adjustment, multiple power sockets handy, and even a soft pad to stand on – what else would you need?
Maybe just to switch that soft pad with a rougher Stoic Standing Mat for a real challenge that brings you visible results in your appearance – who says you can't work out while you're putting in work for your proffesional goals?
Only you can limit the ways in which you can use this desk and for what purpose. Whether you're building your own clothing business or you're a vlogger that's just starting out and dreaming of a private workspace like this Vlogger's home office that unveils texture heaven, this desk can get you further with its features and make you be proud of your work so far.
With rounded corners that offer a contemporary touch of design and a smooth surface, the modern work desk comes with an organized drawer for all your knick knacks you need to keep in reach.
You can relax and use a monitor stand to recline for a while, then sit up and continue working after streching for a bit. This kind of a multi-function working desk is perfect for working from home and for kids study spaces.
With an antifoulic nano desk surface, the UFOU UPON Intelligent Sit-to-Stand Desk becomes easy to clean and it even has a safety lock so that children can use it safely.
This intellingent sit-to-stand desk encourages you to sit up or recline and move at your leisure. With its 0-35° tilt adjustment that you can lock at any angle, the multifunctional work desk helps you find and maintain your perfect posture during the work day.
The sit and stand desk hints to its multiple functions with sleek design lines and jointings. Would you have figured out it has extra surface area? The desktop can be extended up to 15 cm with a slight pull and you can temporarily keep anything you need right by your side.
If you're looking for something much more futuristic, larger and more impressive and have enough space to place it in your home, then the Altwork Station – shape-shifting mechanical desk is the way to go – because sometimes you have to go big or go home. Well, some people are already home – working from home.