These 10 Illuminated home workspaces under slanted ceilings explore ways to bring in a workspace right under the roof of your home.
We all crave for more direct natural light since our lives are not as close to nature as we would like to or is healthy. This is why we can search for solutions to bring in more light, especially if our workday has become part of our home schedule.
There is nothing that can replace the impact of natural light on our health and mood, so a work desk under a window can greatly help with an up-beat atmosphere.
Make light for knowledge
Imagined by Uglyanitsa Alexander, our first work area fills the space under a large slanted modern window. Integrated into a huge bespoke library covering an entire wall, this narrow desk is part of a living space flooded with natural light.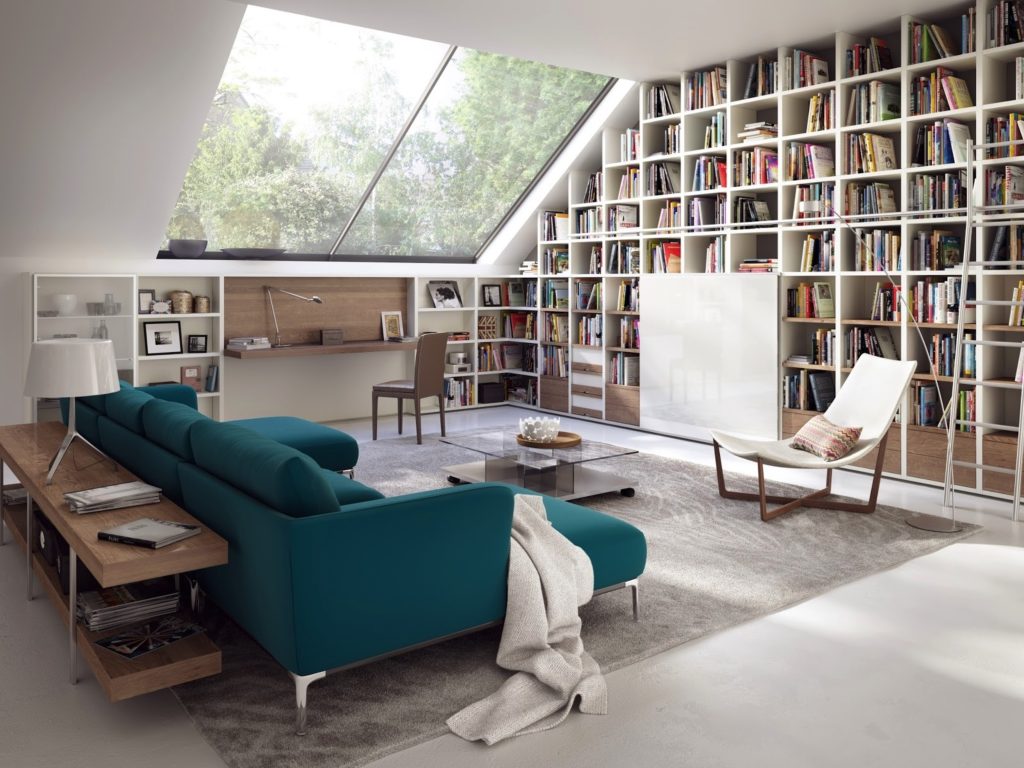 Mezzanine bedroom and double workspace
Moving on to another splendid example of a workspace imagined to benefit from an angled ceiling, this mezzanine bedroom is more than it apears at first sight. Visualized by Curly Studio, this stunning black and white bedroom contains a double workspace raised at mezzanine level.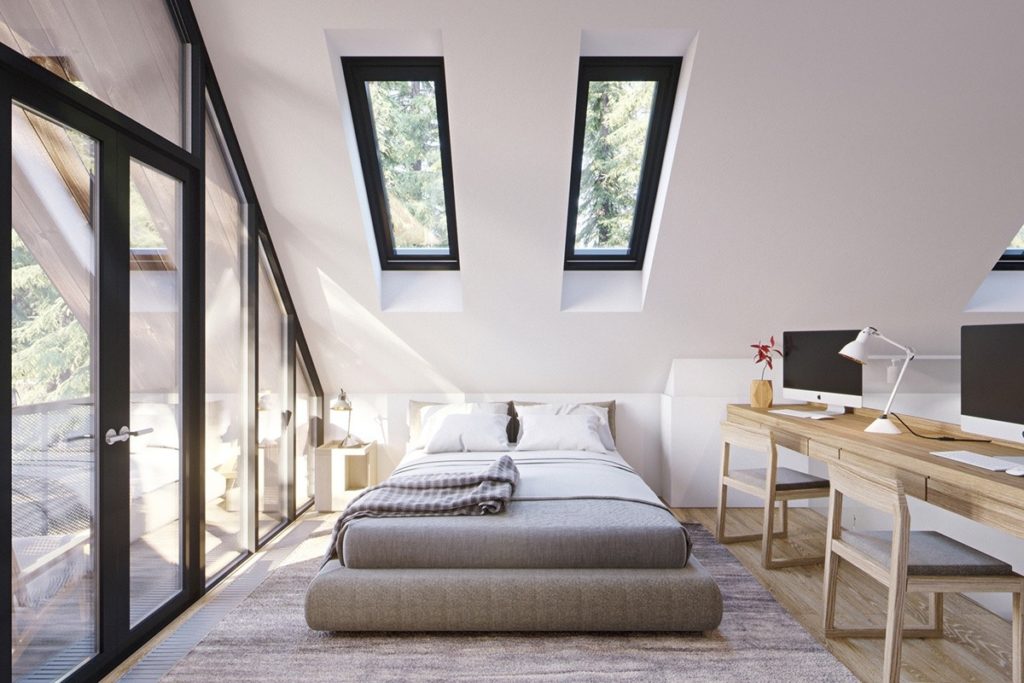 Angular desk under the sky
Our next fabulous workspace plays with a sinuous desk shape that anchors the work-from-home space in the overall design. Under two slanted skylights, this angular design sits against a black brick wall to make Ki Design's project a unique intervention in a contemporary living space.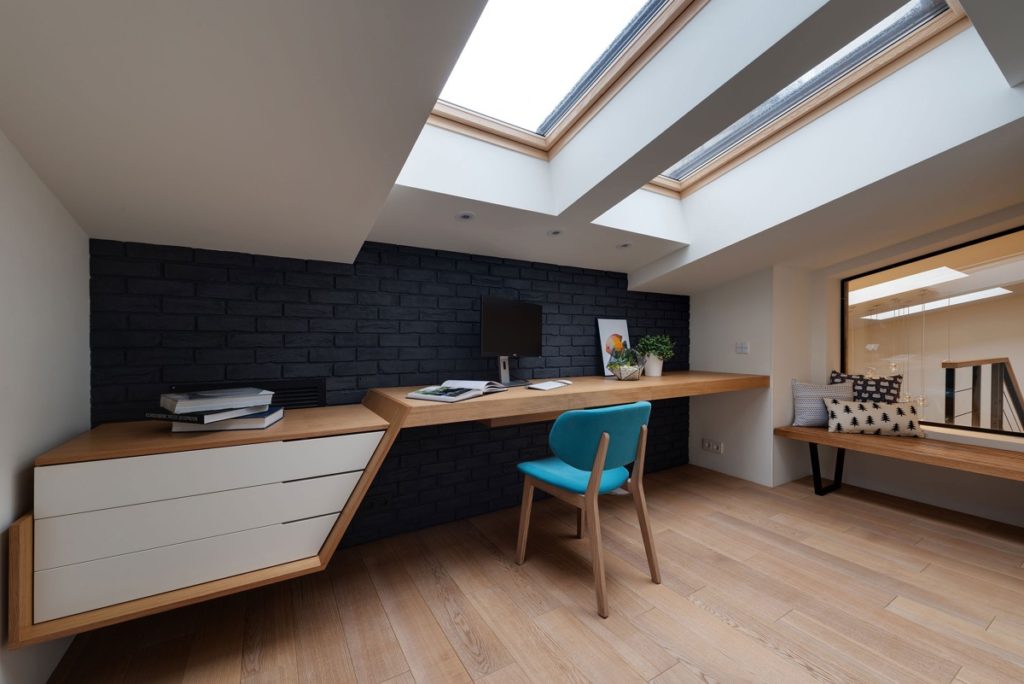 Forest inspiration in modern attic workspace
Under a slanted ceiling pierced by a square skyligh, this charming modern home office design mixes white, green and wood to create a forest-like environment. Imagined by Zarysy, this geometric interpretation of a place to work from home is striking in its simplicity.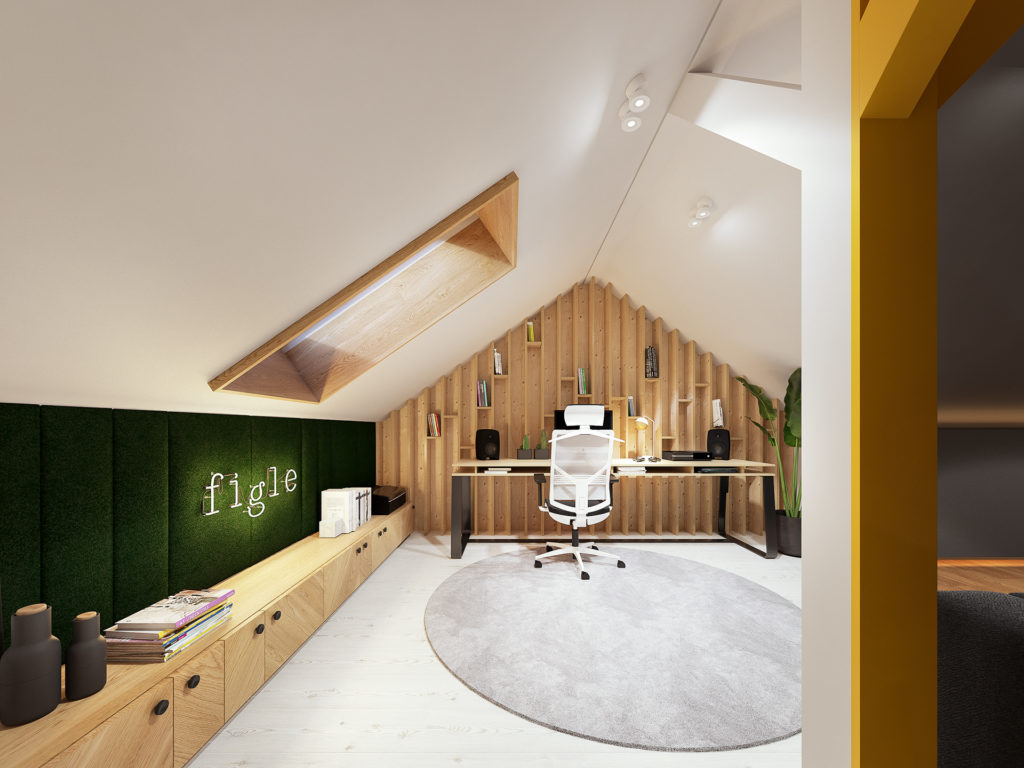 Working in the attic
An attic home office can be visually and functionally very modern when sleek design lines meet a minimalist color palette. Visualized by Hilight, this next home office space sits under a slanted skylight. A white floating desk and drawers are enough to place a monitor and keyboard and start working under the sun, so don't forget your sunscreen.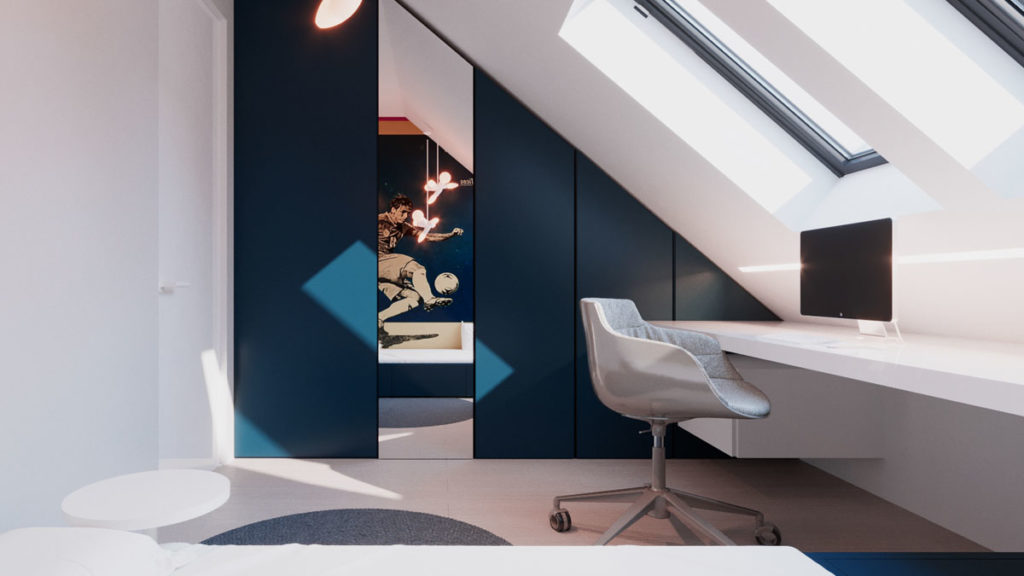 Wooden everything
Imagine yourself owning a dome home and working from under a triangular skylight, would that make you happy? Because there are so many people out there yearning for a more natural environment to work from. This home office is a fascinating play on geometry and there is no doubt that such a workspace can create a soothing environment for the muse to shop up daily.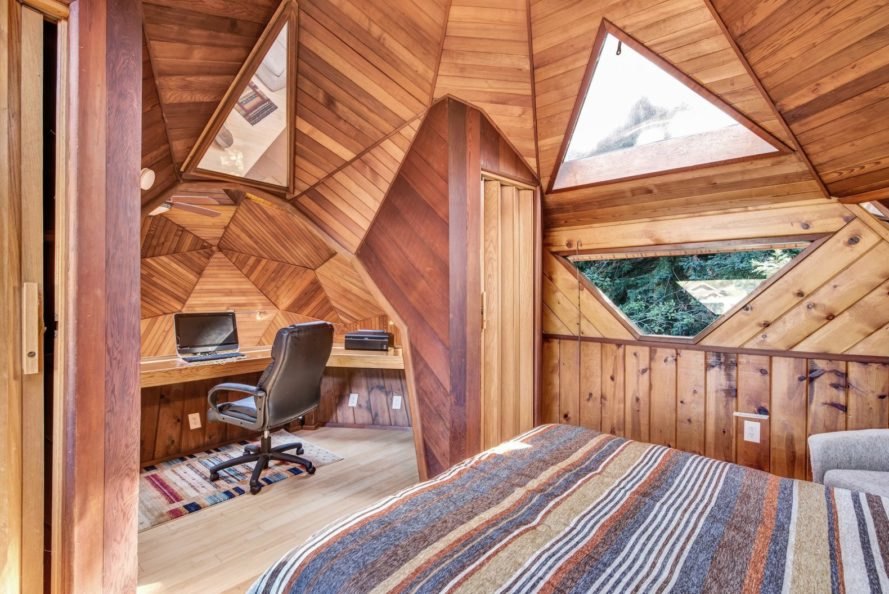 Calm by design
Designed by Bo/Sko, this unusually-shaped double workspace is charmingly displaying a visually appealing geometry. Working side by side with your partner means having equality in occupying the space, as well as sharing chores. A calm yet playful atmosphere helps ensure everything is figureoutable.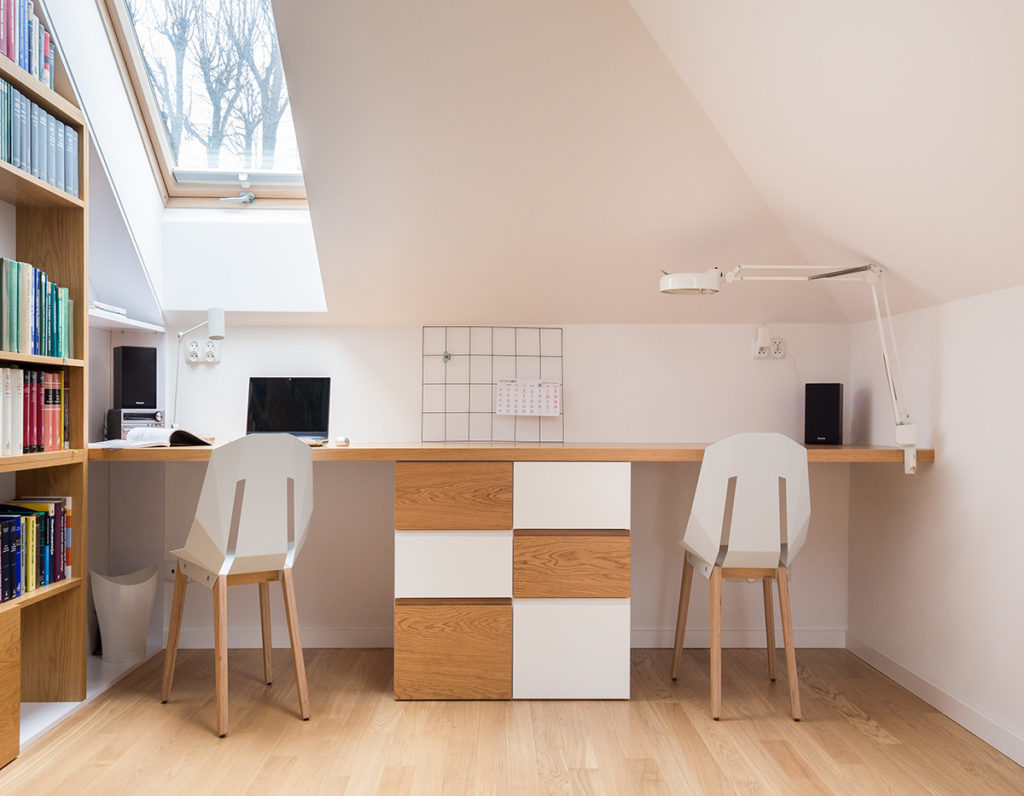 Warm wood walls and bright sunlight
Visualised by Olovo, our next workspace is a floating desk under twin skylights. Led lights illuminate the atmosphere along the slanted ceiling, a globe lamp on the little desk and a semicircle black lamp on the sidetable make up the artificial lighting used in this space.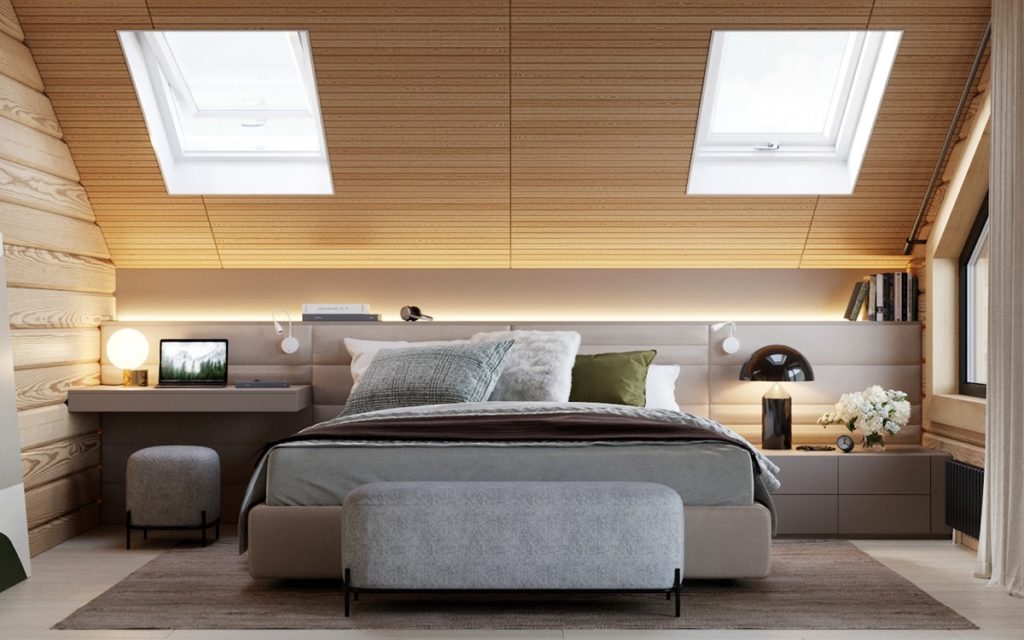 More wood and LED lights
Thanks to LED light bands and design by Zarysy, any modern space can now benefit from a certan type of illumination. Light stripes can create a deeper atmosphere and they can even define a certain space. The bedroom workspace below is a desk floating on the wall, sharing space with the bed right under the slanted ceiling.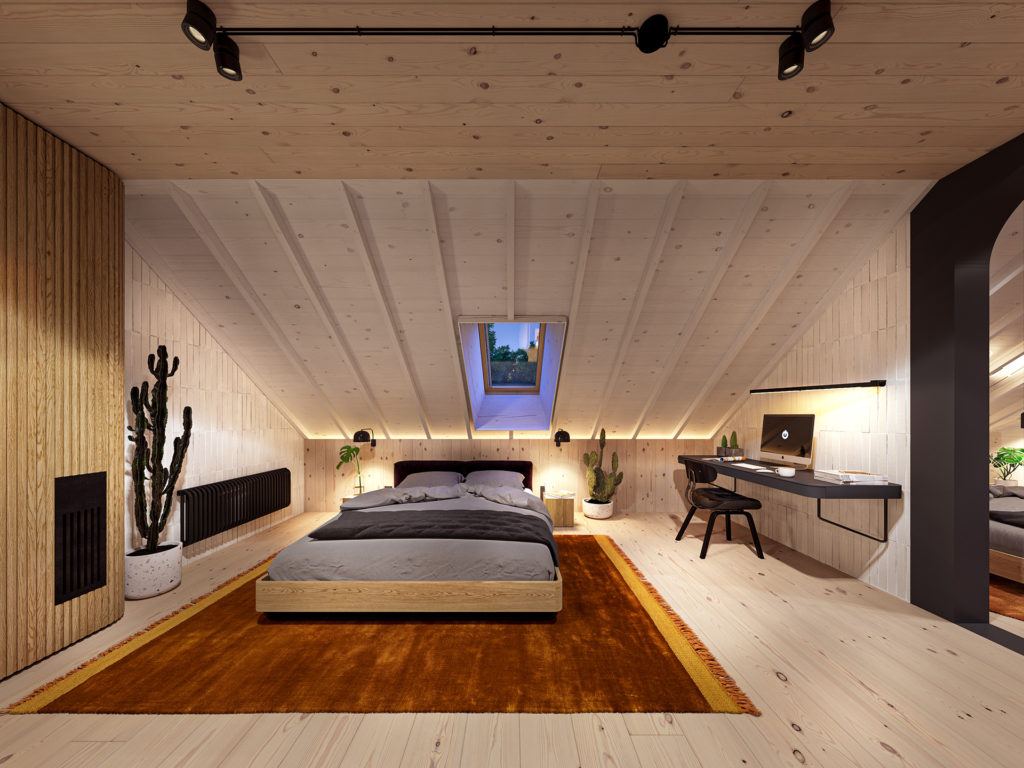 L-shaped desk and need for more light
This last example from HAO Design is an L-shaped desk wrapping around a low slanted ceiling that seems to have been photoshoped – you can't believe there was no window installed. This shows us again that not all spaces are suited for every idea, but it can also inspire us to go one step further and find a way to bring more direct sunlight inside.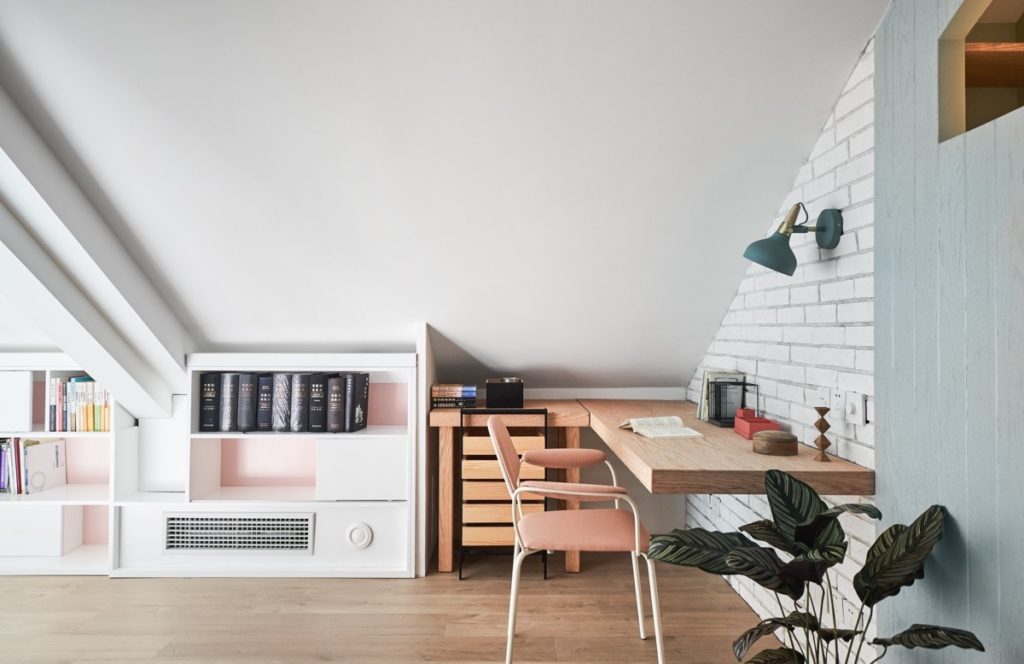 With or without direct sunlight, a welcoming workspace that guarantees focus and comfort is a must if you're working from home. All the time used in this environment should be reason enough to explore and implement the best way of creating your best suited work-from-home setup.
You can choose to explore more ideas right here:
10 Floating Work Desks Sprinkled Around Modern Bedrooms
30 inspiring workspaces burrowed under a window