Finding solutions for working from home with kids is not an easy thing. Schedules got flipped upside down, kids spend more time at home, parents have to deal with extra workloads when it comes to the home and also get more comfortable with working from home.
Privacy and quiet working time are harder to come by when working from an apartment.
Imagine working from home when you have a small kid – how do you deal with getting your job done and spending quality time with your child?
There is one way you can do both at the same time. The secret lies in interior design, as we can see in this mother-daughter work, play and study space.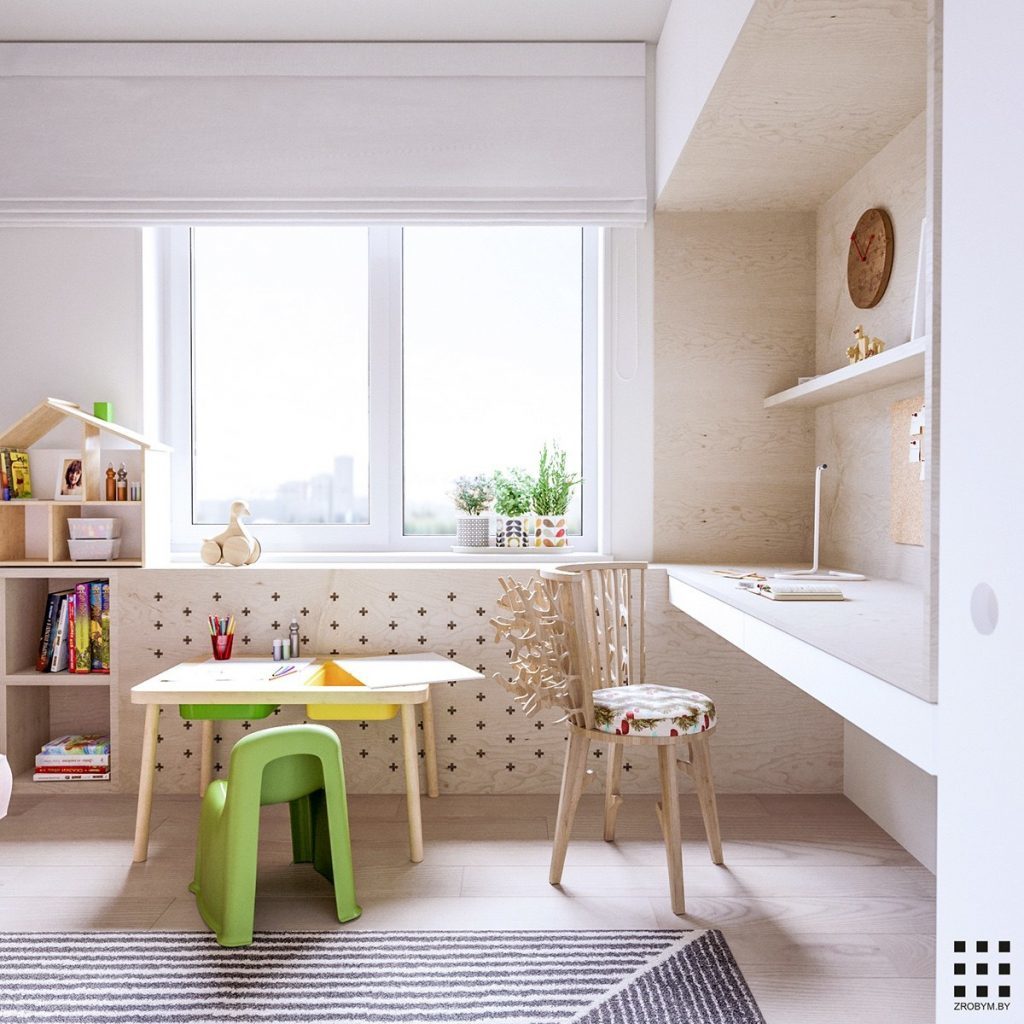 A corner of this well lit kids bedroom was intended to create a stronger mother-daughter bond. Working from home can also look like this – while the child plays, mom has both the time and the peace of mind to get her job done.
Designed by Belarus-based Zrobym Architects, this kids bedroom is a dreamy wooden space where natural light swoops right in every morning to elevate the mood.
The corner we love so much was designed as to ease the mother's challenge of raising a child in an apartment while working from home. Form and function were merged in an exemplary space composition that somehow manages to be overpowered by the design of that unique chair.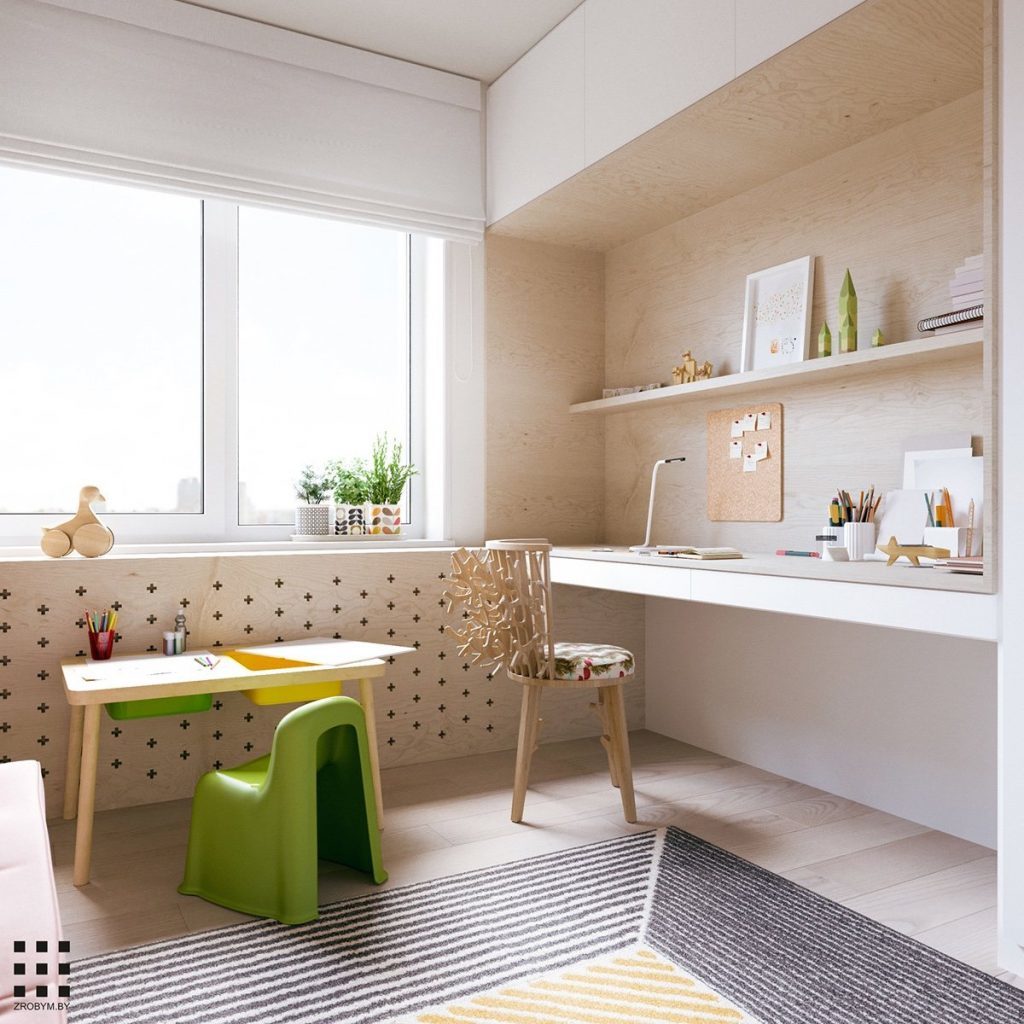 Sharing your home office with one partner is one thing, sharing your workday with your child is another. This is where designers come in with creative solutions to the problem. Lined in wood, the adult work desk was designed to offer plenty of elbow room and space for decorations. The child's desk is small and cute, allowing the little girl to play pretend and learn from her mother, even at a young age, how to be self-disciplined.
This mother-daughter work space and play room has both girls spending time together even when mom has to work.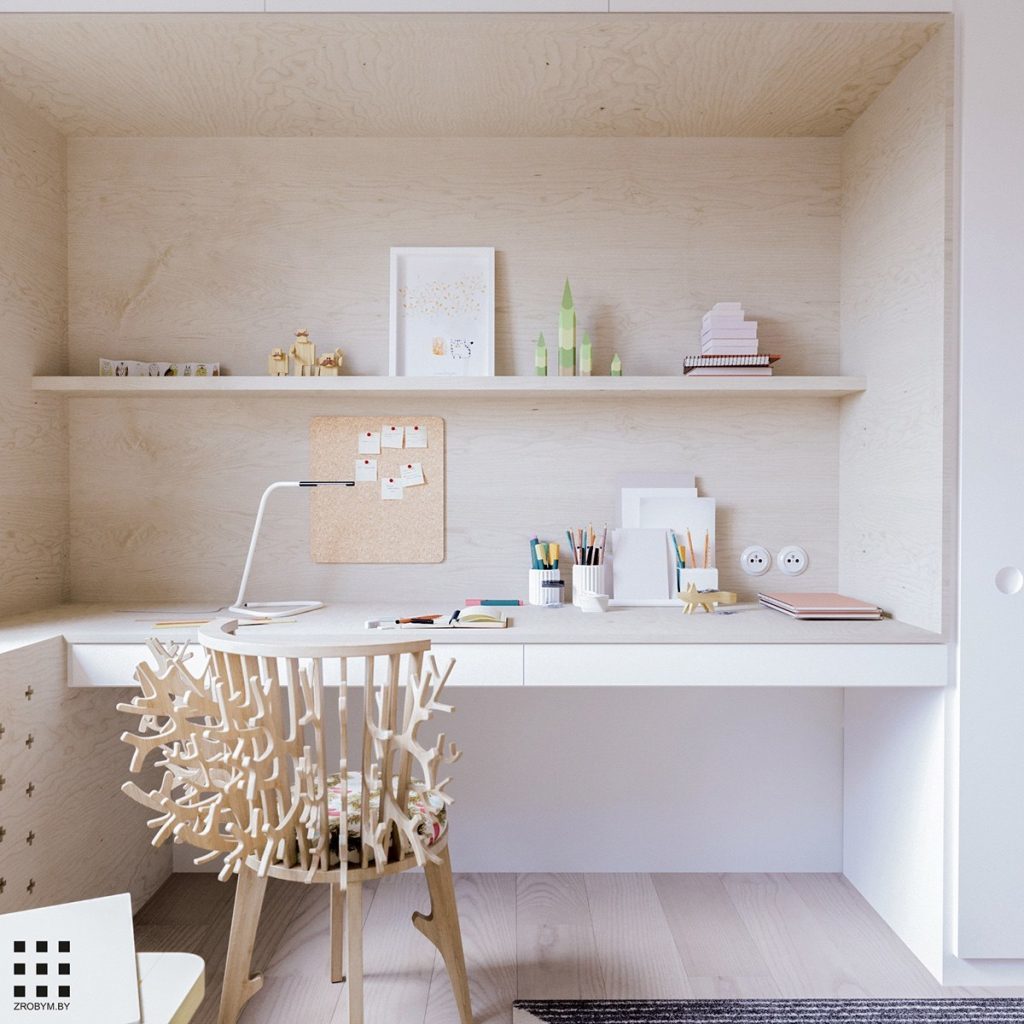 Shaping the adult work desk from the wooden radiator mask was an interesting idea that keeps the design flowing throughout. Bespoke furniture is prefered whenever you want to create a unique solution for a given space.
This kid's playroom design uses cheerful colors and natural materials like wood (also seen in the wooden flooring) to create a joyfilled environment. A starry wallpaper lines the wall opposing the fitted workspace and supports framed artwork that serve as daily inspiration.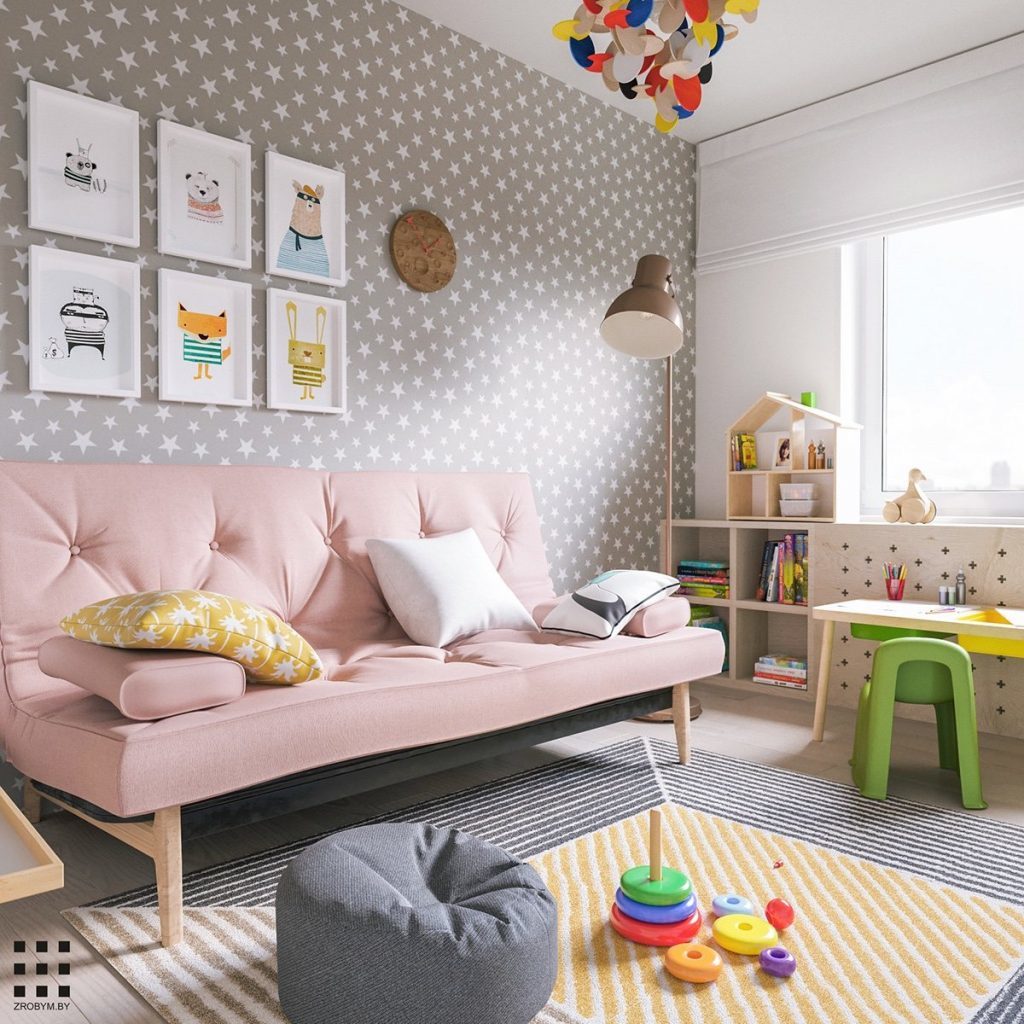 A pink sofa was set against the white stars wallpaper and, right next to it, a white bookshelf with wooden drawers ensures even more storage space. There's a large white closet on the opposing wall and more wooden shelves under the window. All those toys and books have their own place, so that clutter is never a problem.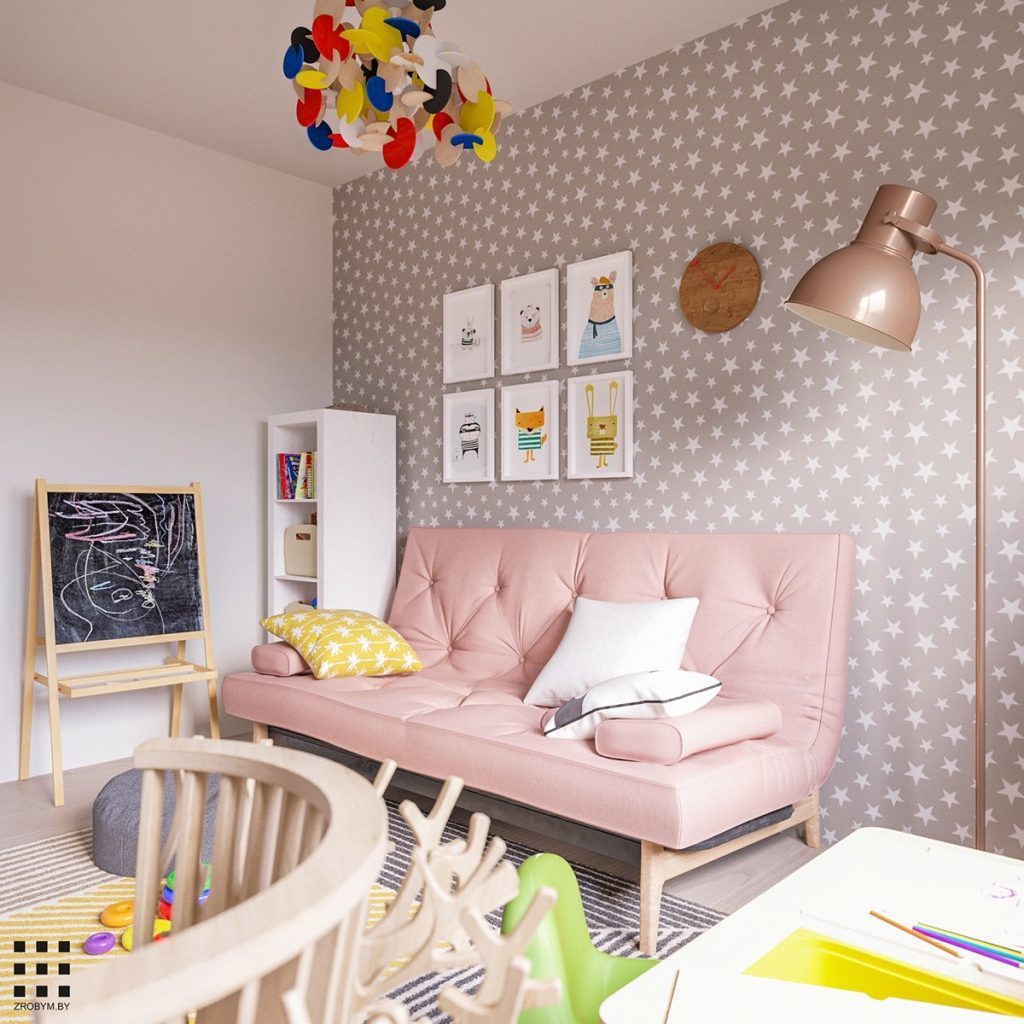 As you can see, the room itself is rather small, but the overall design took into consideration all needed functions and we absolutely love the results.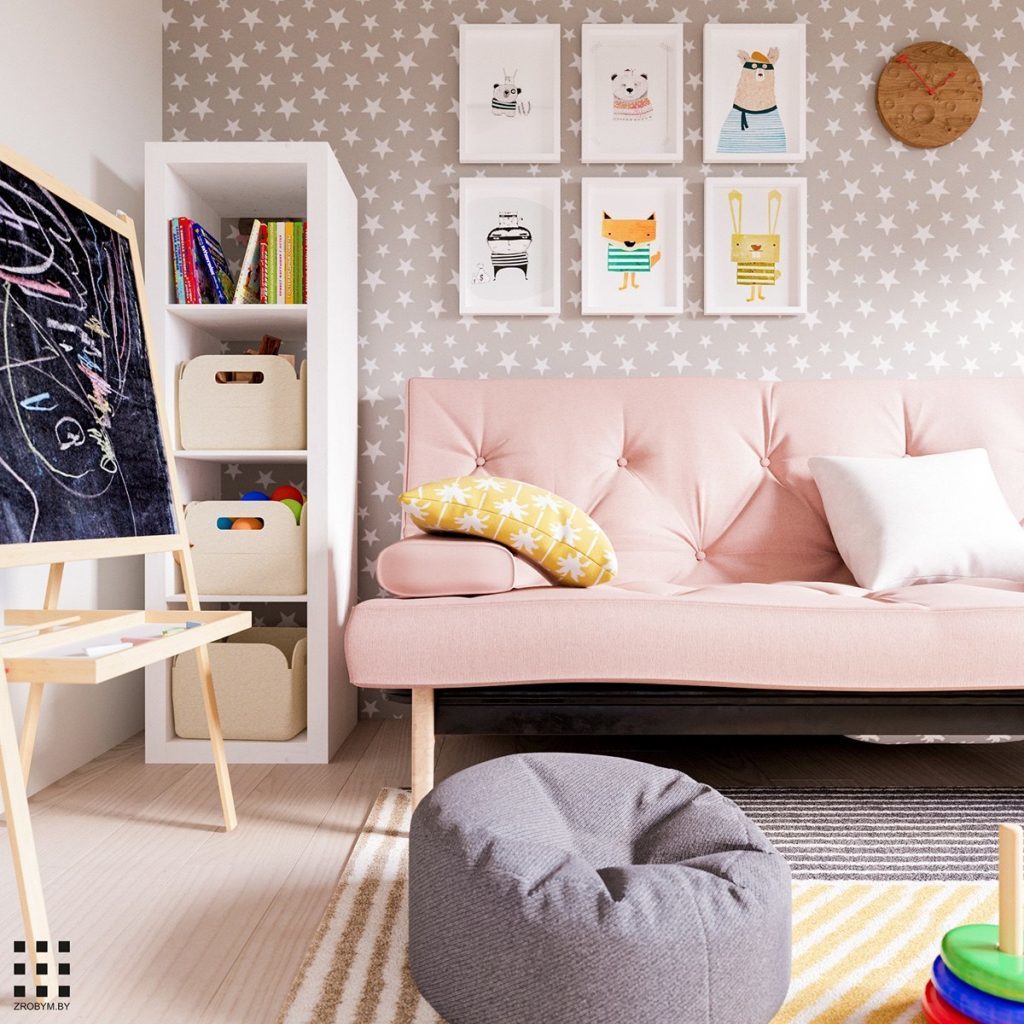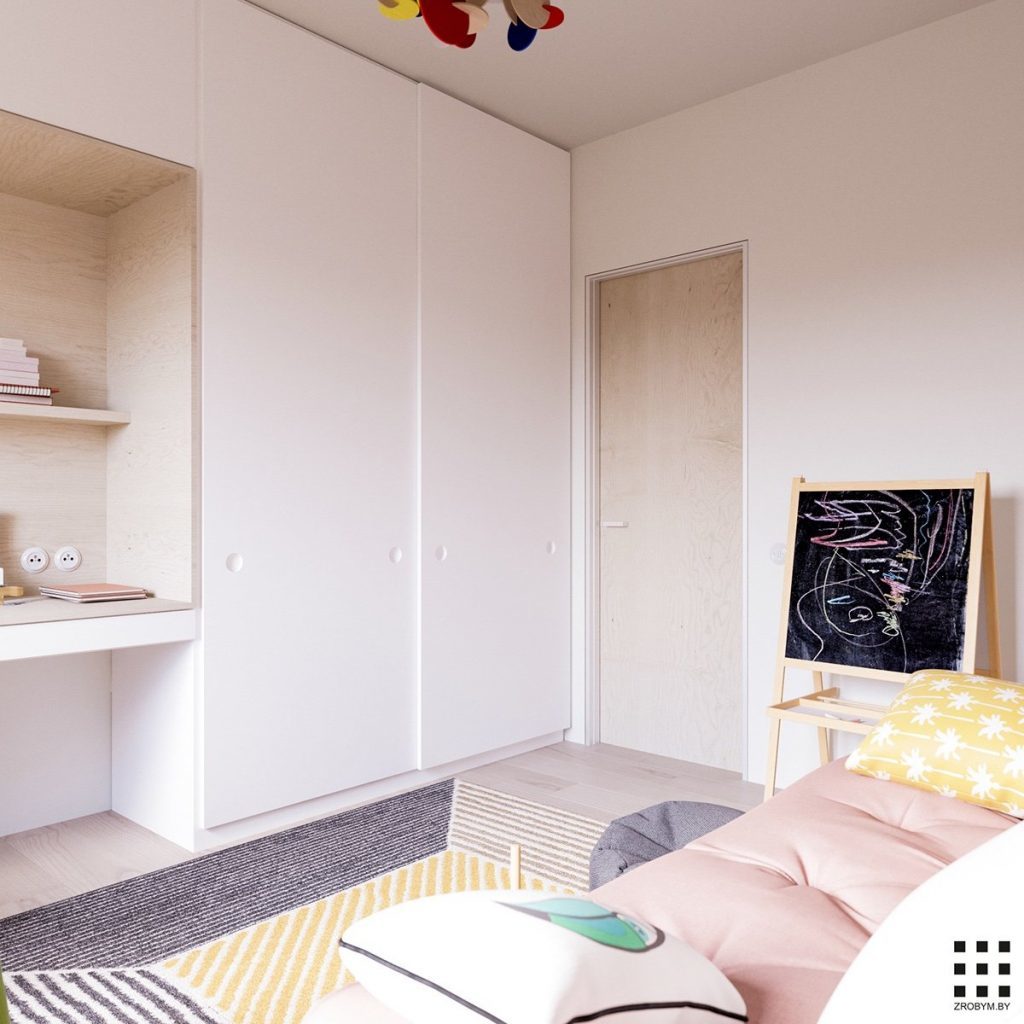 We know how important it is for the children to grow up as close to their parents as possible. And that doesn't mean that they shouldn't have their own private space for study and play, so let's explore more ideas on how to design a kids bedroom with study space:
Separating Homework from Play and Sleep Through Design
Soft-Colored Girls Bedroom Boasting Pink Study Space