Sometimes, the only space you have available for setting up a home office corner is the bedroom. But that doesn't mean that this space can't be stunningly integrated and become inspiration for others.
We've seen quite a few inspiring workspaces in the bedroom and wanted to share a collection of 10 bedroom office workspaces with you. Pink is a soft and feminine color that can really infuse your space with serenity and a feeling of coziness. So let's see which one of these spaces catches your attention first: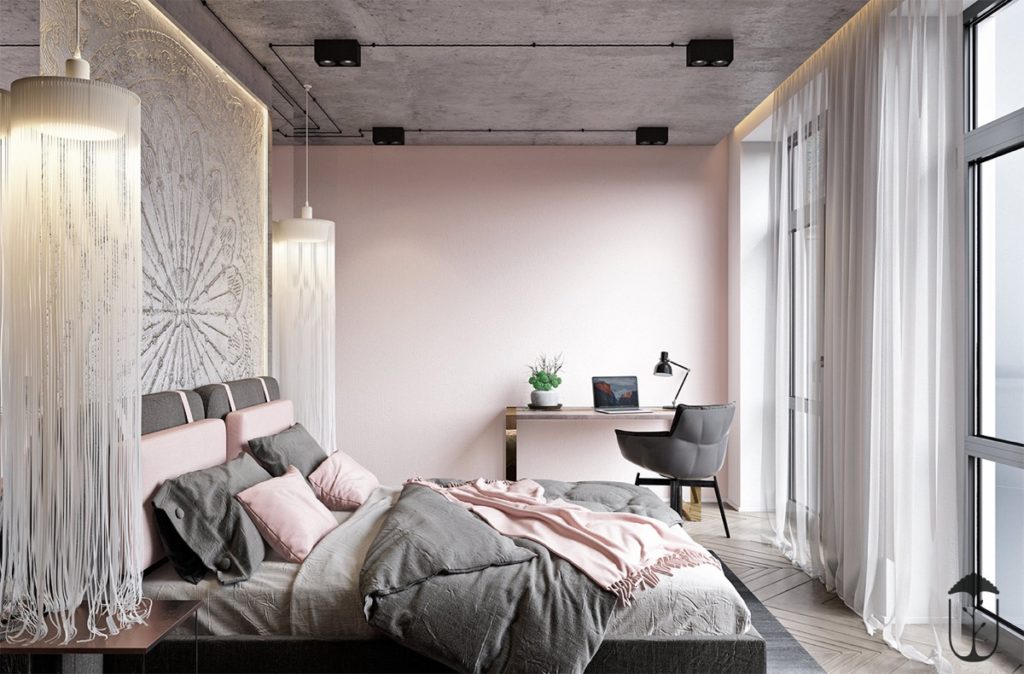 In a bedroom that melts minimalist and moroccan style together, an office desk placed in a corner near the window can become your new favorite place to work from. Designed by YouSupova, this bedroom space filled with natural light brings in the idea that any space that fits an office desk can be transformed to suit your actual needs.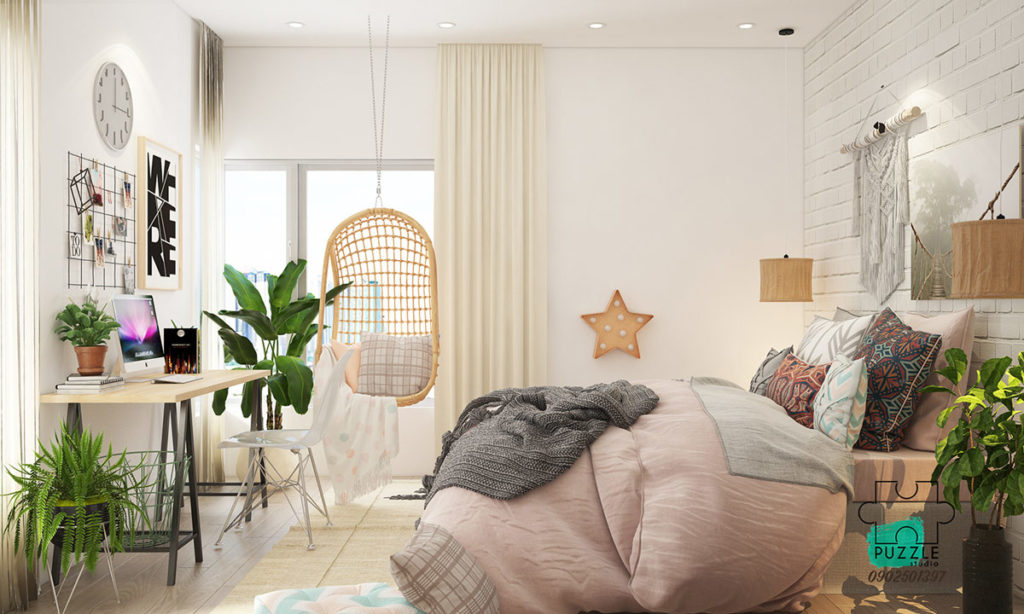 Bohemian inspiration transformed this pink bedroom into a dreamy space where a working desk was creatively integrated. Visualized by Puzzle Studio, the pink bedroom above is also using the power of plants to create a cosy space where you can rest, but also work while feeling calm and relaxed.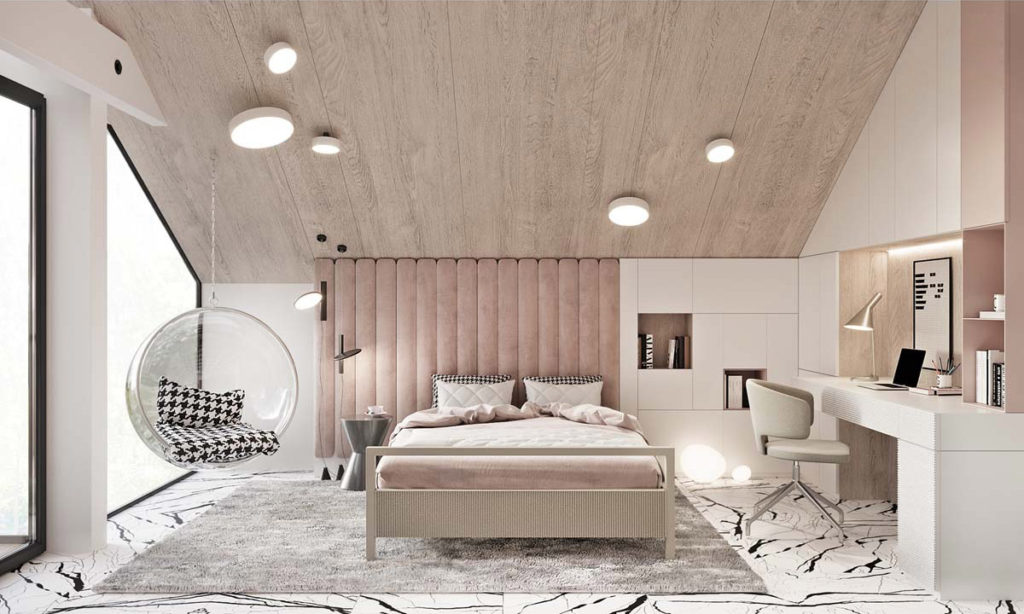 Imagined by TOL'KO interiors, this bedroom displays an integrated workspace that ties the bespoke furniture together. Using light pink that can inundate the whole space with its softness, designers created an environment where work can be done in peace.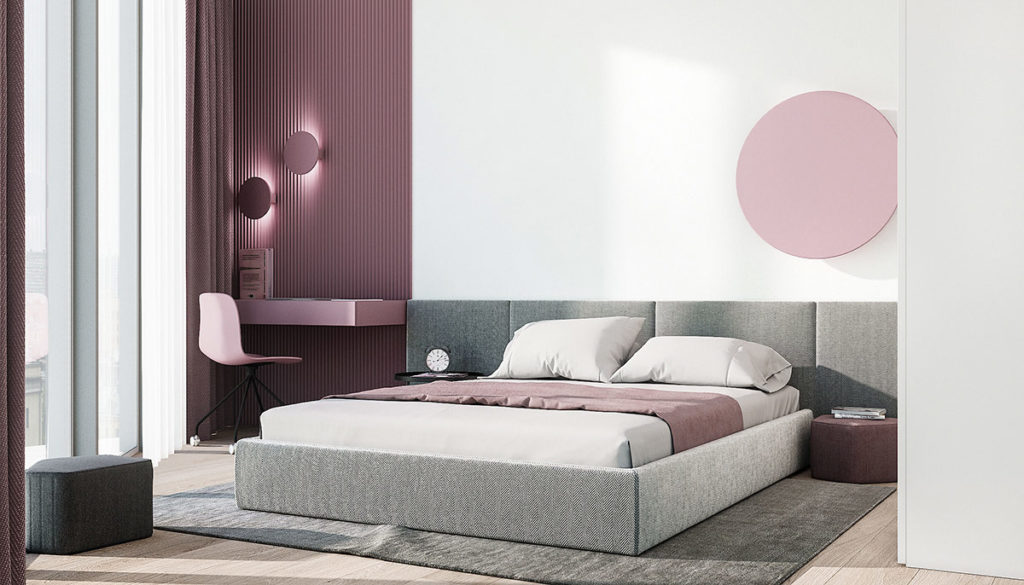 Designed by Oksana Petrovska, the bedroom above brings intense pink and grey together to create a balanced interior design. Pink is used to create a very delineated workspace in the corner of the bedroom. Ribbed wall panels define the space dedicated to work, that can also be used as a vanity.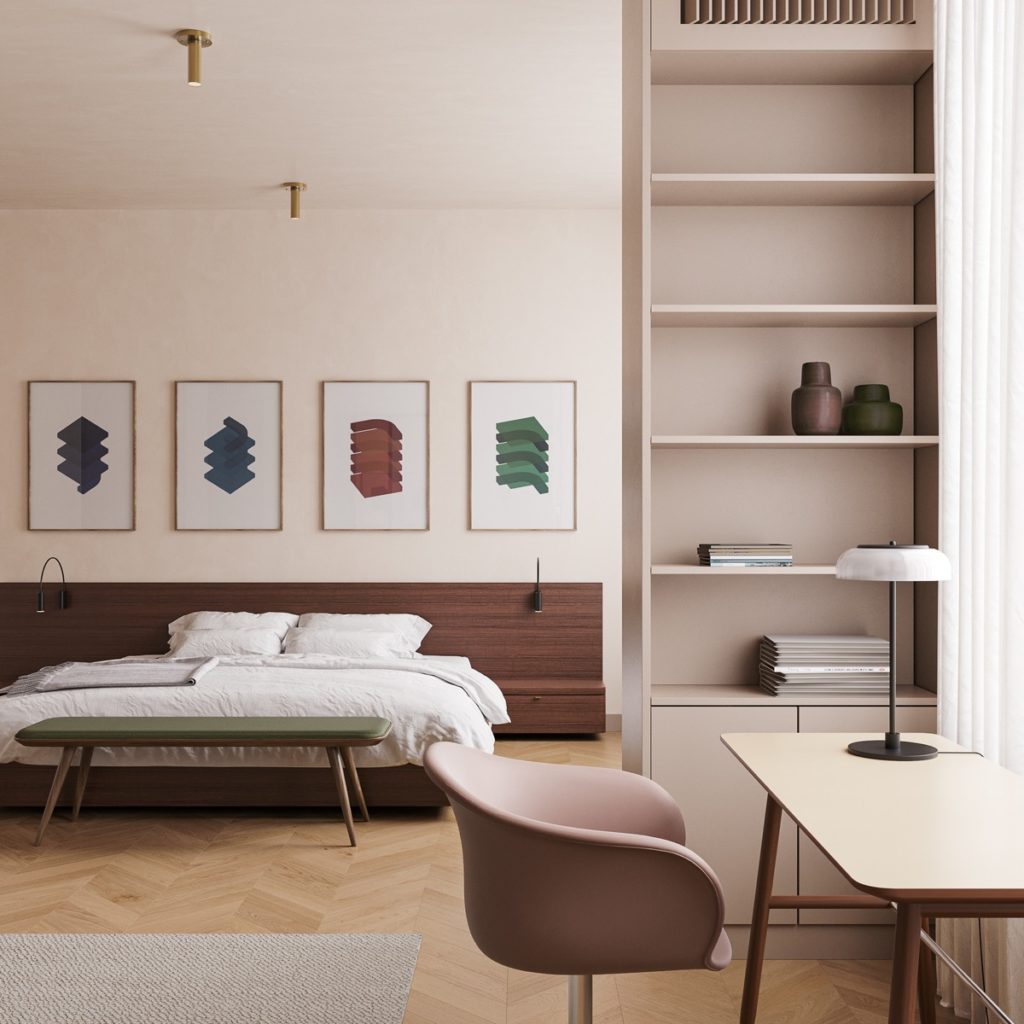 Using subdues colors to create a space has its advantages. The bedroom above was imagined by designer Lera Brumina and it features a workspace that both fits in the design, but is also self-standing in its soft pink color scheme.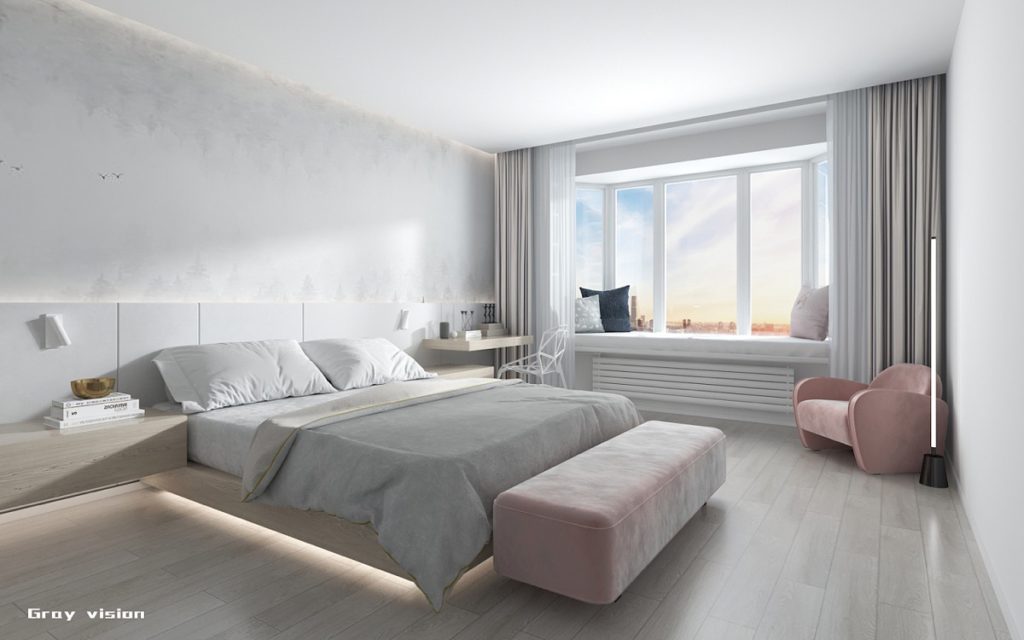 When the color scheme supports a light and restful interior, a bedroom workspace can easily borrow that feeling. Designer Gray Vision saw an opportunity to use minimalist design and create a bedroom where tranqulity reigns. Just one soft pink bench placed at the end of the bed and a pink armchair in the corner lend the whole space a serene atmosphere. Now this is a bedroom where the workspace near the window fits right in.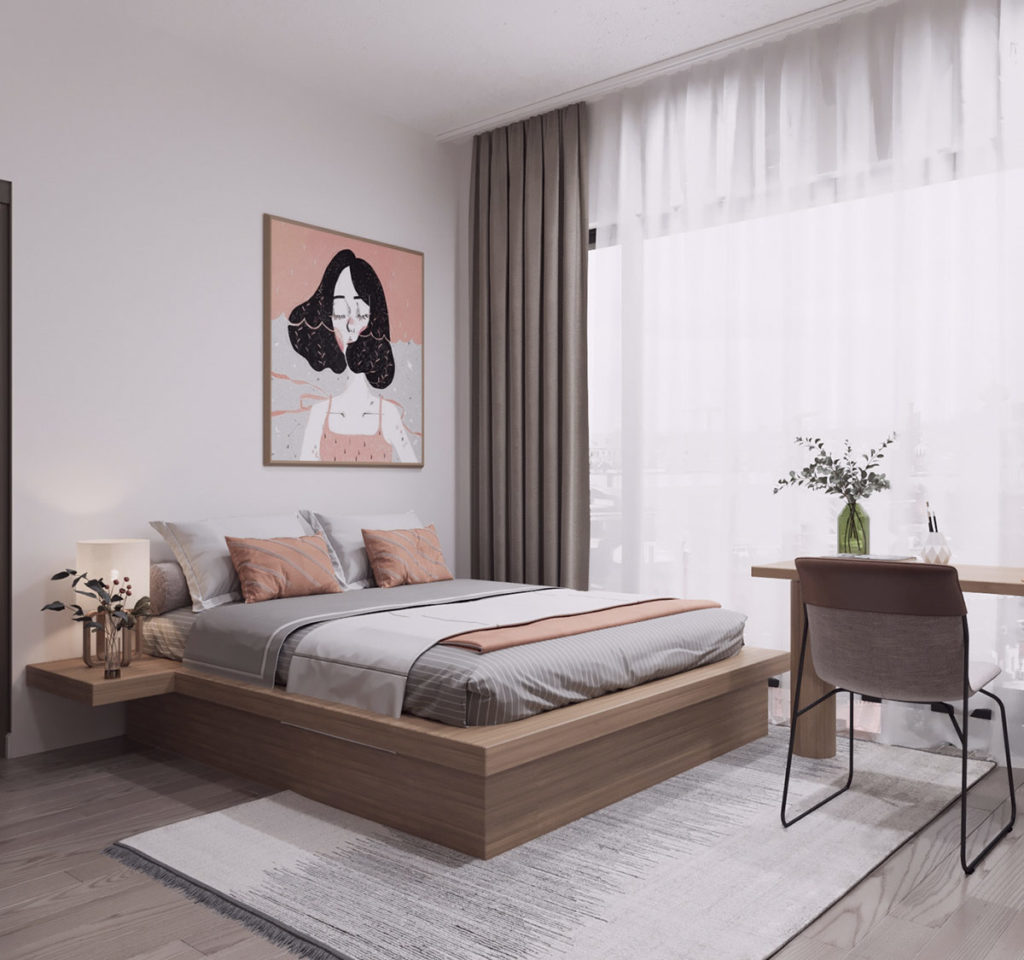 When you want to integrate pink in a space, details can compose a very airy vibe, like in the example above. A painting and bedsheets in pink brought in a neutralspace changes the overall mood. And even if there is just a small space you can work with, a wokspace can be added so that you can work from home, like visualized by Nguyễn Thủy.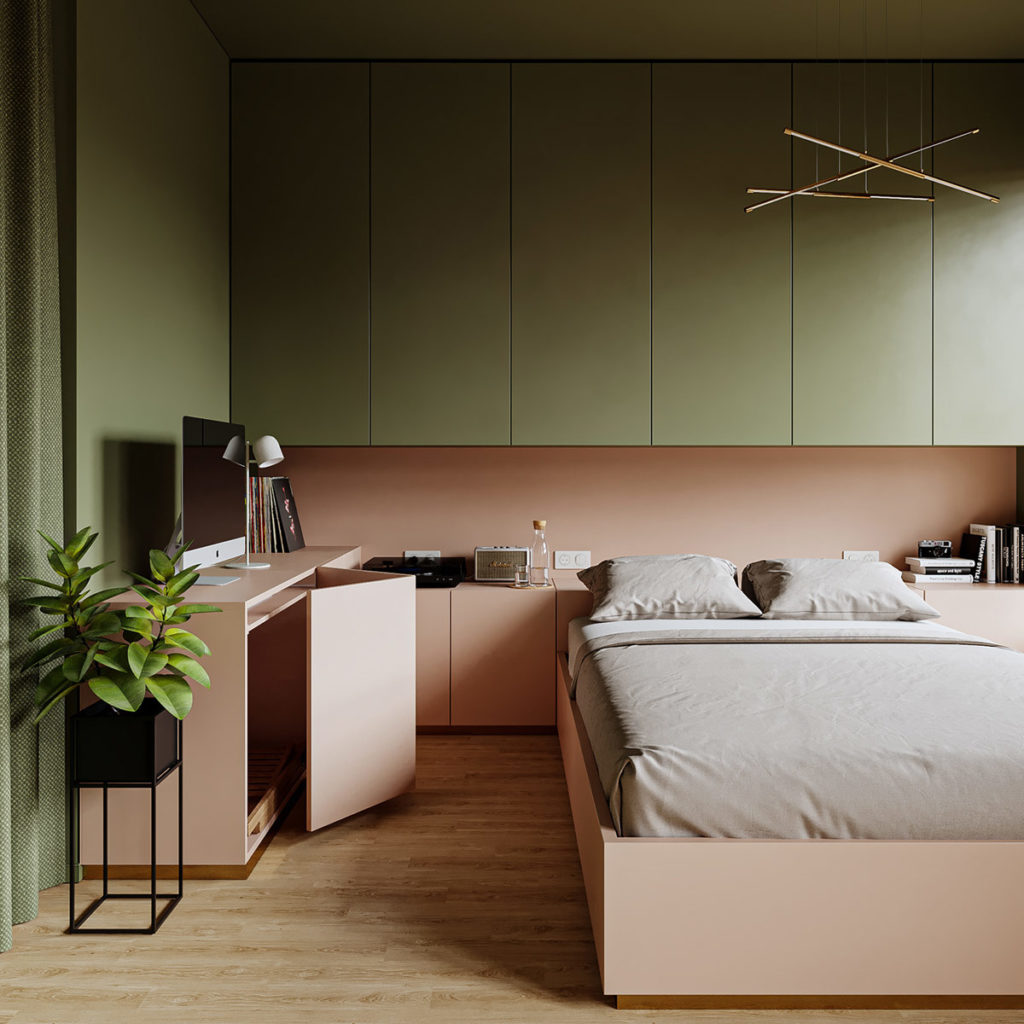 O&M Design imagined a bedroom  with a hidden workspace. One of the storage spaces easily converts into a desk, having a chair hidden underneath. Bifold doors can be pulled away to uncover leg space and a keyboard drawer.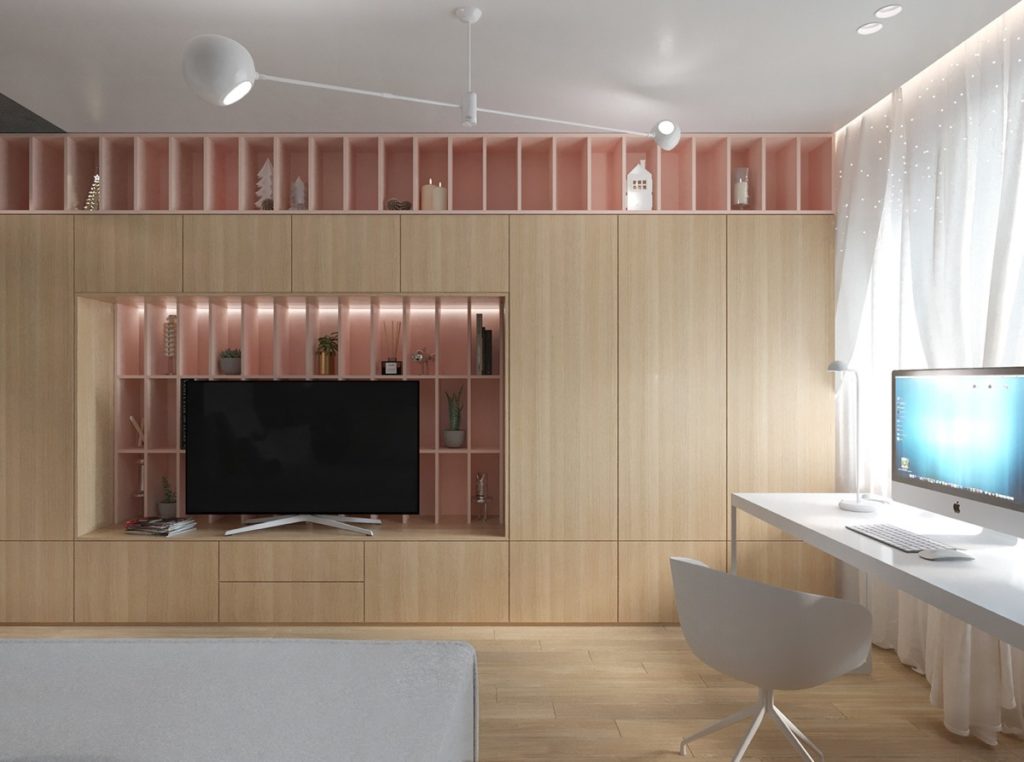 Pink can be used as a background color for a bespoke furniture piece covering an entire bedroom wall. Imagined by Akhunov Architects, this wood and pink bedroom displays a white desk and chair under the window that inspire simplicity in the work you do. Pink shelving cubbies line the wooden storage space, making the whole space soft and feminine.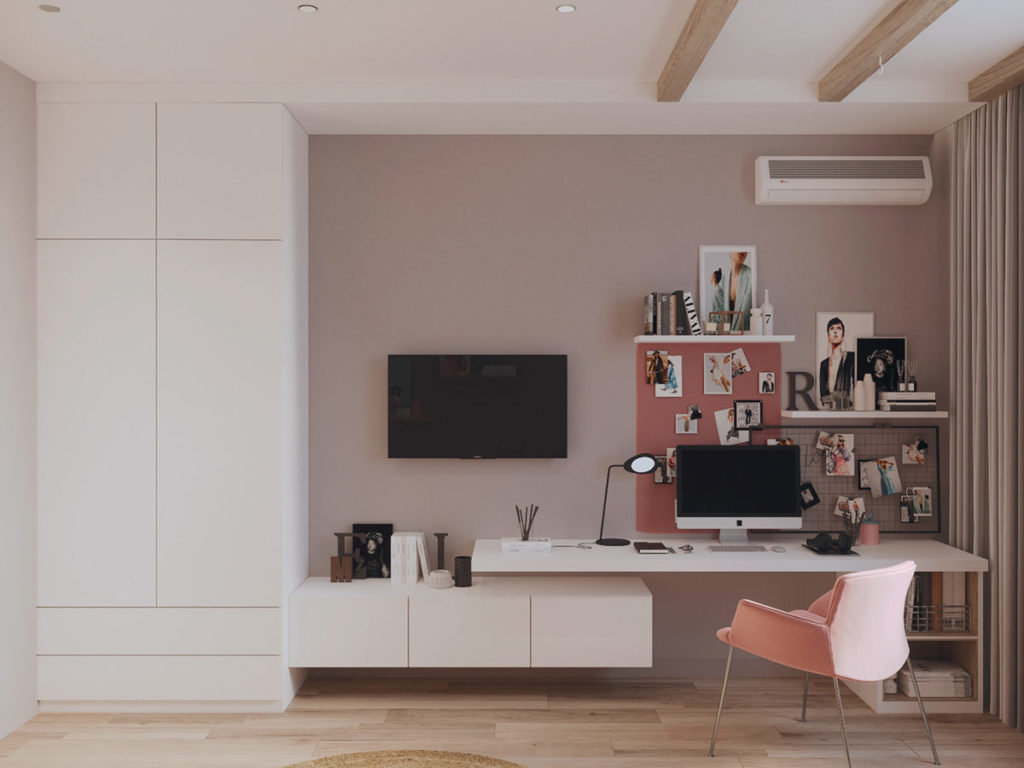 Our last example of a pink bedroom workspace comes from Studio Dvordes. Set against a muted pink background, the white floating desk is large enough to offer a productive space for working. Beautifully integrated in the storage space, this workspace displays three shades of pink that combine with pure white and dark details.
Check out these inspirational spaces if you would like to see more:
30 inspiring workspaces burrowed under a window