WFH setups for two partners can be tricky to work from, especially if you don't use some secrets that make the whole space vibrant and inviting. We're exploring working from home when you share your workspace with your partner – you might get some new ideas that fire up your next home office makeover.
Turquoise, grey and wood minimalism
Our first example of a stunning double workspace comes from a home visualised by Design Rocks with functional minimalism in mind. Colors keep a vibrant atmosphere: turquoise – for that pop and surprising vibe, light colored wood – for grounding the body in this inspiring home office room and grey – for soaring to the moon. Here is another moon-inspired home workspace design you'll absolutely love: Lunar Grey Home Office Flashing Moon Mural. Two grey chairs pull up to the desk under the window to create an elbow-to elbow teamwork scenario, while the moon watches from behind.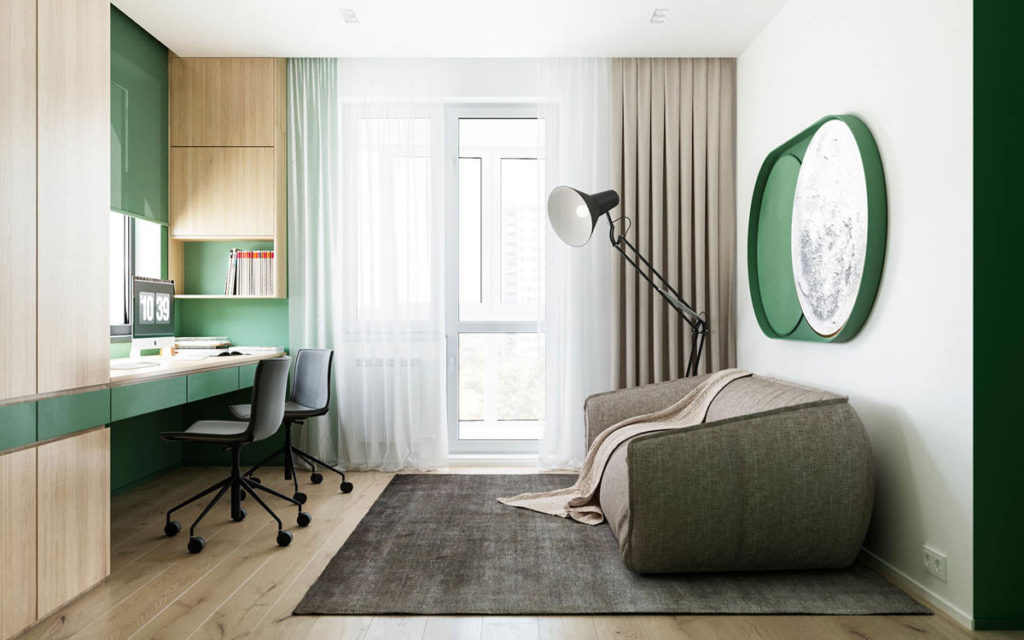 Achromatic minimalism: double workspace in the shade
Our next double home workspace is almost hidden in the chosen color palette. Minimalistic and achromatic, this simple design flaunts the idea of keeping only what you need and make those things feel precious. Striking in the contrast between black and white with some deep grey, this workspace visualized by Inuti was integrated in the long matte black furniture of the living room are – just add the laptops for work or even grab a snack by the window.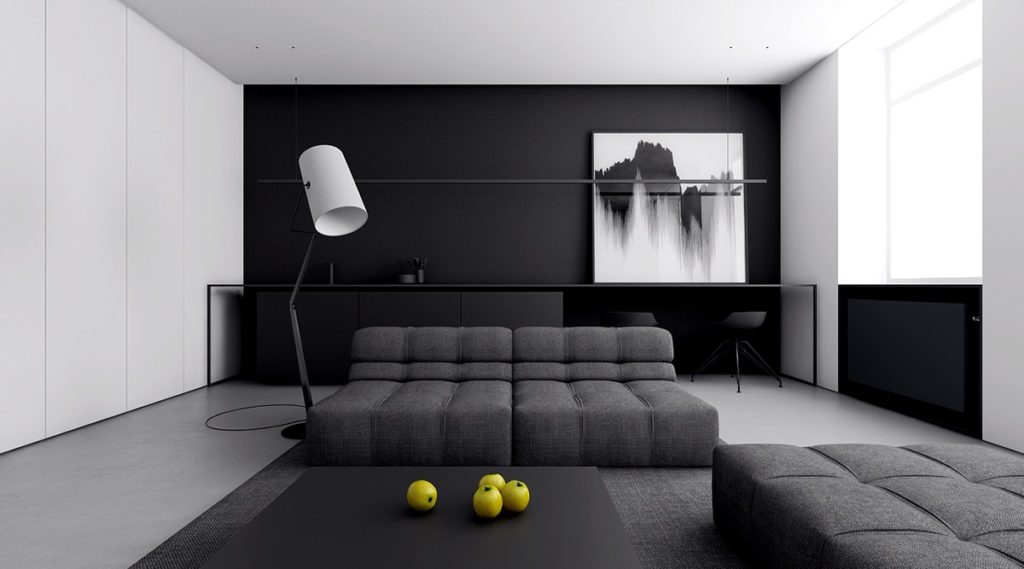 Mezzanine WFH setup
A mezzanine home office for two can sound luxurious and our example sure is. Contemporary and minimalist, this mezzanine home office visualized by Room Design Buro is a simple setup: a large desk for laptops, two chairs and a library on the wall. On the background, the brick wall creates a bold contrast to a creamy beige color palette interrupted by dark frames on glass doors leading to the bedroom area. Here are 10 First-Class Mezzanine Home Office Spaces to get an idea of what else is possible.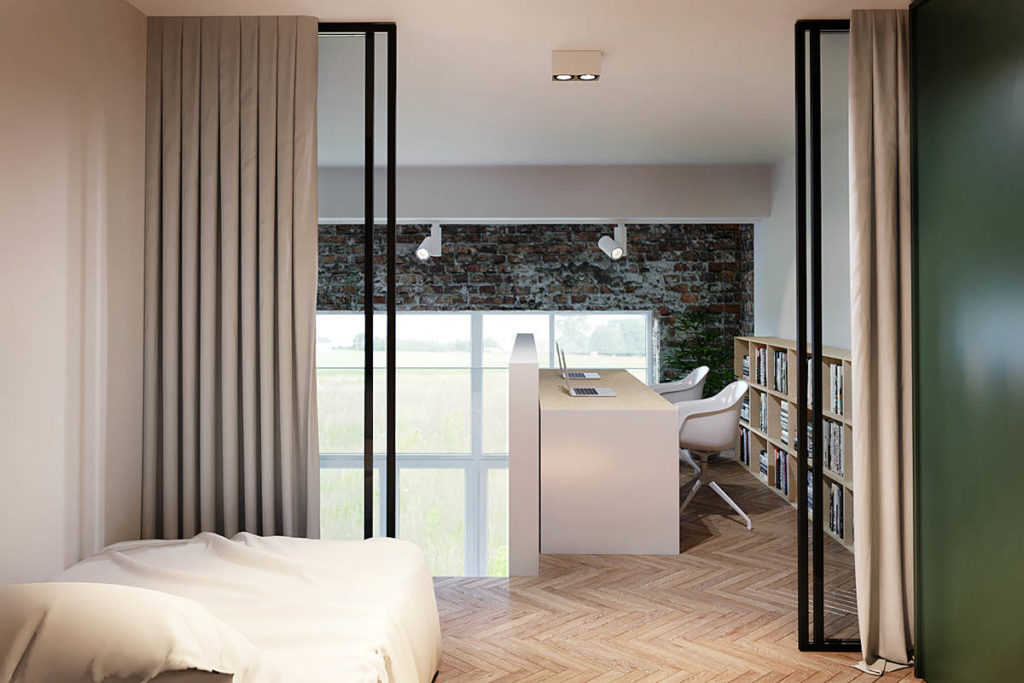 Bedroom workspaces in small apartments
Going deeper into bedrooms with double workspaces, this modern and clean design from Andrey Kabanov proves that you can elegantly fit a double workspace in the sleeping area of a 68 square meter apartment. Here are more ideas on these kind of setups: 30 inspiring workspaces burrowed under a window.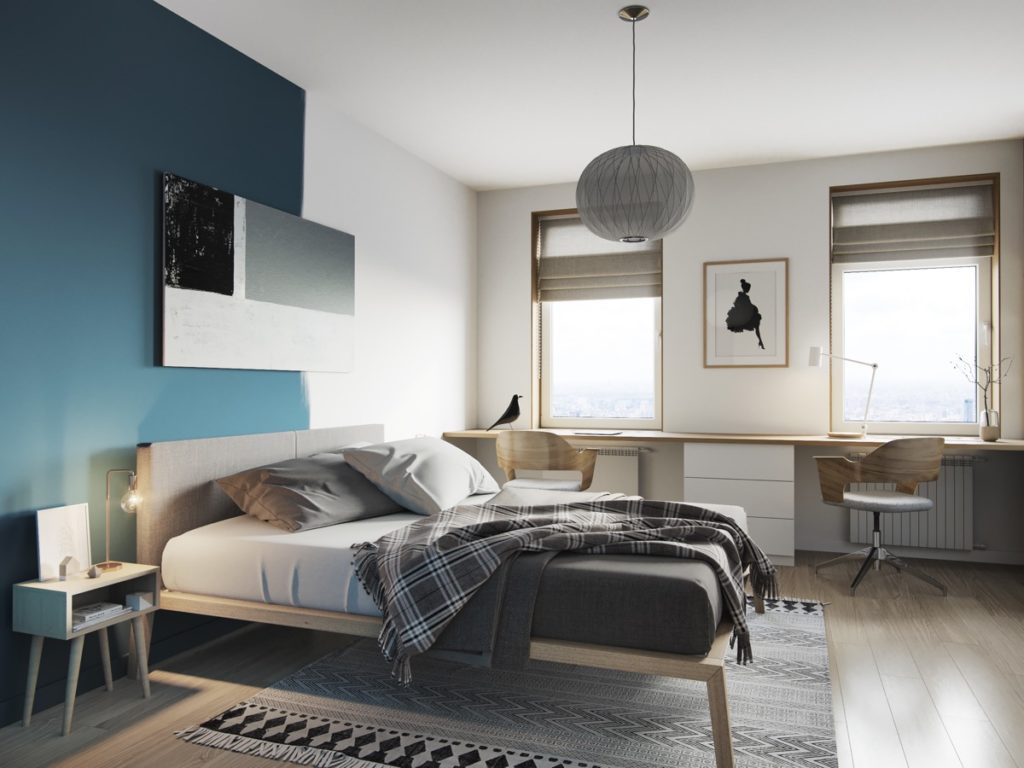 Living room WFH Setup
This next double work space is part of the same home as the one above, also designed by Kuoo Architects. This double lenght desk was designed to fit under the black-framed window in the living room. Mirroring each other, both workspaces have their own modern swing arm table lamps in black and cosy chairs matched with the two armchairs around the coffee table nearby.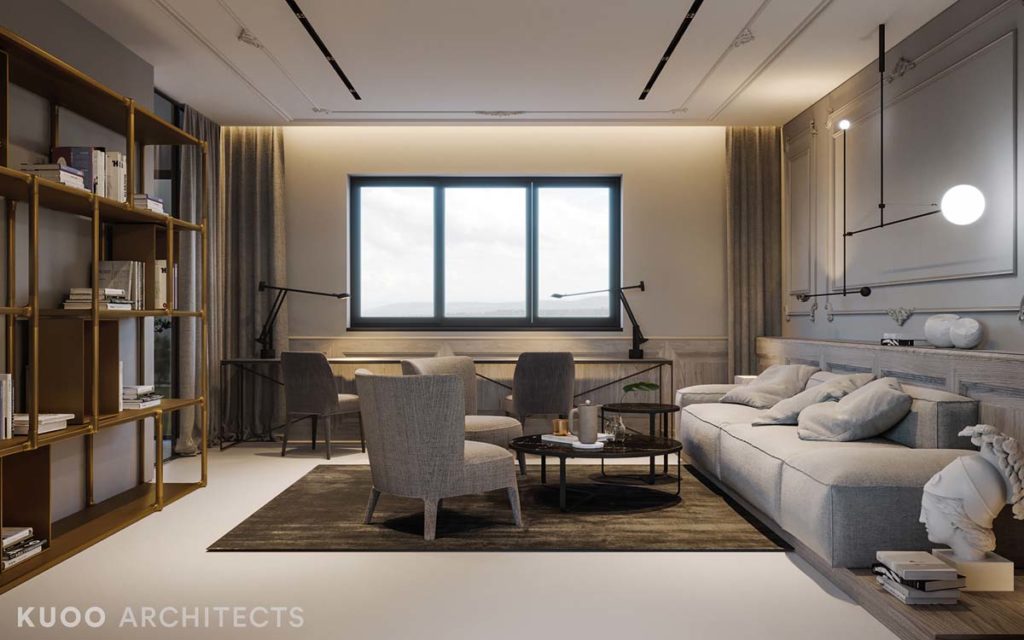 Industrial WFH setup
With a much more dynamic use of details, this next double workspace creates an almost industrial atmosphere in a modern studio apartment visualized by aTng 糖. Hanging from the ceiling, wood shelves mirror the tabletop in a succesful atempt to soft up the space throguh the texture of the wood. A white utility pegboard offers functional storage space and a visual break from dark walls. The classic black filing cabinet adds to the storage space, while the double lenght desk hints to the preference of working together with a partner.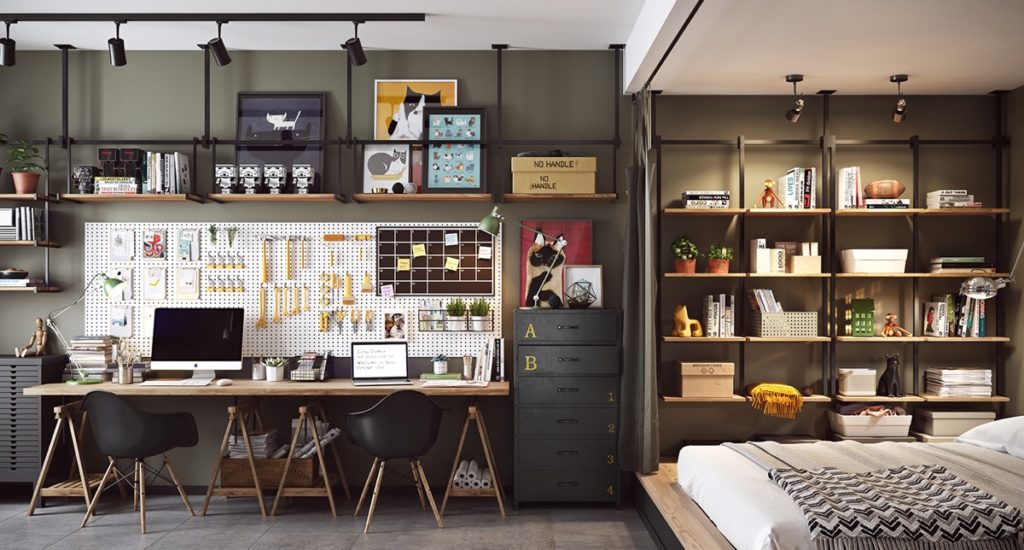 White and wood – stylish and deep
White and stylish, this double home office setup designed by Pokrovsky Kirill and Vishnyakov Timofey uses a niche in the apartment to create a naturally lit corner for just working and studying. With appealing flooring sprading over the whole apartment, this corner home office invites to focused work. This white dominance gives the work a smooth crisp feel.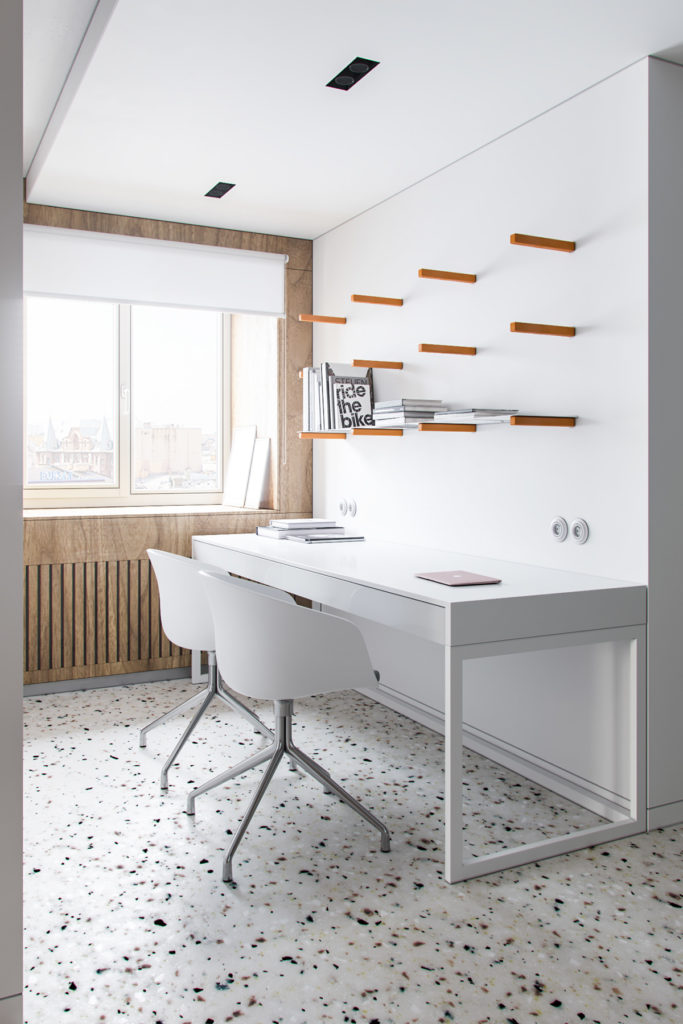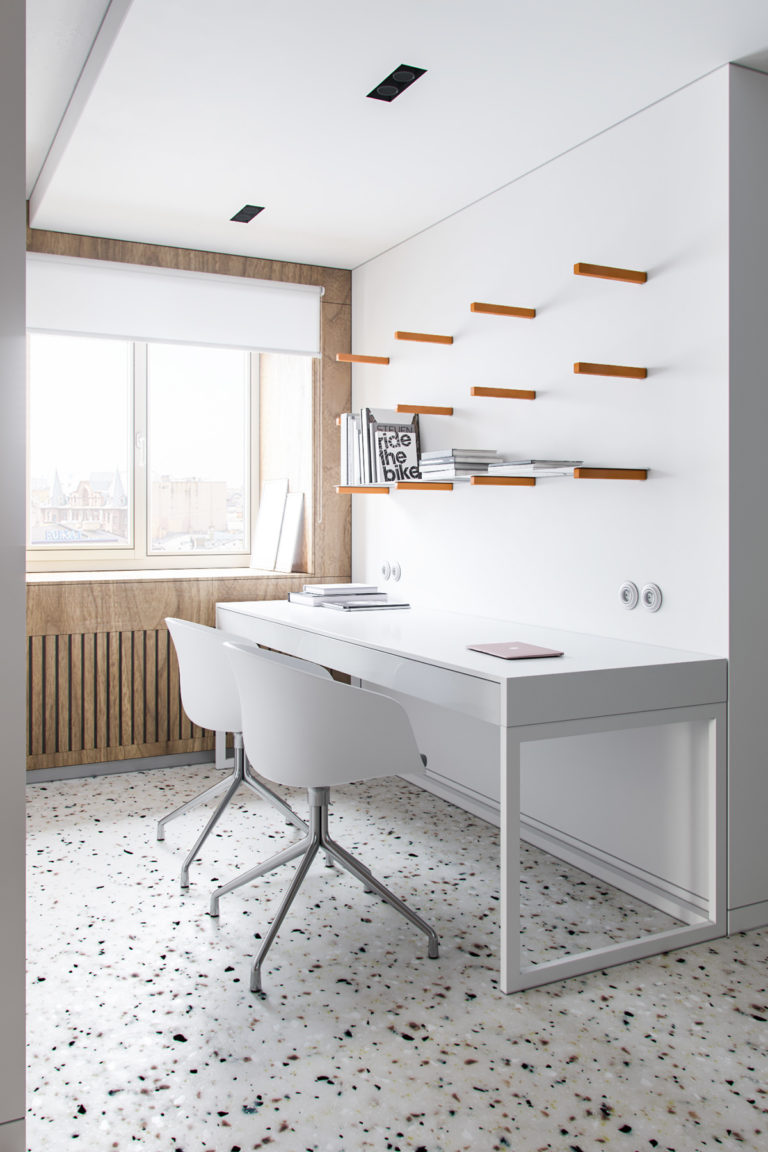 Think outside the norm, blend ideas
One way of working from a modern WFH setup is allowing yourself to think beyond pure functionality and blend ideas together. This might result in using the floating desk both as a work surface and as a shelving for your mostly used books, while keeping everything else out of sight in the bespoke furniture above this dedicated dual work desk. All you need to set up a stylish double workspace like this one designed by Dekaa is two stylish ergonomic chairs like these Eames style Group Executive Office Chairs, a long floating desk and an optional storage space above. For floating desks ideas, check out these examples: 10 Floating Work Desks Sprinkled Around Modern Bedrooms.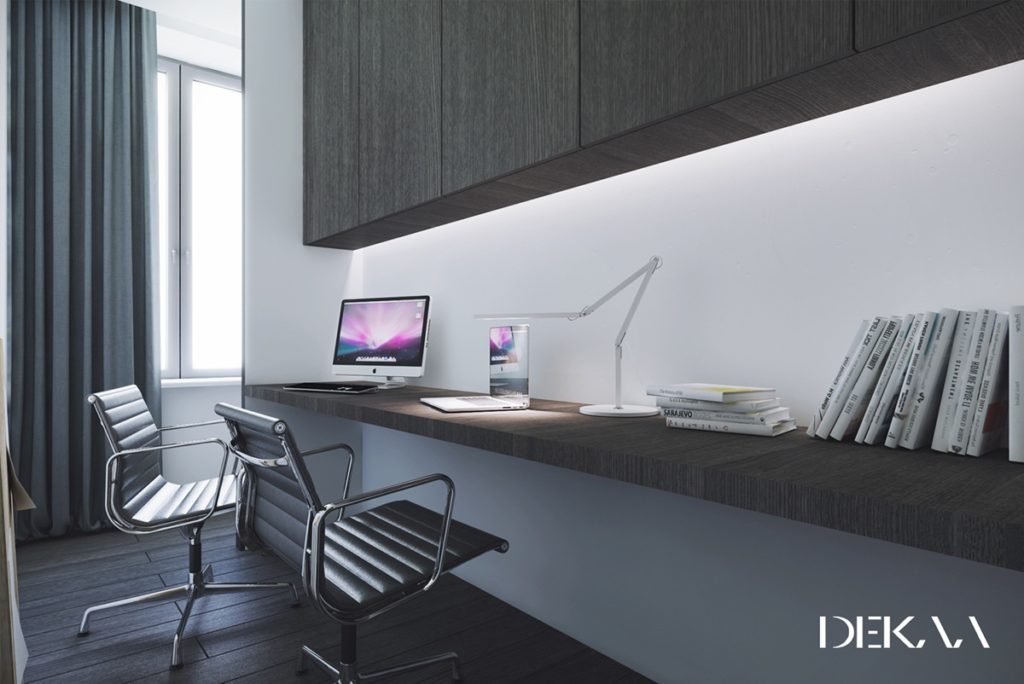 Corner Office: right in your living room
Moving on to this studio apartment with designated places for two occupants to work from in a corner of the living room. Visualized by Leo D'uk Design, the softly colored, brightly lit apartment was imagined having a double workspace tucked in a corner. With a mid-century appeal mirrored in the shape of the furniture, this space is clearly defined to be integrative – all spaces are both defined and part of an overall vision.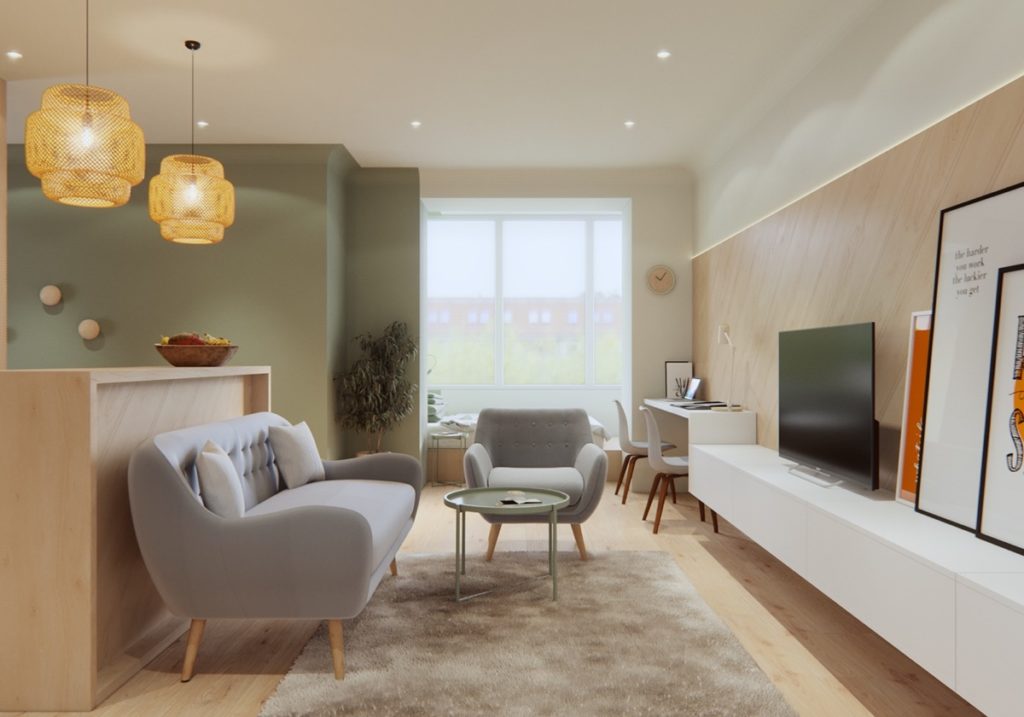 Multifunctional bedrooms in the age of covid
Next up, a bedroom double space can be transformed from a vanity + workspace into two workspaces in a matter of seconds, it all depends on how fast you put a laptop on the vanity side. We have to think on our feet when it comes to creating the best solutions for now, instead of the perfect solutions later. Here are 10 Multifunctional Bedrooms – Vanity to Workspace – to get an idea of how people choose to transform their homes to integrate working from home in stylish ways. This bedroom imagined by Kuoo Architects was intended for a teenager and is so elegant that it can inspire you well into adulthood.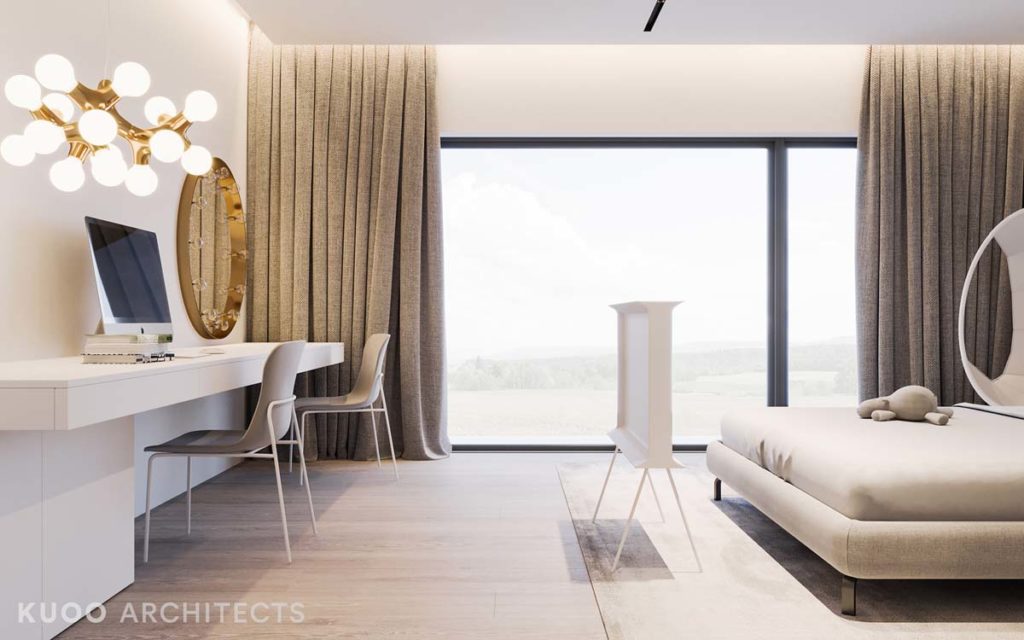 If you're used to sharing your table with someone because you grew up with siblings, it's easier to share the space you work from with your partner. And if you have kids or teeagers, here is how design can influence their adulthood and self-discipline:
10 Kids Double Study Spaces in Eclectic Bedrooms