What do your teens do while you work from home?
Well, if any of their bedrooms have study rooms like these ones, then your teens have an environment that aids their ascent into adulthood.
Let's explore some vibrant ideas for designing your own teen bedroom with a study space that will have your child or children focused on play, study, reading and reduce screen time without them noticing.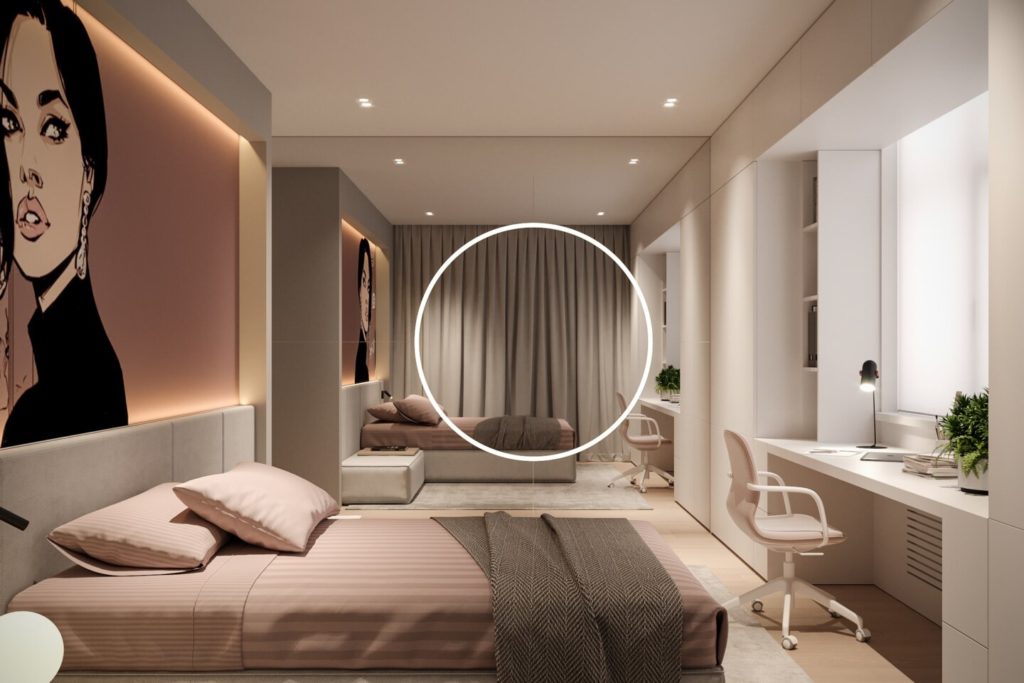 Teen girl bedroom in soft pastels
Designed by Bezmirno Architects, this girl bedroom is a stunning style statement for her teen years. Pastel colors within a warm color scheme define an inviting bedroom where the study space was embedded in the wall at the foot of the bed, right under the window.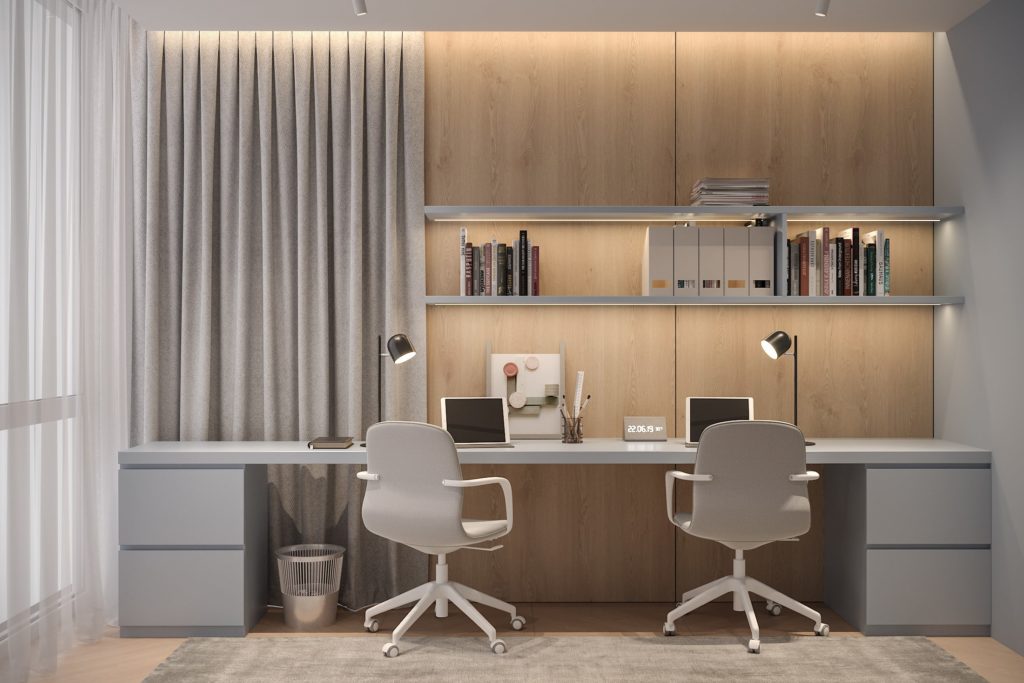 Double trouble, double win
In another installation by Bezmirno Architects for a different project, a double study space in pastel blue is designed with plenty of elbow and storage room. Two boys study at this desk hidden behind a wardrobe in their bedroom, so this is a private, sepparate space meant especially for study, homework and play.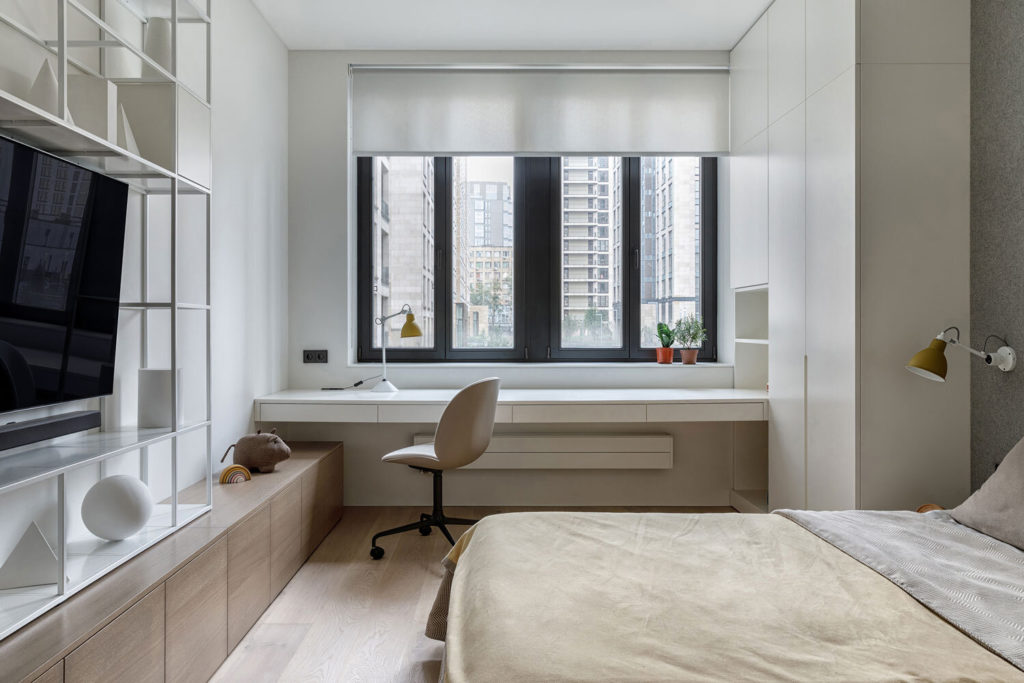 Soft pastels and natural light
Buro White Architecture and Design imagined this teen bedroom above as defined by soft pastels in a crisp white interior. A floating desk spans the lenghts of the wall, supported on one side by storage space fitted together with the bespoke wardrobe. Only the window frame and TV's black mirror punctuate this light-colored and light-filled bedroom.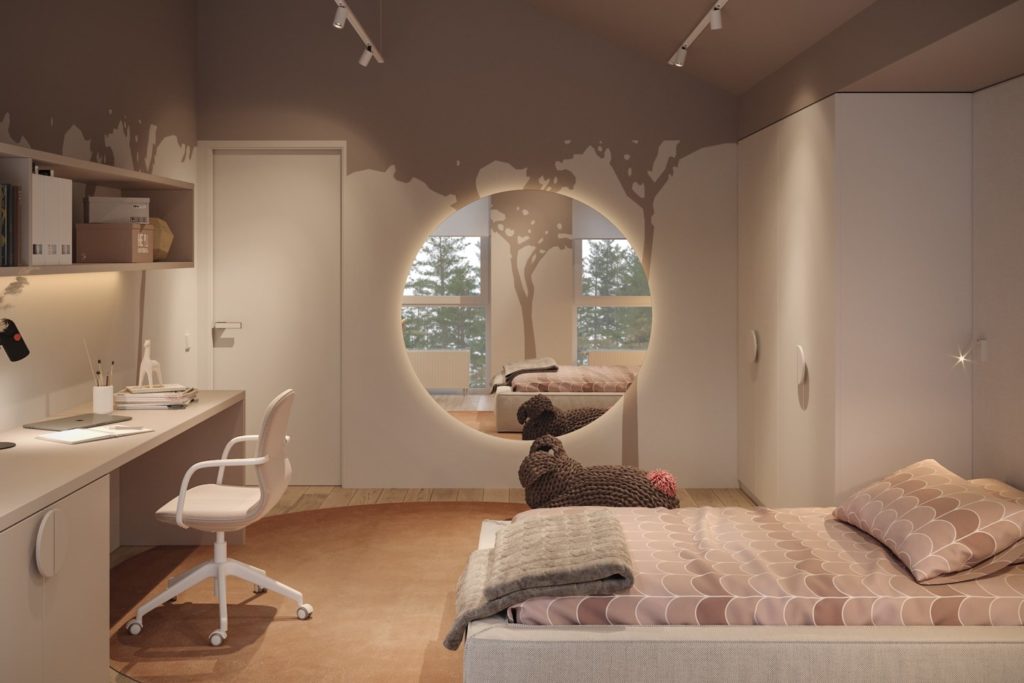 Elegantly soft girl bedroom and study 
Another teen bedroom from the imagination of Bezmirno Architects speaks about the need to have a study space intergrated into the rest of the space. This girl bedroom was "designed in light color scheme, with special decorative elements on the walls and is conventionally divided into two areas: relaxation and studying," designers explain.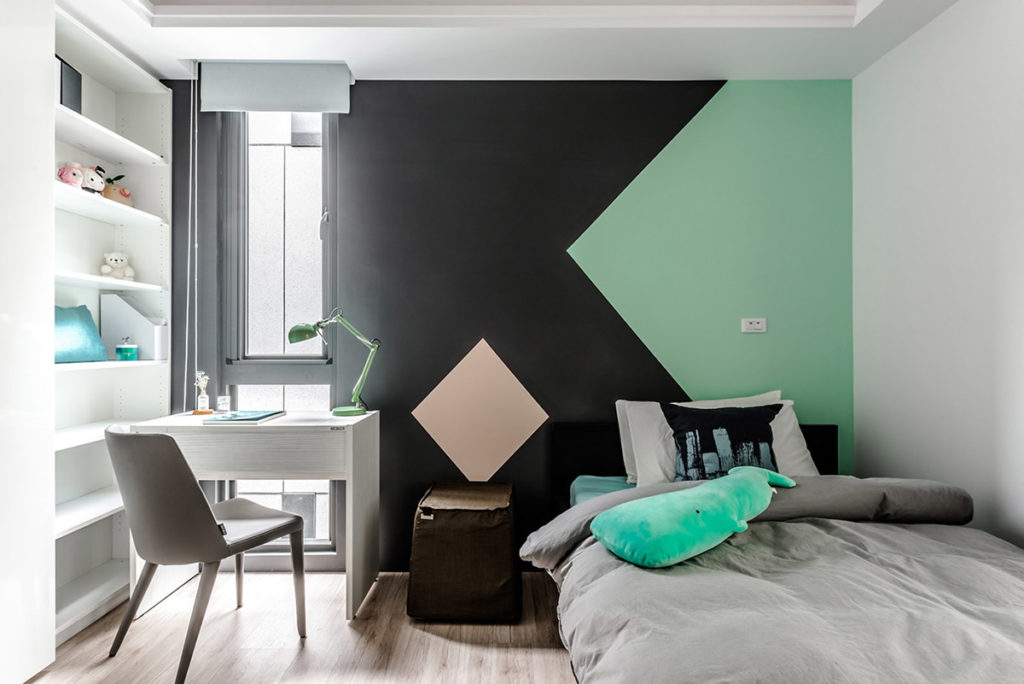 Geometric and functional teen bedroom
In this studying and resting space by designer Guan Pin, geometric shapes compose a dynamic design split between two main functions. Mint green accents spruce up the black, white, grey and white color palette, making studying feel more energetic.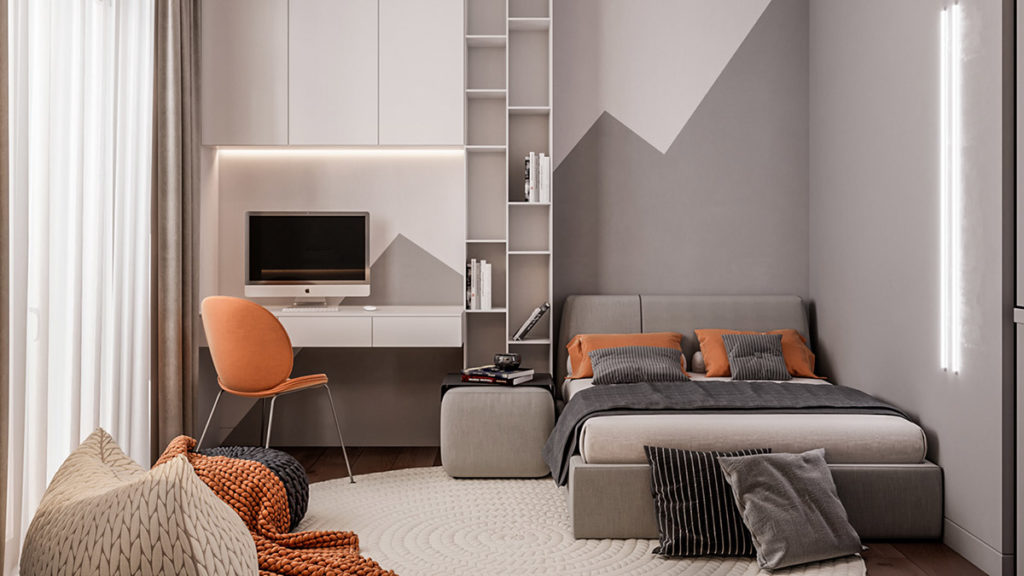 Balancing grey and orange
Visualised by N.Team Interior Design for a spacious Ukrainian home, this grey and white teen bedroom has orange color pops that bring an adventurous design spirit in an otherwise monochrome environment. Stylized mountains keep a cool atmsophere beyond the color palette, while the knitted pattern seen in the textiles warms up the space – balance achieved.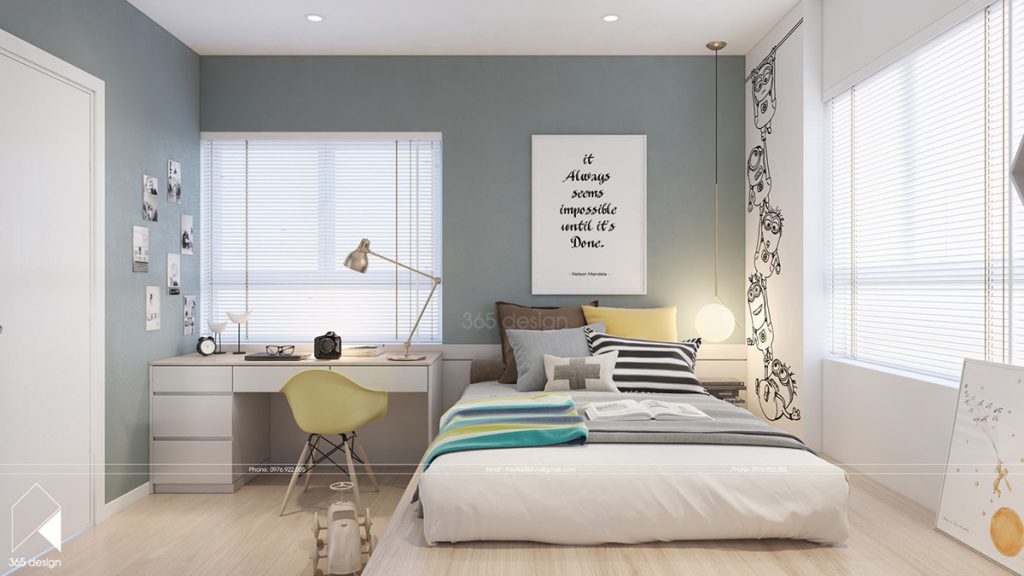 With the bed raised on a platform, the study desk in this teen room was perfectly fitted under one of the windows. Bright and cosy, this space designed by Guan Pin is based on subdued colors while a yellow Eames desk chair was chosen to be the stylish way to study.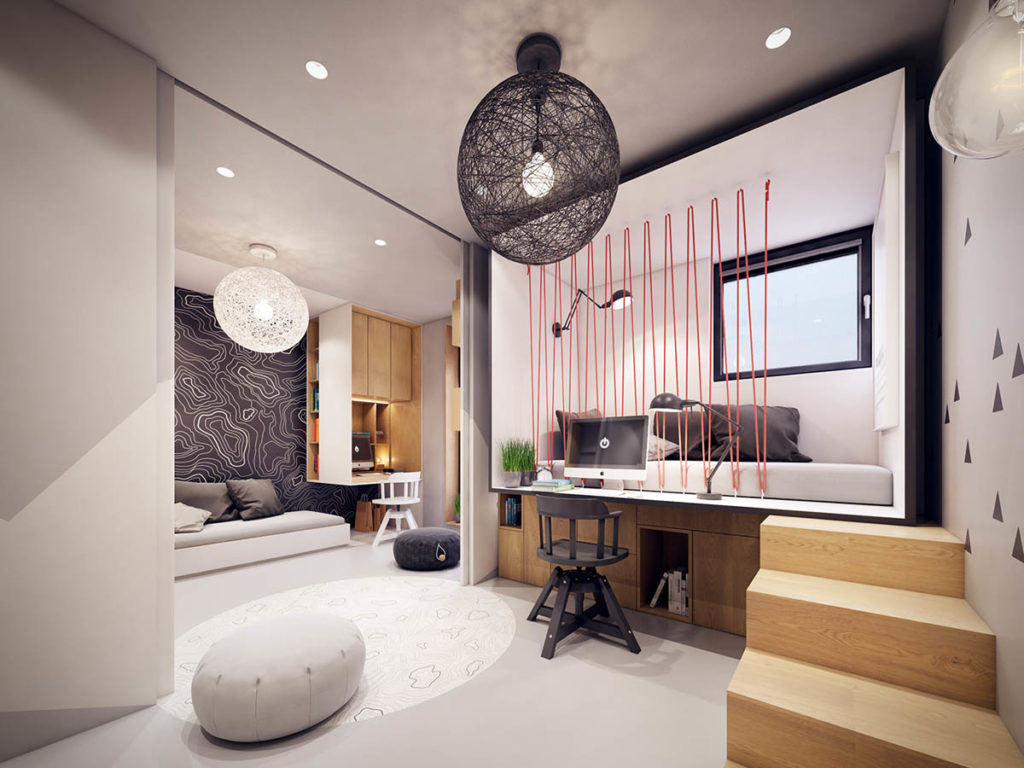 Levels, textures, colors – teen bedroom inspiration
This teen bedroom is a stunning exemplification of how designers can reimagine a white, boring space. Giving new dimensions with the help of space partitioning, creating different levels and functions, this teen study space design in set in an admirable double bedroom.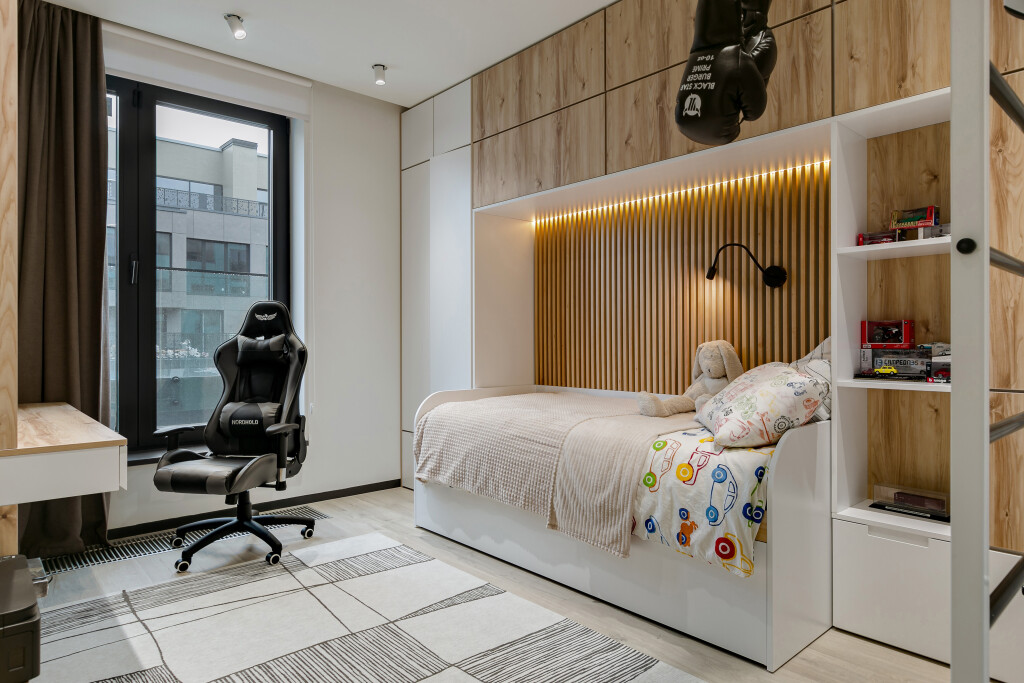 Tech and sports teen room
This teen study space designed by Aliev Architects has one element that makes the connection between the soft, modern design and the technological advancements. The desk chair seems to be a bit off, but the fact that it supports the kid as they study and play at the computer is a big plus. On the other side of the room, a punching bag awaits some action.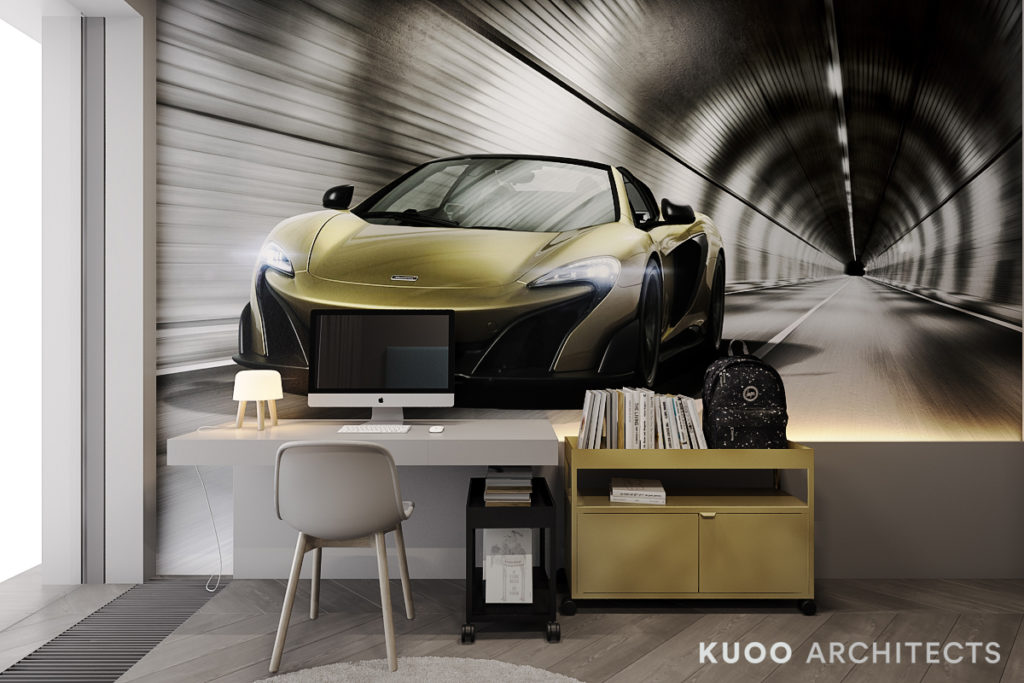 Car mural over teen study space
From the minds of KUOO Architects, this teen boy bedroom flashes a large car wallpaper that encouraged using the same color seen in the car to create a storage cabinet next to the desk. The rest of the space showcases sandy wooden floors and a grey color palette, allowing the yellow to overpower the simplicity of the design. See the whole bedroom here – Car Mural Overpowering Teen Bedroom and Study Design.
Do you know what your teen wants in their bedroom?
If there's enough of their personality infused in the space, with games your teens like, memorabilia of their favorite characters or favorite colors, the space itself will support their dreams. And they create their dreams by working on them.
Sleek Workspace in Ironman-Protected Teen Bedroom
There are many more spaces to inspire you, see these next: