Study spaces for kids are of base importance because they help your kids remain focused on they homework, study time or creative work.
These spaces also help you work from home with less interruptions, since your kids are safely doing their own homework.
A well equipped study space eliminates distractions and helps children blast through their homework, but also construct a creative space where they feel inspired. If you have two kids, the study space does not necesarilly have to be copy-pasted. Let's explore 10 different solutions to creating double kids study spaces within their own bedrooms: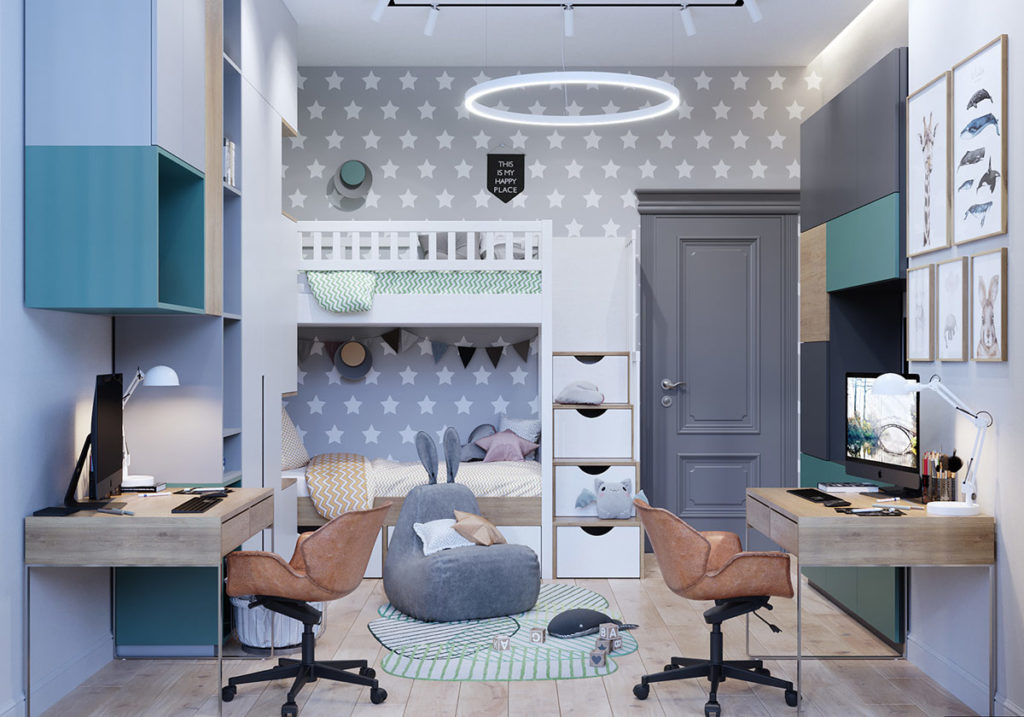 Visualised by Oleg Tyrnov, this children bedroom showcases two study spaces back to back within a mainly blue color scheme. Each side of the window holds space for one kids study space, while the space above each kids desk was imagined to hold storage and decorative frames. See the whole bedroom here, from different angles.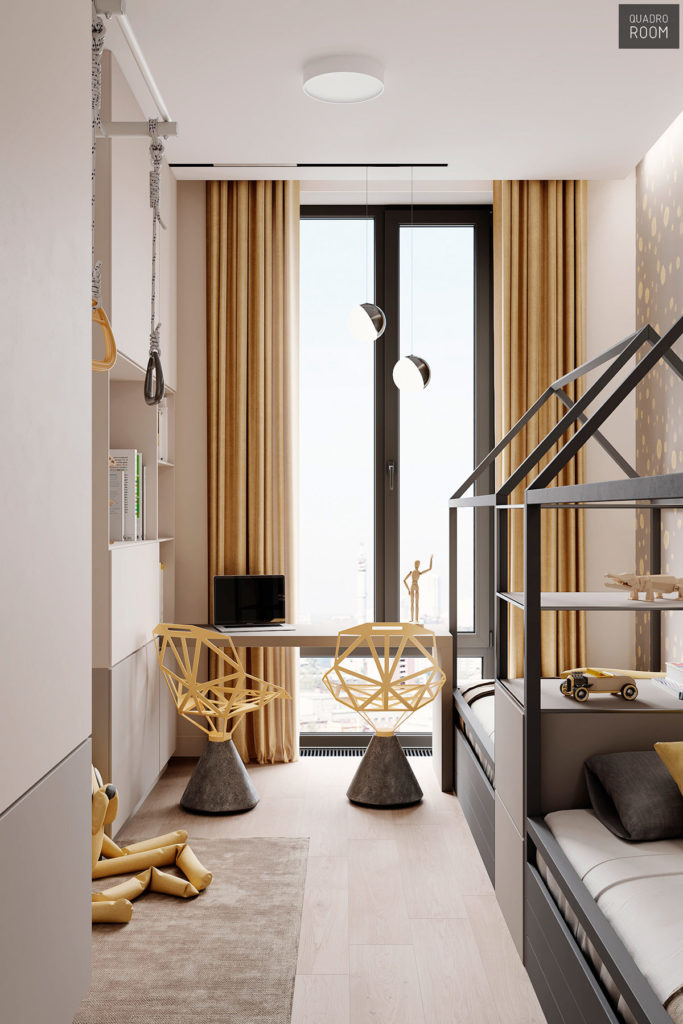 Even a small kids bedroom can be fitted with two study spaces. Especially in a small space, the chosen furniture and its placement has a very big role in creating an uncluttered space. Designed and visualised by Quadro Room, this double kids bedroom displays a simple black and white main theme, with golden accents elevating the cheerfulness.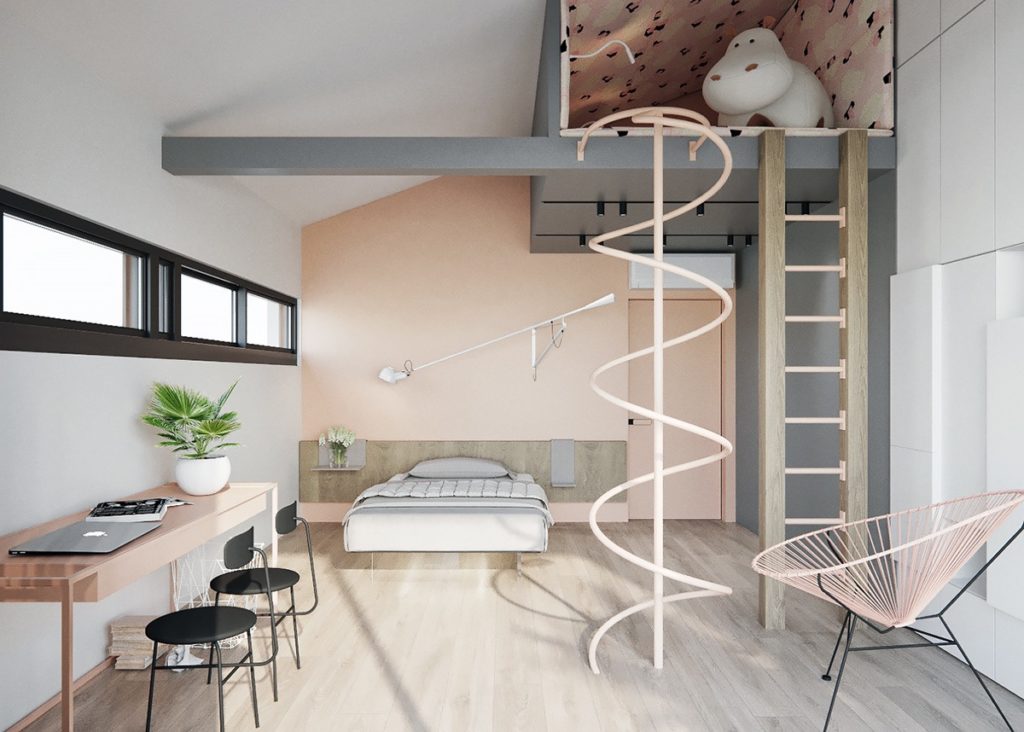 A tall space can make for an inspiring arrangement. Being a kids bedroom, one of the beds was constructed right above the entrance door. This leaves plenty of room for another bed, storage space and a long study desk that fits both kids. Visualized by LEVEL80 | architects, this children's bedroom was imagined in a fun blend of soft pink and grey.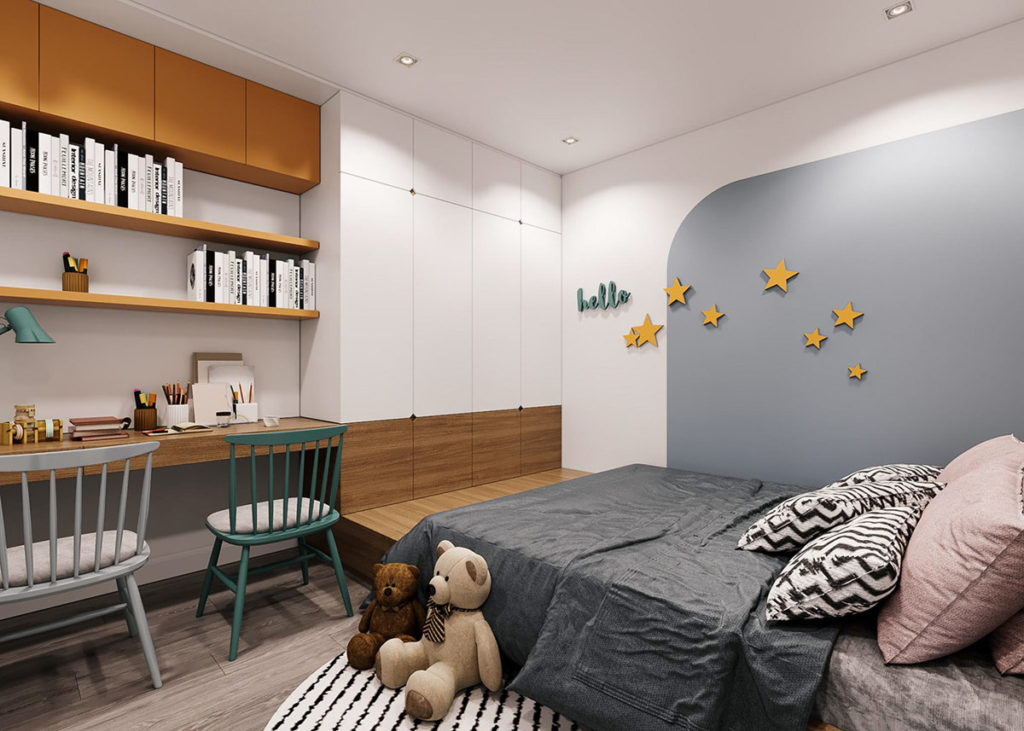 A platform bed can be used as the base for a bespoke kids desk and library just as in the example above. Imagined by Elemental Design, the furniture in this double children bedroom occupies the space in a very personalized way. Beautifully putting together wooden details on a white background and placing mustard shelves, the whole space looks personalized right down to the brightly colored 3D kids wall decor.
Deep wooden furniture in the same color throughout a space can look heavy, but not in the example above. Keeping the design simple and blending vertical and horizontal lines, visualizer Lai Pháp made the best of the available space. Even if there's not a lot of elbow room, the desk is placed in the only space available, between the platform bed and the wardrobe.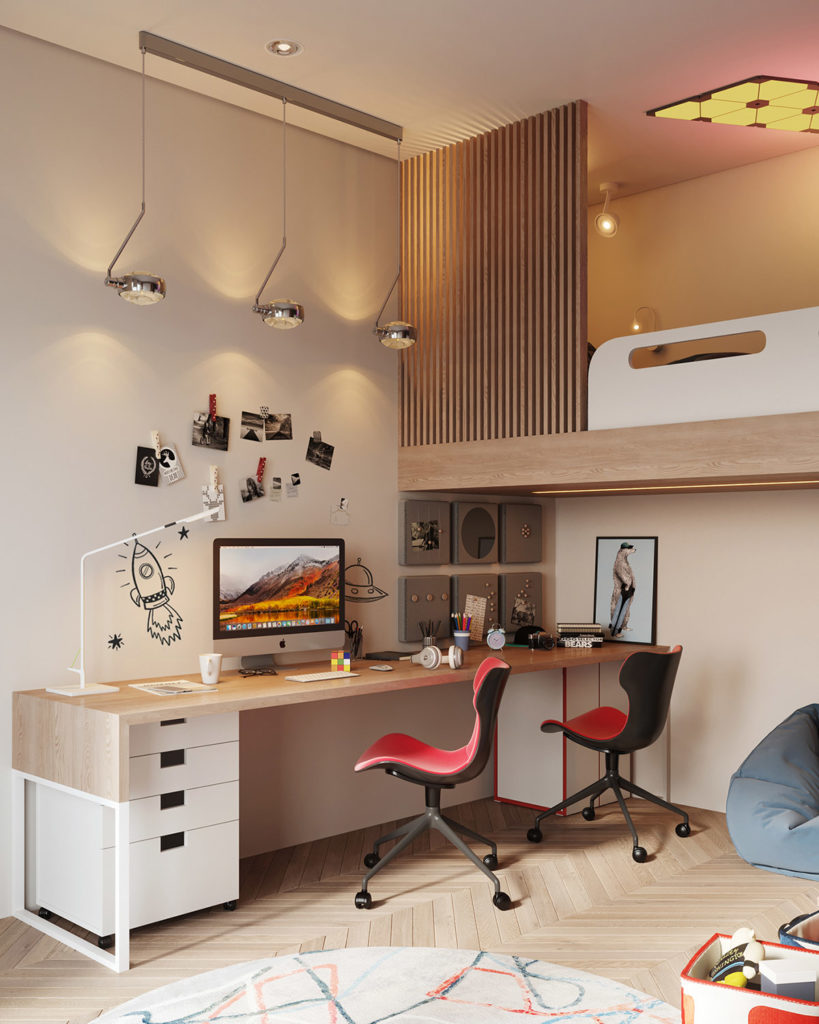 The team at Design Filosofia have taken up this project where the kids bedroom displays a double study space where one part of the desk was nestled under the raised bed. A space theme runs throughout the double kids bedroom, even if the main material used is wood. This offers a balance between the grounded wooden tones and the fantasy space theme.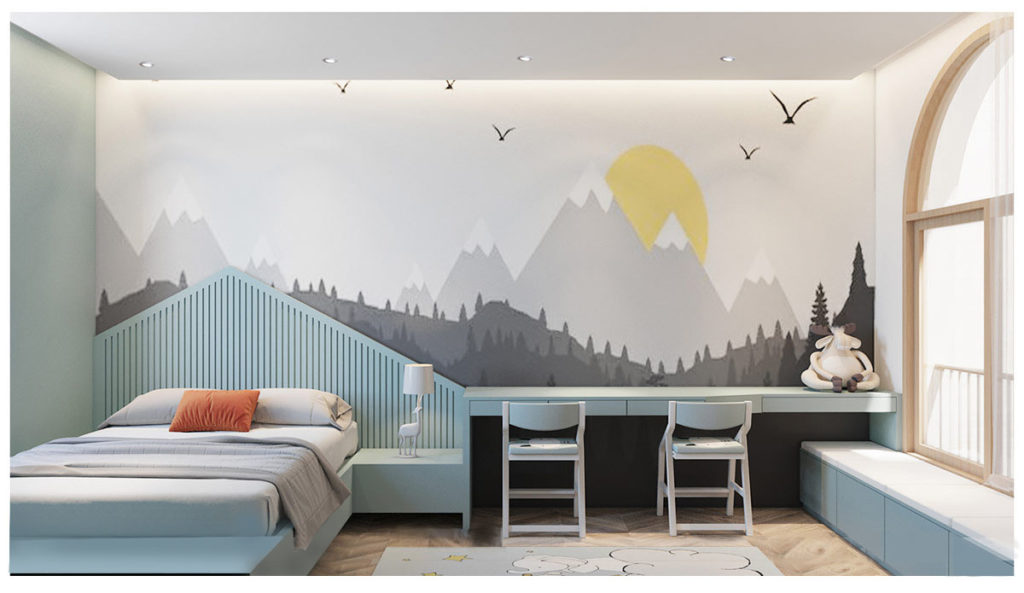 With a whole wall painted with a mountains mural watching over the kids while they're studying, this double kids bedroom feels calm and inviting. Designed by Ti Concept, the space above is mainly composed of bespoke furniture. Protruding from the shape of the bed, the long blue desk is suited for two kids. Even the chairs were chosen in the same calming shade of blue.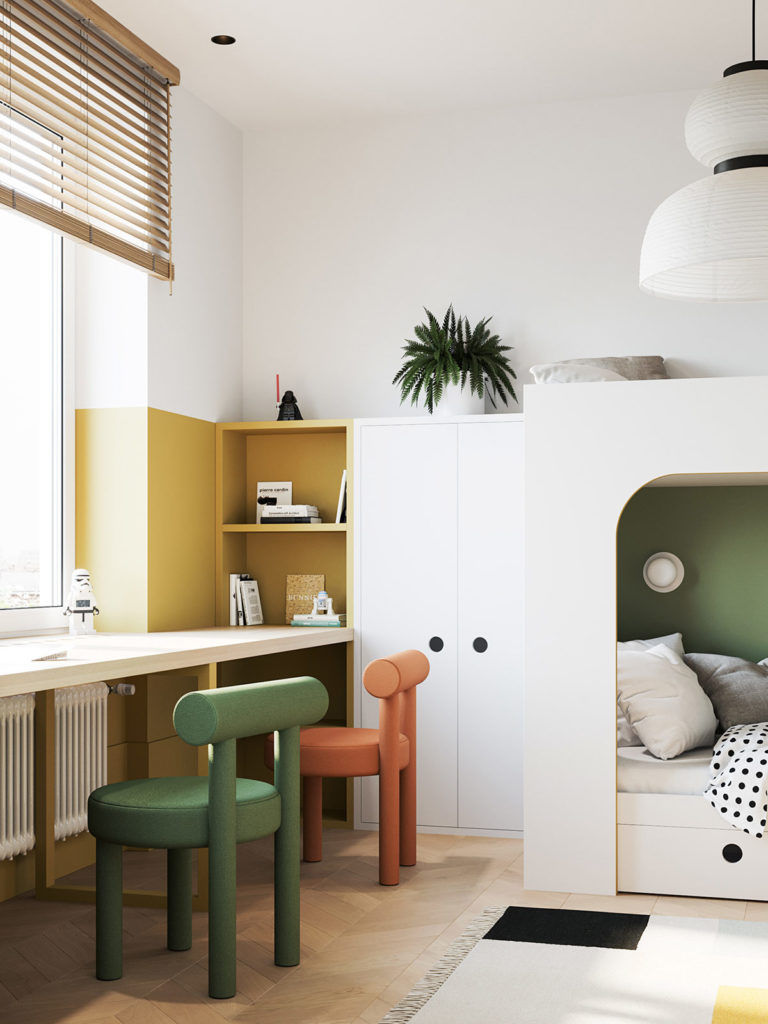 Playful, colorful and cheerful, this double kids bedroom designed by Bureau Slovo was built for rest, play and study. Shades of autumnal brown, mustard and forest green delineate the kids study space, with a different coloured kid's chair on each side. Star Wars decor punctuates the space, just like in this adult home office design flaunting Star Wars hints.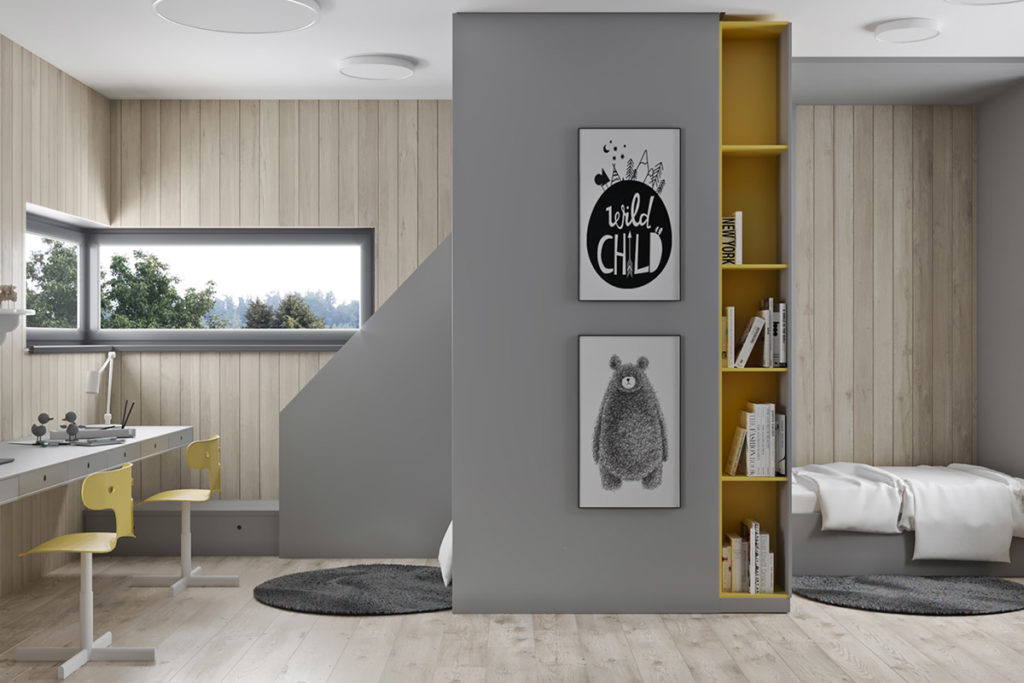 The double study area above is part of a kids bedroom designed by Oksana Zayats. Three main colors and textures were chosen to compose an inviting children's space: wood, grey and yellow. Custom furniture allows the study desk to fit in the overall design, flaunting a thin line of drawers and simple white and yellow desk chairs.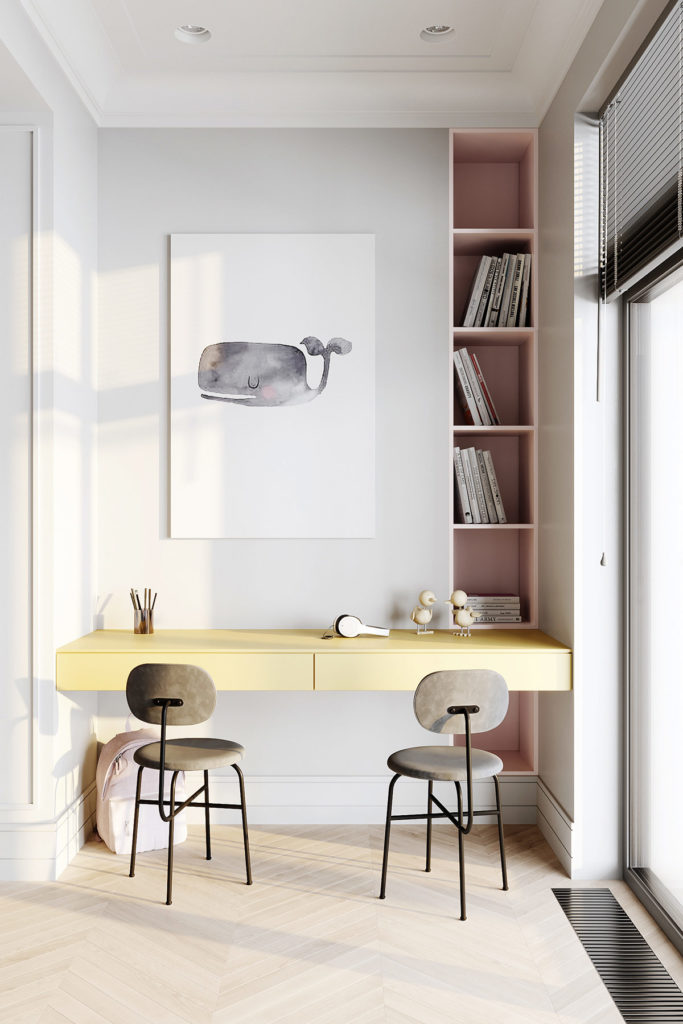 Our last example of a double kids study space is not within the bedroom, but rather designed to fit the space between the bedroom and the balcony. Created by Quadroroom and brigtly lit by sunshine coming through floor to ceiling windows, the yellow double desk floats in front of a pink shelving unit.
Whatever room you have available in your kids bedroom, there is always a solution to be found when it comes to creating a space that establishes a daily studying schedule. The best way to entice your kids to study is to create places where they feel undisturbed and cosy.
Also, working alongside their sibling helps both kids have a comfortable studying experience, whether they're studying together and helping each other or each working on their own thing.
See these other ideas we have gathered for you to create the best study space for your kids:
Two kids rooms with desks for "home office" play
Gamified study space in stunning kids room