Your mezzanine level can become the real home office fantasy land, where interior design places focus on a workflow that excites you and visually stimulates you.
We love exploring a space's possibilities – imagine a workday in each space, go on a visual experience that you can use in your own home. What elements are important for you? Functionality? Bright natural light? Storage space? Library showcase?
Some of the spaces below have multiple gems hidden in their design. Whether you came looking for modern mezzanine home office design or wanting to see brightly lit workspaces, this list of 10 first-class mezzanine home office spaces will have you daydreaming before you commit to one design suited for your available space: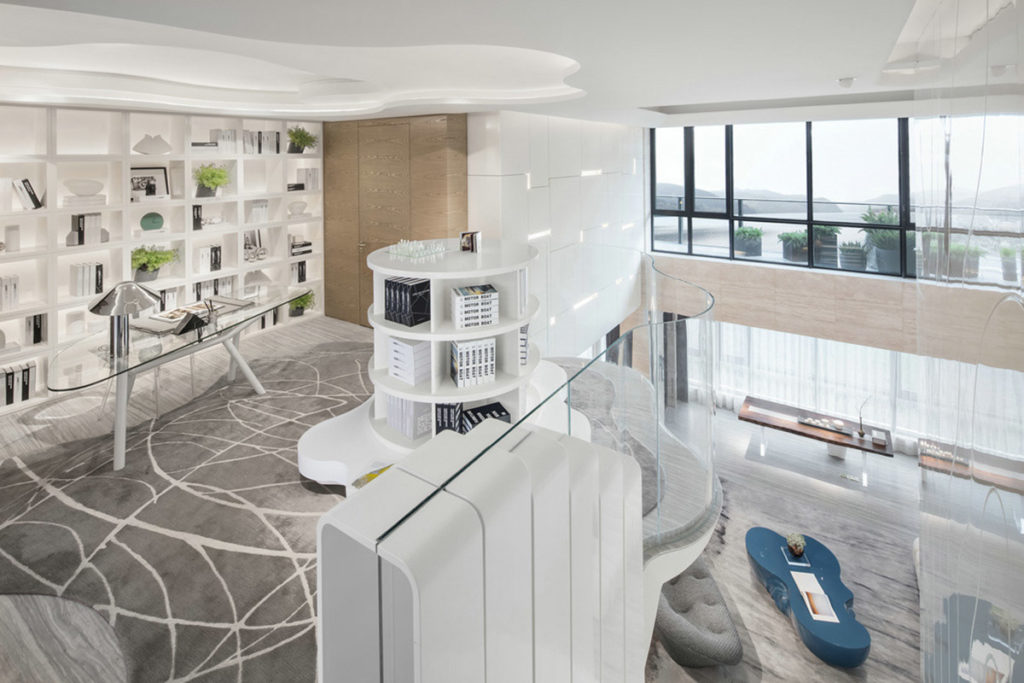 Contemporary homes that have fluid design lines and explore the see-through characteristics of glass can boast huge spaces, like this one created by T.K.CHU Design Group. These are opportunities to create a dream home office – at a mezzanine level, with a large home library behind a glass desk and surrounded by natural light bouncing off a white-themed space.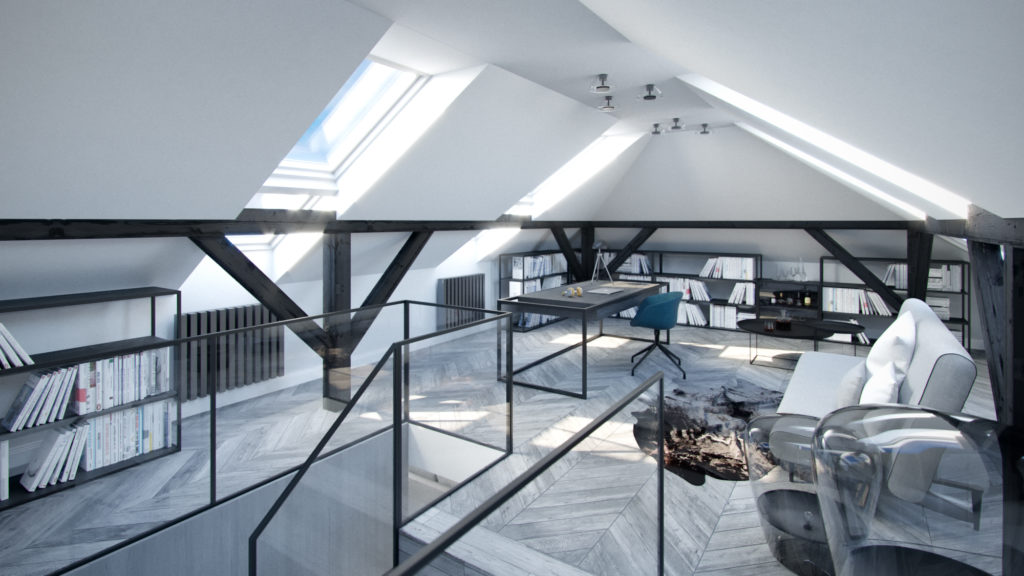 An attic apartment is the perfect candidate for a home office space occupying the mezzanine level. This design by SMLXL also plays with plenty of glass, from the glass balustrade right up to the slanted skylights. Kept in a black and white color theme, this mezzanine workspace potrays a simple and elegant dance of geometry.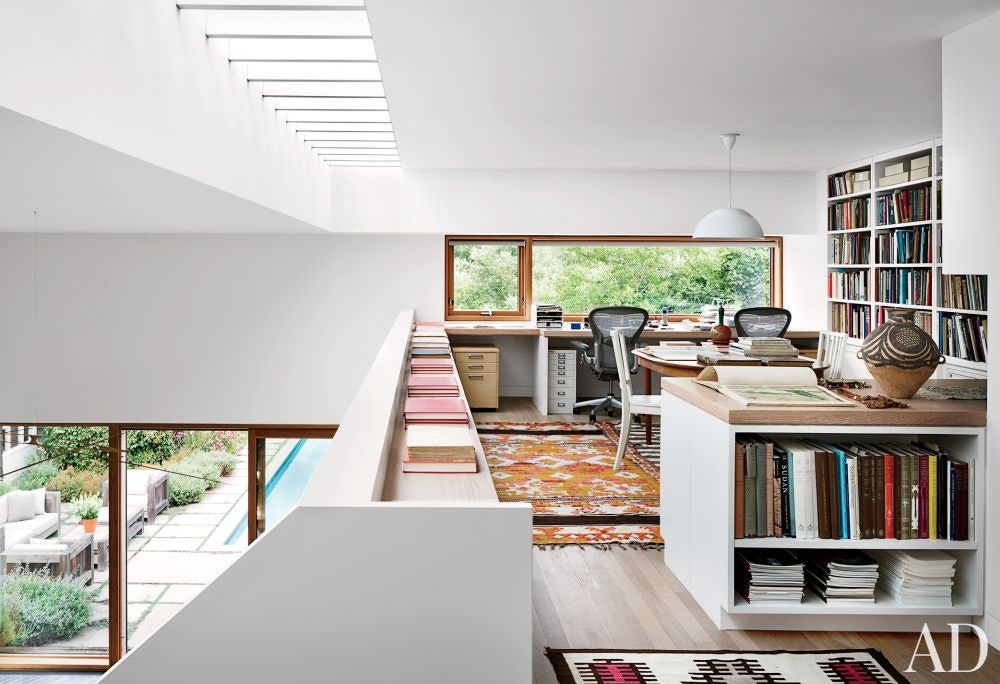 A large mezzanine level allows for more than one person to work at the desk. In all spaces rising above towards the sky, natural light is very important. Decorated with an Arne Jacobsen pendant light paired with the golden Moroccan kilim and Navajo rug, this space designed by Christoff:Finio Architecture perfectly blends midcentury modern with a sense of spaciousness.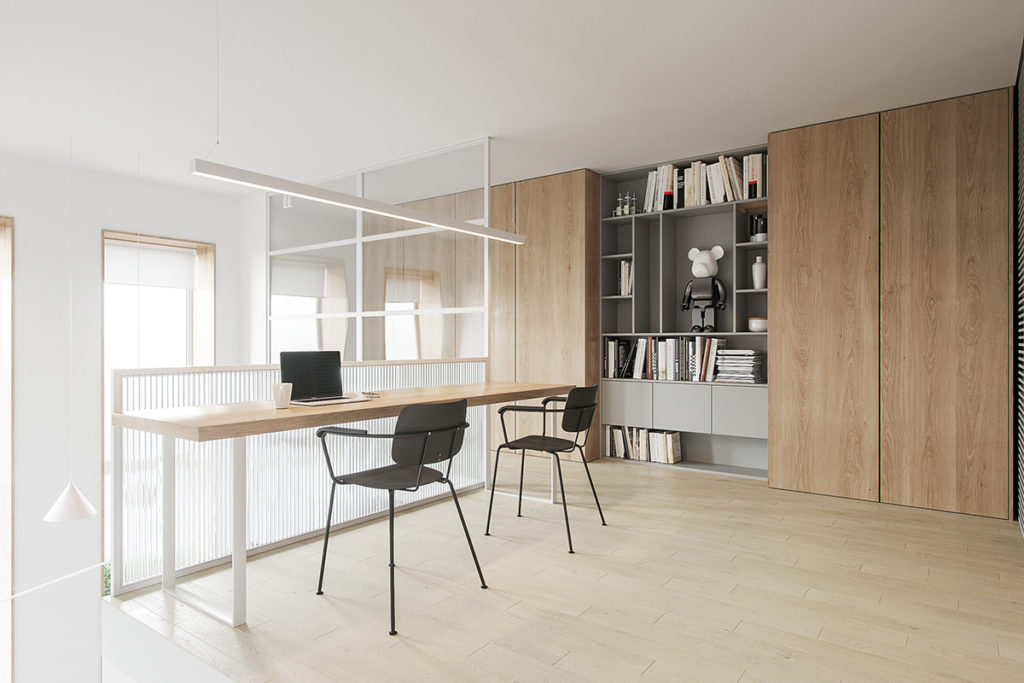 A double workspace design with huge double height windows reaching up to the mezzanine level comes from the minds of designers at Studio Open. Starage space and a library runs the lenght of this mezzanine home office for two. If you were looking for more space so that you and your partner can share a home office space, this functional minimalist bedroom home office for two might also inspire your choices.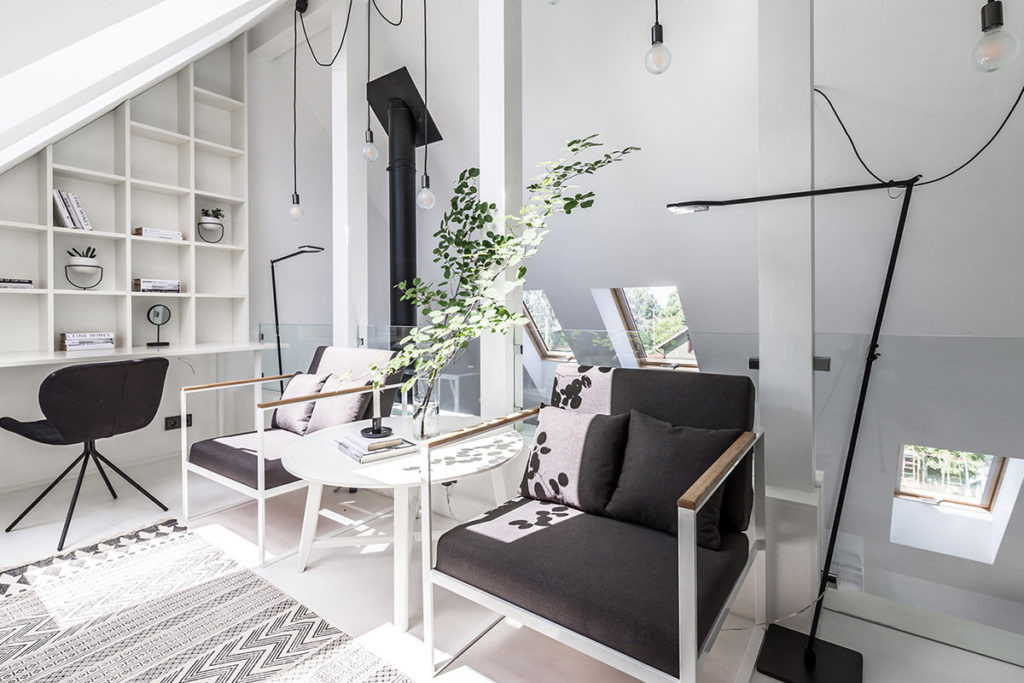 Unused attic space was transformed into a fantastic home office space and relaxation corner under the skylight by designers at Ruetemple Studio. Inside a rather dark house in Yamkino, Moscow, Russia, the attic workspace was dressed in white and decorated with black.
More black and white inspiration can come from this clear-cut black and white home office in the living room, if you decide to use the mezzanine level for something else. This is the beauty of researching for your dream home – you can change things and switch your mind thousands of times before it all fits in like a puzzle and you know exactly how you want your space to look and feel like.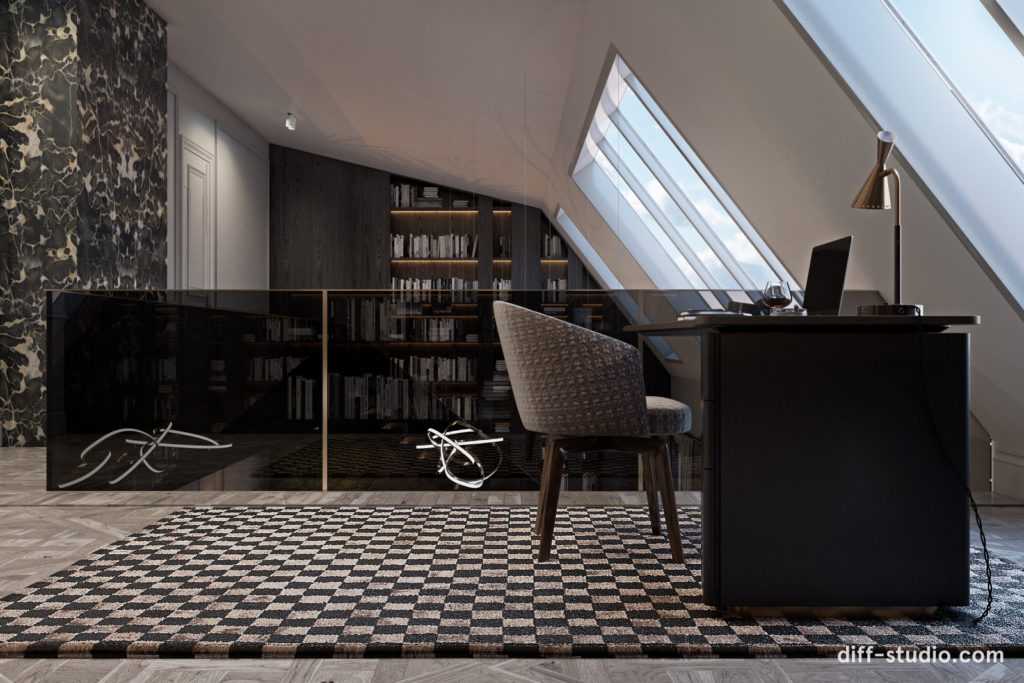 Another mezzanine home office space steeals our attention – this one is designed by Diff Studio in a luxurious two-level apartment. a black and white checkered rug sits under the desk and chair and both get tnatural light from the skylight above. Dark glass railings give the space an air of modern aristocracy blended with the overall dark color palette choice.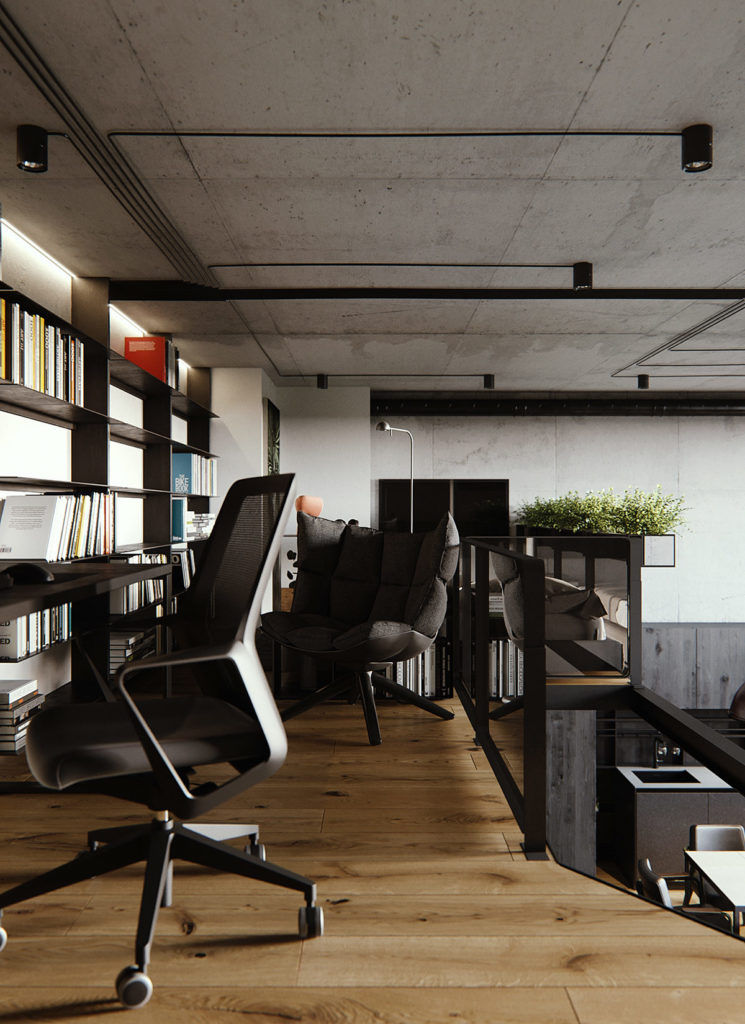 Book shelves span the entire lenghs of this mezzanine home office above, imagined by Marra Group. Black track lights mounted on a cement ceiling illuminate the desk whenever necesarry, while swivel chairs move along the wooden floor. A home office for two, this mezzanine workspace should make you think about your home's possibilities. Because you can have a double workspace even in a small apartment like this one.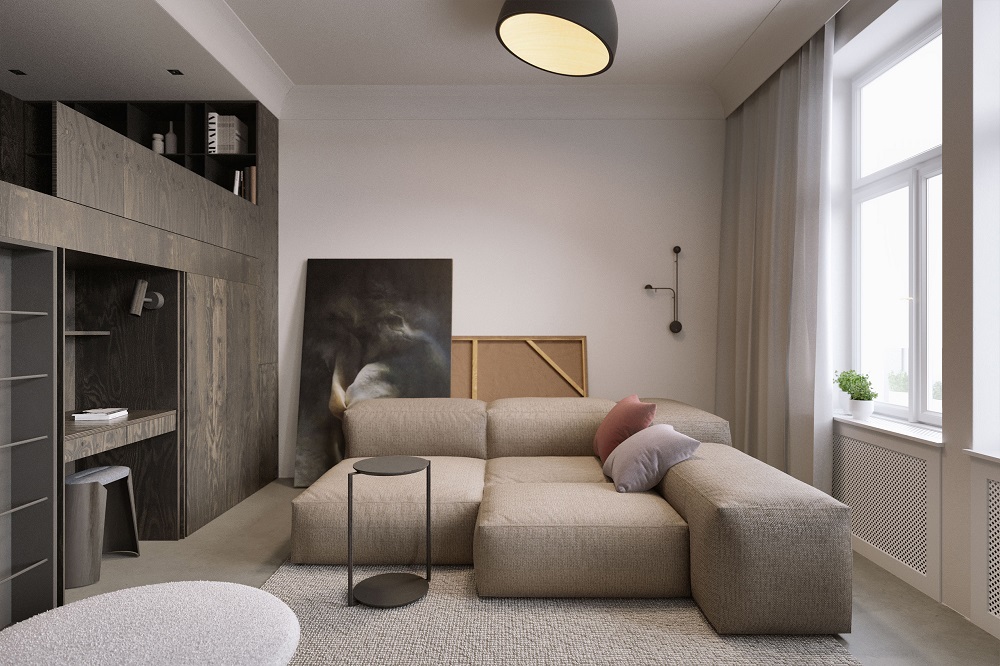 Zan Studio imagined a rather unusual mezzanine home workspace – one that sits under the mezzanine and it also part of it. Constructed from the same chocolate brown wood as the mezzanine's structure, this retracted desk decorates a part of this small living space.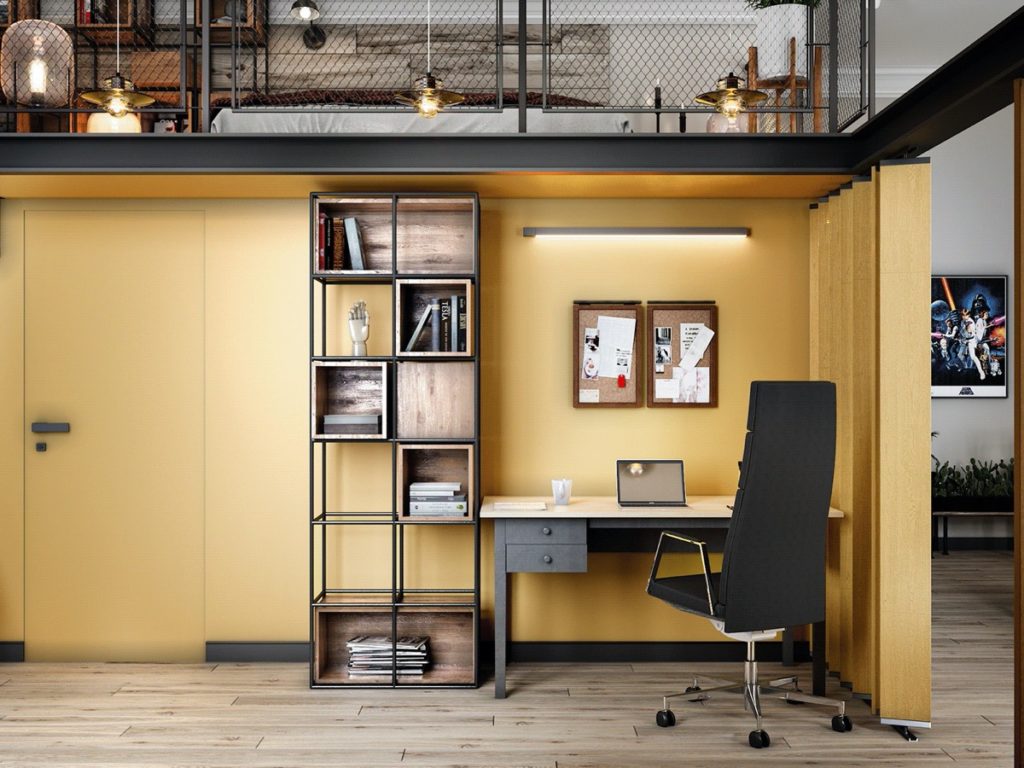 Mustard yellow walls bring a warm and lively energy to the home workspace. Under the mezzanine level, the simple and functional home office setup designed by mossebo.studio is sepparated from the living room with rotating slats.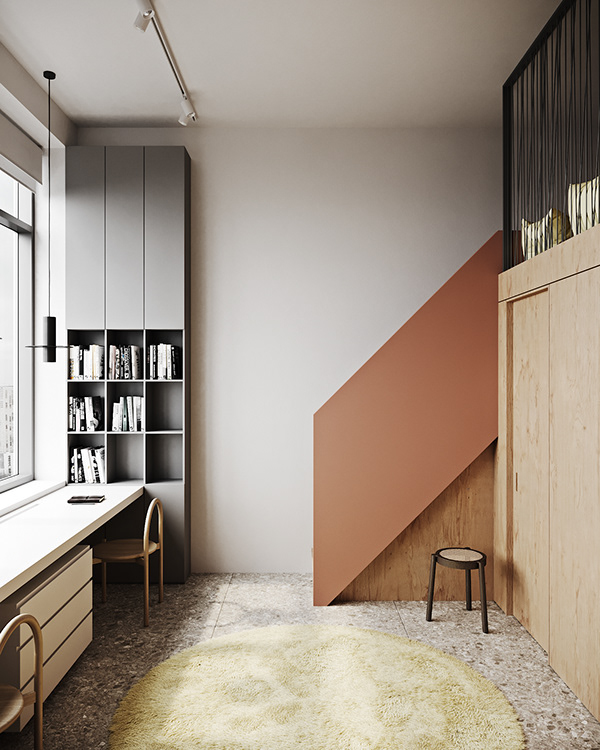 In a tall, naturally lit space, a mezzanine is a must. And how about an office space that spans the whole wall under the window? Looking at the available space, designers from Burowhite imagined a dreamlike home office space.
There is  more inspiration for your home office design right here:
10 Home Workspaces for artists who love their craft
10 L-shaped workspaces for extra working room