Working from home seems fun at first, when you switch from the bed to the sofa and even the kitchen table while also cooking. But soon you realise that (like most things in life) self-respect, environment, and organising are long term investments with huge profits.
Having backpain can be the alarm bell you listen to before you dig into the best home office chairs you can find. And hopefully you're reading this preparing your way into the home office lifestyle and it's a good thing you came here.
Here is what you will know after you've delved into this home office chair and seating guide:
how to choose the best ergonomic home office desk chair
why and how to have more than a WFH seat option
how and where to use hybrid home office seating options
why it's a good, healthy idea to switch it up
Home Office Chairs and Alternatives
Beyond great home workspace chairs, there are other home office seating options to consider. Here are a few ideas you can switch between when working from home:
sitting in an ergonomic chair
home office chair alternatives
using a sit-to-stand desk
moving while working
reclining and lying down while working
all in one hybrid desk and chair
Once you get used to the idea of working healthier and seeing more productivity and less strain on your body, you might want to take a look into a home office essential we can't work without: WFH Lighting 101: Illuminate Your New Home Office Life.
Choosing the best ergonomic home office chair
A list of simple features can help you choose the best ergonomic home office chair from everything available. This is what you should be looking for when choosing the best ergonomic home office chair for your needs:
adjustability in height, also adjustable backrest and armrests
strong lumbar and head support
seat depth and width for custom
quality materials, breathable and with sufficient padding
keep moving with swivels and casters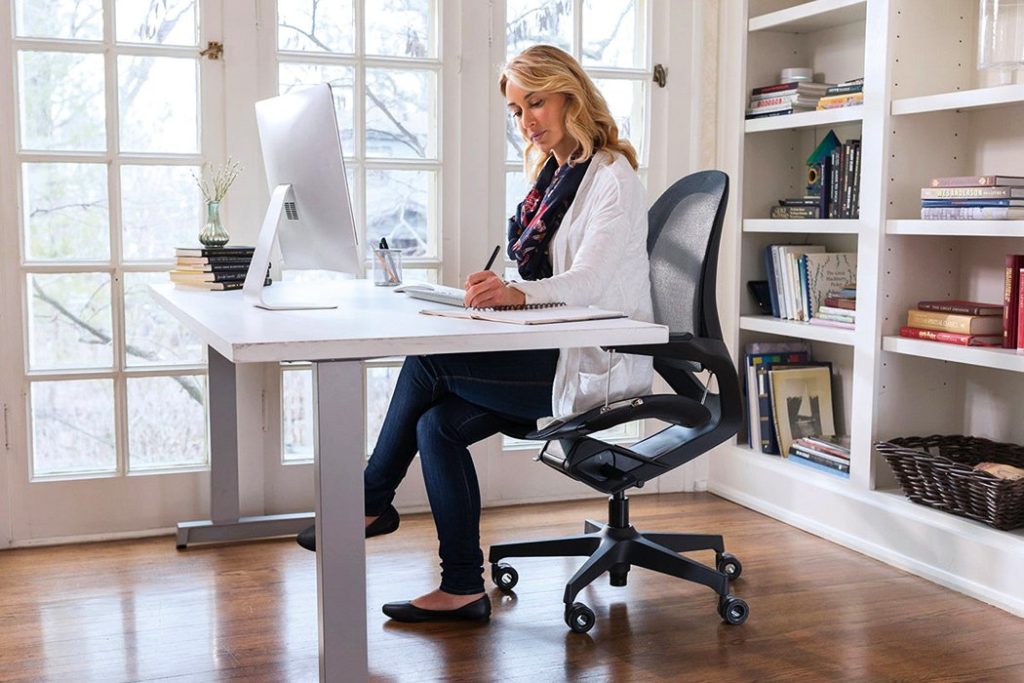 When you already have a home office desk chair you got used to, there are still some improvements you can make to ensure your health and comfort by using these ergonomic chair attachments:
Lumbar Support Posture Devices
Seat Support Posture Devices
Feet Support Posture Devices
Posture Gadgets deemed as "digital posture coaches"
Here you can see more tips and tricks on: Ergonomy and Health for your Home Office, as well as gadgets you can look into for custom home office comfort designed for your specific needs.
Home Office Chair Alternatives
Once you have your main home office chair set up, you can take a look at all the supporting home office chair alternatives that supports you moving and switching from one to another:
kneeling chairs for working from home
cross-legged WFH chairs
saddle chairs
balance ball chairs
recliner chairs
zero gravity chairs
balance boards
under desk bikes
home office treadmills
stand up desks and desk converters
Kneeling chair as home office chair alternative
Switching positions while working is beneficial and should be taken into account when you set up your home workspace. Kneeling chairs promote proper spinal alignment by having your pelvis tilted forward with a 110° body-thigh angle. This ensures your back is properly alligned while also improving digestion, breathing and blood circulation thanks to your organs not being compressed.
Sit cross-legged while working from home
Do you feel comfortable in a cross-legged position? If so (and if you want to switch from sitting, standing to sitting cross-legged), there are options out there that provide solutions to your exact needs.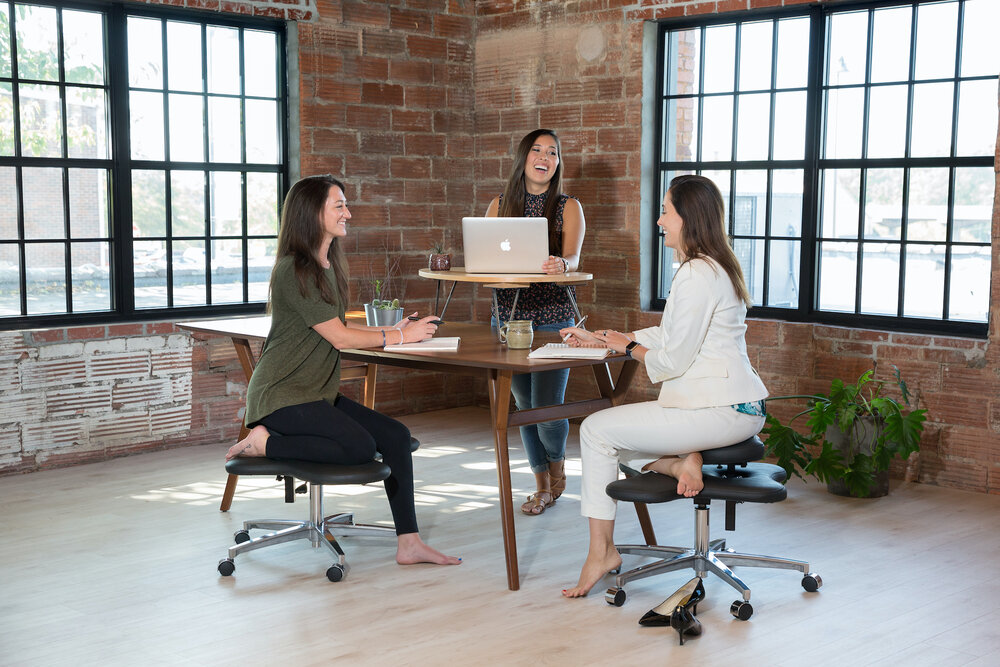 Saddle Chairs for Home Office Work
Saddle chairs for home office work promote active sitting, also helping correct postural problems. Mounting a saddle chair and maintaining an equestrian posture means you will be actively training those muscles that are at rest while you sit in a classic office chair.
Balance Ball Chairs to switch things up
Another way to keep your muscles engaged while working from home is using a balance ball chair. These fitness-inspired home office chair alternatives help you keep your muscles working and your blood flowing and yet they are only suited for shorter sitting periods due to back fatigue you can feel while using them for longer.
Working from home while moving: Treadmill Desks and Under Desk Treadmills
What else can you use instead of an office chair? A treadmill desk or an under desk treadmills is a healthy and fun way to switch up your working style. Keep moving while you work but don't overdo it. Everything has its purpose and walking on a treadmill while you work should be alternated with sitting down in the multitude of ways presented in this home office seating guide.
All in one hybrid desk and chair
There are times when you might not have room for even a classic desk and chair home office setup or you might need a multipurpose compact furniture piece that you can work from. This is the time you look around for home office chair alternatives and come across something like this space-saving desk and chair: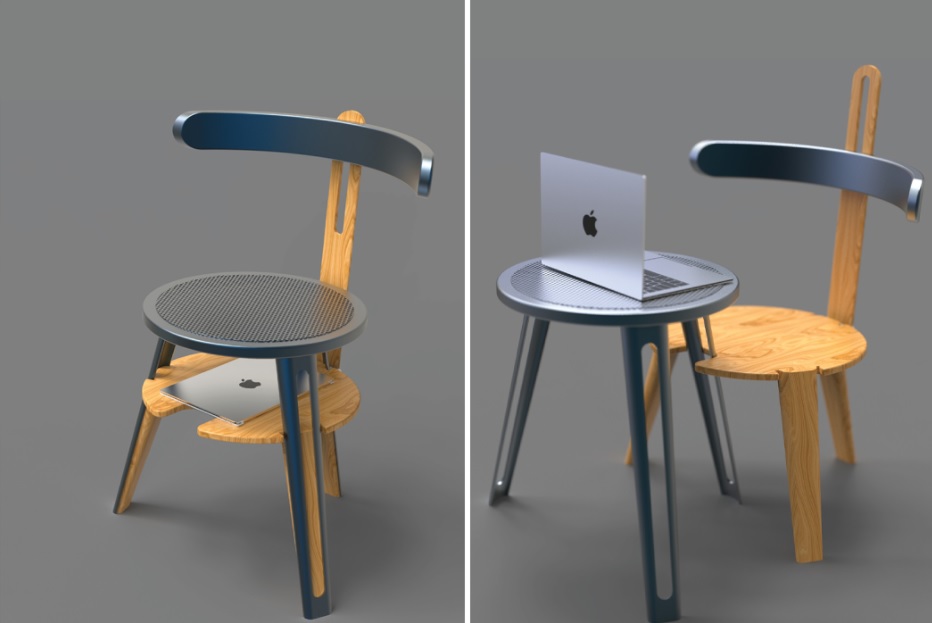 Multifunctional home office furniture is perfect for small space, for remote work and even to have around the house whenever inspiration shows up. The advantages don't stop here, but we can also take a look on the other side of multifunction – where there is plenty of room to display hybrid home office furniture.
Multipurpose shape-shifting mechanical desk
The Altwork Station is a shape-shifting mechanical desk that high intensity computer users will absolutely love. Spending a lot of time working on the computer takes its toll on your health and this home office hybrid helps you be more comfortable.
This reclining WFH chair adjusts to your body and motions with integrated pushbutton controls that allow you to have an effortless interaction with your computer, keyboard and monitor. This modern workstation has different options for you to be sitting down, lying down or switch between the two.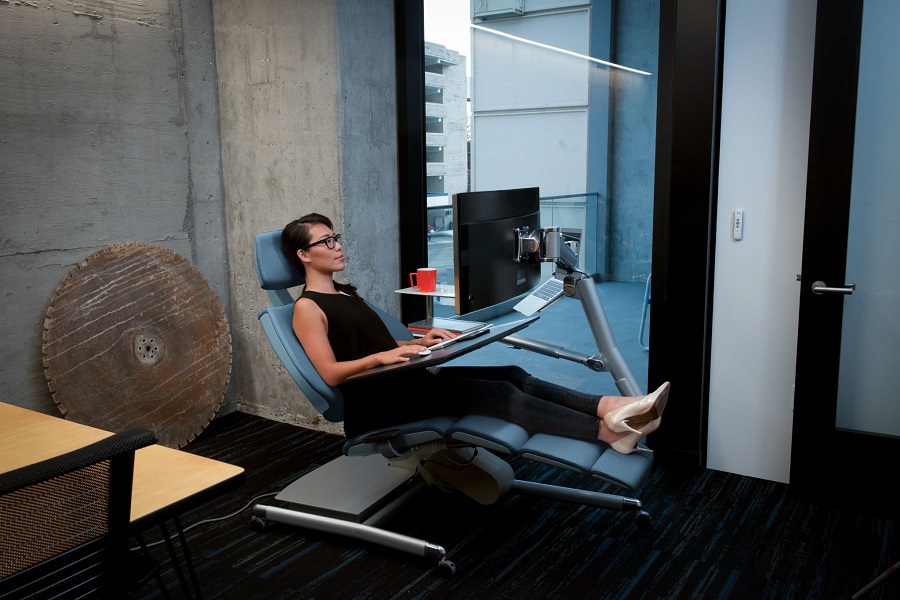 WFH Stand up desks and desk converters
Working on the computer while sitting is not suited for long periods of time. Using a standing desk or a desk converter can help you switch up your home office routine. A sit-to-stand workstation – be it an intelligent sit-to-stand desk, a portable desk converter or a desk tripod – will give you options and remind you that health is more important than anything else.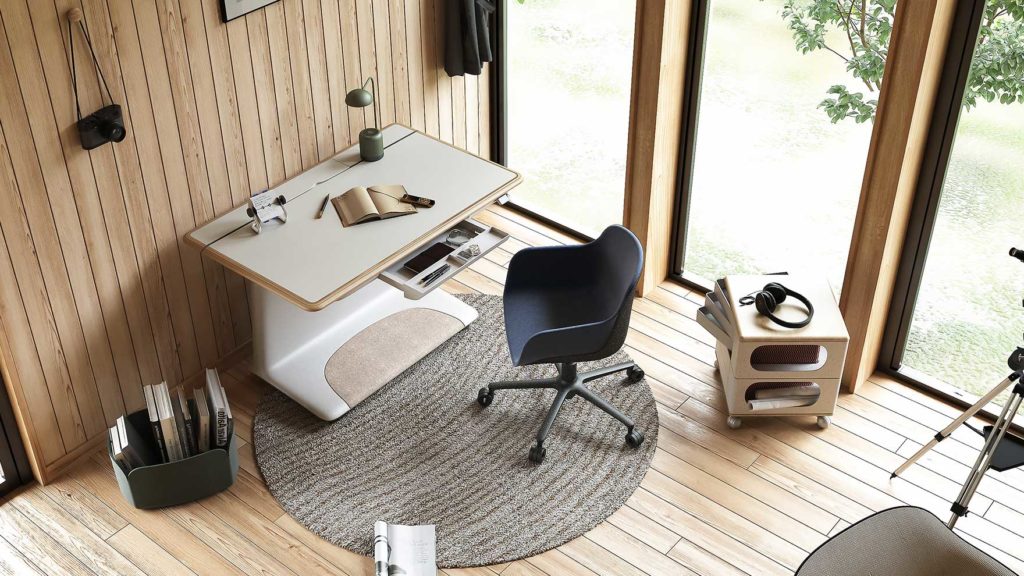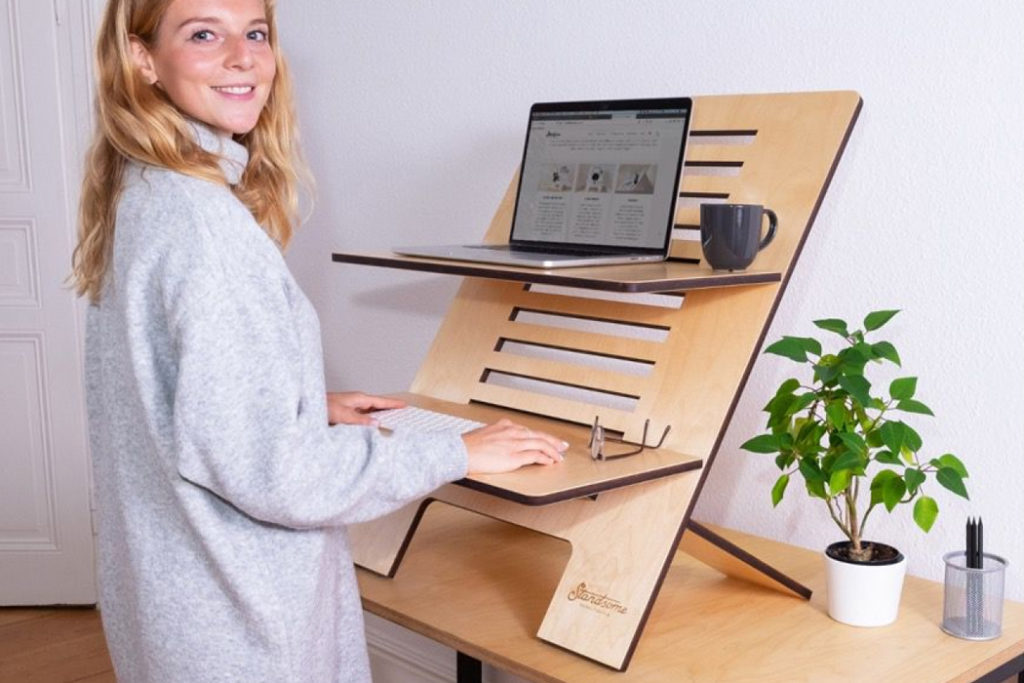 Custom WFH Chair, Desk and Decor: Star Wars Edition
Maybe you're a Star Wars fan and then you might be interested in a striking option of making your own station like this custom WFH chair and desk. There are endless possibilities to sit down and do the work – and it pays off to be yourself and maybe end up inspiring others with your own home office setup.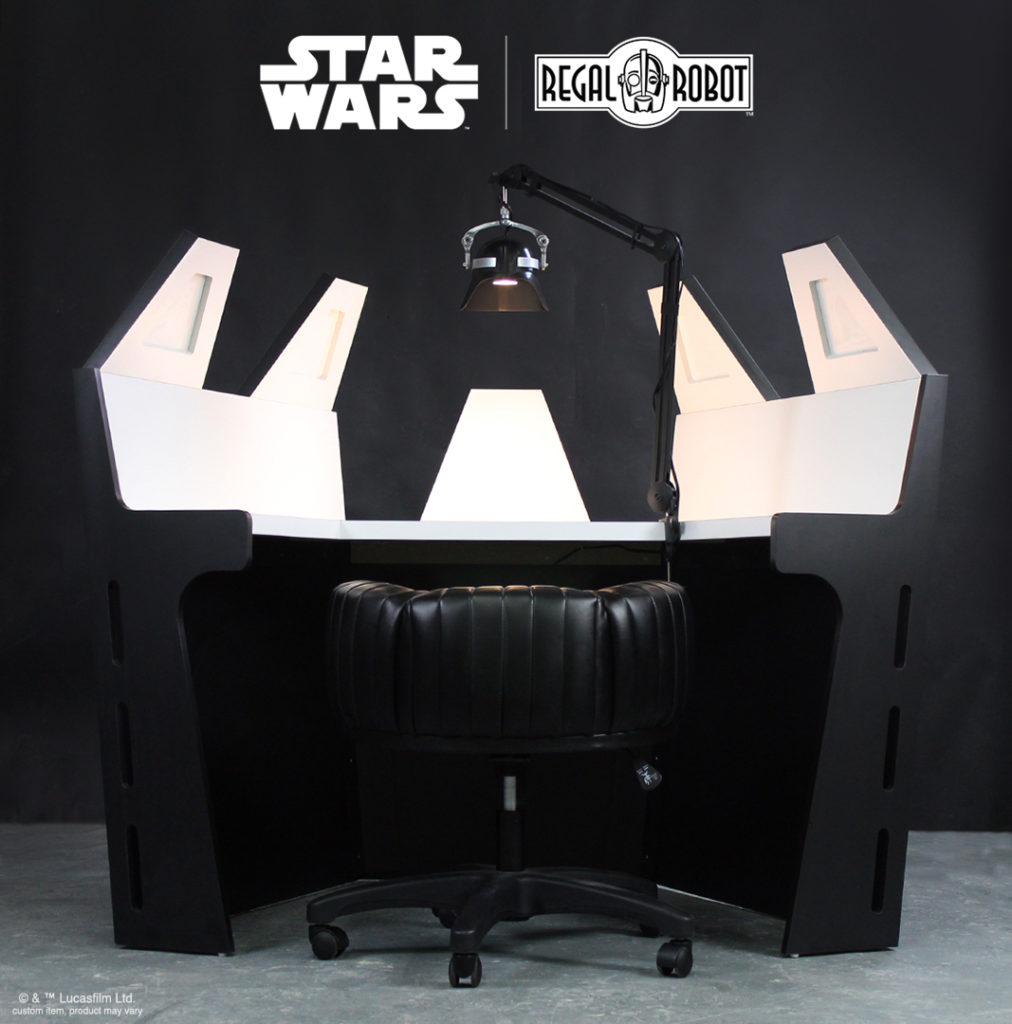 Bonus: Work on the go with or without sitting down
Work from home can sometimes mean "work on the go" or remote work, so a compact sit to stand tripod to use with your laptop can be the solution you keep around for these specific situation. And let's face it, sometimes you just take out the bonus gadgets because you need a break from the ordinary.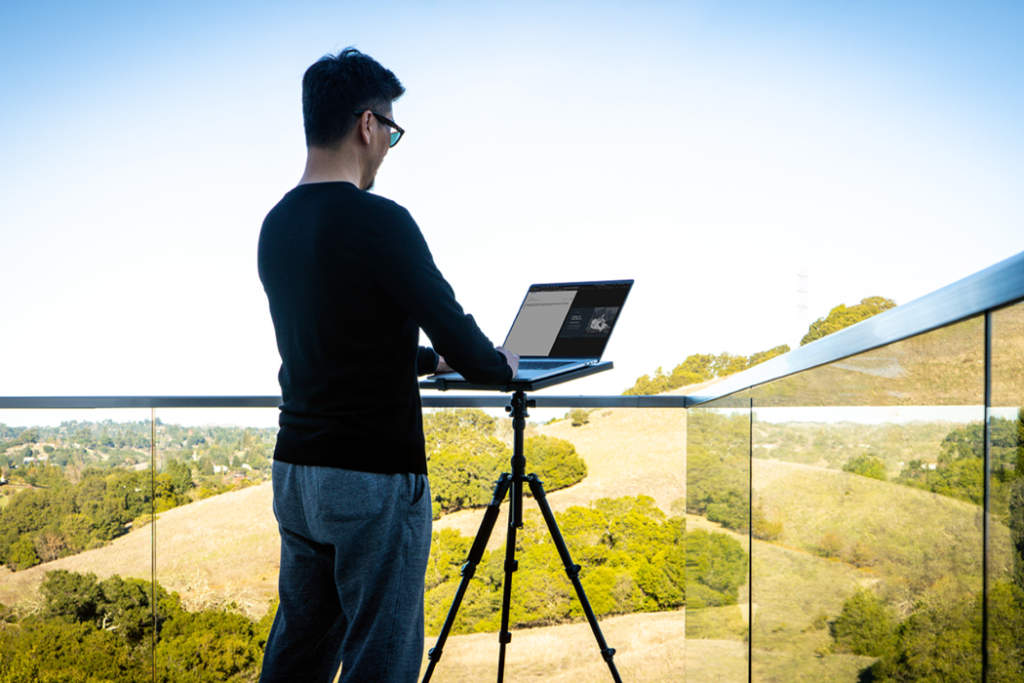 Now that we reached the end of our home office chair and seating guide, tell us in the comments below what you prefer to use to sit, stand, recline or move during home office hours, we'd love to know.