Bedroom workspaces can become work and study spaces without giving up on aesthetics, without shoving any old desk in a corner and disrupting the overall cosy feeling. Functional rooms that share both functionalities – working/studying and sleeping – are better integrated through design.
Jamming a desk in a corner of the bedroom will not give you the benefits of working from home – any challenge becomes an opportunity for growth if you choose to look at it this way.
The environment tends to build our desire and wilingnes to keep reaching for our dreams through work and self-discipline. It also allows us to enjoy the work flow.
Each room can be set up to constantly remind us that working is just a piece of the puzzle and, also, that it is just as important as resting, moving, loving, living.
Here are 100 inspiring bedroom workspace and study space examples that can spark that one idea that shapes your future home environment. Because let's not forget, working from home is a challenge unless we organize properly.
Proper organization of the space also helps children learn how to setup their room, how to keep it clean and organized (because the design itself encourages them to keep a clean room – it's the best way to enjoy the custom room they were gifted from their parents).
The bedroom can easily become the first space we look into to find some space for a home office corner.
Bedroom Workspace Design Ideas for the Whole Family
Feminine Bedroom Workspaces:
These 30 total examples of how to create a soft and feminine mood in the bedroom while also including a home office space leads the way to creating a map in your mind of what you would like to have in your own home: colors, textures, decor.
The example below is just one of the ten feminine workspaces we found to have a charming modern appeal. Using soft colors and blending them in a way that creates an inspiring elegance is the easiest way to give off a feminine vibe.
All 10 here: 10 Feminine Bedroom Workspaces With Modern Appeal
This next set of examples showcases 10 ways in which a vanity can become your temporary or semi-permanent home office. Stylish and easy to reshape from vanity to workspace back and forth, these beautifully designed spaces will have you looking at your bedrroom vanity differently.
All 10 here: 10 Multifunctional Bedrooms – Vanity to Workspace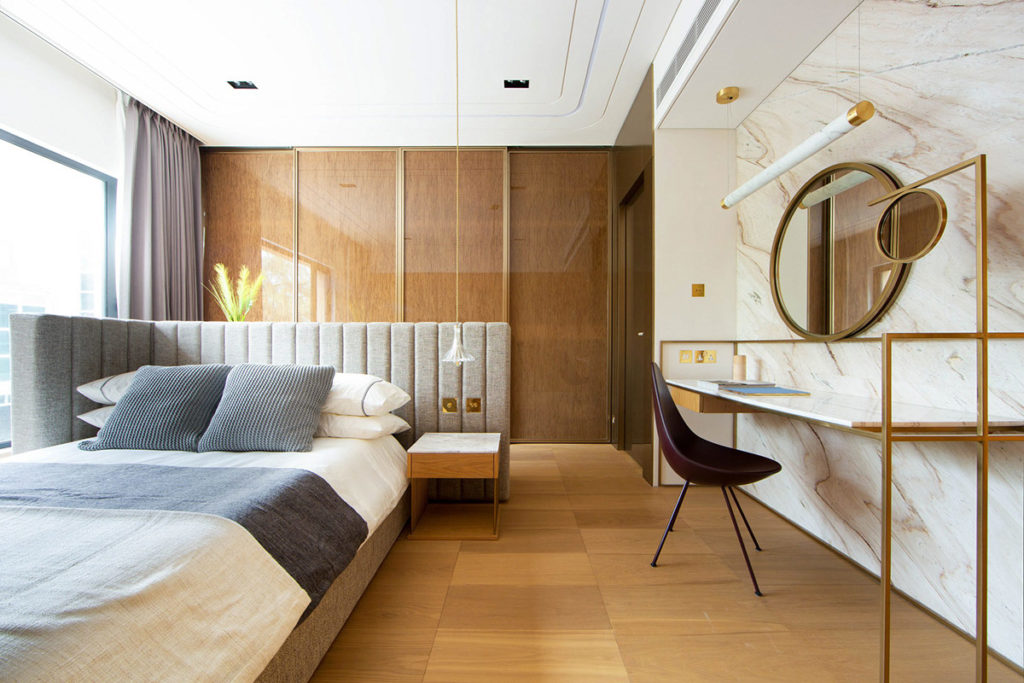 Pink bedrooms seem to be one of the go-to ideas when wanting to create a feminine bedroom. But that's oldschool and today's examples combines a soft pink in the lower part of the room with an olive green coloring the upper part of the bedroom. Keeping things minimal but highly functional is an empowering way to create a bedroom workspace design. Notice the hidden chair right under the computer monitor – it can easily be taken out and put away.
All 10 here: 10 Pink Bedroom Workspaces Showcasing Grace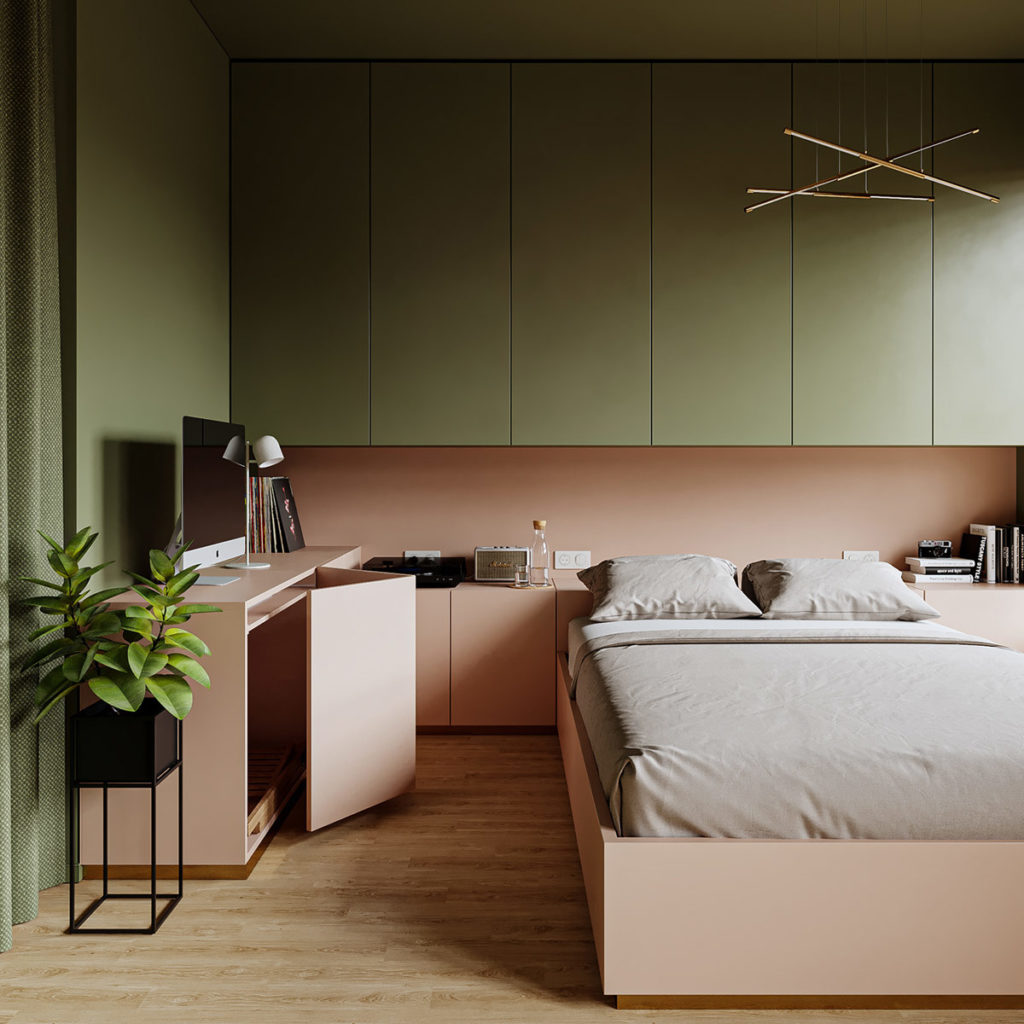 Masculine Bedroom Workspaces:
Our next 10 examples explore theseductive nature of dark bedrooms. These instill a stylish masculinity and fabricate private spaces to work from right in the bedroom. All the examples in the list have a dramatic showcase of dark glamour suited for masculine energies.
All 10 here: 10 Seductive Dark Bedroom Workspaces for Private Work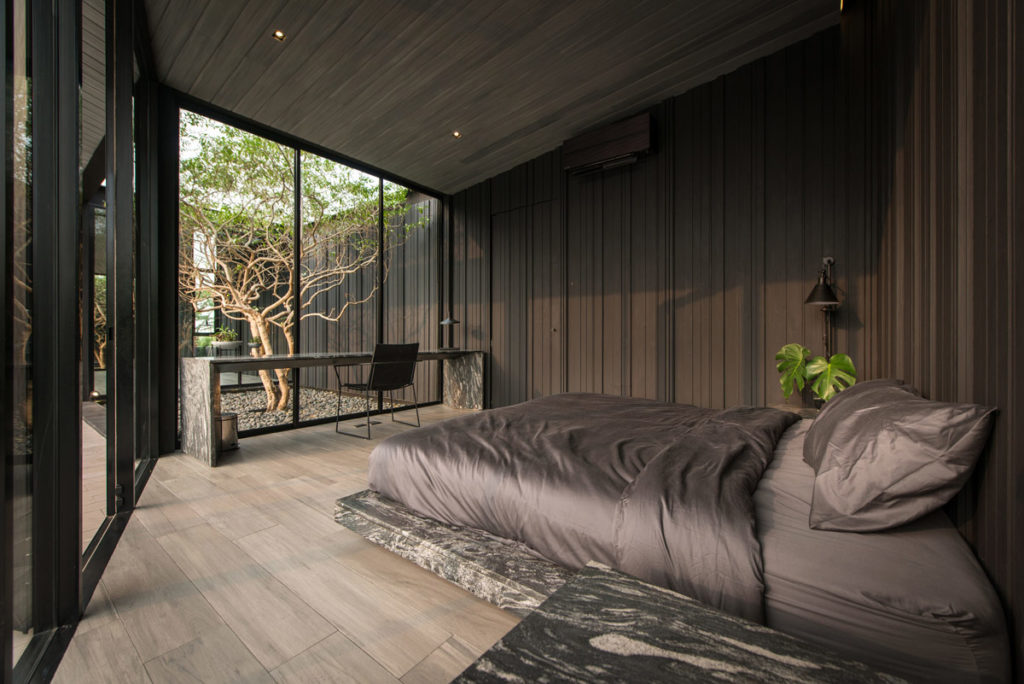 Next we have a modern bedroom in grey nuances that provokes the mind to relax in an environment that's also used for working. Luxury bedroom furniture chosen to compliment the overall look might be simple, but it's highy qualitative.A simple floating desk that penetrates both the stone accent wall and the mirror creates a subtle artistic vibe. Each floating desk in the list below has its own magical appearance.
All 10 here: 10 Floating Work Desks Sprinkled Around Modern Bedrooms
Functional Bedroom Home Office Spaces
Bedroom workspaces in soothing colors like wood and light grey create a neutral color scheme that can easily be split between sleeping and working. Using less colors makes it easier to create a compact bedroom design where a desk and chair combo makes for aa simple and effective home office setup.
All 10 here: 10 Modern Bedroom Workspaces In Light Grey and Wood
Capturing the elegance of nature can be done by showcasing any kind of green in your bedroom so that the workspace you create here feels soothing for both sleeping and working. The example below show a creative way of putting a desk next to the bed while visually sepparating the sleeping and working spaces by decorating the wall half with greenery, half with wood. Other examples of using green in your bedroom decor to create a natural vibe will have you rethinking your bedroom color palette.
All 10 here: 10 Green Bedroom Workspaces Making Deep Impact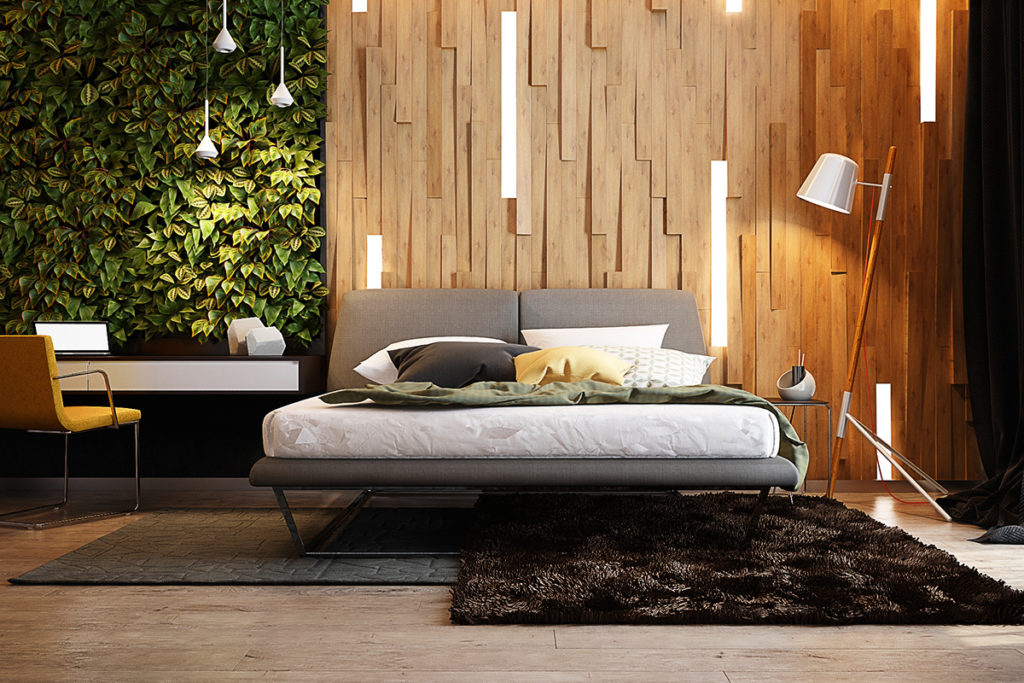 Kids & Teens Bedroom Study Spaces
Working from home or remote looks like a good skill to practice as children. These stunning kids room desk and chair setups will inspire you to choose the thing that most speaks to your kids. Inspiring environments create strong memories – we all remember our own rooms and what we used to do there when we were children. When you have siblings, the study space design plot thickens.
All 10 here: 10 Kids Double Study Spaces in Eclectic Bedrooms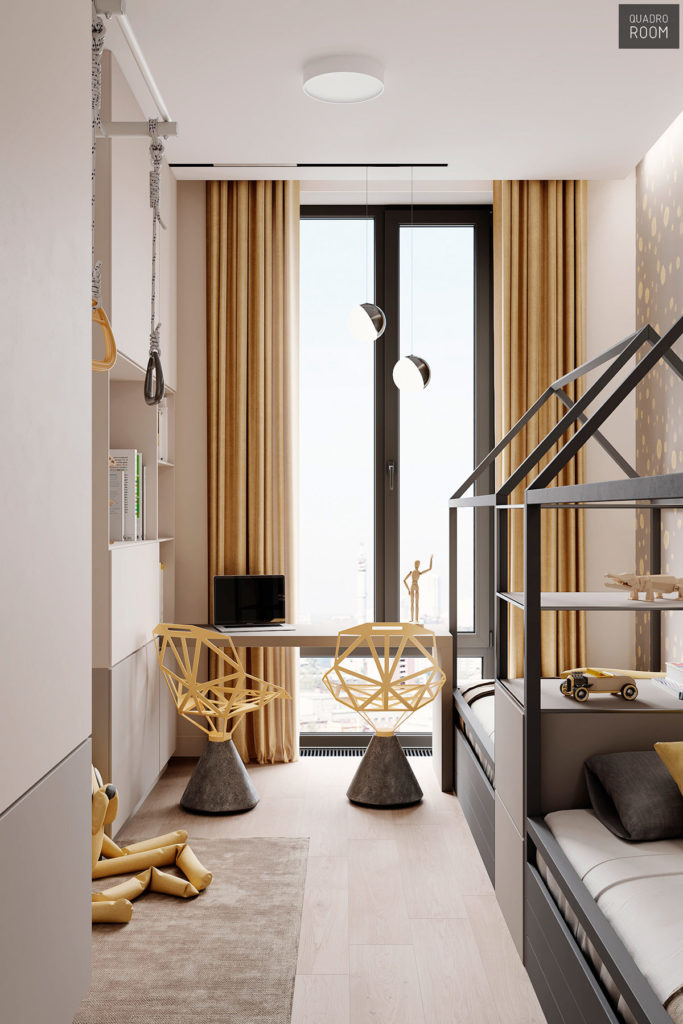 Teens that get to grow up in creative rooms where design creates an unforgetable mood must be loving their study spaces if theyțs like in the examples below. Imagine studying at one of the two custom made desks in this next example – how would you feel about creating an ever brighter future for yourself while enjoying the fantastic possibilities of today?
All 10 here: 10 Teen Bedrooms and Study Spaces for Important Years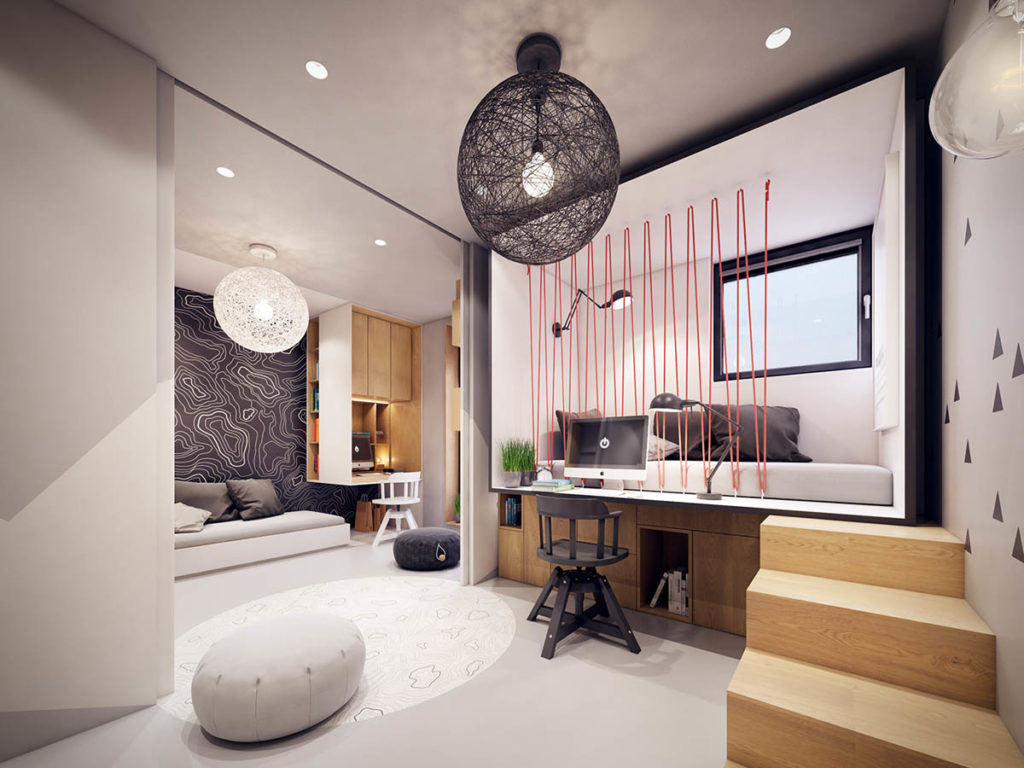 Our last list explores this custom part of making an impact with kids furniture. When designing an entire childrențs room from zero, some designers and architects get really creative. Here are some examples of how you can use custom furniture for kids to create a whole set of unforgettable childhood memories and a balanced, creative kid in the process.
All 10 here: 10 Ways Custom Furniture for Kids Rooms Shapes Inspiring Study Spaces
Assuming that you enjoyed these examples since youțve reached the end of the article, here are some more creative solutions so that adapting to working from home becomes easier:
30 Inspiring Workspaces Burrowed Under a Window
15 Modern Home Office Nooks to Spark Your Creativity