Stellar home office design makes for an otherworldly experience whether you're an adult or a child. We spend plenty of time in our homes nowadays. Since the rise of home office work, it becomes more clear how important our environment is for our mental health and our productivity. We find we need different things to be able to do our job (like peace and quiet) and that we miss others (like human interaction).
For those with their head above the clouds and for those with seedlings of hope in their heart, an interior design theme based on the sky, the planets, the "what is out there" can encompass your curiosity and display an artistic interpretation of how you see the world. Design can do that – catapult you into a fantasy world where you feel safe and productive.
These 6 home office designs (3 for adults, 3 for kids) blend needed functionality with modern design:
Stunning Home Workspace Inspired by Our Moon
Flashing a moon mural and a soft grey color palette, this home office room's design encourages the owner's display of personal taste. The other side of the room features snowboards shelved above an electric guitar, instantly creating an experience in your mind: the sound of soothing music while snowboarding under the full moon. Maybe your mind invented another scenario and this also shows the power of good design – to evoke different moods and wishes in every person's experience of the same room.
Moon Decor, Turquoise, Grey and Wood: A Home Workspace for Two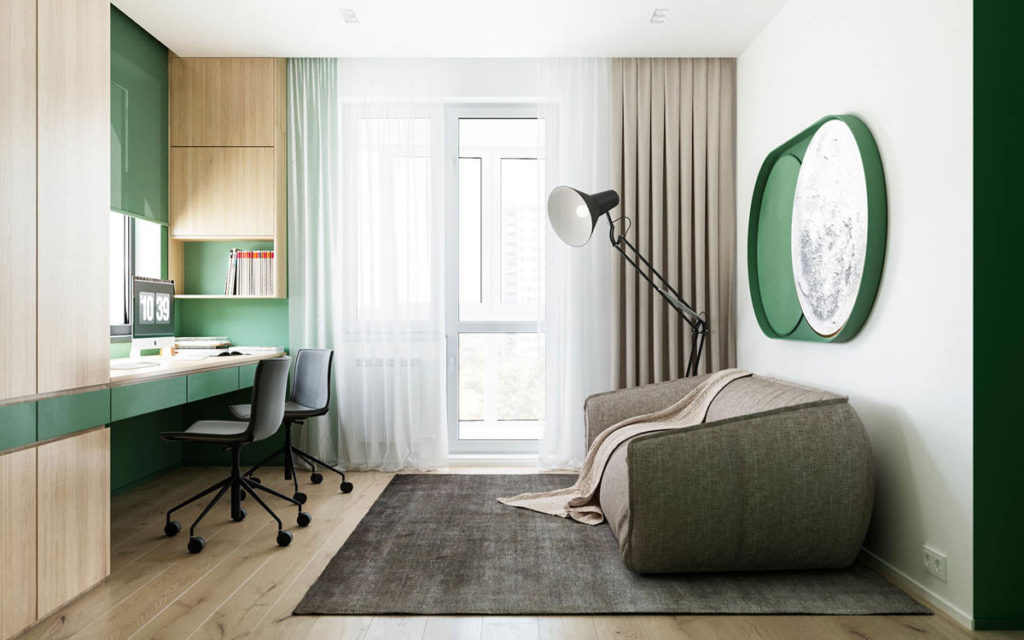 Functional minimalism can be employed to arrange a home office room so that it serves two people. Keeping everything else as clean as possible in terms of furniture makes it eaasier. The functional needs were assesed and then custom made to fit the space. This includes a color-matched moon decorative piece on the wall opposing the home office desk. It beautifully ties the two sides of the room together by using the same color displayed in the home office corner.
Darth Vader Themed Home Office Setup
This custom office comes in a shape not easily ignored. With its artistic interpretation of what it would be like to have a private yet imposing home workspace, this desk and chair set goes beyond the moon we see in the sky and further out into the streches of human imagination. Inspired by Vader's iconic meditation chamber in Star Wars: The Empire Strikes Back, this custom Star Wars furniture project appeals to all people in love with this particular sci-fi universe, be they young or old and everything in between. Imagination has no age borders.
Sleeping Under the Moon: Kids Study Space Decor
A deep blue bed that seems folded by design makes a great statement piece in an otherwise simple and clean kids bedroom. White and black walls and a soft grey floor create the perfect stylish background for a bed so inviting and visually appealing that all it needs is the moon right above it. After studying from the desk across the room, the kid can rest safely guarded by the little robot roaming around.
Astronaut Kids Study Space Built with Light
A simple yet effective way to create an astronaut-themed kids room is by using custom neon lights. Right above the desk, this type of light can create a good mood for your kid, while also decorating and illuminating the workspace. This kind of a setup encourages the child to grow up with passions, interests and to develop self-discipline the later serves them to work from anywhere.
Star Wars Decor Keeps Teenage Study Space Tidy
Teenagers sharing the same room can keep their room clean easier with the help of design. In a space that looks this amazing when it's clean, you would want to have something decorative like the Star Wars helmet to stand out, so everything around it must go. A triple study space right under the window encourages the kids to keep not only the room clean, but also their schedules.
Here are more kids room design ideas to browse for your creativity: