Using green to create a calming effect for your home workspace is a relaxing idea. If your home office is in the bedroom, you just extended your relaxation period (sleep and work) by simply choosing green as a main color.
Green is sometimes believed to help with fertility and is a stress-relieving color. So green insertions or deep green details can make or break a space that's already torn between being a sleeping area and acting as a home office.
Tropical Home Office Corner Design in the Bedroom
Visualized by Phạm Minh Quang, this tropical bedroom design blends warm wood with greenery, textures and sunlight to create an inspiring home office space in a corner. A tropical wall mural mirrors the choice of plants and textile patterns, creating an oasis where working from home can become as relaxing as a walk in nature without replacing nature walks. And just look at those surprising details – a modern fan in warm colors contrasts the concrete ceiling, rattan furniture and a jute rug layed over patterned floors – soothing mix!
More inspiration: 10 Modern Bedroom Workspaces In Light Grey and Wood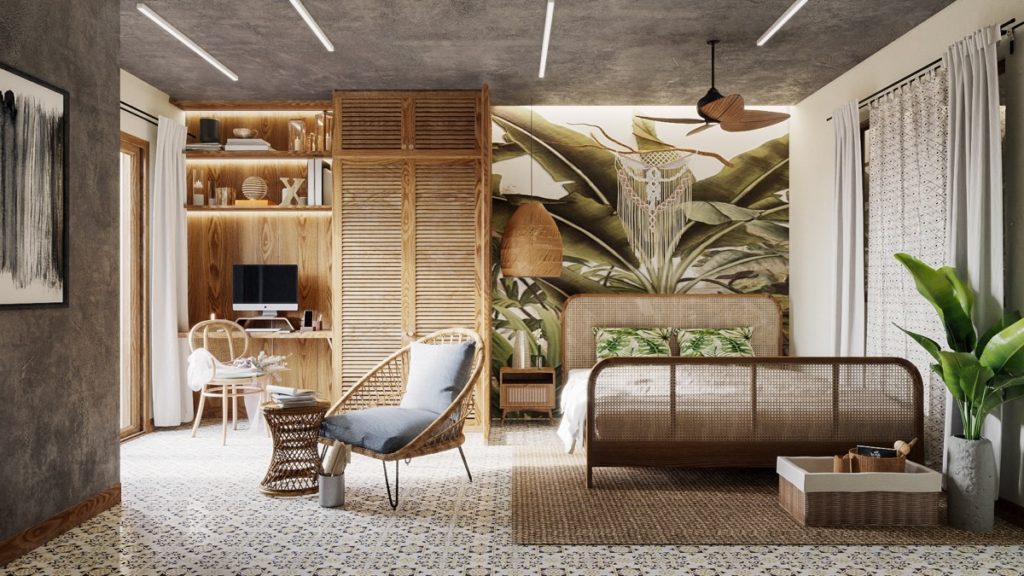 Green Living Wall Home Office Backdrop
Imagined by Solo Design Studio, this fascinating idea is so simple that it works like modern magic. A green living wall acts as background to rest your eyes on whenever they're away from the laptop. Accesorized with a slated wooden wall interrupted by lights, this hybrid bedroom space is both intriguing and stunning.
More inspiration: Glass Terrarium Home Office in Open Floor Plan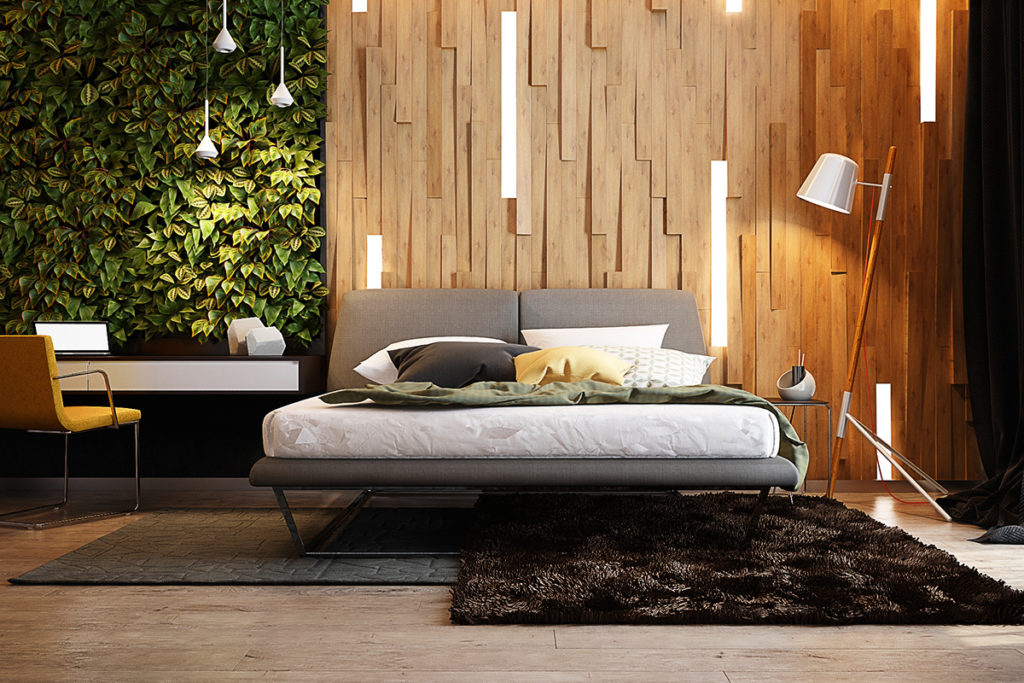 Dark Green Simplicity in Light-Flooded Bedroom with Workspace
This next bedroom workspace in green was visualized by Thao Uyen. A white background and white furniture make it possible for the dark green accent wall to pop out. Three plants hint to the inspiration, while the workspace under the window showcases a carefully planned space partitioning. This Cheerful Small Bedroom Boasting Spacious Work Area is also part of the designer's portfolio and the same house.
More Inspiration: 30 Inspiring Workspaces Burrowed Under a Window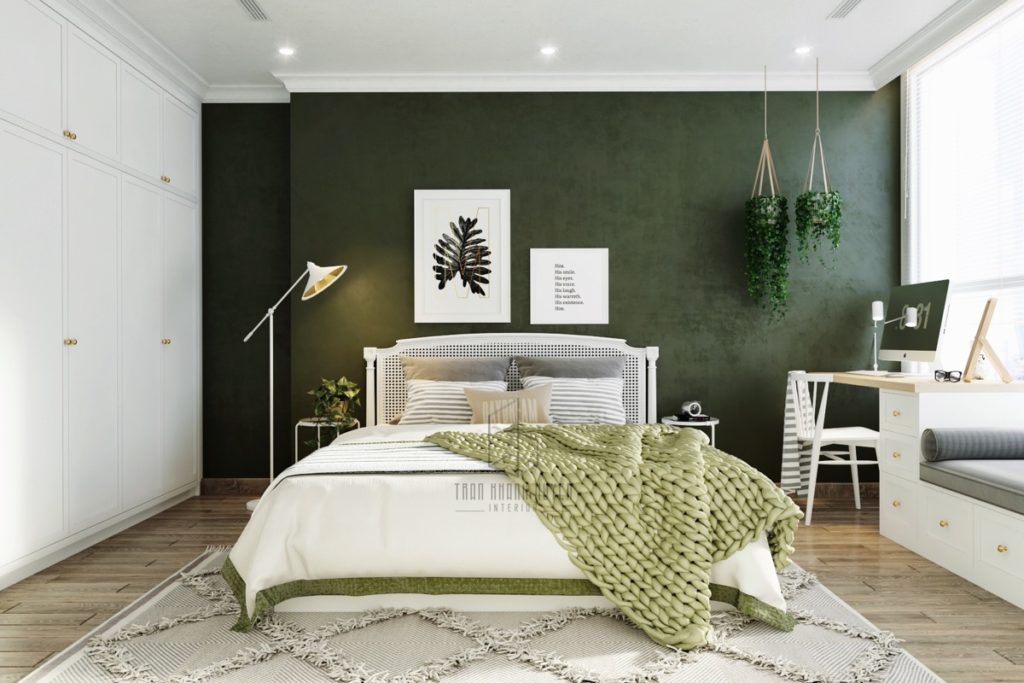 Minimalism at its Finest in Hybrid Bedroom Workspace
With a deep green accent wall and missing any other greenery mention, this stunning minimalist bedroom design by Kupinskiy & Partners is a dreamy space where relaxation and work intertwine. Vacation songs come to mind seeing this simple and powerful design empowered by ambient lighting.
More inspiration: Light Creating Multiple Moods: Bedroom and Workspace Combined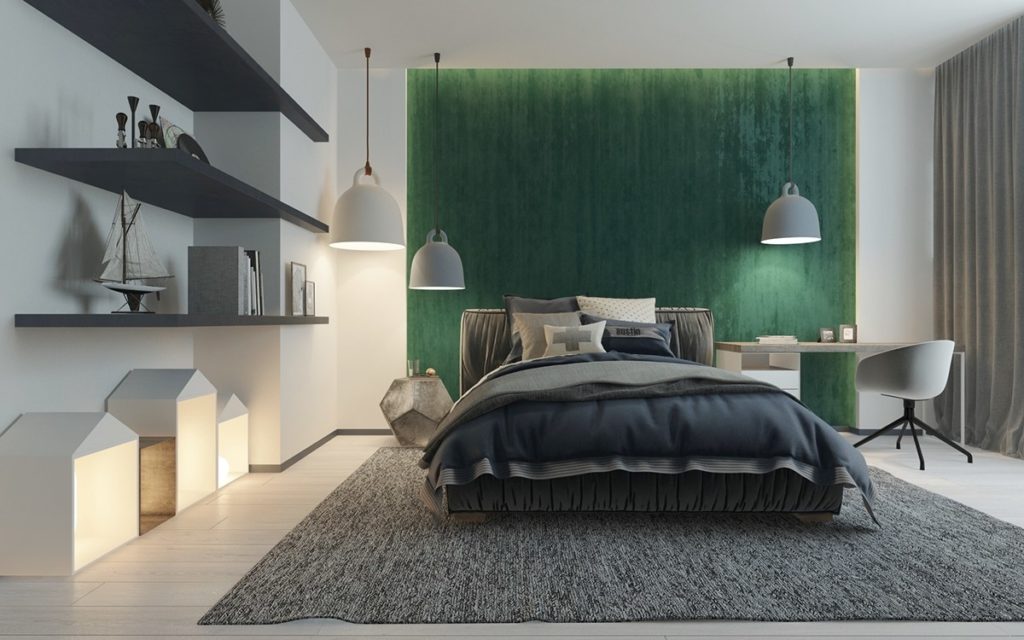 Bespoke Workspace in Dusty Green, Grey and Wood Bedroom
Visualized by BeVidut, this dusty green paint work gives a more relaxing vibe to this bedroom. Near the window, a grey and wood bespoke furniture setup makes up the workspace. This is a great idea for small apartments where you can fit in extra elbow room in the bedroom. Yellow details were dotted here and there to brighten up the mood even more.
More Inspiration: 10 Composed Workspaces Defined by Color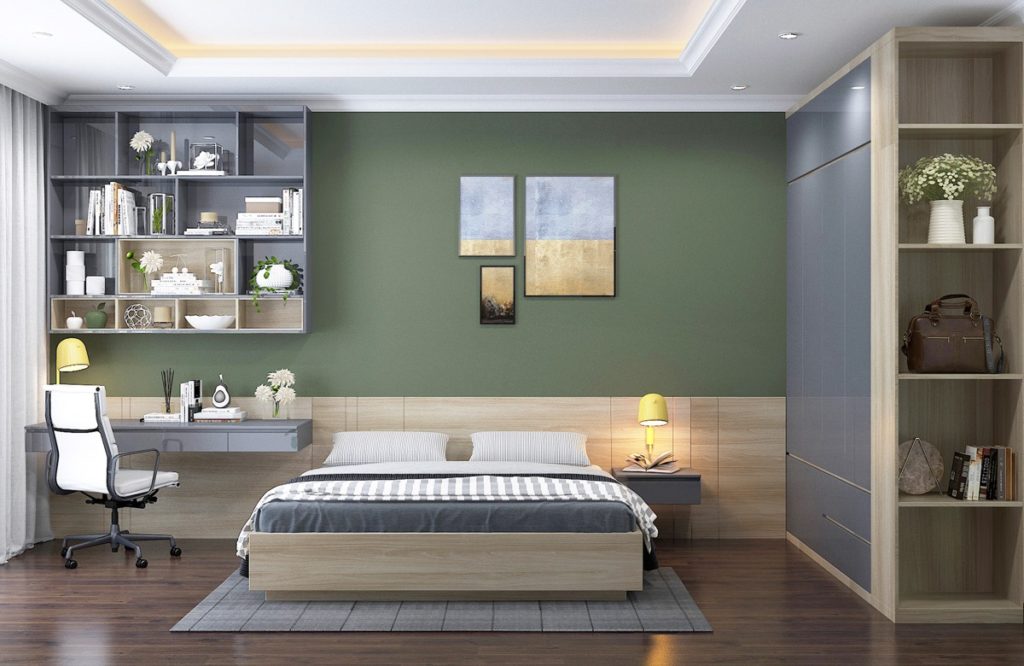 Rest and Work from Home in the Misty Forest Bedroom
Visualized by Mai Anh Nguyen, this bedroom uses green in a different way, one readily available on the market. A forest green wallpaper lines the wall behind the bed and small workspace, building upon the wooden floors and bespoke furniture to give off a natural vibe. Setting a relaxing vibe with an extra painting on the wall and opening the space up to direct sunlight via huge windows, the designer managed to create a soothing atmosphere for resting and working.
More Inspiration: Modern Bedroom Workspace Nook Divided by Design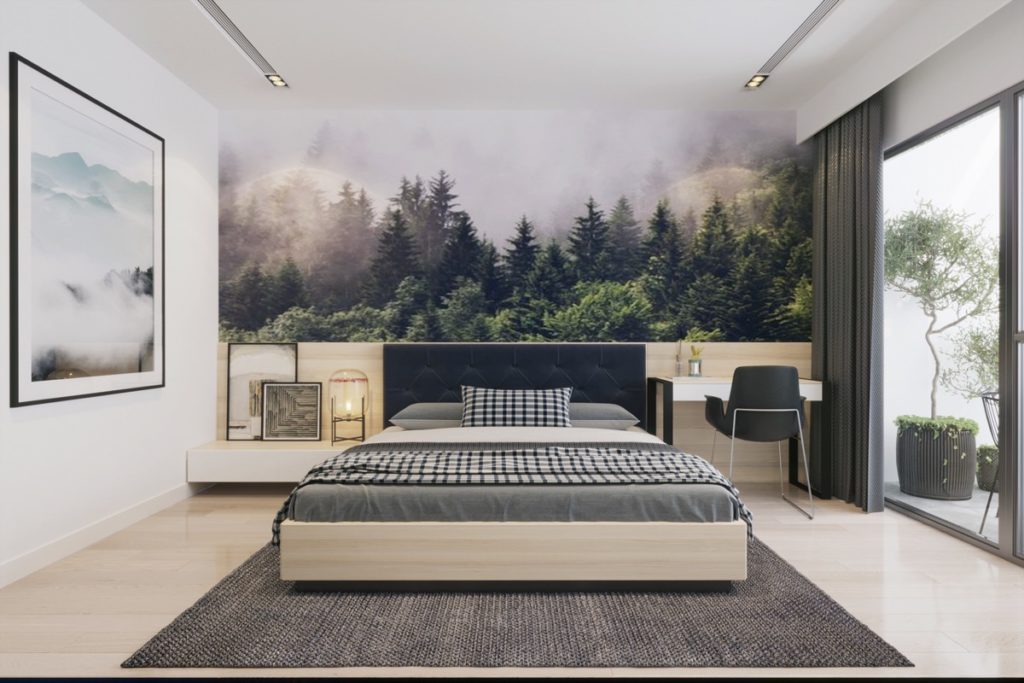 Bespoke Furniture in Bedroom/ Workspace Hybrid
Imagined by Imade Pastel, this bedroom workspace plays with volumes and geometry to construct a well-fitted room. Using a diagonal paint job split between green and white, the space was easily transformed from boring to inspiring. This allowed the design to support a colored shelf, while the platform bed underneath supports the base for the integrated bedroom workspace – and all this, in a rather small bedroom!
More inspiration: Colorful Geometric Illusion Shapes Home Workspace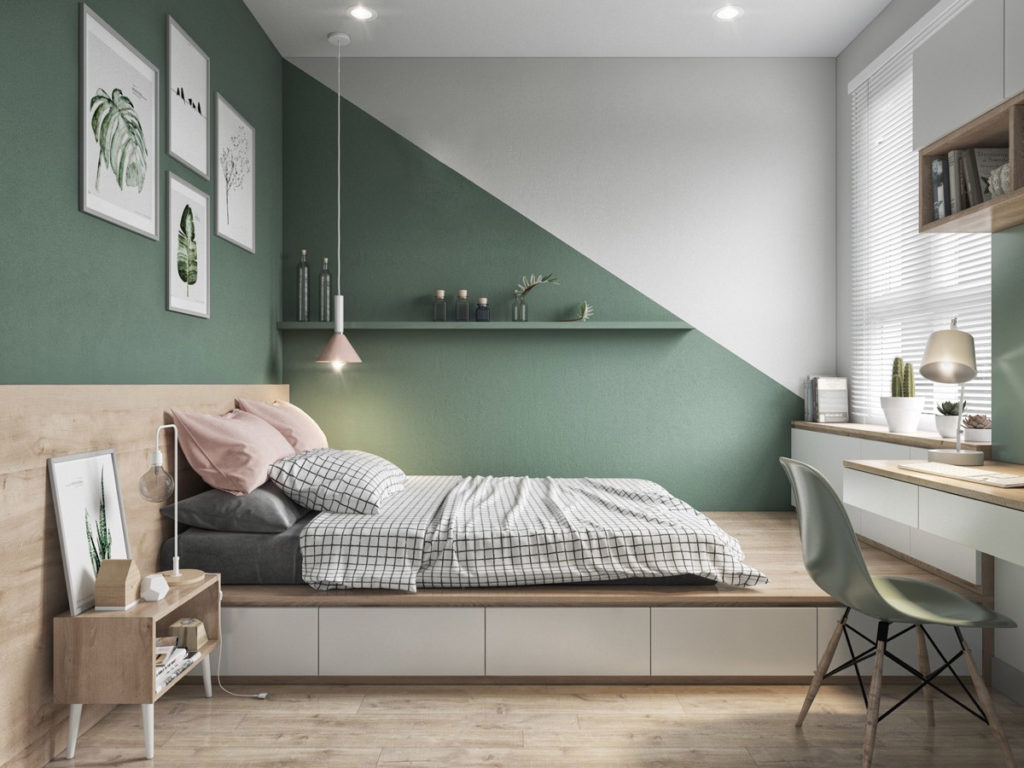 Deep Green Luxury and Cognac Colors
Cartelle Design imagined this luxurious bedroom in deep green hues mixed with warm wood and a cognac-colored chair at the workdesk. Elegant walls combine modern minimalism and classic lines, deep green and wooden texture. Contemporary lighting fixtures further underline the high-end intention for this space.
More inspiration: 10 Seductive Dark Bedroom Workspaces for Private Work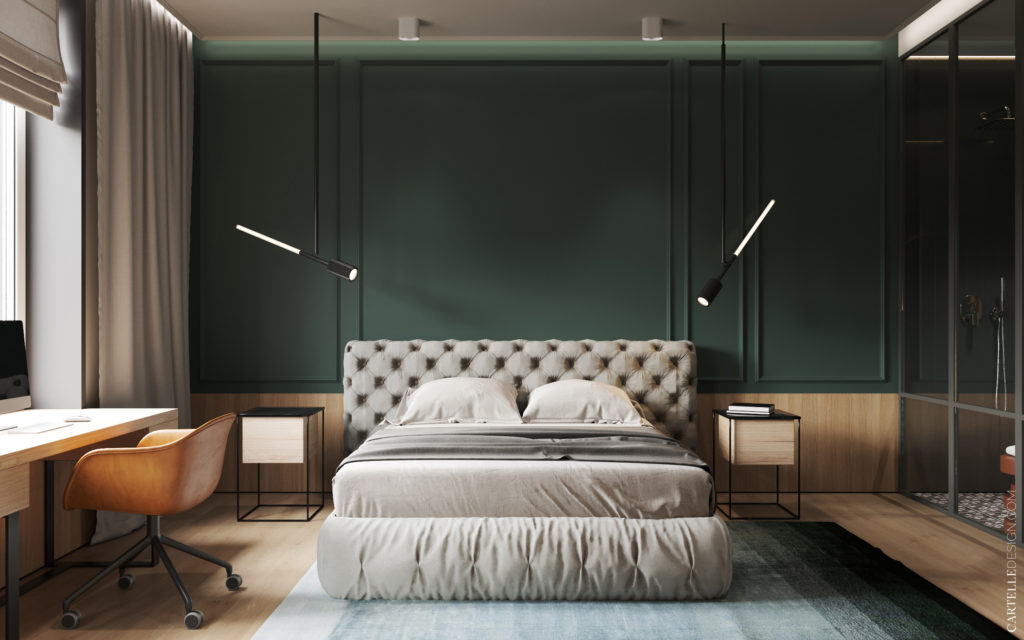 Colors Defining Different Zones in the Bedroom
Imagined by Dang Nguyen, this modern bedroom was compartimented into different functions using colors and textures. The work from home area on the right is set in deep green, while the bed side was imagined in dark paint and flanked by wood on the ceiling and the platform that supports the bed. Matching the wall shelves and furniture to the wall paint makes it easy to integrate the design into the concept and underlines the visual division between work and rest.
More inspiration: 10 Dark Home Offices Soaked in Dramatic Glamour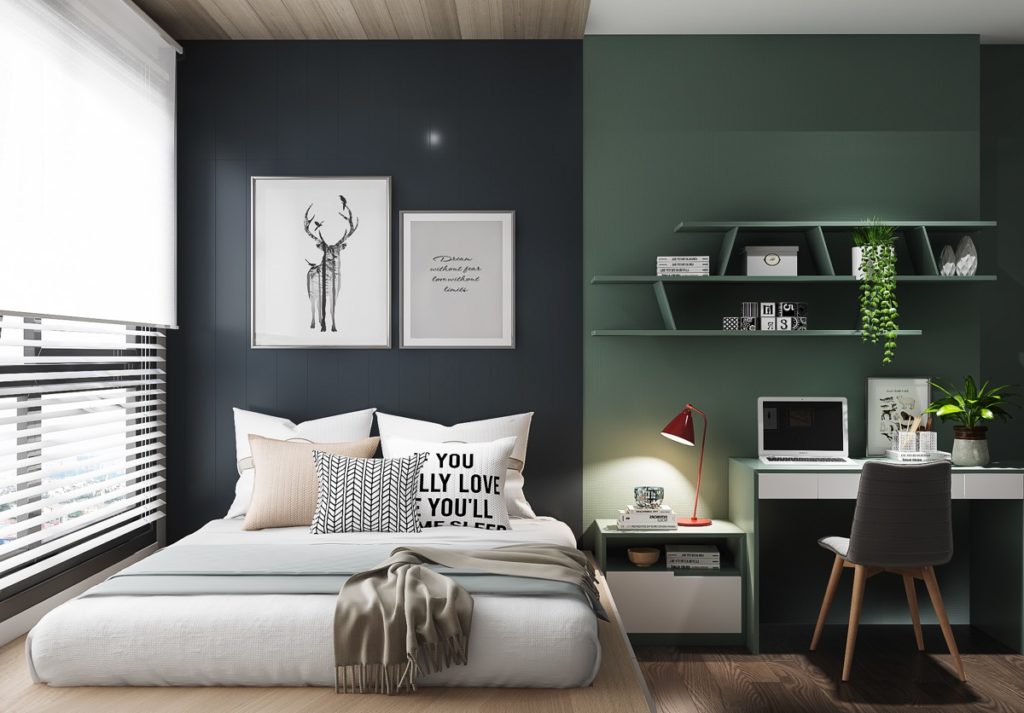 Vanity or Workspace in the Bedroom?
Our last example of how to use green to create a relaxing atmosphere in your bedroom workspace was visualized by Quân Xiền. We know how easy a vanity can become a temporary home office, just add the laptop. We went deeper into this particular subject with some inspiring ways in which the table you use as vanity can act as a home office.
More inspiration: 10 Multifunctional Bedrooms – Vanity to Workspace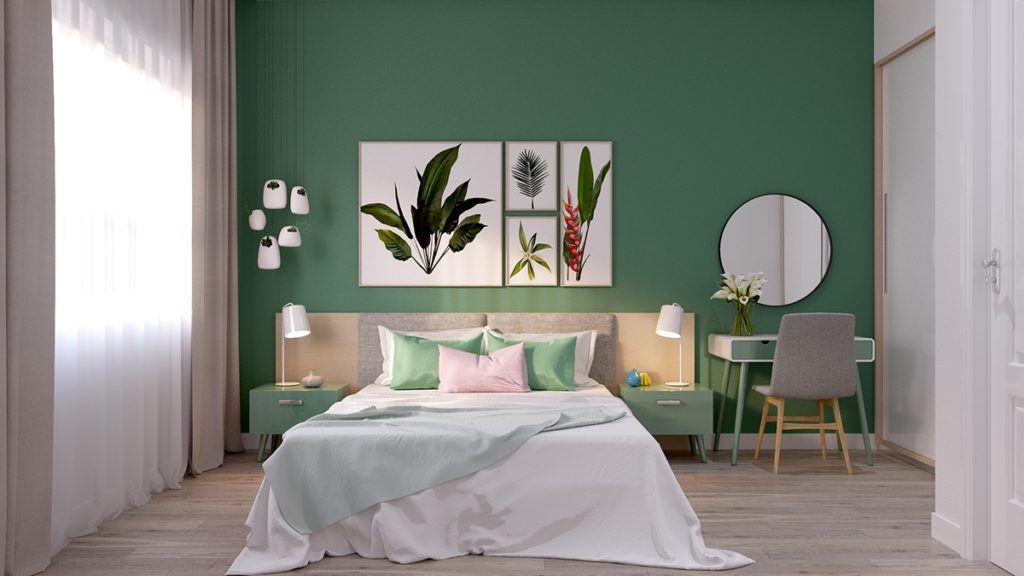 Since we're at the end of our list and we've shared more home office inspiration along the way, we end this article with a few more eye-catching workspace designs:
10 Remarkable Mezzanine In-Home Workspaces
10 Double Workspace Designs: Sharing Your WFH Setup