How much of a good thing is a bad thing? Because this home office with a big terrarium is an actual dream in such an environment like Spain.
Placed right at the entrance of this home in Barcelona (like this other glass-enclosed home office), the work desk, chair and desktop computer are hidden behind a floor-to-ceiling terrarium that livens up the whole space.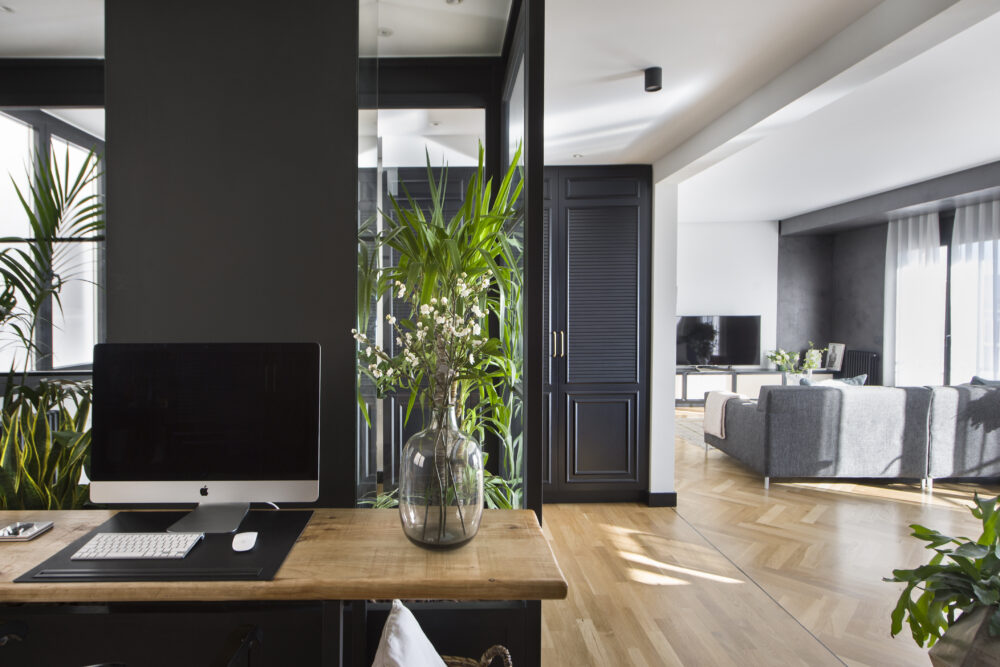 This Living Hub, as named by its designers at studio Egue y Seta is in love with greenery, since plants are seen everywhere.
And yet placing the workspace right at the entrance but making it invisible from that vantage point with the help of plants is an amazing idea for a Barcelonian home.
The use of concrete walls keep a cool atmosphere both in temperature and visually, making this home an inviting living and working space.
Right here, behind green foliage enclosed in glass and framed in black metal, a spacious wooden desktop makes for a permanent work from home spot.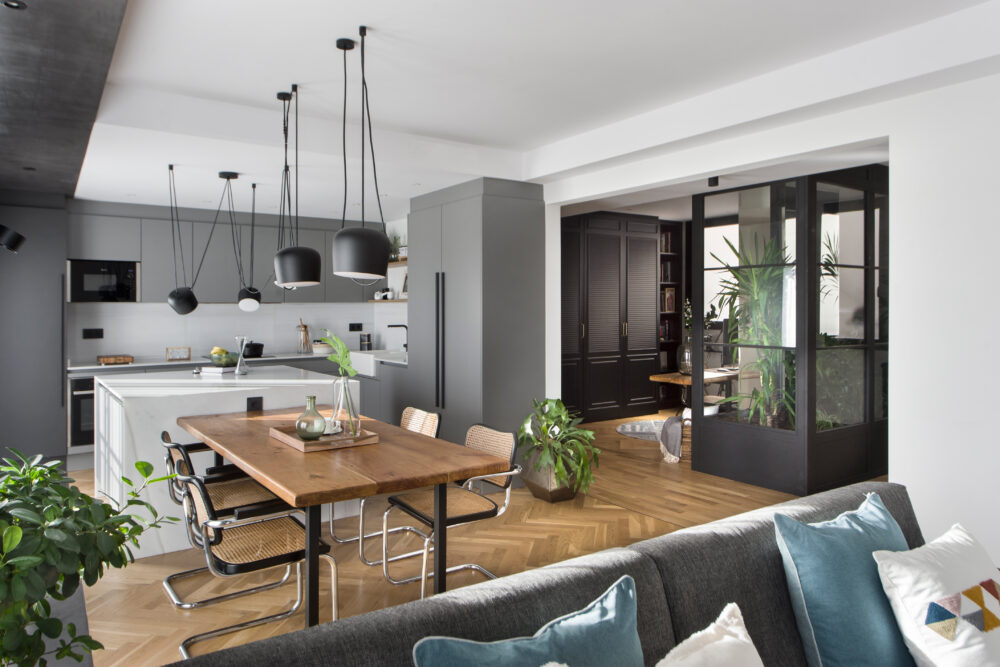 The wood and metal desk rests on metal on one side and offers a few drawers for storage on the other side. A large black framed window flooding this space with light was a big reason involved in choosing black storage space on the wall opposing the workspace.
A color-coordinated chair invites to work, yet reminds the owner that life is not all about work, since the same kind of chairs are present at the dining room table.
This can be an inciting way of working smart not hard and reducing hours behind the screen. I mean, they do live in a sunny place like Barcelona. Spending too much time working from a computer indoors is not the best choice, even if you do look up from your screen to see a stunning interior design.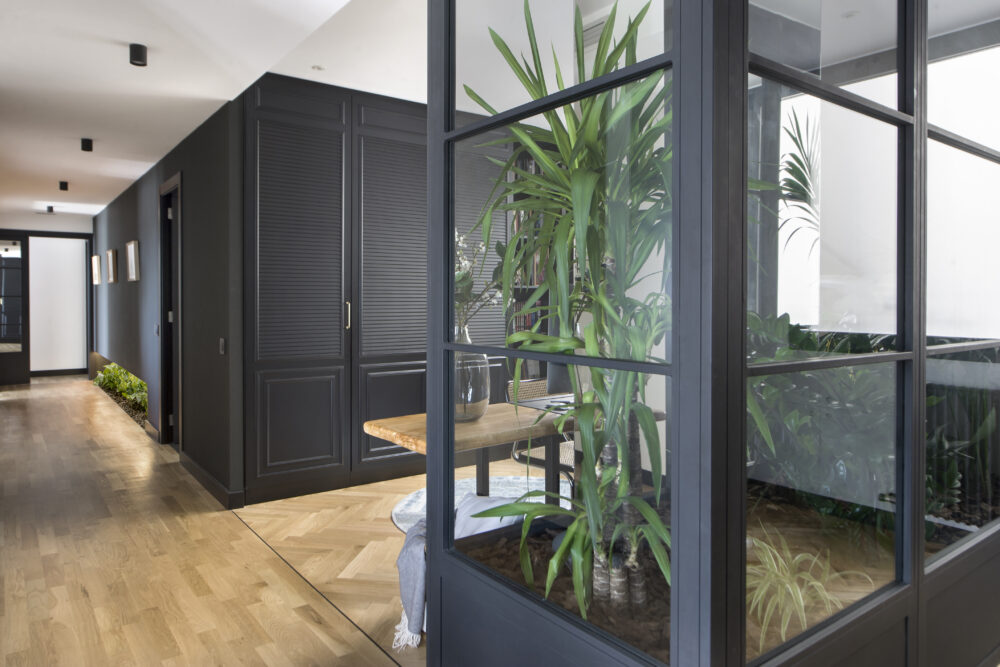 This is what designers say about this home office: "The "ideal home" we bring to you today, offers what they all do: A place to share with your loved ones in intimacy, but also, and within the usual square meters, this particular home manages to integrate, through versatility and hinges, a series of spaces devoted to work, remote socializing, relaxation, insight, and evasion, all framed within an illusion of exteriority and close contact with nature."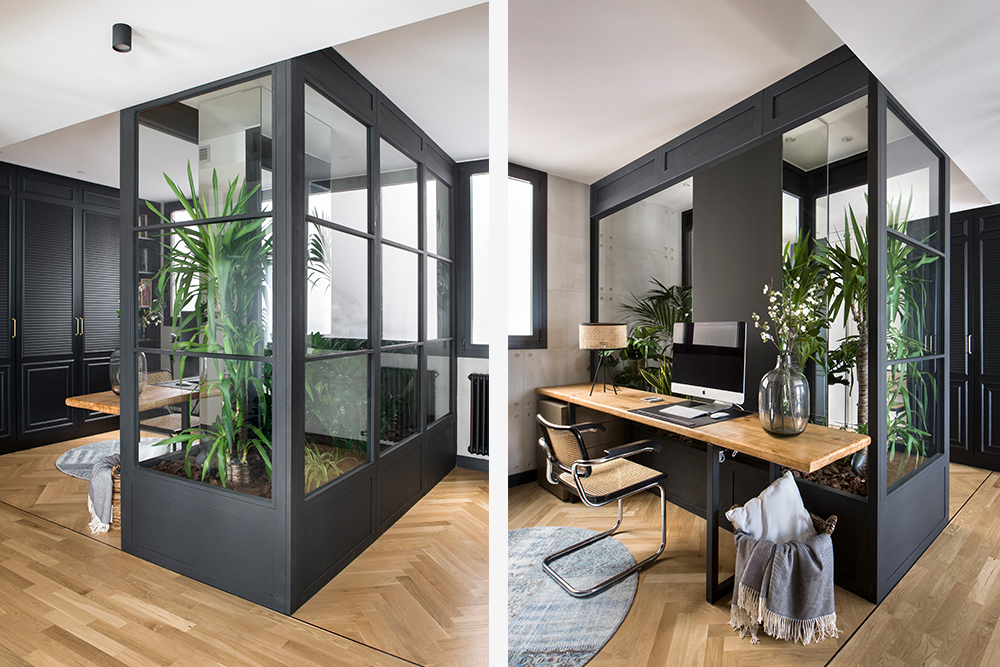 Once you come inside from the walk inspired by this fascinating space, you might want to look deeper into these ideas on how to make your own glass home office space:
Glass-Enclosed Home Office in Metal Framed Space