Modern home office nooks can be set up in any room of the house, even in places apparently left empty due to lack of space. In the case of setting up a workspace nook for your home, you might just need a ledge and a chair alongside your laptop.
On the other hand, you might need to fit in as much things as possible in a home office nook without overcrowding it. Exploring different ideas can give you the spark of creativity you need to create your own custom version of a perfect home workspace. Let's venture into the captivating design details of these next 15 examples: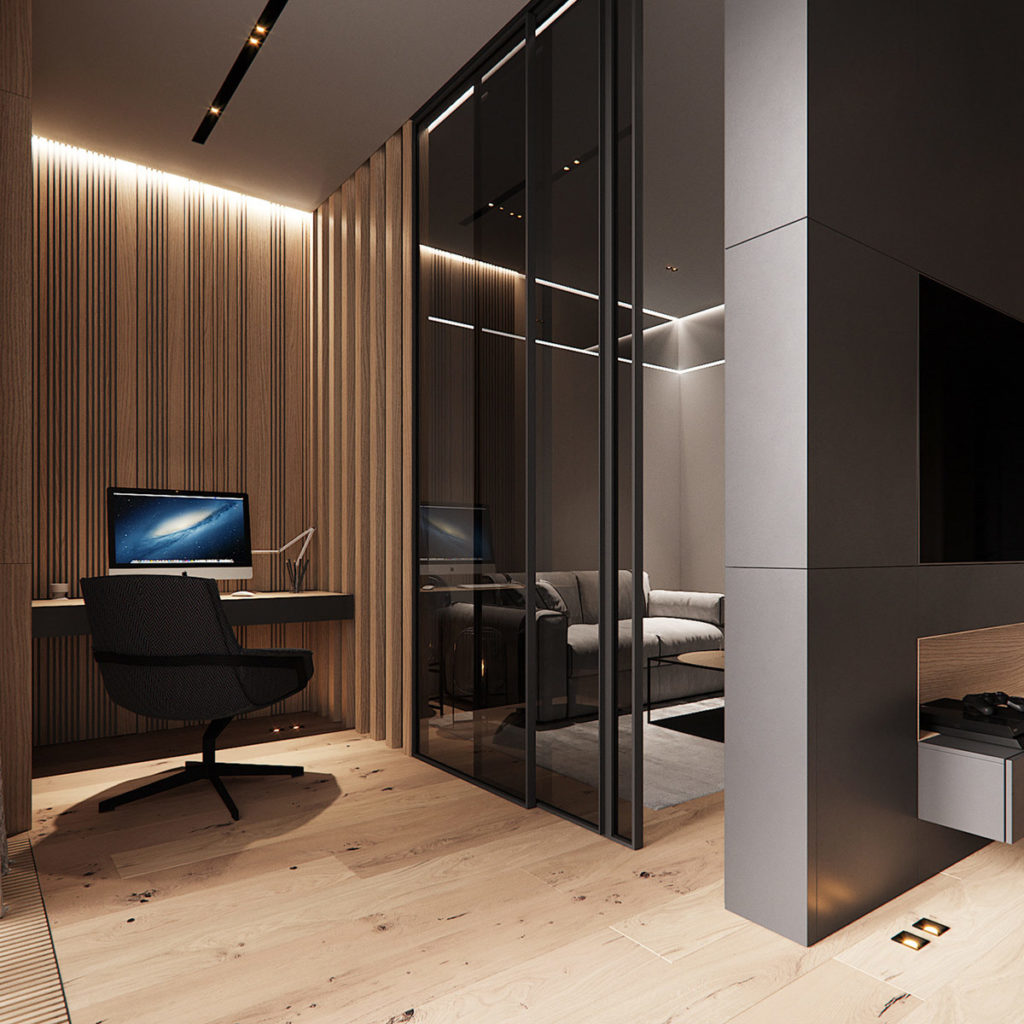 This first home office nook decorates a highly modern corner of a Kyiv apartment. Notice the beautiful way designers chose to elongate the space upwards using slat walls in perfect harmony with the chosen material palette. Soothing the mind with the help of natural wood finished in an artistic geometry, this corner was intended to support the owner's uninterrupted work flow.
More: 7 Wood Slat Walls Defining Home Office Spaces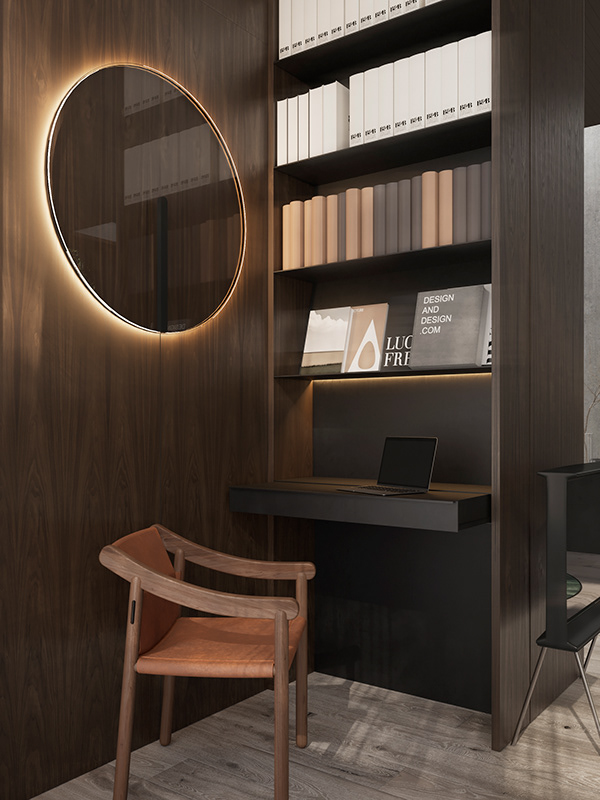 Modern home office nook ideas also come in the shape of a furniture's ledge. A small laptop and a chair is all that's needed to shape a temporary or permanent workspace. Hidden in a corner of the living room, this space was imagined to complete the rest of the house, provided the owner can be quick on the feet in case work needs them somewhere else. This is also one of the big advantages of a small, temporary home workspace.
More: 5 Convertible Work Furniture Pieces That Save You Space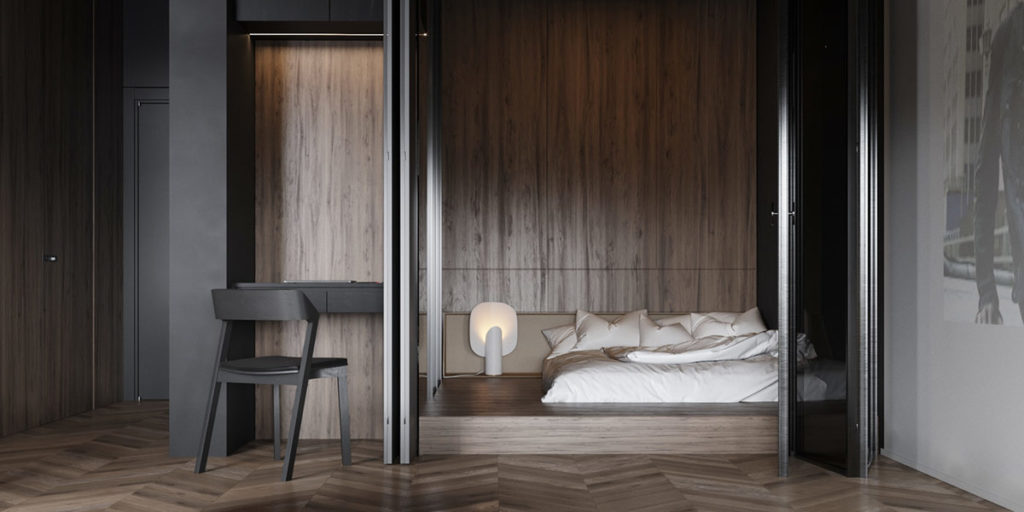 Choosing dark grey modern decor for your home is a winning decision when combined with the power of minimalist home design. This home office nook was cleverly intergrated within a home space that flaunts a platform bed behind a glass wall curtain. This example above showcases the way a good designer can create a functional and visually appealing home and work space while keeping things simple.
More: 7 Glass Home Offices to Inspire Your Own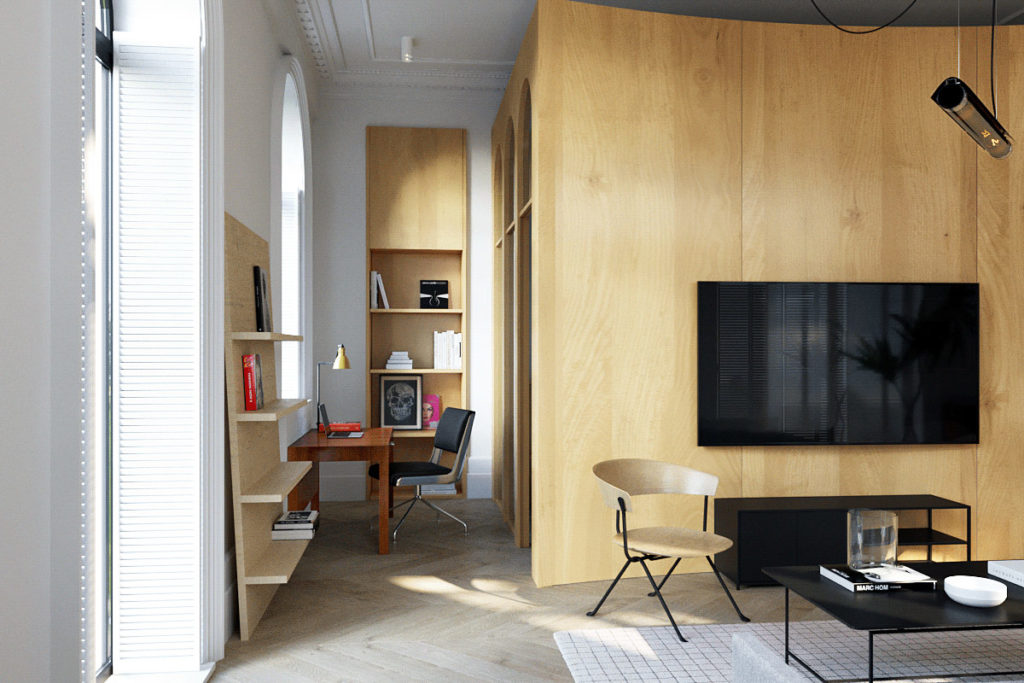 This modern home office nook shown above is actually a corner of a large studio that was compartimented with the help of a panelled structure that accentuates a marriage between of new solutins and old charm. The high room decorated with an elegant ceiling cornice contrasts the modern wooden panels that compose the functionality of this particular open space. The corner home office was designed to respect the old arhitecture even in the smallest details: the library shelves were carefully leaned against the wall, not to disturb the pre-existing old-fashioned beauty.
More: Majestic Luxury: Modern Meets Classic Workroom Design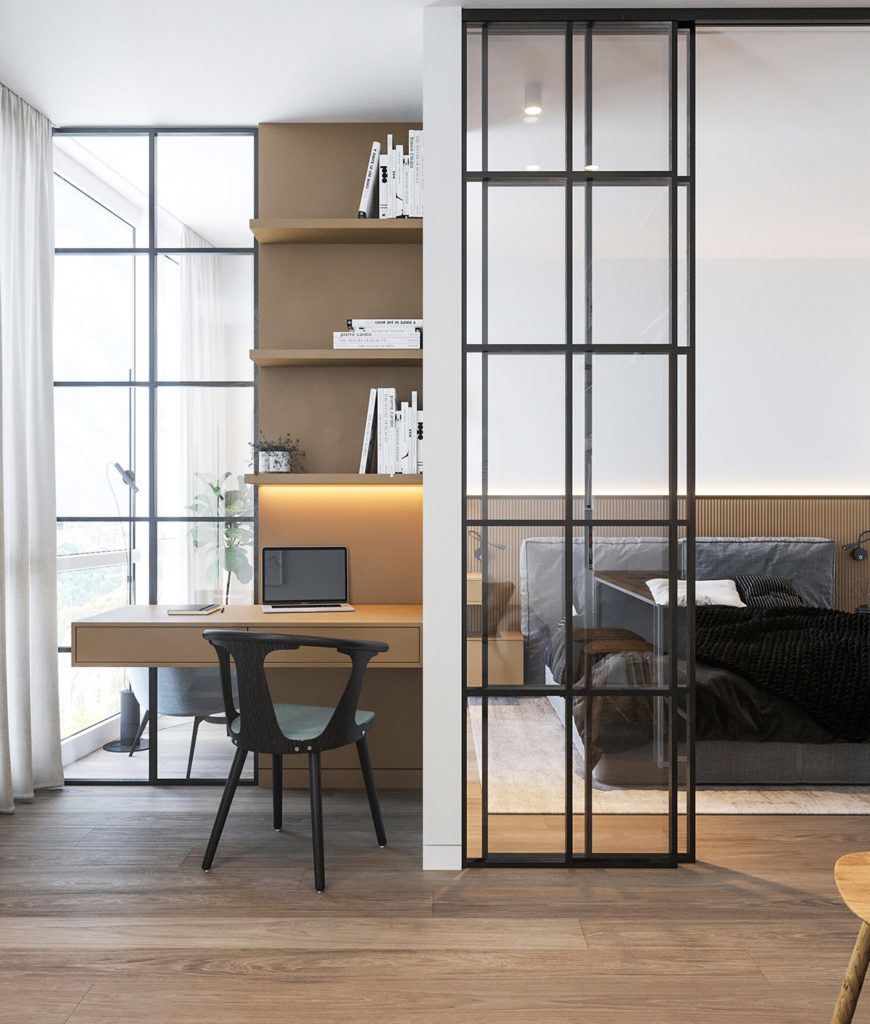 Keeping with the modern twist of a minimalist home office nook, the example above elegantly discovers the usefulness of black framed glass to differentiate between spaces. Allowing natural light to flood in while offering partly obstructed views out the window to rest the eyes when necesarry, this home office nook uses a floating desk to create a fascinating double functionality.
More: 10 Floating Work Desks Sprinkled Around Modern Bedrooms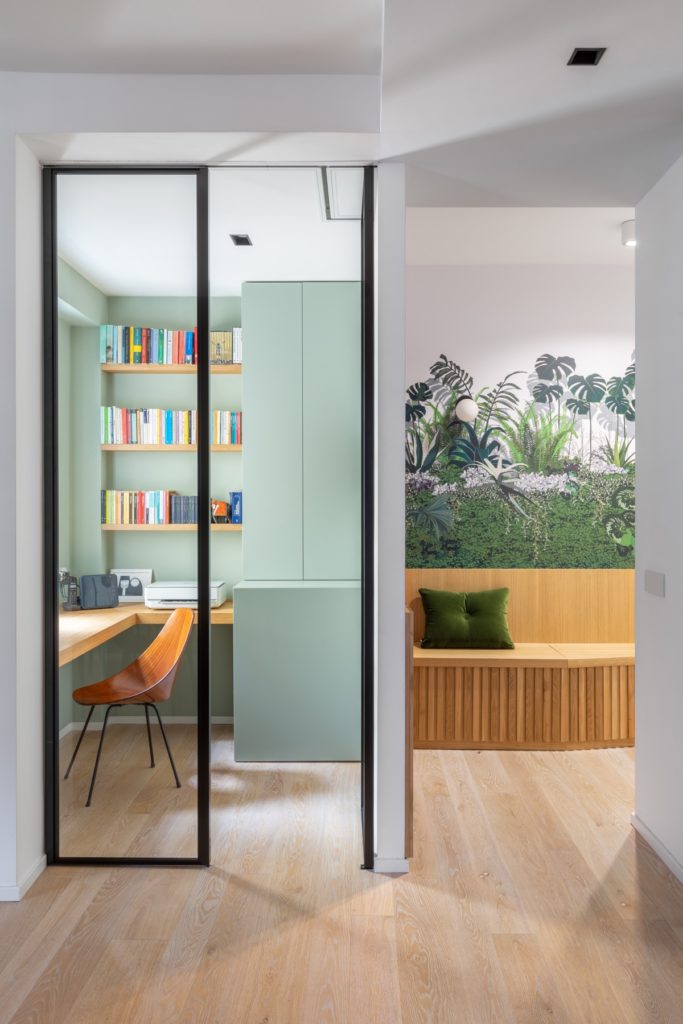 Another beautiful home office nook design idea implemented in a small balcony gives us a more colorful perspective on home workspaces. Using a soft color palette with a strong mint green mood allowed the design to be underlined with an edgy dark frame. This still feels homey thanks to the soft flow between these two spaces – the home office nook and the living room translated into the uninterrupteed wooden floor and a glass wall to keep privacy while still maintaining visual contact.
More: 10 Green Bedroom Workspaces Making Deep Impact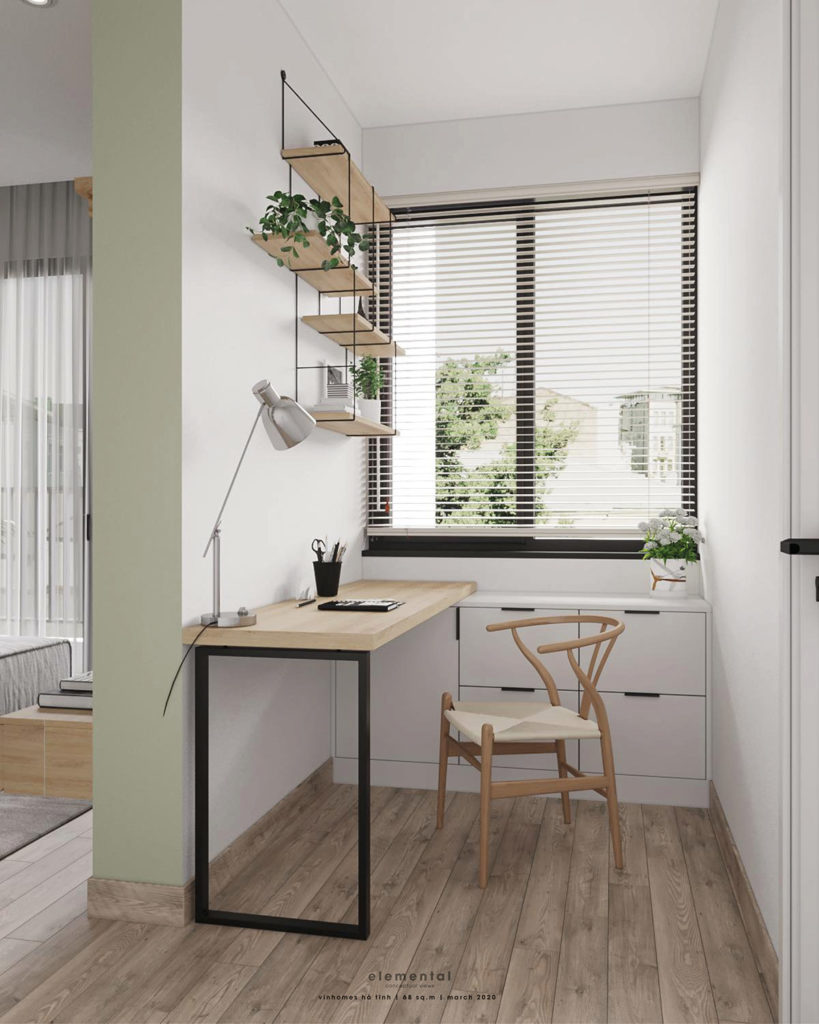 A corner with a window might be just the thing you notice when browsing your home for a place to set up a workspace. A small nook is all you need, and when it comes with natural light, you might want to see how you can take full advantage of this. This home office nook is tucked away just around the corner from the living space. Just like the example before this, using strong black lines in the design gives stability and induces the idea of a framework to build your proffesion on.
More: 10 Modern Bedroom Workspaces In Light Grey and Wood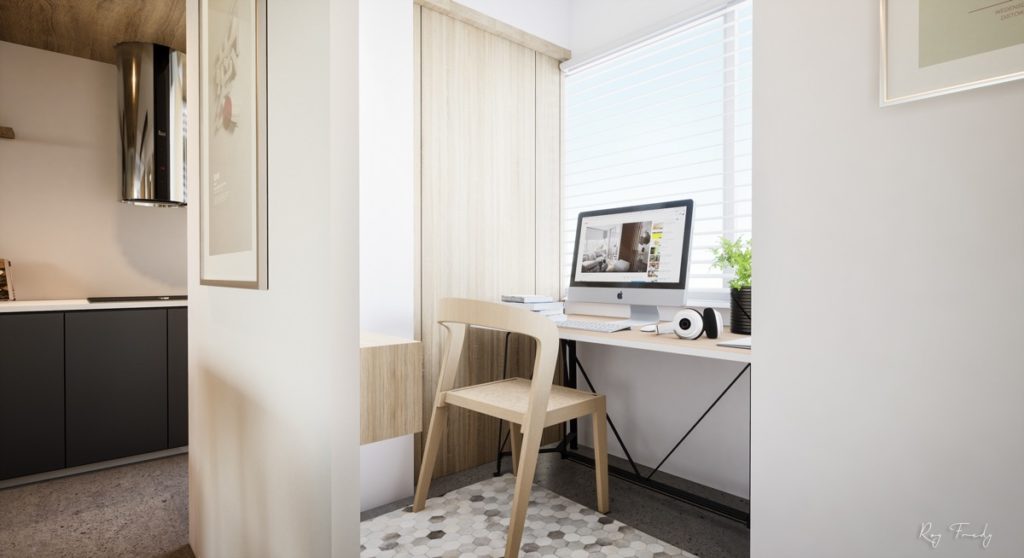 While a balcony is a good place to set up a home workspace, it's also a more quiet, isolated choice. This helps when you need to stay focused for work when you are easily distracted. A home office nook can have you snuggled in a corner where your productivity can thrive uninterrupted, especially when you keep the color palette calm and soothing.
More: Light Creating Multiple Moods: Bedroom and Workspace Combined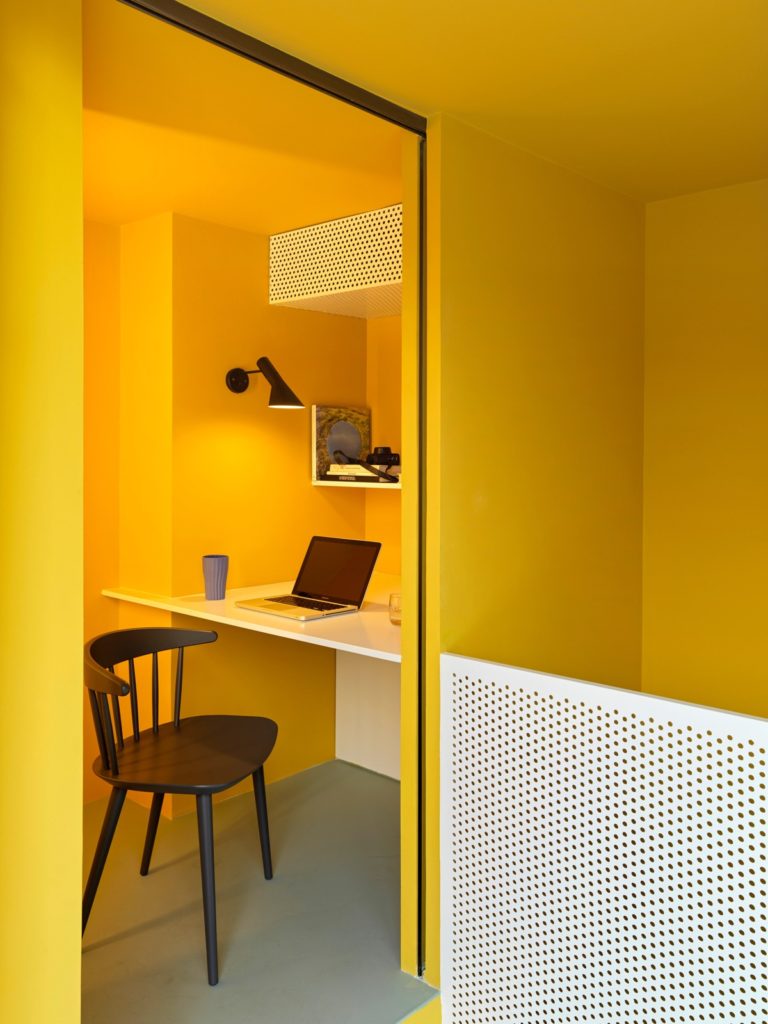 On the opposite spectrum, courageously blasting yellow all around this small home office nook forces the design to be kept minimal in order to play with this sense-exciting color. Grey floors, white insertions and a contrasting black chair compose a workspace nook that can be isolated from the rest of the house with a panel that slides into the wall. The bright yellow is found throughout this two stories home, cheerfully connecting the spaces.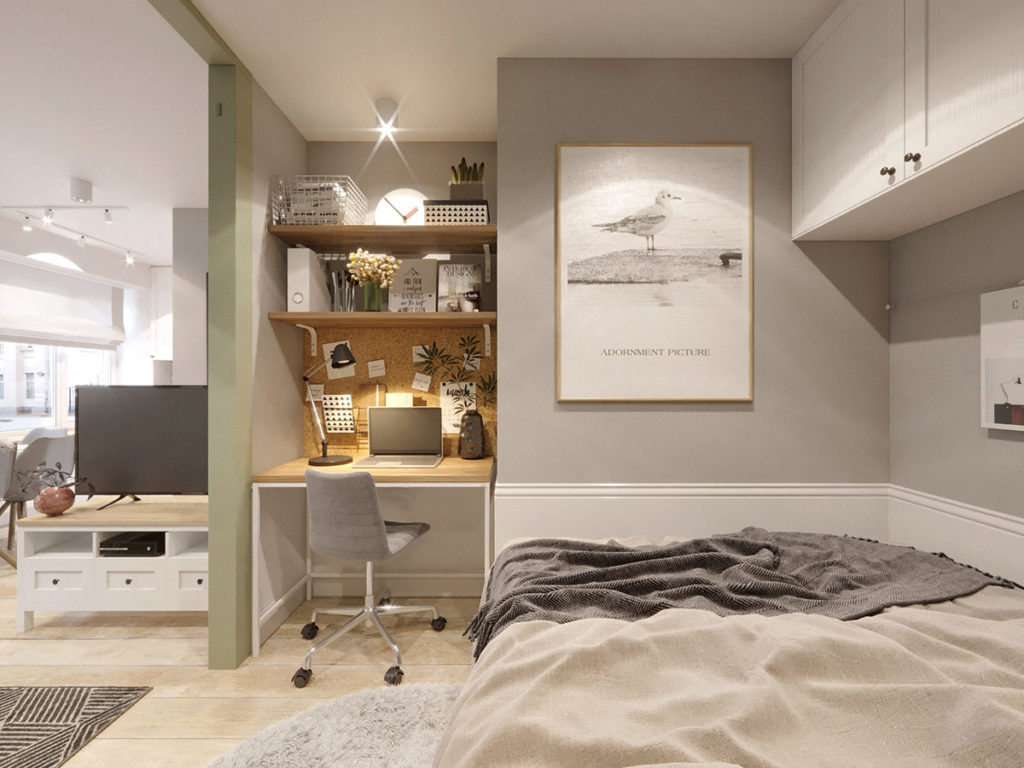 Returning to a softer use of colors, this next example shows that even a corner of the bedroom can fit a desk in a nook when space is hard to find. The example above takes advantage of a very small space to host a rather lofty home office, complete with shelves and a pinup board to keep important things in sight. Even the double bed was pushed against the wall to make more room in this tight home space for all the needed functions.
More: Modern Bedroom Workspace Nook Divided by Design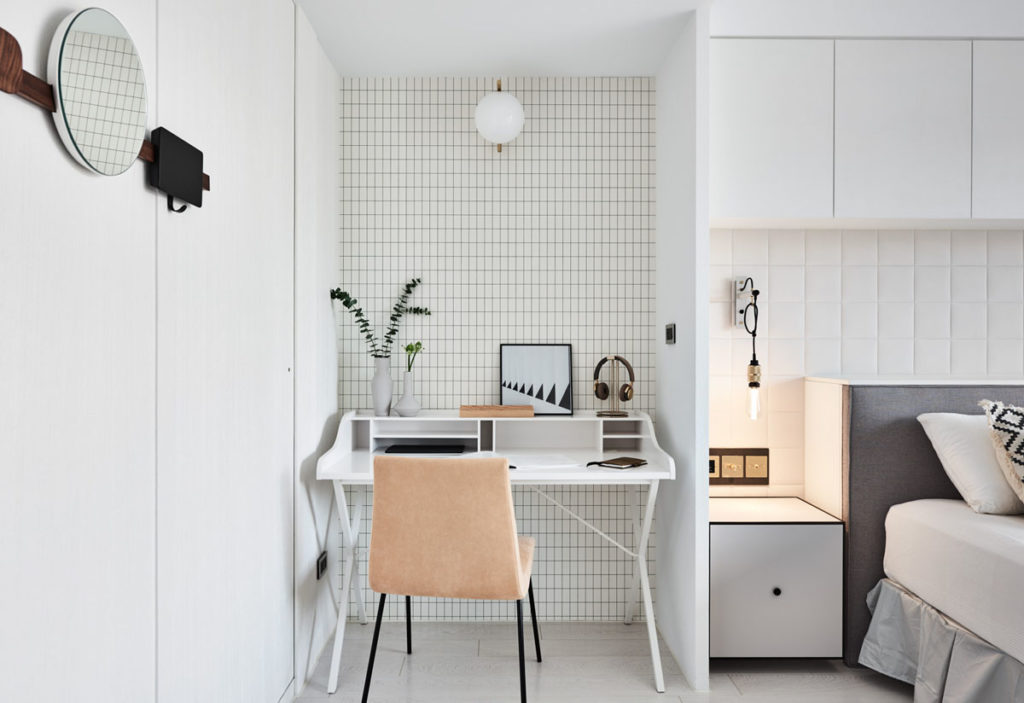 Partially separated by a superficial wall, this modern home office nook in the bedroom flaunts charming geometric shapes combined with cheerful soft colors, all on a pure white background. Harsh contrasts like that between black and white can be given dimension by using geometric decor (like the pattern on the wall and the rounded lamp and mirror) and softened with pastels.
More: Colorful Geometric Illusion Shapes Home Workspace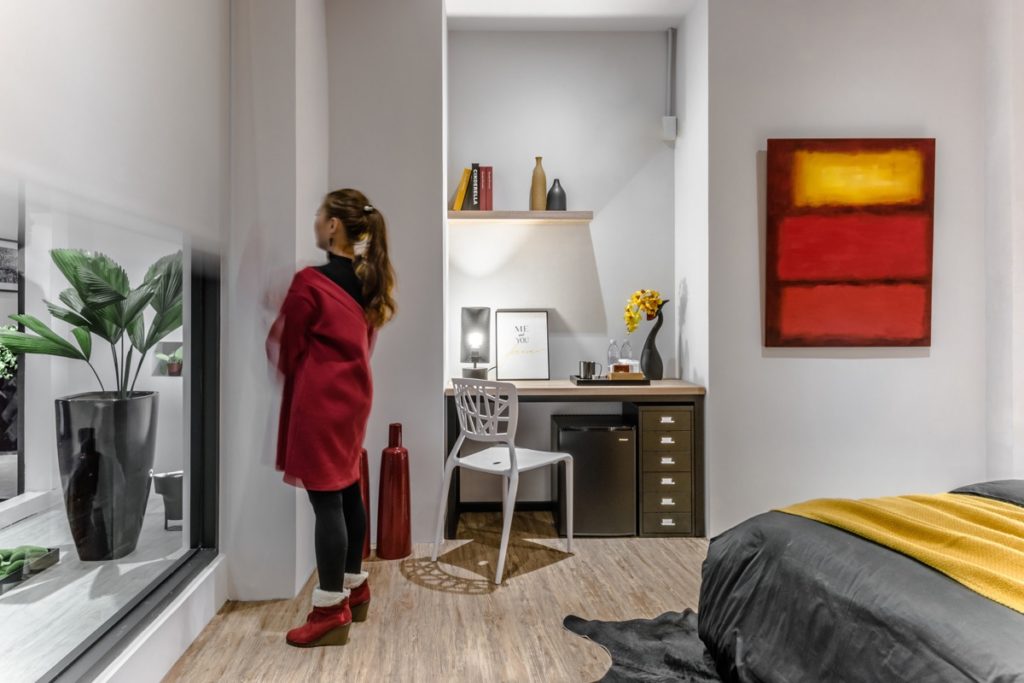 A nook in your home can serve many functions, from storage to productivity. Imagine a desk where you can either work on your laptop, draw or sew – they all have a few things in common – a chair, a lamp, decor and your will and enthusiasm. Let's make most of what we have while striving for more.
More: 10 Home Workspaces for Artists Who Love Their Craft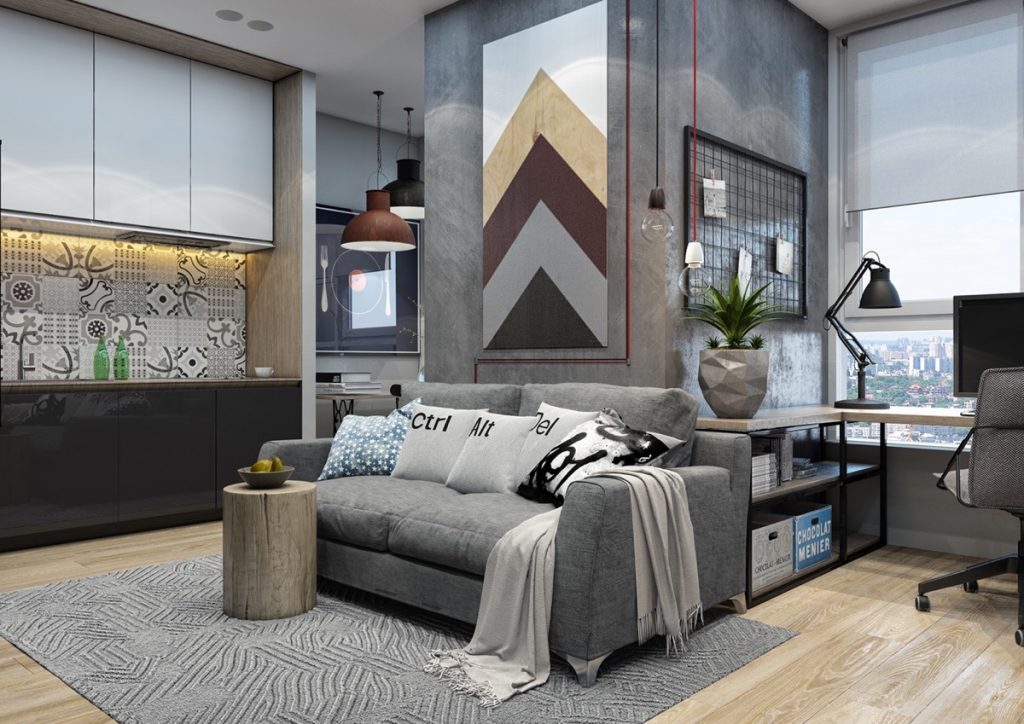 Moving on to a grey-colored home warmed up with earthy tones, where the furniture arrangement is not quite classic. When space in the home is at a minimum, a modern home office nook can be what separates living from working in the same space, even if just as a concept, since the desk is actually in the same space with the sofa and kitchen.
More: 10 Balcony Home Offices: Small Workspace Inspiration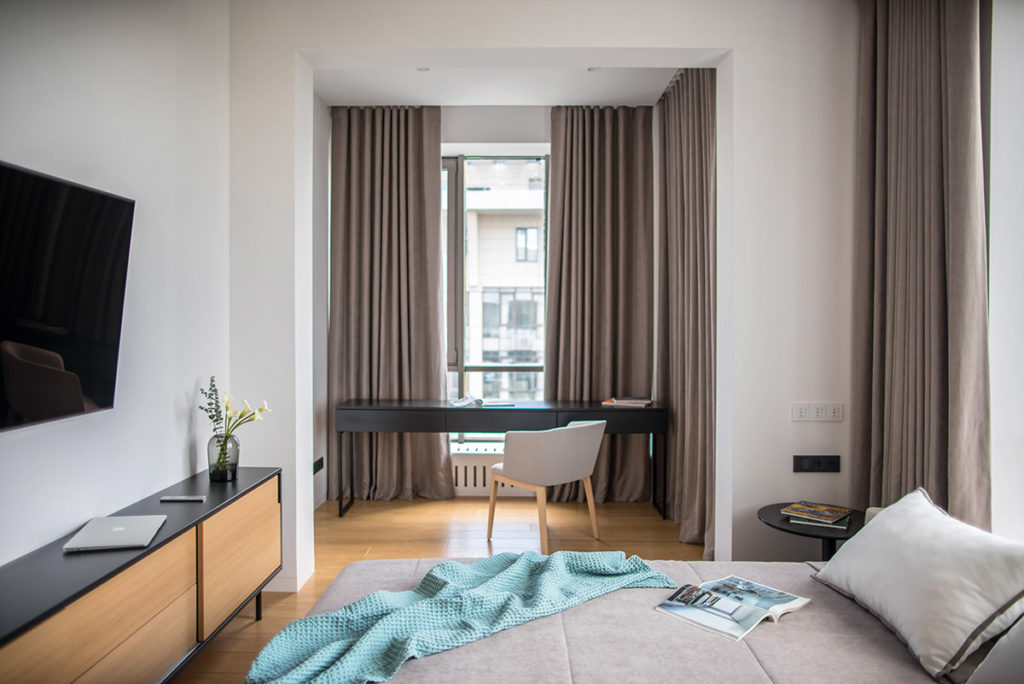 A larger nook is still a nook and this example above proves that you don't need much to setup a place to work from. Many people choose the bedroom for a WFH setup, and if the bedroom has a balcony, it usually ends up hosting a home workspace. Adding privacy and warmth with a curtain can greatly improve your mood. and offer possibilities like making the room appear taller and more elegant.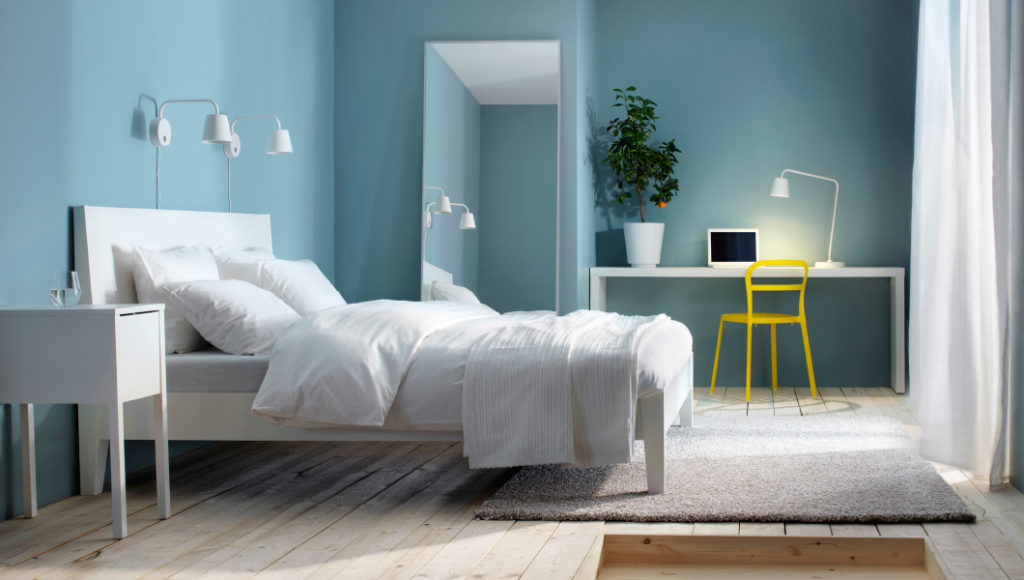 Our last example is a larger nook in a blue bedroom that displays a long and narrow white desk used as a workspace. And yes, it's a esign you might already know that showcases how we caan use simple ideas to create our environment, because our environment creates us back.
Here are more ideas to help you find that perfect home office bit you need:
10 Minimalist Workspaces At Home: An Eclectic Bunch
30 Inspiring Workspaces Burrowed Under a Window