Glass home office spaces can be gorgeous additions to your floorplan that visually open up the area and floods it with natural light (in the luckiest cases).
Some glazed home offices invite natural light inside, but there are others that could not gain acces to sunlight and make creative use of artificial lighting to get the atmopshere just right.
Take advantage of this moment right now, when looking through this curated list of workspaces enclosed in glass. You will experience even more of each space by clicking on the image – images takes you more photos and info about each of the glass offices.
Glazed home office leading outside
Starting off with a stunning Glazed and Luminous Nordic-Inspired Workspace, we explore the power of transitional and functional spaces. Imagine having a spot in your home that leads out to the balcony. You then choose to delimitate a glazed space to use as home office and relaxation area. See more of this space by clicking the image:
Guest bedroom and workspace in studio apartment
Our second home office defined by its glass boundaries comes from the owner's need to have a flexible floor plan. Rustic meets industrial in this open living space and sets the stage for a modern interpretation of a flexible space. The function of this Glassy Home Office that Doubles as Guest Bedroom can easily be transformed from a guest bedroom to an office space that is either closed or open to the rest of the floor plan.
Industrial concrete, glass and wood home office
The next home office behind glass walls is found in a new apartment building in Moscow. The coldness of materials used throughout is softened in the home office part of the studio apartment by warm-colored wood and a floating space to rest. An elegant tall space permits constructing an unusual resting space right above a modern miniature home library. See more pictures of this Modern Home Office Room Delineated by Glass Walls by clicking on the image:
Glass instead of walls
Moving on to a different kind of a glass home office – one that separates interior space by replacing a traditional wall with light-bringing glass. A modern solution to modern problems, this glass workspace can inspire your own project in which a wall comes down and a glass partition is installed. That can literaly transform a home. This Glass-Enclosed Home Office in Metal Framed Space speaks volumes about the creative brain power behind this project. You can read more about it by clicking on the photo below:
Terrarium hiding a workspace from entrance POV
And then we have this stunning workspace hidden from the entrance by a huge glass terrarium. Within an open floor plan, this simple workspace includes a wooden desk, cosy chair and even a few drawers for storing knik-knacks. Soaked in dramatic dark hues intermingled with crisp white walls and hardwood floors, this home workspace can serve as inspiration for so many more outstanding designs! The Glass Terrarium Home Office in Open Floor Plan can be enjoyed in full by clicking on the picture:
Tradition meets modern needs
We're moving on to another interior glass home office room, this one reminiscent of an aquarium, at least partially. This Aquarium-Like Light-Flooded Home Office gets illuminated from artificial sources and still manages to function better than a visually crowded space closed off by walls. Check out more of this home office by clicking on the image below: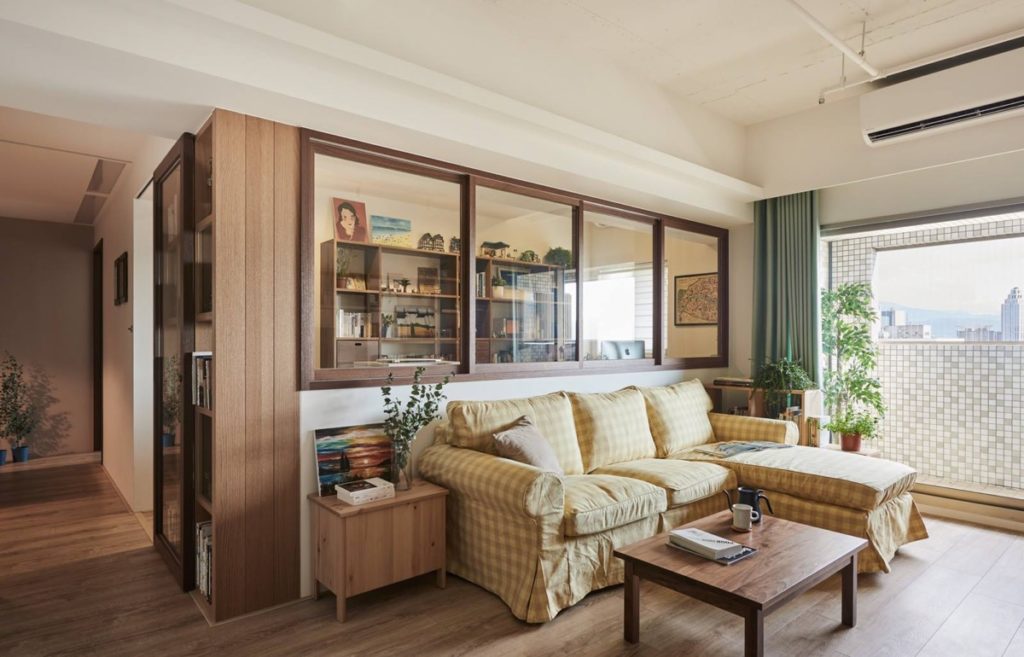 Minimalist home office making the most of the space
Warm and inviting thanks to its light wood interior and the glass wall, this tiny workspace is enough for what the owner needs. The Wooden Home Office Room Showcased Behind Glass is a deliciously comfy place that helps you focus to get into flow. Who knew a simple glass partition can help reduce noise, distraction and even keep a rather private space without visually breaking off from the main living space?
After taking into consideration the type of area you have available in your home for a workspace, the next step is finding the most functional and meaningfull setup to support your daily work.
Here are a few more ideas that can get you into fast-tracking your home office setup so that you feel comfortable working from the house:
10 Composed Workspaces Defined by Color