When you want a minimalist workspace at home and care to seek inspiration, inspiration comes to you.
These are a few eclectic choices in minimalist workspaces found in bedrooms, in modern living spaces or in a dedicated room – all are unique, bespoke and speak volumes about the owner.
One of the designers who imagined one of the minimalist workspaces in this list has a motto: "Design is how you choose to live." This is exactly why each design style is suited for different people and some choose to customise more, others go with less. Less of everything when it comes to minimalism – only bare function remains, dressed in sleek lines.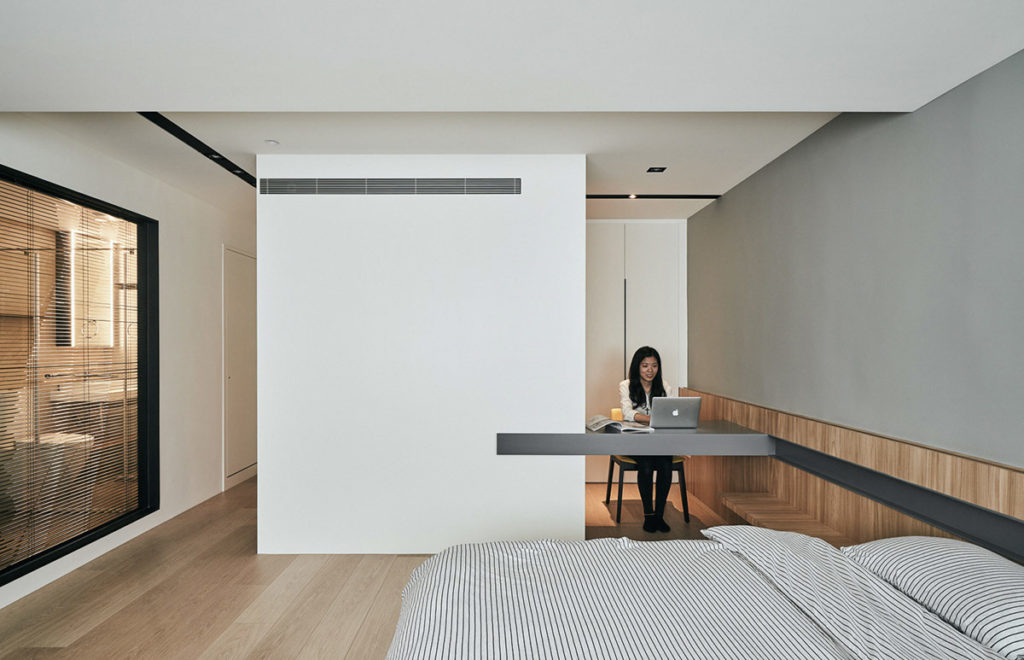 Imagine choices for different workdays
This bedroom workspace above was created by Indot Interior Design, who's motto is "Design is how you choose to live." Integrating the home workspace in the wall that partitions the bespoke closets from the bedroom area was a smart move, since it created a double way one can face while working – inside or outside.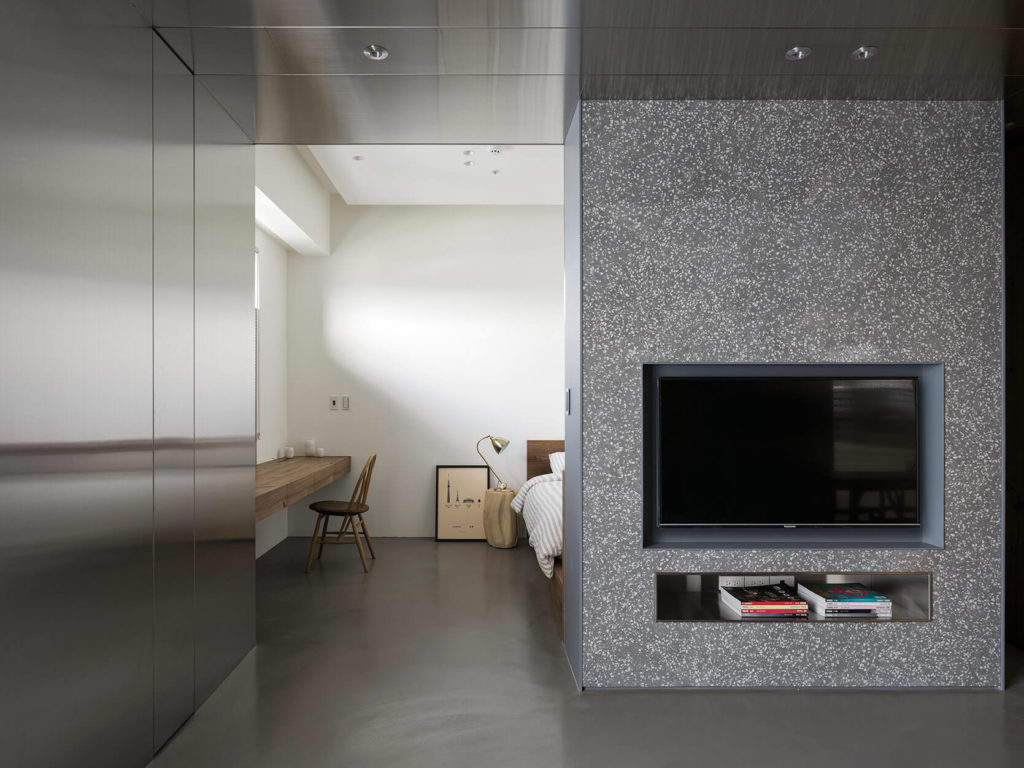 Floating desk in dreamy minimalist bedroom
KC design studio imagined a floating desk flanked by a wall on one side and custom storage on the other. This wooden desk burrowed under the window welcomes a wooden chair to match – all of these in the comfort of the owner's minimalist bedroom.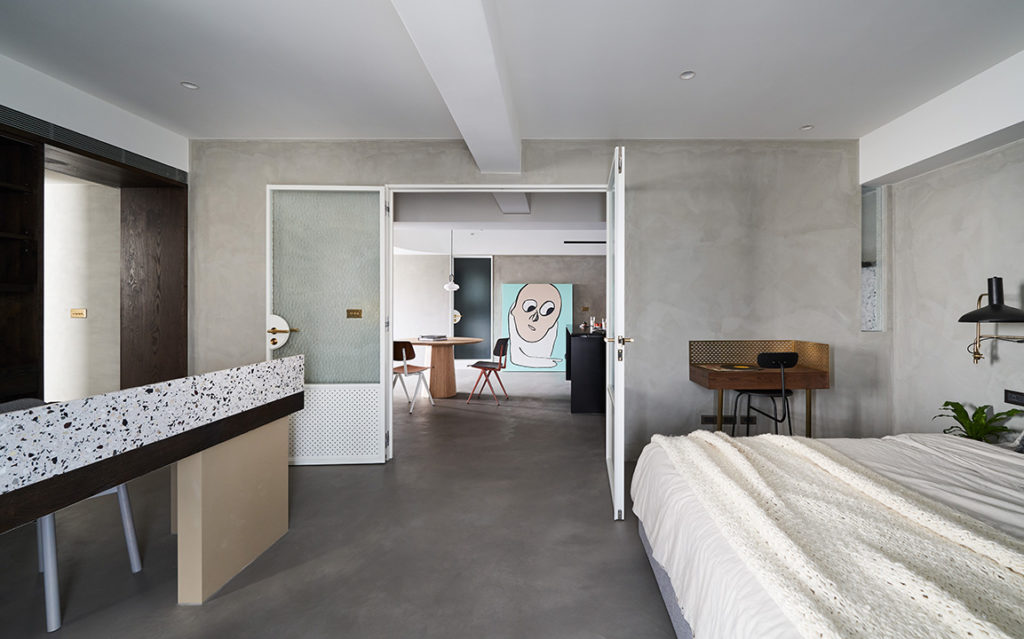 Multifunctional space with workdesk
A corner is all you need in your home to place a work desk and chair. That's why choosing the right desk makes all the difference. In this case exemplified by KC Design Studio, the desk has its own corners and is nicely hidden behind the door.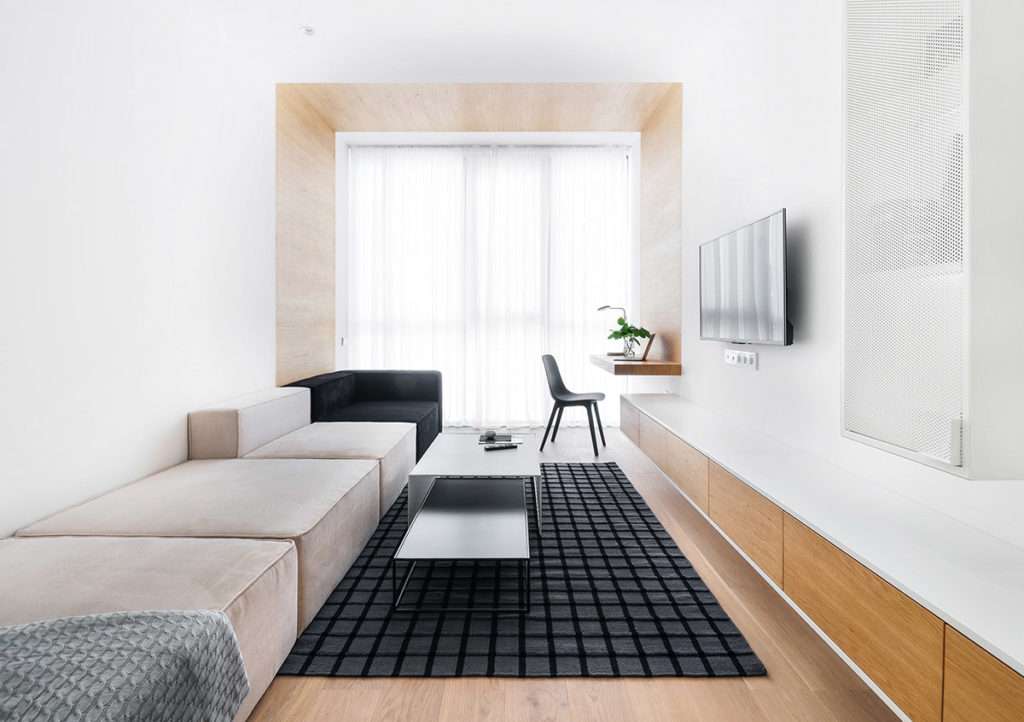 Floating desk folding onto itself
Reminiscent of this clear cut black and white home office, the floating desk in the example above visually wraps itself around the window frame. Beautifully folding the workspace on itself while delineating the work area from the living space, designers imagined a minimalist aproach to living and working, as photographed by Sergey Melnikov.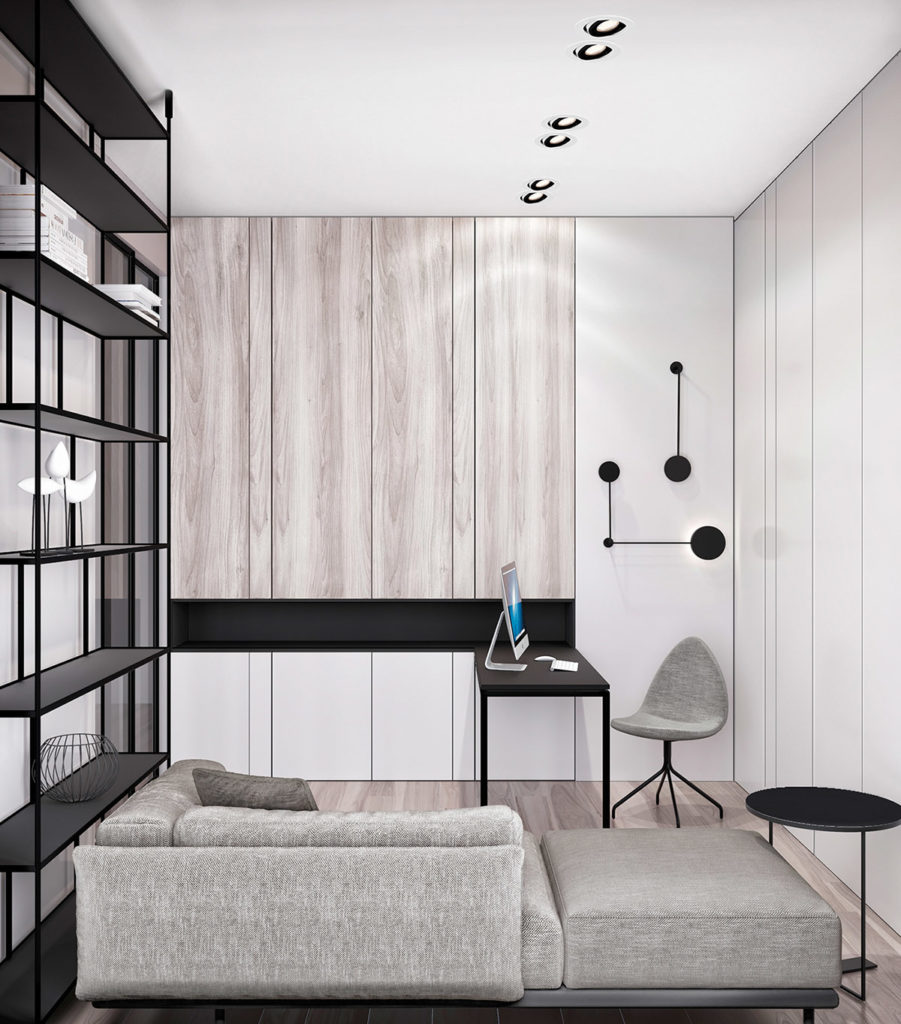 Much grey, plenty of creativity
Imagine working from the grey Drop Chair at the black desk near that elegant grey sofa. All grey, white, black – a space that invites to creative choices in shapes and textures. Designer from Quadro Room imagined a bespoke cabinet with upper wooden tones and lower fresh white. Against a white wall, the crisp black display shelf brings depth and clarity beyond its display function.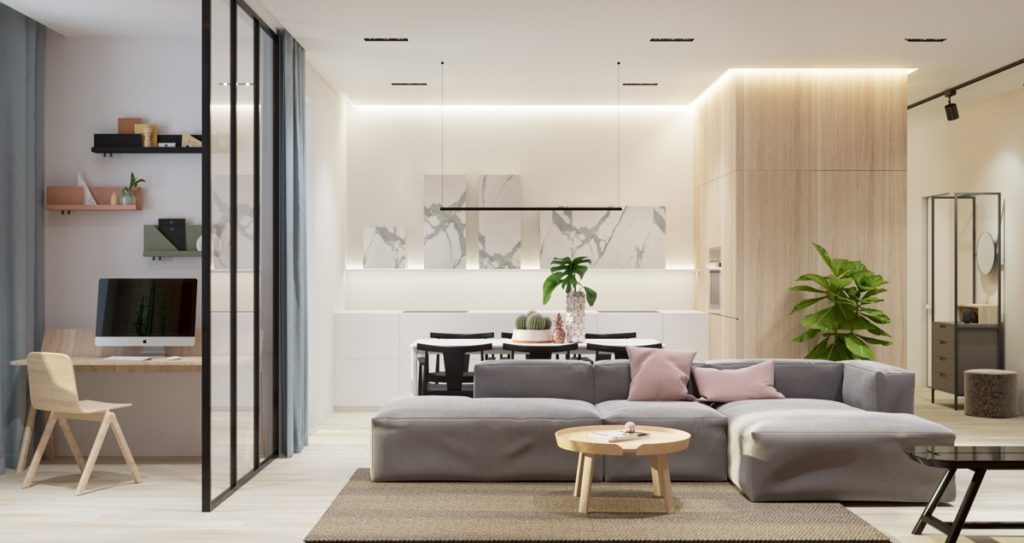 Hidden in plain sight
Concealed behind a minimalist vertical glazed wall, this home office designed by Svoya Studio is an assumed space for working. It might be sepparated, but it's still visually connected to the rest of the living area.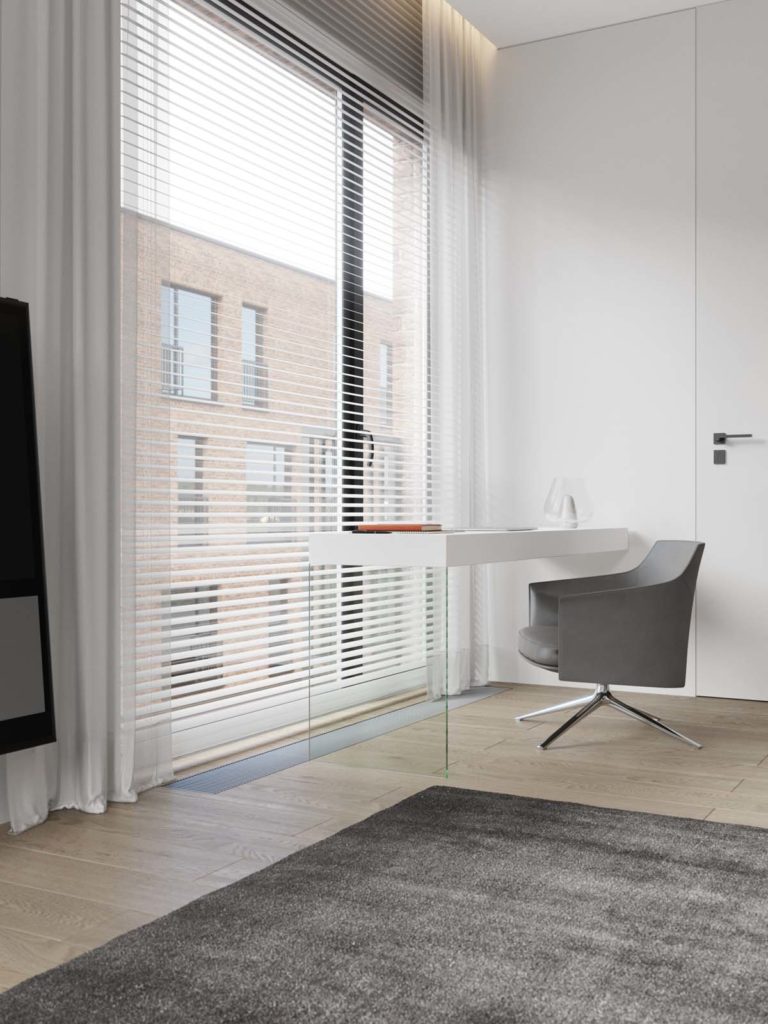 Small corner workspace in the bedroom
A corner in an apartment in Kazakhstan was imagined by visualizers at Design ATO Studio as a small workspace perfectly blended with the rest of the living space. Part of the bedroom, this desk and chair act a a secondary home office, because the primary one is a full-fledged home office.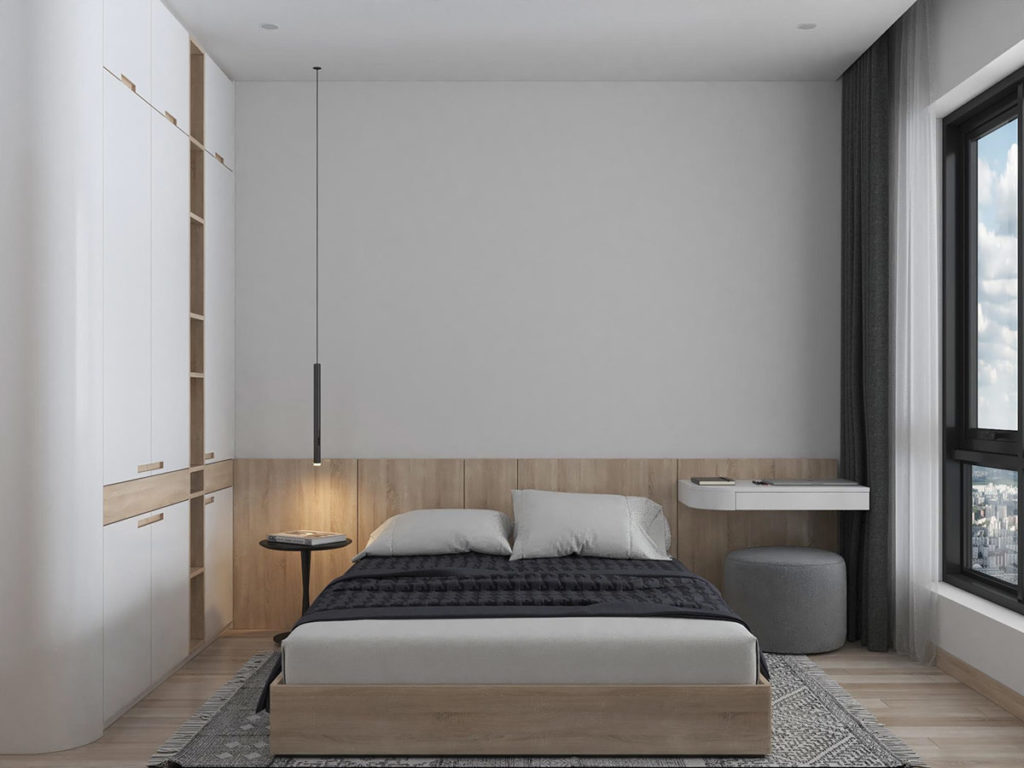 Rounded floating desk in the corner
Floating desks are so beautifully integrated in some spaces, that we made a list of 10 Floating Work Desks Sprinkled Around Modern Bedrooms. This bedroom visualized by Elemental Design brings rounded corners in focus. Bespoke furniture fills this bedroom, encompassing the projection of a working desk built out of the headboard frame that also acts as a vanity if needed.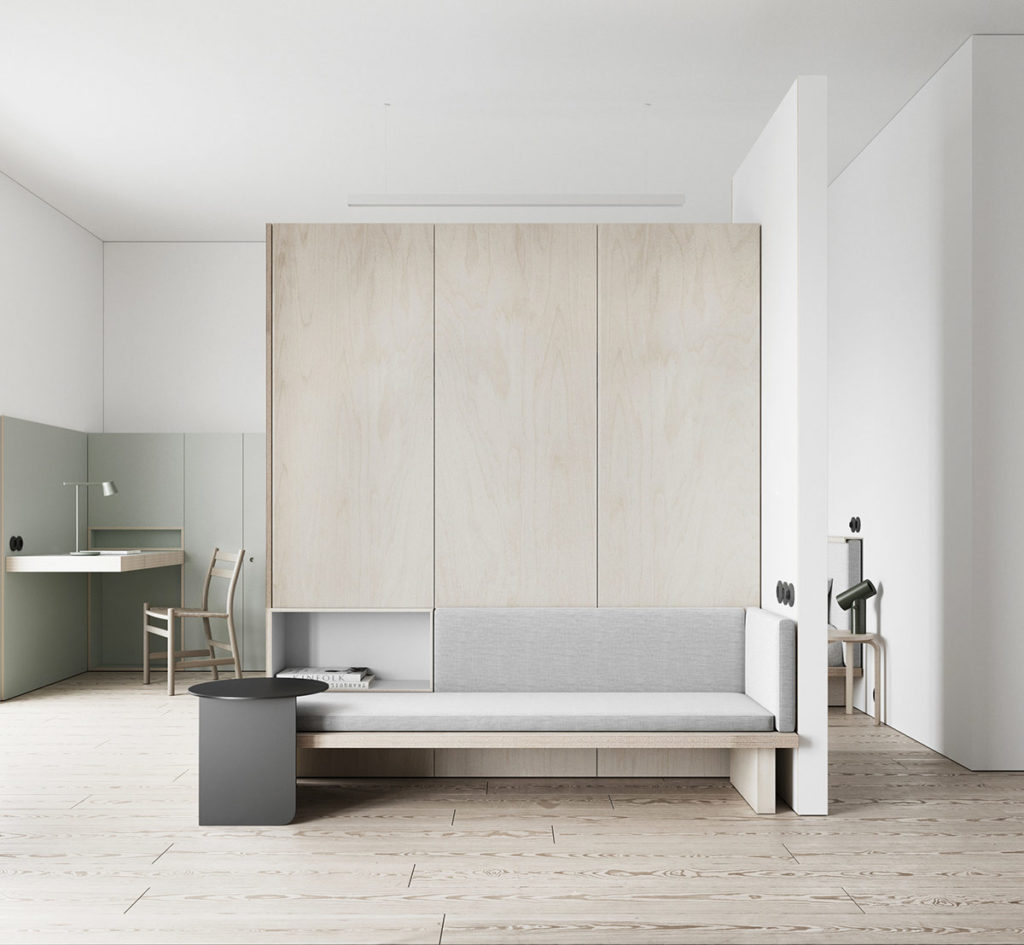 Corner workspace with floating desk
Floating desks are amazing: modern and practical. Using them in the bedroom can be the best solutions, like in this studio apartment bedroom visualised by LIS Design Studio. Behind the built-in sofa is a bed and in the corner, the floating desk balances between two walls.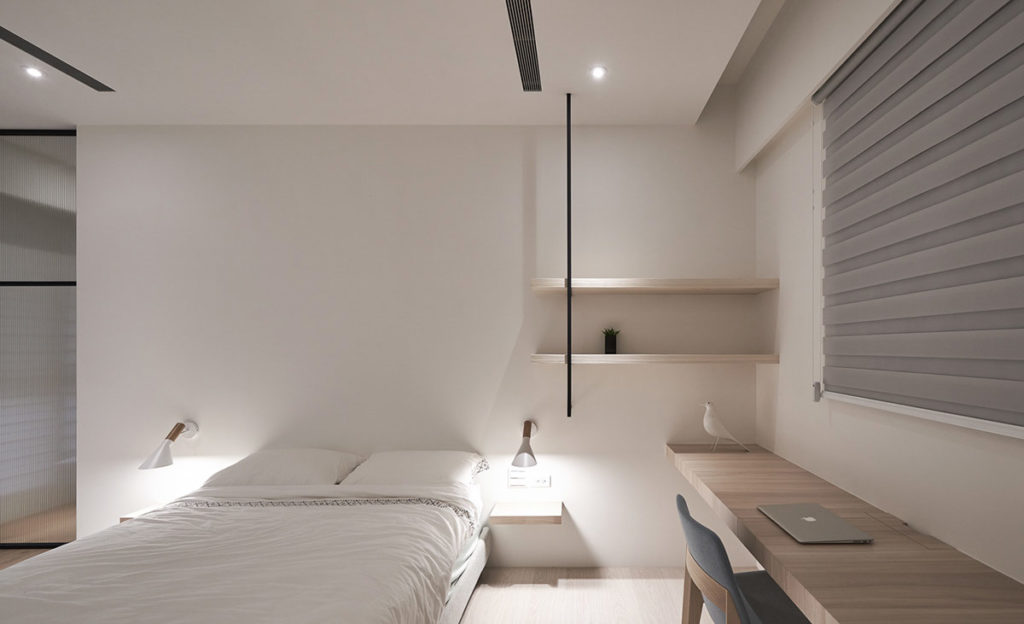 Floating in white
A white bedroom with a long and narrow floating desk under the window – not a new idea, but the way it's put into play is simple, effective and alleviating from all life's chaos. Our final example takes us into a bedroom designed by the same Indot Interior Design, who's motto you might now remember is "Design is how you choose to live."
So, how do YOU choose to live? Is minimalism you go-to style for creating a unique, uncluttered, soothing home workspace?
Functional minimalist bedroom home office for two
Or do you prefer something else, like:
10 Home Workspaces Flashing Exposed Brick Walls