Home office stone wall ideas come in so many shapes and sizes that it gets hard to choose the best option for yourself. If you've been thinking about adding a stone wall in the home office, these examples will show you different ways of combining natural stone with modern interiors, whether they're modern because of the overall design or because of the concept behind it.
Some people choose to work with the natural stone already found in the area and building the whole house around this, others add just a touch of nature with a stone accent wall, as we will be exploring. We'll be starting with a project that puts the idea of house on its head.
Abandoned Stone Quary Given Second Life
A family vacation can lead to a unique idea and this stunning home office makes you wonder what its story is. You'll be surprised to find out that this minimalist home office is set in an abandoned stone quarry in Spain that became a home. Visiting the island on Menorca with their four children, architects Antón García-Abril and Débora Mesa from Ensamble Studio found this abandoned quary and had an amazing idea: to experiment turning it into a place to live in without much intervention. This created Ca'n Terra: "house belonging to the earth" in Catalan.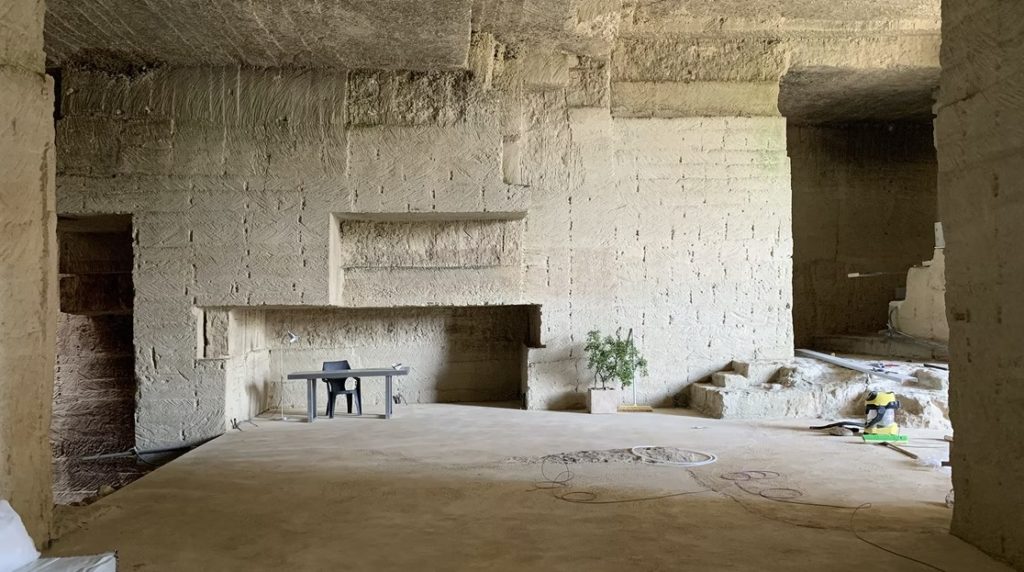 Stone Accent Wall Creates Unity and Sepparation
Our next example makes great use of stone in order to both unite and separate sleeping and working. A floating desk can be used as a vanity and quickly change into a temporary home office. The mirror behind this desk and chair acts as a vanity space, but it's really not hard to place a laptop and start working from the bedroom. The huge stone blocks used to create an accent wall were beautifully integrated in this modern bedroom and natural light coming from the windows create shadows that give the impression of living in a cave, so close to nature that you can actually touch it.
More inspiration: 10 Multifunctional Bedrooms – Vanity to Workspace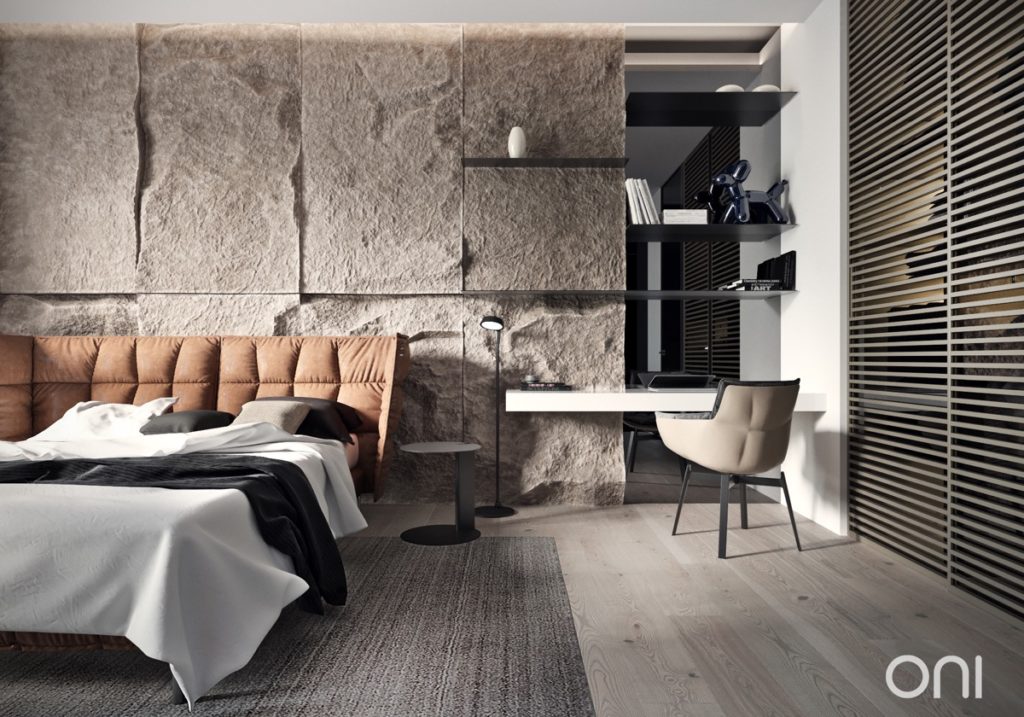 Mediterranean Home Office with Stone Walls
A stone accent wall in the home office can exude natural feelings of working outside. The richness of a stone walls' texture brings a rustic dimension to any room, especially a home workspace that was imagined to deploy the finest of Mediteranean design. Some Mediterranean homes have exquisite details sown within them, but this particular home office with stone walls all around makes one feel like drawing inspiration straight from nature.
More inspiration: 10 Home Workspaces for Artists Who Love Their Craft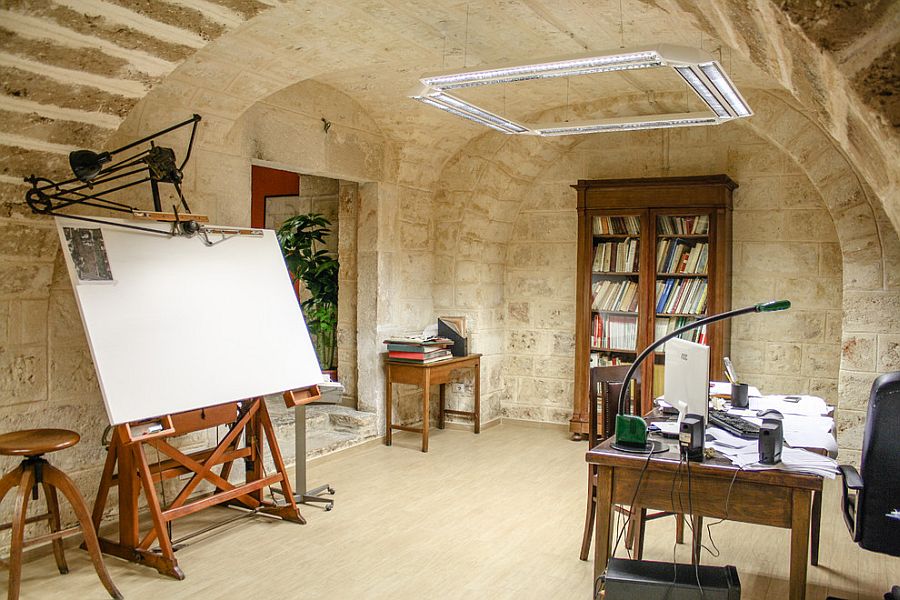 Natural Stone as Backdrop for Minimalist Home Office
Part of an unbelievable stone house in Spain, our next example of stone walls used to shape a stunning home office makes its mark on your memory with its simplicity. The whole area of Sierra Morena, where this home is located, is renowned for it's layers of Calcarenite rock. Layers of nature compose the backdrop for this simple home office. All those small nooks and crannies in the wall act as inspiration to get lost into whenever the owner looks up from the laptop. Since this is a bedroom home office, a simple wooden desk and chair make up all that's needed for working from home.
More inspiration: 100 Work-From-Home Bedroom Design Solutions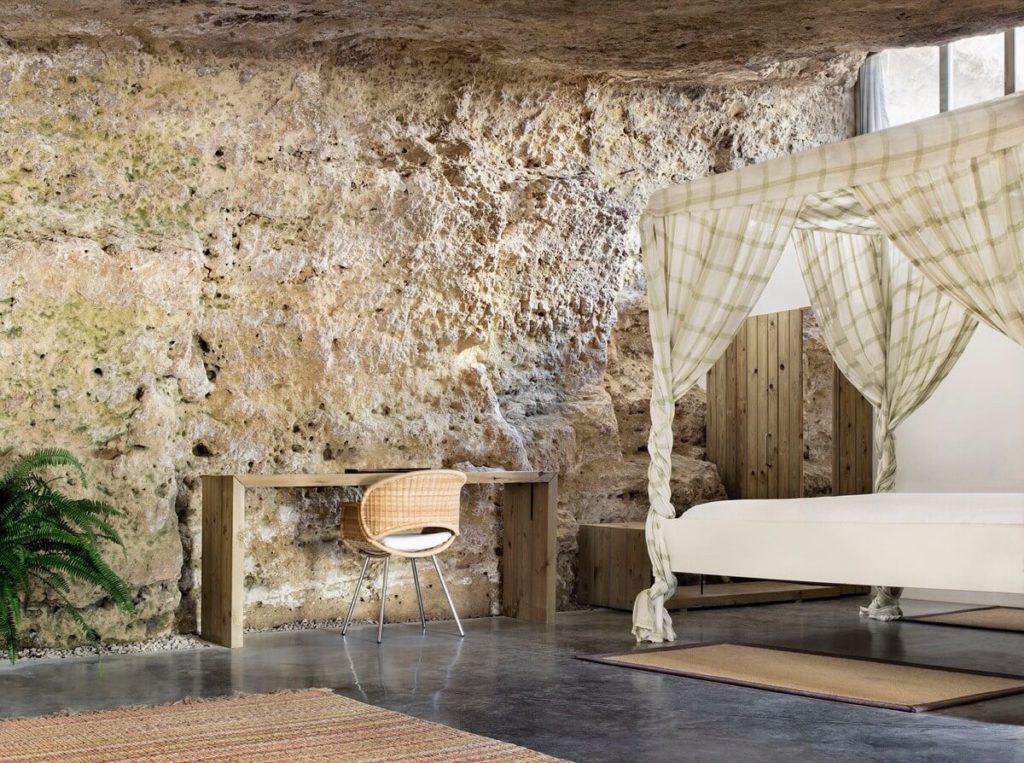 Wood, Stone, Fire and Light: Perfect Bedroom Home Office Combo
Our next stone wall home offices comes in the shape of a corner of the bedroom. This part of the room rocks a stone wall that's beautifully integrated within an attic bedroom. Under a slanted ceiling with a huge window that seems to fold on itself, this rustic bedroom draws in attention by combining wood, stone, and a lot of natural light. And having a fireplace in the space that you dream from and also make your dreams come true is the perfect bonus for those long nights.
More inspiration: 10 Illuminated Home Workspaces Under Slanted Ceilings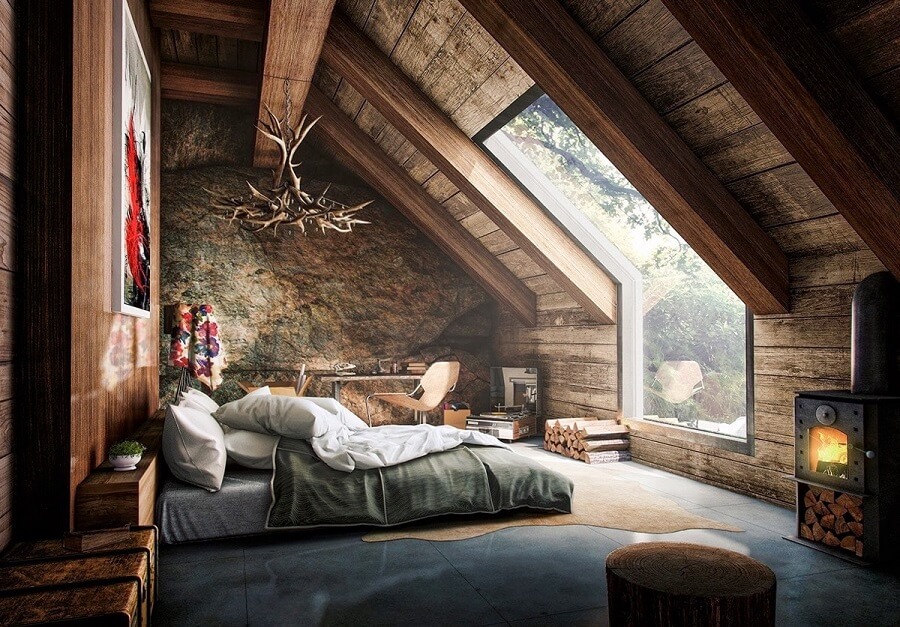 All these examples can easily give you a taste of the good life. Using natural materials like stone and wood is a return to nature, while great modern home design makes everything come together for the higher good of each owner. Here are more ideas to draw inspiration from:
10 Seductive Dark Bedroom Workspaces for Private Work
10 Modern Bedroom Workspaces In Light Grey and Wood