Wondering "How do I create a shared home office?" There are many ways and we'll be exploring some ideas to get you started.
So, how do you split a home office from the rest of the house AND make it roomy enough for two people? Here are some ideas to help you integrate your work life into your home life.
🤔 How do I set up home office for 2 people?
Start by assessing your space:
do you have a full wall to place your workspace against or
do you have a corner in the living room to dedicate to a home office?
or do you have a niche that can fit a desk and chair?
Depending on each scenario, here are a couple ideas to draw inspiration from.
🤔 Can two people work at an L-shaped desk?
Find a corner of the home and create an L-shaped home office design for two. Add two chairs and make sure to have enough space for both of you to work comfortable. This is how you make sure that you can both have your designated space not only to move around, but also to store things you need. Plenty of storage space within arm's reach – like a double desk home office with drawers and a library fitted to the wall will increase your chances for focused work.
Even if you have a small home, this is how you carve out office space in your rather small living room.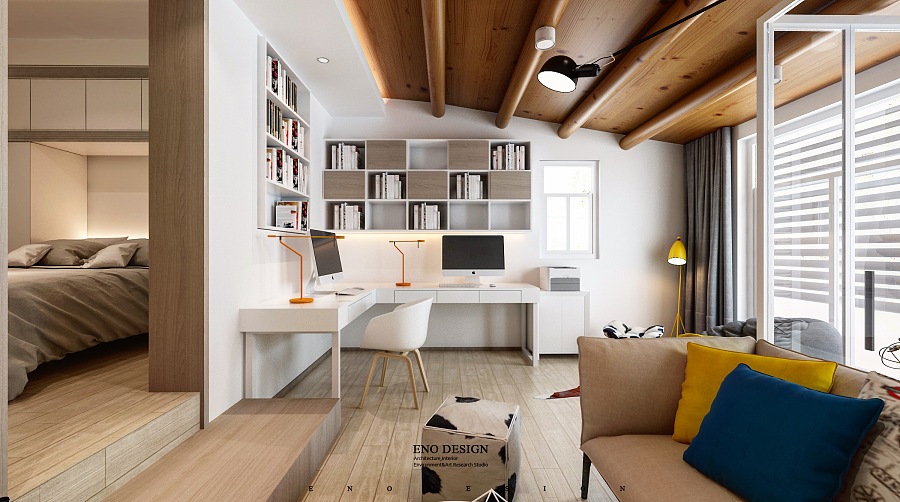 Separate your home office by assigning it a niche
Whether you work alone or you need a two people home office desk, maybe you can find a niche in your home that miraculously fits the perfect desk for your needs. A larger home office desk does not mean you have to give up on styling your workspace. Choose a simple white desk and add dimension with contrasting colors and textures – like wood for a natural feel.