We love big homes and small homes especially because there's always room to set up a home office – space is never the issue. When you come to think about it, opportunities abound even in small homes because interiors are like classic legos – you can play around to get different results.
A smaller place is also easier to live in – there's less space to store things so you end up buying less and higher quality, you reach anything you need faster, because you don't have multiple rooms or floors and it also encourages you to spend more time outdoors doing what you love and discovering the world.
This small home imagined by Eno Design flaunts space saving techniques and yet boasts a big double desk. That hints at the importance of this corner of the home and yet it tries to keep it somehow quiet through the use of white furniture against white walls. This gives the opportunity to immediately observe the slanted wooden ceiling – a beautiful rustic touch to an otherwise modern interior.
Other inspiring WFH setups : 10 Illuminated Home Workspaces Under Slanted Ceilings
While you're at home, what are your main activities? A small but cleverly partitioned space can improve the quality of life in terms of activities, lifestyle and aesthetics so that you can enjoy your home in the order of your priorities.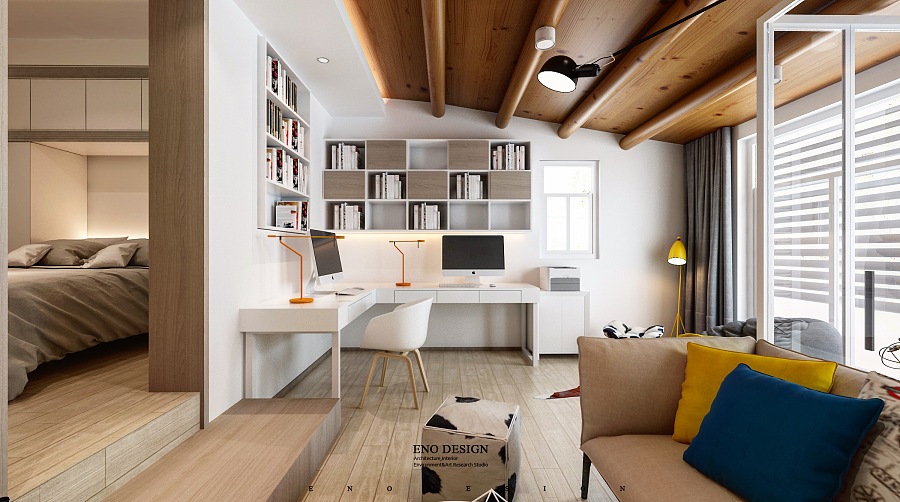 In a corner of the living space, an L-shaped white desk occupies most of the space. An uncluttered desktop shows how important order is in a well-imagined space – design must be showcased in order to be impactful as intended. Two working areas, each with its own computer and matching orange table lamp make you wonder why there's only one chair.
More inspiration: 10 L-shaped workspaces for extra working room
Illuminated with LED strip lights, shelves above the corner desk underline this pure white space and gives its depth in spite of the achromatic color palette. Boxed books line the walls, creating a vertical solution to keeping everything the owners need for work close by. Another smart move was to keep some of the boxes closed while showcasing soft wooden texture instead of using all white boxes or leaving all slots open. This creates an interesting point of attraction for the eyes.
The other side of the room teaches us how to divide a space to also have a sepparate entryway visually connected to the rest of the spaces – with glass. And if you want something really outlandish to work from, home workspaces can be enclosed in glass like in these 7 Glass Home Offices to Inspire Your Own.
The overall feel was kept natural with wooden floors that ride up the stairs to the bedroom area. This private part of the home is more inviting to resting with its soft color palette and illumination.
The social part is much more brightly illuminated, daylight flooding the workspace and living area from massive floor-to-ceiling windows.
This unique small apartment layout parades multipurpose spaces and a double workspace that easily mentally teleports you into the space to imagine how life looks when lived in this home. How do you imagine living and working from home in a small space?
Small Home Workspace Exuding White & Grey Simplicity
Small Bedroom Workspace Tucked In Stylish Corner