Luxury home offices with huge libraries are a writer's deepest fantasy. And some fantasies are meant to be taken a step further than just reality: they must become epic.
The surprising thing about this elegant home office room is that it leads out to an interior courtyard filled with greenery. Not only that, but it holds around five thousand titles and still has room left for more.
Designed for a writer who works from home, the minimalist luxury workspace sits in the middle of the home, in a carefully designed place. This is the second level of the house, designed for work. The ground floor was compartimented for living, while the third floor is suited for resting.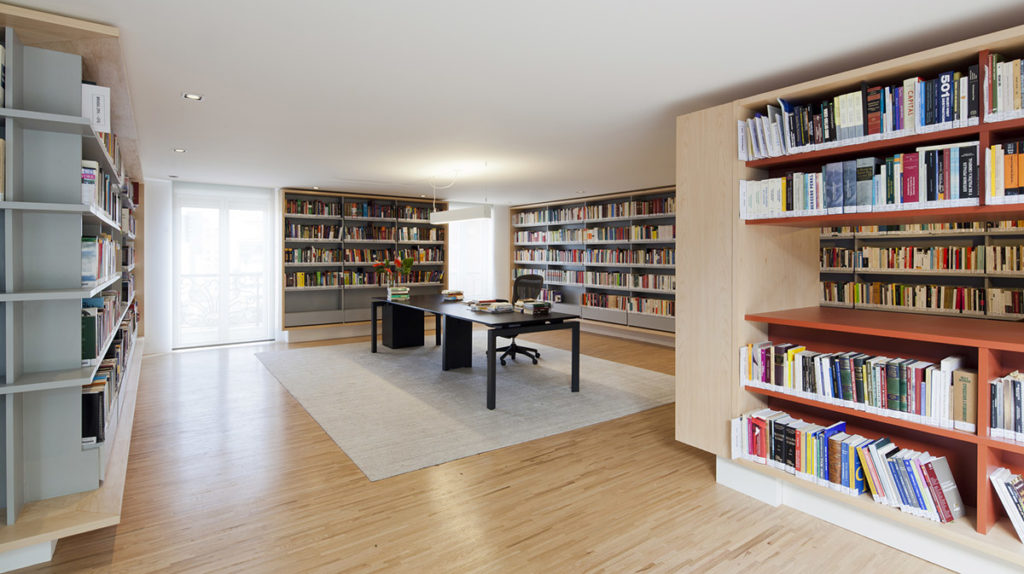 Two distinct areas are seen in this home office room designed by Casa14 Arquitetura – the writing area with a big black desk in the middle of the room, and a cosy reading nook at the intersection with the outside. When the weather is fair, huge retractable doors open this whole space to the outdoors.
Right in the middle of the room, the large desk and chair were chosen in black as if to contrast the rest of the space. Hinting to a modernized mid-century modern style, this huge homee office and library offers plenty of head space where creatiity is invited to visit often. Being a writer himself, the owner can really appreciate all that time spent consuming and creating books.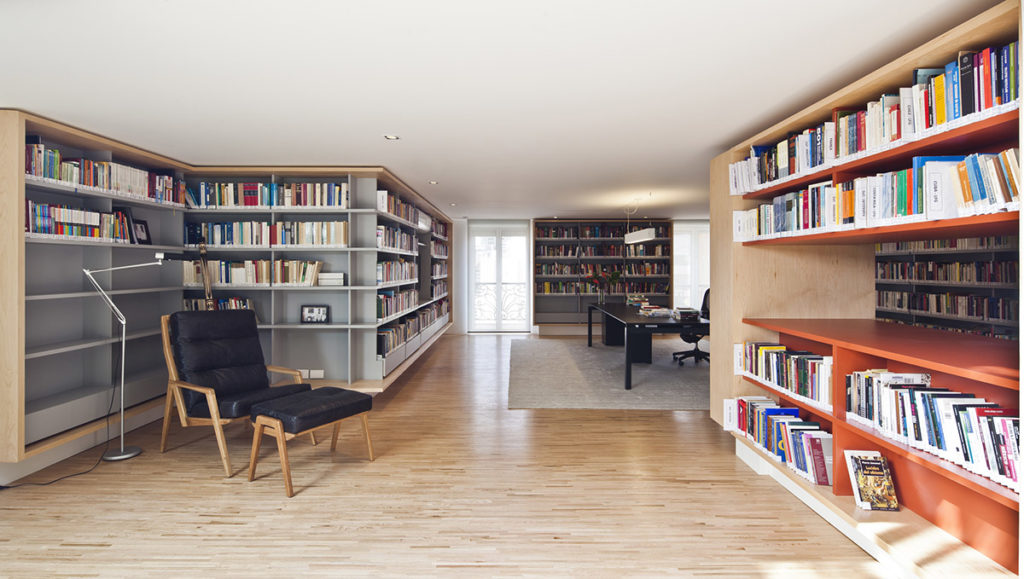 Plenty of natural light can come in this home library and workspace through two glazed doors on one side – that can become privacy screens – and also through the retractable doors leading to the interior courtyard.
The bookcase near the door has a chunk of it missing so that light can penetrate deep inside the space and reach even the most remote titles. This part of the library is the only one painted orange, the rest of the shelves are painted grey and match the large rug under the office desk and chair.
Looking closer, the library still has room for new books, encouraging the owners to add to their collection. Right behind the reading chair, a few empty shelves invite to the unknown – what kind of books will be next to beautify this stunning home office library?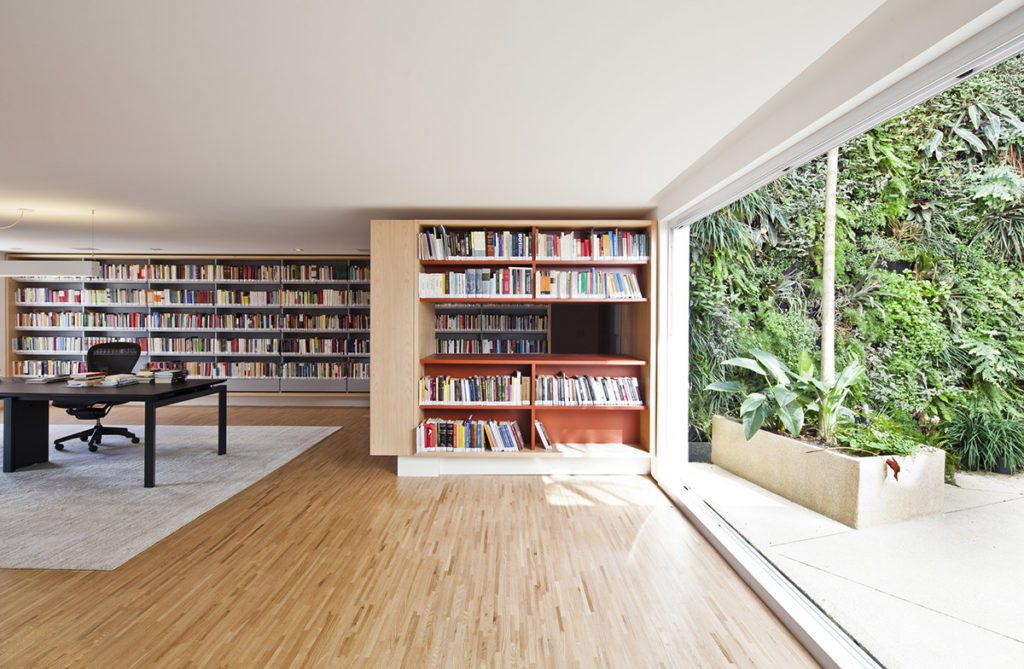 The great outdoors is fully welcomed in visually. Breezes only bring more of what is and encourage the owner to write away and read mindfully. The chair and footrest duo are the minimum requirements for quiet evenings to read by the glazed partition. And if the reading extends into the night, a sleek floor lamp ensures plenty of mood lighting for longer nights.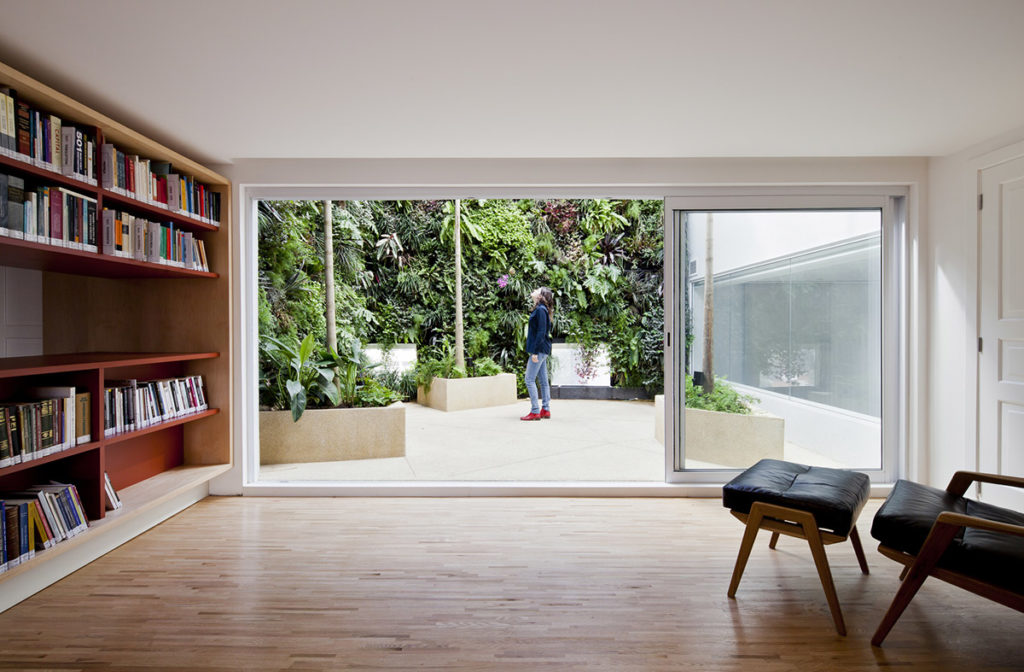 An L-shaped vertical garden encourages owners to look up and take big, calming breaths. Palm trees also continue this upward curent of visual appeal as the spaces adjacent to the interior courtyard get flooded with natural light.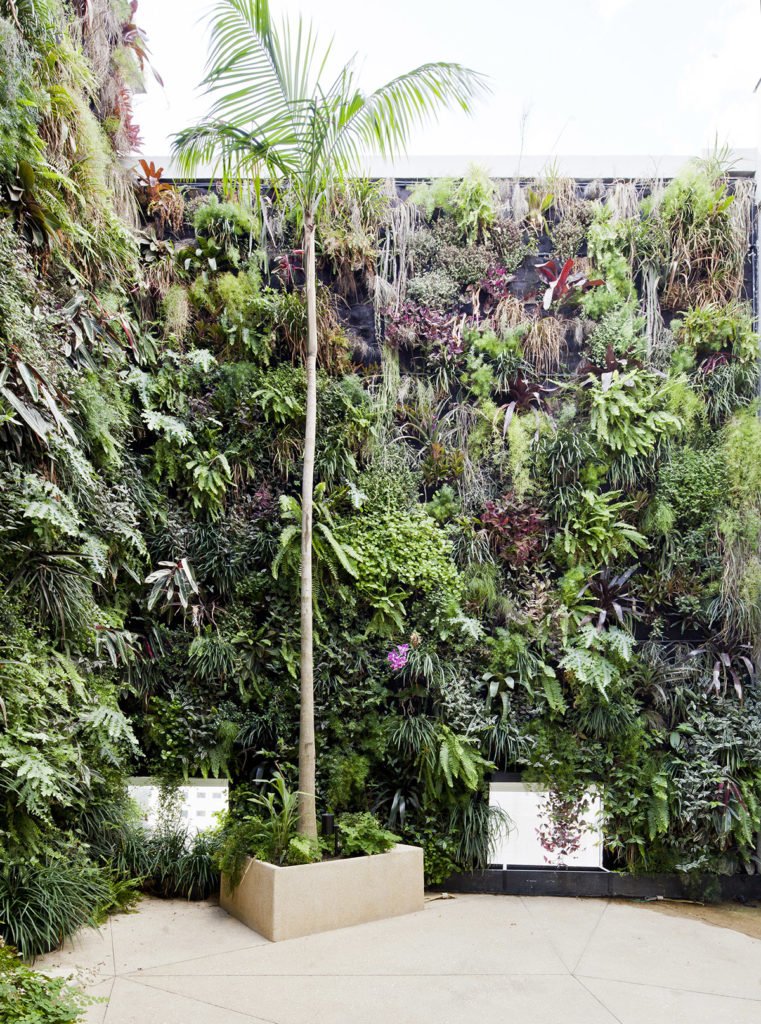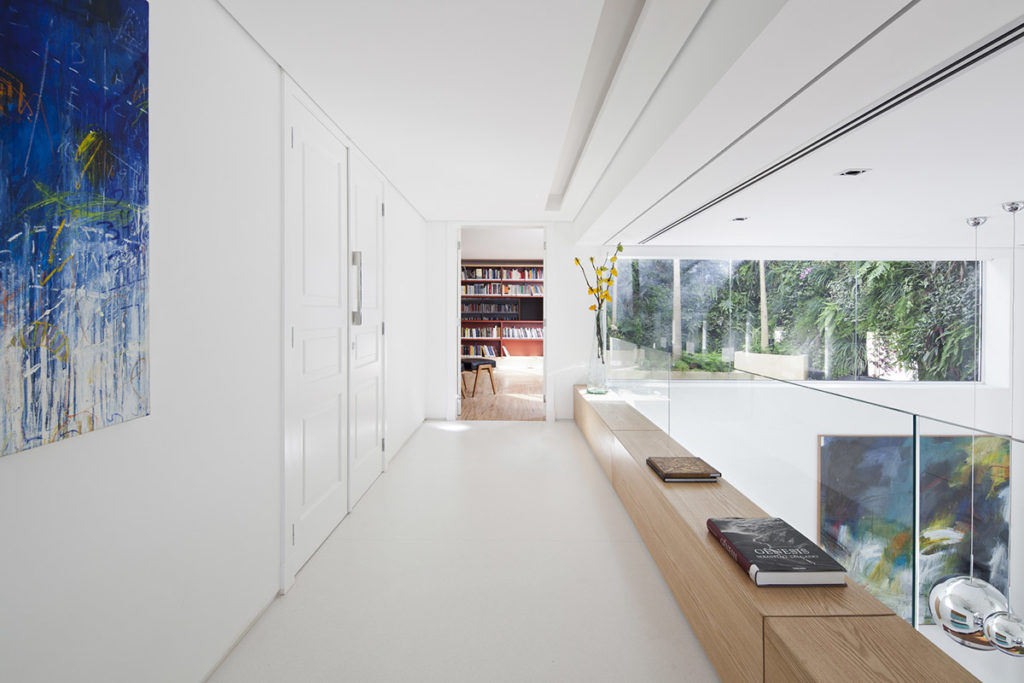 You wouldn't think that behind such a minimalist perspective as the photo above you can find a stunning luxury office like this one. Here are more ideas to bring greenery inside: