These 10 home office room designs are great because they showcase how important the color palette can be. Home office room design in itself has quite a few rules. Beyond that, creativity abounds in colors, textures, shapes and light.
An office room in your home can be designed to fit the overall theme of your home and offer privacy, as well as be prepared for entertaining guests or having a relaxation area. Beyond function, there is color. Here are inspiring color palettes to guide your decisions:
Chocolate Milk Home Office
Chocolate + Mint Home Office
White + Gold Home Office Design
Black + Yellow + Concrete Home Office
Teal Shades + Wood Home Office
Foaming Milk + Light Wood Workspace
Luxury Brown + Emerald Green Office Room
Chocolate Brown + Gold + Teal – Elegant Home Office
Blue + Wood in Electric Home Office
Fuchsia + Grey + Wood Balcony Office
Let's explore different ideas that have at least this in common: their stunning mix of bold colors.
Chocolate Milk Home Office Color Palette
In our first example, vertical lines composing the upper part of the display cabinet make the space look tall and elegant. Colors used appeal to the calming nature of our visual powers, where earthy tones offer a relaxed gaze.
Imagine working from this chocolate milk home office where minimalism and order go hand in hand.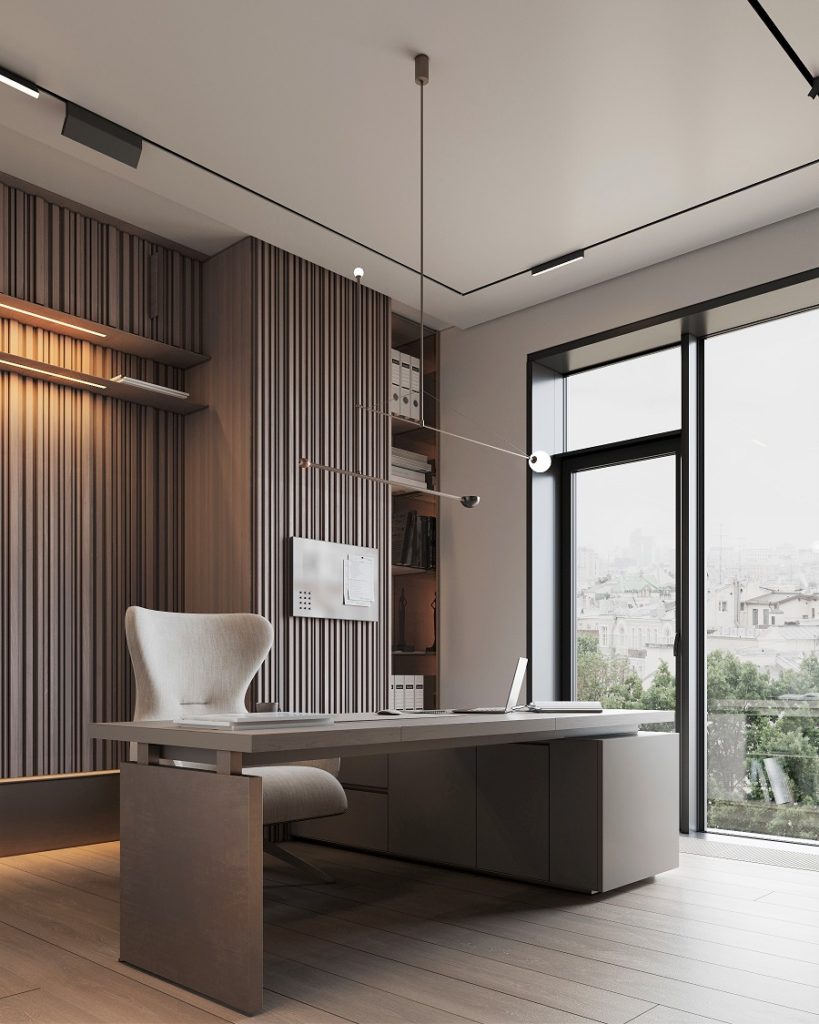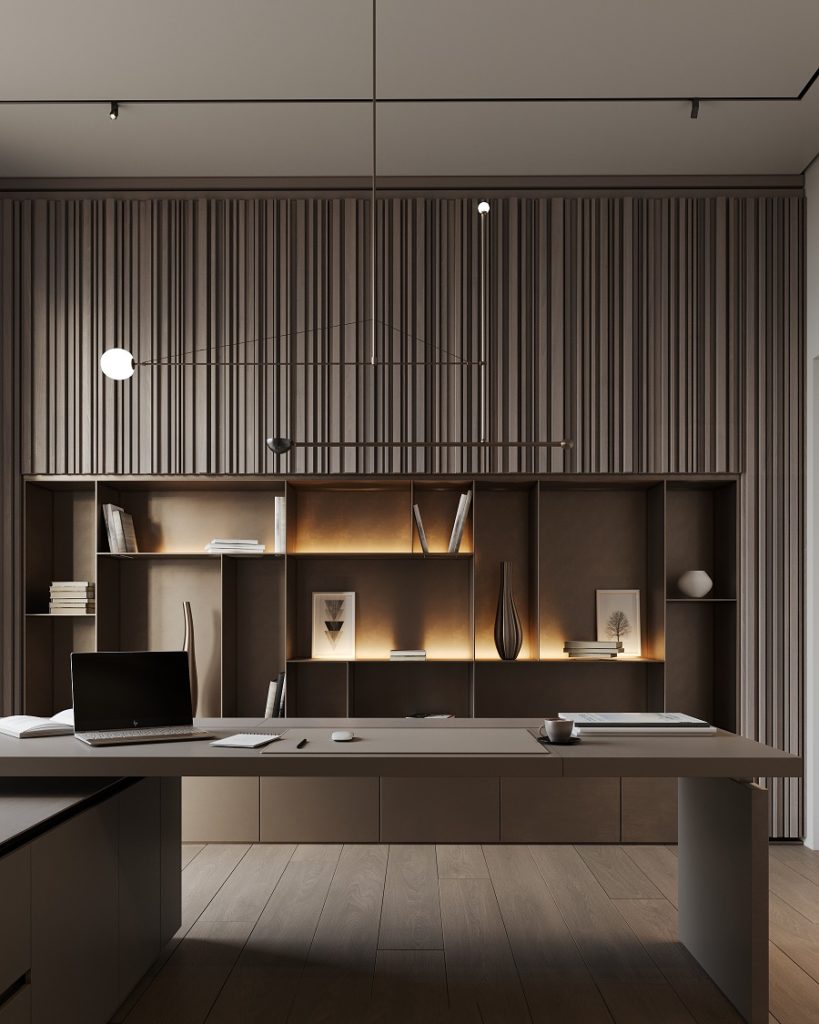 Chocolate + Mint Home Office Room
Then we have this stunning home office in a room dedicated to both work from home in privacy, but also entertain. Just like the example above, the home office room below has a LED lit display cabinet on one wall. It's interesting to observe how much of a difference display and lighting really makes.
You can either underline some features (like above) or create a whole accent wall with shelves and lights (like below). And then you bring it all together in a three dimensional space with the use of bold chocolate and mint color palette.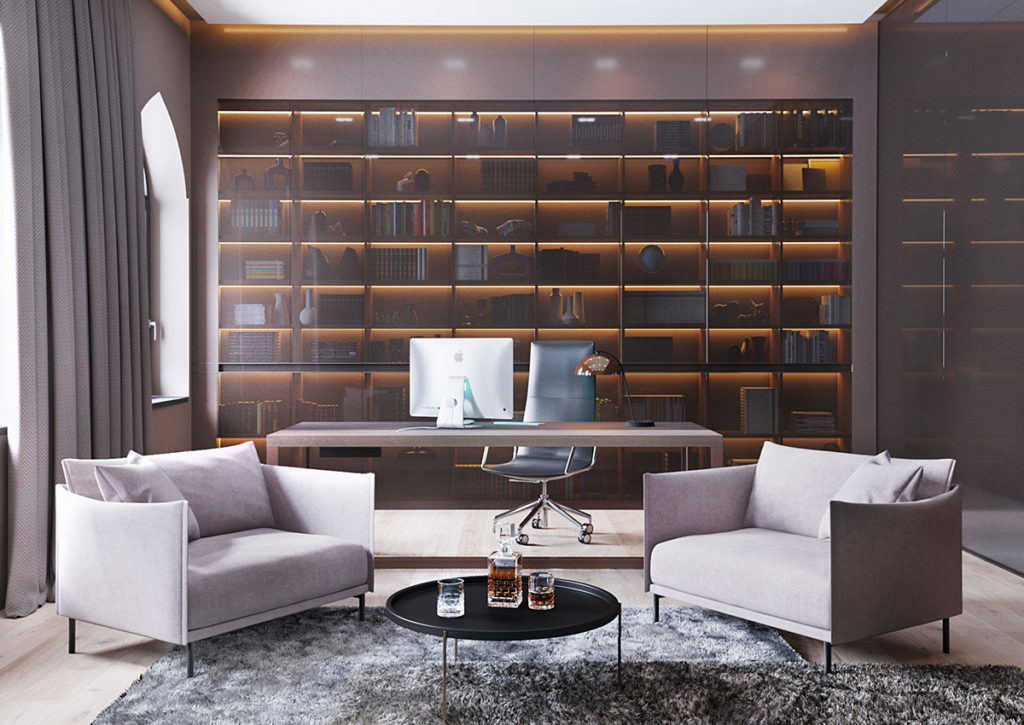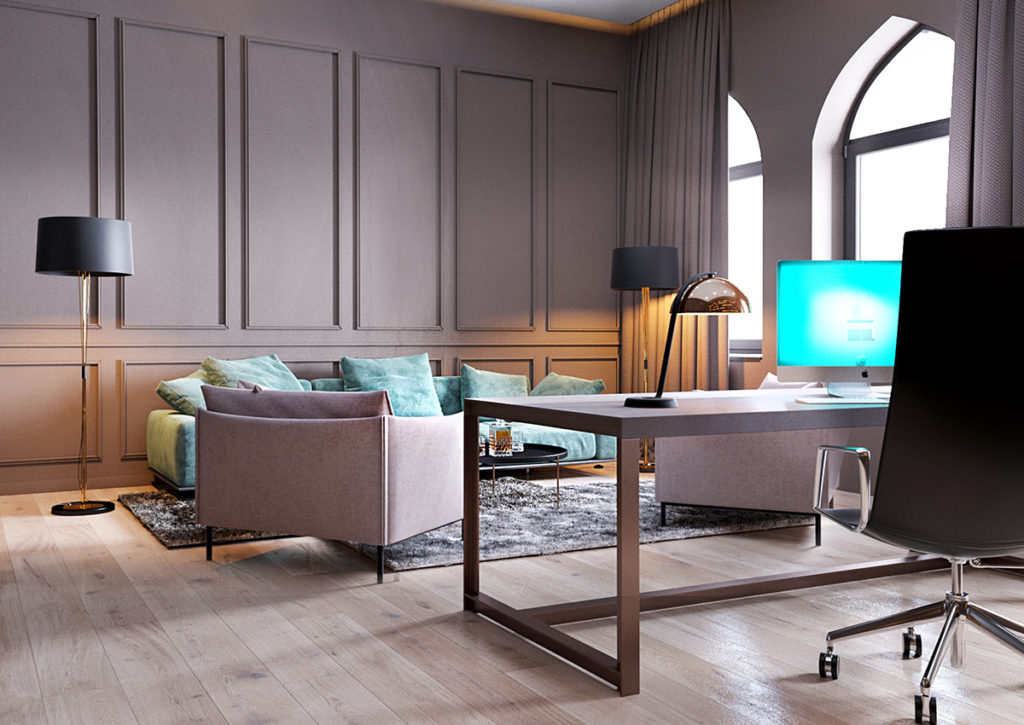 White and Gold Home Office Design with Dark Display Unit
Another example of a play of light and dark, both in colors and amount of light reaching the interior – from the same designer's portfolio. Notice how geometric decor was used to balance the whiteness of the space.
Natural light rushes in from floor-to-ceiling windows, while LEDs line up the contrasting shelves of the display unit. White and gold never looked so beautiful together like in this exemplary home office room!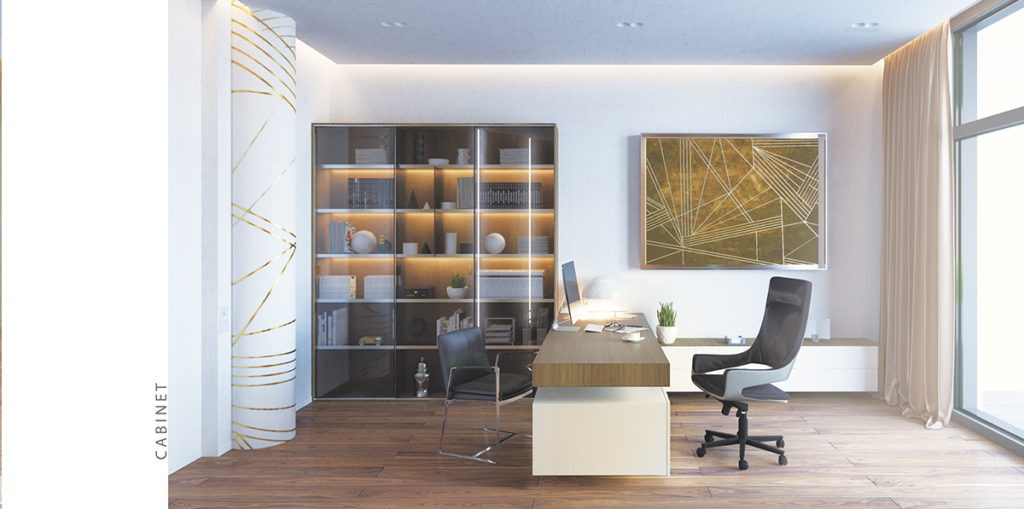 Bold Yellow in Concrete Home Office
Bold home office design comes in many shapes, colors and textures. This example below showcases an industrial style home office room opening out to the green back yard. Beautifully chosen mix of materials like wood and black metal contrst the coldness of concrete everything – from floor to ceilings and even floor.
A world map silhouette can be seen on the wall behind the main chair – subtly hinting towards a piece of the owner's mind.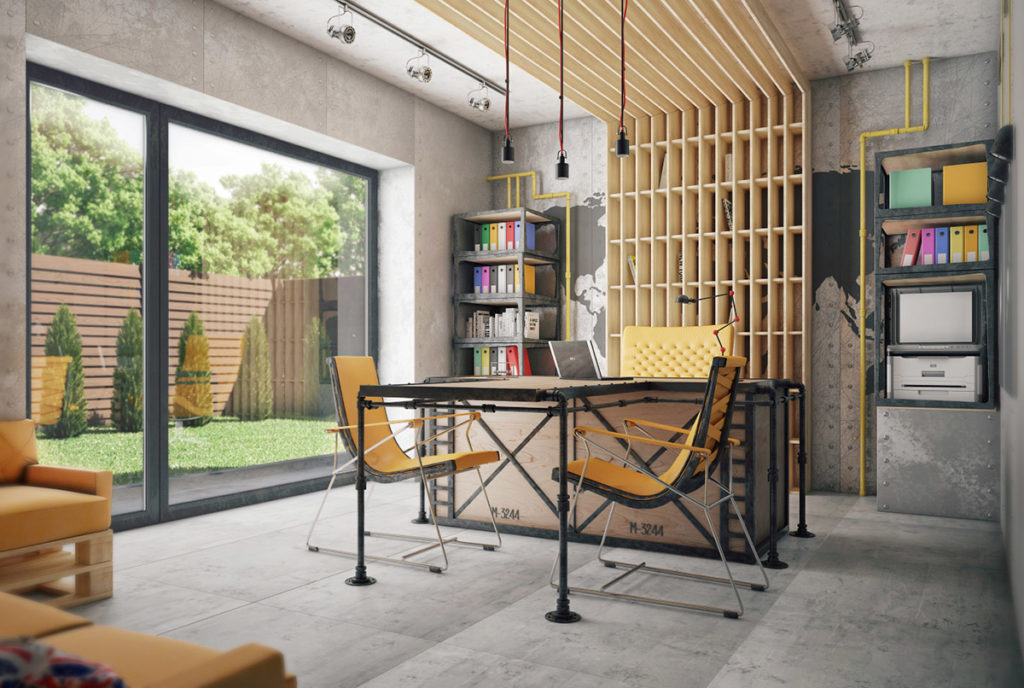 Black, Gold and Concrete in Industrial Home Office
Next, a beautiful home office room that combines black with gold to create depth and character. The industrial style, when applied right – like in this apartment home office – can create an adventurous vibe and elevate your work mood at all times.
Bold black, gold and concrete colors can become the framework behind creating a modern home office are in your home.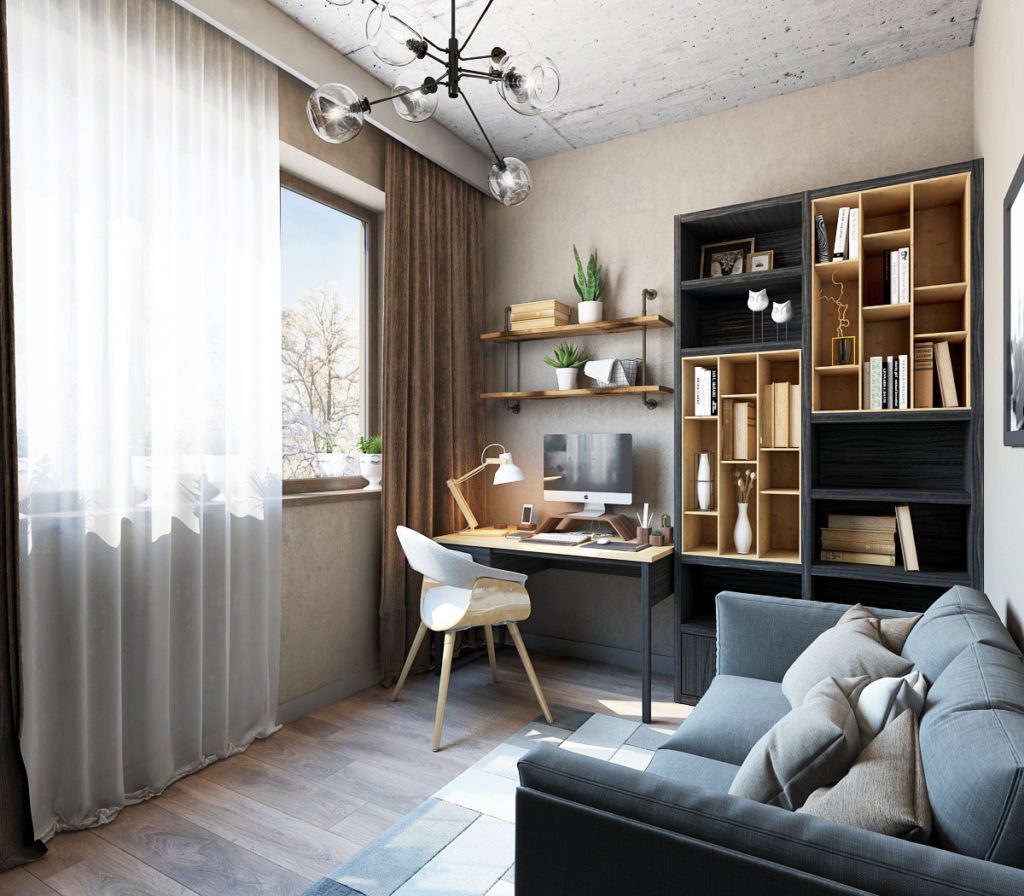 Teal Shades + Wood Home Office Design
This next home office room is separated from the rest of the house with glass doors, while also integrating a glazed display unit at the entrance. Bold walls painted all the way up and niches carved into the walls create a modern art gallery vibe.
Even the desk was chosen to have a mint-colored support on one side and two skinny legs on the other. Playing with asymmetry, designers created a highly inspiring home office room design.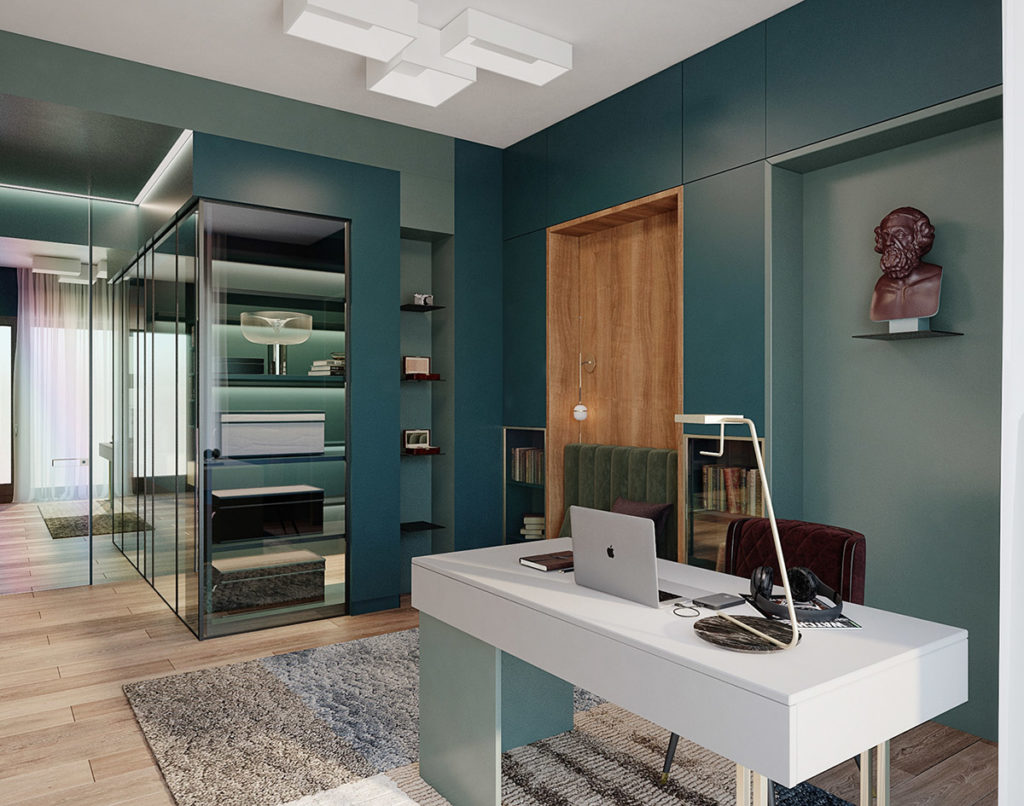 Foaming Milk + Light Wood Workspace
Designers of this home office room made a bold choice to use very light color. The resulting workspace design boasts a soft color palette doubled by the power of light – bot natural and artificial.
Black dots appear in the painting on the wall, as well as the display wall's design. A matching chair + desk combination thrones in the middle of the room, inviting to focused, organized work.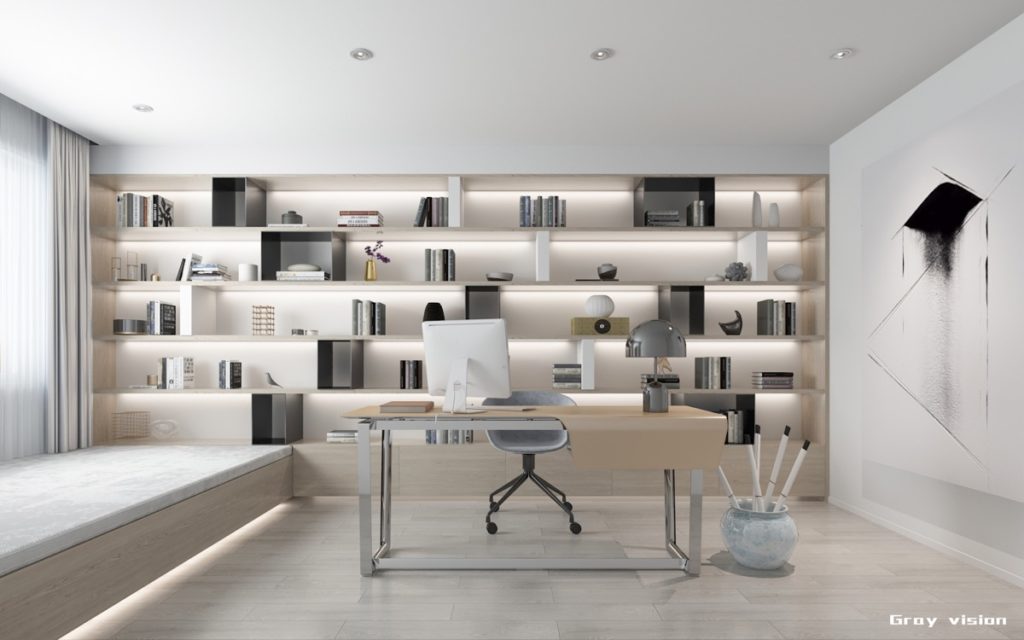 Blue and Wood in Well Lit Home Office Room
This blue looks like it electrifies the whole space, while the orange nuance of the wooden blocks decorating the wall looks inspiring when contrasting white walls. adding a bright blue chair makes the color statement even more powerful and balances everything.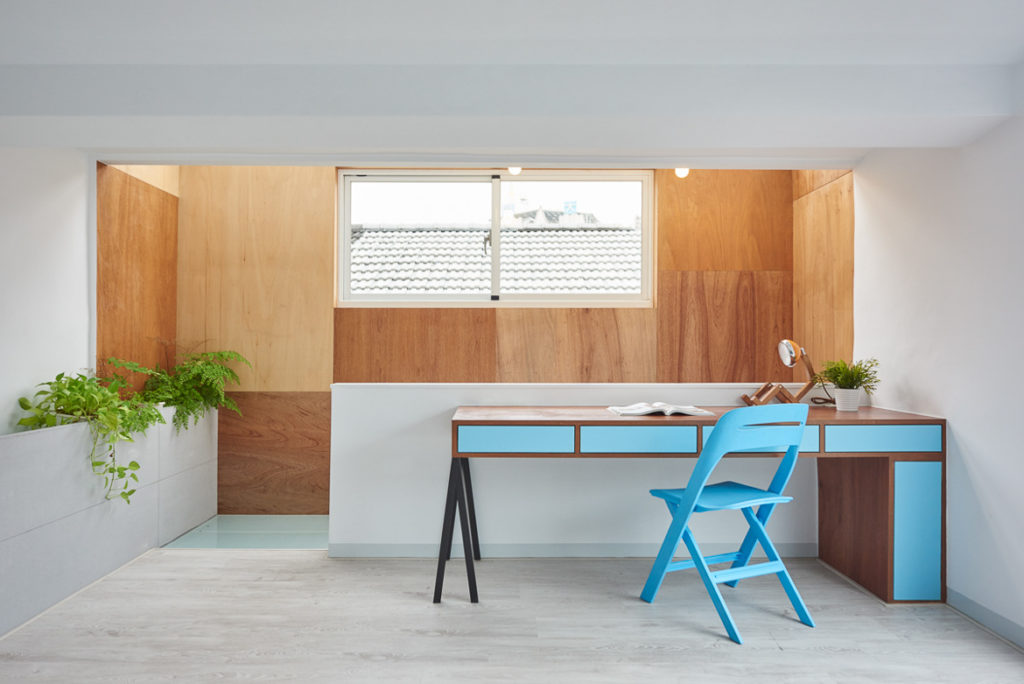 Elegant Brown + Emerald Green in Luxury Residence
Up next, a stunning home office room proves that luxury is in the quality, the design, the attention to details, in texture and color and light. The Sylvan Rock X, the very first Aston Martin luxury residence has an inspiring home office room boasting deep, rich colors and natural textures.
The view outside was the inspiration of this striking home office design and the angular edges of the environment match the vision for this contemporary home design.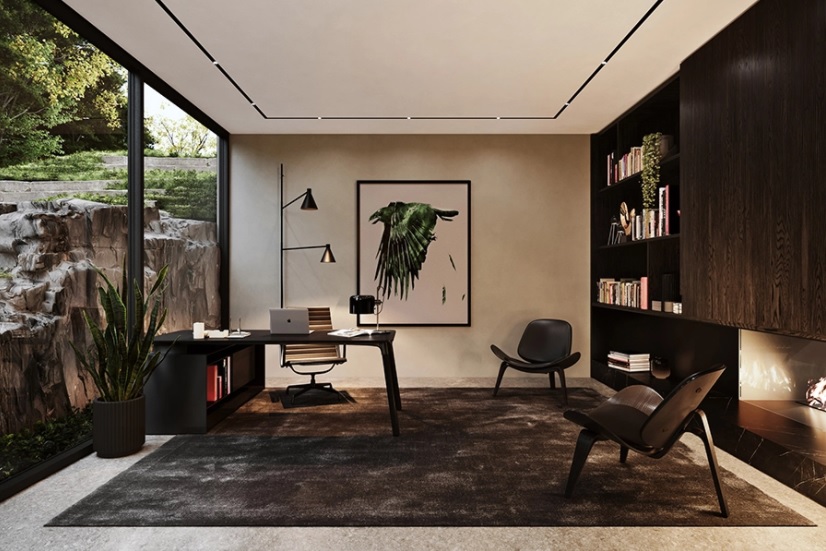 Chocolate Brown + Gold + Teal in Elegant Home Office
When you have a whole room for a home office space, a sofa brings much needed breaks and an opportunity to add a few colorful throw pillows to add depth to the environment.
Chocolate brown and gold were merged in a wall display cabinet, while the floors offer a beautiful wooden feel. Burrowed under the window, the desk and chair make a great duo that accompanies your workday.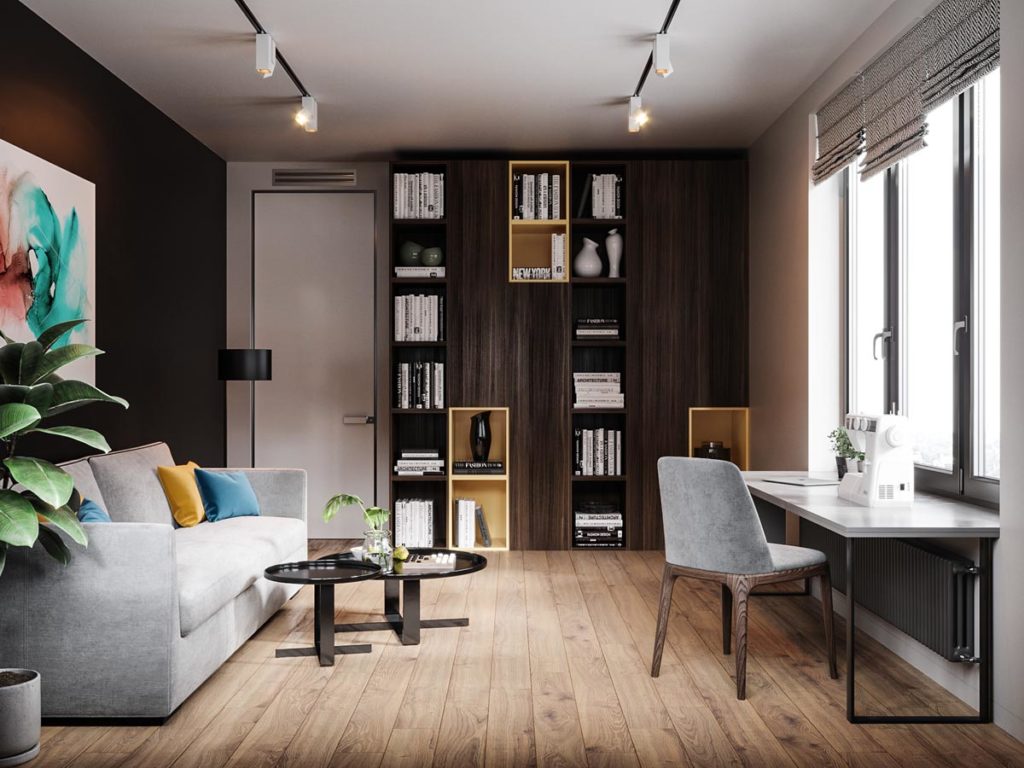 Fuchsia, Grey and Wood Geometry in Balcony Office
Blending bold rich colors that highly contrast is the ultimate way to get your home office popping. Floor-to-ceiling windows ensures the great outdoors is always there whenever you look away from the computer. At night, the dark shades come down and artificial light puts on a show.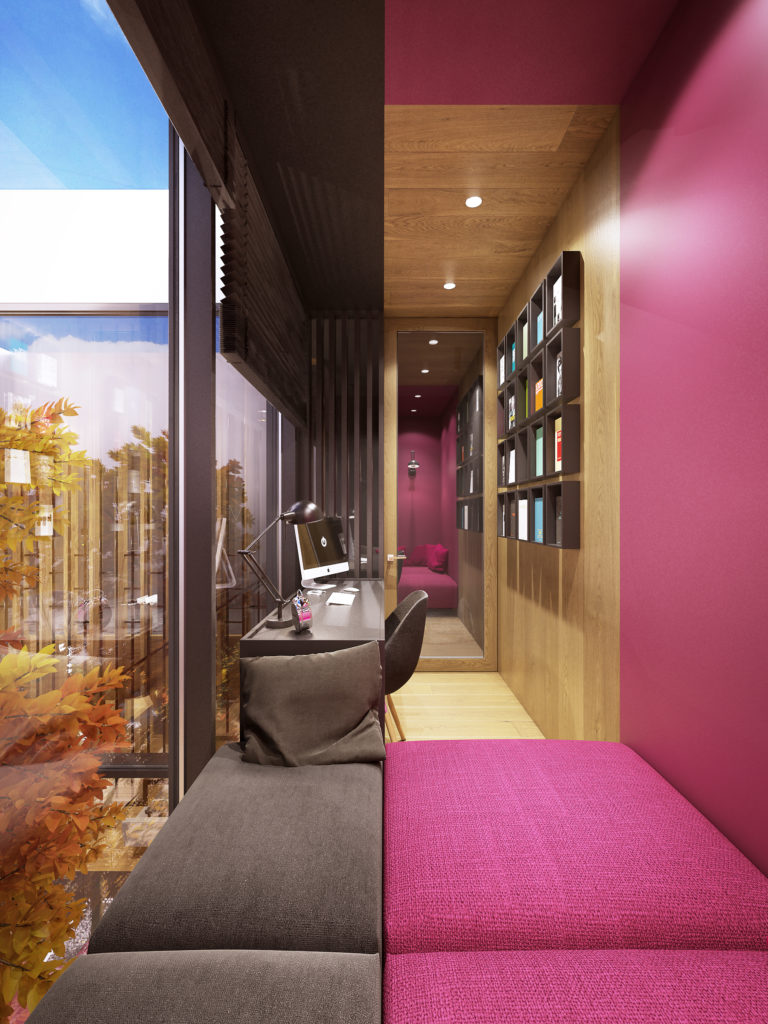 Beyond design styles and textures, measuring custom furniture and ensuring functionality, color is what washes over the space when all is said and done. We love exploring new home office designs together, so here are more ideas to make sure you find that perfect home office design you crave:
30 Inspiring Workspaces Burrowed Under a Window
Colorful Geometric Illusion Shapes Home Workspace