Working from home without a desk can be an experience in itself, a journey that starts with finding the perfect solution for your particular case. Today, there are many alternatives to a full blown home office room. Some of the best alternatives to a work desk are either small, temporary or hidden in the overall design.
What to do when you don't have room for a desk?
Alternatives to a home office desk can bring even more creativity in your space when the final WFH setup results make you happy.
Searching for a way to integrate a home office space somewhere in your home can be quite tricky. When you don't have a desk you have to rethink your home office. The good news is that you can easily find classic workdesk alternatives, just:
consider a mini desk
consider a wall mounted desk
consider a balcony home office
consider a tripod home office desk
consider multifunctional furniture
consider the space under the stairs as WFH setup
consider adding a chair or two to your open space floorplan
Let's dive deeper into each of the solutions for a fuller picture.
Home Office Desk Alternatives
A Mini Desk to use during WFH days
A mini desk, foldable or not, multifunctional or not, can really save you some serious space in your home. You can use a small coffee table as a mini desk or even a tray or those cute little bed desks, or you can immerse yourself in a new world of creativity that can inspire your own work.
Just imagine the way some designer's brains work to come up with chair/desk hybrids that look like this: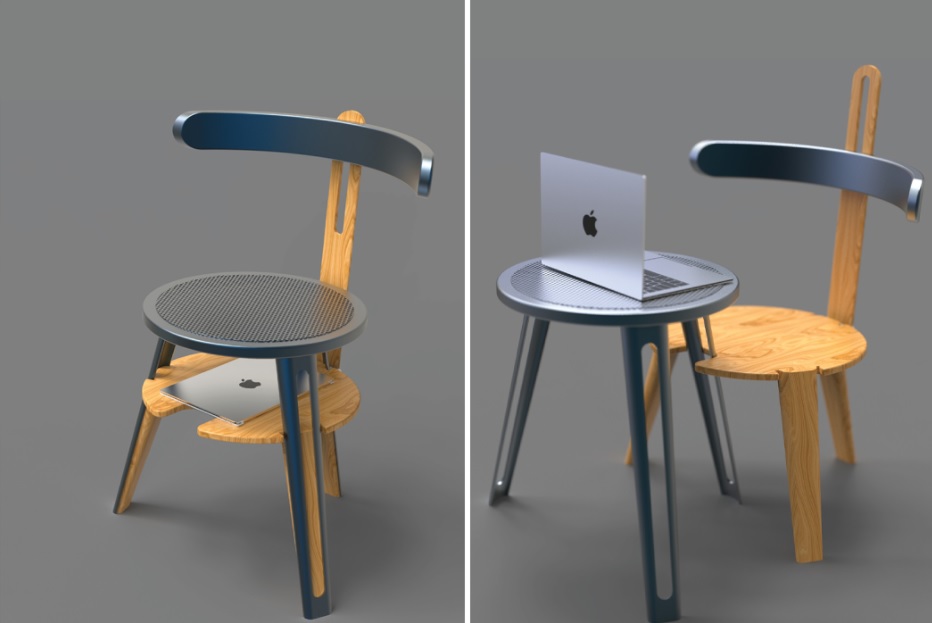 A wall mounted desk hides its home office function
A wall mounted desk that folds to transform into a rack is something a minimalist home can greatly benefit from. When you like things simple, small spaces don't seem so daunting anymore.
Some creative minds already imagined stylish WFH solutions for those who want to easily switch from work hours to … well, pretty much anything else.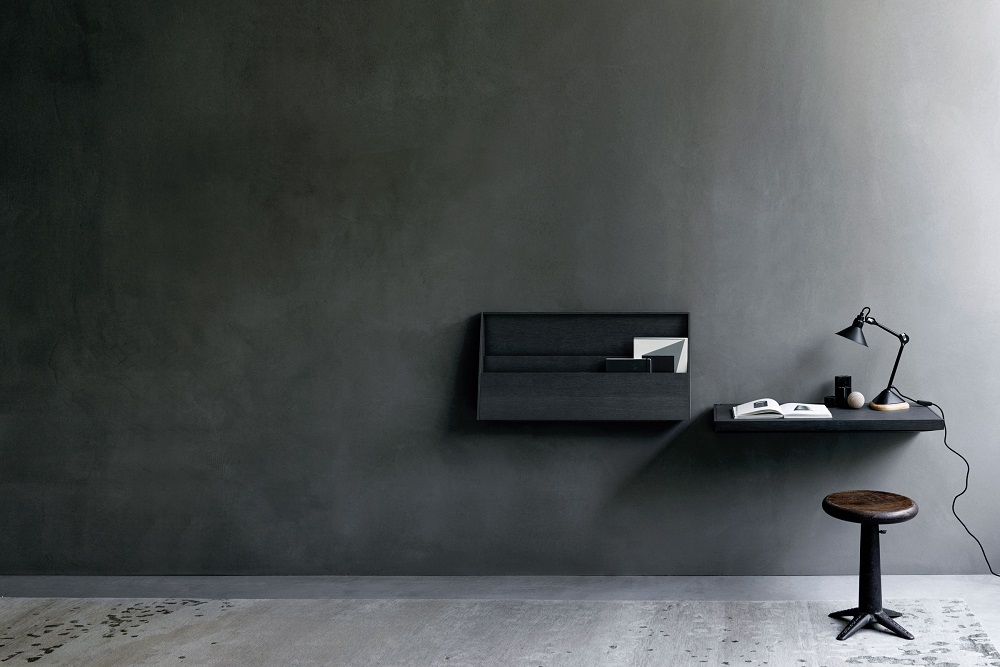 A balcony home office with multiple uses
A balcony home office can become the perfect spot to work from during sunny days. For this, the Views Balcony Bar is an inspired choice because you can mount it in no time and use it as different functions at different times.
When the weather permits, use it to work from the balcony, at evening you can share a drink with friends, while the morning can bring a coffee start with charming views of your surroundings.
A tripod home office desk can be easily disassembled
A tripod home office desk can easily become your favorite type of temporary desk that's also foldable. Imagine travelling with this clever home office desk when all you need to do your work is your laptop and your phone – maybe headphones and some photography gear.
This tripod home office desk is a must have for someone who loves smart desk ideas – you can see more details about it by clicking on the photo below: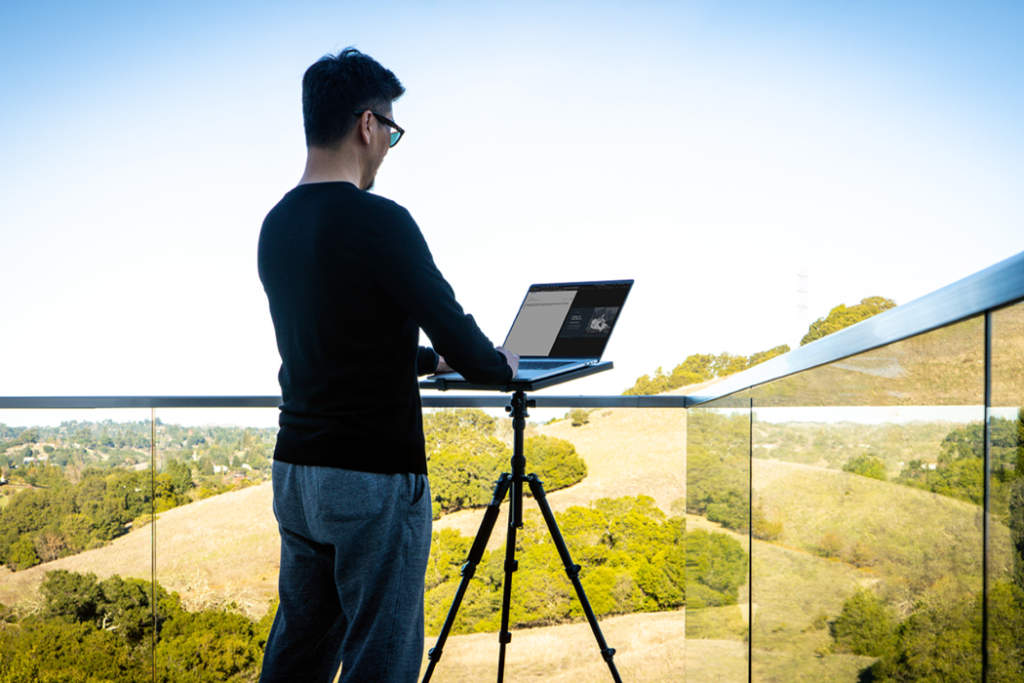 Multifunctional Furniture for temporary home offices
Multifunctional furniture with an integrated workspace can look like this brick sofa design that marries function and aesthetics. It possesses an elegant and functional appearance that swiftly switches from "busy bee anywhere office because I just have to get this done" into a stylish helper that gently holds your coffee in the morning while you read from a book.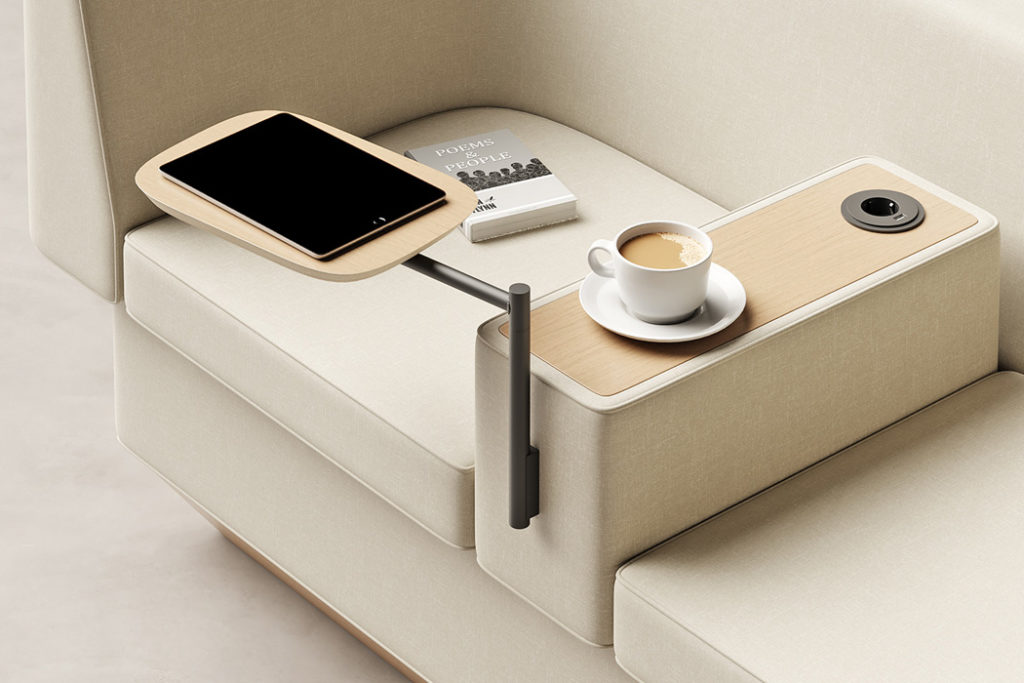 The multifunctional furniture can also be a dining table that transforms into a home office desk. Imagine easily changing the whole scenario when you switch from working to dining – would you consider upgrading your home environment with a creative furniture piece like the Celerina Table?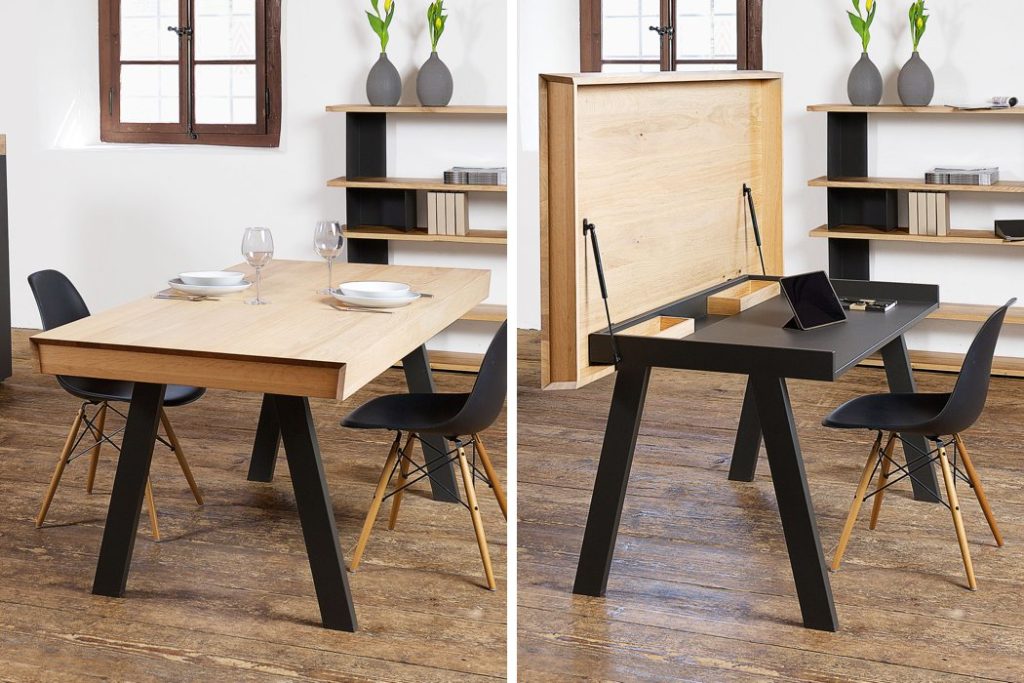 A foldable home office complete with chair that hides inside and has a minimalist design? Yes, that would be perfect to relax the mind at the end of the workday when the whole workspace setup folds into a cube.
Inside you can find shelves and drawers that give you different storage options. Everything remains tucked away and out of sight whenever someone comes over or at the end of the workday, depending on how you set your schedule up for the day.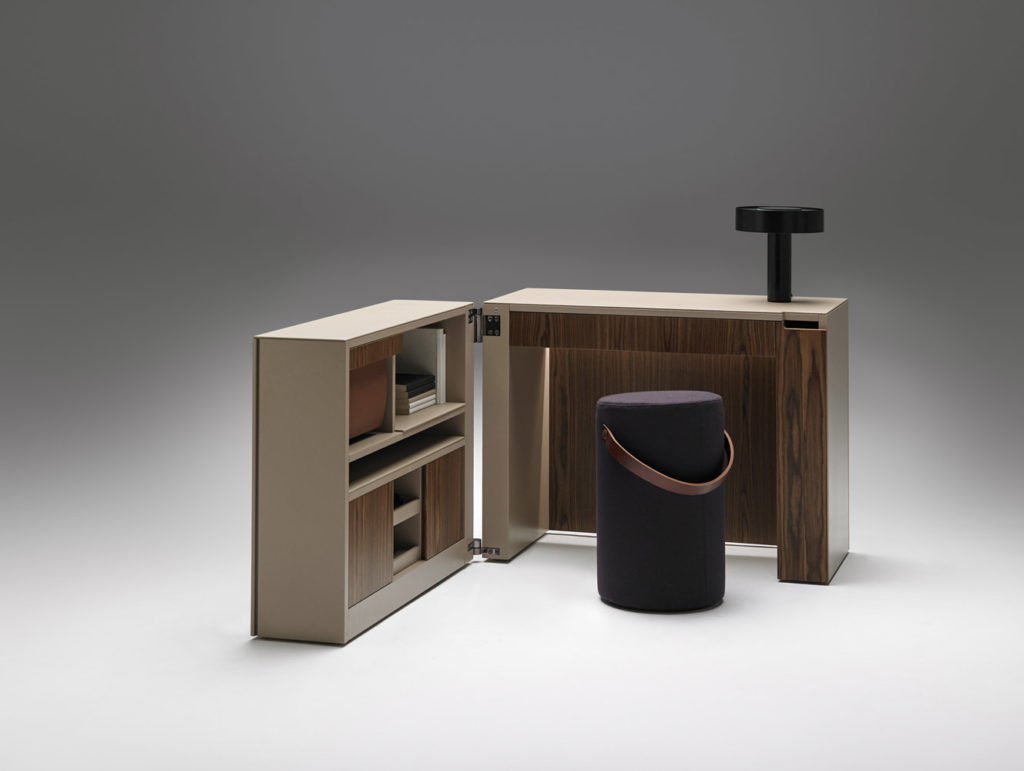 When the space under the stairs becomes the WFH setup
Desk setups under stairs save you from the traditional desk + chair setup and cleverly use forgotten spaces. Whether you have a little or a lot of space under the stairs, consider slowly transforming it into your home office headquarters. These ideas should get that motivation going: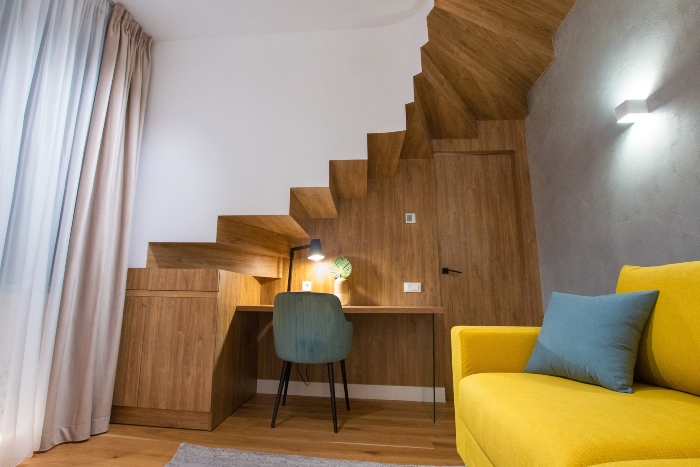 Adding a chair or two to an open space floorplan
When you have an open floorplan, adding a chair or two (if you're sharing the home office with someone) to a makeshift desk can sound cringe. But that's just until you see something like this next example, where a media setup was elongated to shape a floating surface that can serve as a desk or a dining table.
The two decorative clocks above remind both inhabitants that there is no time to waste.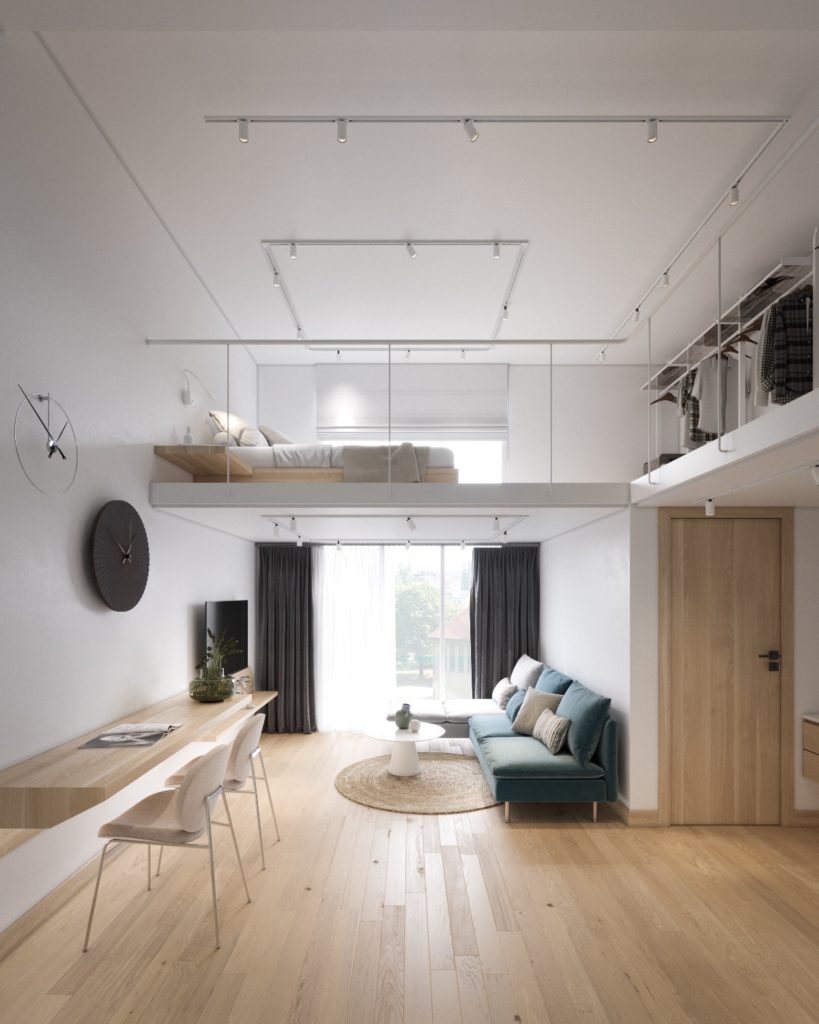 Then there is the idea of planning to have a designated multifunctional space in a small apartment.
When your home that you share is just one room, a home office space must be versatile. That means it has to occupy the space just some of the time. That means that during meals, this modern smart space turns into an inviting shared food experience.
Choosing to WFH without a traditional desk can result in many creative home setups. It depends on you to make the most of inspiring things you come across. Here are a few more ideas on creating a home office setup:
Cosy Living and Working in Small Studio Apartment
Small Bedroom Workspace Tucked In Stylish Corner