Teen bedroom and study designs can make a great impact on the journey a human makes through life. Creating an environment that encourages study, sleep and creativity is highly important for growing up healthy and happy.
Keeping a teen bedroom clean and looking inviting is important not only for health reasons, but also to be able to enjoy the design this space was given. An uncluttered room makes it easy for a teen to become organized, it also makes it easy to adire aand take advantage of the design concept imagined for each specific project by its designers.
A rather dull teen bedroom can be spruced up with color. Today we're exploring three ways to add depth to your teen bedroom and study space with the help of color:
using grey nuances and adding depth with orange
using black, white and grey with a mustard yellow twist
using earthy colors for expresing preferences and hobbies
Grey and Orange Teen Bedroom and Sudy Space
Using dark and light grey and adding orange details in this teen bedroom visualised by Neiman is primarily keeping in tune with the rest of the home it's part of – an 145 square metre penthouse.
The painted mountain mural is a simplified manifestation of an adventurous spirit. Plenty of storage space in the custom white furniture ensures that everything has a designated space and the room can be kept uncluttered at all times. A modern oversized version of knitwear can be see in the design of the pouf, blanket and rounded white rug.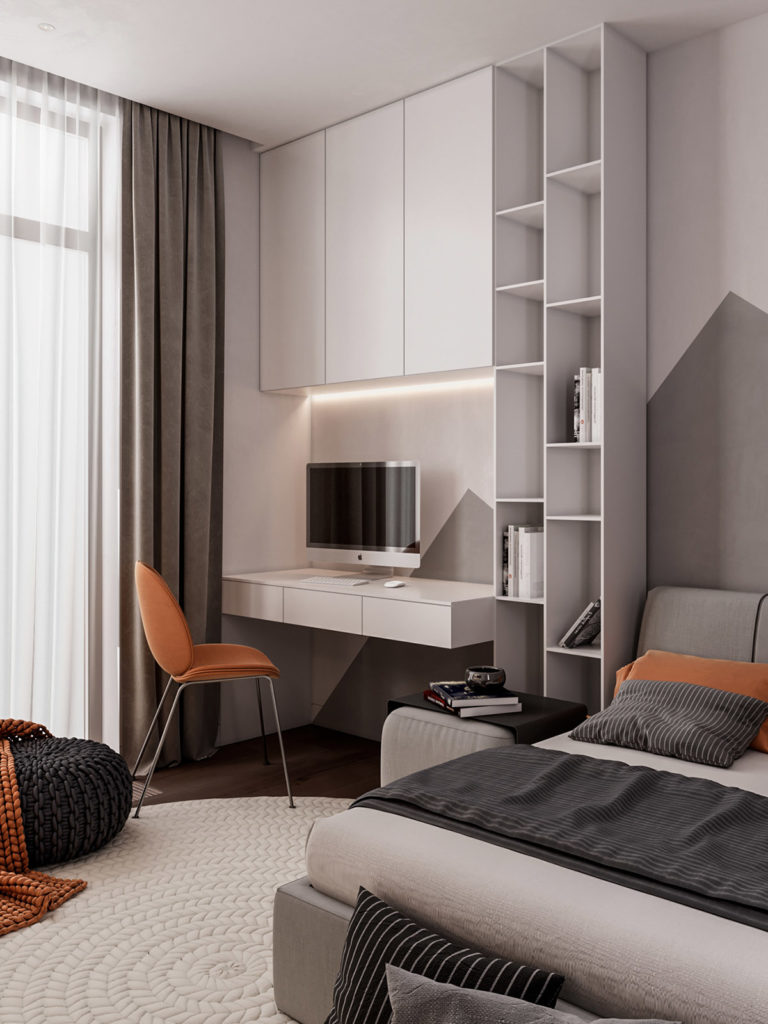 Carefully choosing the bedsheets to match the rest of the room is one step closer to a perfect teen bedroom with study. An orange chair and two orange pillows plus the orange thowblanket are enough to add dimension to an otherwise much too simple grey room.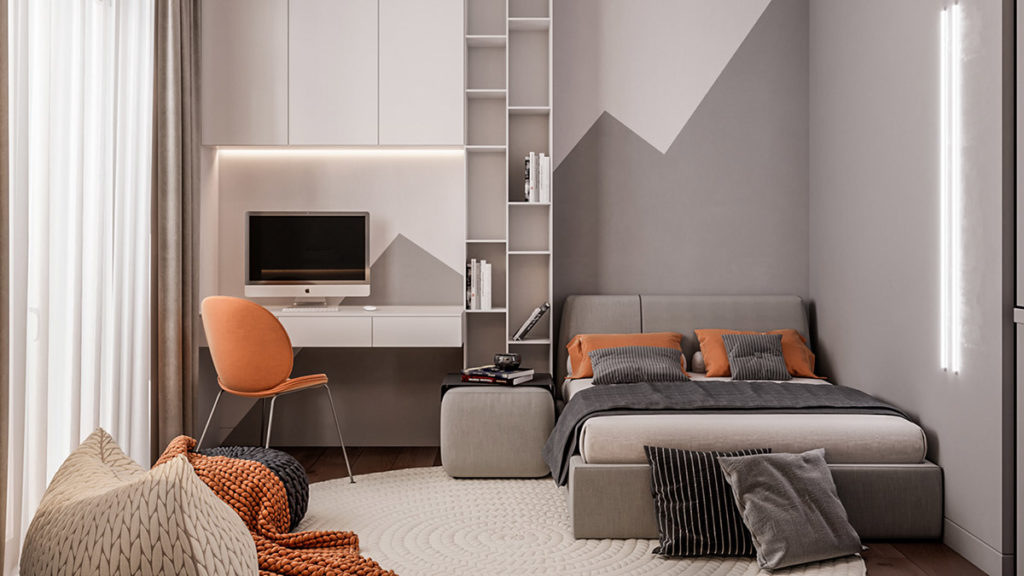 Stick LED lights were integrated in the design – one to illuminate the study space and two parallel ones near the door. This helps transition from natural daylight into night mode while keeping an elegant atmosphere.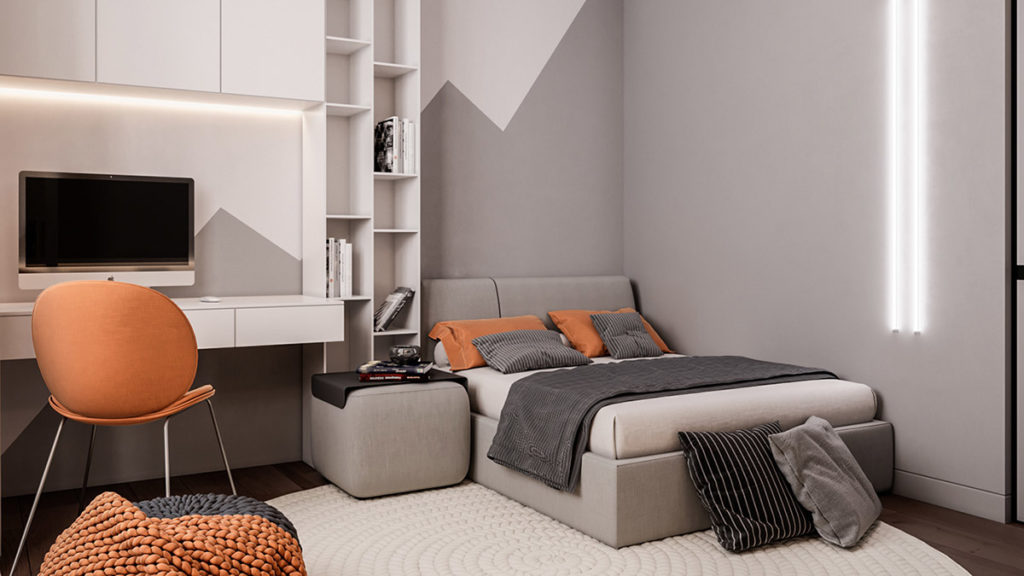 Grey and Yellow Teen Bedroom Integrating Study Space
A bright mustard yellow desk that seems to be coming out of the custom furniture is the main focus of this teen bedroom. White furniture ensures that the rest of the room is bright and cheery, while the study desk sits on a white support, making the desk look like it's floating. The yellow floating desk contrast a white painted brick wall that adds dimension to the space without disturbing the rest of the design.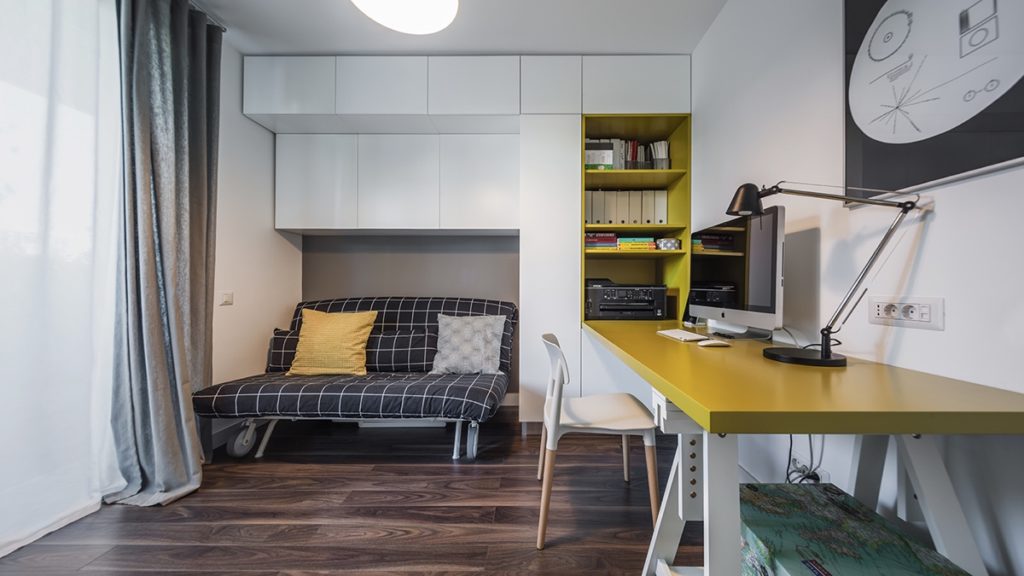 A white wheeled furniture piece blends in beautifully. The rest of the depth was added with a yellow storage box and a yellow decorative pillow. Subtle geometric shapes give this teen bedroom a masculine appeal – black and white bedsheets, a round art piece above the desk, the artistic painting leaned against the white brick wall. These are easy to change and add a different vibe to the overall design of this sleep and study space.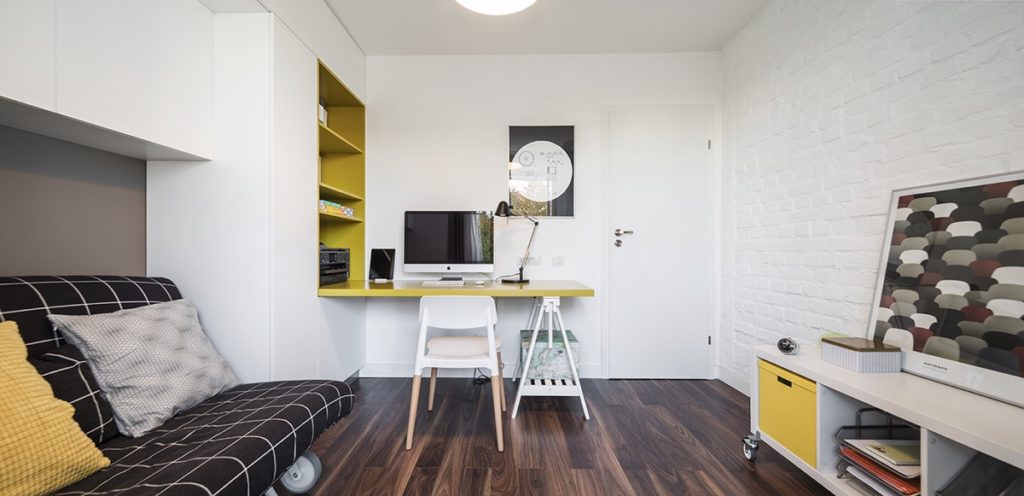 You can use this combination as a home office and guest bedroom, it's mature enough to withstand the test of time. Looking closer at the desk area, plenty of storage space keeps everything needed at arm's reach.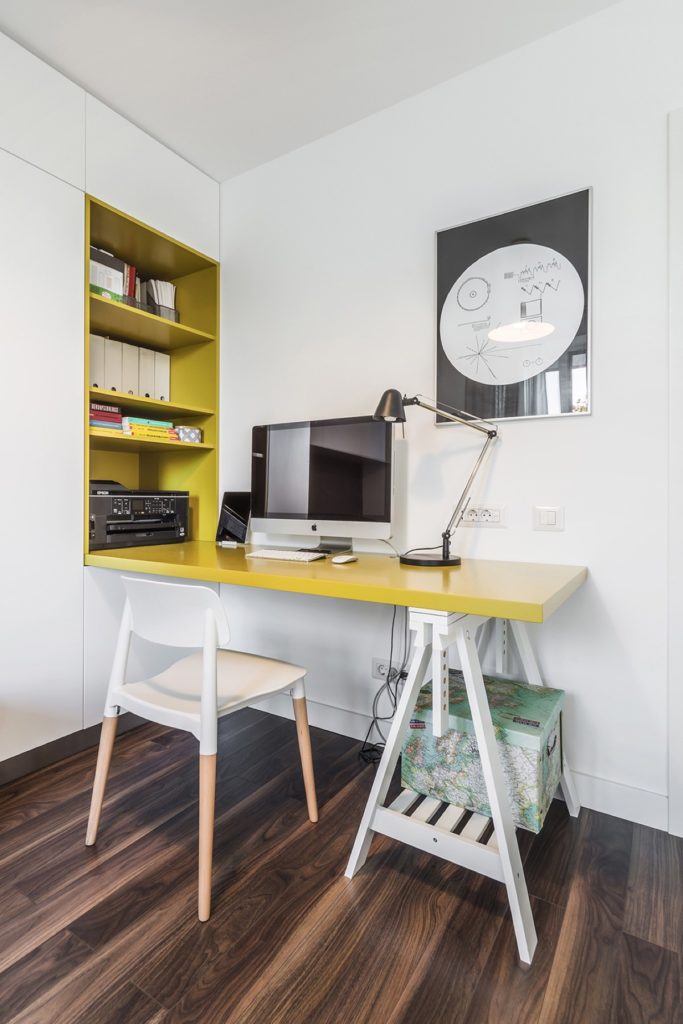 Chocolate Brown Teen Beddroom With Cactus Decor
A savoury brown color palette can make your teen bedroom become the envy of your friends. Chocolate teen bedroom design can blend different types of nuances to achieve that earthy, inviting appeal. This example of a teen bedroom that uses earthy colors to shape a whole concept subtly hints to the desert. A few cactuses spread across the room add a desert feeling.
By using earthy colors in this particular teen bedroom, designers managed to help expres the owner's preferences and hobbies – from cactuses to the guitar hanging on the wall – and still leave room for new thoughts. A black thought bubble above the bed expresses hope for the future, while the overall design gives a wholeheartedly embrace to anyone using this inspiring bedroom.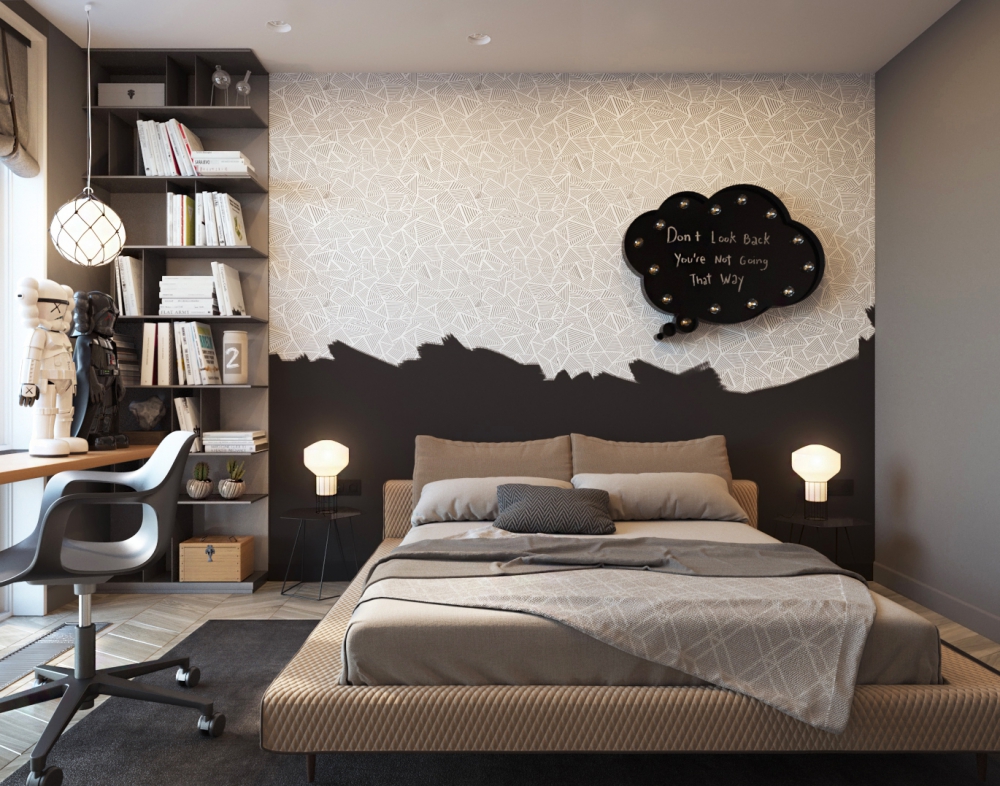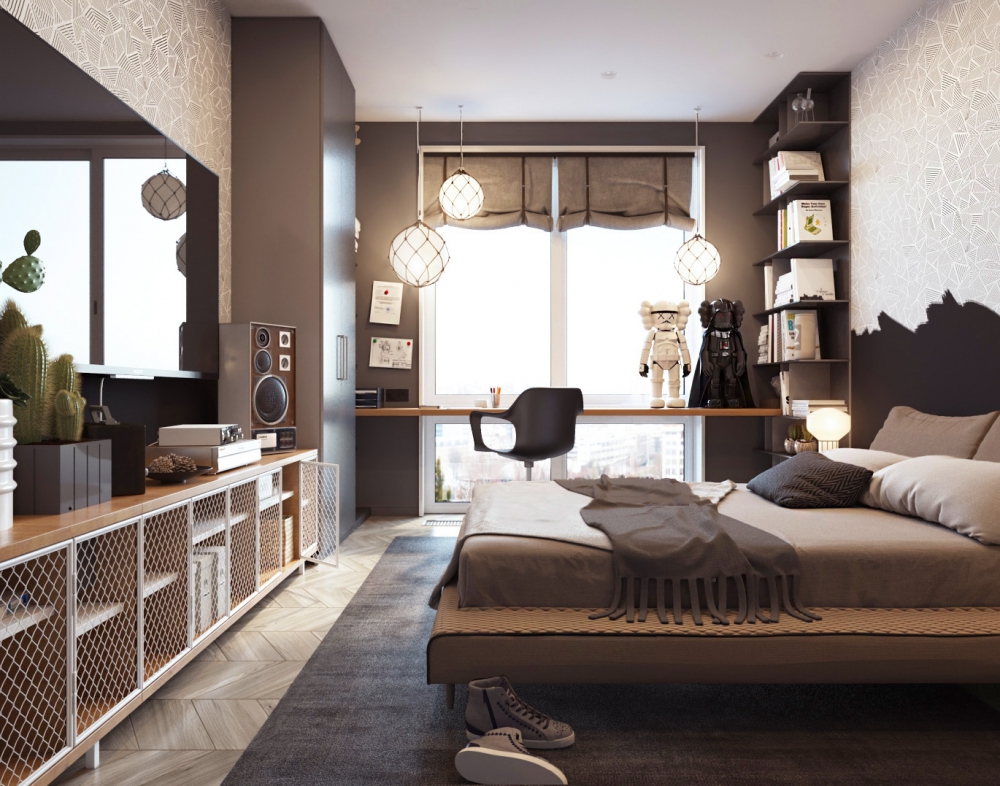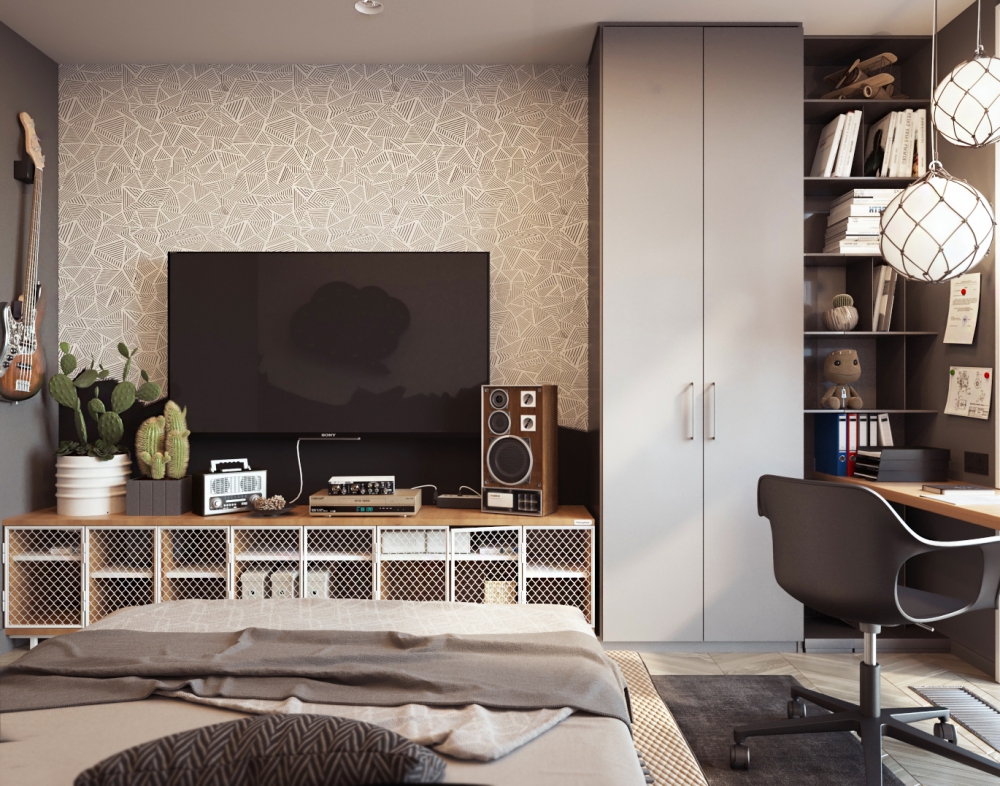 These three teen bedroom and study examples show how you can add simple decor to change the overall feeling, while keeping the background as minimalist as possible. Here are a few more ideas to guide your decisions:
10 Teen Bedrooms and Study Spaces for Important Years
Black & Yellow Bedroom and Study Spaces for Teens