Modern study room ideas can give you that much needed inspiration to turn your vision into reality. Studying from home is always on the table, since school can only take you so far and the rest is up to self-education.
Education guides you to learn what you need to know to have a good life, but without practice it's just unused knowledge. This can happen to inspiration as well – if you don't put it to good use.
A study space in the bedroom can be bland and boring or it can inspire you to create a bright future. Whether it's a big or a small study room, designing it with a bed that fits the space can be a challenge.
Nature's Impact in Modern Kids Bedroom and Study Space
Let's take this first example – natural light rushes in both through the large window and the glass door. Privacy is kept with curtains, while an oversized bulb-style bedside table lamp accompanies the ceiling lights to create a well lit environment at evening.
Doubled by the use of light colors, this modern study space for a single child is focused on reminding them about nature and horses.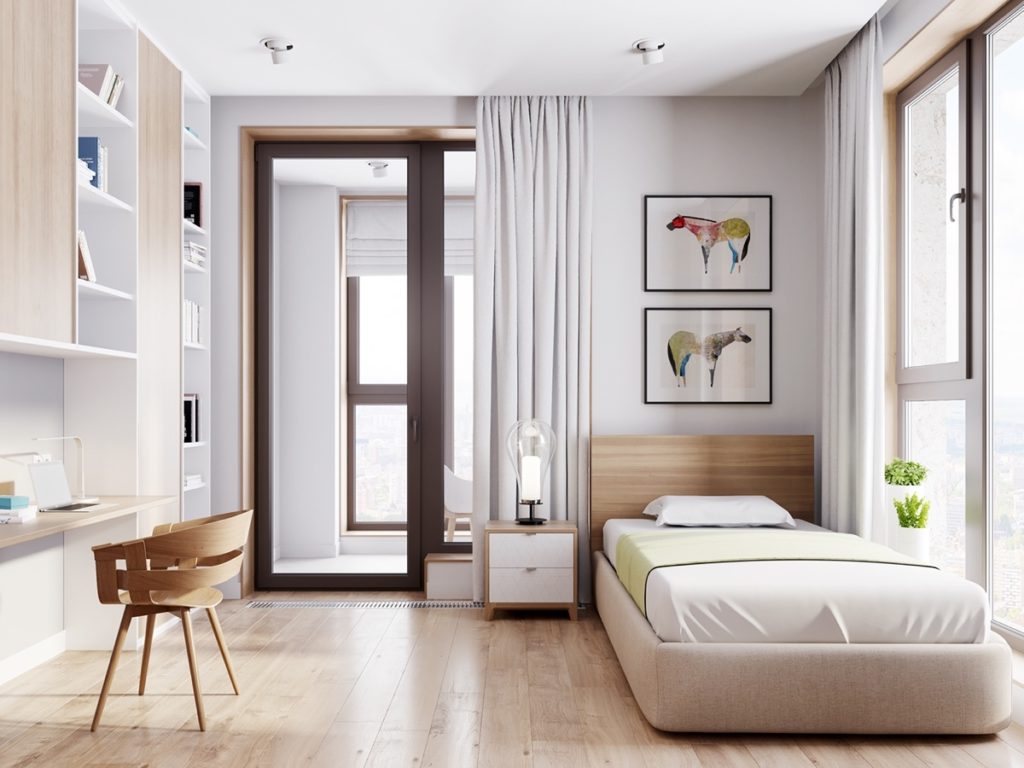 Modern Study Space in Boys Bedroom
For a kids bedroom and study room combined, you might need to plan ahead. This example below takes into account the quantity of toys by lining up boxes in the shelving unit that stores the child's belongings. Only a decorative dinosaurs and a vintage car hint to this room's inhabitant's interests. Everything else is kept hidden and organized.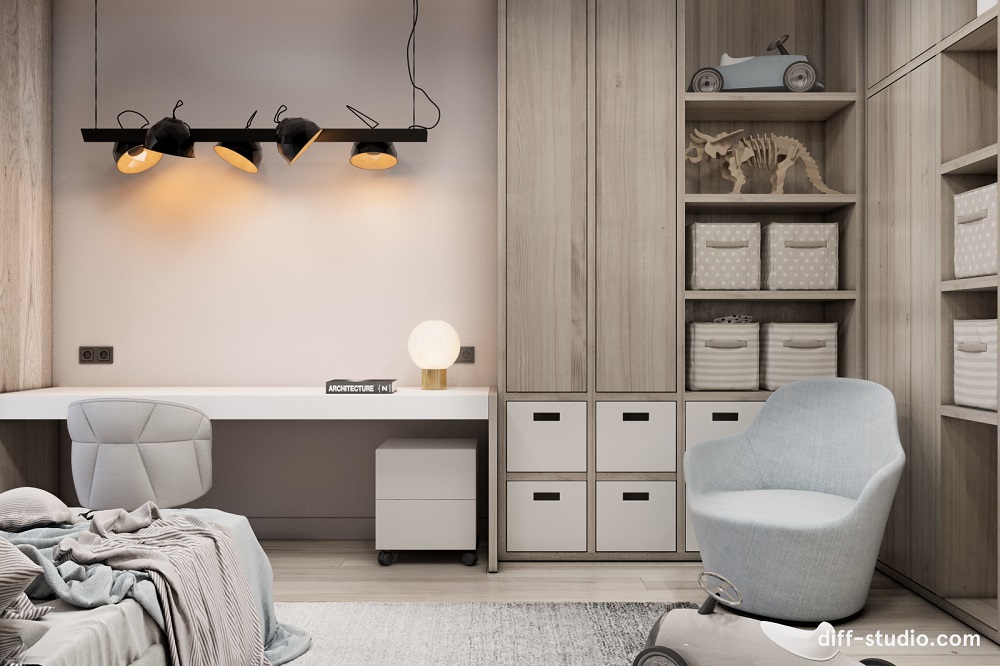 Modern Study Room Idea Combining Bold Textures
In this modern kids bedroom, texture and color rule. From beautiful modern furniture and storage spaces right down to the pegboard occupying the entire wall where the study desk sits.
A minimalist swing in the middle of the room shows a carefree spirit, while the play of dark and light on the outdoor wall is fantastic and adds dimension to the whole room. Doubled by different black details, this effect creates great contrast that is welcomed in a space that blends rest, play and study.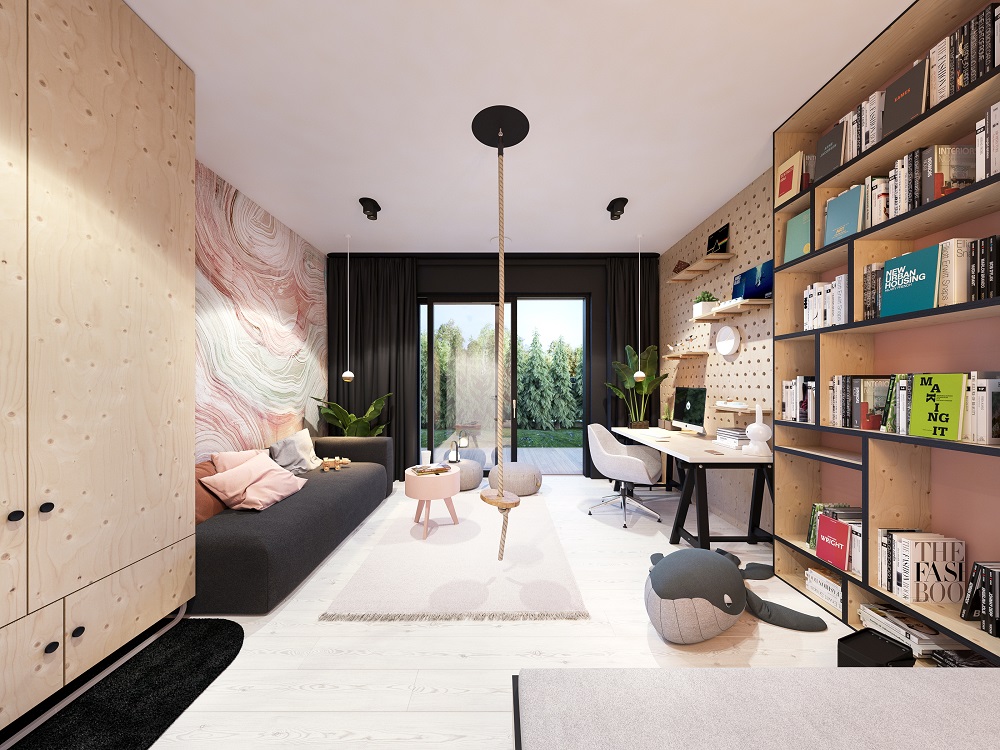 Cobalt Blue Color Patches in Boys Bedroom Design
Study layout ideas that take into account your child's needs and preferences can result in fantastic environments where learning becomes easy. Cobalt blue was inserted in this bedroom to accentuate the natural colors used throughout. Concrete textured walls and custom wood furniture make it possible for this space to hint to the idea of roughness.
Blue spots of color in the blue pillow, blue hanging lamp, blue pouf, are balanced by black details like the window frame, vertical heater and a "Stay wild, child" message pillow decorating the inviting window seat.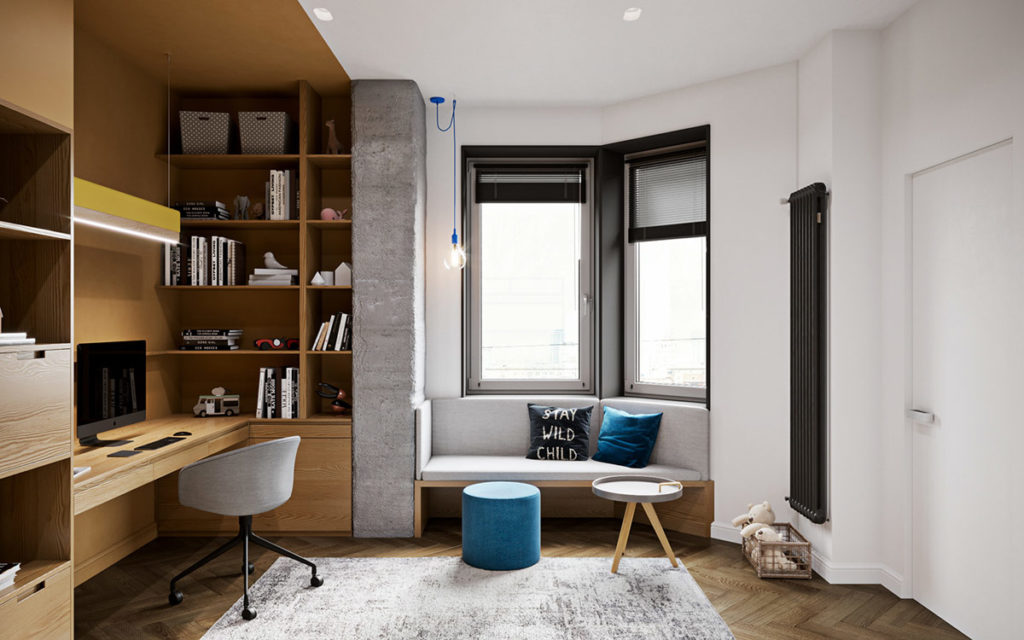 Modern Tech and Texture Meets Nature in Home Office with Study
Next, a modern example of a kids room displays a modern interpretation of a jungle, with bright white textured walls and an exotic plant-themed bedsheet set. A white desk and chair mirror that almost sci-fi inspired design that's also grounded in nature with a round stylized black and white rug reminiscent of stylized jungle patterns.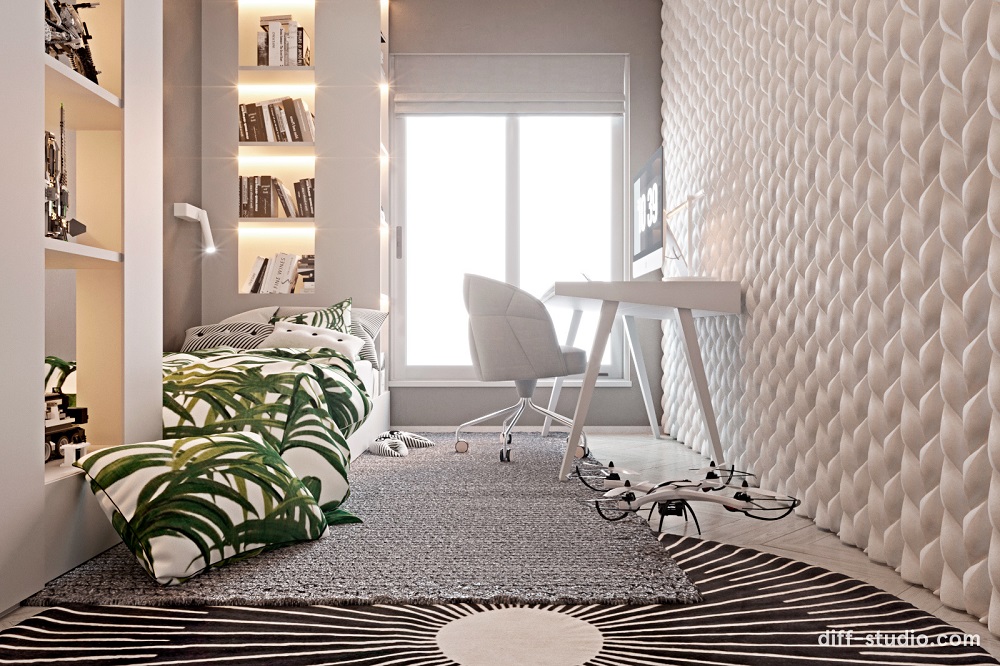 Rounded Desk Corners and an Art Vibe
Another way to style up a kids bedroom and study space is to give them an area for their hobbies. An easel encourages the child to explore painting and wooden furniture helps express love for nature in a deeper way. Rounded corners on the kid's furniture talk a soothing design language, don't you think?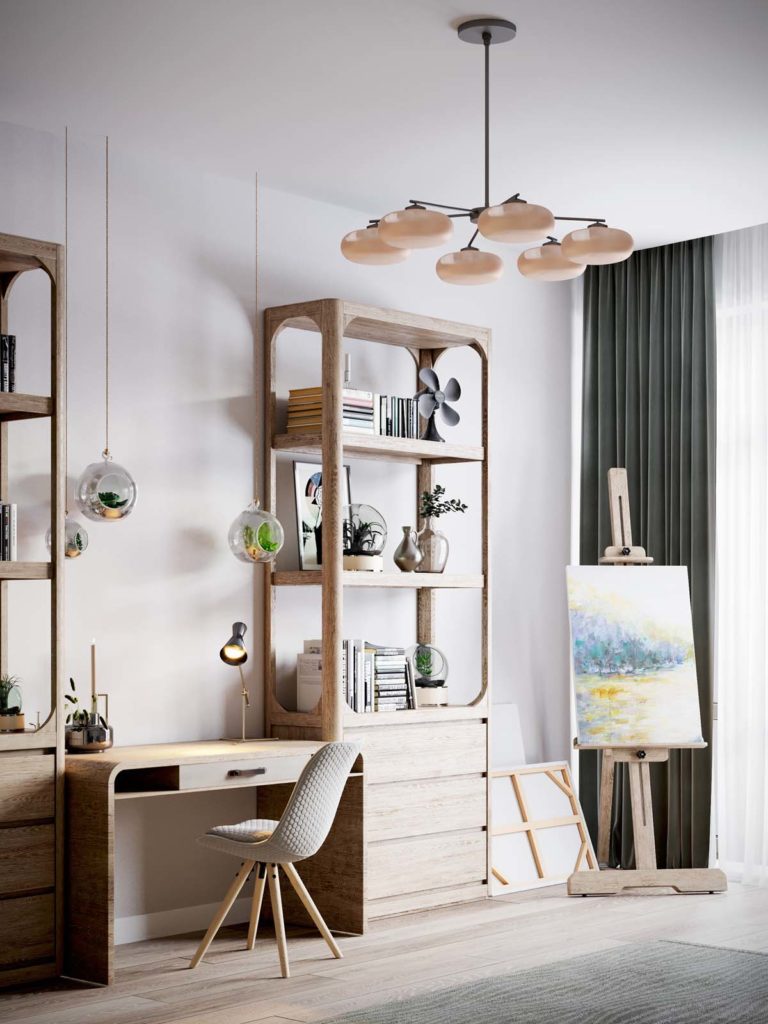 Kids Bedroom Design With Pegboard and Glass Door
Within a home that utilizes soft grey walls o create a serene atmosphere and black framed partitions to delineate spaces, this next example of a kids bedroom will leave you in awe. There is plenty of space for sleep and study and even the decor was chosen to either fit in – like white frames and books on black shelves – or make a deep contrast – like the greenery sprucing up the kids bedroom. A black framed glass partition wall ensures parents are aware of the kids' needs. This is not the only glass wall in this home, so it helps create a design link to the rest of the home.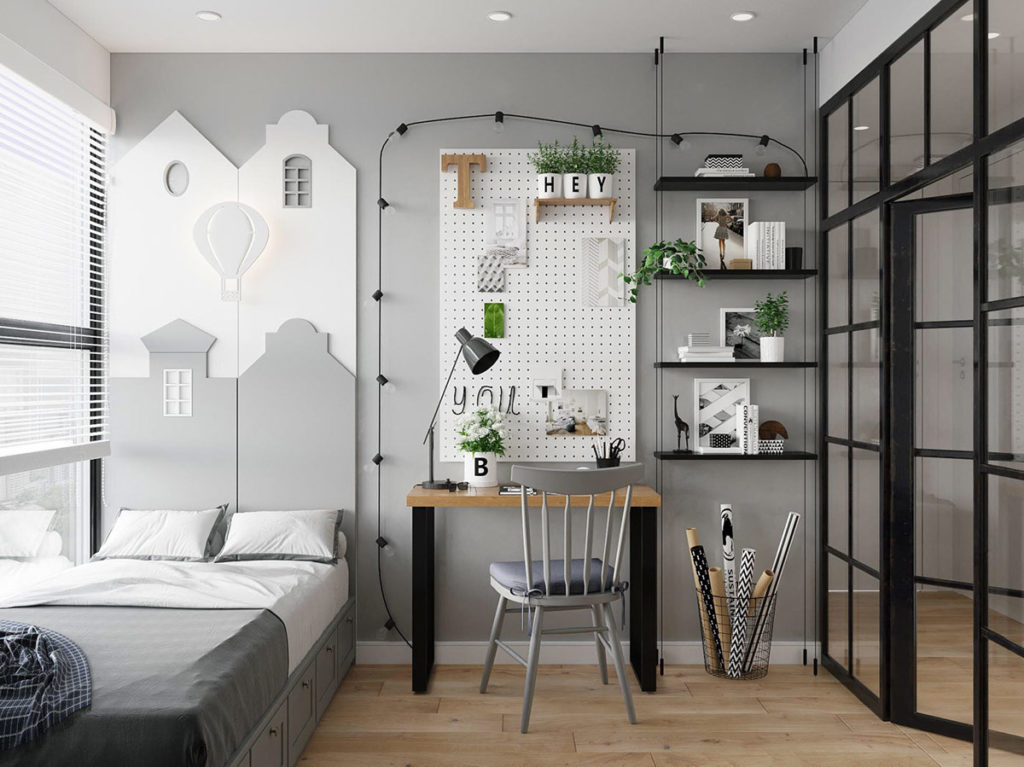 Dark Grey and Orange Kids Bedroom and Study Nook
Kids study room design can also come in dark grey and have bright orange accents to tie it all together. Lego inspiration was used to create the patterns on the closet doors, while the rest of the bedroom looks simple and modern. Under the large window, a double study space ensures kids learn with ease, but it can also hint to the help kids receive with homework from one of the parents.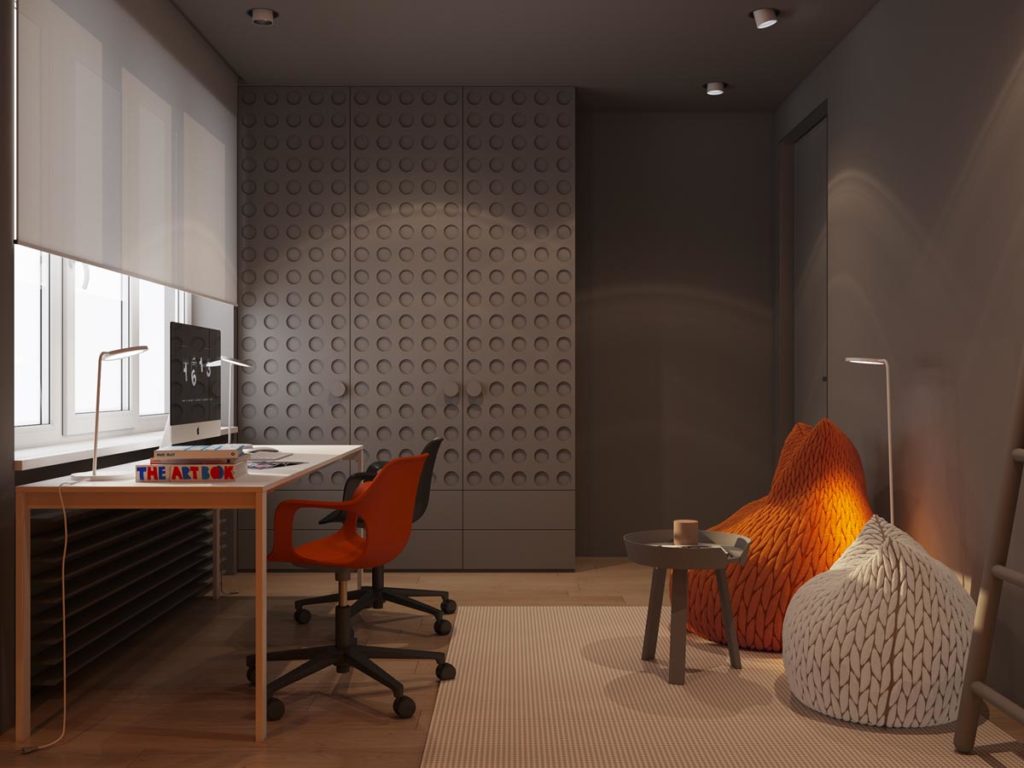 Kids bedrooms are usually small, so creative solutions must be employed to create an inspiring environment. Out next example places plenty of storage for books above the study desk and bed, lining an entire wall. Displaying a soft industrial design style, this modern kids bedroom keeps the color palette neutral only to spice it up with a mustard yellow chair – a perfect way to remind the kid about how important study time is.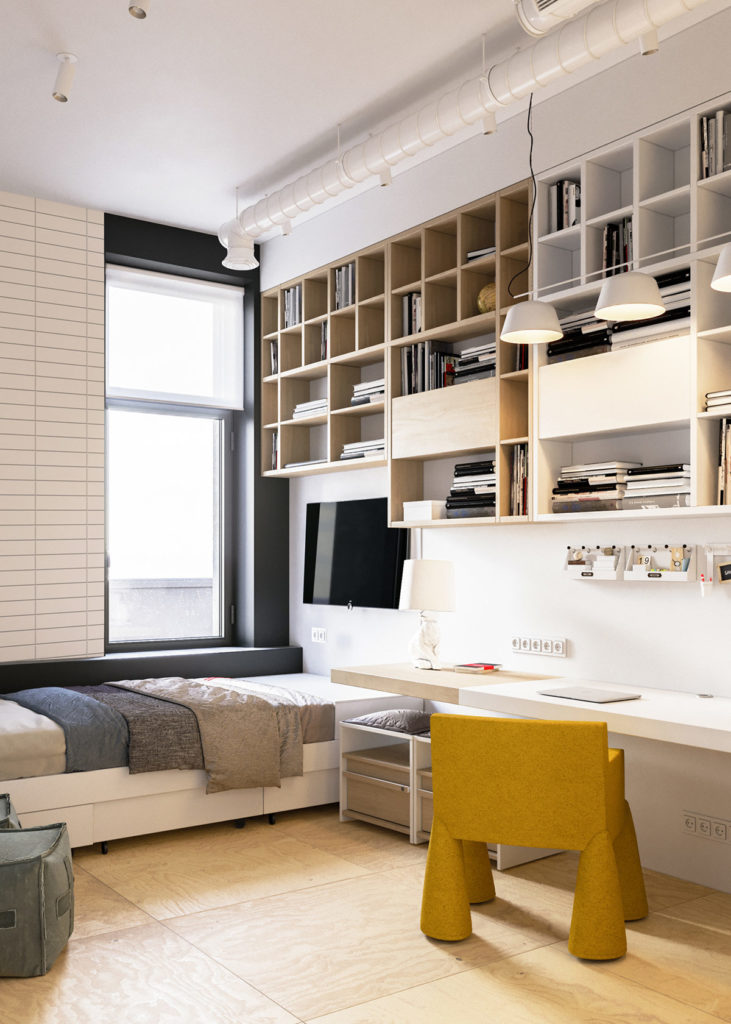 Colorful Study Spaces for the Modern Home
A unique rug in the kids bedroom on top of a carpet can greatly impact the overall feel. Take this first example, where the study space is placed on one side of the large glass door leading to a balcony, while a red and green sofa decorates the other side. It's safe to say that designers really captured the modern Latin spirit within this design, while also leaving room for dreams of being an astronaut.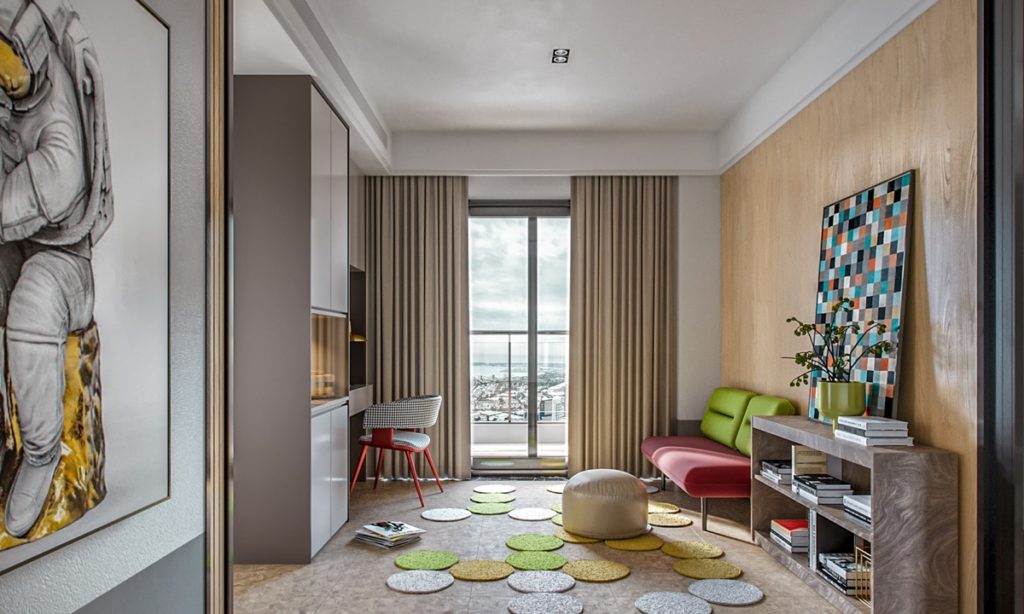 Since there are always more ideas to look into, you might want to take a look at these solutions for kids bedrooms where the study space is big enough to attend to their needs and inspiring enough to capture their hearts and propel them forward:
10 Ways Custom Furniture for Kids Rooms Shapes Inspiring Study Spaces
10 Blue Kids Rooms with Enticing Study Desks