Working from home with kids is a challenge. And yet there are creative ways of keeping your kids busy with productive or playful things.
WHile you work from home, kids can study or play in their own room. And if their room is an appealing place that enhances their creativity, you will have less interruptions in your work day because the kids will not get bored easily. So let's explore 10 pink bedrooms that would give you this freedom and anchor your kids in a creative environment.
Creativity comes from fantasy
Our first example is a fantasy-inspired study and creative space in a unique pink kids bedroom. This example below, imagined by Art Group by Vasilkova Daria, is a fantastic way of hinting to Alice in Wonderland's fantasyscape. In between these rabbit stickers, a pink floating desk turns from a study space to a slanted sketch support very easily.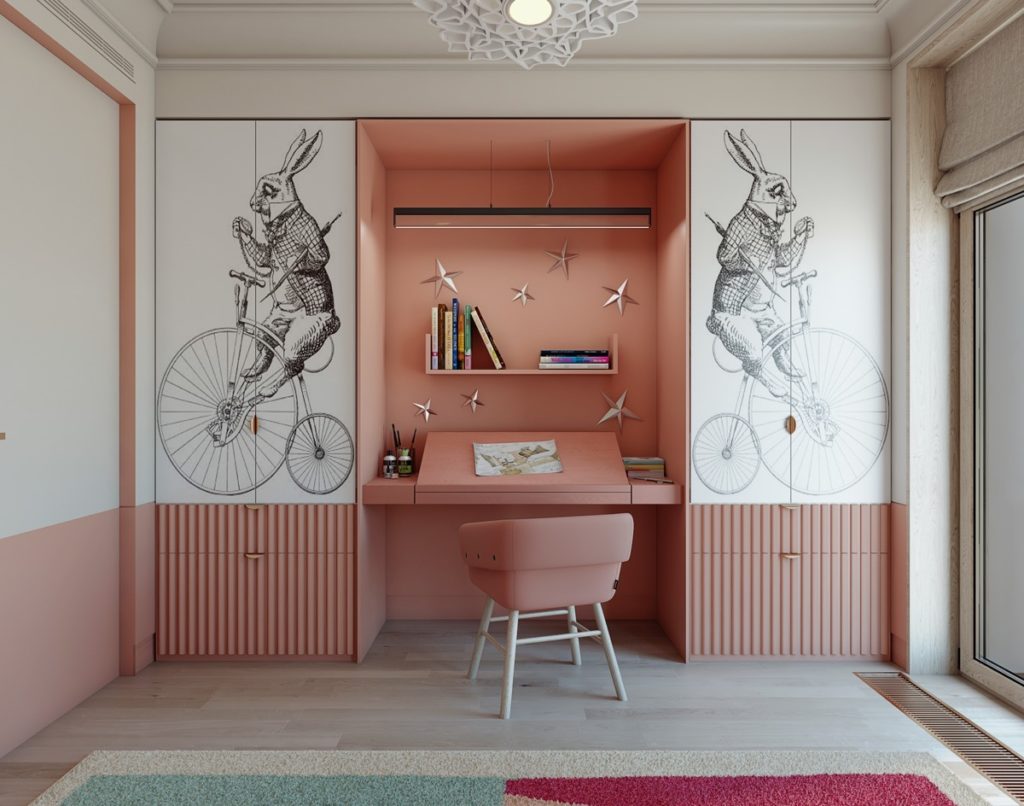 Simplicity is key
This second example was designed by Bogdanova Bureau. Split in two zones with the help of design and colors, this kids bedroom showcases a minimalist arrangement created in pink, white and grey.
Soft pink was used to create a separate part of the bedroom, one that focuses on studying. Under the window, a long desk is prepared to support the little girl's interests. A cosy white chair makes sure she feels comfortable and plenty of natural light induces feelings of happiness. Leaping bunnies are seen on a shelf and floating right above the platform bed.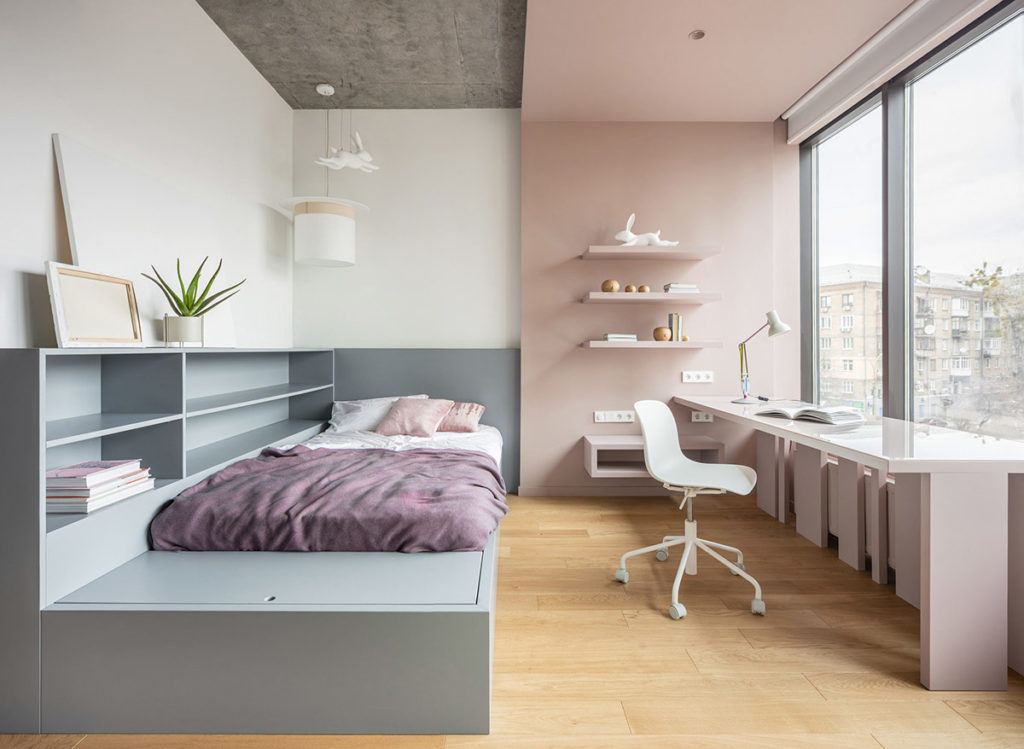 Pink grafitti tags and simple design lines
There is nothing more than necesary present in this next kids room, making it easy for the space to be kept uncluttered. The pink grafitti tag wallpaper brings depth to this simple and functional pink kids room. A similar layout as the bedroom above, this design by K-Band shows us a different perspective of arranging the space using tmuch of the same colors.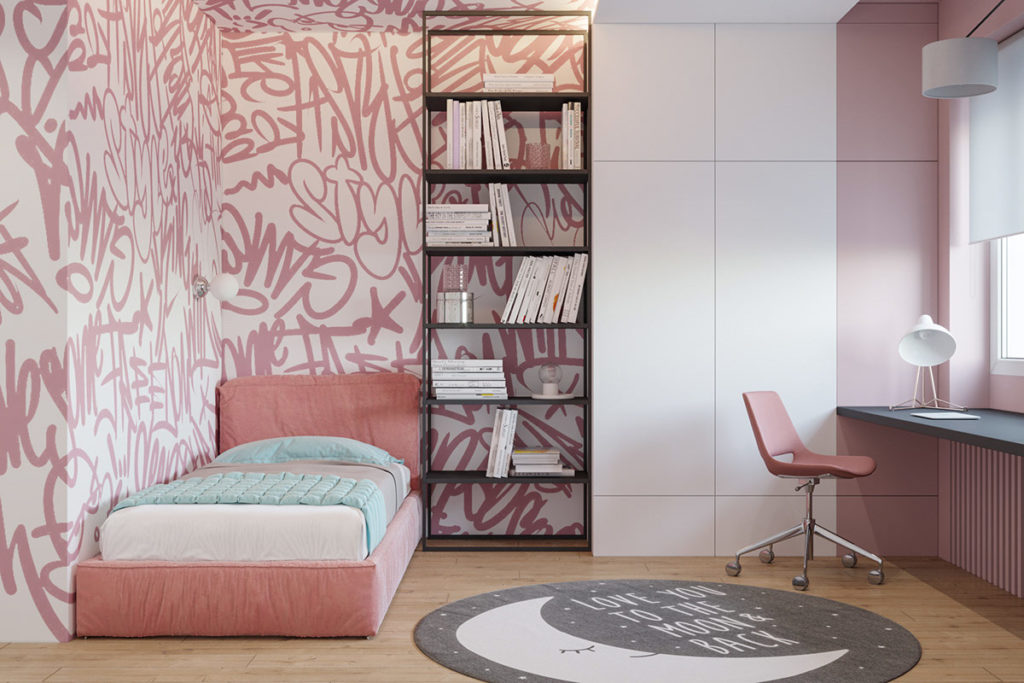 Simple geometry builds fantastic spaces
A pink study space in their room is sometimes the exact thing your child wants. This next example displays a creative way of working with furniture design in order to create whimsical interiors. Imagined by ZOOI, this unique desk is shaped like a little pink house and has a matching pink and white desk chair. And have you spotted the Peacock pencil holder by designer Takeshi Sawada yet?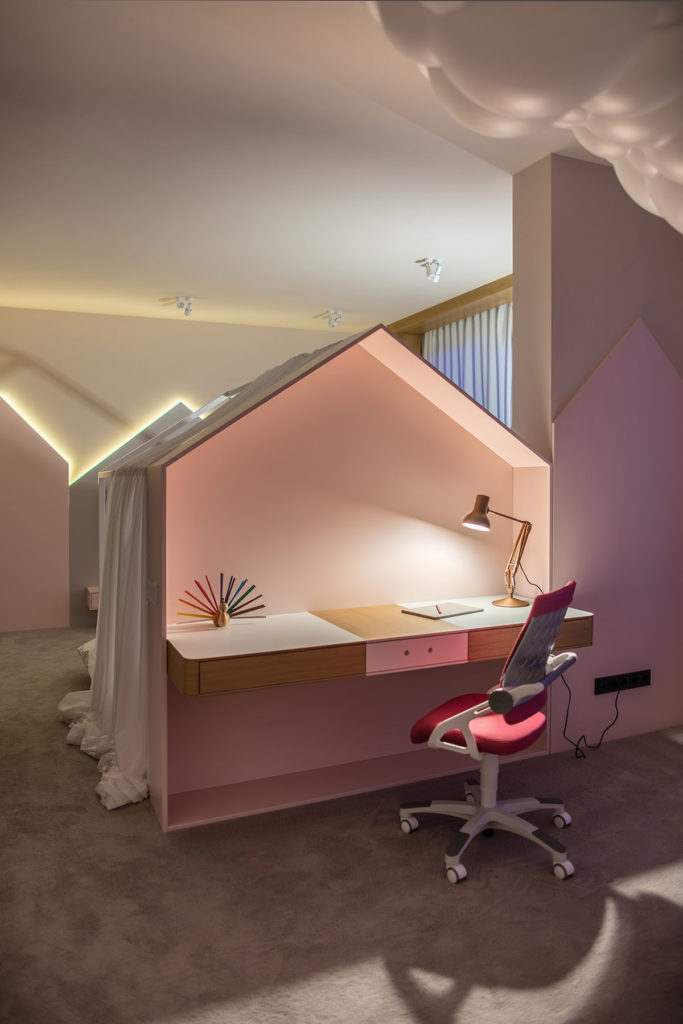 Flowers and pink shades
Next up, this powder pink paintwork and flower mural in a girl's bedroom and study space is so inspiring that you might want to see more. Aliev Architects imagined a soothing, elegant and feminine space for the family's little girl. See more of this Soft-Colored Girls Bedroom Boasting Pink Study Space here.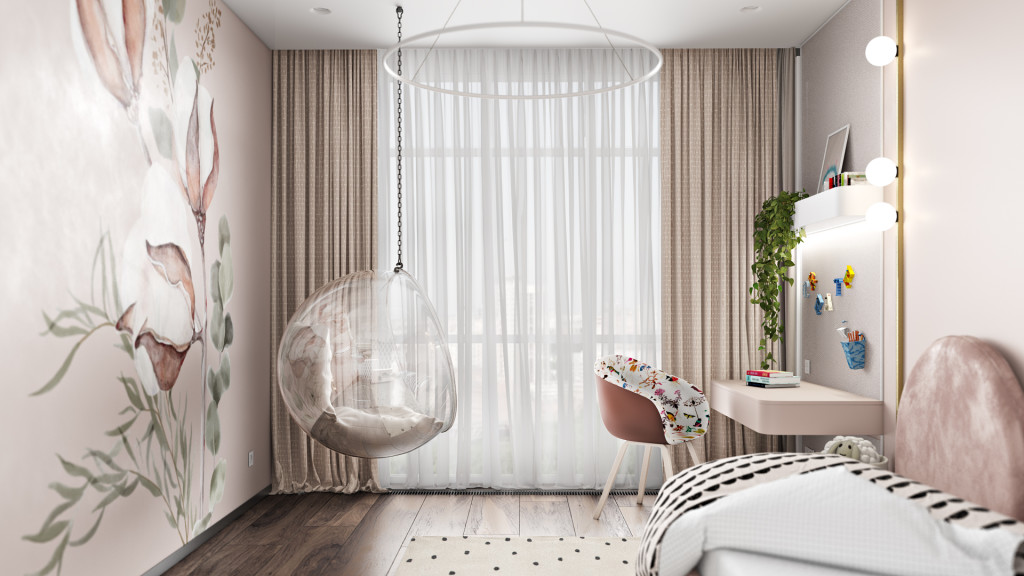 Home within home within home
Visualized by Daria Alieva, this pink kids bedroom features the house as a main theme. A bed shaped like a house and three house-reminiscent shelves keep the design grounded, while decorative clouds allow dreams to detach from this world and encourages creative imagination. A nook right above the long study desk cuddles more shelves and we can think of nothing else that needs to be added to this space to make it more magical.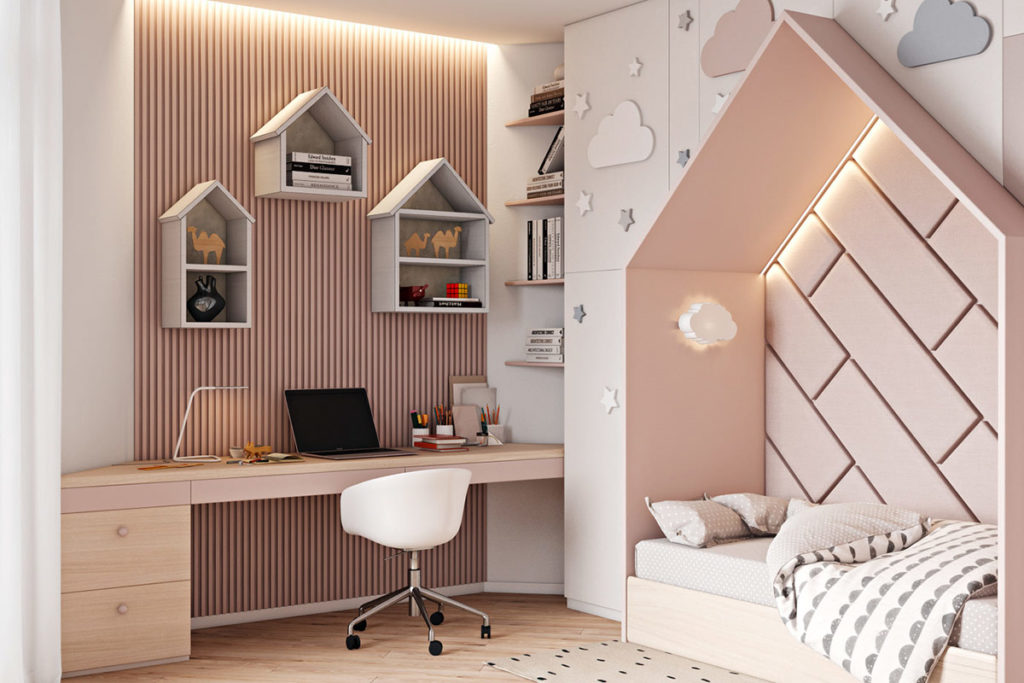 Minimalist playground in pink
KC Design Studio imagined a minimalist space and designers explain: "to build a pure pink space, we use the pink mineral paint as the base of the walls and ceiling and select the different pink materials in natural colors to compose the mixed style." But how about those stunning levels created the cats of the house, might they inspire a bedroom with study?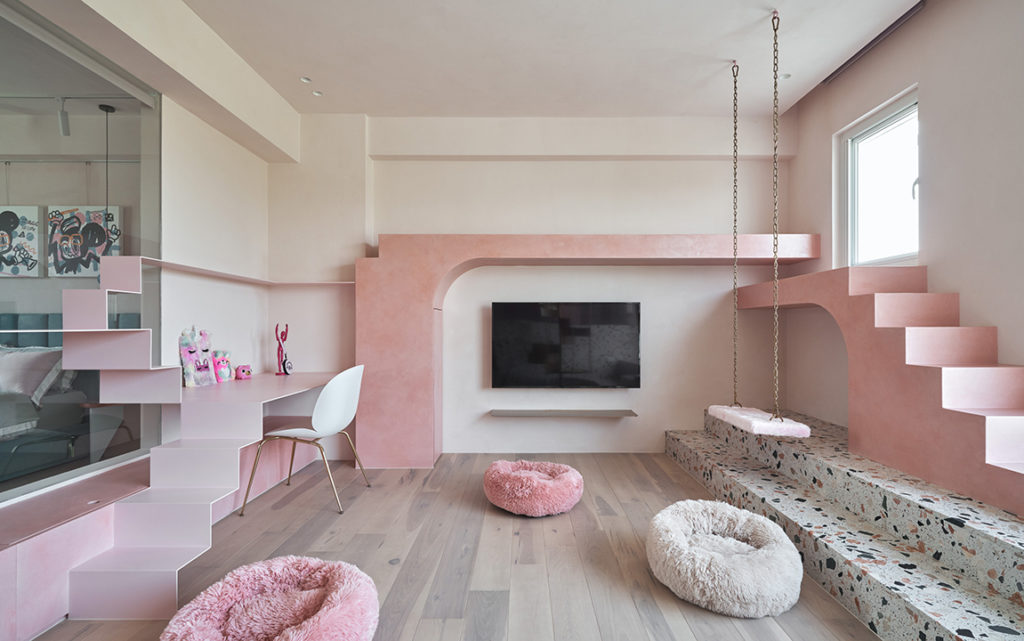 When soft colors come together
Within a soft colored space like the one below, a child feels not only safe and cosy, but might also find a soothing feeling when sitting down at the desk to study. Visualized by Olia Paliichuk, this colorful room uses both pastel pink and powder blue in various amounts to create softness and peace.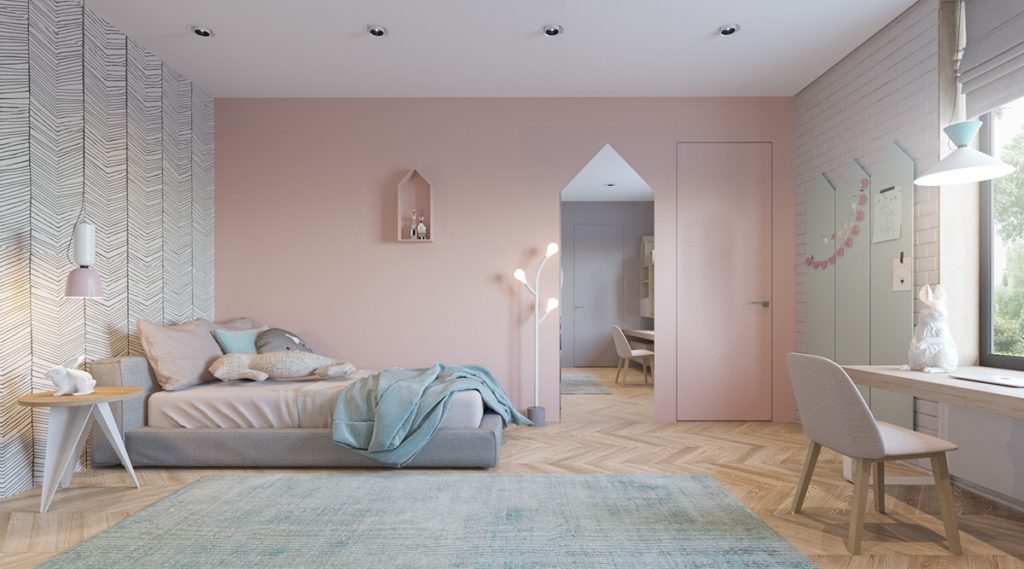 Fresh spring pink vibes
Visualized by Truc Ngo, our next pink bedroom uses flashy tones of pink to imply the perpetual beginning of spring. With white candy stripe wallpaper, light wood furniture and rose pink accessories, this space uses bespoke furniture as a whole: the platform bed turns into the desk and continues further on to become part of the closet on the left side.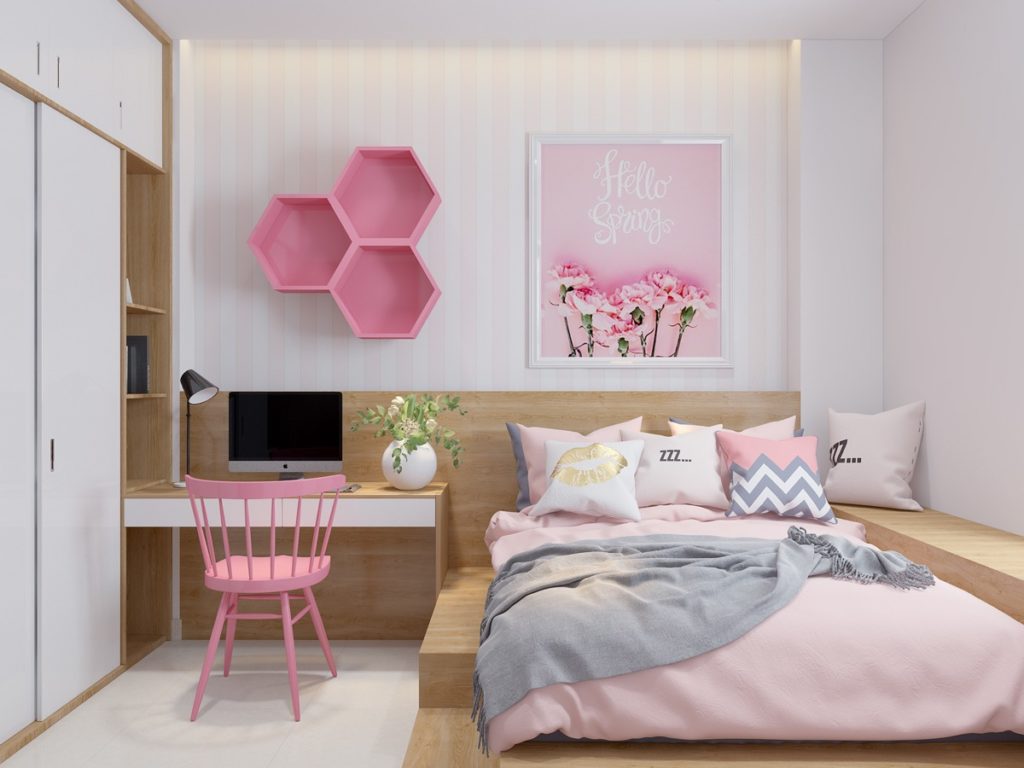 Classic design choices in pink girl's bedroom
Designed by Vladimir Korsun and capturing a whimsical atmosphere within the walls of this soft pink kids bedroom and study, all the elements in this space come together just like magic – interior design magic – anchored by a classic four poster bed. Sitting at the desk, the girl can grow up to learn how to make her own dreams come true.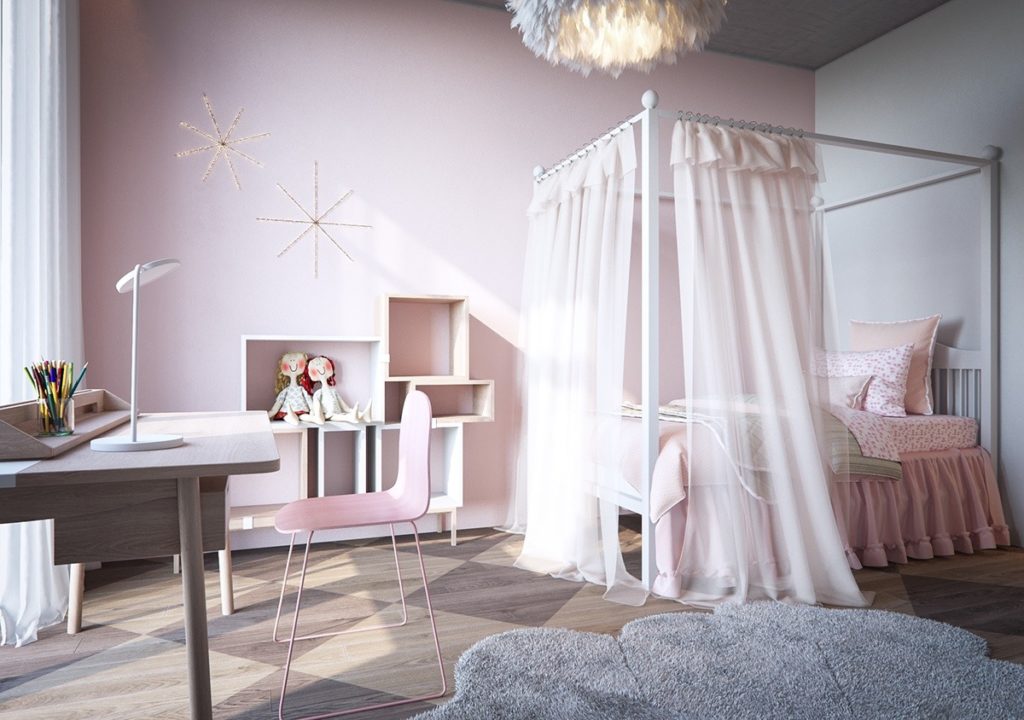 Since we reached the final part of our parade of 10 pink kids rooms beautifully enhanced by study desks, there is even more inspiration awaiting for you here:
Gamified study space in stunning kids room
Two kids rooms with desks for "home office" play