How to enjoy working from home – there are a few paths to take when asking this question. We will be focusing most on the environment path – the surrounding space in which you literally work in – from your home. Whether you work from the bedroom or the balcony, the home office room or a bespoke outdoor workspace, you merge your personal life with working hours.
We will be looking at 8 examples of work from home environments and explore how each benefits the overall WFH experience.
How to enjoy working from home:
improve gradually
Setting your home office hours and experience reminds you how much you're in charge of – from the environment to the food and the breaks. Look around and choose what you can do and what you are willing to do to change your environment to suit your own lifestyle.
Here are 8 ways you can improve and enjoy your work from home lifestyle:
Improve your lifestyle with basic ergonomics: chair and desk
This is a great opportunity to improve your lifestyle with actionable choices like buying a sit-to-stand desk that can help you create a habit and a schedule for working standing up versus standing down. This intelligent sit-to-stand desk reminds you to switch and stretch: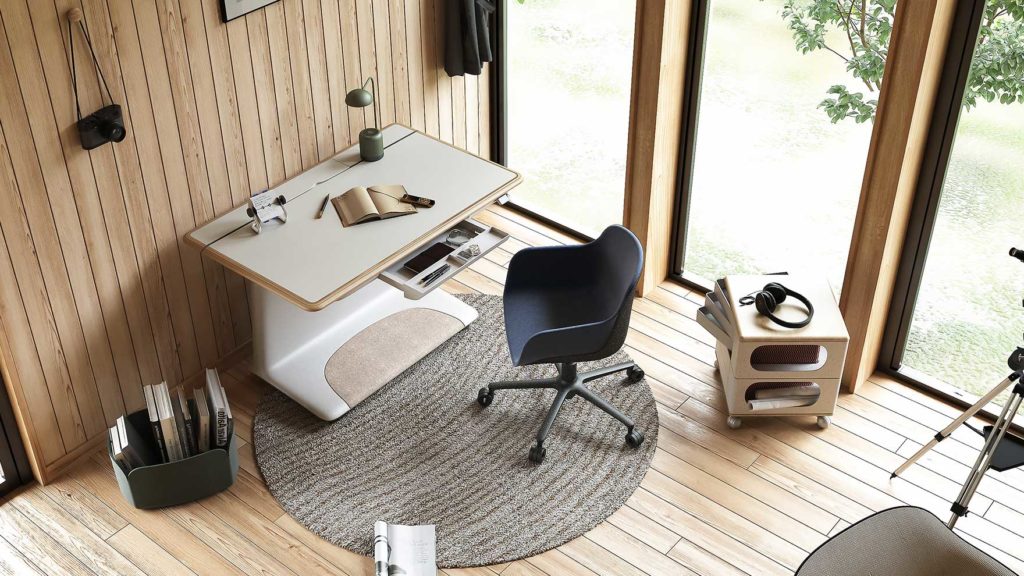 An ergonomic chair ensures you sit in a healthy position while working, so it's important to take this seriously and choose the best chair that fits your needs. This example below has a seat that swings alongside your body, adapting to your movements: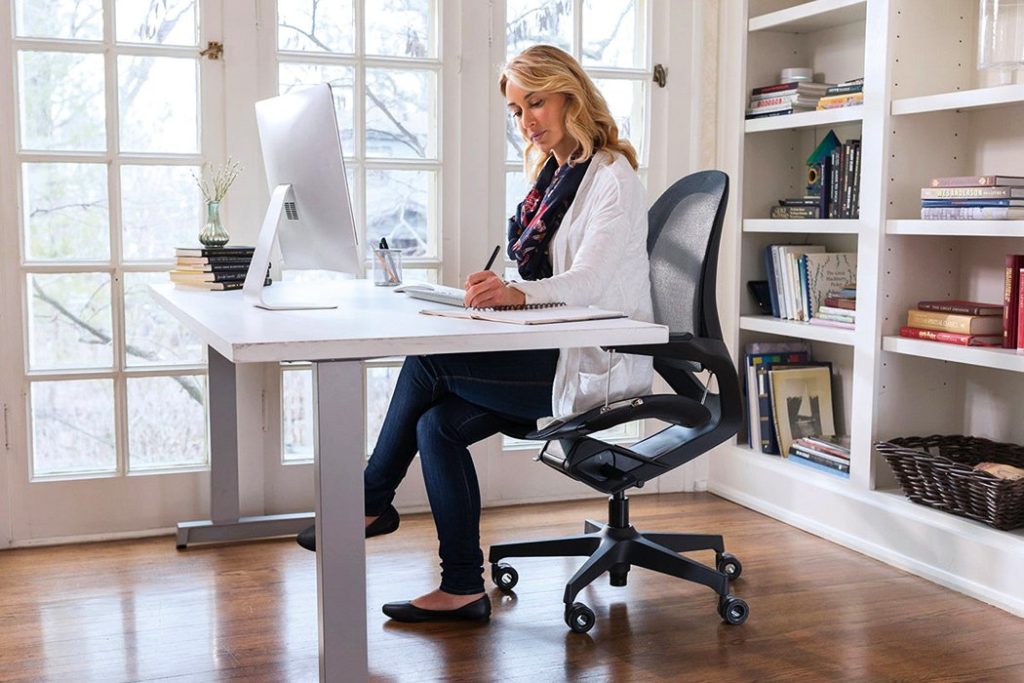 2. Keep moving even during working hours: exercise breaks
Whether you have some fitness gear lying around or you have a Hybrid Home Office Work And Workout Station like the one pictured below, objects that remind you to interact with them in order to keep a healthy body and mind have this added benefit – they can be integrated into both the design of the space and the design of your home working lifestyle.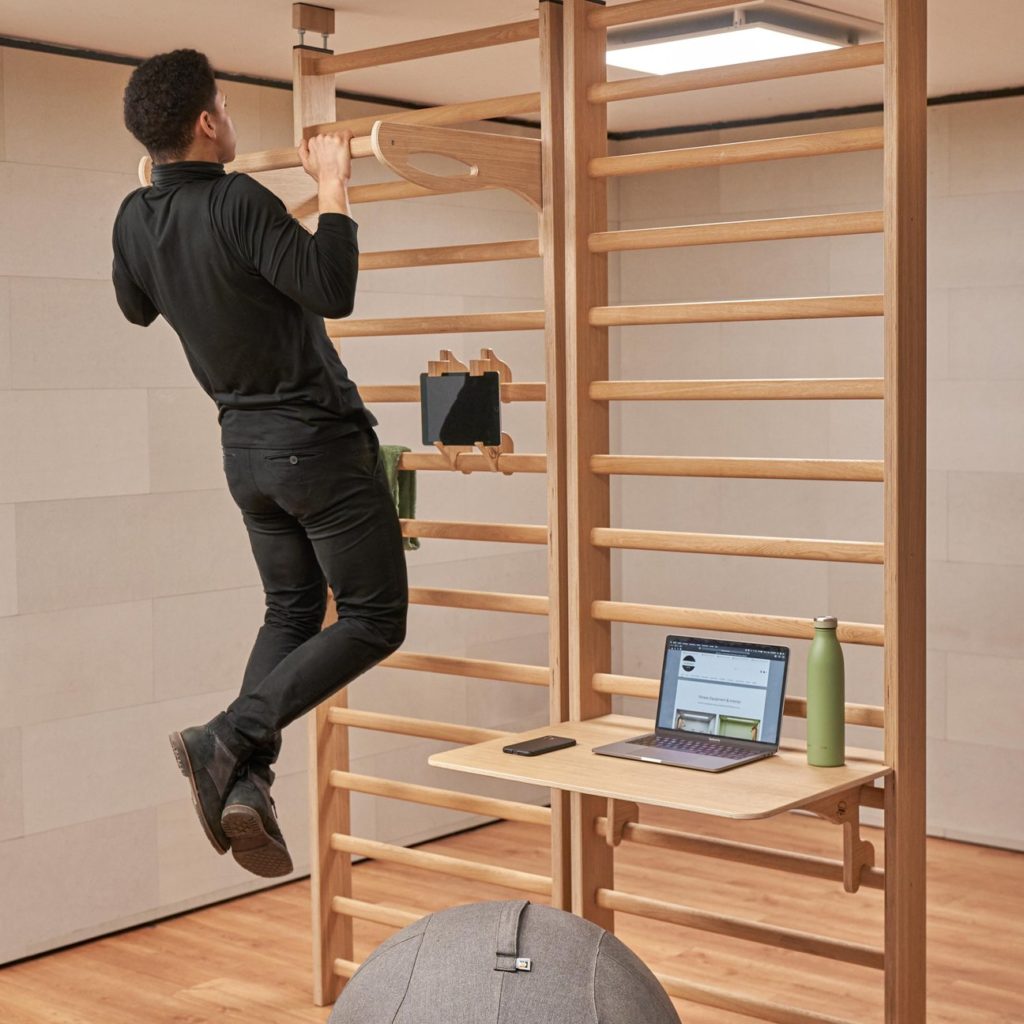 The Stoic Standing Mat is another good example of something that helps you move while connecting to the feeling of nature. It's always best to feel the actual stones under your bare feet, but unless you live near nature, it's always a thing you end up doing rarely. This modular standing mat was inspired by surfaces in the wild, and designed to stretch, strengthen and massage your feet while you work.
3. Use color to delineate the work space from the living space
When having a separate home office room is not possible, you look around for options to create a workspace in the existing layout. One of the easiest ways to visually separate the home working space from the home living space is by making creative use of colors.
4. Use colors to integrate the workspace into the overall design
If you'd rather have your home office space hidden in plain sight rather than visually enhanced, you can use color to improve the mood and create peaceful surroundings.
Within a bright and spacious living room, this corner home office space can be totally hidden by taking away the chair and laptop. All that's left is a clean, minimalist home design that bends to your needs.
5. Use wood slats to delineate the home office setup
Wood slats make the space taller and are a modern ways of adding dimension to a space. Planning a home workspace in the bedroom can include these decorative wood slats that go up the wall and can look as amazing as in this next example:
6. Rethink nooks and crannies into a creative home workspace
An uneven space can fit a bespoke desk, as in the example below. Don't overlook small places where a desk can be set up to serve as a home office. You can enliven a space with color – a bright yellow chair and square shelf should do the trick on a soft grey background. Keeping it simple is key.
7. Create different moods with lighting: working as a sensorial experience
Using light to create different moods is one of the most dynamic ways to upgrade your home working corner. A bedroom that has multiple light sources – both natural and artificial – can be stylishly upgraded with adding a lamp or two.
8. Add artwork to your working environment for inspiration
Whether you prefer sculptures, paintings leaned against the wall or Star Wars memorabilia, creative decor pieces can always tell a subtle story about your preferences, hopes and dreams.
Using a sculpture and a large painting leaned against the wall, the designers of this home office room kept it simple with wood and warm colors contrasting a crisp grey paint work. Art lines the shelves, literature being neatly stacked behind the comfortable chair.
Minimalist can be the best style to choose for a luxury home office displaying a sculpture in a lit niche behind the modern executive swivel chair. Aligned between the concrete ceiling and wooden floors, this niche steals the show. The home office is set up in such a ways that while working, the attention is focused on work and illuminated by natural light coming from the floor-to-ceiling window and two artificial light sources.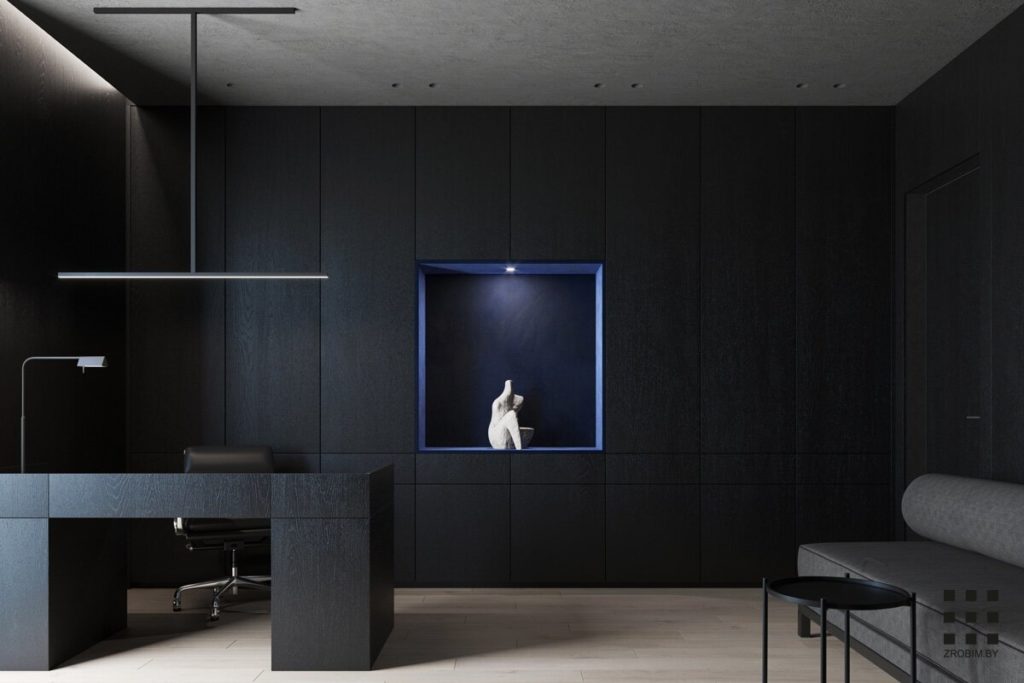 Depending on what you work on, your passion can be beautifully translated into interior design. This music studio with a funny artwork of Bart Simpson as Edvard Munch's "The scream" is clearly an inspiring place to work from. When your space displays your passions turned into work, it creates a special creative connection to the rest of the art out there, interior design included.
Star Wars has transformed people's minds, so the workforce was also infused with artistic interpretations of the Star Wars era – in the shape of memorabilia in home office setups. Adults with a love for sci-fi proudly display their favorite childhood series and it can look quite amazing: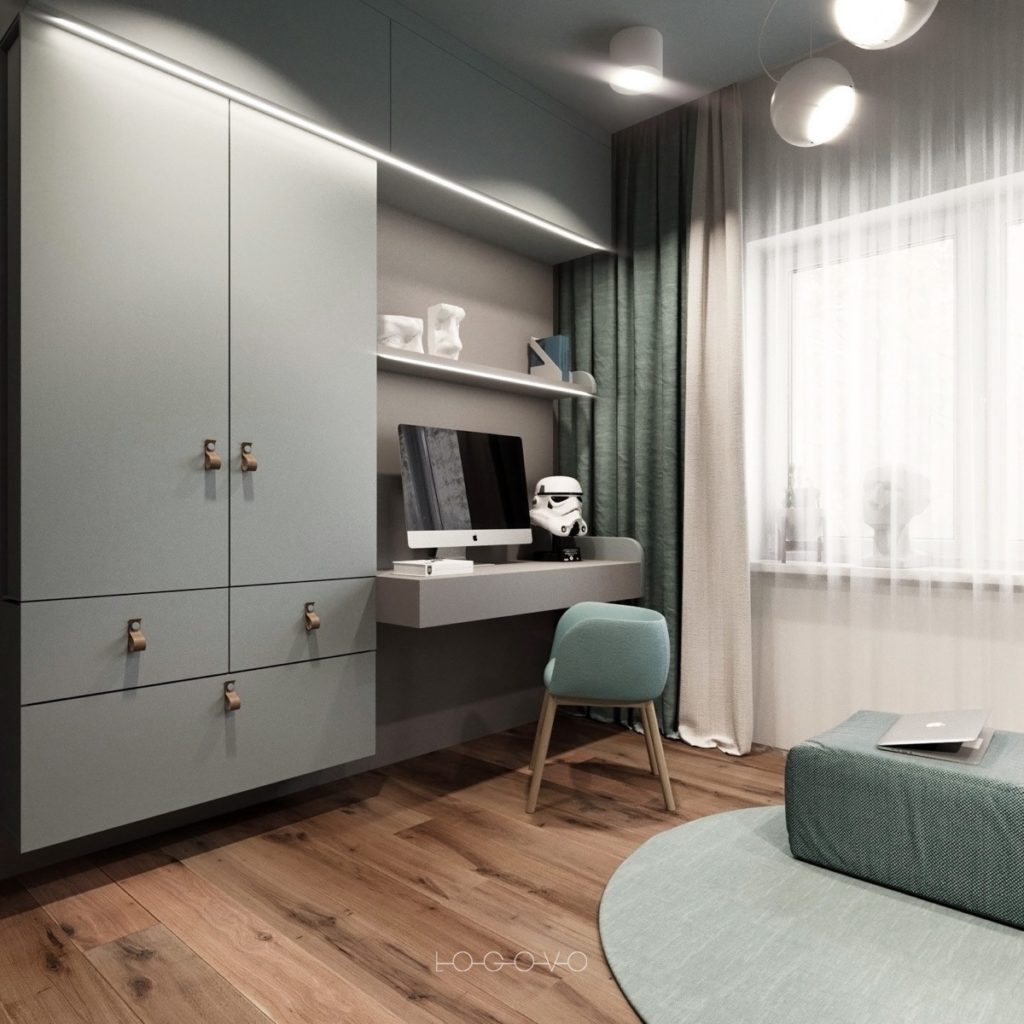 There is always at least one way to get what you want. Asses what you have, what you need and what you want and choose the best home office setup that you will absolutely love. Here are more inspiring home workspaces to motivate you:
30 Inspiring Workspaces Burrowed Under a Window
10 Dark Grey Home Office Setups Bathed in Glamour