Contemporary home offices come in all shapes, sizes, colors and textures. These four examples can be found in the same designer's portfolio and I'll tell you why we chose each.
You know that moment when you see a space and absolutely love it? Then you get curious and want to see more of the same designer's portfolio, thinking "if this space was so amazing, what else have they done?"
The second home workspace is even more enthralling and you wind up going through their whole portfolio. Now you've made it hard to chose your favorite, with so many options revolving around the same design style that you fell in love with.
Browsing through Art Partner's portfolio, we found 4 different types of home office designs that look amazing and each can teach us something:
Hot Pink Minimalist Workspace Flooded with Light
Dark and Soothing: Masculine Home Office Design
Soft Grey and Pink Bedroom Workspace
Retractable Home Office in Well Lit Room
While each home workspace is different, all of them together make a deep statement about the vision behind each client request. Let's explore each in depth:
Hot Pink Minimalist Workspace Flooded with Light
How do you style a modern home office? Well, you start off with simplicity. Gather all basic needs in your mind and fan them out throguhout the space, making it easy to imagine what goes where.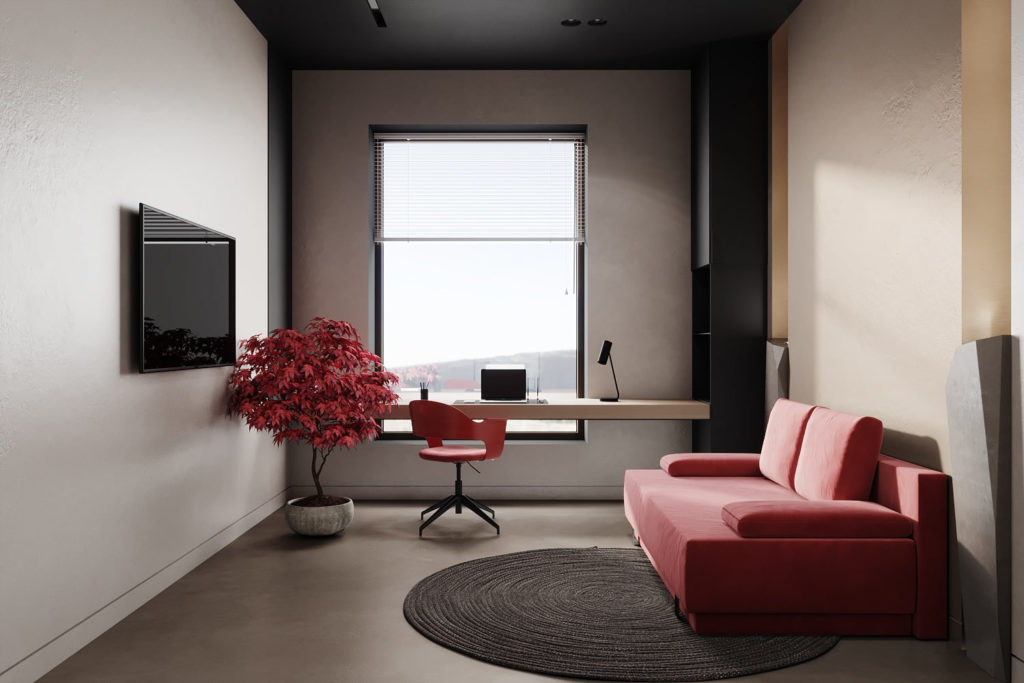 This hot pink home office allows you to enjoy the color because there's not too much of it and the environment is like a blank canvas to paint bright pink on. Just three elements make this space pop: the pink sofa, pink chair and pink plant. The rest of the room is so minimalistic that thesse three pink elements really steal the show.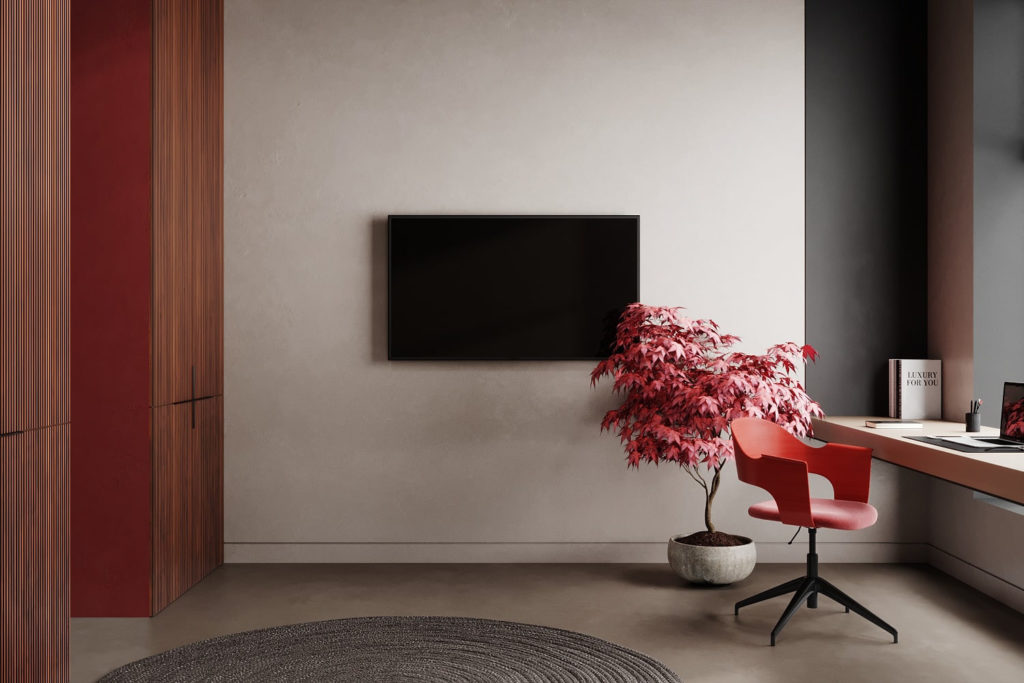 A floating desk under the window was custom made to fit both the tall black furniture piece in the corner and the paint work that ties everything together by blending light and dark paint.
Storage space was all gathered in two massive closets framing the door. This allows the owner to work in a clean space, making it easy to focus on the task at hand.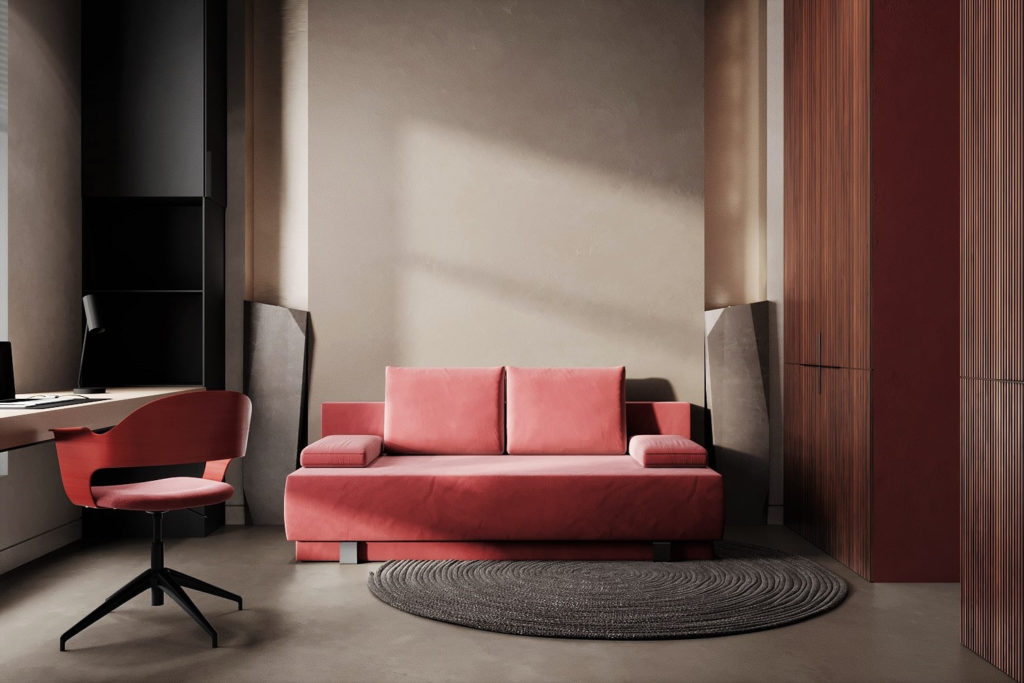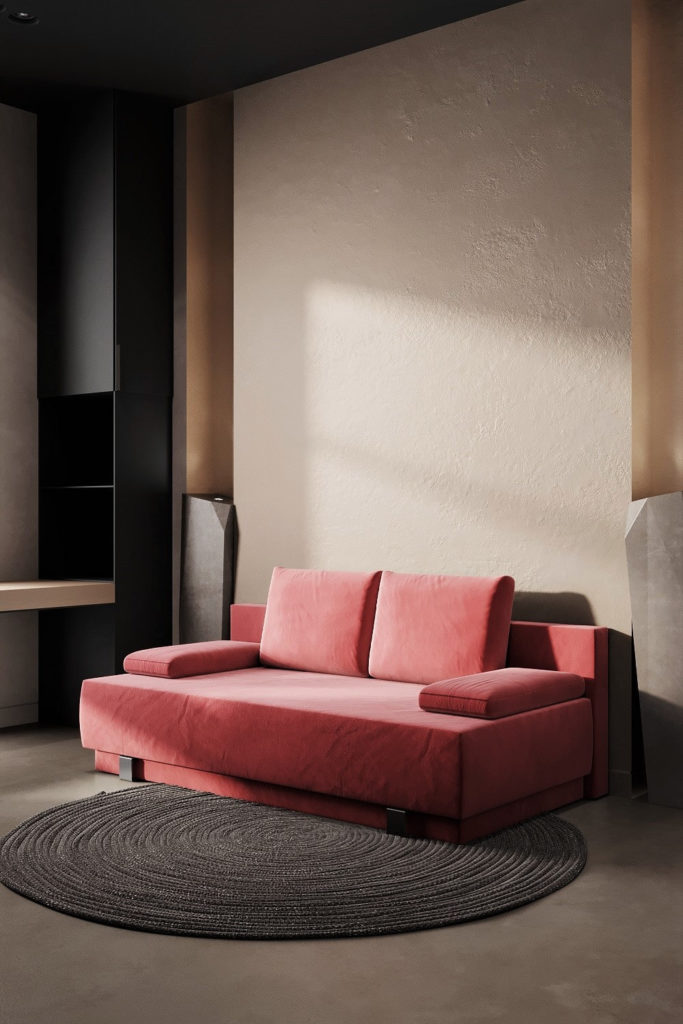 Retractable Home Office in Well Lit Room
This next contemporary home office design includes a retractable office desk that can transform the room from a closed, private workspace to an inviting, colaborative home office.
It's easy to put the desk away and enjoy the larger space or work uninterrupted facing the wall. Or you can even turn at an angle to work facing the room (or even the views outside if you work from the other side of the desk).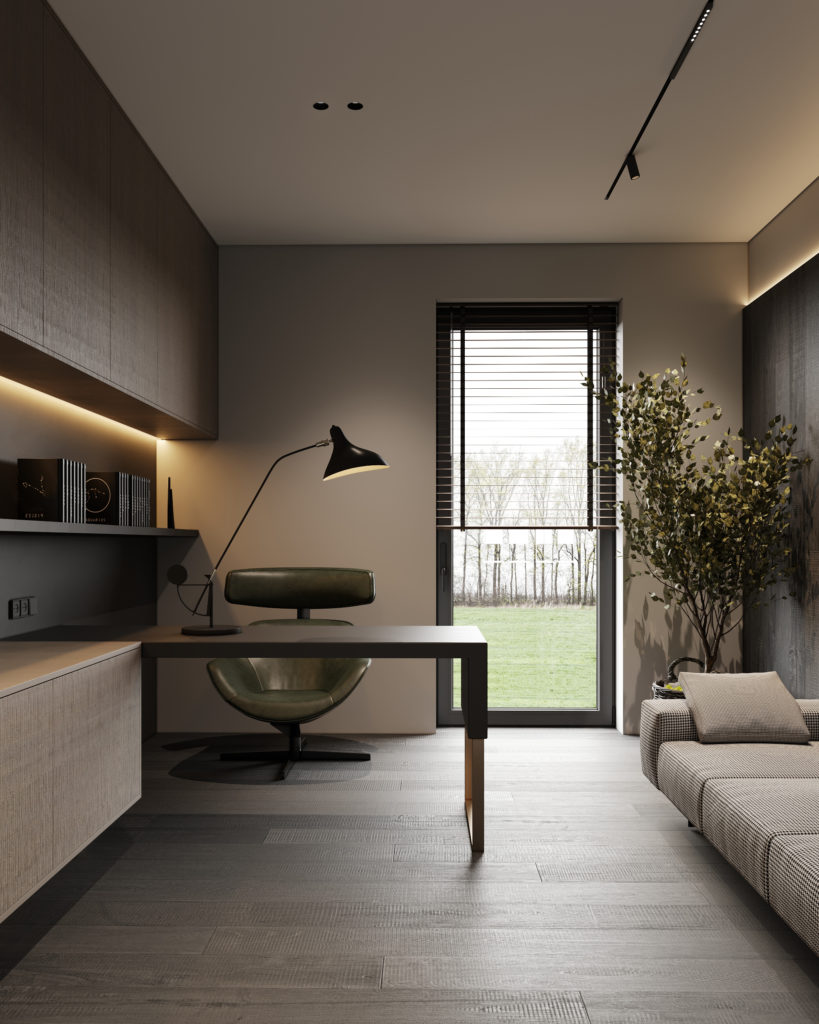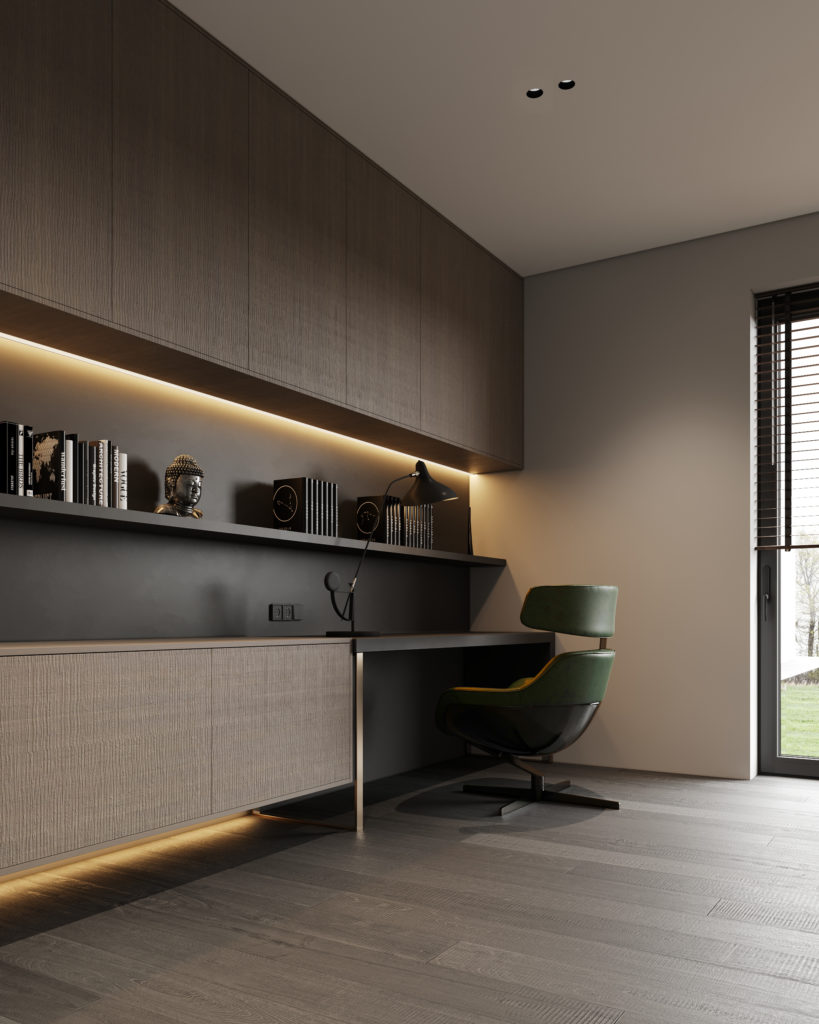 Indirect Led lighting helps create a softer mood at night, while the modern desk lamp ensures a discreet spot of light can be used without ruining the overall mood in the room.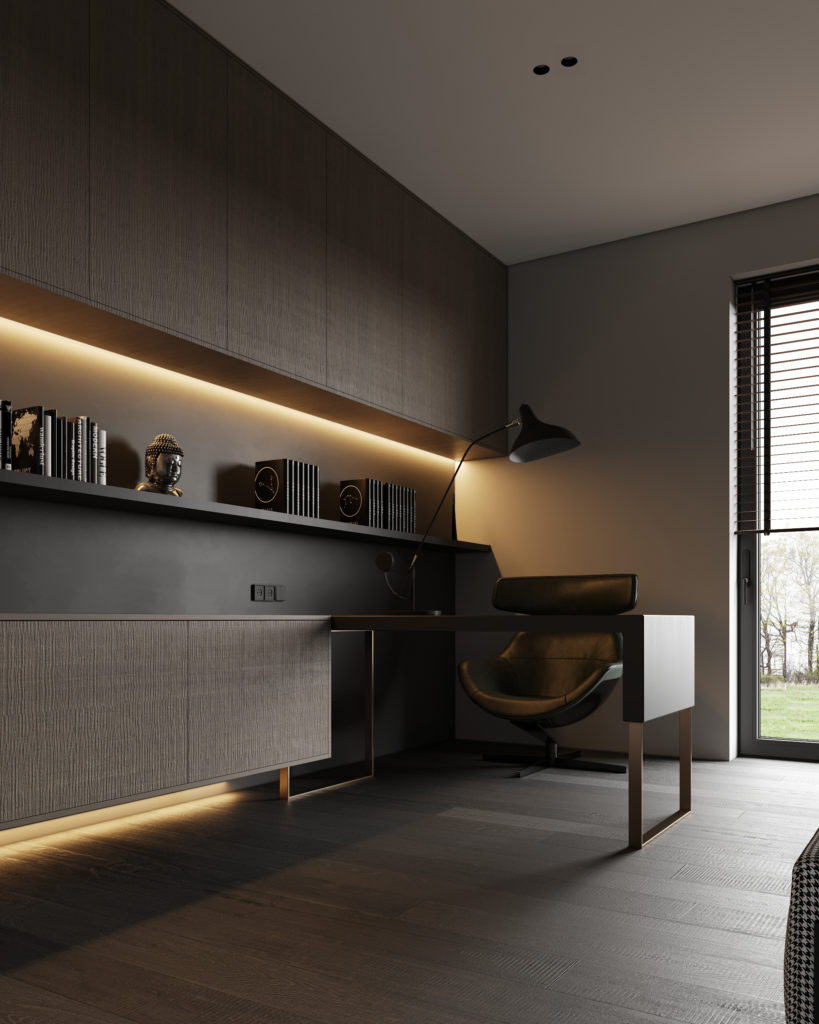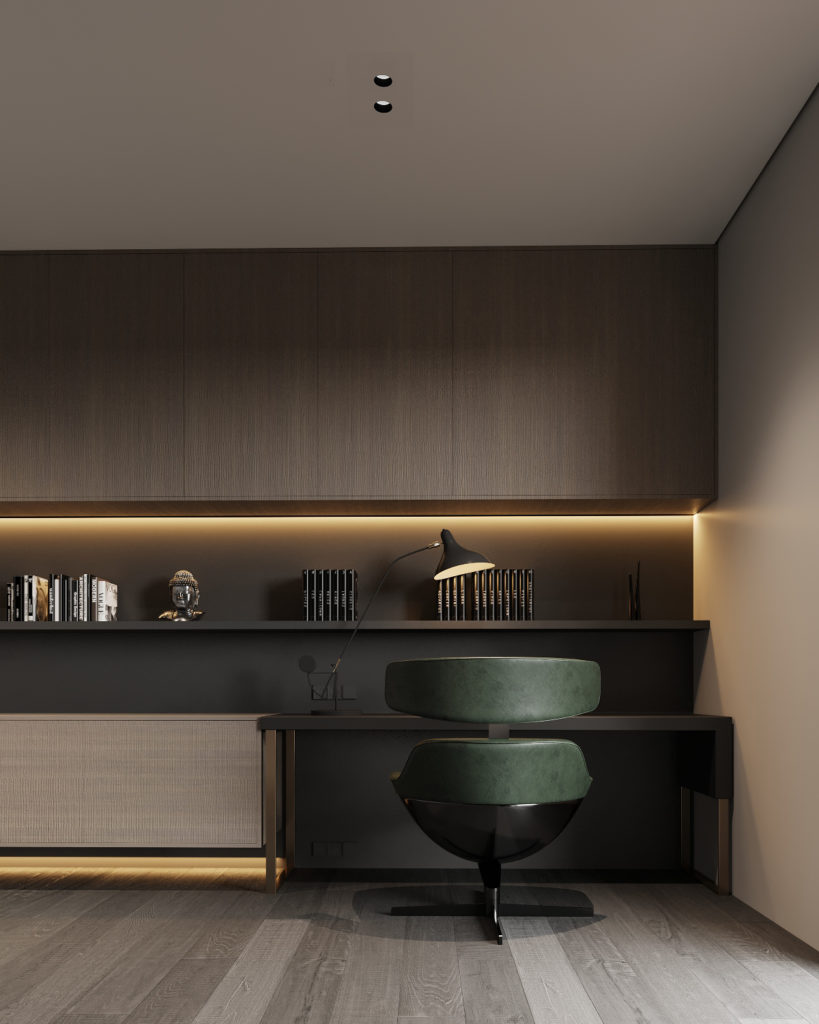 Soft Grey and Pink Bedroom Workspace
This home office fitted to a bedroom is part of a contemporary 382 sqm apartment in Mumbai. This particular bedroom uses a lot of negative space to really make that texture on the wall and pink decorations stand out. In a grey painted room, minimal furniture items construct a welcoming environment.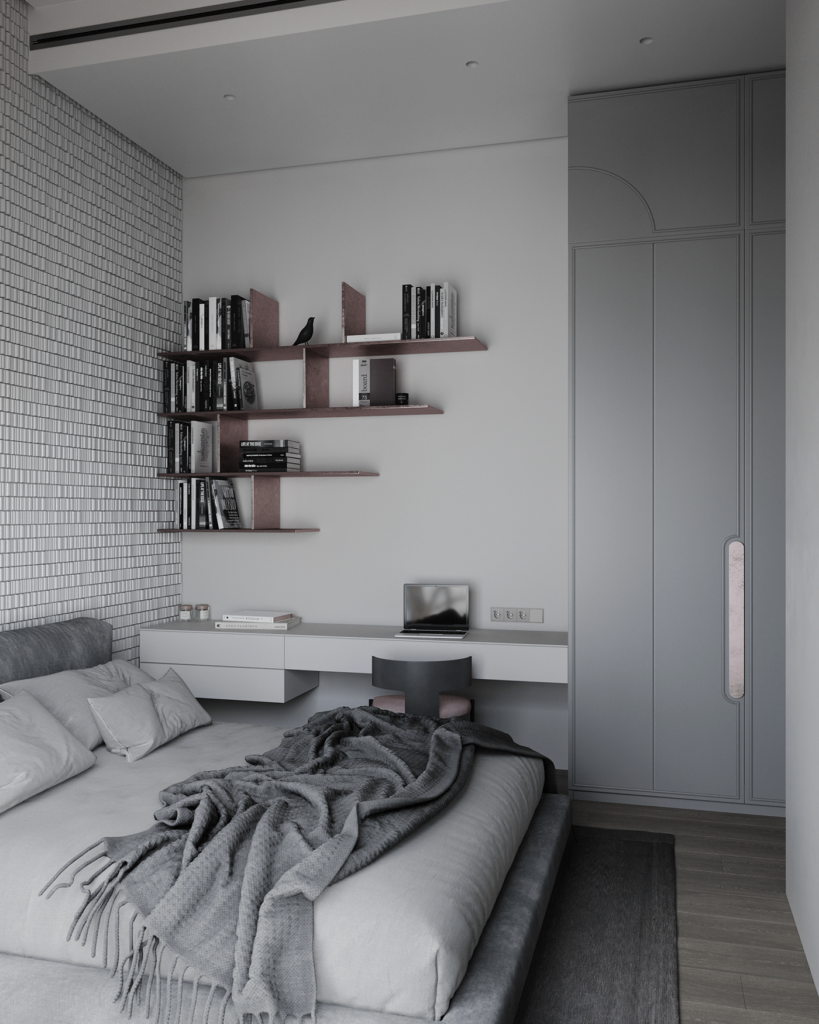 Looking at the way a custom desk was fitted on one side of this bedroom is one thing. But looking at the way the walls were kept away from being boring is another – texture was used to create a dynamic effect, while the color palette remained the same.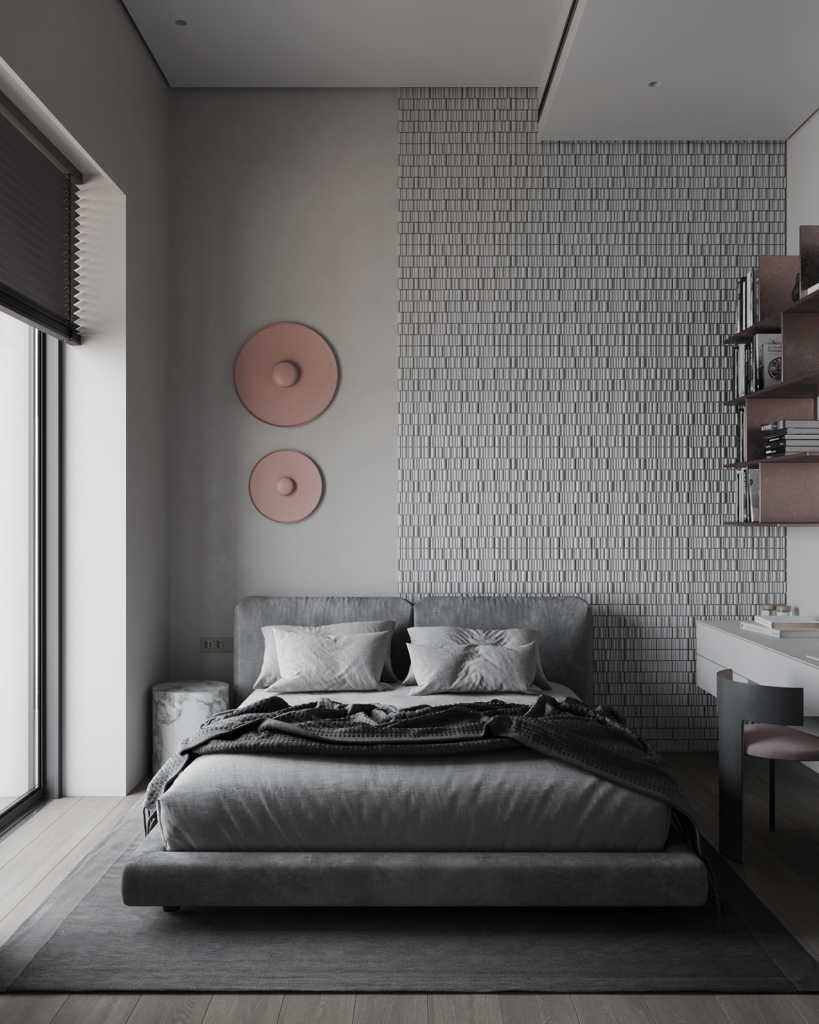 Even the difference in ceiling level looks more enticing when contrasted against a desired asymetry like the bedroom's accent wall.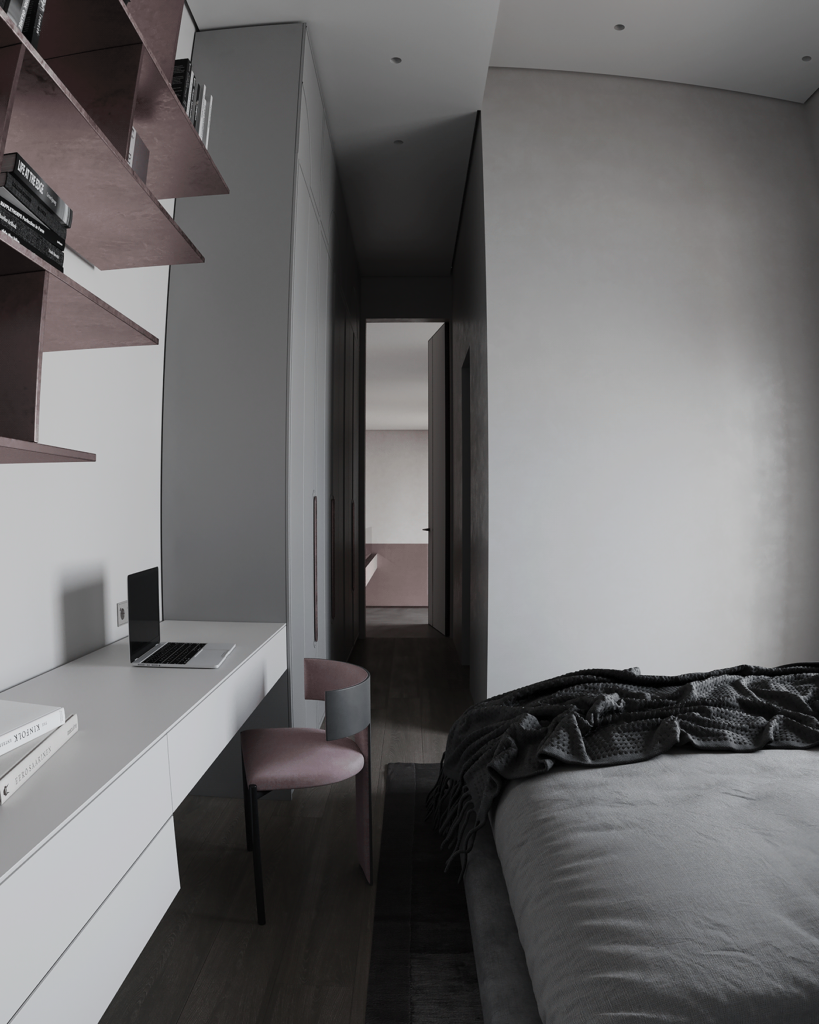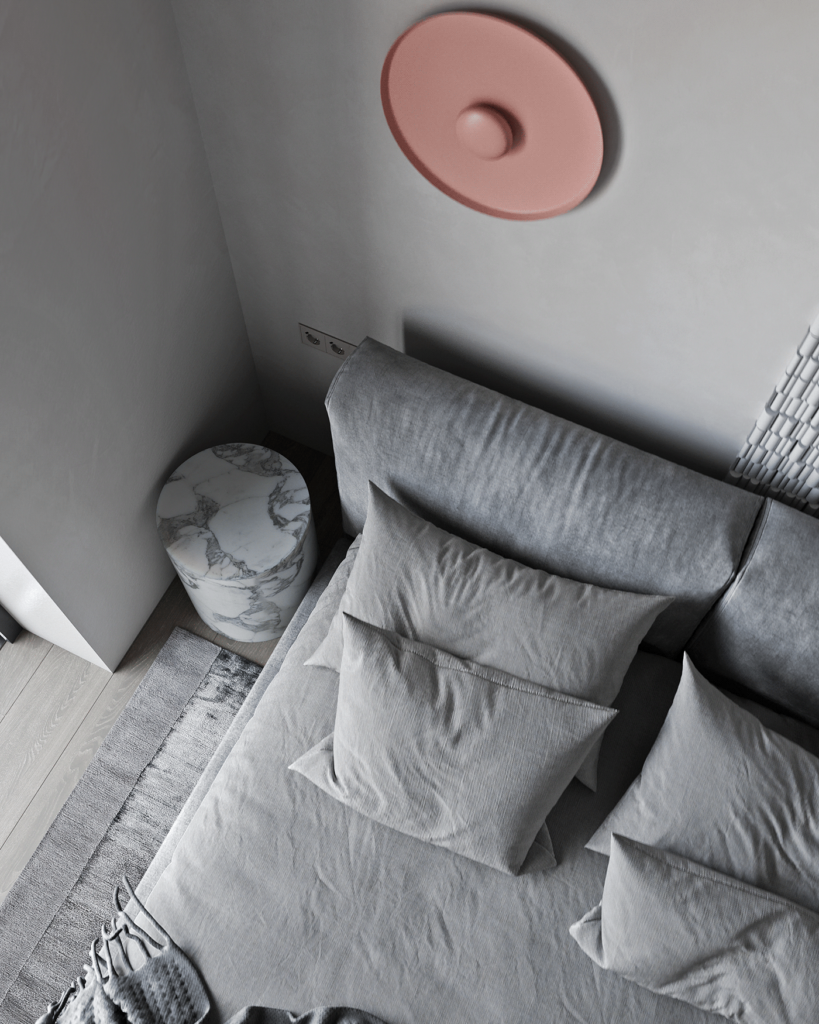 Dark and Soothing: Masculine Home Office Design
Our last example is this contemporary home office that looks imposing and shows respect for both organic, rounded lines seen in the desk's design and the straight vertical lines that compose the library's design.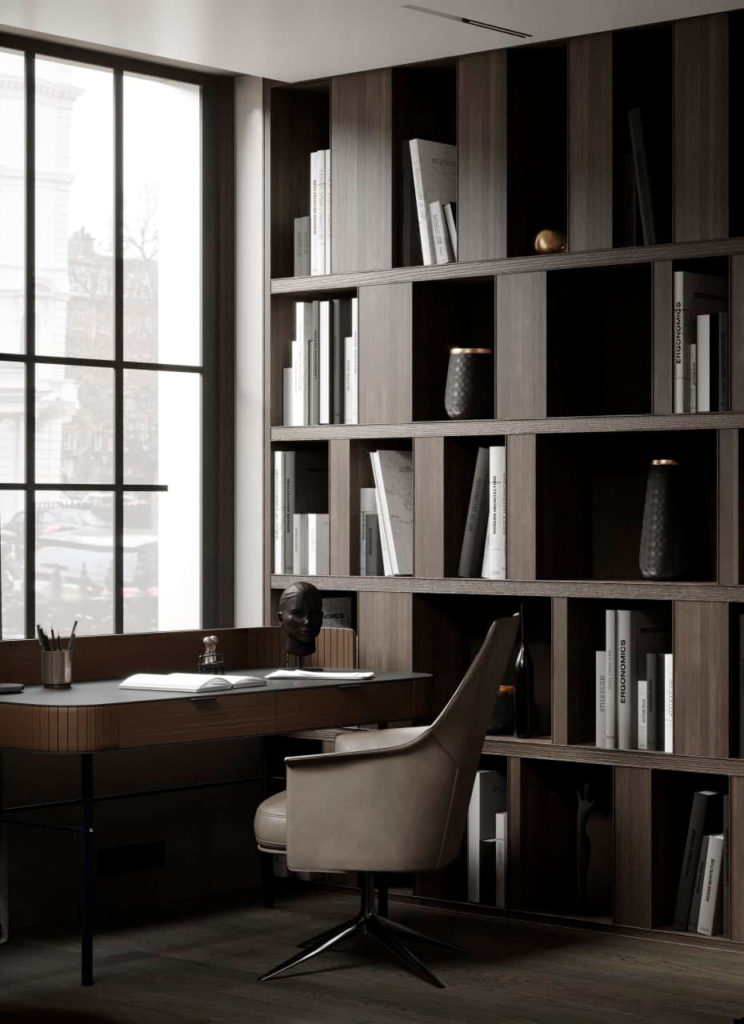 Melting these two simple ideas together in a dark home office design and allowing natural light to bounce of the whitee ceiling creates an inviting place to work from.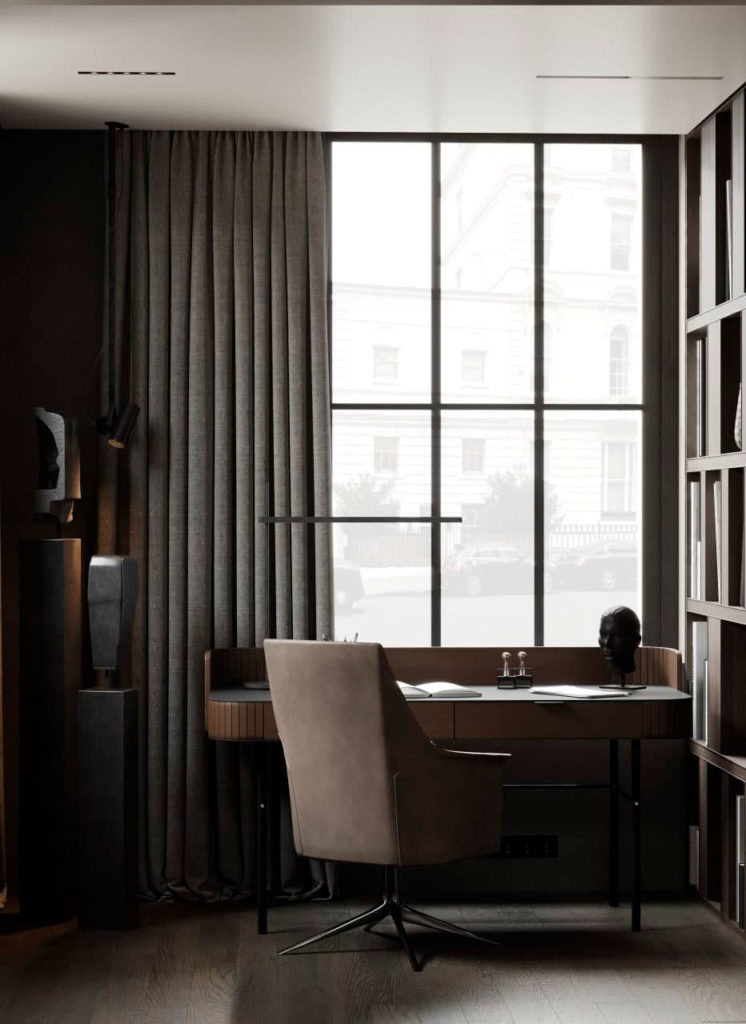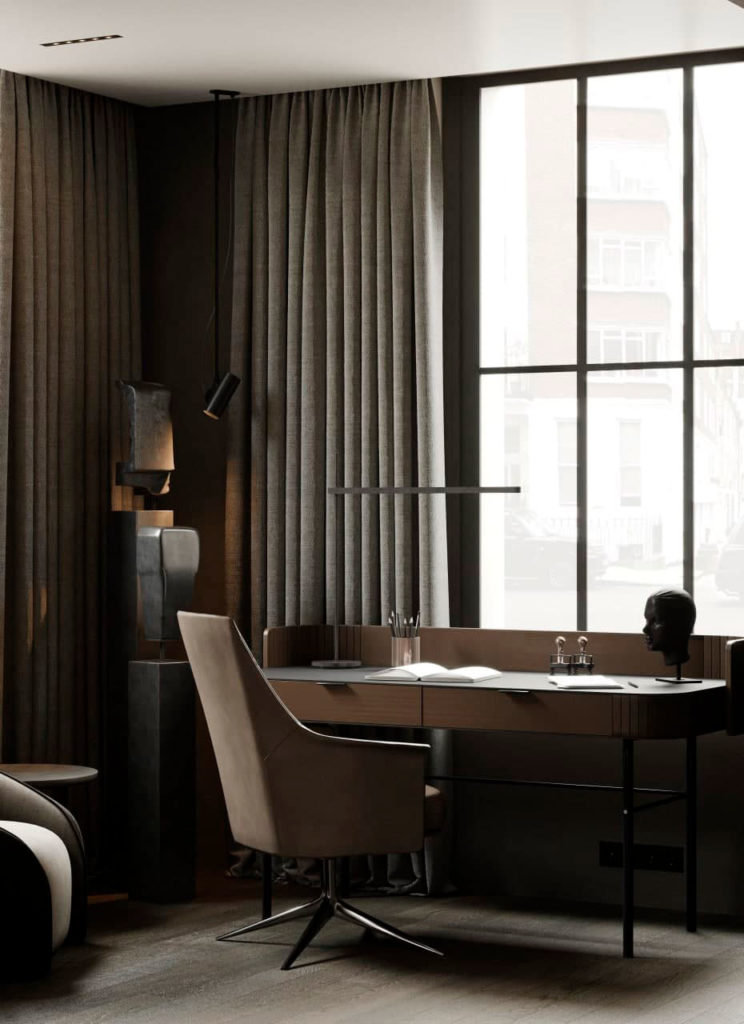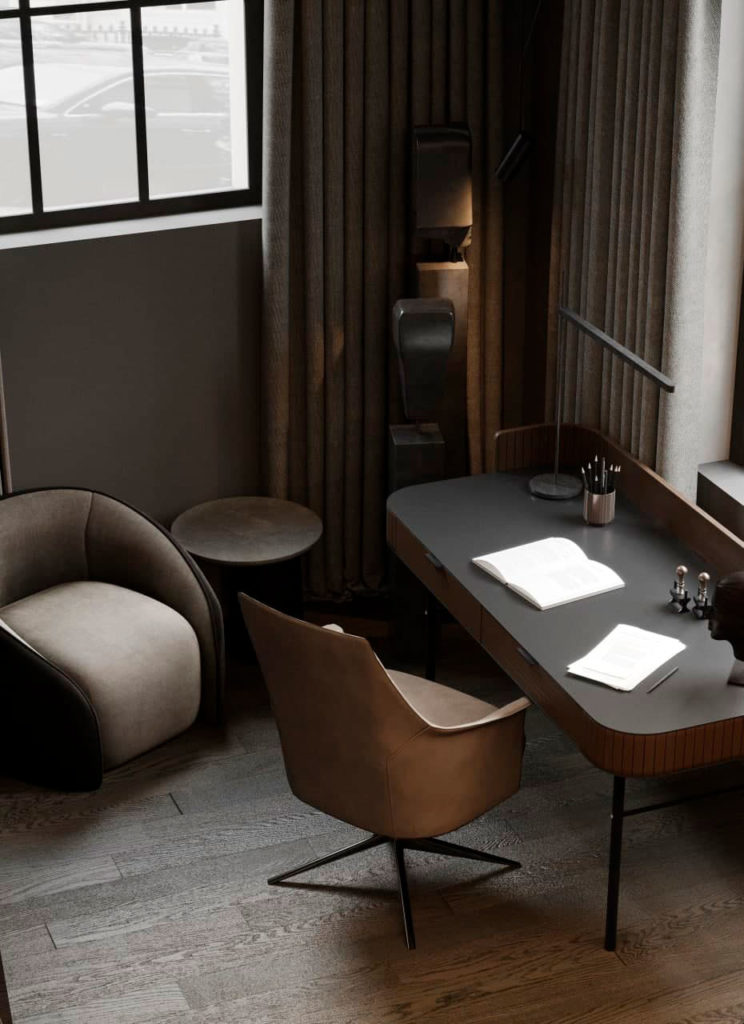 Which one of these contemporary home offices did you like best? Tell us in the comments below.
Here are more ideas to go through:
10 Feminine Bedroom Workspaces With Modern Appeal
10 Modern Bedroom Workspaces In Light Grey and Wood