Imagine you have this small apartment to make a home from – and you also think about how it would be to have a simple home office setup in a corner. Then you call the designers and they come up with the most amazing idea to create a flexible, multifunctional, modern urban crib.
And all that by using one large and complex wooden structure to create different areas. A few functions were shaped by a bespoke platform that dresses not only the floor, but the walls also and finally sepparates a part of the apartment from the rest. This was an ingenious way to create dimension within the small space.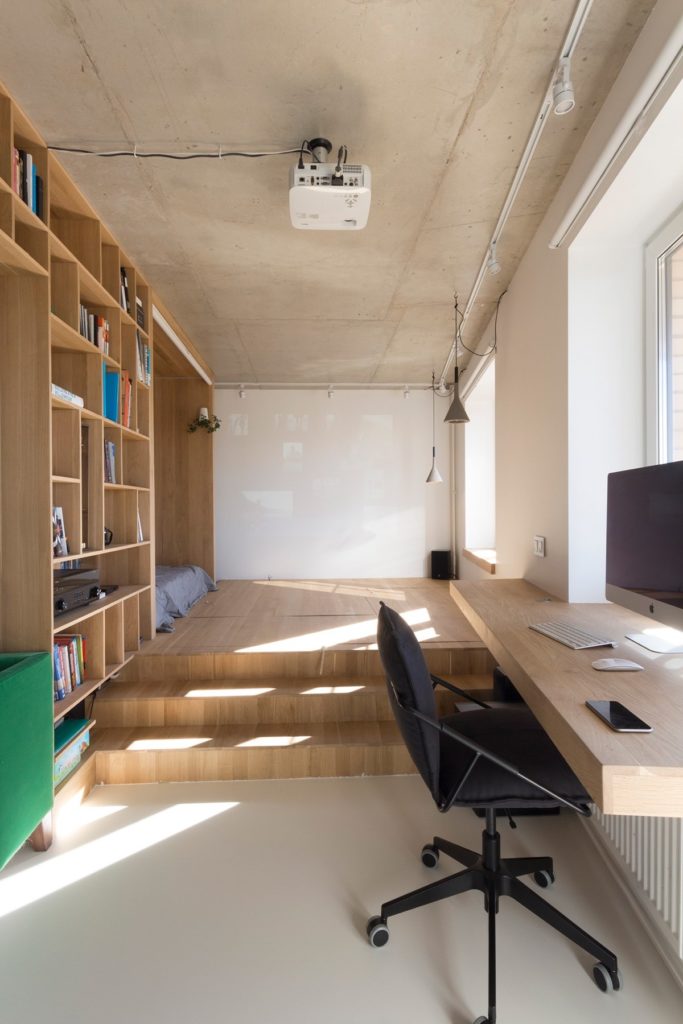 Measuring only 50 square meters, this apartment designed by Rue Temple is rather small. That looks like a design opportunity to transform it into a dream home. If you dream about a flexible layout and an even more flexible workday, this kind of an apartment can be just what you're looking for.
Next to the windows, the platform was designed to shape a separate bedroom, a library, a hallway, a way to light up the rest of the house and a decorative shape that upgrades the otherwise boring layout.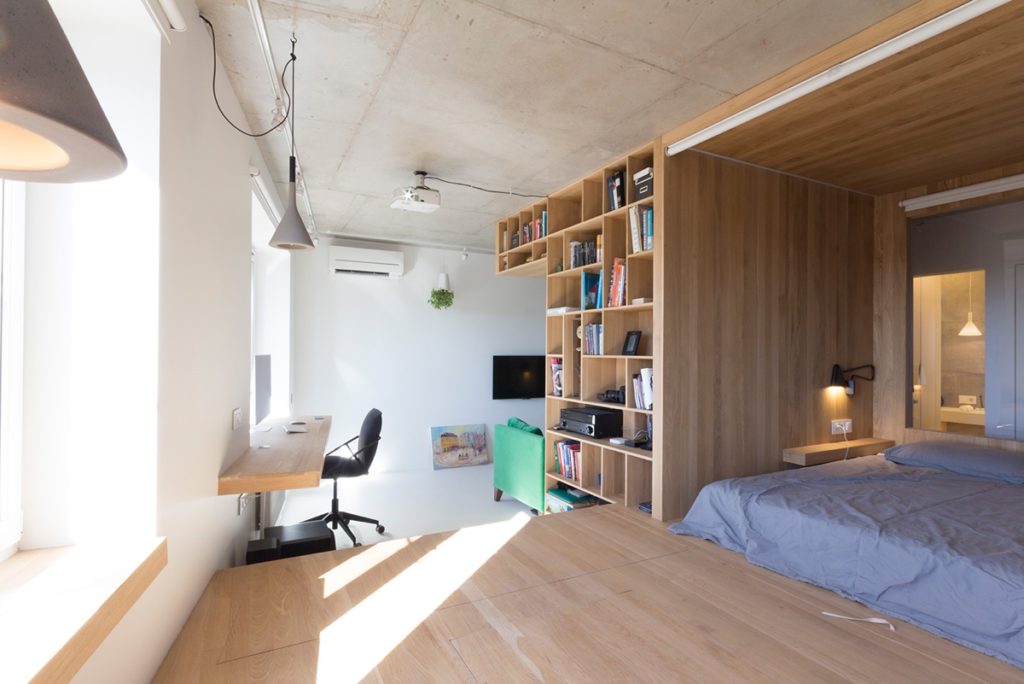 This wooden structure in the middle of the apartment created many possibilities, including an opportunity to add the workspace right under the window.
And it's a good thing to have your back turned to any temptation – the TV or a snack from the kitchen or even a book read on one of those poufs – that keeps you from focusing on work.
Look at the details – like the way the floating desk portrudes from under a window, covering up the heater underneath. A simple desk chair pulls up to this window sill to create a corner of the house where work can be permanently done.
We've seen a lot of floating desks installed in bedrooms, to give an extra working space from home right here: 10 Floating Work Desks Sprinkled Around Modern Bedrooms.
But today's example showcases a way of separating the working space from the rest of the home through design.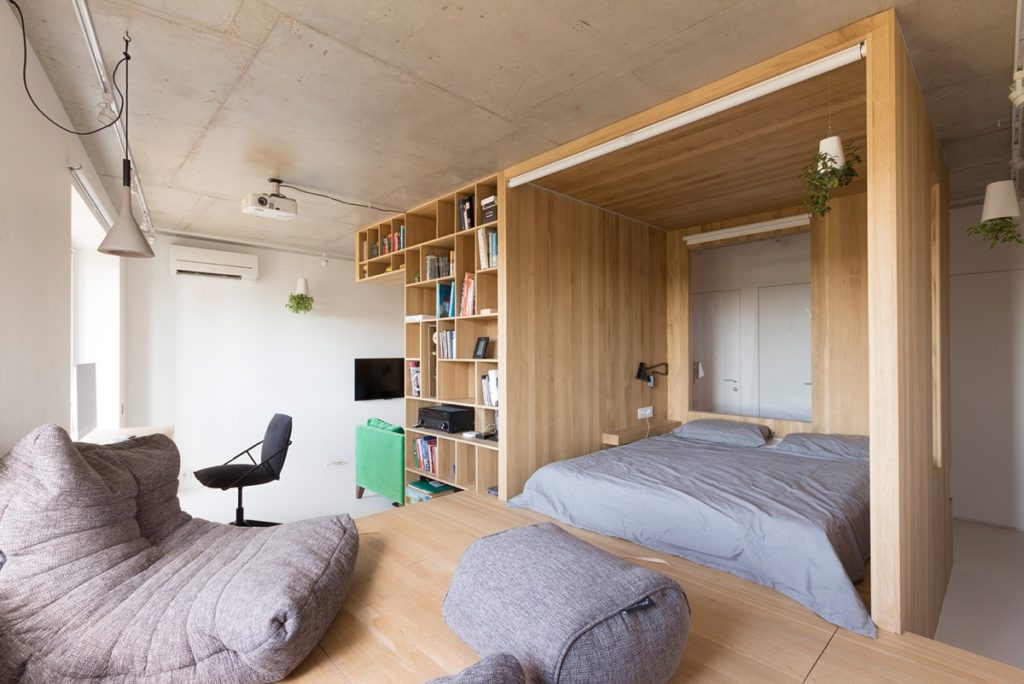 A bright green sofa here, colorful book covers there, calming blue sheets on the bed – and the rest is wood on a white background. Concrete ceilings cap off this small but multifunctional apartment design, while some upside down planters give off a happy, green mood.
Only the bed area escaped this industrial takeover thanks to the warm embrace of wood that can be easily hidden behind a rolled-up partition.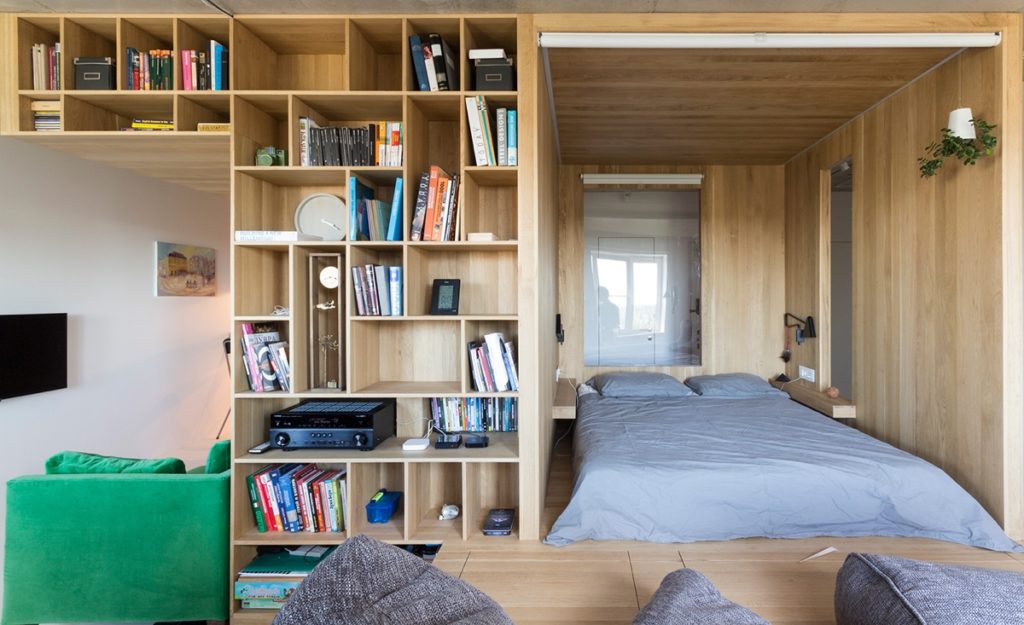 Built all the way up to the concrete ceilings, this mega structure library part was kept interesting also by using the stairs up the platform to sit down and read. This kind of a flexible space invites to interaction in creative ways, deleting the boring usual interaction with boring furniture.
This space encourages to working from any of its corners, and yet it has a dedicated space for focusing strictly on work. That is one of the secrets of becoming more productive – with the help of self-discipline.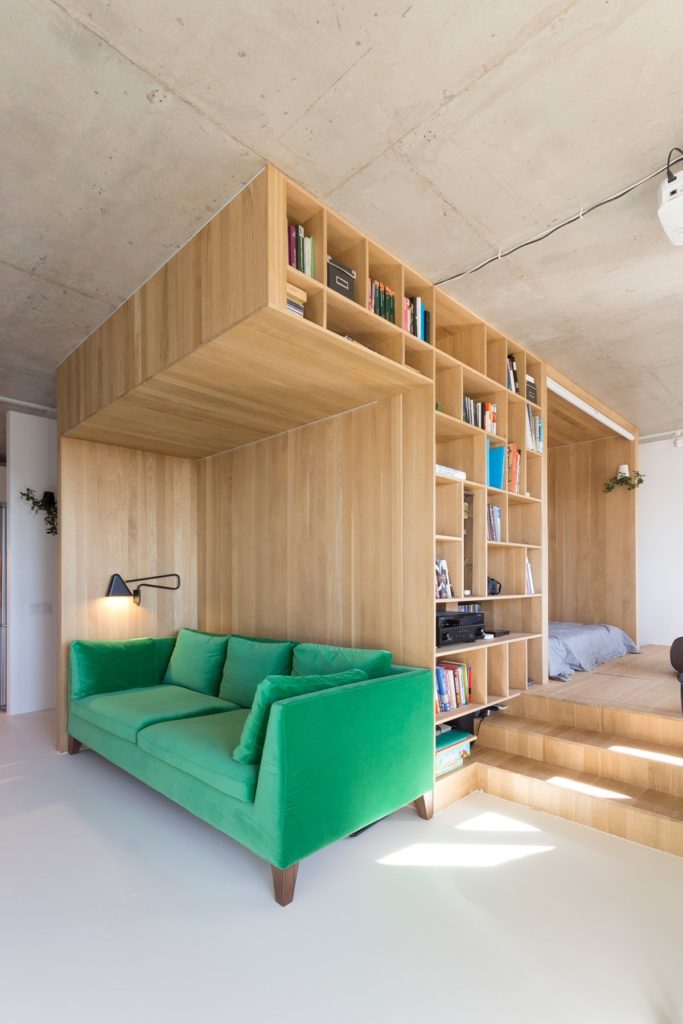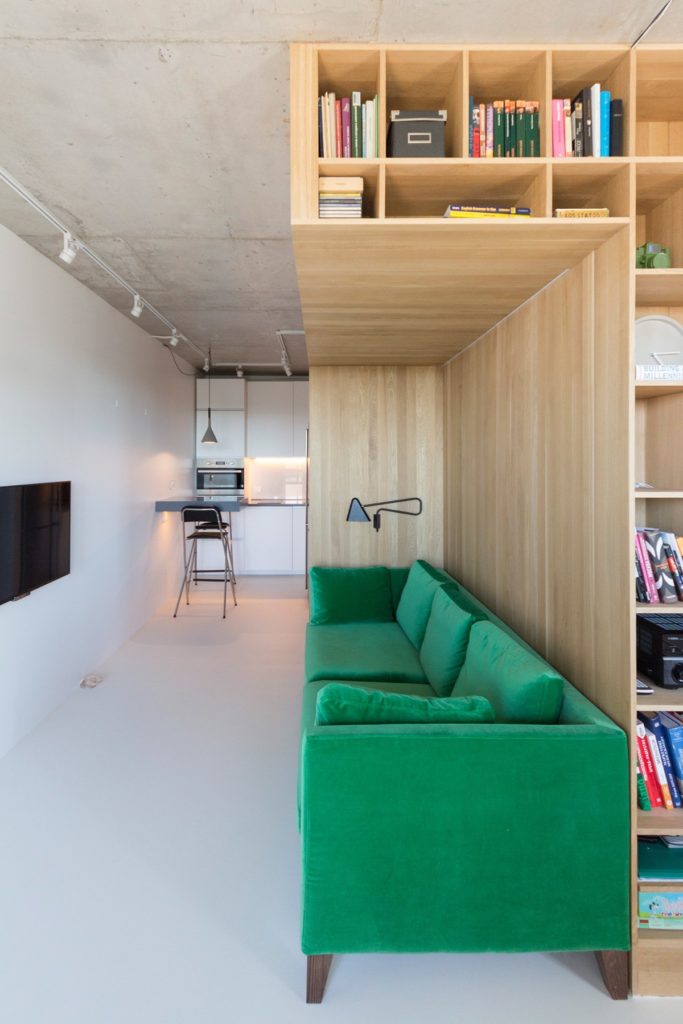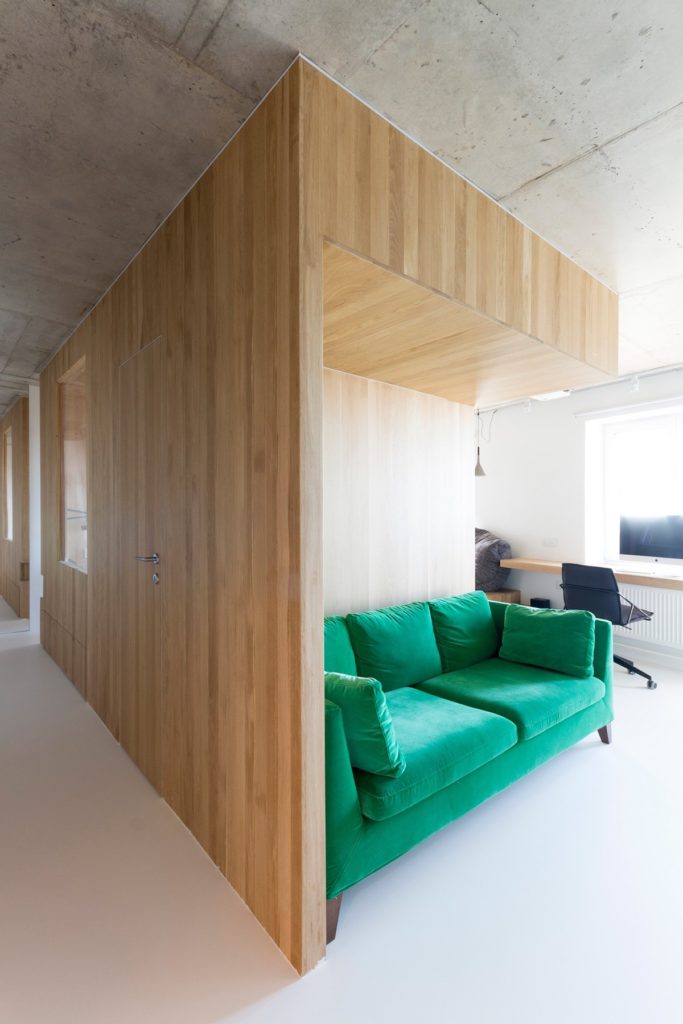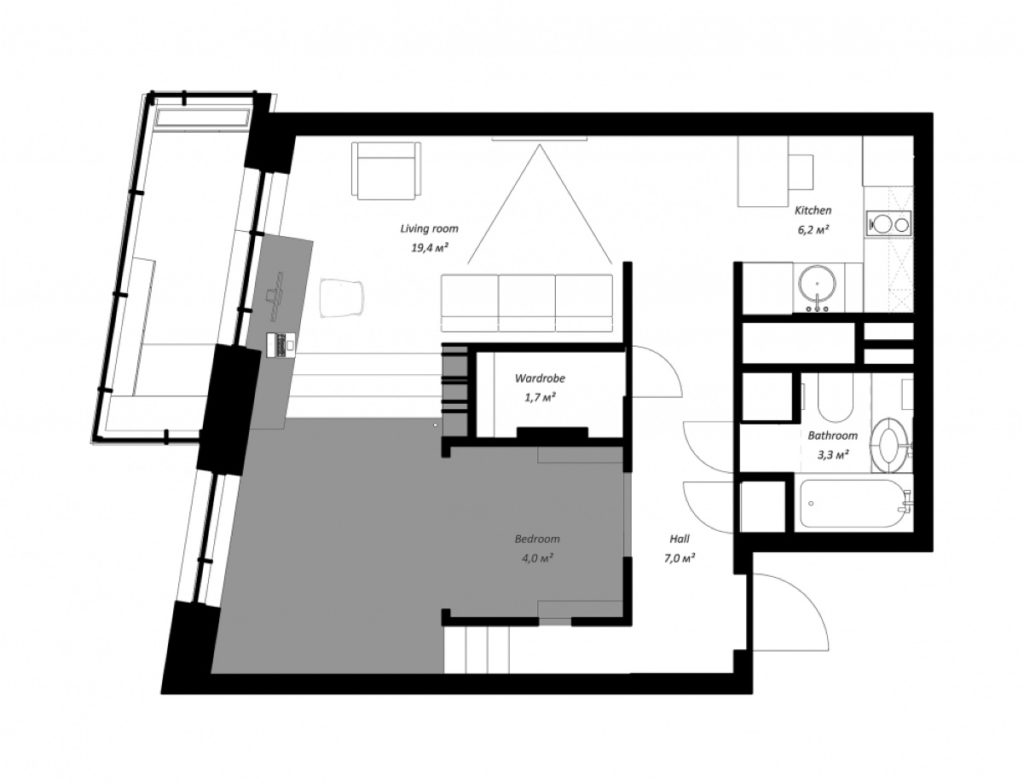 The floorplan shows us how the wooden structure was imagined to solve spatial problems and bring natural light deep inside the home. Here are some more ideas that will have you craving a stylish work-from-home setup:
5 Fireplace Home Offices that Light Your Way to Wealth
10 Luxurious Home Offices for Inspired Daily Workflow