These modern grey home office design ideas will have you exploring a world of grey color palettes – from light to dark and from the living room to the bedroom.
Having a brand new idea on how to design your own grey home office that matches the rest of the space can be that jolt you need to clearly imagine how your life will be better once your dream home office becomes reality.
Let's explore these modern grey home office design ideas together: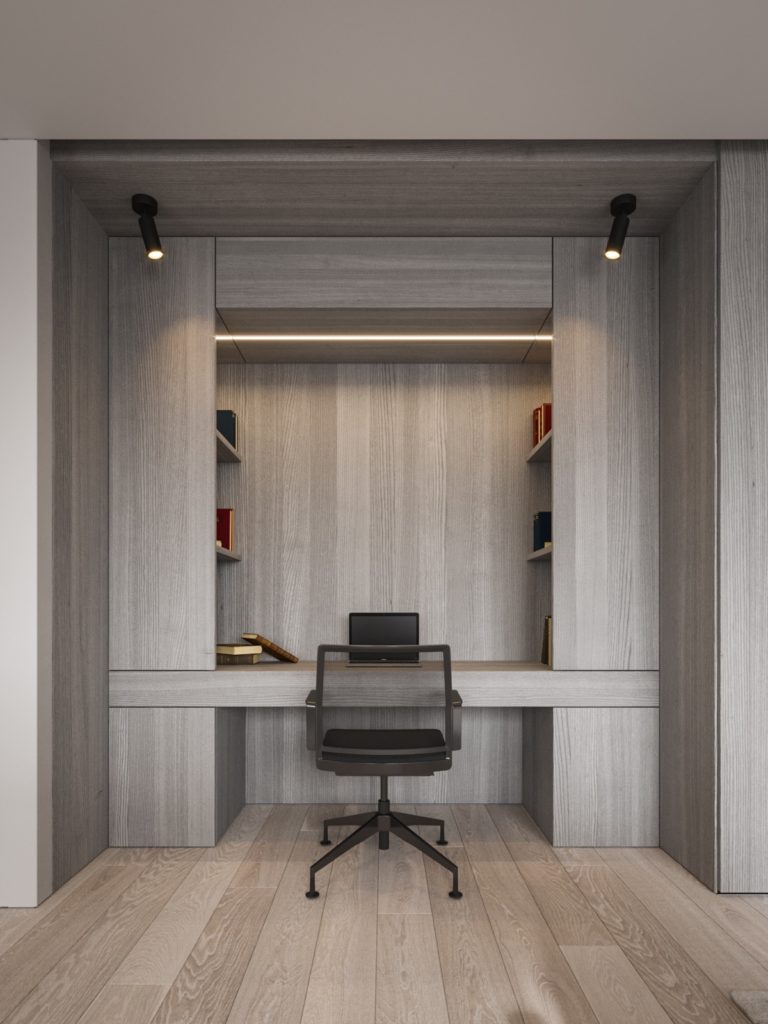 Gray home office built-ins that are modern and simple help elevate your mood and keep you focused on work. Add a light wood floor and a contrasting black office chair and you have yourself a home office nook that looks inspiring and invites you to take a seat and let productivity flow.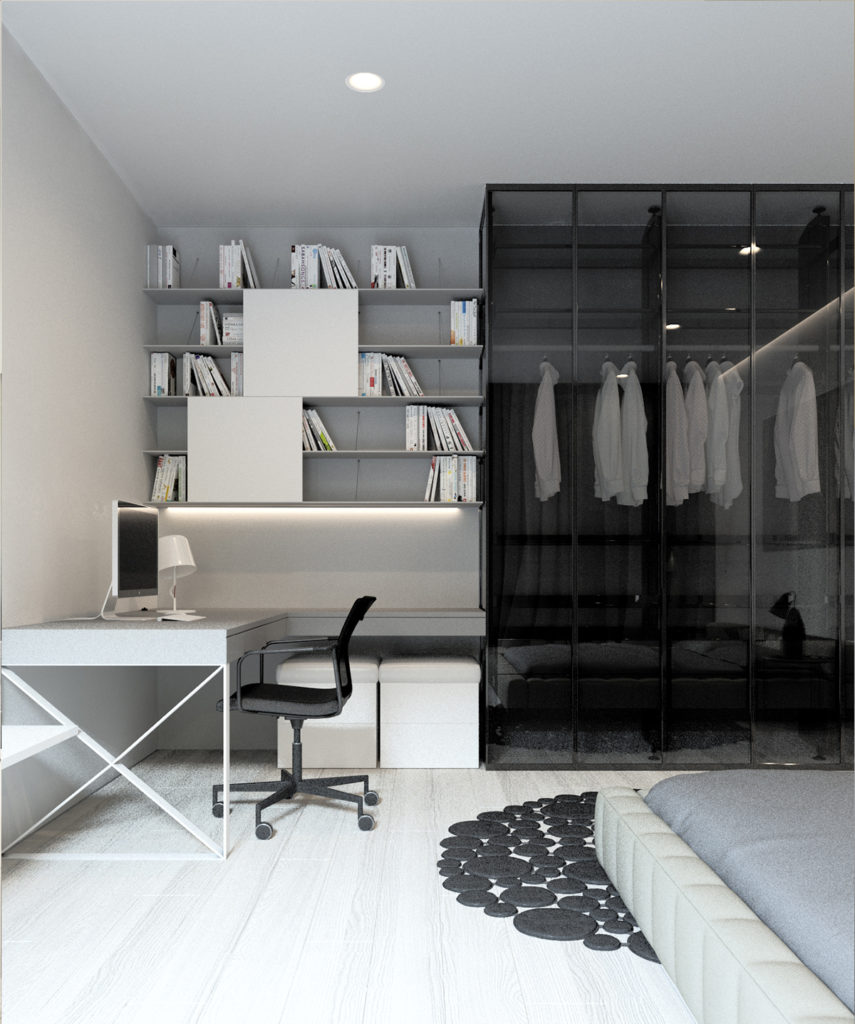 Modern grey home office design ideas for the bedroom usually don't include a corner office space right next to a stunning dark glass closet. The resulting contrast is amazing and makes for an idea to keep in your inspiration folder.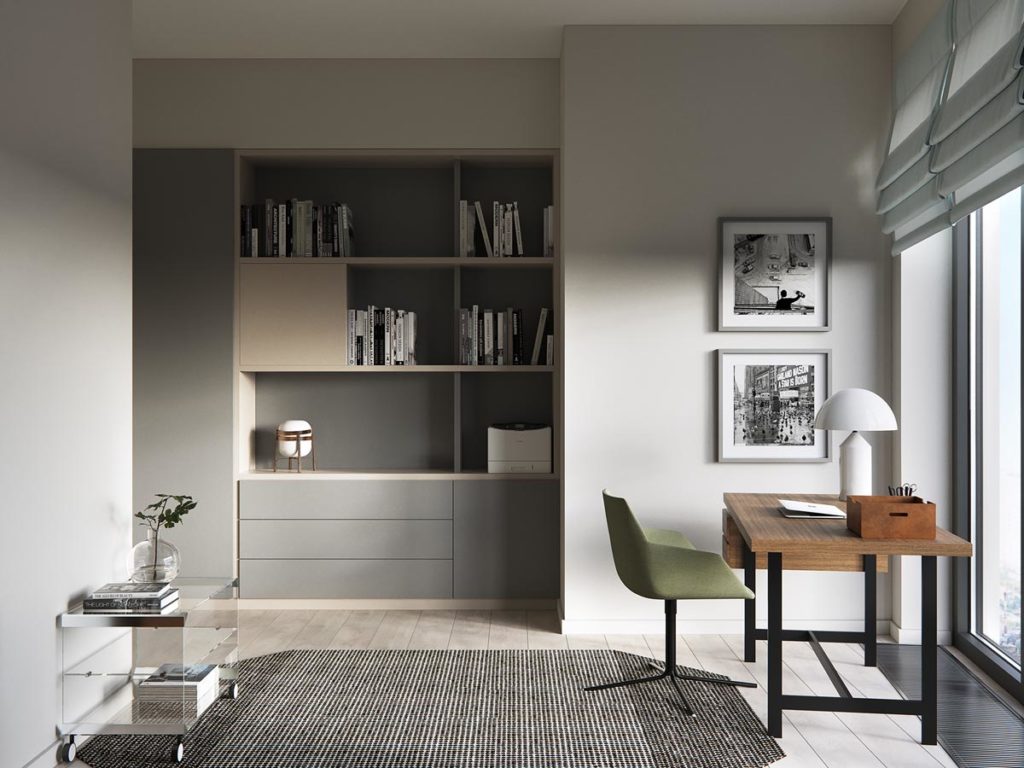 Pale grey home office ideas like the one above can be sweetened by adding a contrasting modern desk. Choose one that speaks about willpower and focus like a modern wooden desk with black metal legs and place it under the window for optimal daylight.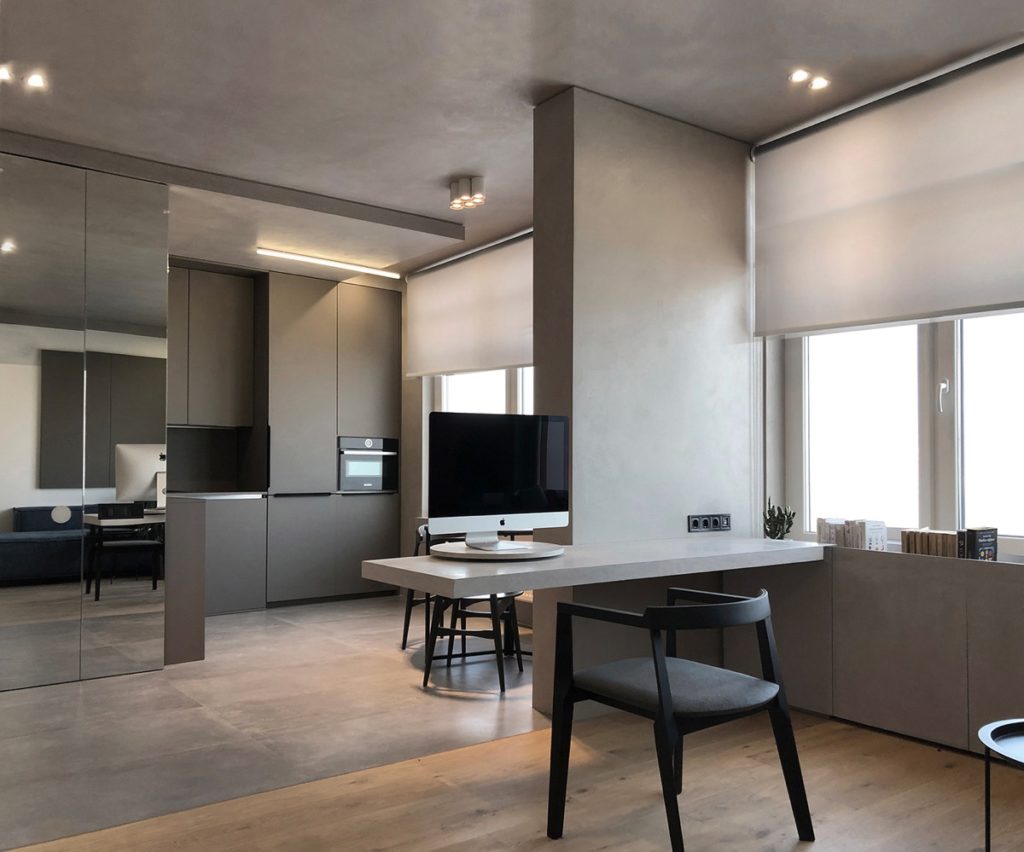 A home office desk built around a supporting wall in the kitchen can really make a statement even in a small apartment. Plenty of daylight floods the grey home workspace, while the modern black chair signals that this is a visually separate area of the house.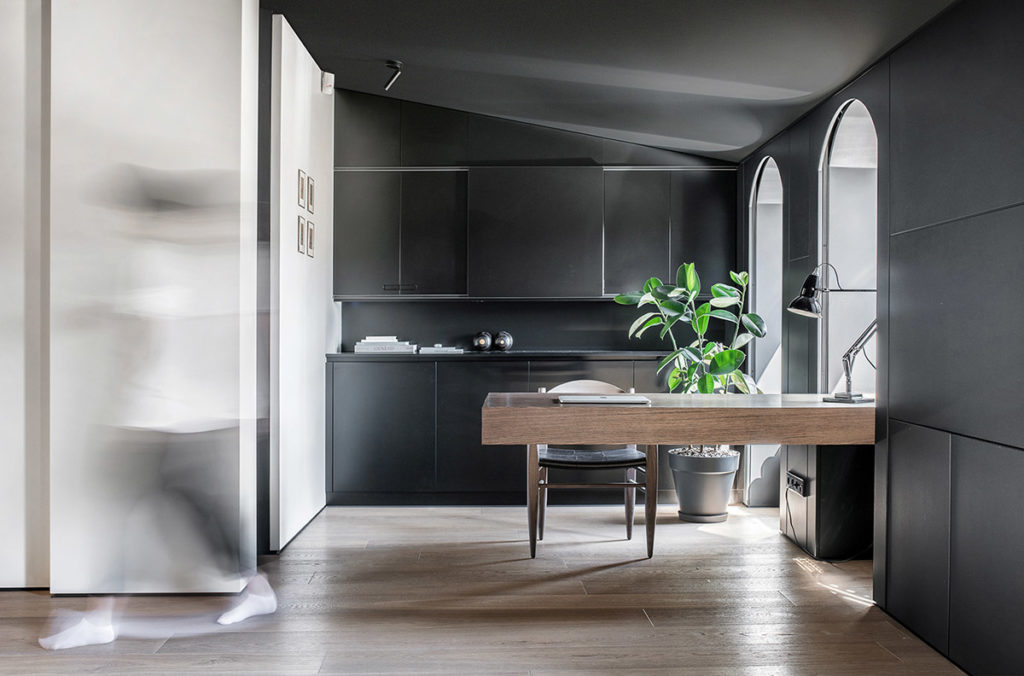 A gray home office in a small apartment can be setup to be temporary on the kitchen table, like in the example above. A floating slab of wood acts both as the kitchen table nd the home office when you have such a small space and yet want everything to look good and put together. That desk lamp signals the clash of these two function in the same space – eating and working – and accompanies activities when daylight is gone.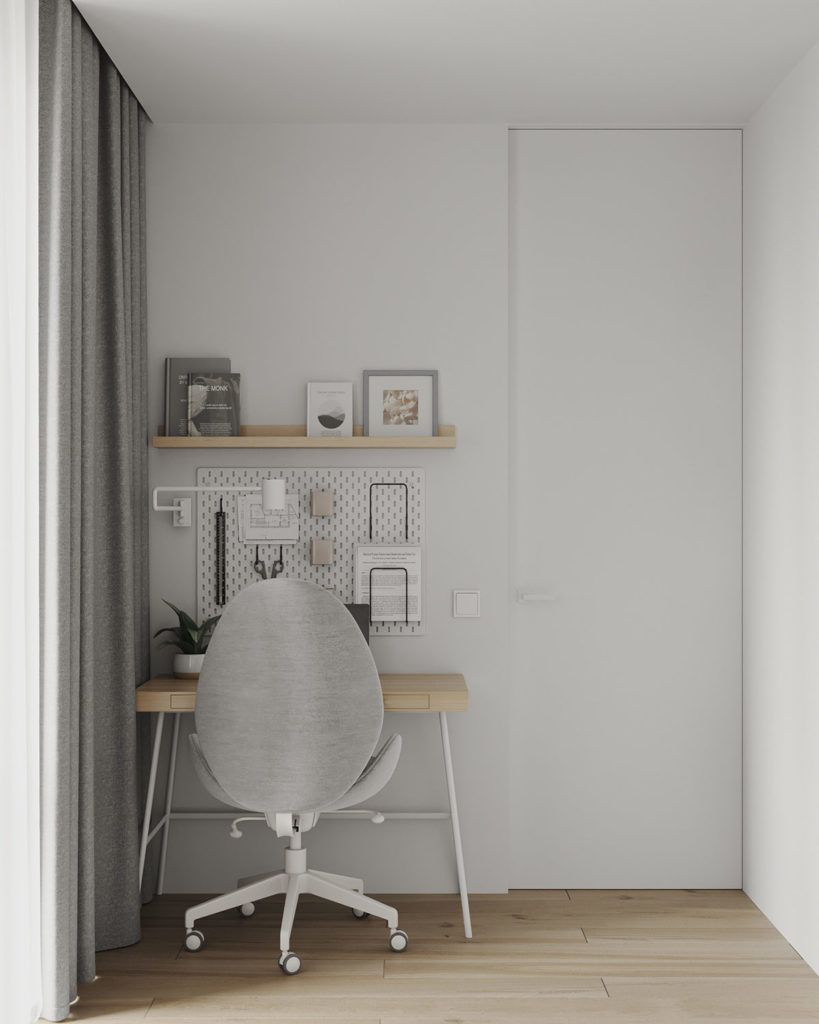 Having light grey home office walls is an opportunity to create a modern WFH setup. Having a small space is not as bad as it sounds – a small home office with carefully chosen furniture can be more inspiring than you think.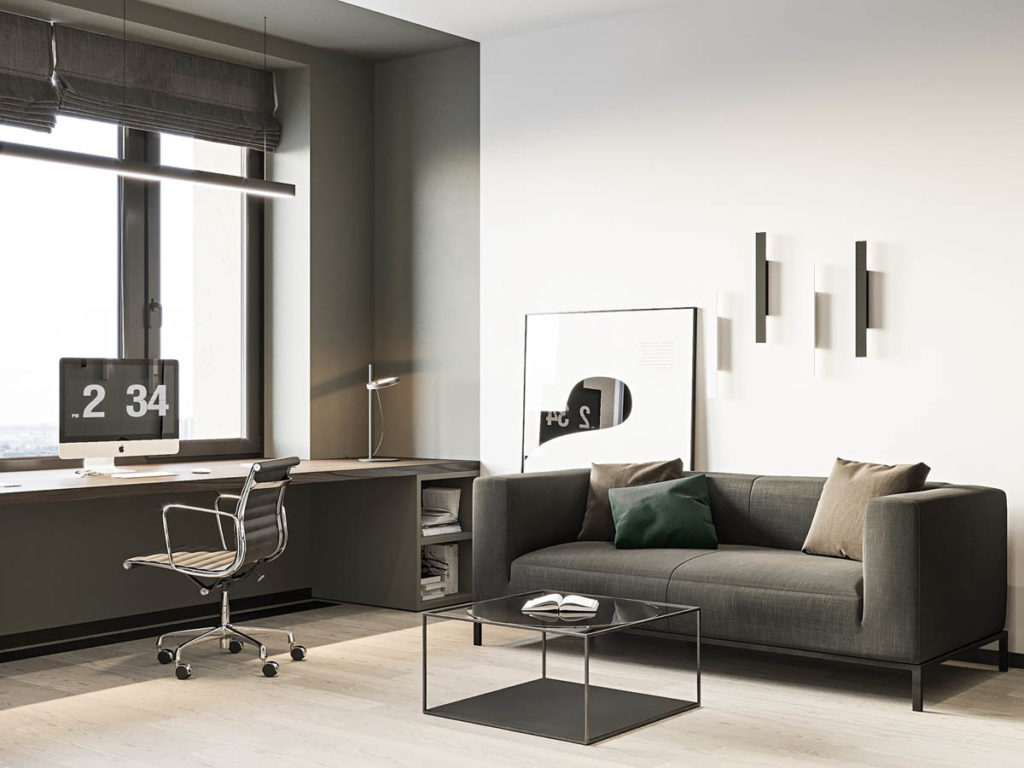 Defining the home office side of a room can be done using color. This modern grey and white home office idea above builds on the use of geometry and takes advantage of the very bright space to place the home office desk under the window.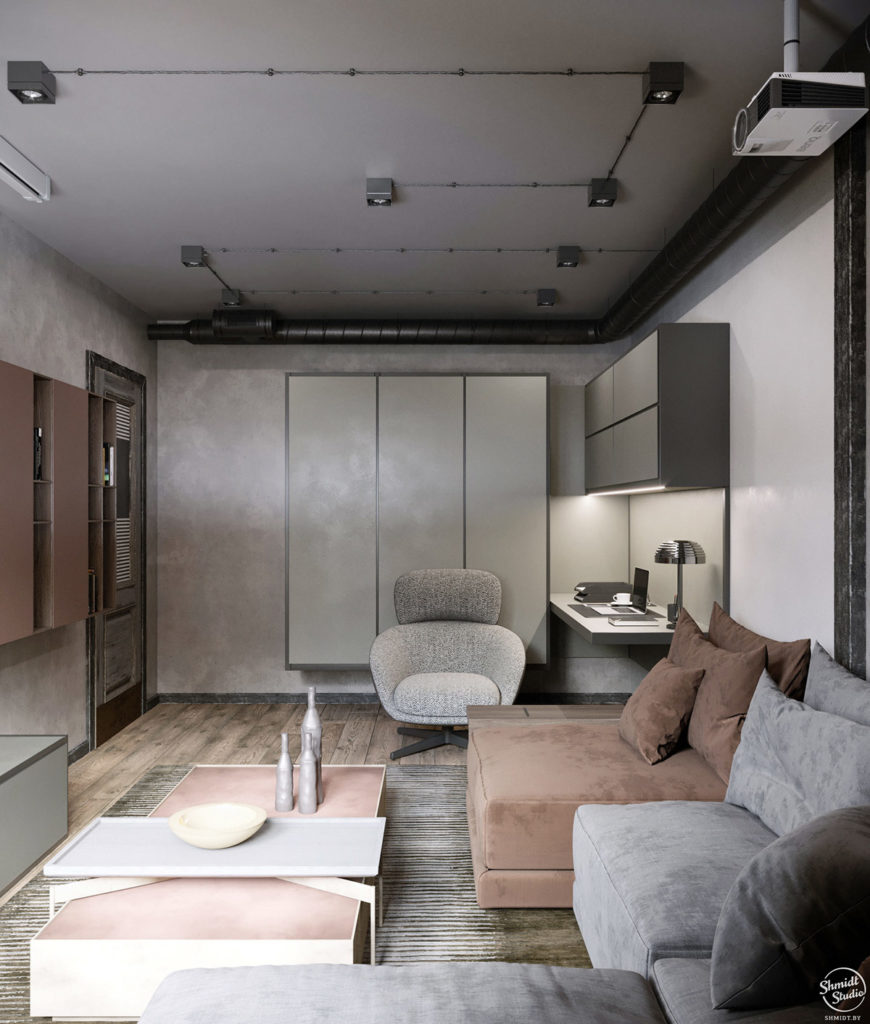 A grey home workspace in the corner of the living room can be beautifully integrated in the overall design. The home living setup we can see above borrows a hint of industrial style and showcase a fun way to split one room into these two functions – living and working. One carefully chosen armchair can act as a relaxation space, as well as a desk chair. Custom furniture makes this small living room use the space to its full potential.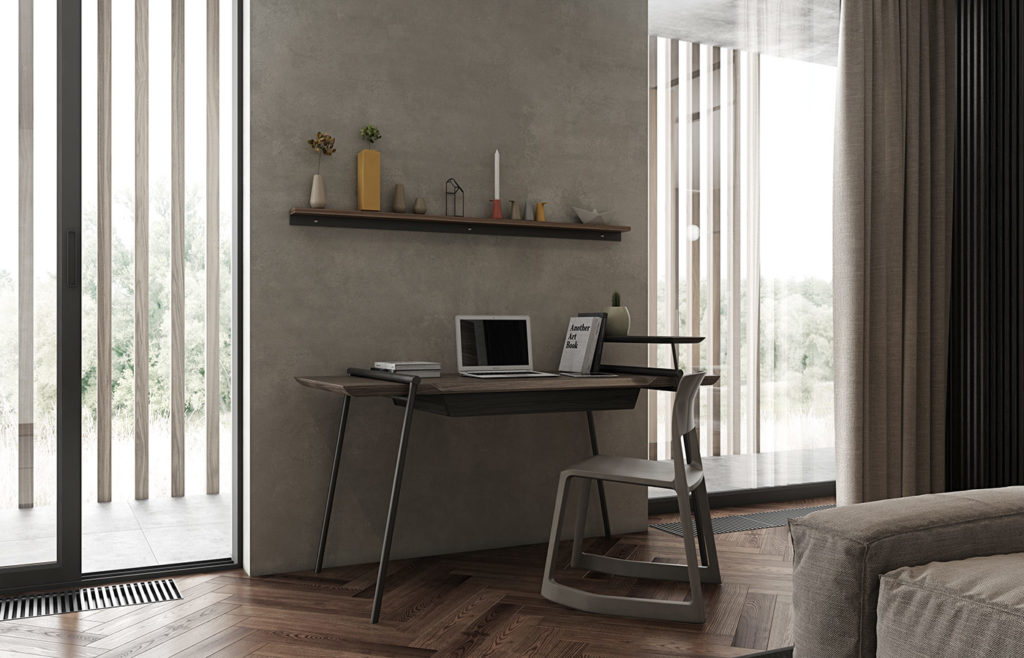 Concrete living room home office design can include a concrete wall or one of the walls painted to look like concrete – add a modern desk and chair, one decorative shelf and enjoy working from home in style.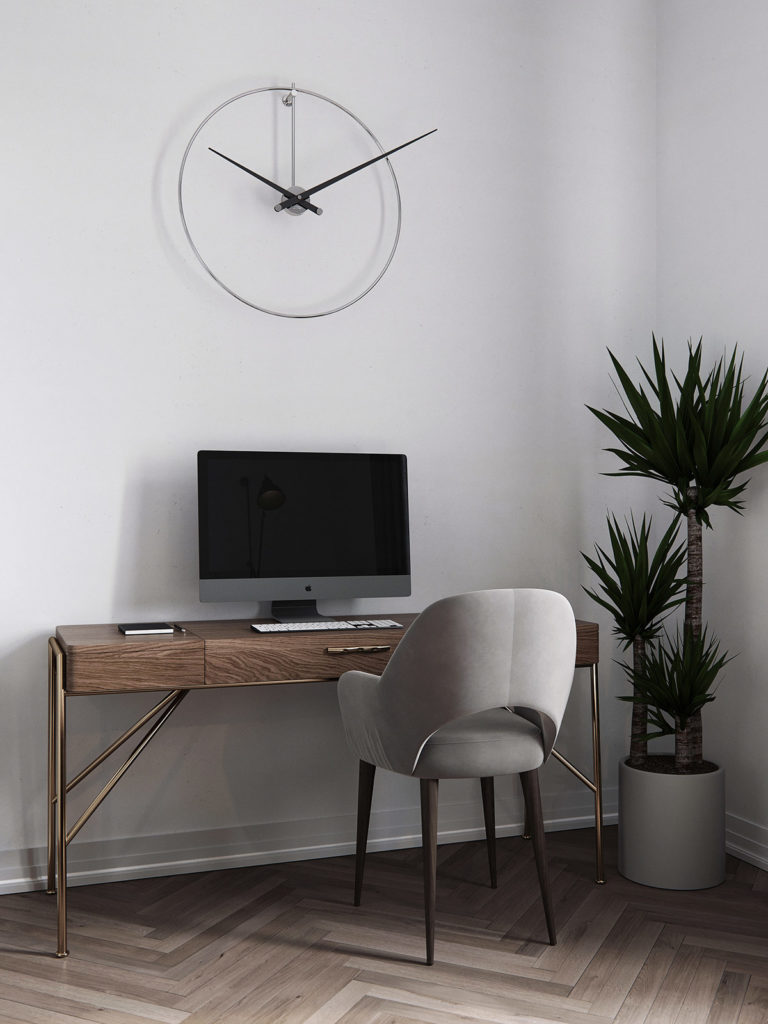 Light grey home office walls can be the perfect background for a simple modern desk – maybe one that flaunts wood on gold legs – a desk chair, a dragon tree plant and a minimalist clock above to remind the owner not to waste time.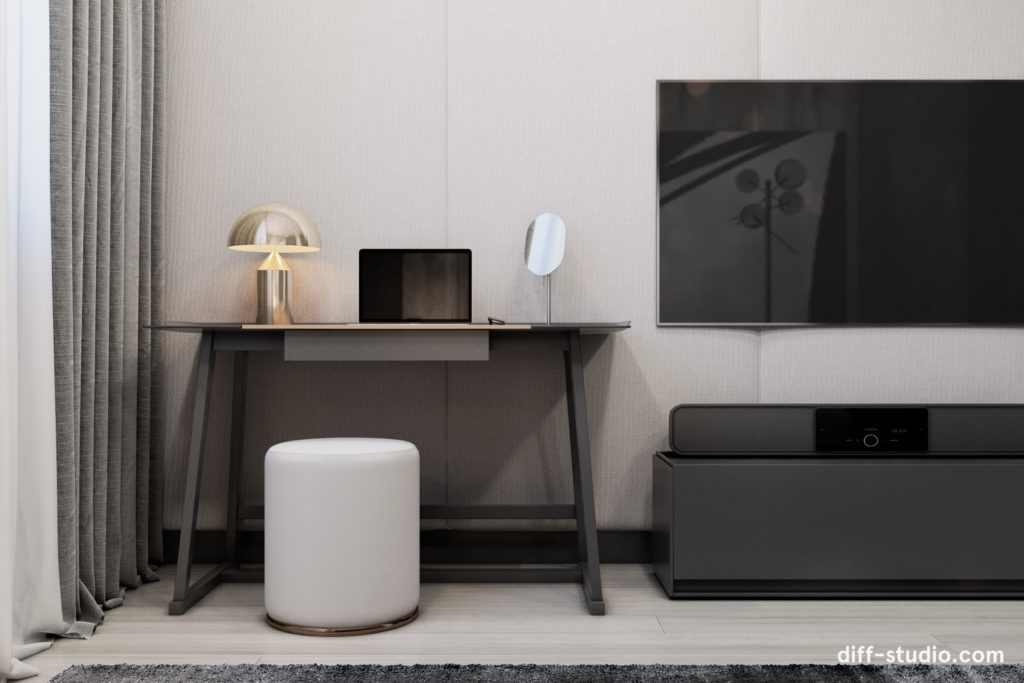 You don't need much space – a corner of the living room is enough to set up a home office. By adding a dark grey home office desk you extend the functional space of the living room. An elegant white pouf with a gold base keeps the corner stylish, while the desk only holds the essentials – a desk lamp, a laptop and a mirror – hinting to the fact that even this small corner is multifunctional.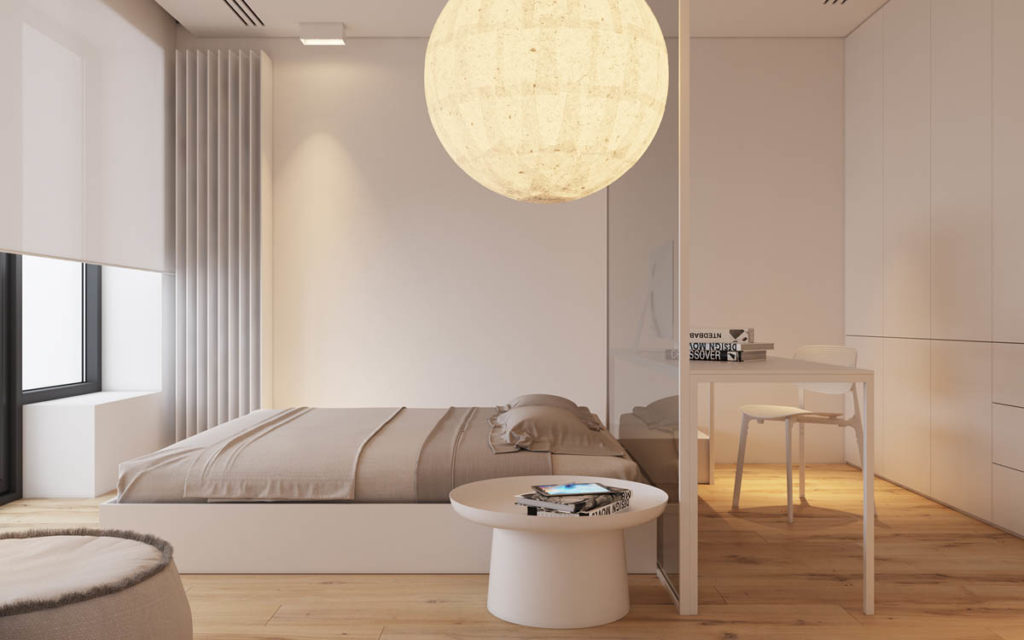 When looking for modern grey and white home office ideas you don't quite expect to find such inspiring designer work. Above we have an example of how you can separate the sleeping area from the desk that can be a workspace and a vanity – add a transparent dividing wall in the bedroom.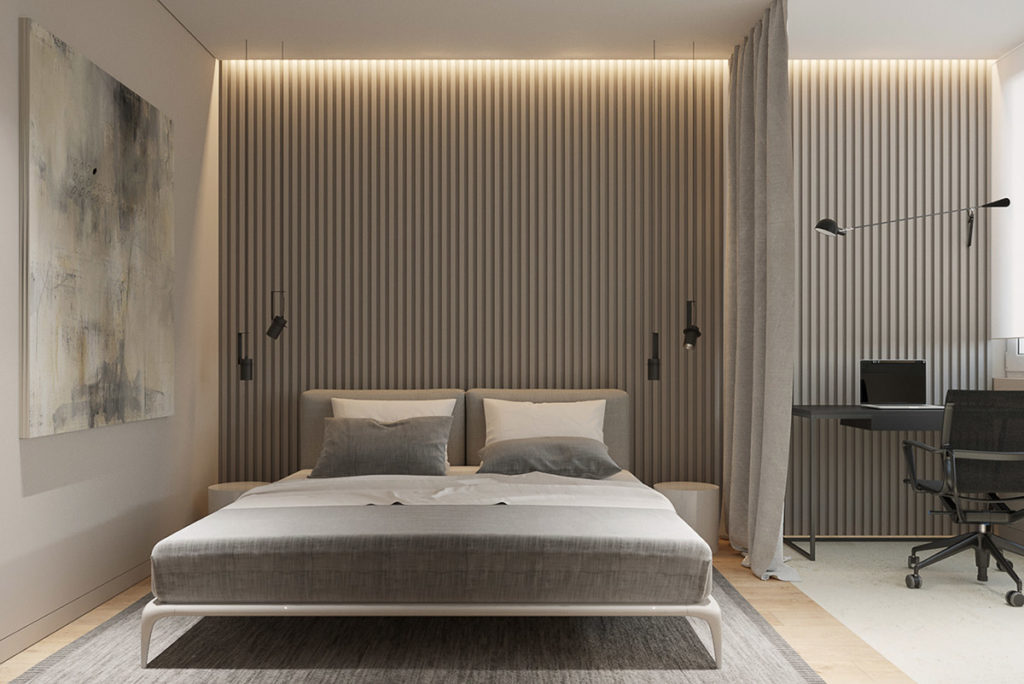 A grey slat wall decorating the home office in the bedroom can look very inviting, especially if it gives the owner the chance to visually separate the working from the sleeping – with a grey curtain in this case.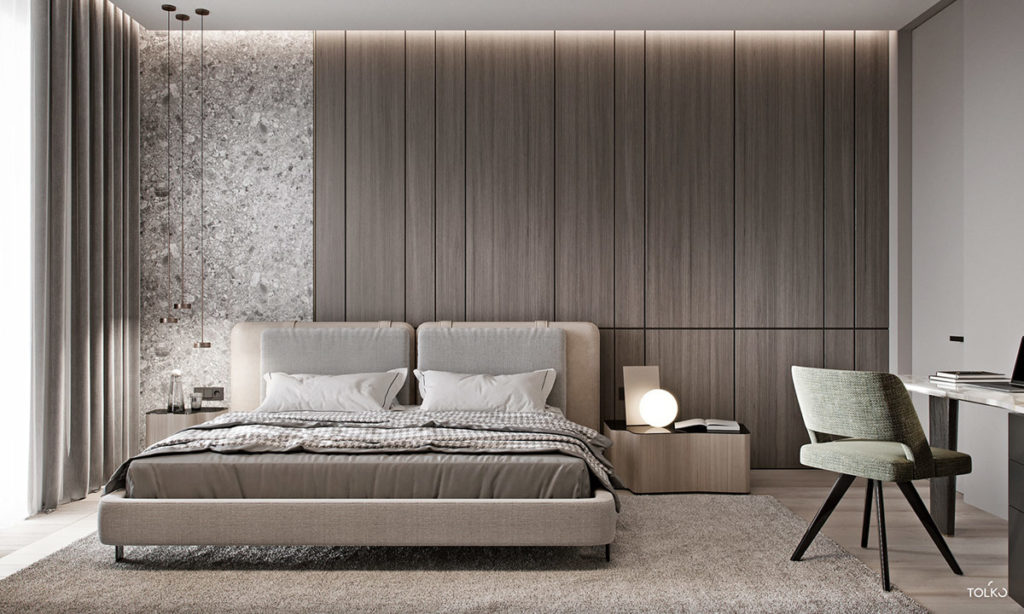 Granite and wood panels create a headboard feature wall in this stunning bedroom. This is the perfect backdrop for the home office setup on the side. This grey walls neutral bedroom home office example above shows how high-end materials double the impact of any design – visual and tactile senses get more involved.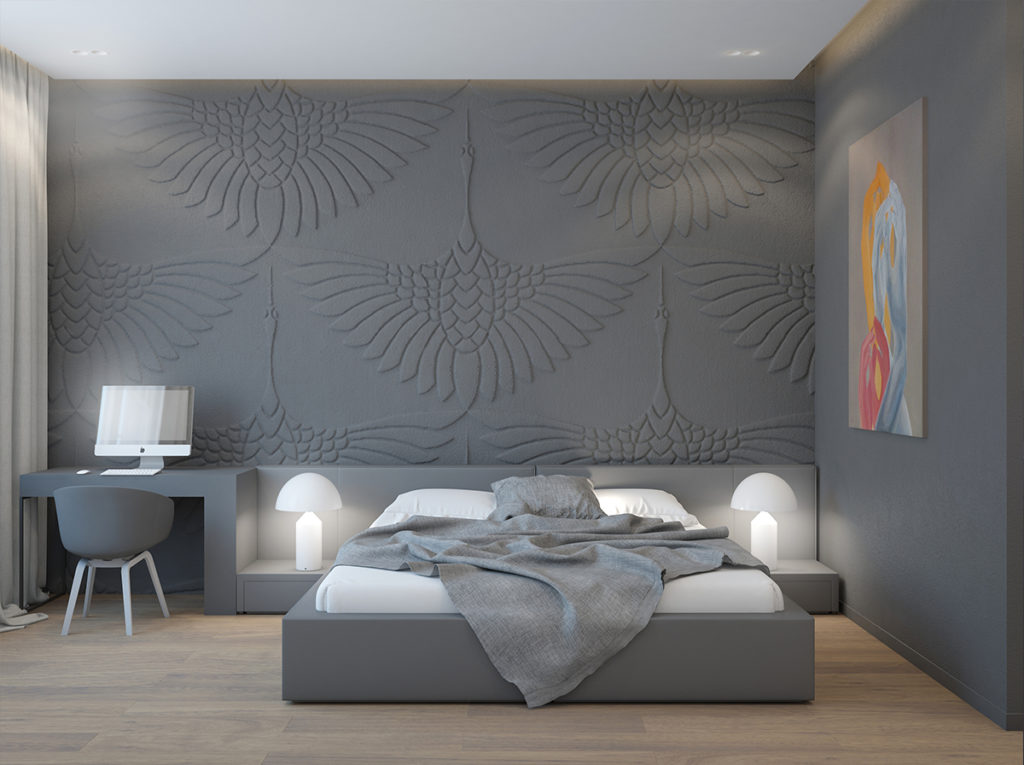 Building a custom platform bed with home office desk included can be a great decision for the bedroom. Look at the example above – a grey feature wall displaying 3D birds might have looked too much if there were more colors involved. Keeping a grey color palette allows adding a colorful painting that breaks the monotony in color.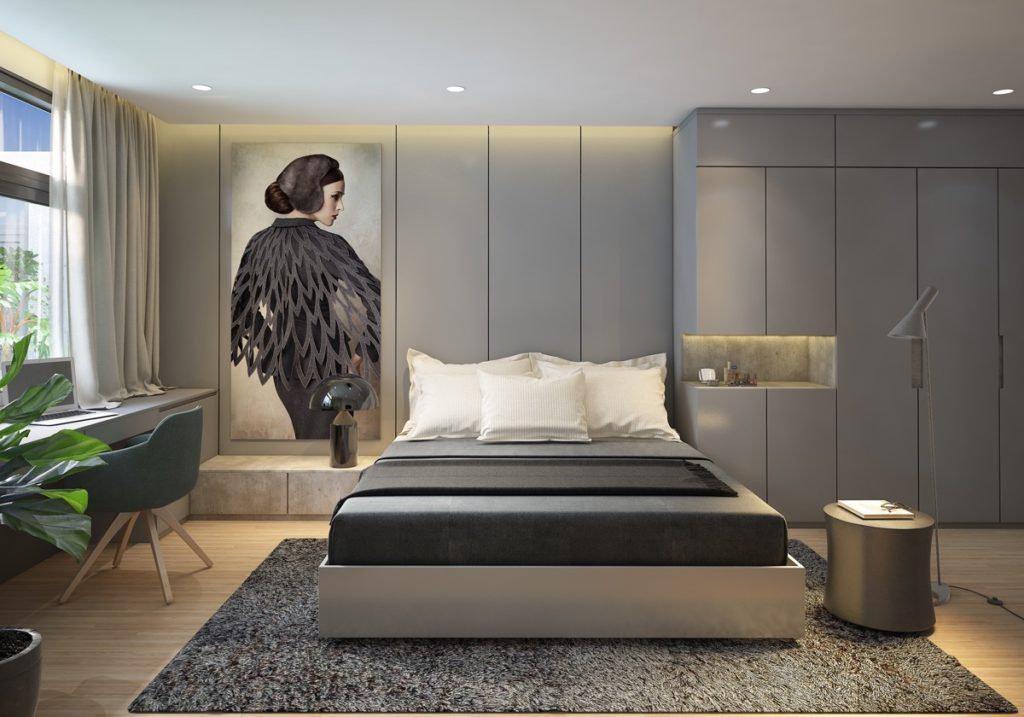 Having grey custom furniture for a bedroom with home office could be a smart choice that allows you to play with decor during the years. A neutral grey color palette invites pops of color added with decorative details. Meanwhile, the timeless example above looks like it can serve as inspiration for your own modern grey home office design for years to come.
Here are more ideas to guide you to choosing the perfect home office for your taste:
10 Modern Bedroom Workspaces In Light Grey and Wood
Small Home Workspace Exuding White & Grey Simplicity