Exploring three differently designed studio apartment home offices can help you find the perfect inspiration for your own taste.
The first one is a bright and casual workspace design with an added lounge space, the second one oozes masculinity from every metal and concrete wall, while the last one is part of an open floor plan overlooking a big city.
White heaven and some brick rawness
Our first unique workspace comes in a color palette that is both calming and energizing. Plenty of natural light comes from floor-to-ceiling windows that flood this small apartment with cityscapes. From the hammock, after a hard day of work, city lights shine different especially when you know you've had a productive day.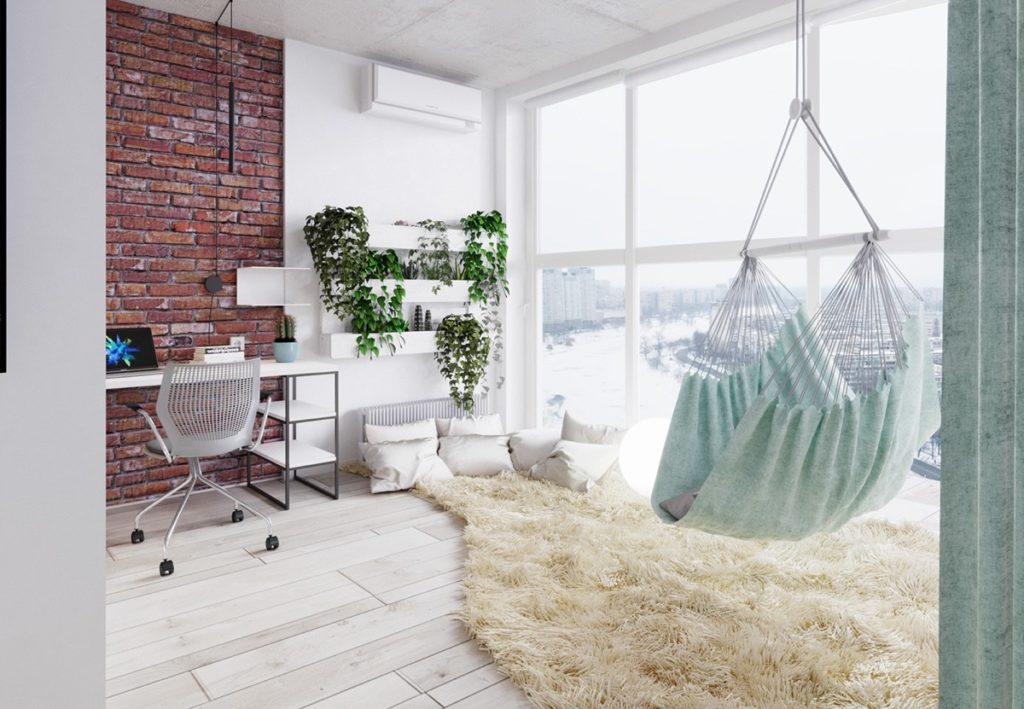 Choosing white as the main color offered the opportunity of placing a decorative brick wall and filling three long planters with greenery that interrupts the monotony of all this coziness.
A living, sleeping, working and relaxing space, this studio apartment designed by Lauri Brothers makes the most of its features: natural light, spaciousness and location.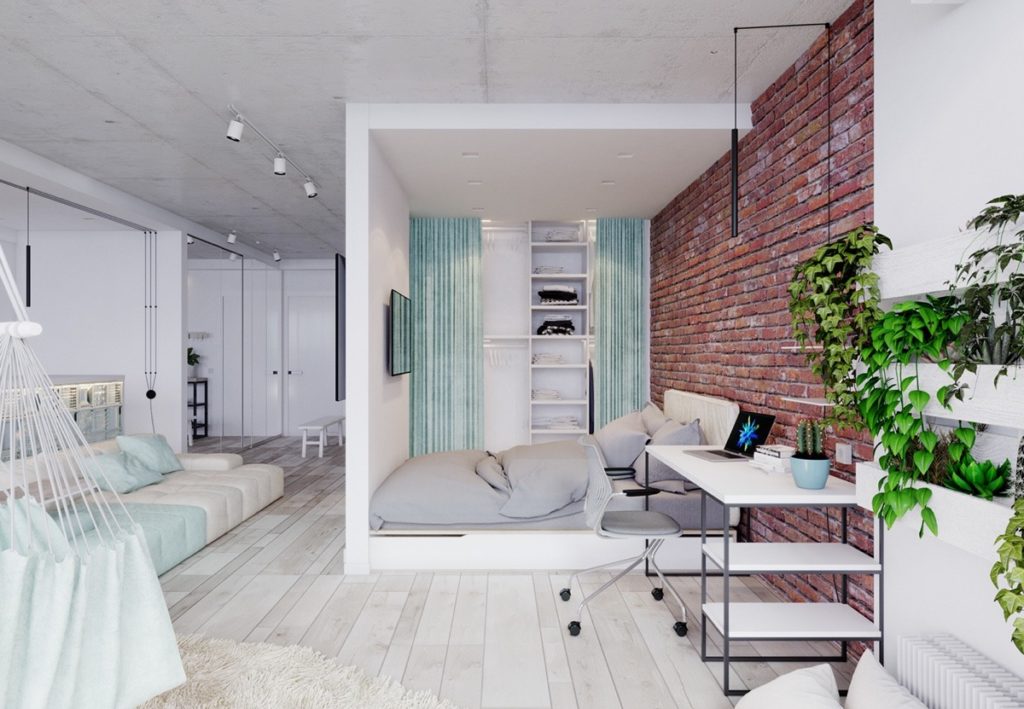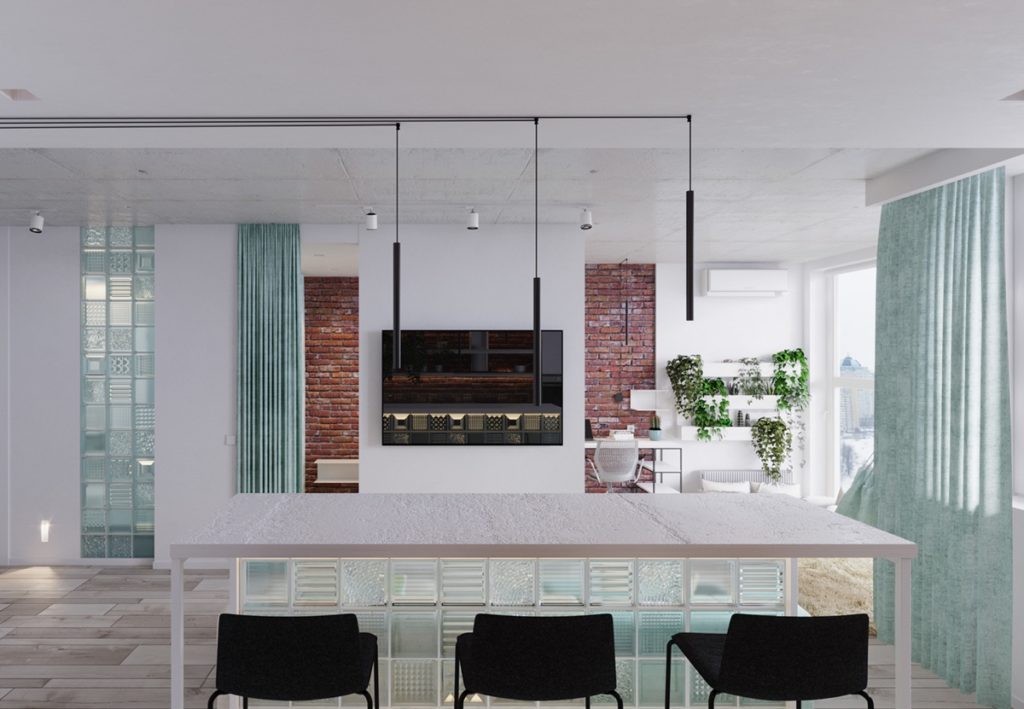 Industrial workspace in the middle
This next design by visualizer Julia Myshko can be seen as the opposite of the last one. A masculine vibe is offered through materials and textures: metal, wood, and concrete were used to create a very straight-forward, simple design in muted colors. The work desk takes center stage in this studio apartment, wrapping around the metal mesh structure separating the kitchen from the living and sleeping areas.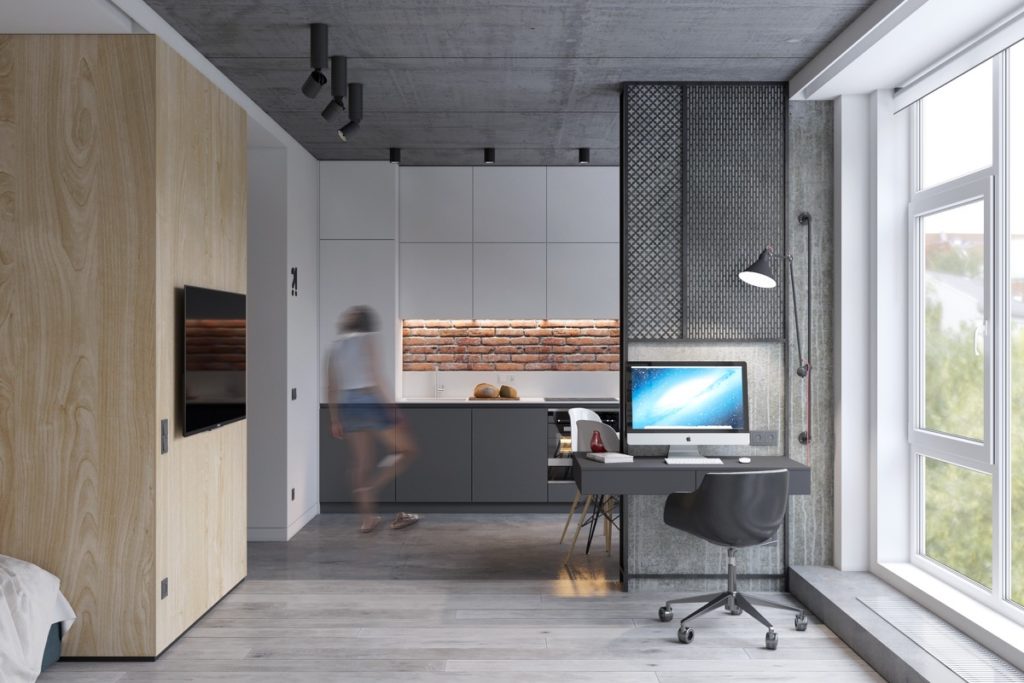 Concrete and metal was softened by wood and still, the industrial feeling was somehow made ever more powerful. Exposed brick walls line the kitchen area, while the living space was constructed to be softer, with tall curtains and a cosy sofa inviting to relaxation. This creates a balance, and you can say that the floating desk is the middle ground between eating and sleeping – it's what happens in between.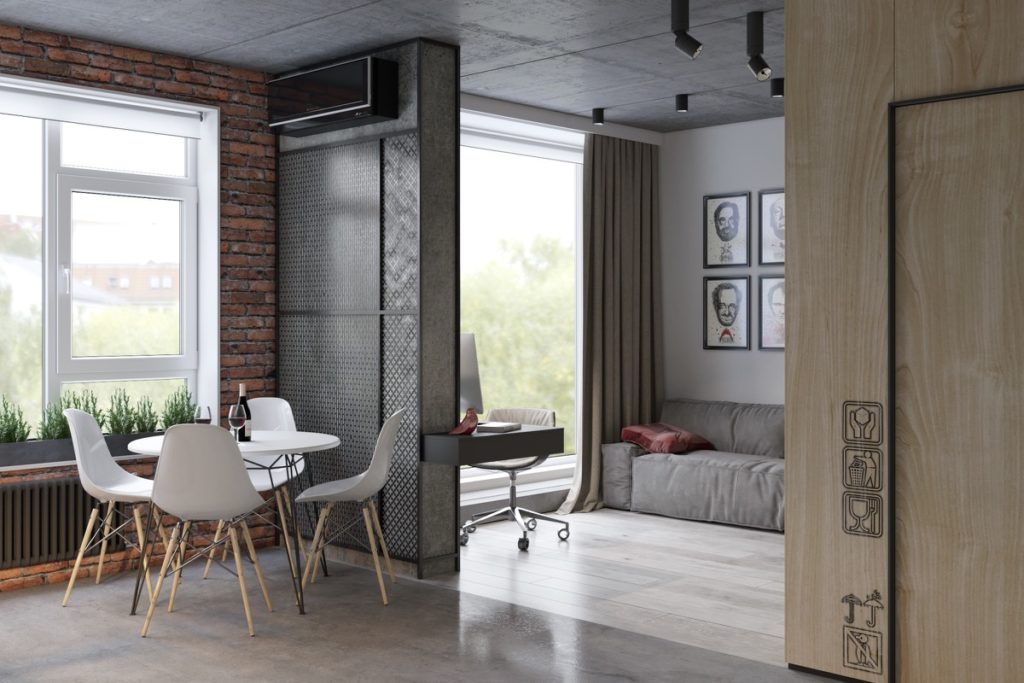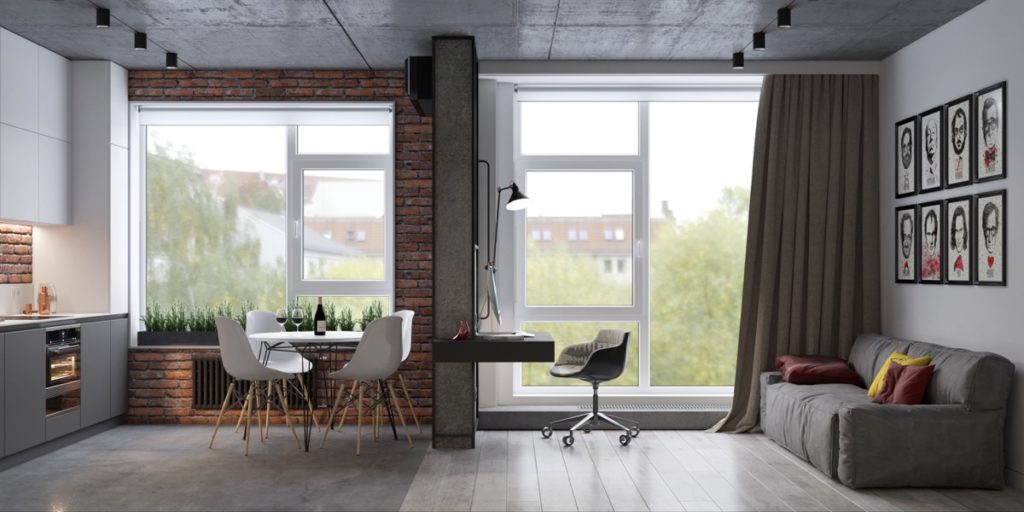 Mid-century modern charm in contemporary studio
Visualized by Emil Dervish, this last apartment overlooks the city of Kiev, Ukraine. Seeing a long and narrow space under the window, the designer used it as an opportunity to place a double workspace. Even if it's so close to the kitchen, the fact that this long work desk faces the city outside is good enough to focus on that scenery than look back to the interior.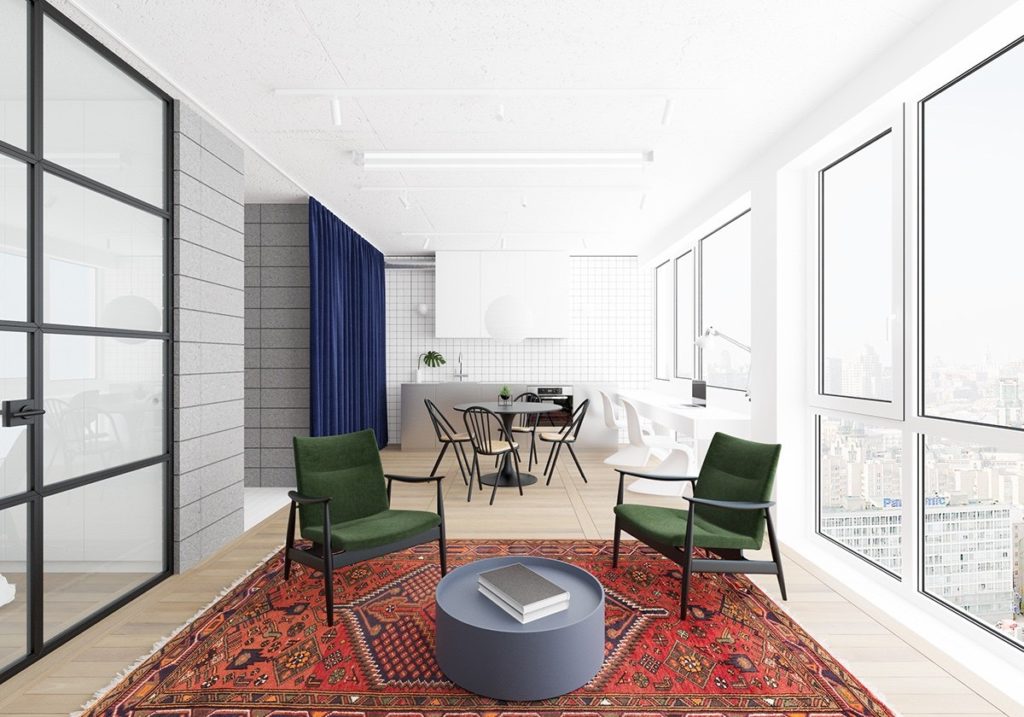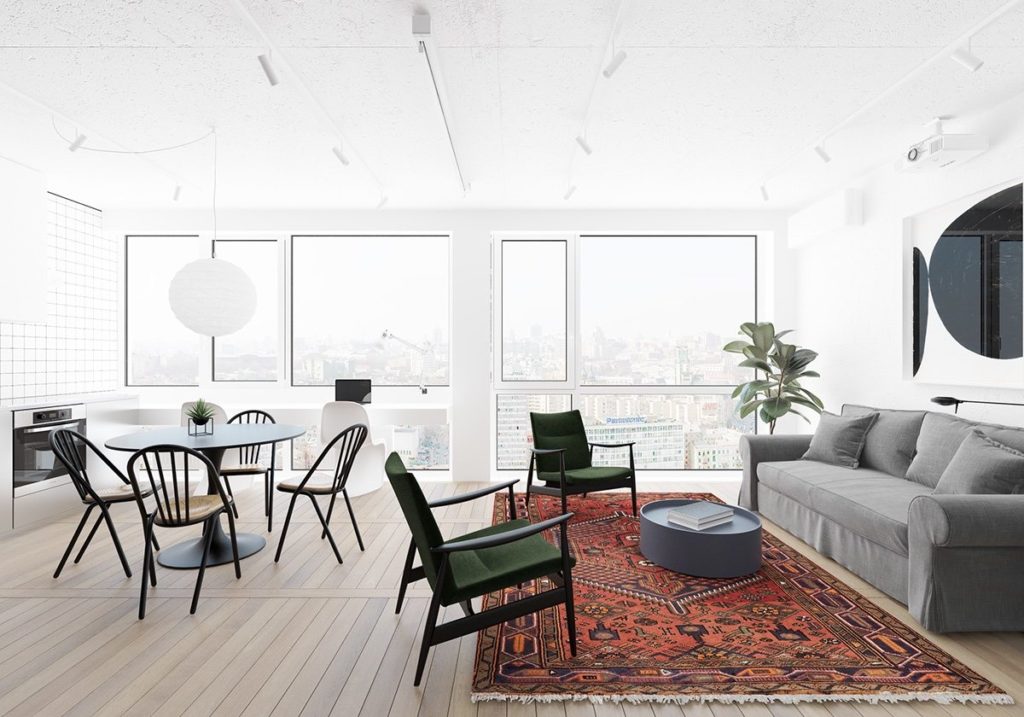 A separate round dinner table and four dining chairs make sure the workspace is not used for eating and the dining table is not seen as a tabletop to work from.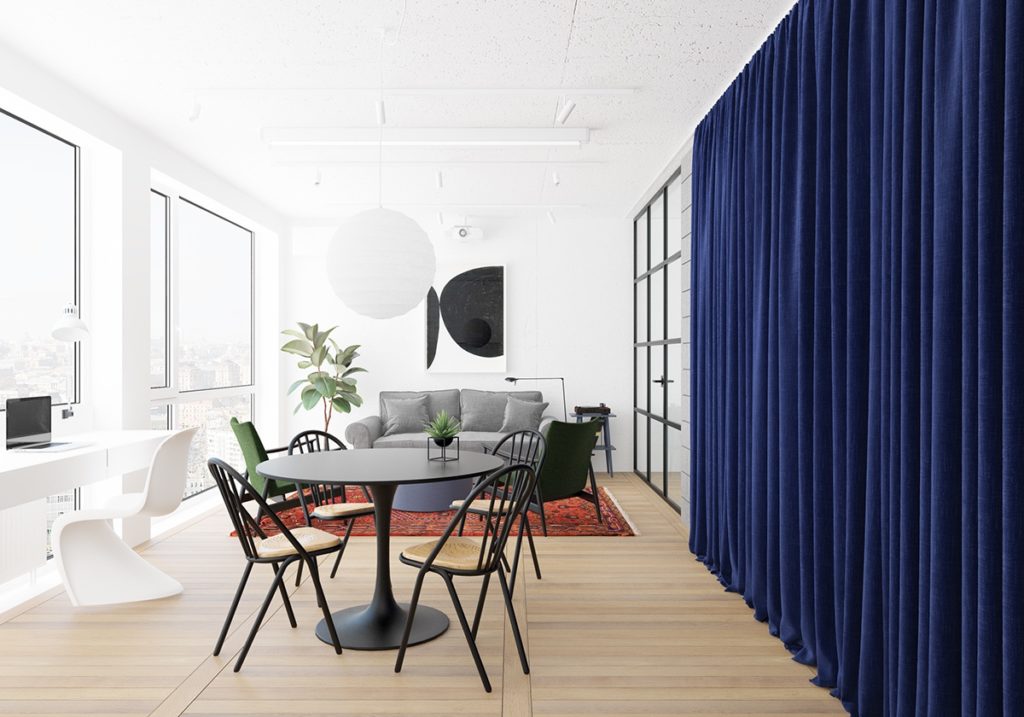 We have plenty of other ideas you can draw inspiration from, check out these ingenious ways of creating a working space at home suited to your needs:
2 Ingenious Bedroom Workspace Designs
Cosy Living and Working in Small Studio Apartment