Working from the living room, whether you're employed or run your own business is now more a matter of style than of possibility. Exploring how to work from a corner of the living room comes down to the mood you want to create and yes, that includes lights, colors and textures and then so much more.
Designers' creative ways of looking at blank spaces and creating stunning blends of modern and traditional (like in today's example) can easily leave us in awe. Using colors with boldness and adding up layers of decor makes a home become inviting to encompassing a workspace without it standing out in an uncomfortable way.
Visualized by Svetlana Savinova, this colorful workspace in the French-inspired living room with ethnic notes was designed as part of a collaboration with St Petersburg-based design studio YOCUBE, according to the designer.
Red, blue and yellow were combined to shape a colorful, visually attractive home design that includes a modern workspace flanked by libraries – three of them. Two classic library setups flank the window that allows plenty of natural light to flood this contemporary living space. The third library is a bold blue set of modern shelves inserted in the elegant blend of traditional wall setup in white.
More inspiration: 10 Charming Workspaces Parading Home Libraries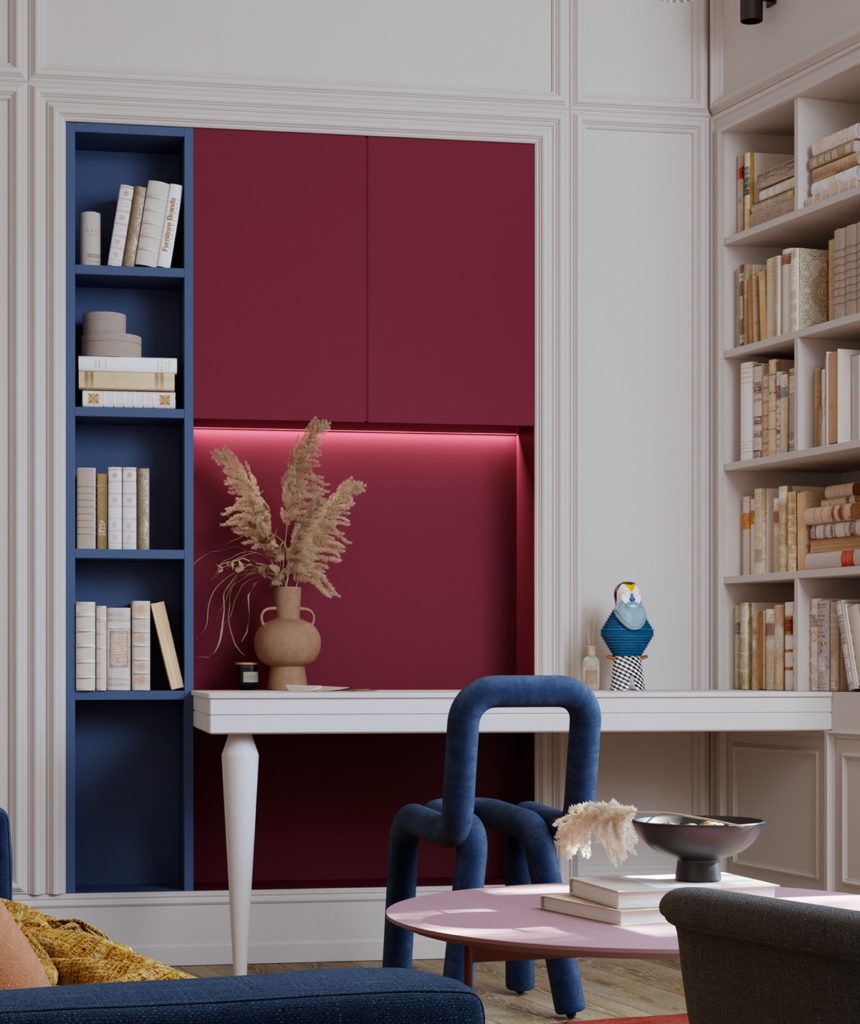 A white table resting on a single turned leg makes up this unusual corner workspace accompanied by a blue contemporary chair that looks comfortable for both computer work and writing a letter by hand.
All these modernly-shaped details like the Moustache Bold chair used as a desk chair and oval mirror on the wall beautifully contrast the traditional built-in bookcase both in shape and color, giving the owner the possibility to enjoyi the best of both worlds.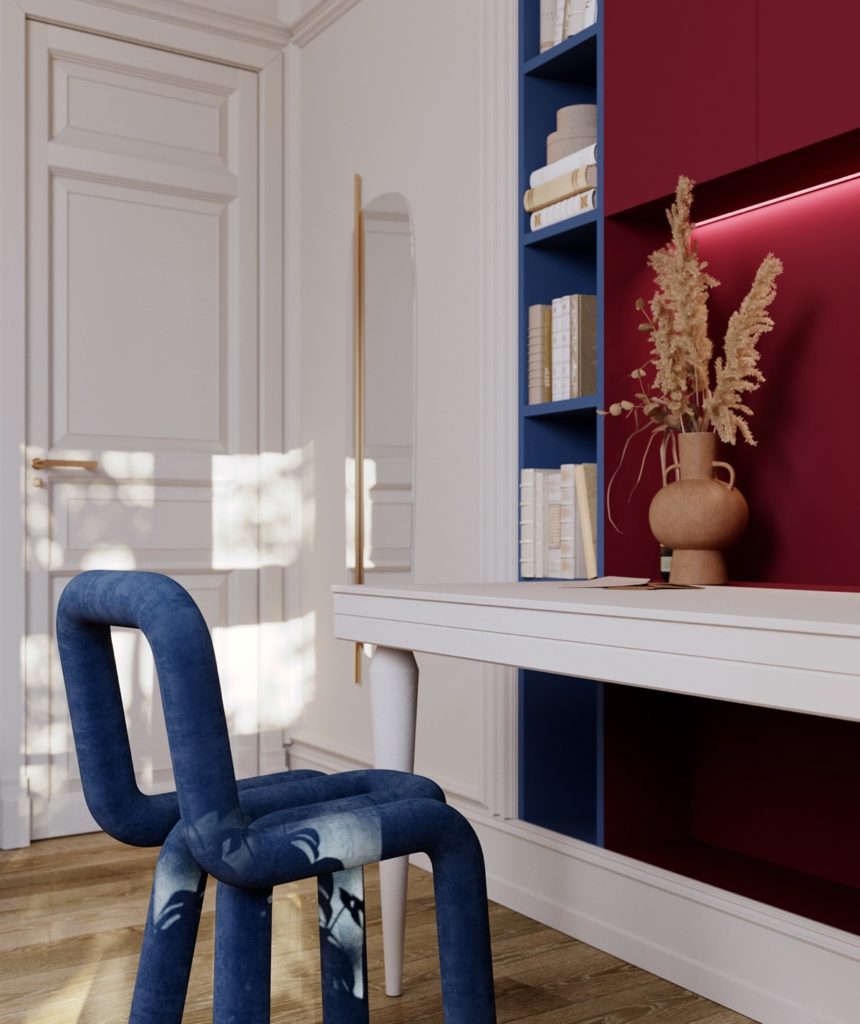 Recessed LED strip lights makes the workspace stand out more and ads depth to a minimalist setup in raspberry red. With such a sculptural shape of the blue chair, this redish background allows the owner to have an inspiring visual setup for those times they disengage with the laptop screen and look up.
This is what good design does, it allows you to take a break from any stress by visually enjoying your surroundings. And this investition in the place you now not only live in, but also work from has the power to upgrade your lifestyle as a whole.
More inspiration: Using Lights To Color Grade Your Home Office Studio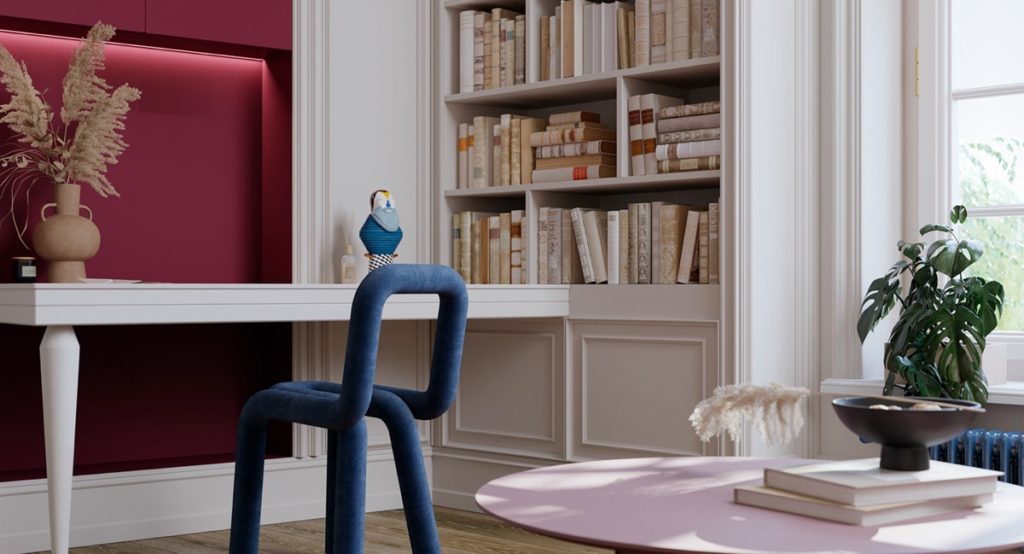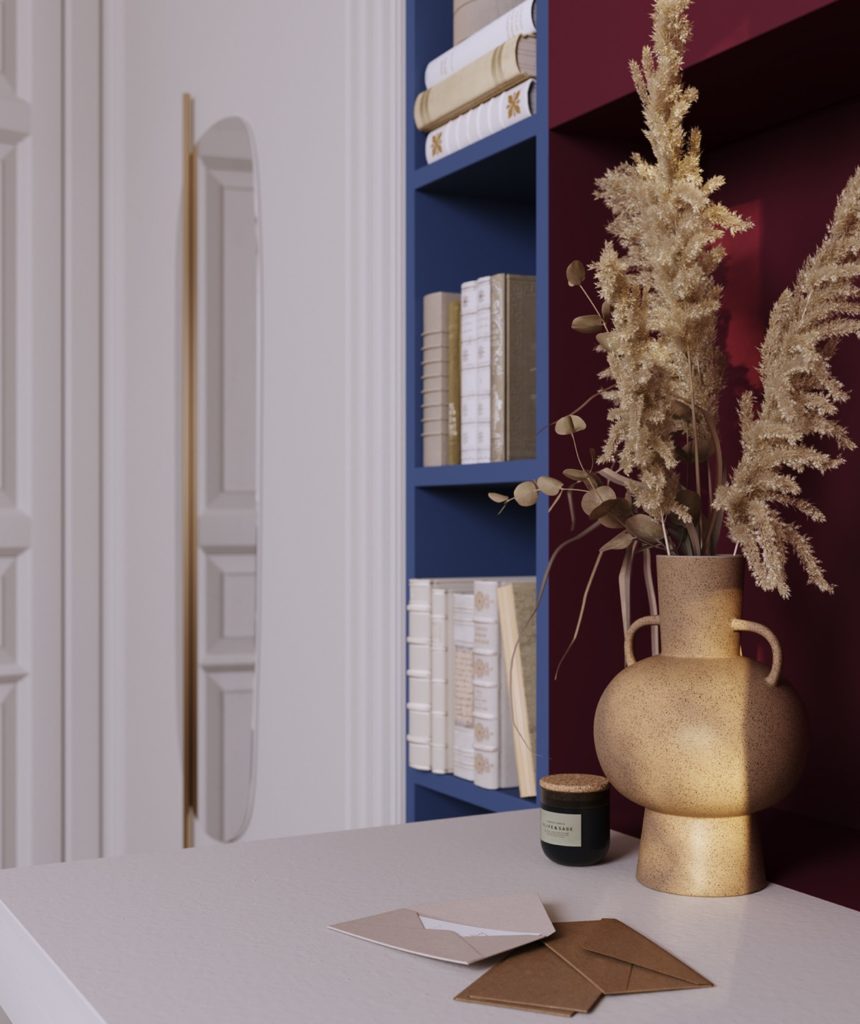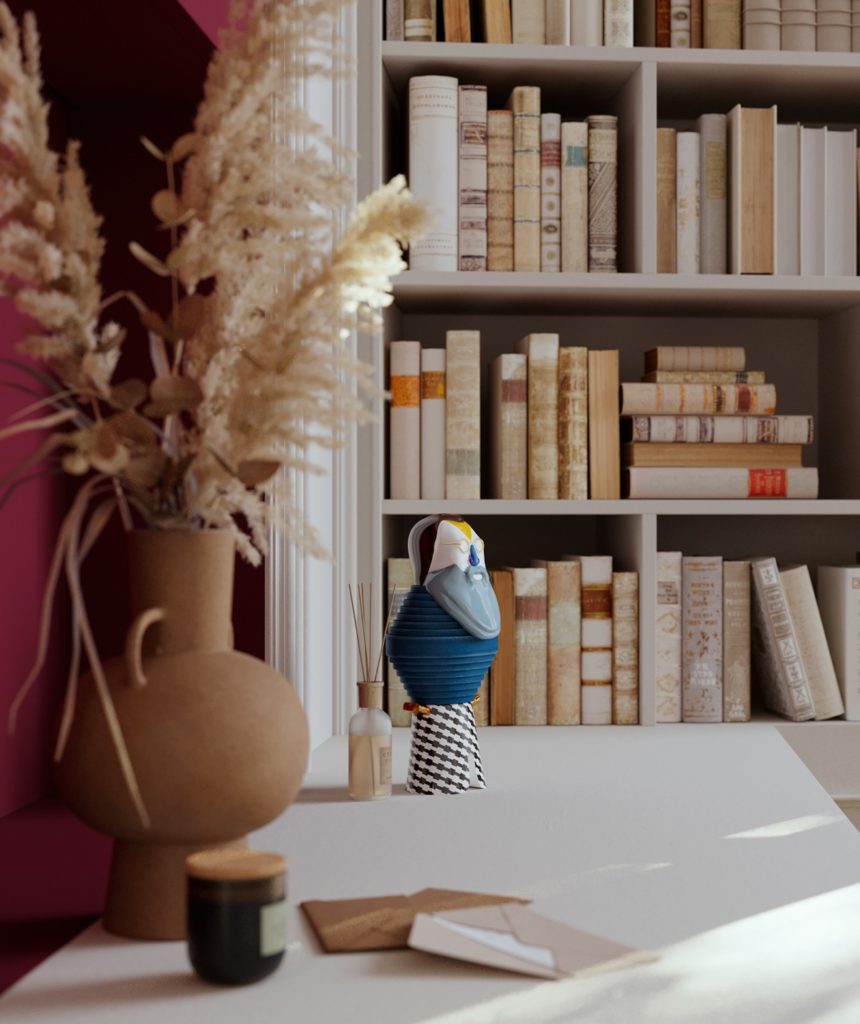 Above the blue sofa, a Chili-Tribe Mask set by Umasqu brings some wilderness into this contemporary living room design, combining ancient culture with an edgy modern style.
Blue seems to have been the chosen color to make different accents pop – the blue chair, blue sofa, blue chandalier and even cobalt blue cast iron radiator under the window.
The colorful living room workspace was somehow focused on mixing styles and if you want to see more of these unique decorative masks, here is more info and more photos: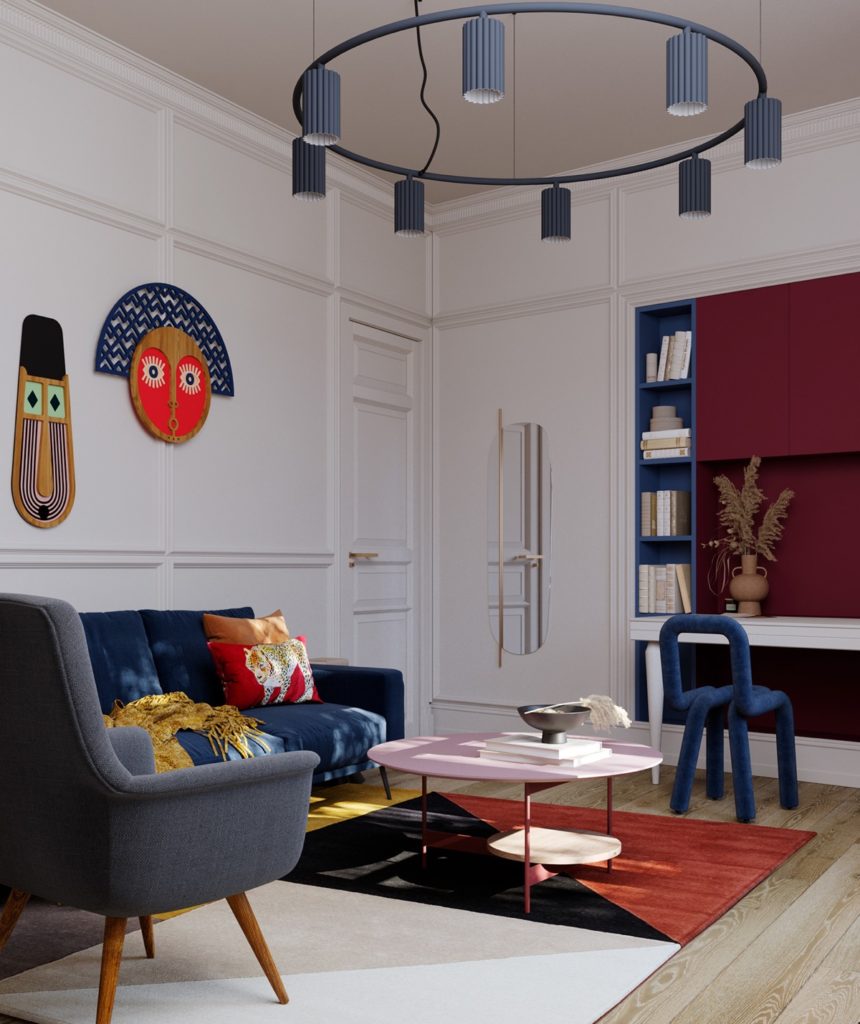 A multicoloured rug brings the rest of the colors together in a lively space to live and work from. Rounded shapes like the coffee table and chandelier compliment the masks on the wall and soften the rest of the sharp design lines and corners.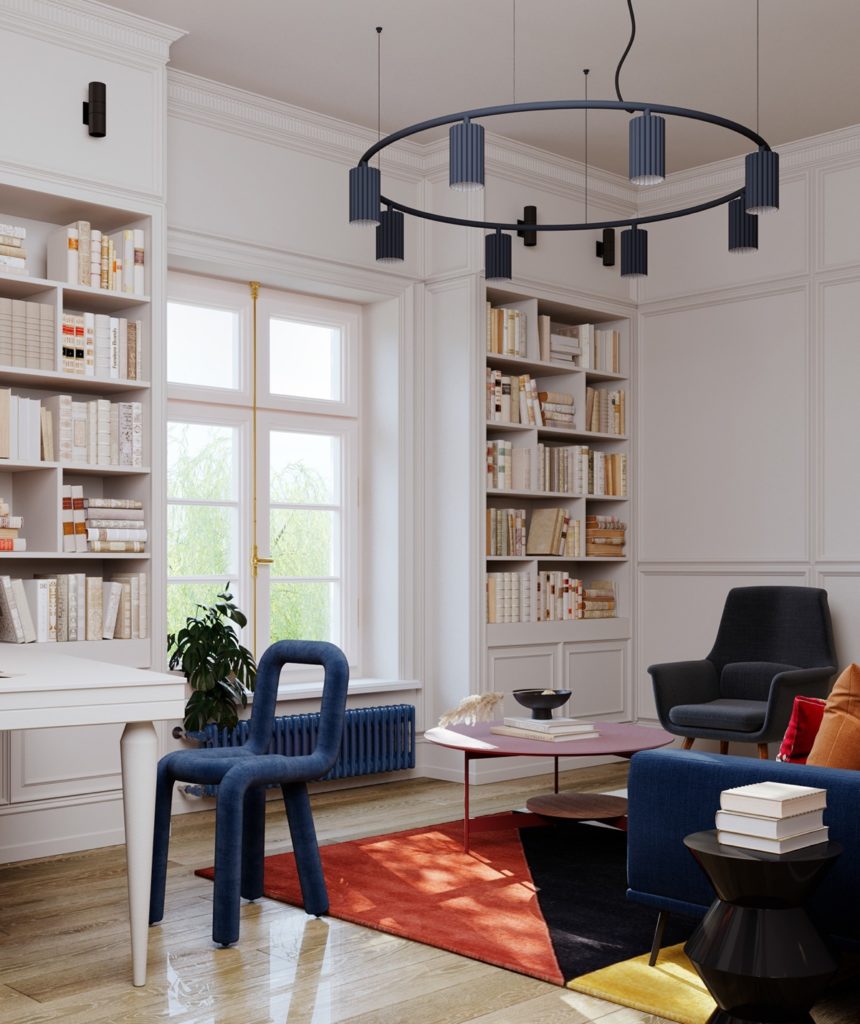 And if you want to go deeper into using a part of the living room to create a WFH setup, here are a few ideas to inspire you:
All-in-One Home Functionality: Office, Dining, Living
Pet-Friendly Sidetable For Home Working, Living and Sleeping