We've been talking about so many things WFH related – from choosing the best location for your home office to working from home with kids and everything in between – that we sometimes forget that small details are the ones that make or break a space.
Our home workspaces can be places for professional seriosity and adventure-ready spaces that transport you to fantasy lands or a bright future while you go through the motions.
We've seen these masks on the living room wall of this Corner Workspace in Colorful Modern Traditional Living Room and looked more into their attractive and powerful way of changing a space. We wanted to see how they look in different designs, beyond the stunning blend of modern and tradaitional in the photo below.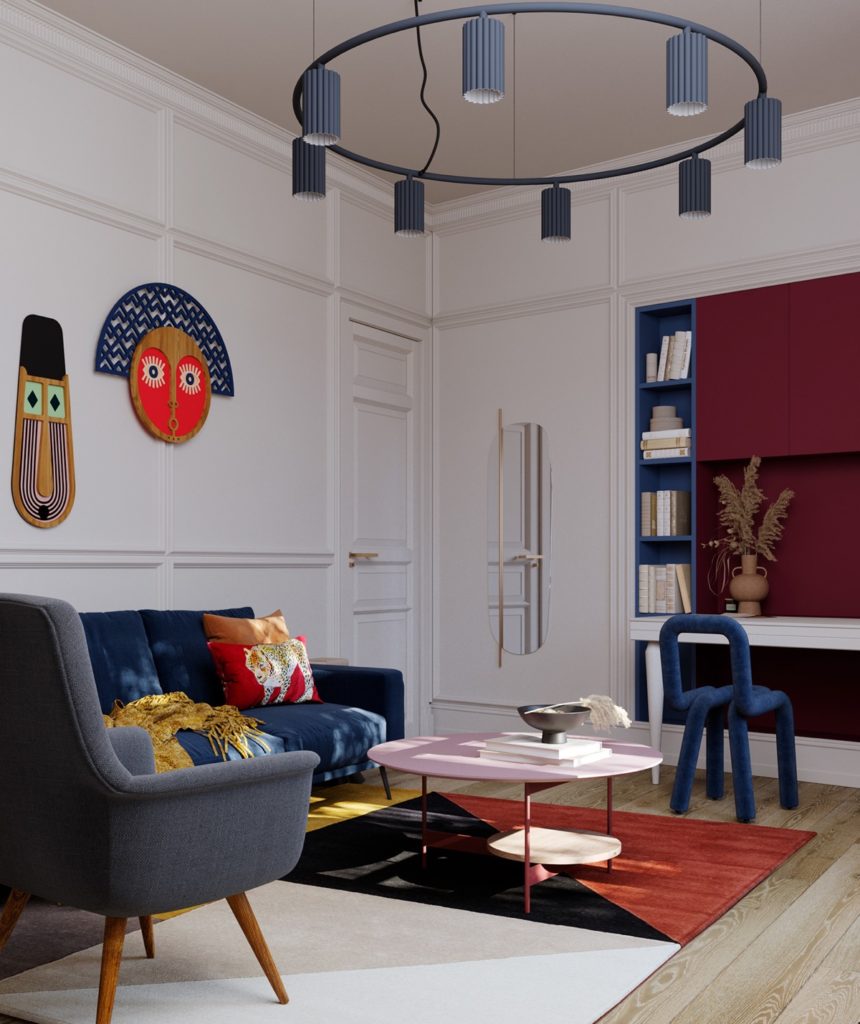 So let's explore more of this company's vision of decorated walls with unforgettable and striking colorful modern masks. Made with a mix of modern technologies and sanded down to the details by hand, these decorative masks combine craftsmanship and technology like the masks themselves combine tradition and contemporary design.
These handmade decorative wooden masks from Umasqu were inspired by colors, patterns and grids from the deep and rich culture of African mask tradition.
Whether you have a home office room that needs some color and modern art or work from a corner of the bedroom, these decorative pieces are able to change the mood of the room, creating either an adventurous setting reminiscent of Africa or a modern cubism reinterpretation to display in your home.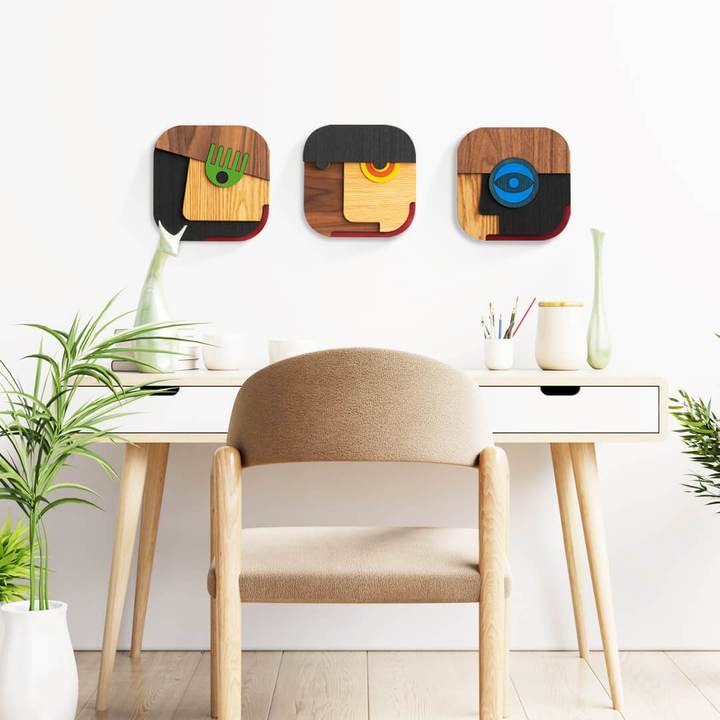 Take the Abstrasso Collection as example – it includes handmade decorative wooden masks and dolls inspired by Picasso, Cubism, shapes, and outlines. The Abstrasso dolls' have unique combinations of depths on the surface guided by modern laser technlogies and finished by hand for an artistic perfection.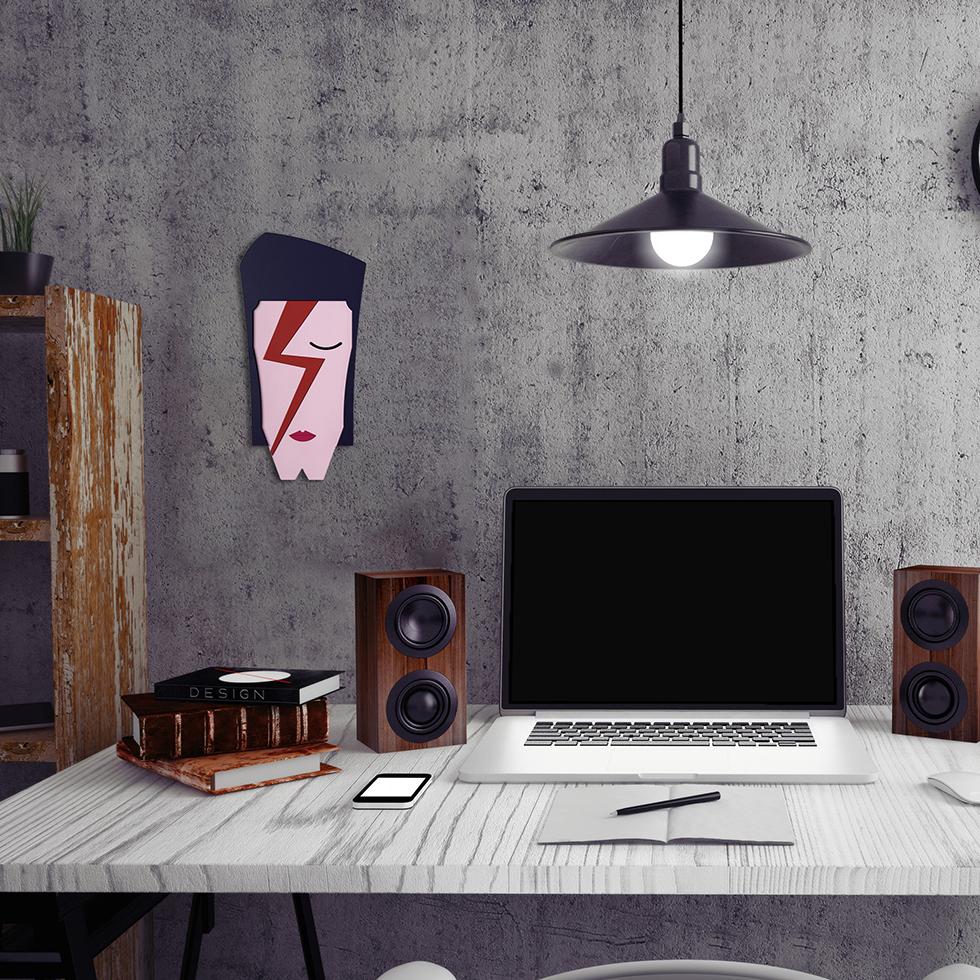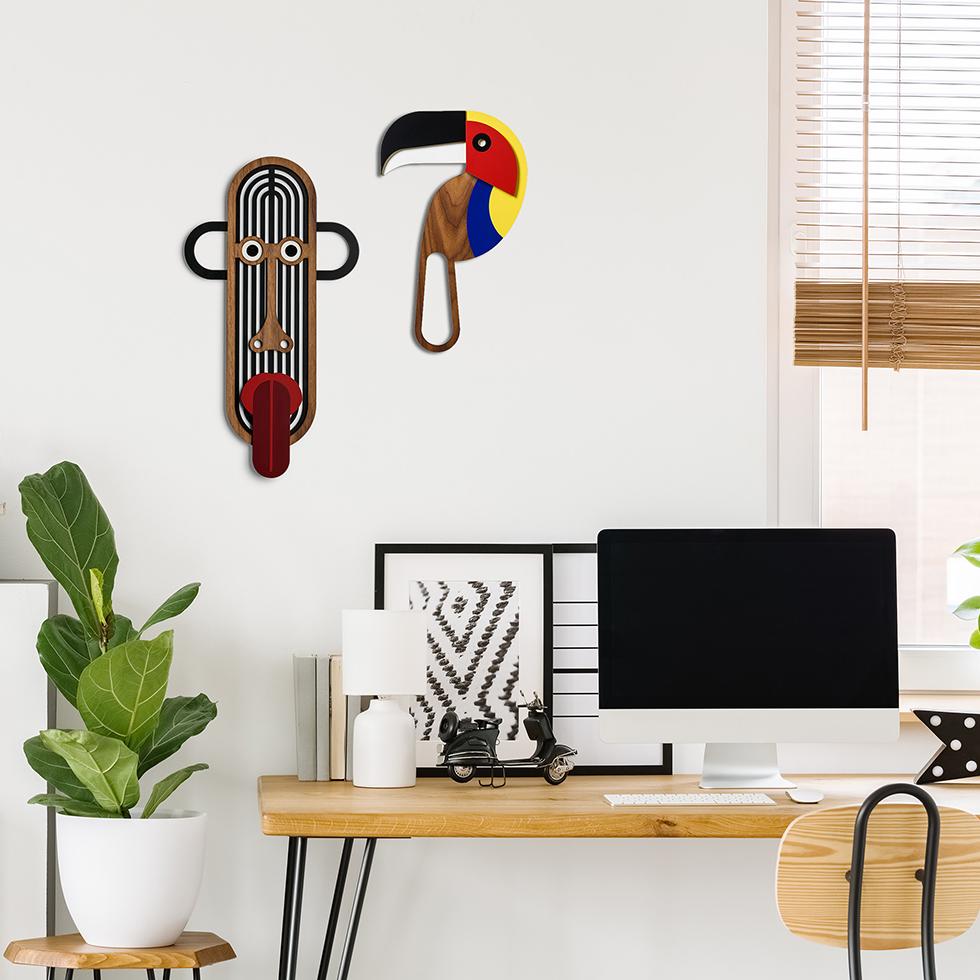 Between the walls decorated with masks and any other surface you can place a figurine on, this company goes deeper and deeper into different interpretations of design and explore every corner of the house, not only the home office area. Imagine having one of these many colorful decorative masks on your wall, whether we're talking about the living area, bedroom, hallway or anywhere you have walls to beautify.
And since we were able to enjoy office art when we didn't have a choice to find a place in the house to work from, we can always bring some art in our homes.
More inspiration: 10 Home Workspaces for artists who love their craft
Benefits like free worldwide shipping takes away from waiting for 10 – 14 business days for your made to order mask or modern African figurine to be produced before shipping, since the process is both technological and handmade.
Desigers tell us that their masks are "hand-painted, unique with their own character, and just like us humans, they have some unique features, not imperfections" and were "made from a combination of different materials such as Veneer, MDF, Formica, Perspex, Plastic, and Felt and are all colored with quality Molotow™ Premium colors."
Here are some elegant modern desks that can display these decorations from Umasqu in your dedicated WFH corner:
Organic Form and Function for Your Home Office: Loop Desk
Intelligent Sit-to-Stand Desk Reminds You To Stretch