Some people wake up in the morning in a luxury bedroom with a courtyard and a minimalist office area.
Imagine waking up in this space – what's the first thing you would do? How about the second thing? After going through so many things you can do in this stunning bedroom, move your attention to the long and narrow floating desk that doubles as a vanity and a dressing table.
This is what it means to have your space the way you want it. Even if there is enough space in this expensive home for a sepparate home office, the owner enjoys a multifunctional space that offers fluidity of function.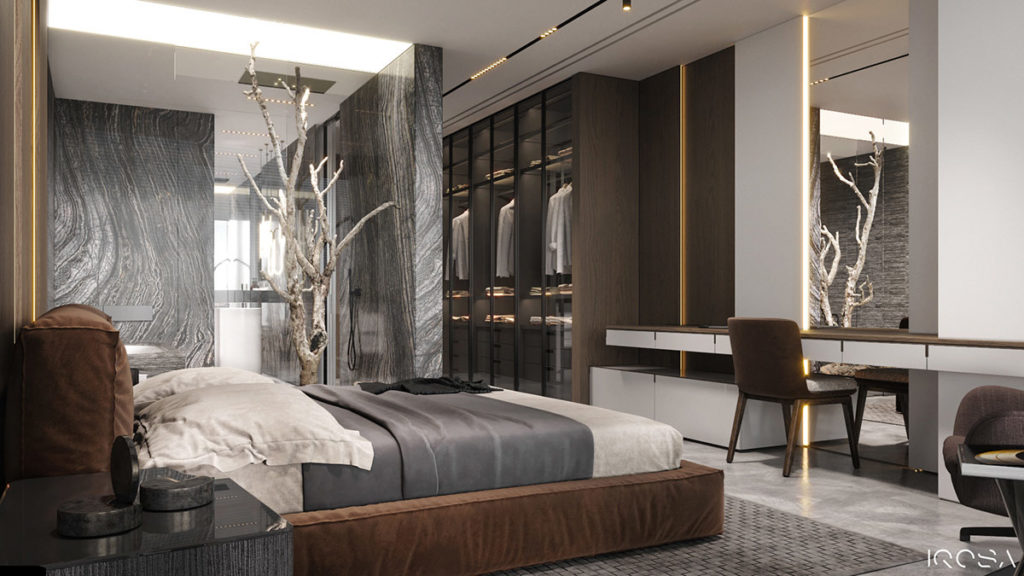 Earthy colors mixed with grey create a raw masculine energy. Ambient lighting makes the space come alive differently at night, when the tree in the indoor courtyard is not illuminated from the skylight above.
Everything in this space has a purpose imagined by designers at IQOSA – relaxation, cleanliness, organization.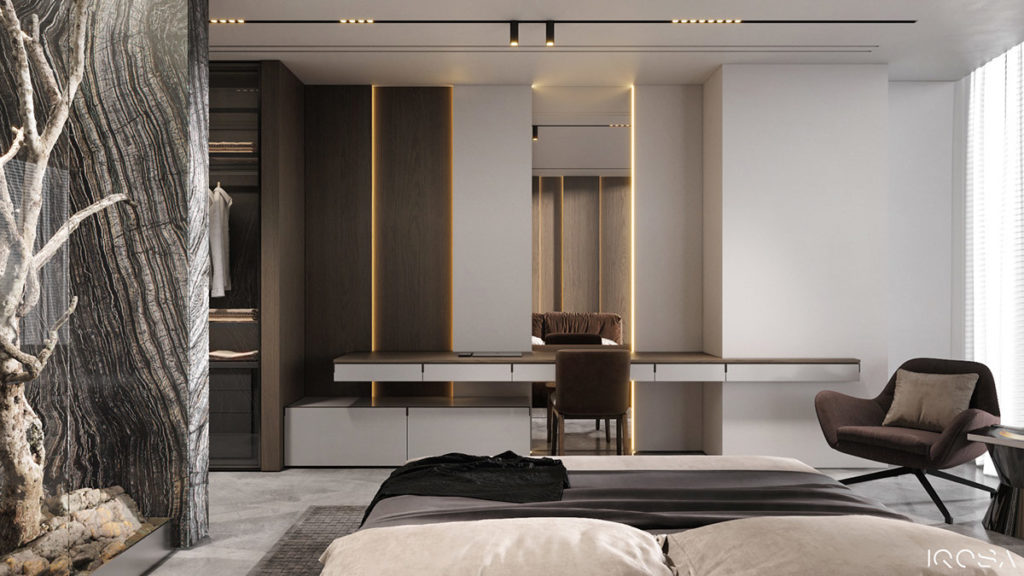 Bespoke furniture made this dream possible – from the sleek appearance of the floating desk to the fitted closet and deliciously grey bathroom.
Modern decadence can be felt throughout, from the terrarium-style ensuite bathroom right down to the LED strip lights lining the walls. Floor-to-ceiling windows invite daylight in despite the intimate feeling given by a rather dark color theme.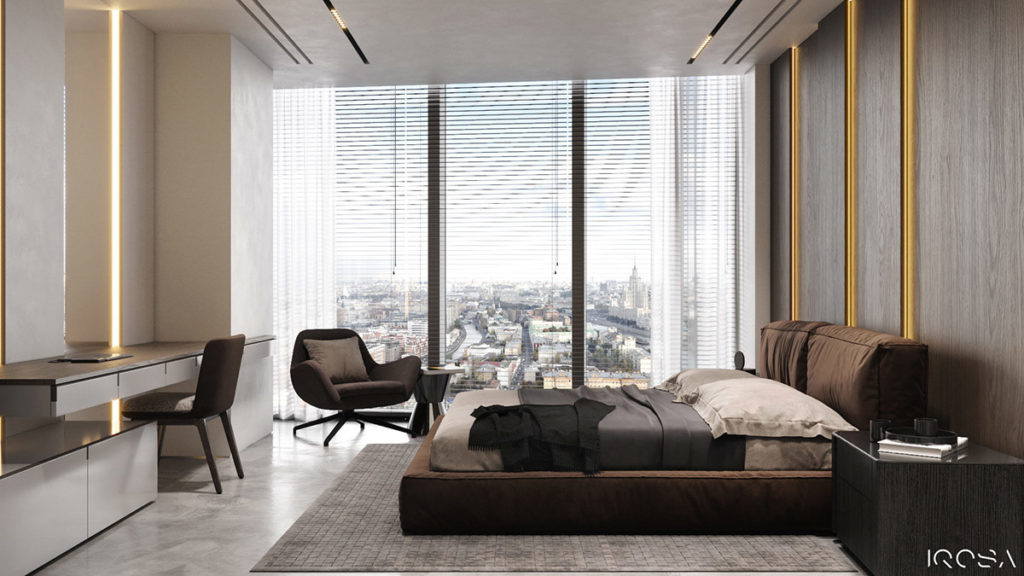 Enriched by the earthy colors and wood grain, this luxury bedroom impresses the eye with a very natural appeal. A tall space like this one is well suited for vertical design lines that give the impression that the room is even taller.
With an overall feeling of luxurious minimalist in earth-inspired color theme, this is a perfect example of a fluid space suited for a powerful owner that exudes charisma and confidence.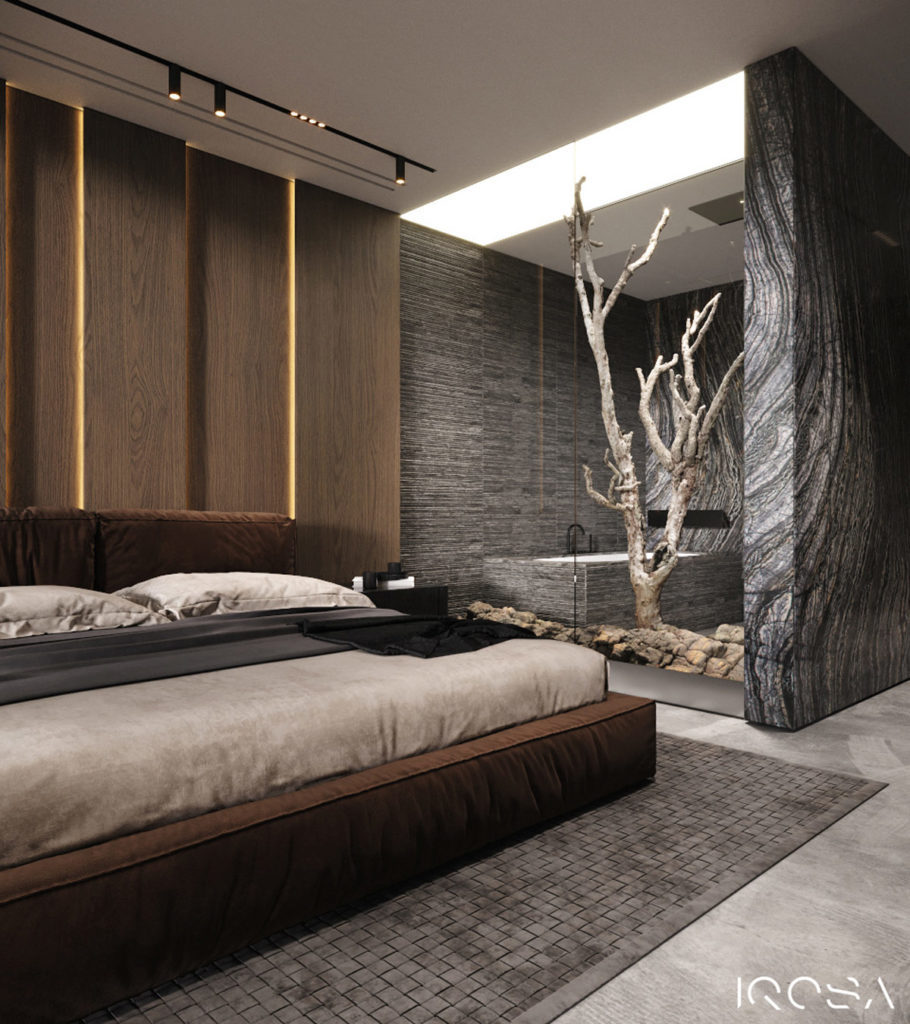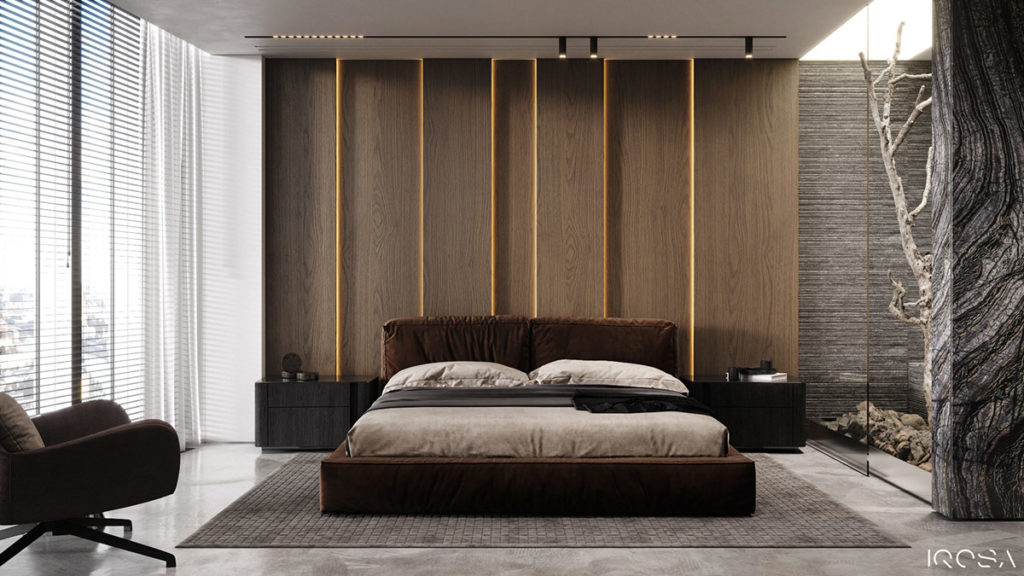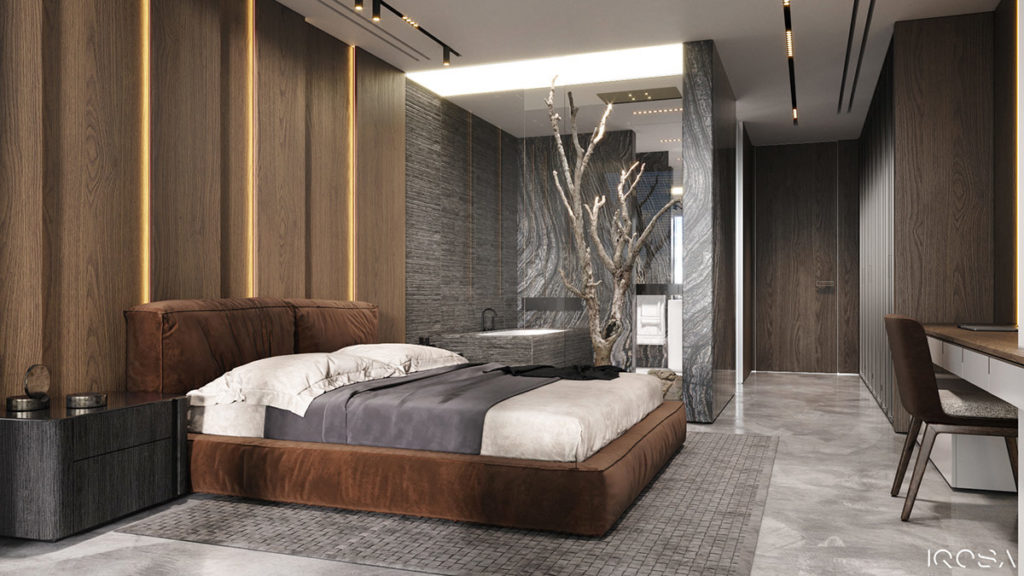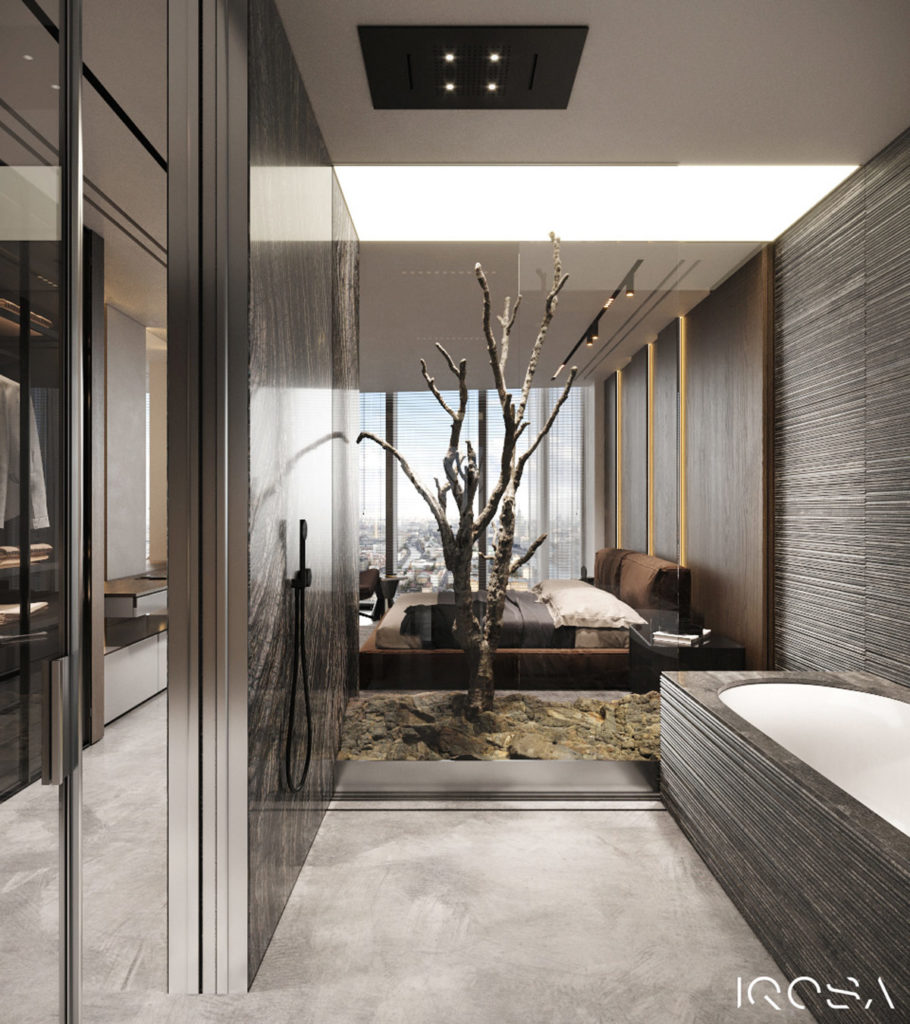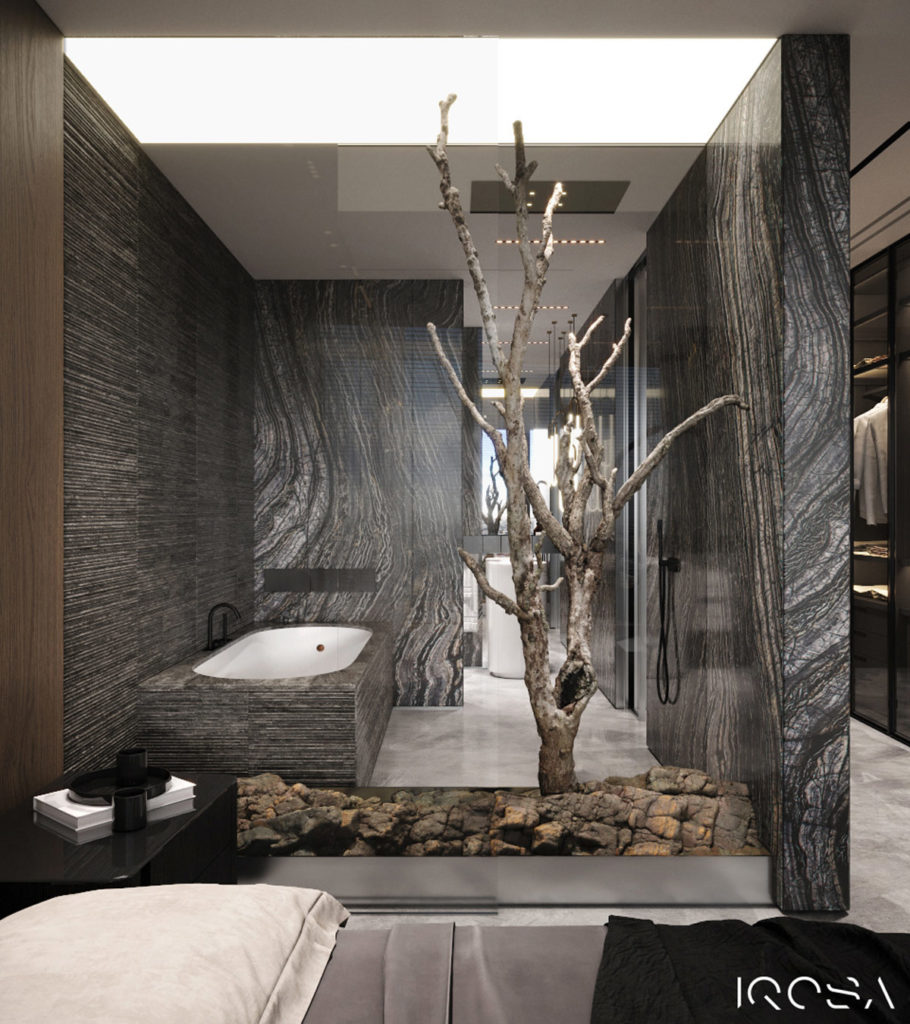 And since even the most expensive homes have a place in the bedroom to mount a laptop on, even smaller, more coquettish spaces can fit a workspace in a corner, as you can see in these examples:
Majestic Luxury: Modern Meets Classic Workroom Design
Aquarium-like light-flooded Home Office