This tasteful deep blue corner workspace was designed to be part of an elegant modern bedroom. There is plenty of space to introduce a working area in this space, and everything was kept at a minimum in order to create an uncluttered atmosphere.
Wood flooring and framing on the window extend the ideas of a warm space just enough to make the walls painted in deep blue really stand out and define a space dedicated for work only. This almost makes a color shell around this dedicated space, cocooning the owner in a work-focused mood, as we know how relaxing the color blue is.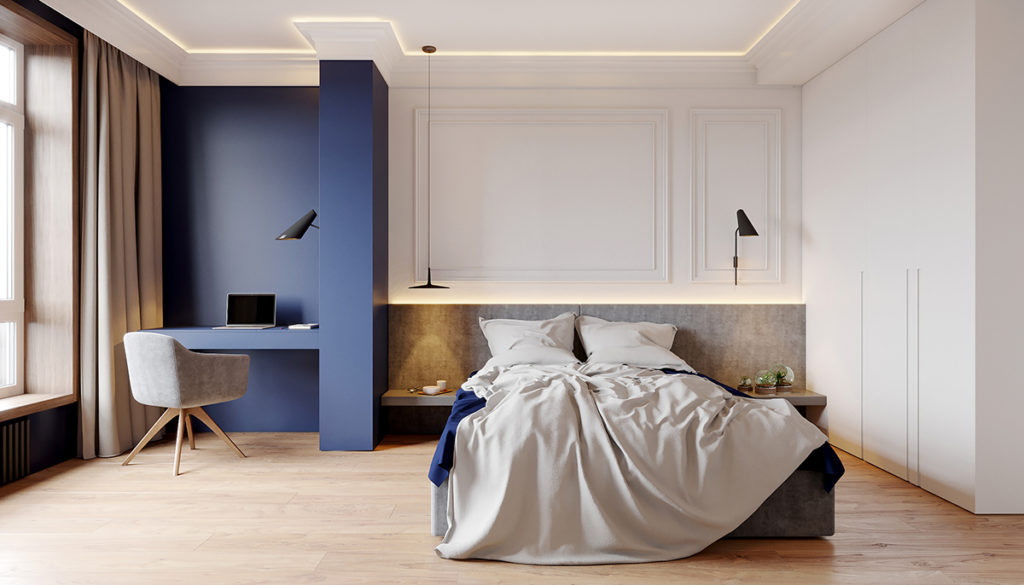 Designed by Archiplastica, this penthouse bedroom is a multifunctional space, split between sleeping and working. The perfection of the blue wall and lack of unnecesarry details make this space awe-inspiring. Separated from the rest of the bedroom with the help of color, this deep blue workspace is also hidden behind a partition.
This became an opportunity to define this corner of the room as a monochromatic place for daily work. A modern black lamp on the wall focuses the light on the laptop at night, when the daylight is gone and curtains cover the large wood-framed windows. A similar wall lamp was installed on the other side of the bed, helping in lighting up the night time reading sessions. A secondary lamp hangs above the other nightstand, balancing the design while infusing a different style that interrupts expectations.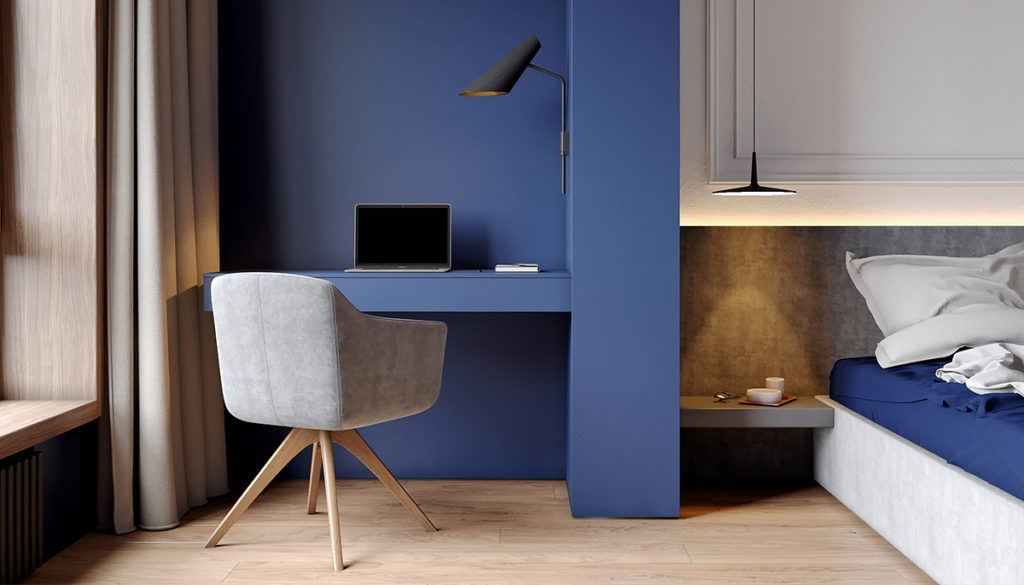 Zooming in to this corner of the room, we see how simplicity is the best policy. Once you know the difference between home office motivation and home office discipline, creating a routine of working from home also depends on the space you have available for working from.
This must be why so many people choose to create a corner bedroom workspace – the privacy is a given in a bedroom. This helps solve at least one of the problems of working from home – privacy – and can become the best place to focus on work during the daytime.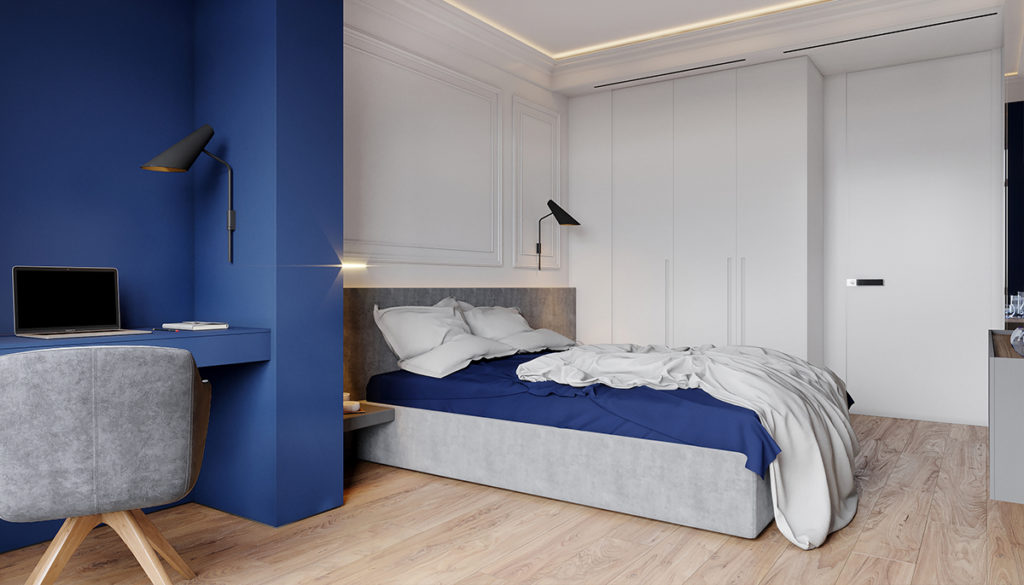 Panning over to the entrance of the bedroom, we see how white walls were elegantly matched with a white wardrobe that looks almost hidden in the overall design.
Strip LED lights create a different dimension of the space not only at night, when they're the only ones illuminating the bedroom, but also during the day, to bring out more of the design and architectural details.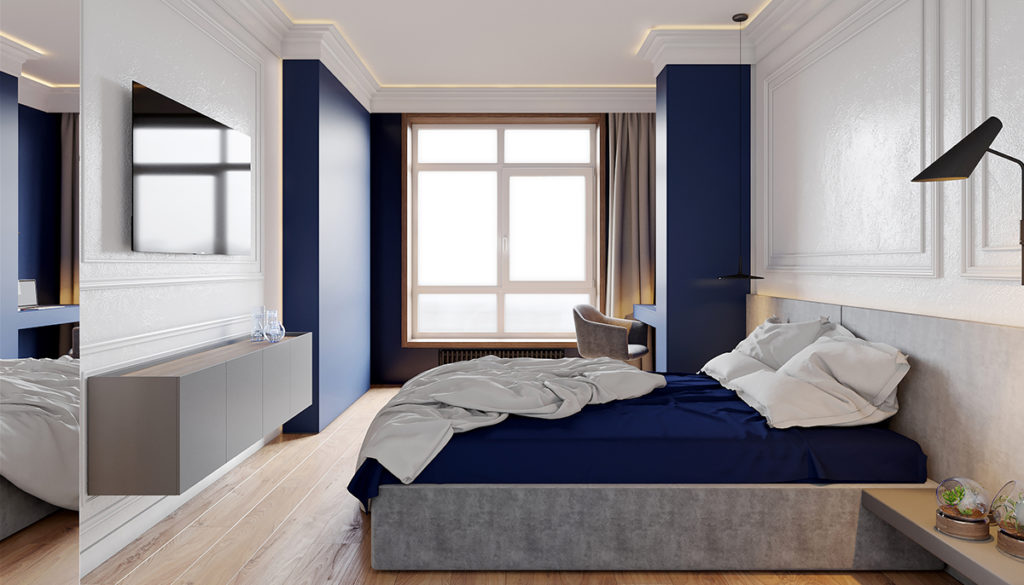 Deep blue was used to defined the wall behind the workspace, on the other side of the large window. This helps balance the overall design and avoids having a boring bedroom.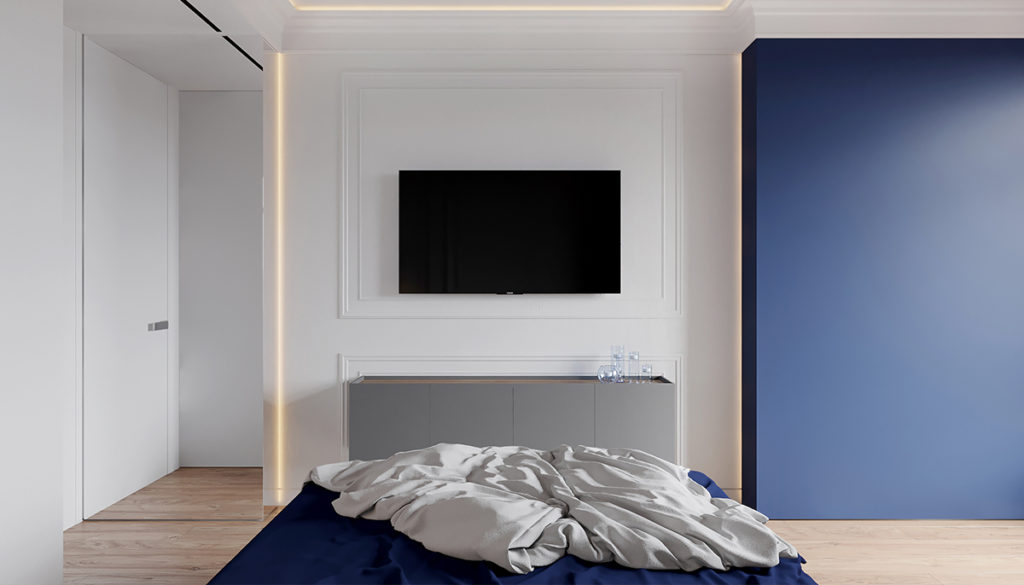 There is no need to think a lot about the place you work from once it has been established. Choosing your home workspace and setting up everything you need in this professional space brings relaxation before and after work.
It's a great feeling to know your work can be put aside at the end of the day, that you can relax and become re-energized for the next day. Here are some more home office interior design ideas to flip through:
A Writer's White Bedroom Dream Workspace
2 Ingenious Bedroom Workspace Designs