Working from home is about more than just a home office setup and scheduling your workday for productivity. Since last year and going into 2021, self-employment has seen a shift in perspective from many angles, including WFH tax deductions that allow you to get the best out of this covid work shift.
A home office room especially dedicated to work can help you deduct taxes so that you can peacefully work on your projects without worry. So how do you know what types of expenses are eligible for tax deductions when it comes to working from your own home?
How can you work from a space you enjoy?
We're all about home office inspiration, but that doesn't mean we're only looking at workspace design, WFH gear, sharing your home office with your partner and having kids around during the workday – we also go into the essentials of working remotely.
This is why today we're mixing self-employment home office tax deductions announced for the covid pandemic with examples of what a home office space requires in terms of comfort and design.
Starting with the actual space you have organized to work from, there are a few guidelines that help you navigate tax reductions for self-employment.
Computer equipment, desks, chairs and other home office supplies might be eligible for tax reductions depending on the country and state you live in. Other types of deductible expanses are available for self-employed people, like part of the rent or mortgage, cost of utilities, repairs, maintanance, continued education, car and maybe even health expenses, says the Nerd Wallet.
According to the Washington Post, self-employed people can benefit from tax reductions in the US, unlike company employees who have it harder because of presidential decisions back in 2017.
Check your country's requirements for your specific type of business because you might find that what you need for a better WFH lifestyle is what is being deducted. Some countries, like Canada, have implemented simplified processes for claiming home office expenses that can help you focus on work after getting the all things in order.
Making money from your work also means reducing expenses whenever you can, so that you can get the best out of creating your wealth. Look around these examples of a home office room and imagine what you would need for a comfortable WFH scenario then write it all down and start researching.
When setting up a work from home room, first choose the elements you need for doing your work that have tax deductions applied, then focus on the rest of the space to create a more harmonious work environment. Doing so takes you from simplicity to complexity without chaos.
So how could a dedicated home office room look like? Here are five examples you can gather inspiration from:
Minimalist approach to working from home
Using minimalism to declutter your space and mind while working is a good way to also get tax reductions by fullfilling minimal work needs. Minimalism speaks about freedom from clutter and close attention to details. This is where luxury starts from – quality and great attention to details. Take a closer look at this dark minimalist home office room here: Dark Modern Home Office Room Immersed in Minimalism.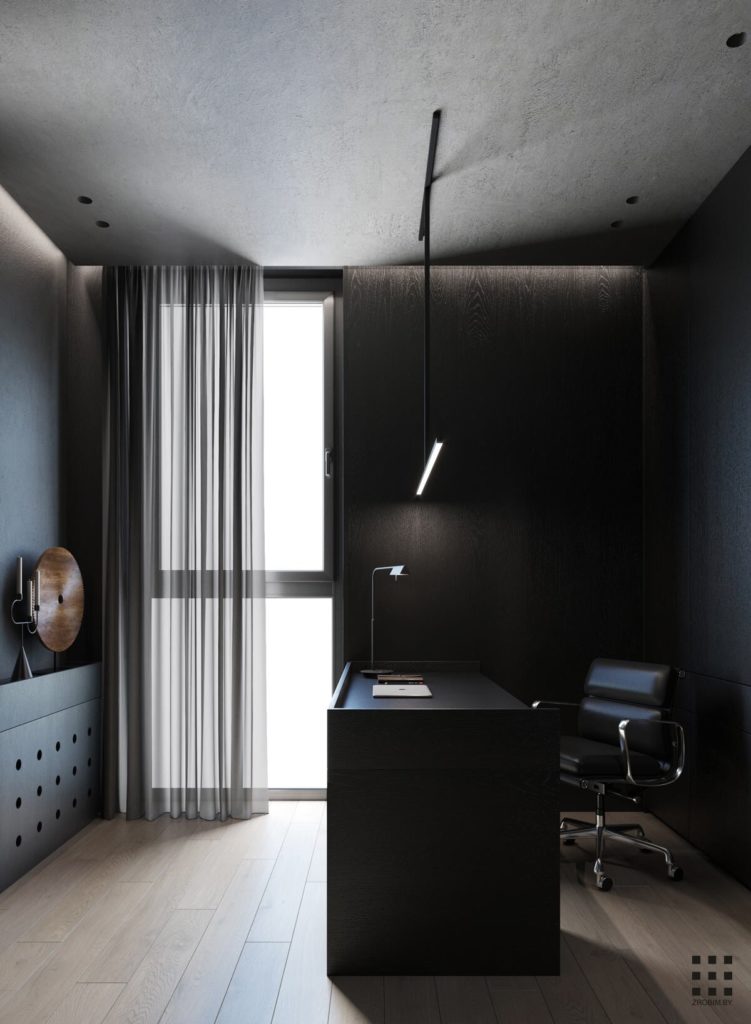 Simplicity shaping French workspace design
This small home office room inspired by French design has everything one needs to comfortably work from home. A desk and a chair make up the base of a WFH setup you can see details of this particular way of setting up a workspace and a relaxation space all in one right here: French-Inspired Soft Grey Home Office Design or by clicking on the photo below.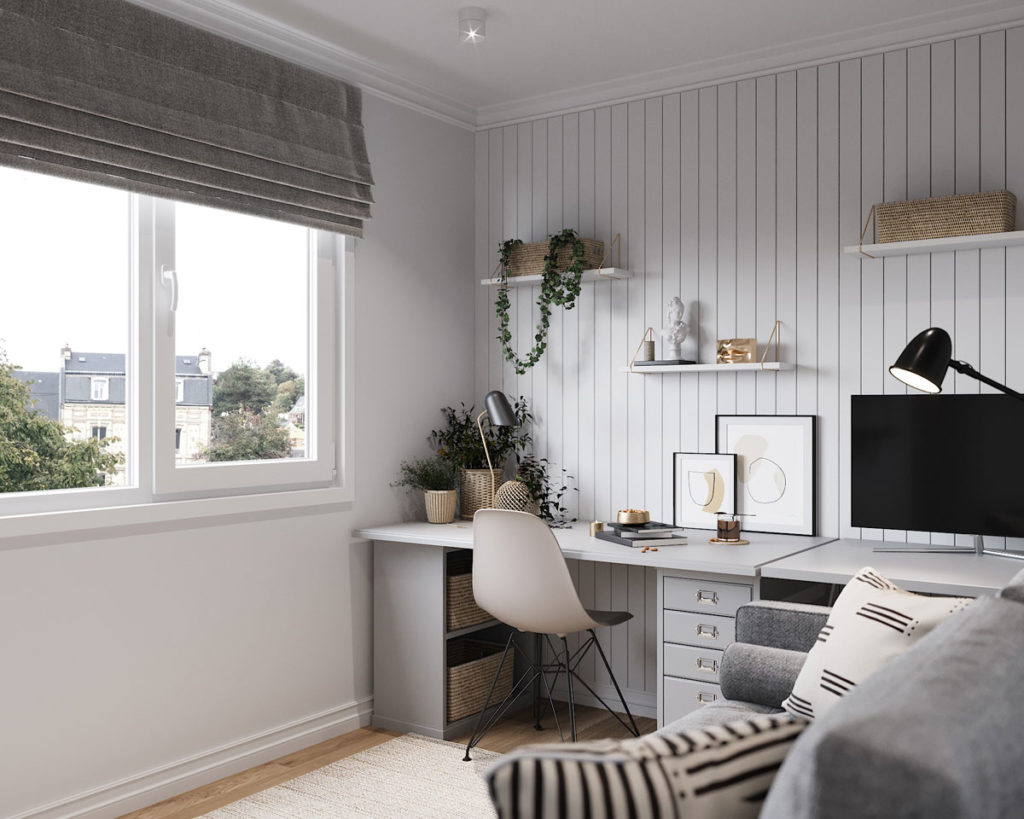 Working from a cottage in the woods
A home office room that is part of a cottage out in the woods can look like a proffesional office when design ideas perfectly molds to the owner's needs and wishes. If you wanted to work remote from the middle of nature, this home office space might inspire you to find solutons to do so. Here are more photos of this contemporary workspace: Modern Cottage Home Office Room in Muted Colors.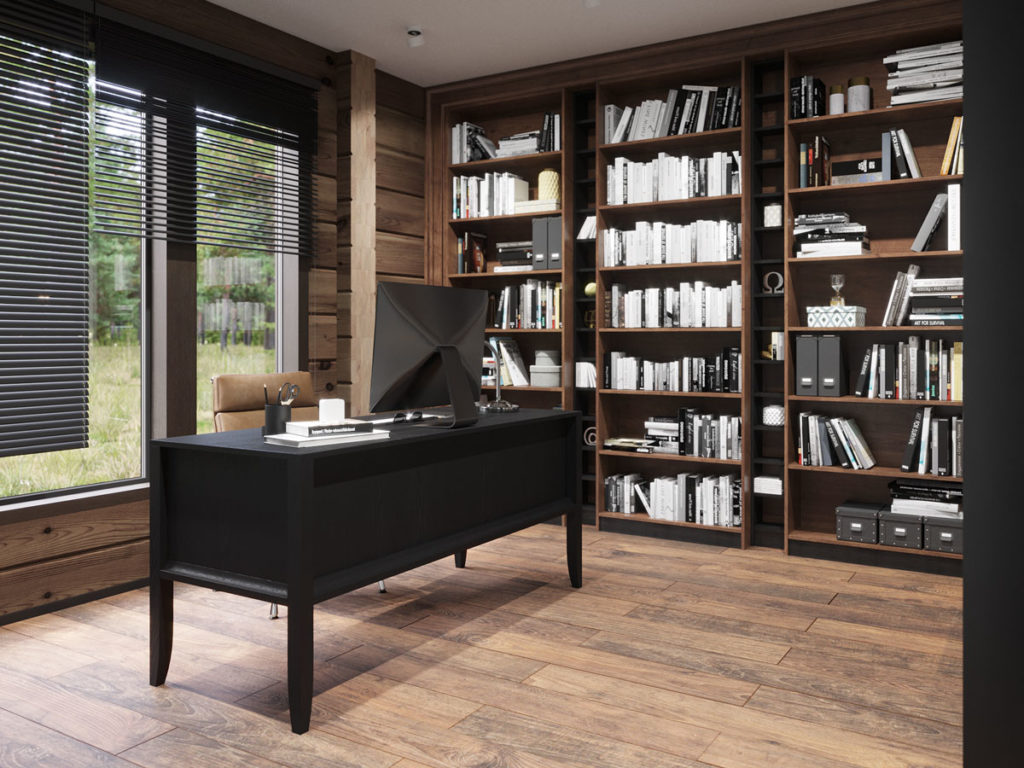 Modern Zen home office room
Implementing a peaceful atmosphere in your daily work starts from the inside and can be beautifully reflected on the outside, in the design you choose for your home office. This Zen workspace showcases a simple and impressive way of setting up the kind of work environment that makes your heart sing with joy: Modern Zen Home Office in Wood, Marble and Velvet.
More than just a regular home office room
Our last example of a home office room you can gather inspiration from beyond the dry self-employment tax reductions is this Raw Wood Home Office Sporting Modern Fireplace. Wouldn't it be amazing to be able to add a fireplace to your working room for breaks and after-work relaxation?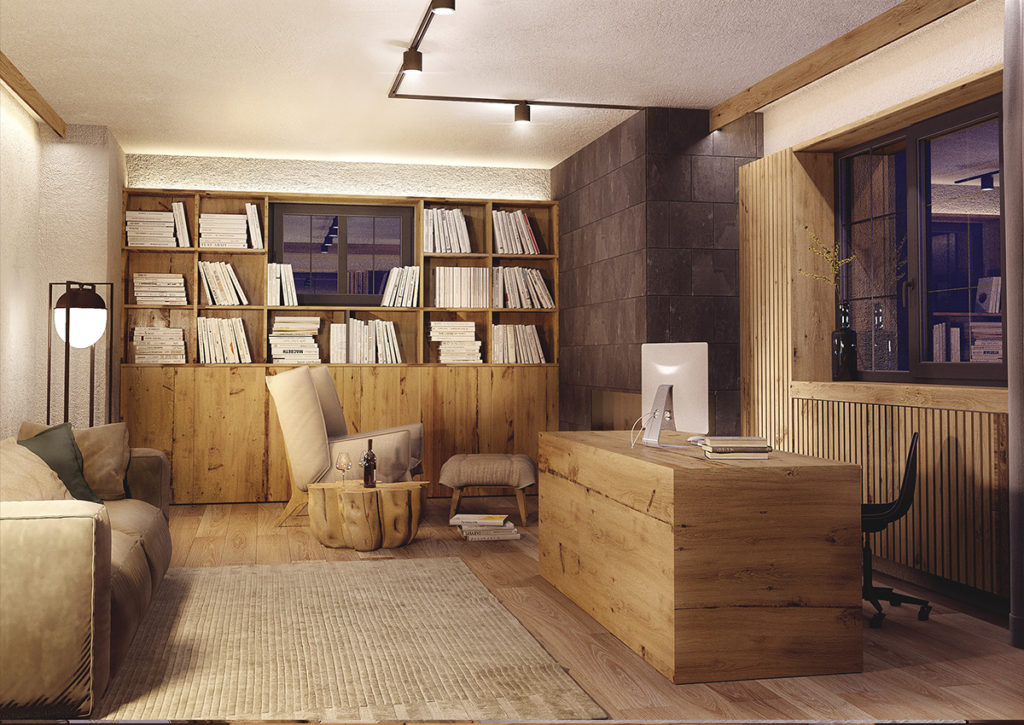 Now that we've seen a few examples of differently designed home office rooms, we would love to know what is the one thing you would add to your home workspace beyond the strict necessities?