A child's bedroom nowadays must have a study desk. Beyond function, this homework and study space holds up the needed stucture in a child's daily life.
Work-from-home with kids
Most of us have found out what it means to work from home this past year. And those of us who have kids have an even more difficult time, trying to make everything work even if times and schedules have changed.
It's so much more important now to have your kids look up to you so that they can go through this period of staying mostly at home without stress. That's how you all come out stronger on the other side. And interior design is here to help with that.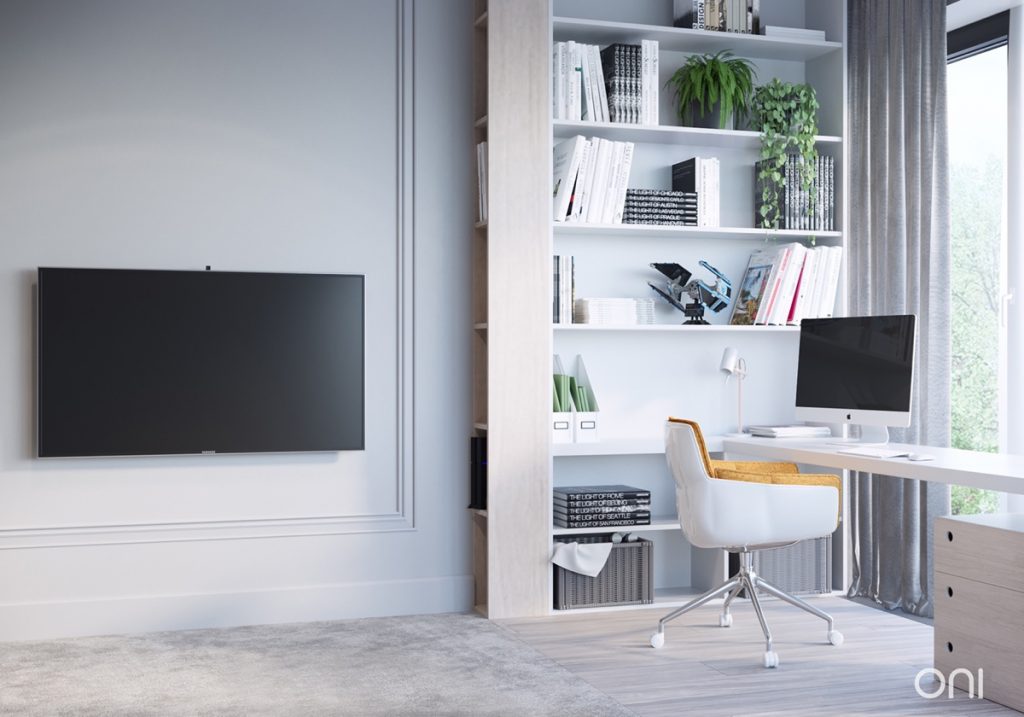 A child's bedroom is their most important space, where all their preferences and items are gathered around. A modern kids bedroom is a space they can enjoy as they please and also a great opportunity for learning how to stick to a schedule.
Here are 5 tips for working from home with kids.
Designed by ONI Architects, this kids bedroom with study desk is not only appealing to the eyes, but also provides the basics a child needs to grow up healthy in body and mind. It's also airy and uncluttered, keeping the design to a minimum so that anyone coming in flows natural between the different functions of the kids bedroom.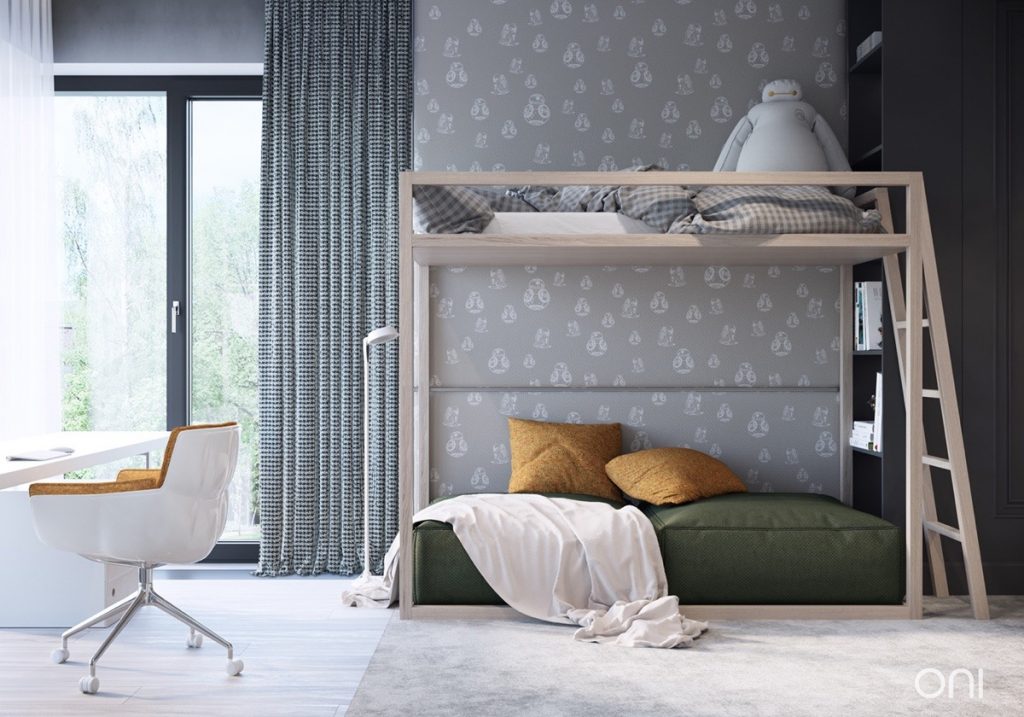 Imagine doing homework from a room where all your favorite things have a special place. This is what the child sleeping, playing and studying here must be thinking. We also get a glimpse of these internal preferences when looking around – Star Wars decor can be seen here and there.
A raised bed in this layout allows the long study desk to stretch out all the way under the window. This is such a great way of using the space differently -just install a raised bed and underneath you'll have room for lounging and playing. Any visitors or over night sleepers can enjoy this extra space and that's always a plus for kids rooms – plenty of sitting room for friends.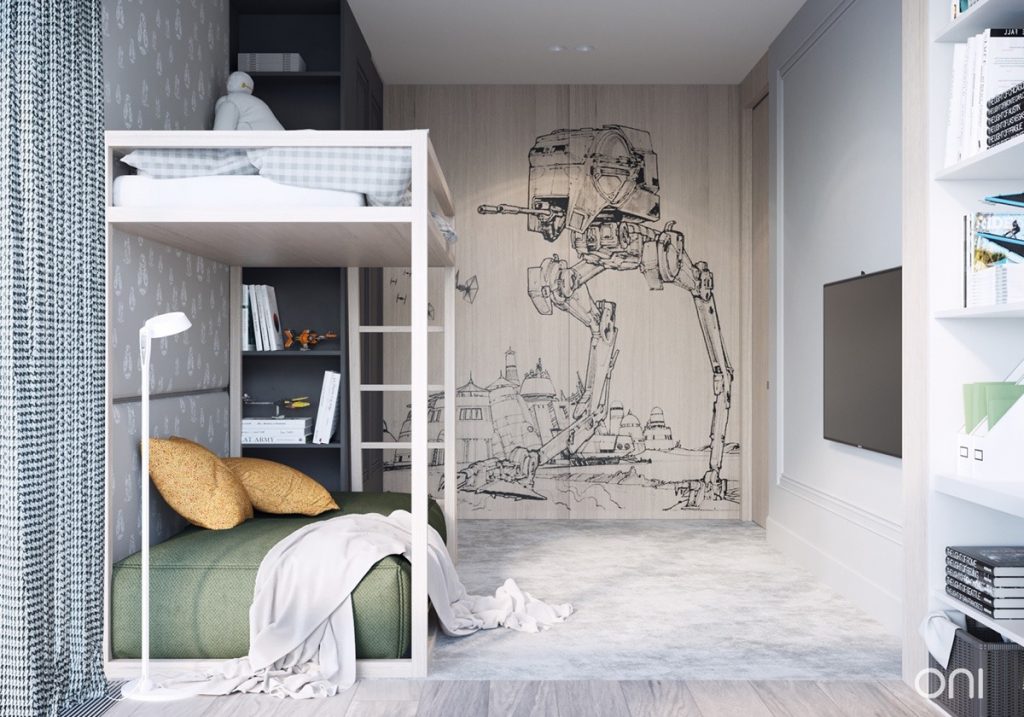 Shelves provide plenty of storage space for books and homework-related items and also some more Star Wars memorabilia. Two cascading green plants interrupt the soft colors chosen for this space while also maintaining a color connection to the dark green beanbag lounge under the raised bed.
Look at how this kids room wall decor depicts a Star Wars scene as a wall sticker – this is a simple way of adding the perfect decor without much work, just stick your child's prefered design on the wall. A sketched-out Star Wars AT-ST walker sticker reminds the child of this fantasy world they like and makes them feel safe in their own space.
Here is another example of using wall stickers to decorate a kids room:
Light-flooded study space in soft-colored kids bedroom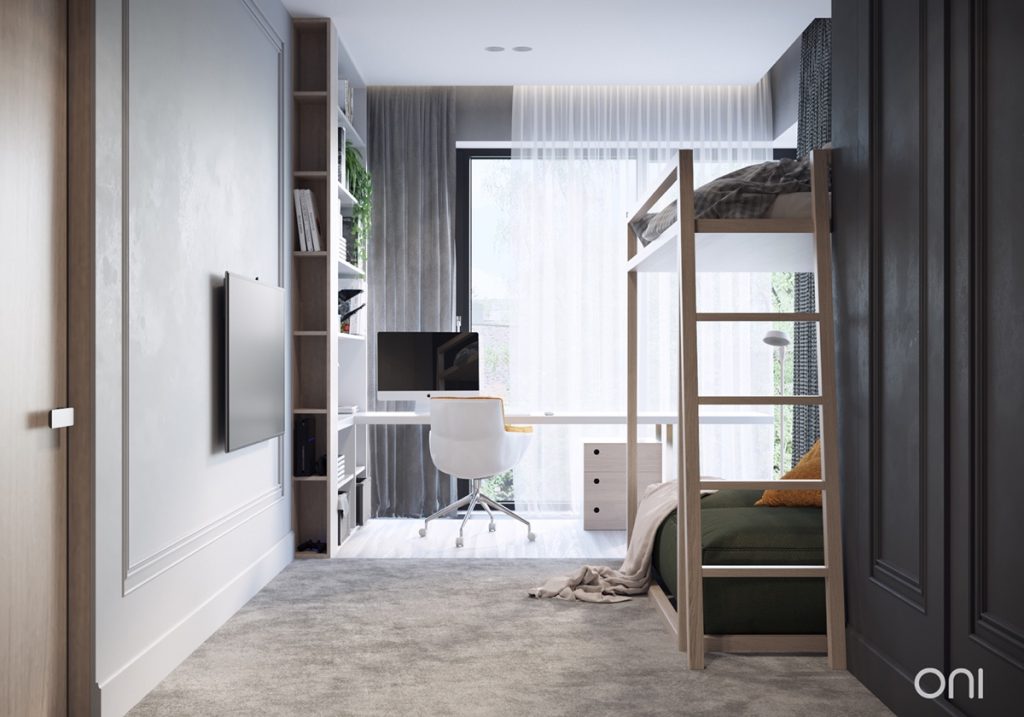 And we've seen more home offices and kids rooms that flaunt the Star Wars memorabilia, here are a few:
Black & Yellow Bedroom and Study Spaces for Teens
Two kids rooms with desks for "home office" play
Not only kids like Star Wars decor for their study and sleep rooms, some adults appreciate this fantasy world just as much, only at a different design level:
Home office design flaunting Star Wars hints