Choosing the best desk setup for your home office is a process. Sometimes you start from what you would like to have and end up with what you need. Hopefully, your desires and needs overlap and forge the best setup for you.
Here is an inspiring look at bespoke desk design vs designer workspaces that will guide you to the perfect WFH setup you can actually design for yourself.
Bespoke Desks: Functional Ways of Making a Statement
We've seen quite a few desks designed with different basic things in mind like functionality and modern needs. Each has a unique concept dedicated to a series of needs. Wonder which one would suit you best? If so, keep reading.
Bauhaus Era Inspired: Geometric BAU Desk
The BAU Desk by Pavel Vetrov Studio is both functional and sculptural. A sturdy desk design supporting your workload is quite a fantastic thing to have. This home office desk borrows from the arts – sculpture, design, philosophy – and translates them into form and function using simple geometric shapes: a circle, a rectangle and a cylinder.
2.Temporary Foldable and Rollable TEMP Desk
Gerhardt Kellermann, designer of the TEMP Desk, says: "When things have to go quickly, temp can be mobile in the wink of an eye. Simply turn the transverse panel and fold up the table top, then the high table can be easily moved and tucked away to save space. A well thought-out locking mechanism ensures that temp stands firm." How fast do you move your workspace around?
3. Altwork Station – shape-shifting mechanical desk
Depending on how much space you have available for your home office setup, the Altwork Station is either perfect for now or a dream of the future. There is no in between. This shape-shifting mechanical desk gives you the options of lying down, standing or sitting up while you work.
4. Modern Magnetic Workstation: Lennart Desk
Integrating multiple functions beyond just being a beautiful surface for your laptop, the Lennart Desk by  Désormeaux/Carrette Studio easily attracts attention like a magnet – because the Lennart desk has a magnetic board that keeps your ideas right in front of your eyes. With hidden storage space (the tabletop has a slot you can open to keep cables out of sight), this metal desk sure showcases an elegant silhouette.
5. Organic Form and Function for Your Home Office: Loop Desk
Our last example of a modern home office desk is the organic wooden Loop Desk by Joao Teixeira. With an undulating modern design, this working desk got its name from the way the monitor stand loops around the tabletop, making it come alive through shape.
Check out more home office furniture right here and now let's move on to:
Designer Workspaces – Every Line Was Designed For You
Space requirements might surprisingly guide you into creating bespoke furniture for your home. This means a more qulitative lifestyle over all, especially if you don't have much room. This is where creativity begins, so let's explore 5 ways in which designer workspaces fully integrate the wishes and needs of their owners.
Home Office for Two Nestled in Studio Apartment
This first example is a double home office built for a studio apartment. Imagined by 365 Design within a 30 square meter open plan studio apartment, this home workspace for two can be easly switched to the dining table function. The long, sculptural desk makes it comfortable for two people to eat and work in a very tight space.
2.Corner Workspace in Colorful Modern Traditional Living Room
Creating a special vibe in a corner of the room that you appointed as a home office employs the power of creativity and colors. Red, blue and yellow were combined to shape a colorful, visually attractive home design that includes a modern workspace flanked by libraries – three of them. Visualized by Svetlana Savinova, this colorful workspace also flaunts these modern African masks from Umasqu.
3. Modern Bedroom Workspace Nook Divided by Design
If the only room available for a working space is in your bedroom, then maybe a design integrated in the overall mood of the sleeping room can help you keep work sepparate from rest, like in this bedroom designed by Polina Yatmanova. If you want to see more inspired bedroom workspace design, here are 10 Modern Bedroom Workspaces In Light Grey and Wood.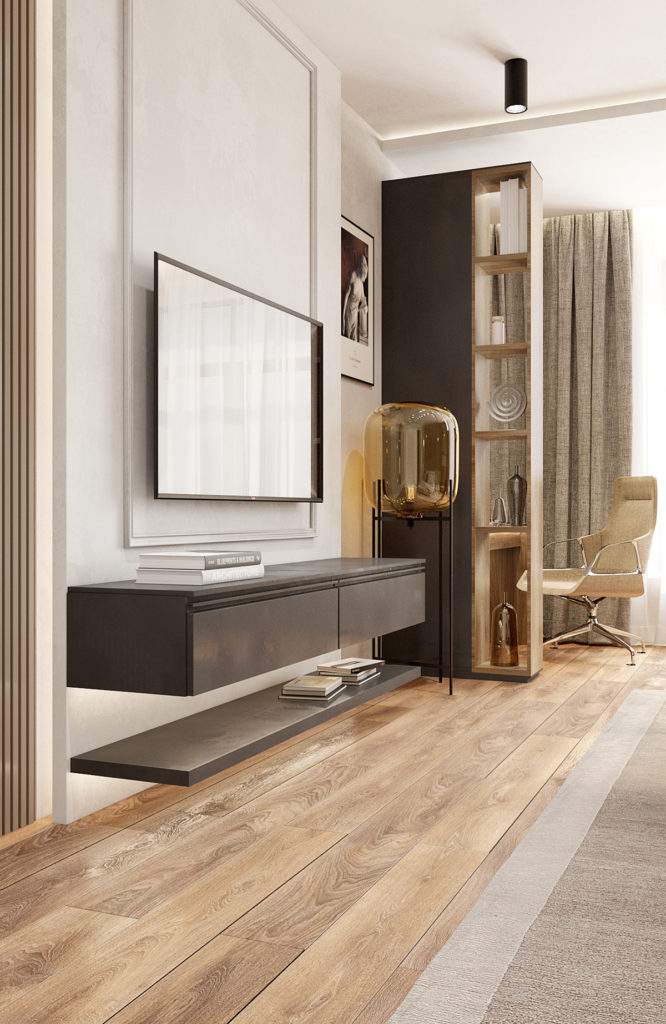 4.Small Home Office for Two Under Lofted Bedroom
Another way of using the most of the space available in a small home and sharing your workspace with your partner is by employing the power of interior design. This small home office for two under lofted bedroom, visualized by Tung Nguyen, takes advantage of the tall ceiling to create dedicated areas for different fuctions. Exploring geometry adds a playful feel to this rather minimalist space and bespoke furniture makes sure the home is adequately designed for all needs.
5.10 L-Shaped Workspaces for Extra Working Room
These 10 L-shaped workspaces for extra working room will have you draw even more inspiration for a specific kind of problem: unusual spaces that need more elbow room.
How about you? What type of a home office workspace do you prefer?
While you think about this, here are a few more ideas to inspire you further: